This article may contain affiliate links. Clicking on or purchasing products we recommend through a link may earn a small commission. Read our disclosure and privacy policy page for details. *COVID-19 TRAVEL ALERT – Travel recommendations offered on this site are not to encourage you to travel against travel advisories.
My first time horseback riding. I don't even know how to describe the feelings running through me. When we planned this girls getaway to the finger lakes and Rochester region in New York and Horseback riding came up I didn't want to be a wuss. Inside I was terrified. My friend was "We're doing this." I couldn't back down, and before I knew it, we were booked for a 1-hour trail ride at Painted Bar Stables in upstate New York.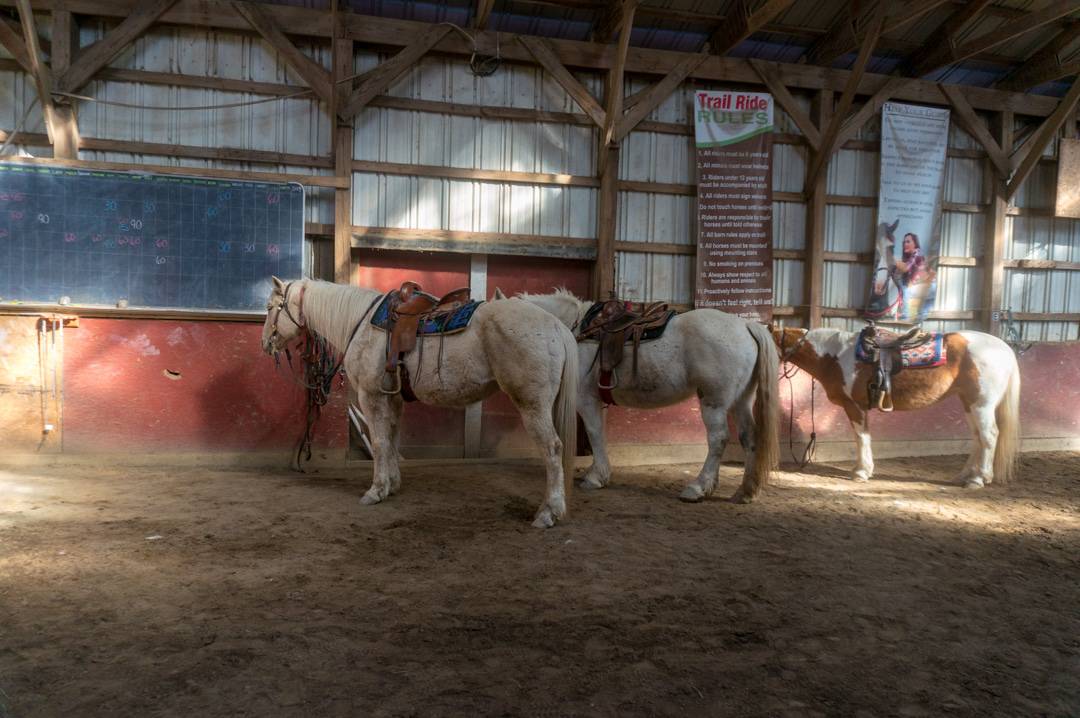 Painted Bar Stables Location
Located near Watkins Glen Village in upstate New York. It was minutes from the Watkins Glen Harbor Hotel where we stayed the night previously. Other attractions in the area include:
Watkins Glen State Park
Havana Glen Park, Montour Falls
Shequaga Falls, Montour Falls
Finger Lakes National Forest
Aunt Sarah's Falls
Hector Falls
Catherine Valley Trail
Harbour Cruises
The Glen Theatre
Wineries and Distilleries in the area

About The Painted Bar Stables
Owned by Erika Eckstrom The Painted Bar Stables specializes in trail riding, and their experienced riders take time to ensure the rider and horse are appropriately matched. Erika greeted us both and knew we had never ridden before. She was also really good at reading me before I said much. She knew I was nervous and told me she picked a horse based on the fact that I'm new and look a bit nervous.
It was the kind of upfront and gentle approach that I needed at that moment, and I don't know if she knew how much I appreciated it.
Because then came all the nervous questions:
Should I wear my hiking shoes or rubber boots?
Can I carry my camera with me?
How long are we going out there?
Then there were the questions in my head that I was afraid to say out loud.
Am I going to fall off this horse?
Is the horse going to get mad and buck?
How am I going to get up on the horse?
So we packed our backpacks in the car, and I decided my rubber boots were a good choice given that it was muddy as the snow was melting. We headed back to the stables to get geared up.
A helmet was provided, and then Erika went through the horse riding basics. She talked about holding the reins, how to sit, placement of feet and my head started to spin. Am I going to get on this horse? After her orientation, she asked if we had any questions. I wanted her to repeat everything she just said again, but before I knew it, I was introduced to my horse.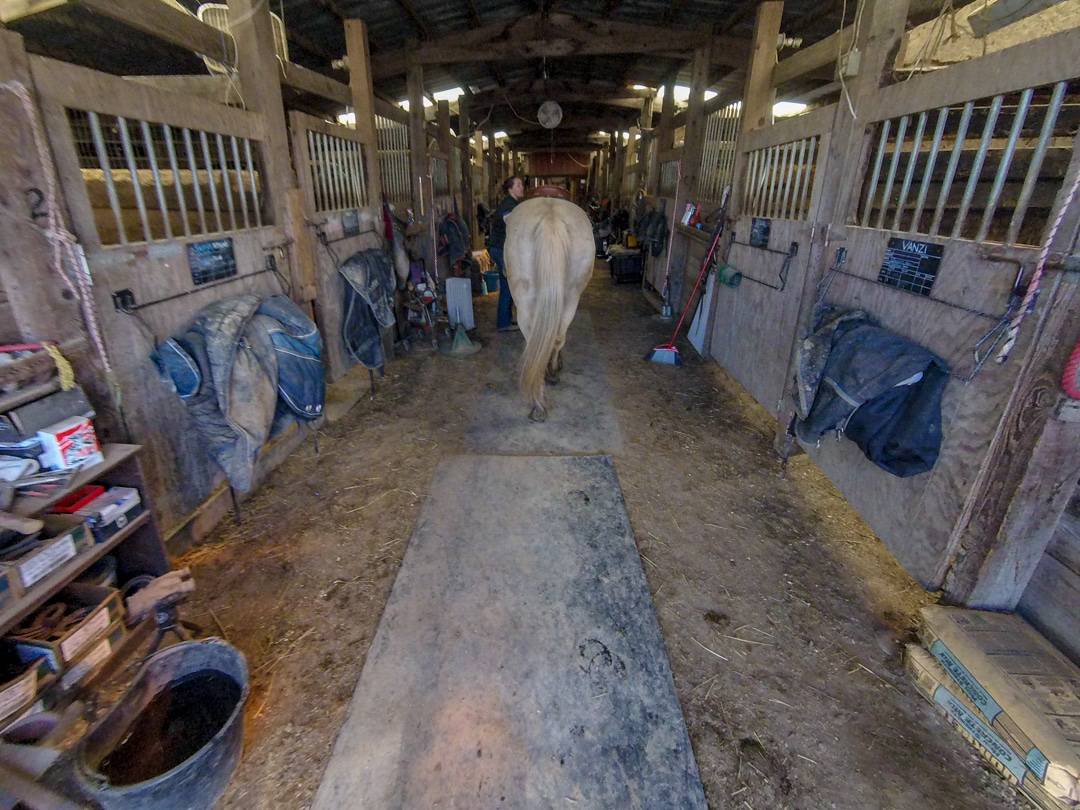 Brienne of Tarth – Solid but Gentle
I decided to be a brave knight, and Erika handed the reins of the Brienne of Tarth over to me. Wait a minute you mean I have to walk with the horse? Do I have to lead it outside the stable? I tried to tell myself that I am a brave warrior knight and this was my faithful steed. Brienne didn't skip a beat and walked beside me outside to a fenced staging area.
To my relief, Erika said that she always used steps to help people up on the horses. Brienne was a big horse, and I had no idea how I was going to be able to pull myself up into the saddle. Even with the stairs I was terrified.
Erika is an Amazing Teacher and Guide
Erika was a patient and comforting guide she walked me through how I would lift my leg over Brienne and into the saddle. Then she showed me the technique with the reins, repeating back what she explained in the stables. She moved on to help my girlfriend Mary with her horse, and I sat there in the saddle praying Brienne didn't start walking. When she did start moving, I remembered what to do. Pull back on the reins. She stopped.
The fear that had built up inside and all the crazy things in my head started to fade away. I realized Brianne was turning around as that was the direction she knew we would be going. So as Erika helped Mary, I pulled gently on the rein in my left hand, and Brienne started to turn. Then I pulled back again, and she obediently stopped.
Painted Bar Stables 1 Hour Beginner Trail Ride
Erika jumped on her horse, and we made our way outside the gated holding area and started our way onto the trail. Located on private lands, we made our way through an open field with Erika guiding us each step.
It was a gentle ride down towards the forest. Soft pulls on the reins guided the horses left and right, and soon we were turning and walking on a narrow path into the forest. We rode through the forest paths, and our first obstacle was a log lying on the ground ahead. No match for our horses who comfortably walked over them.
A Walk Through the Woods
The trail was not an even flat surface. There were challenges like our first small hill. Erika gently reminded us again of her orientation. Lean back in the saddle and keep your heels back. I conquered the first challenge and felt more comfortable with Brienne as we made our way through the narrow trail.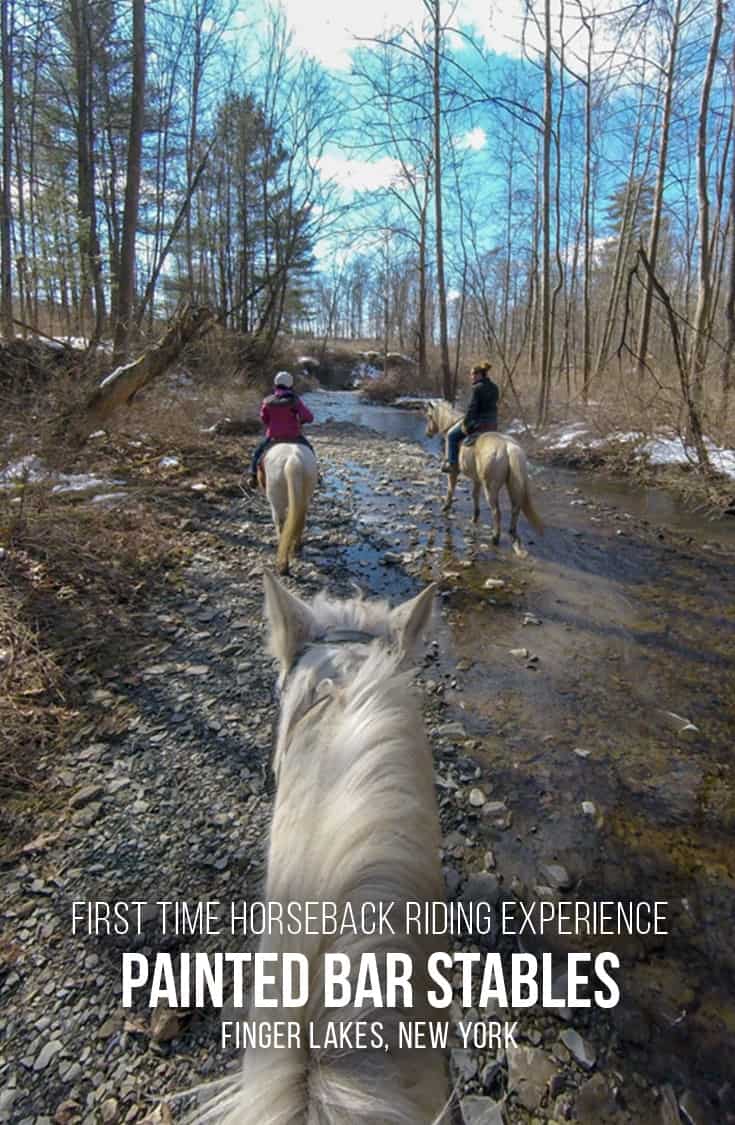 It continued like this with a few surprises. A group of deer that were dancing around in the forest, not at all bothered by us. Because we were on the horses, we were not spooking the deer at all.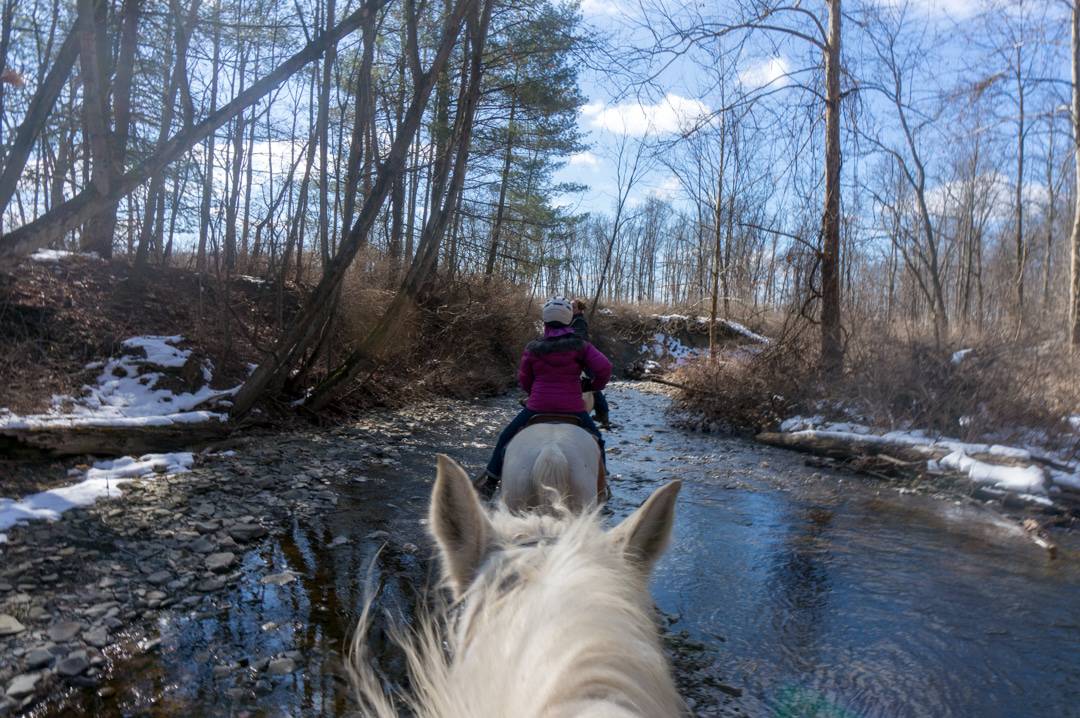 A Walk Through the Creek
Another surprise we walked up and into a creek. There the horses stopped for a drink, and we then got a little bit of a trail ride right through the water. Here I was on a horse for the very first time, and I was leading the horse right and left, up and down hills and through the water. I was now also comfortable enough to put the reins in one hand and take photos with my camera.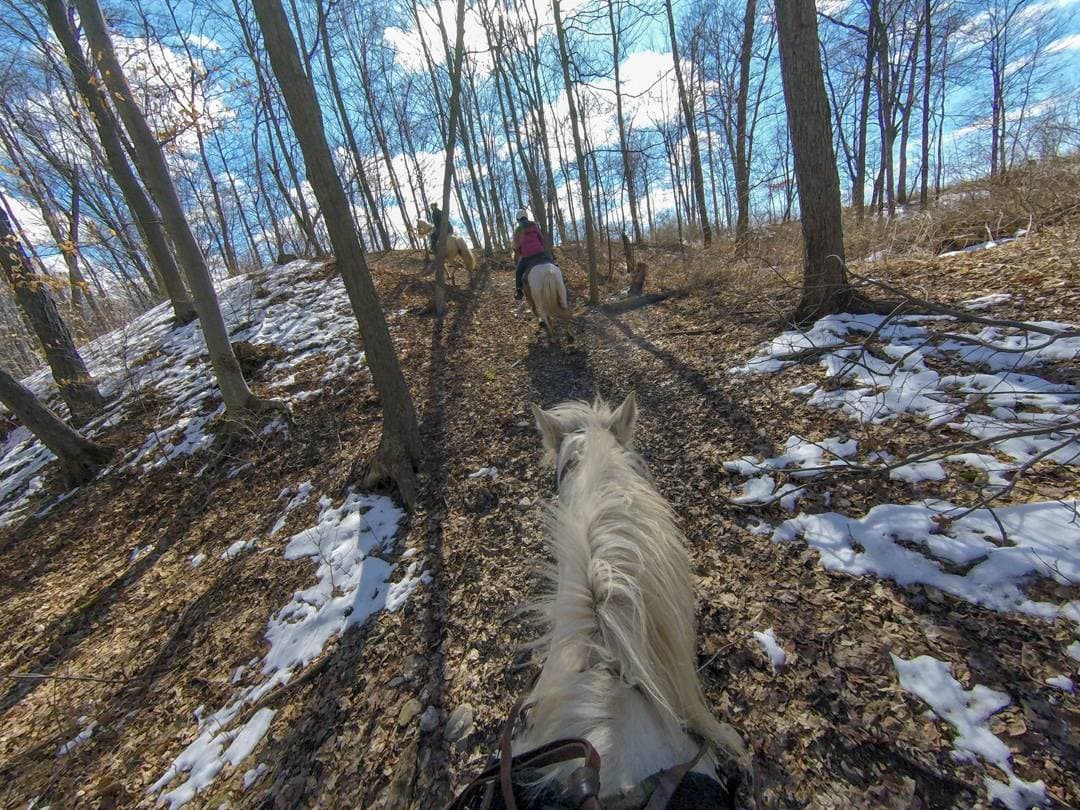 As we made our way to the edge of the forest Erika then threw another challenge at us. This hill was the biggest one on our beginner trail. I listened to Erika's instructions. Brienne started to run, and suddenly I felt myself lifting out of the saddle as she galloped up the steep hill. At the top, I realized I was holding my breath. Despite the gallop, despite myself moving up and down on the horse, I did not fall.
Game of Thrones theme was playing in my head. I felt that fantastic feeling you get when you accomplish one of those dream moments. I faced one of my biggest fears. Not only did I ride a horse, but I also rode it down hills and through water in a forest.
We made our way back to the stables under the blue sky, in the crisp spring air and then back inside the holding pen. This time Erika said no stairs. What? I watched as Mary awkwardly disembarked the horse and that fear started rising again.
The Final Hurdle Getting Off the Horse
Erika came over and calmly walked me through how I was going to get off this horse. I leaned forward and pulled one leg over and started to slide down Brienne's side. How far down was the ground? I had an awkward stumble because one foot was still in the reins and the other couldn't find the ground. Then I felt myself losing my balance and falling over. I don't know how Erika kept me from landing in the mud. But she saved me from a muddy end to my first horseback ride.
All the fear was lifted. I wanted to spend more time with Brienne now. Stroking her face, we took a few photos and then I walked her proudly back into the stable.
Fear of Horseback Riding Conquered: I love horseback riding.
That was such a fun experience, filled with challenges I never thought I could do. If I lived in upstate New York, I'd probably become a student of Erika's, but I guess for now I'll have to plan to revisit her on my next trip to the Finger Lakes Region.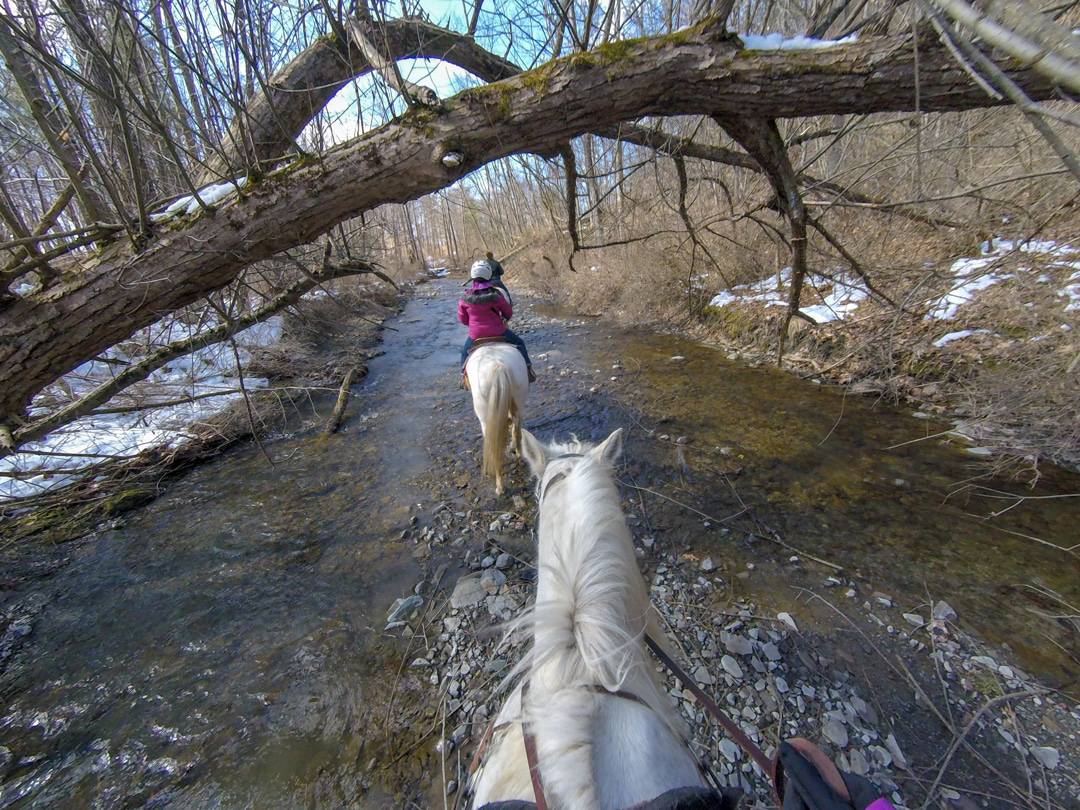 First Time and Beginner Horseback Riding Tips
Wear long pants
Bring hiking shoes or boots that have a good tread and a heel. A shoe like sneakers with a flat sole will slip. Rubber boots, work boots, hiking boots and hiking shoes are recommended.
Shoes must be closed toe – no sandals.
Bug spray and/or sunscreen
If you need glasses – be sure they are secure on your head, loose-fitting sunglasses and other eyewear are not recommended.
Pack light, you will not be able to ride with your backpack/purse.
Where to Stay
I recommend the Watkins Glen Harbor hotel which is located near Painted Bar Stables: Experience a Weekend Getaway at the Watkins Glen Harbor Hotel NY.
24 Hours Later….
A Day After my First Horseback Ride at Painted Bar Stables
Not that I regret anything, but what kind of travel writer would I be if I didn't honestly share all the details of my experience. I just discovered a new set of muscles I didn't know I had. Don't get me wrong Erika warned us that we'd have sore muscles we haven't worked out in a long time, but today I feel like I'm not working hard enough in the gym.
Most of the muscles fatigue is from the waist down. Ok, I'm going to say it. My groin, my thighs and even my calves are very tight and sore. I'm thinking next time I visit I plan a spa stay the day after vs. running around art galleries and museums with a lot of stairs. Just a recommendation!
Read more: The Casual Sophistication of Graft Wine and Cider Bar Watkins Glen NY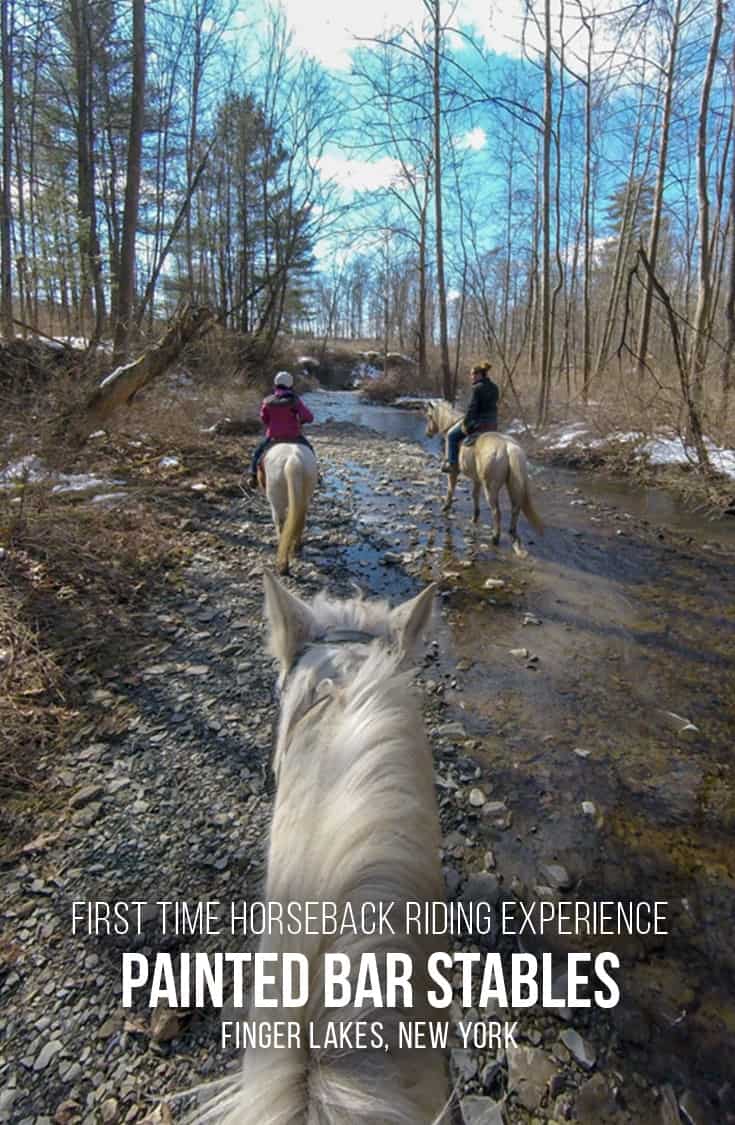 Disclosure: Travel assistance provided by Visit Rochester on a media FAM trip. Special thanks to Erika and the Painted Bar Stables for a dream horseback riding experience. All opinions expressed in this post are my own.