This article may contain affiliate links. Clicking on or purchasing products we recommend through a link may earn a small commission. Read our disclosure and privacy policy page for details. *COVID-19 TRAVEL ALERT – Travel recommendations offered on this site are not to encourage you to travel against travel advisories.
Located on the main street in Watkins Glen, the Graft Wine and Cider Bar tops the list of restaurants in Watkins Glen New York. The restaurant has a quirky, casual, fine dining atmosphere and an impressive selection of wine, cider and beer. It's the perfect spot for a great meal, great conversation in a welcoming and casual environment.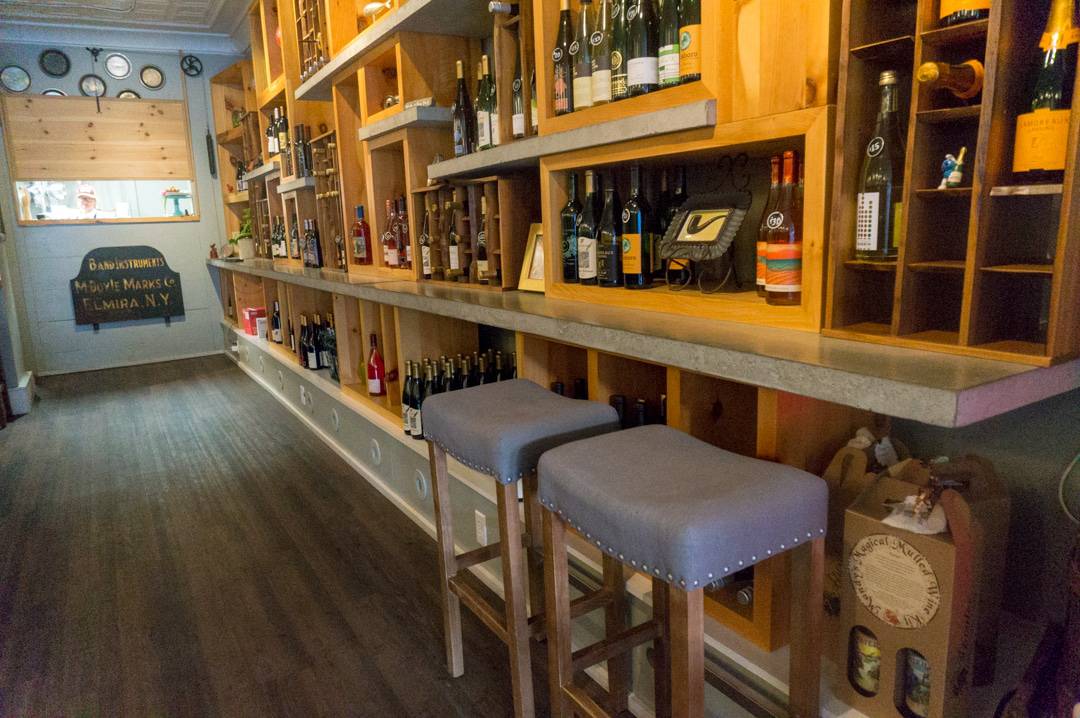 Graft Wine and Cider Bar Restaurant Décor and Vibe
It's a modern contemporary décor but with a quirky twist. There are a few tables located at the front of the restaurant and a large bar where many prefer to sit and eat, including my friend and I.
The restaurant walls are lined with wine bottles and quirky decorative touches like a metal robot and other little toys and figurines. You'll be sitting around admiring the atmosphere and then you'll see a small fish just sitting there minding its own business. The rest of the vibe is sophisticated, urban and trendy.
Food is served family style and will come out in no particular order, just another little touch to the casual nature of Graft Wine and Cider Bar. People come in expecting some great wine and a great meal, but they arrive in jeans and hang out at the bar meeting new people.
I felt like as a solo traveller this was the best restaurant you could visit on your journey. You show up grab a spot at the long bar and in no time, you're part of the conversation. The welcoming staff will be sure to entertain you, but we found ourselves having a great chat with others around us too.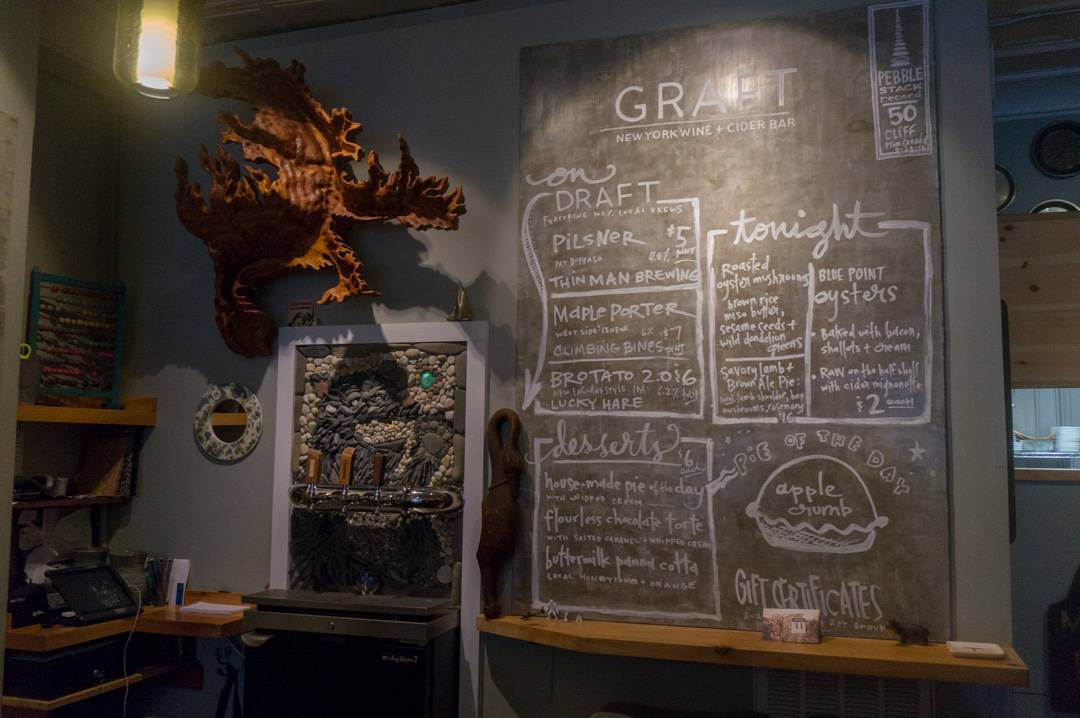 Graft Wine and Cider Bar Menu
The food is going to change so don't expect the same menu as below when you go. This chef is the type that mixes things up. Most of their ingredients are sourced locally.
We ordered:
We picked a variety of things from the menu which included a crispy warm Baguette (to sop up the sauce from the mussels).
The steamed mussels were a significant portion, even for the two of us, especially after we received all the other food we ordered.  The mussels came in a coconut milk broth with sweet onions, ginger, garlic and tatsoi.
If it is on your menu, I recommend the Ricotta Gnocchi which had rustic, flavours earthy flavours but was not a rich or heavy dish. It was light and tastes including sage, brown butter, toasted walnuts, roasted beets and Brussels sprouts.
We also had to pick a few items from the specials on the chalkboard. I could have just sat there an eaten the baked oysters all night. They were pretty memorable and were baked with bacon, shallots and cream. You can also order them raw on a half shell.
The lamb and brown ale pie was a lamb shoulder, bay mushrooms and rosemary stuffed in a phyllo pastry and served with an arugula salad. This dish reminded me of a Quebec Tortiere.
If you happen to stop in Watkins Glen New York during a Finger Lakes wine tour or road trip, be sure to leave time for dinner at Graft Wine and Cider Bar. It was steps from the Watkins Glen Hotel where we stayed. For more on this hotel see this post: Experience a Weekend Getaway at the Watkins Glen Harbor Hotel NY.
If you are looking for things to do in the Watkins Glen area check out First time Horseback Riding Experience at Painted Bar Stables NY.
Disclosure: Travel assistance provided by Visit Rochester and Graft Wine and Cider Bar on a media FAM trip. All opinions expressed in this post are my own.