This article may contain affiliate links. Clicking on or purchasing products we recommend through a link may earn a small commission. Read our disclosure and privacy policy page for details. *COVID-19 TRAVEL ALERT – Travel recommendations offered on this site are not to encourage you to travel against travel advisories.
During my three day introduction to New Orleans, I visited so many places it was impossible to cover them all in one post. So in Part II of my 3-day itinerary in the city, I cover what you must eat in New Orleans and Good Restaurant in NOLA. 
Dream it.
New Orleans is known for its incredible food scene, from beignets to Cajun Creole-inspired menus you'll never struggle to find something to eat. During my first trip, I had a few locations on my list of to-dos, recommendations from friends who had been there before. I also, however, wanted to stay relatively healthy and avoid fried, greasy and high carb eats. With a list of good restaurants in New Orleans and three days to explore many must-visit places. The great thing about the city's food scene is that there are options available for every meal at every price point.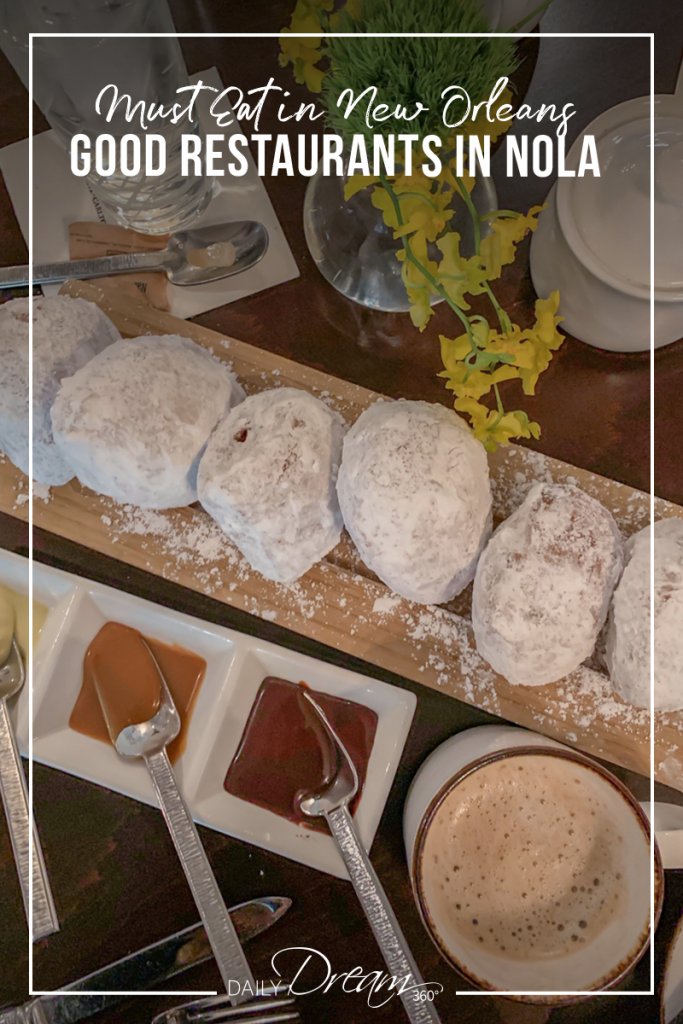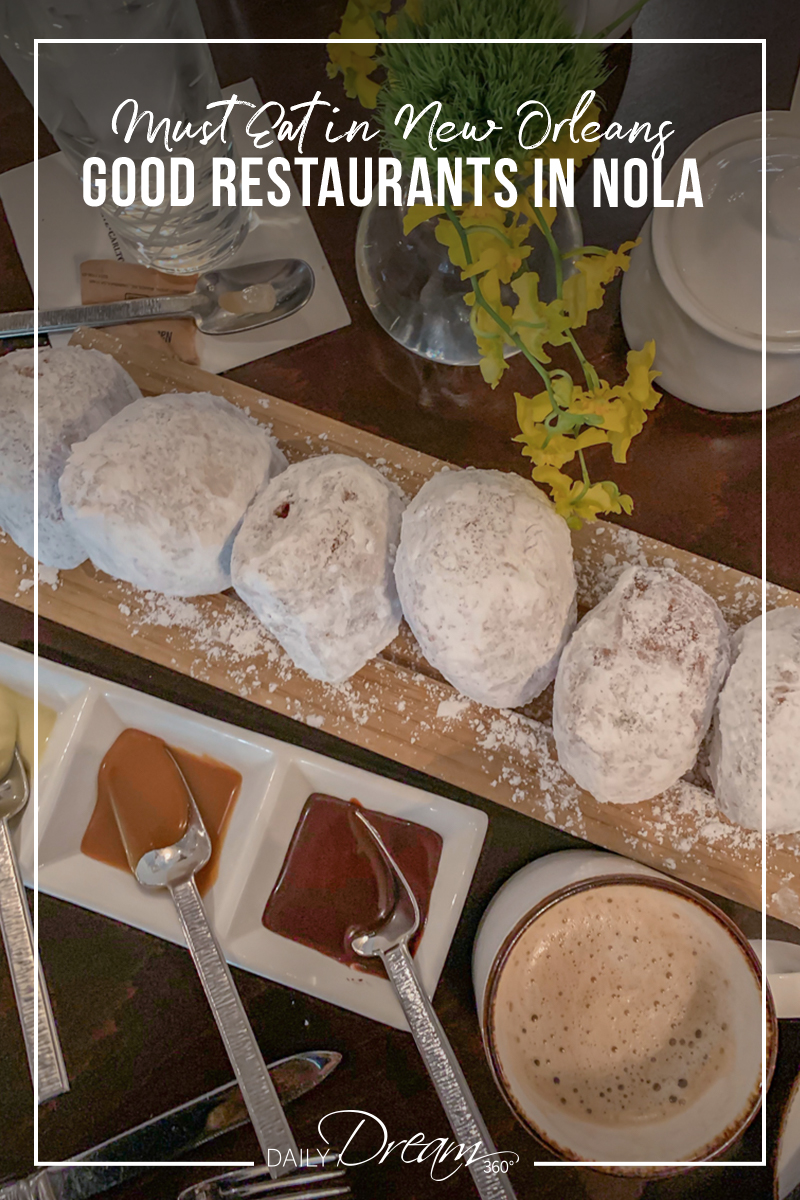 Plan it.
During our three day adventure, we had a list of foods we must-eat in New Orleans. We ate at many different restaurants, and below, you can find all the details. Looking to plan your trip to NOLA, we have lots of great suggestions for you in our guide for first-timers visiting New Orleans.
Read More: 3 days in New Orleans, an Itinerary for Your First Trip to NOLA.
Must Eat in New Orleans: Where to Eat Beignets
If you are planning a trip to New Orleans, then let me start with where you have to go to eat Beignets. They are available throughout the city, but these two locations are now on my must-do list of things to do in New Orleans.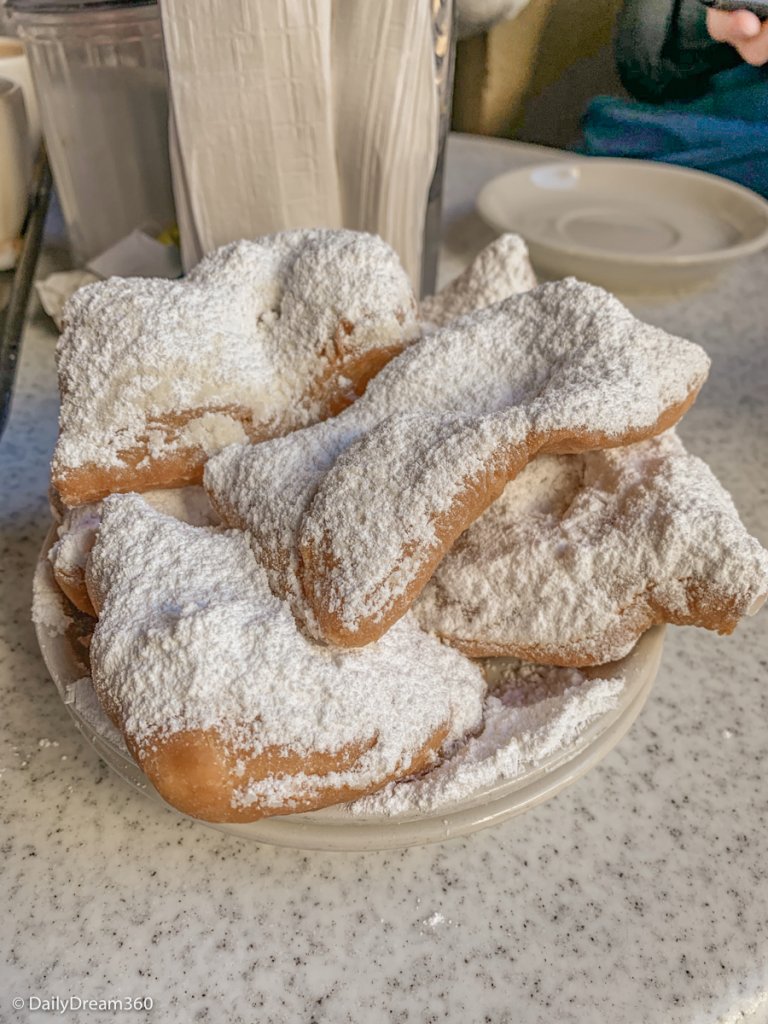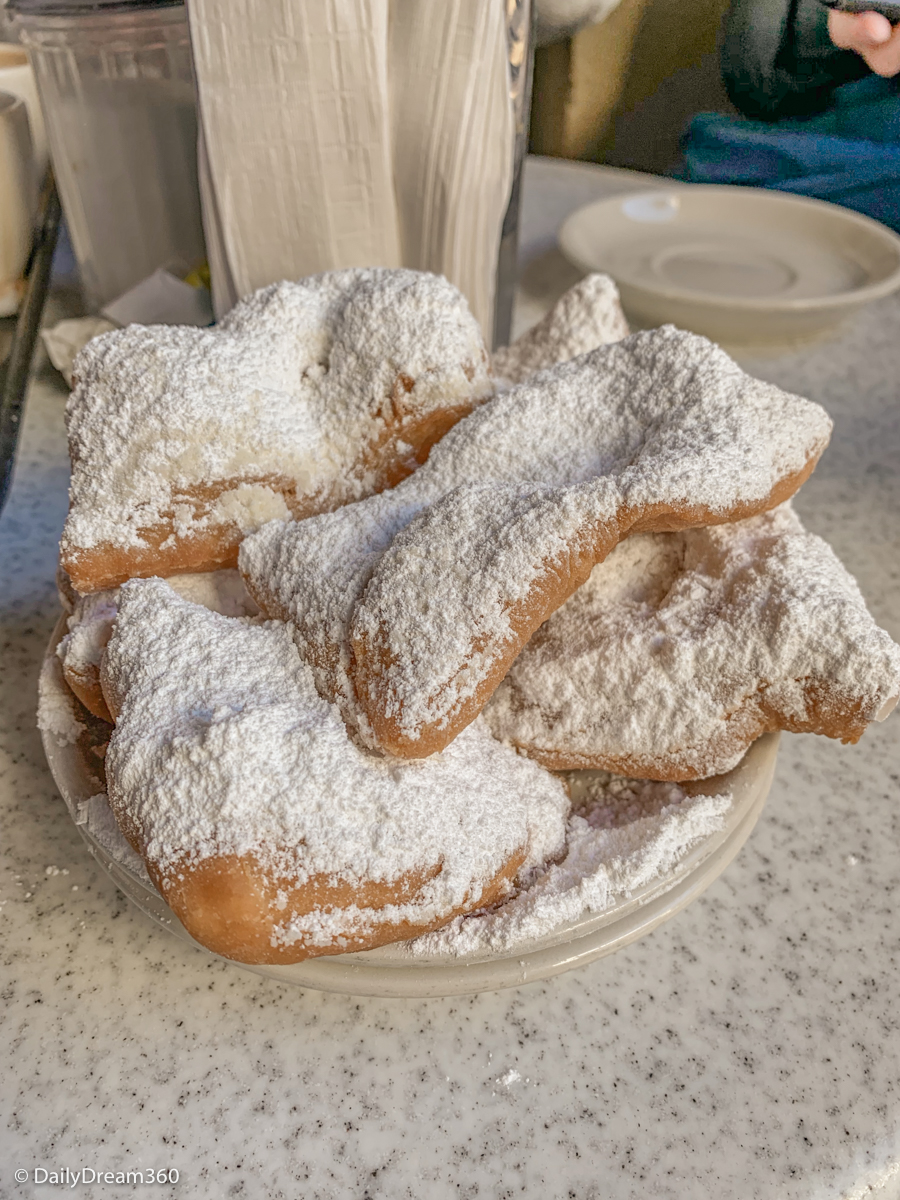 What are Beignets?
My healthy low carb life didn't stop me from this famous New Orleans delicacy. Beignets are fried dough with a hollow center sprinkled with powdered sugar. Be prepared to bring some wet wipes with you as likely you will be covered in white powdered sugar after eating.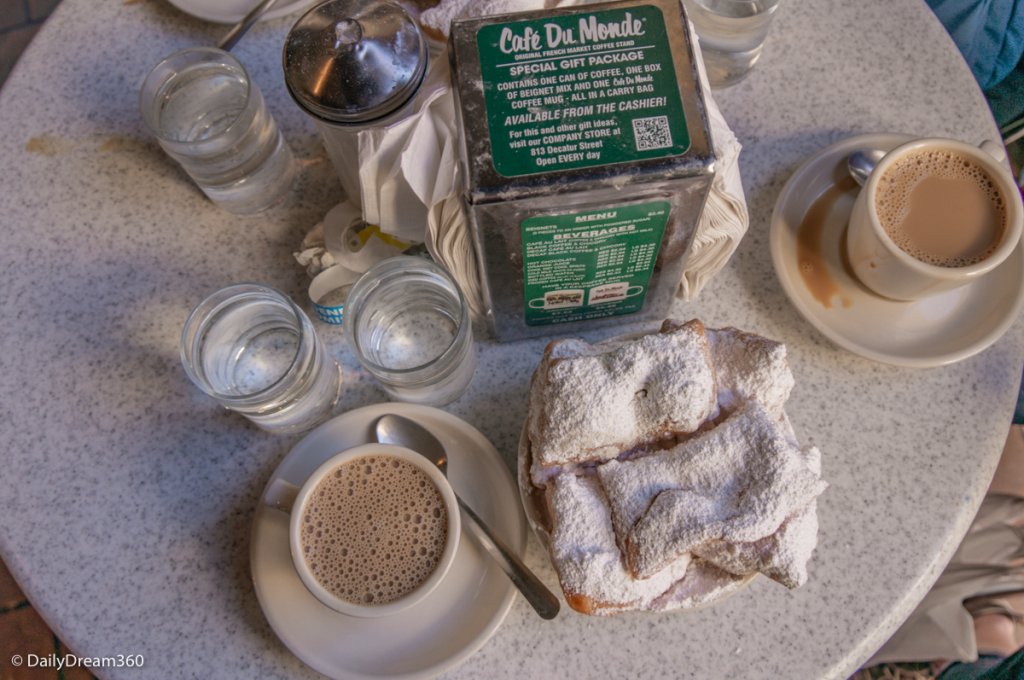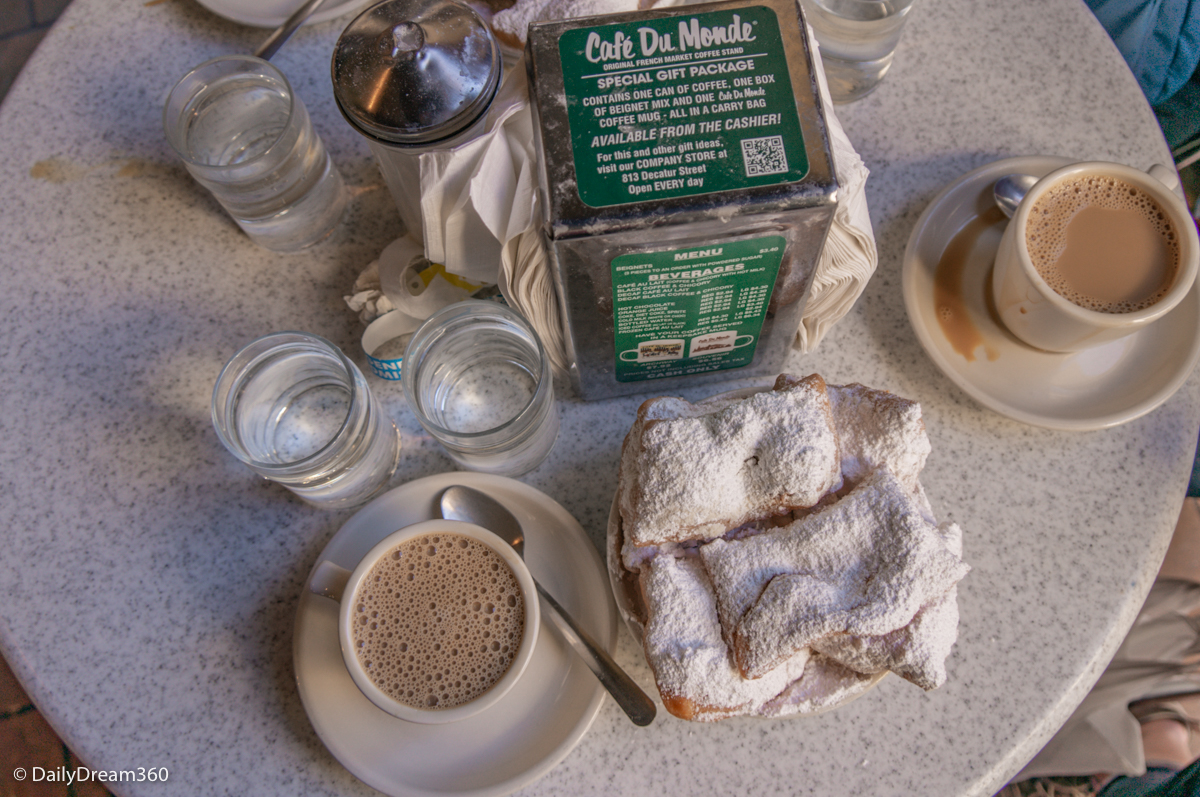 Beignets at Café du Mond – Most Well Known
By far, the most well-known beignets shop is Café du Monde. The Café also tops the must-see in New Orleans lists of the majority. There is a take out window where you can join the enormous line to grab your coffee and donuts to go, or you may find getting a seat in the seating area is faster. They have a seat yourself policy, so if you see an empty table grab it and a server will be along shortly to clear it and take your order.
Café du Monde (City Park): There is another location for the famous café. You will find one in City Park as well where you can watch the baking of the beignets. We stopped there during an evening haunted bus tour.
More Information: Cafe du Monde Website | Check Reviews: Cafe du Monde TripAdvisor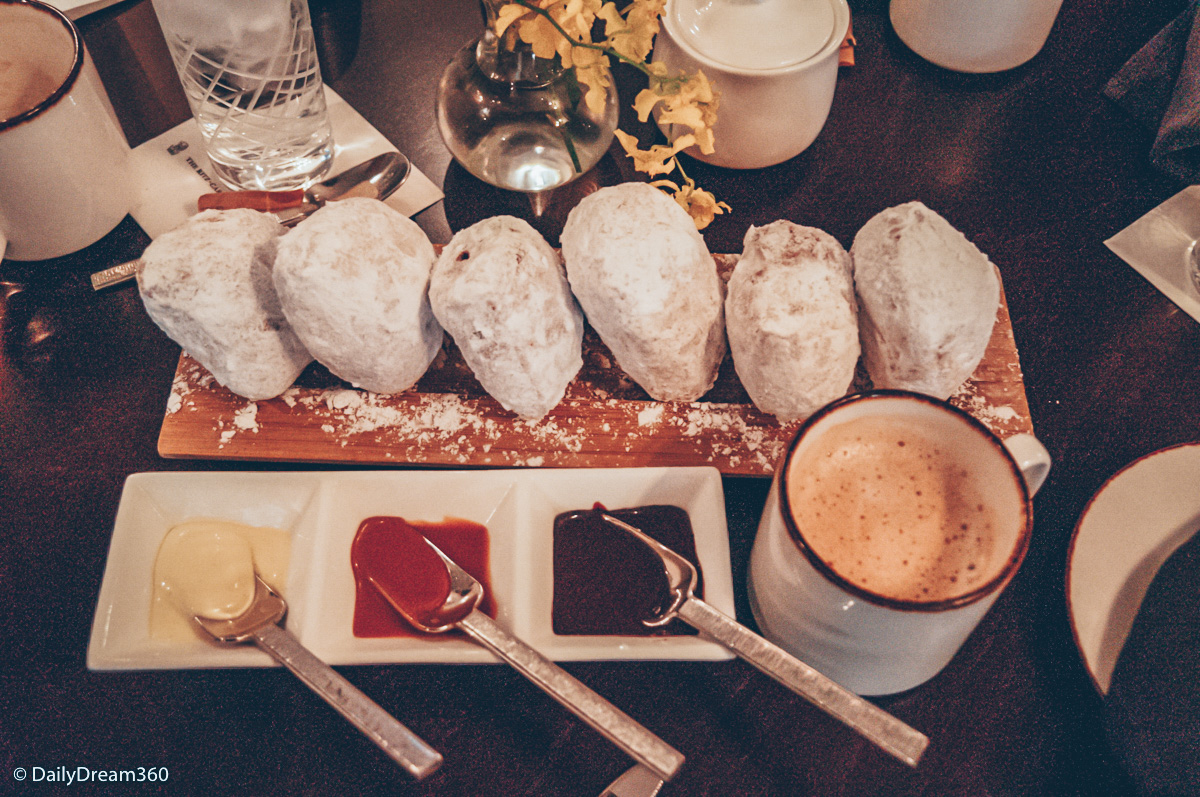 Beignets at Ritz Carlton Lounge – Best Beignets in New Orleans
It was a locals' recommendation to hit the Ritz Carlton for the best beignets in the city. I one hundred percent agree with this recommendation and am putting it on my must-do in the New Orleans list too.
Don't let the glitz and glamour of the hotel fool you; an order of 6 beignets is $10, and they come with three dipping sauces, chocolate, caramel and vanilla. Make your way to the third floor of the hotel, where you can order the beignets in the restaurant or the lounge.
Live it.
Best Breakfast Places in New Orleans
Jazz Breakfast at the Court of Two Sisters – Best Breakfast in New Orlean
I am so glad that the Court of Two Sisters was on our itinerary as it was recommended by several locals, including our tour guide and a number of waiters. If it is a sunny day, be sure to ask for a table in their beautiful courtyard, which is canopied by a large Banion?? Tree.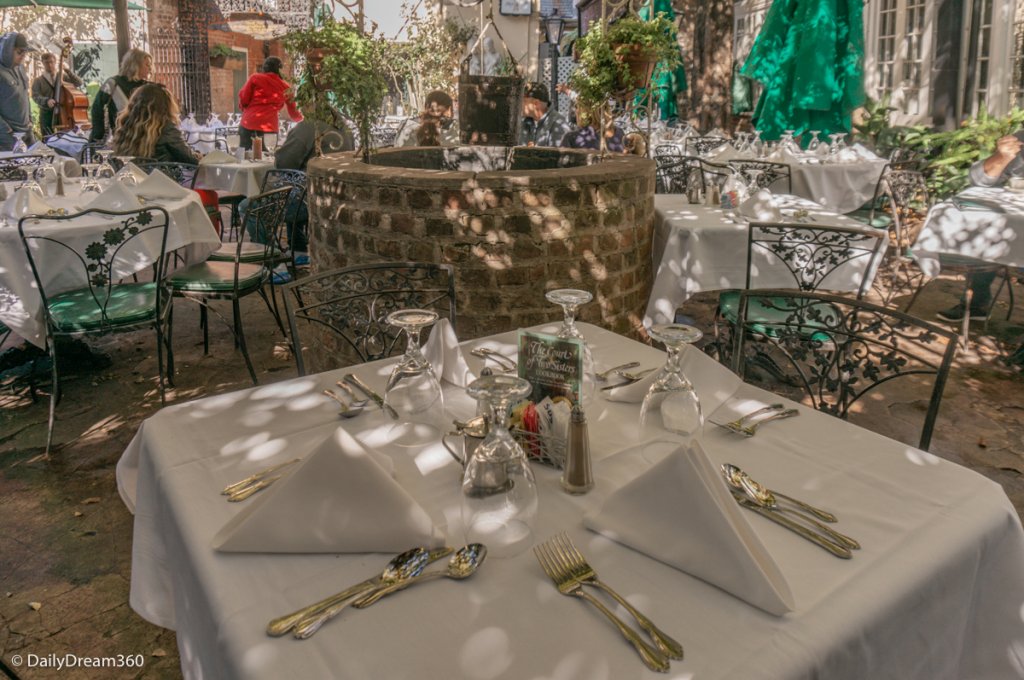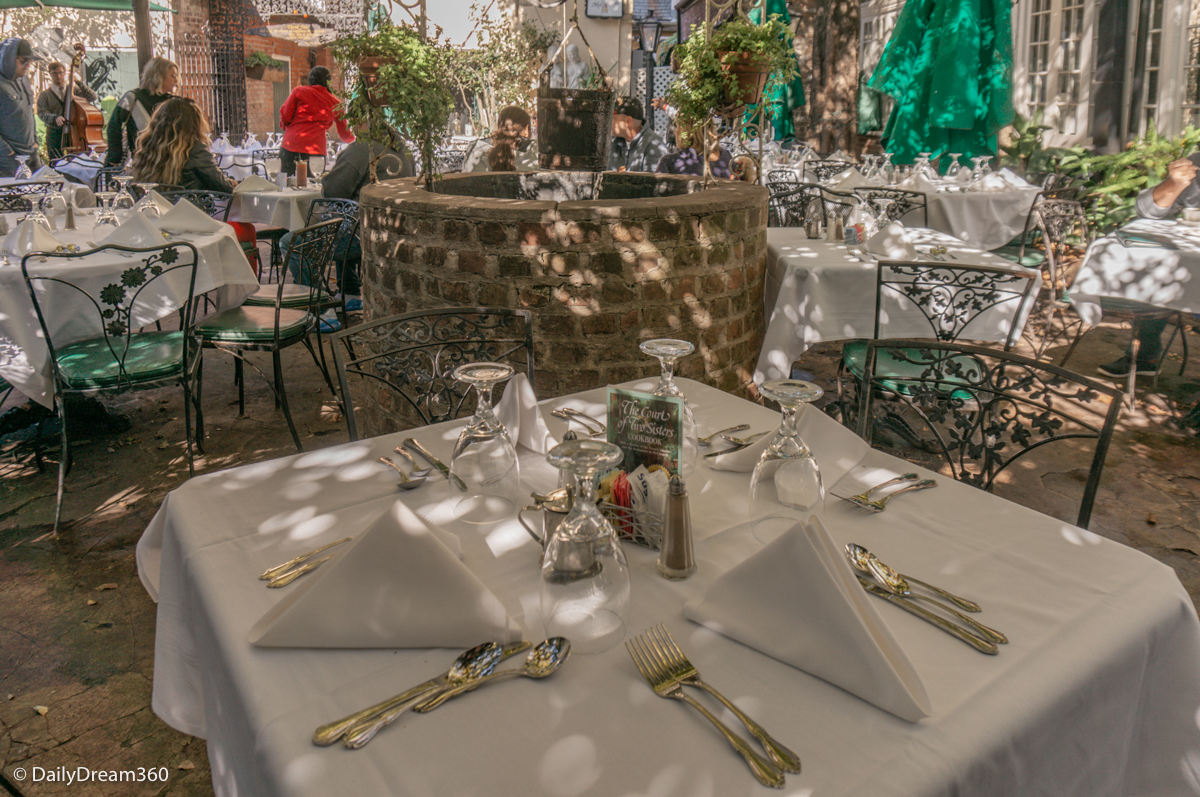 Surrounded by small water fountains, singing birds and the lovely sound of a live jazz band playing in the courtyard, even on a chilly fall day, we were glad we chose to sit out on the patio. The Buffet is filled with options including cold salads, seafood, hot lunch or breakfast options. There is also an egg benedict and omelet station.
More Information and Reviews: Court of Two Sisters | Reviews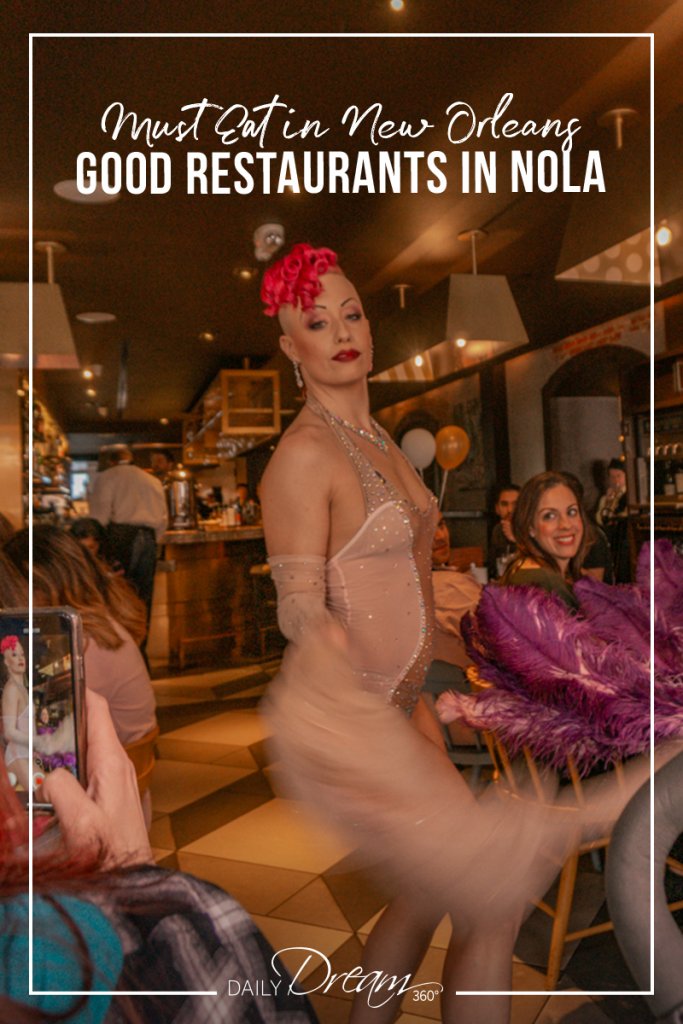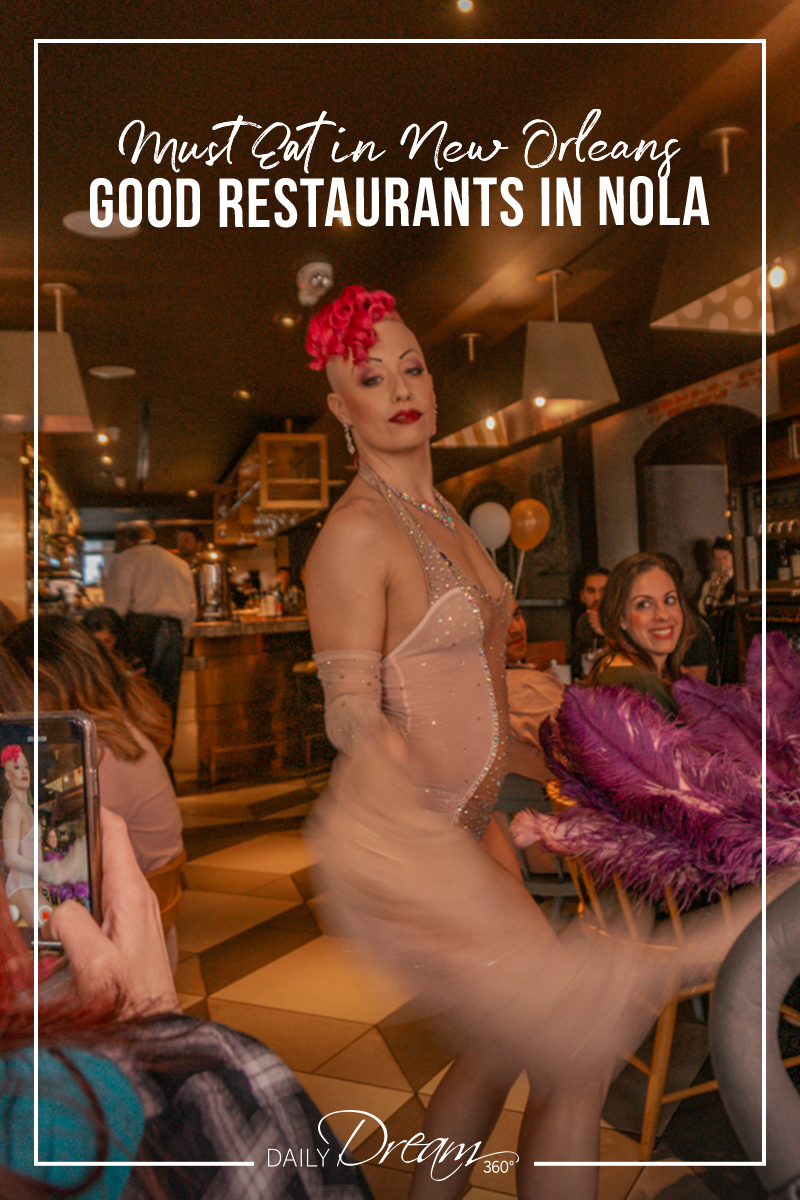 Burlesque Brunch at Sobou – Best Brunch in New Orleans
I had no idea what I was getting into when my girlfriends and I walked into Sobou for a Sunday morning brunch. What you need to know is that on Saturdays and Sundays you can enjoy a great Brunch while being entertained by a Burlesque dancer.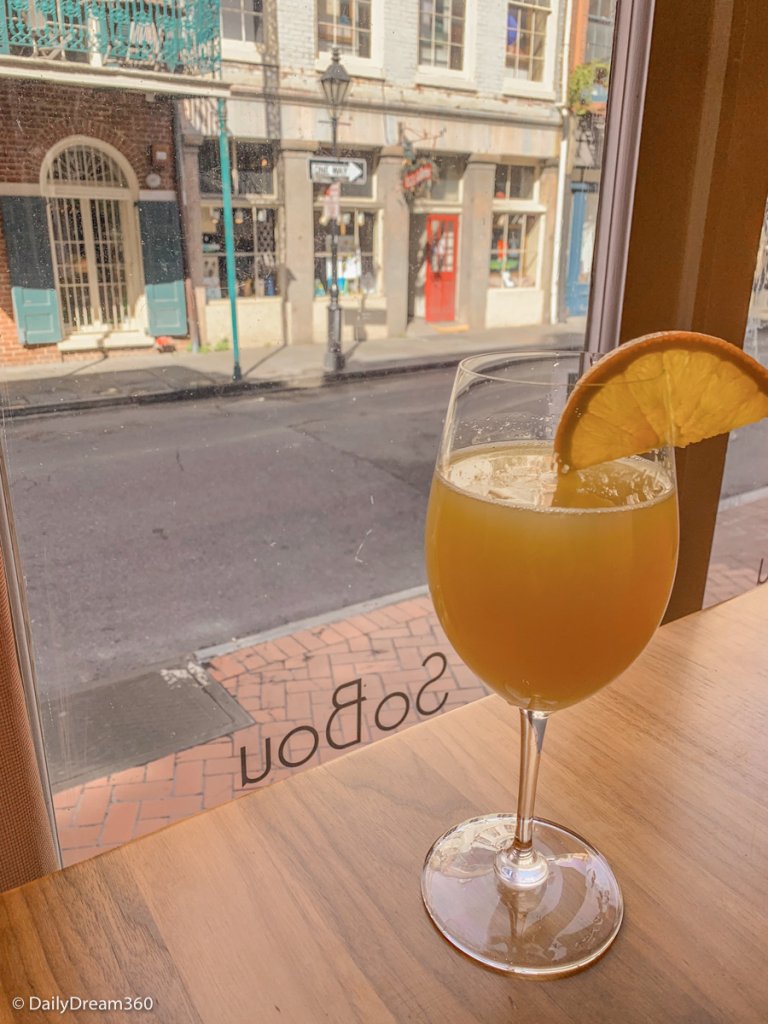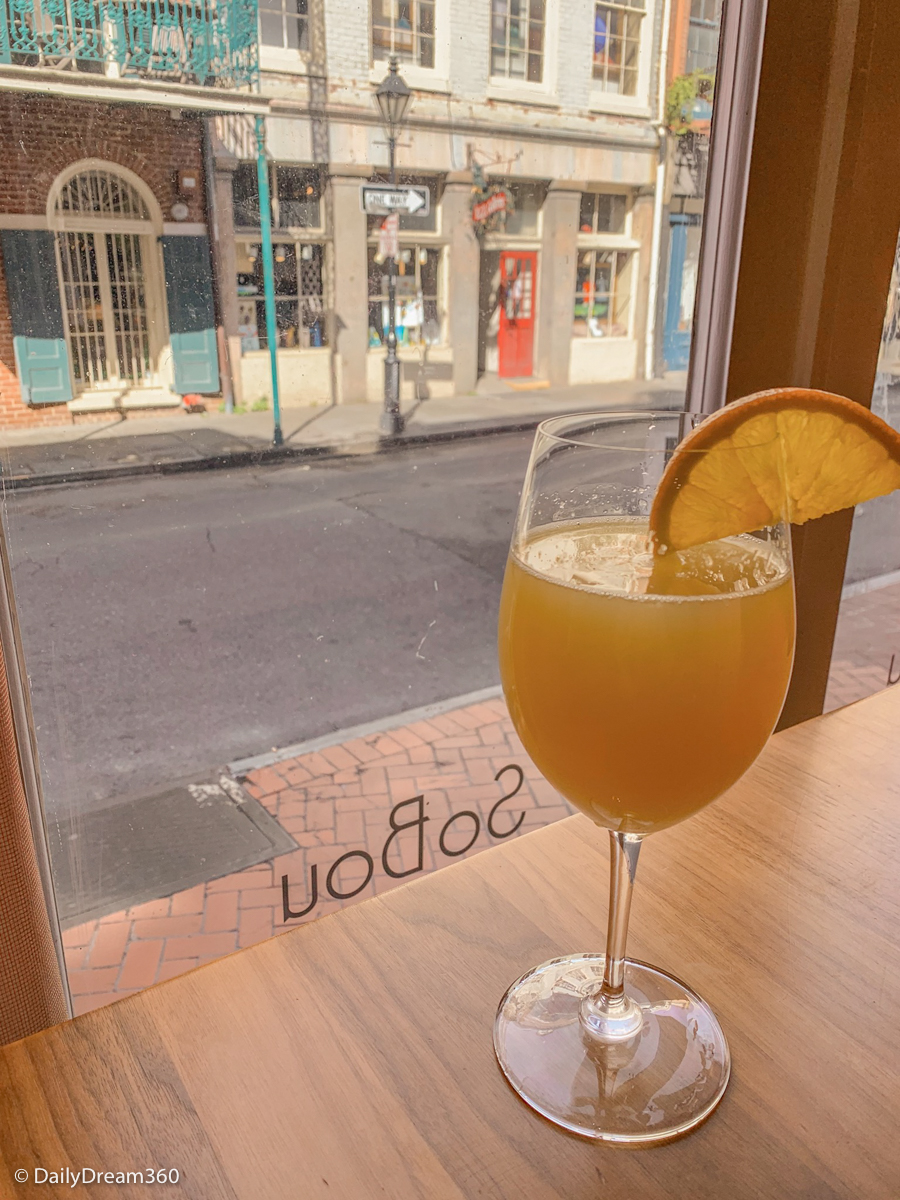 SoBou features a 2-course brunch menu, and your main entrée sets the price. There are a number of delicious menu items to choose from and a cocktail menu too. I recommend the bottomless Mimosas!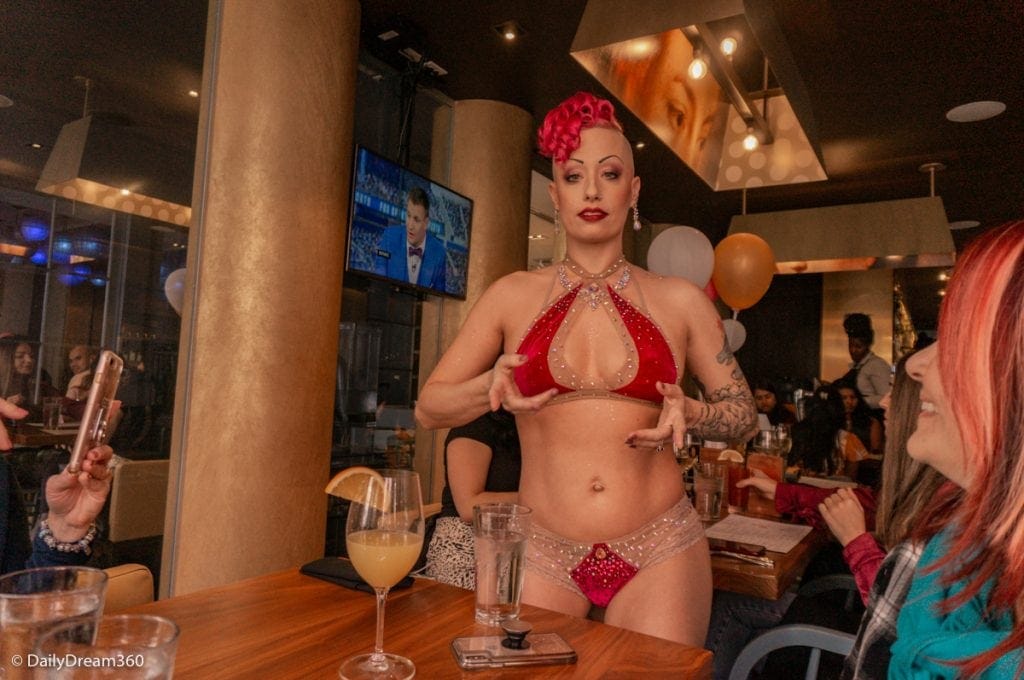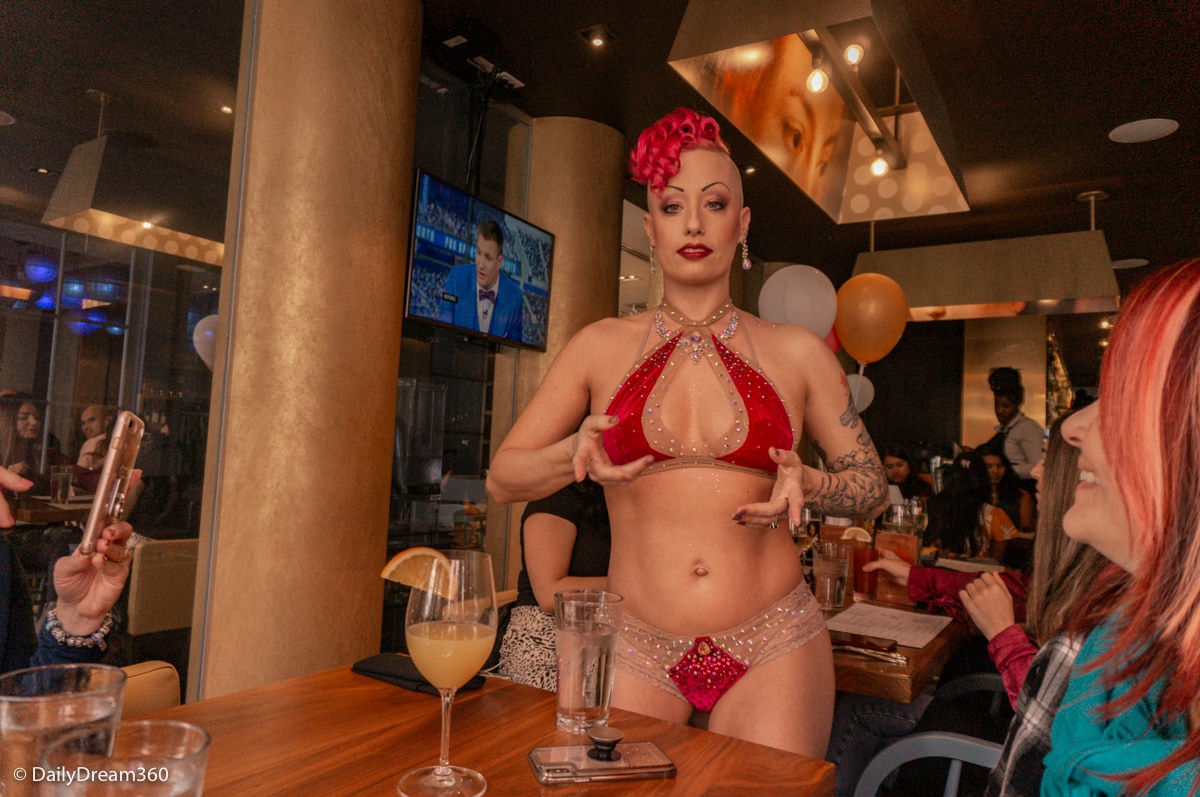 Bella Blue, the dancer, was lovely and performed several dances amongst the tables. She came by to say hi and even sat down with us and told us a little about the burlesque resurgence in New Orleans.
More Information and Reviews: Website | Reviews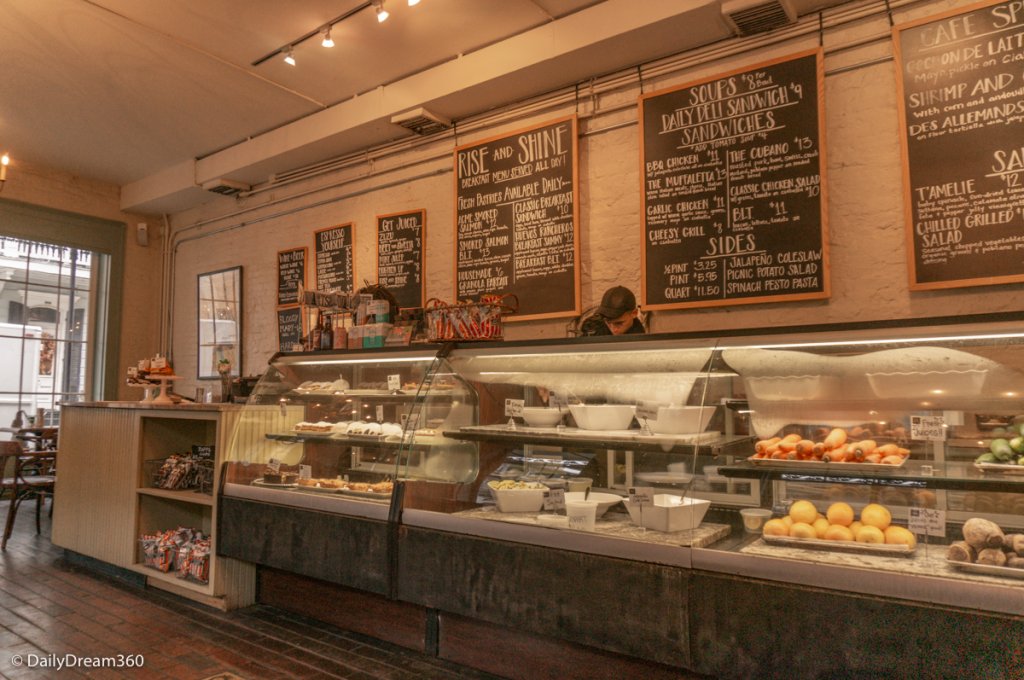 Where to Eat Lunch in New Orleans
Petit Café Amelie
On my first day in the French Quarter, I happened to find the smaller Petit Café Amelie while escaping the rain in search of a healthy bite. Café Amelie is a restaurant with a lovely courtyard. The fast-food type counter was a great spot to grab a sandwich or salad.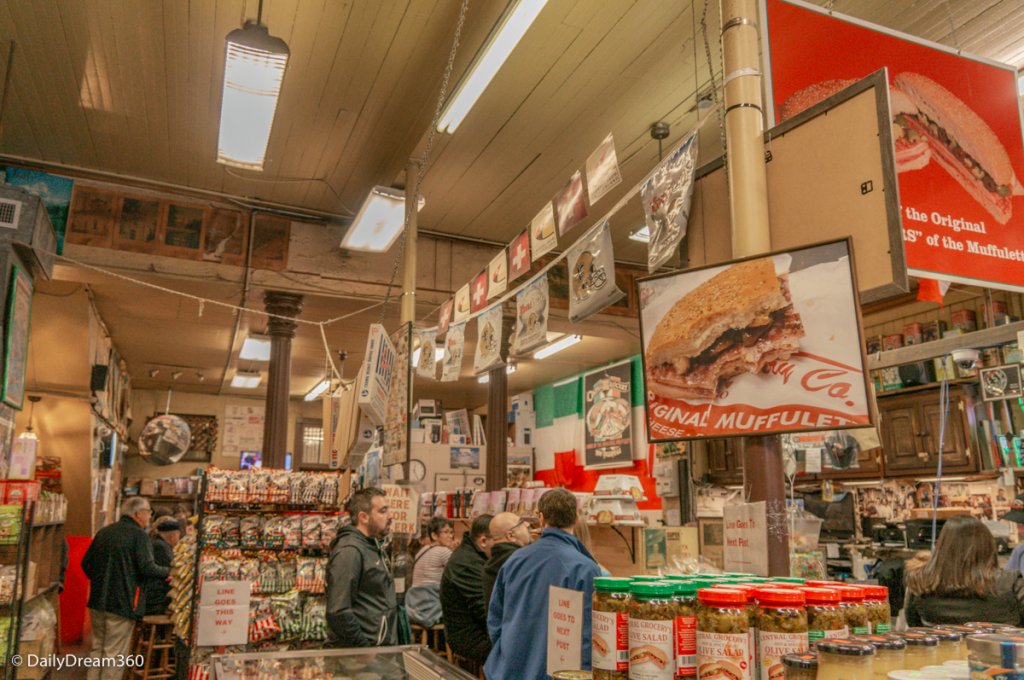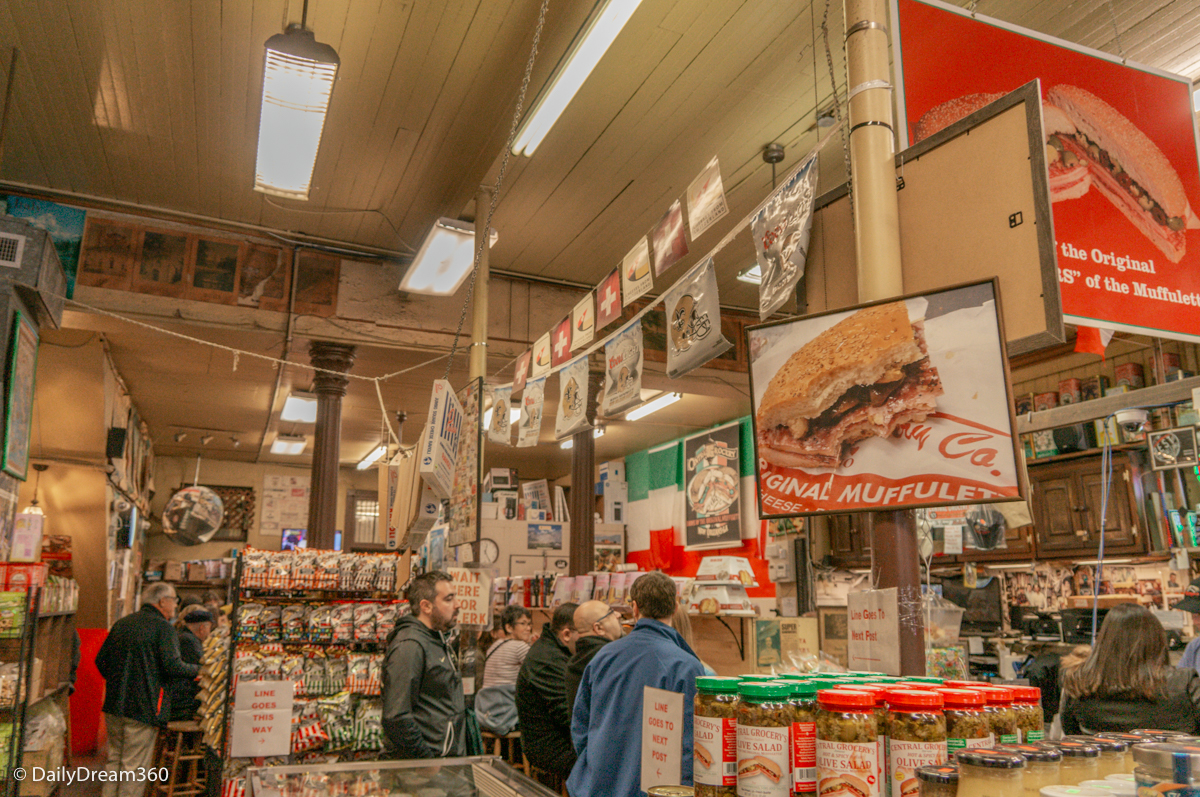 Central Grocery
Home of the Original Muffuletta, this famous Italian Grocery is on many local's "good restaurants in New Orleans" lists. Every person I asked told me I had to go and eat Muffuletta and both the Napoleon House and Central Grocery. If you are looking for a fast takeaway lunch and some Italian inspired eats, hit the counter inside the store. The Central Market grocery invented the sandwich and continues to serve it to locals and tourists alike.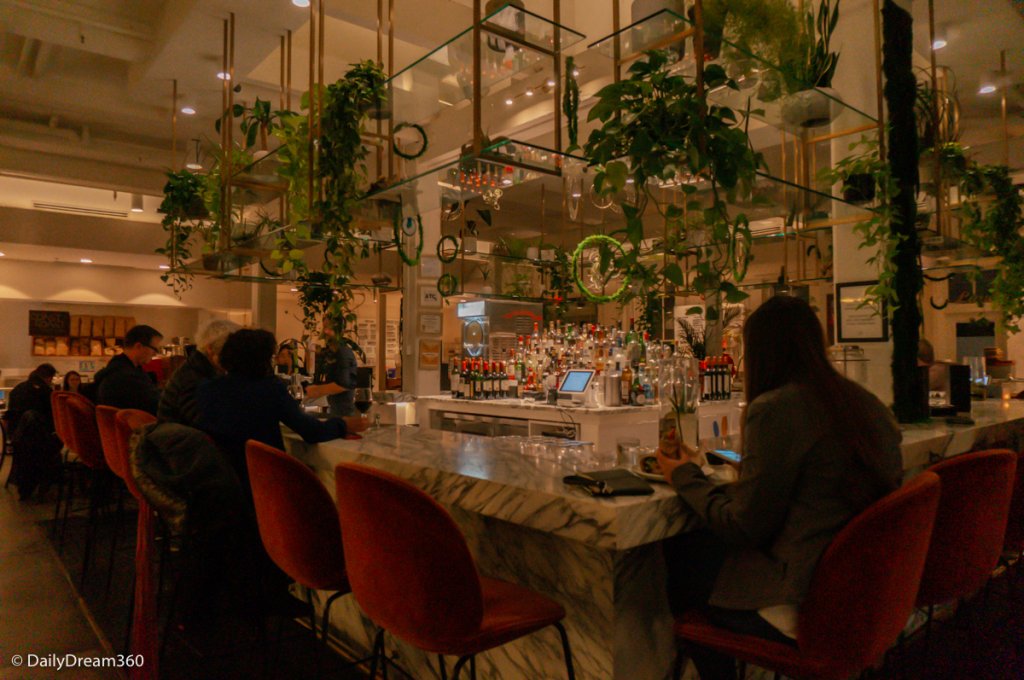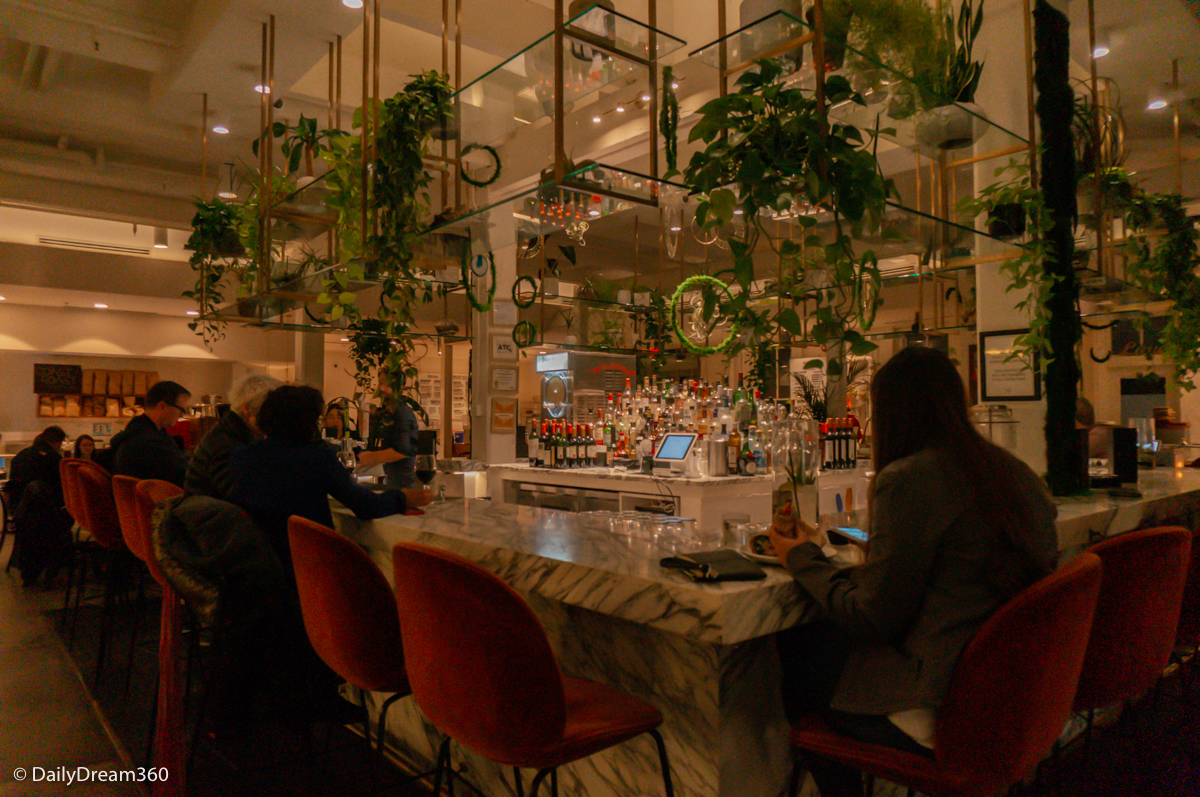 Great Lunch or Dinner Restaurants in New Orleans
Auction House Market
The trend of food halls is alive and well in the USA and is now spreading into Canada. These establishments feature many vendors with different cuisines all under one roof. At Auction House Market, you will find ten vendors along the perimeter of the restaurant with a massive bar in the center.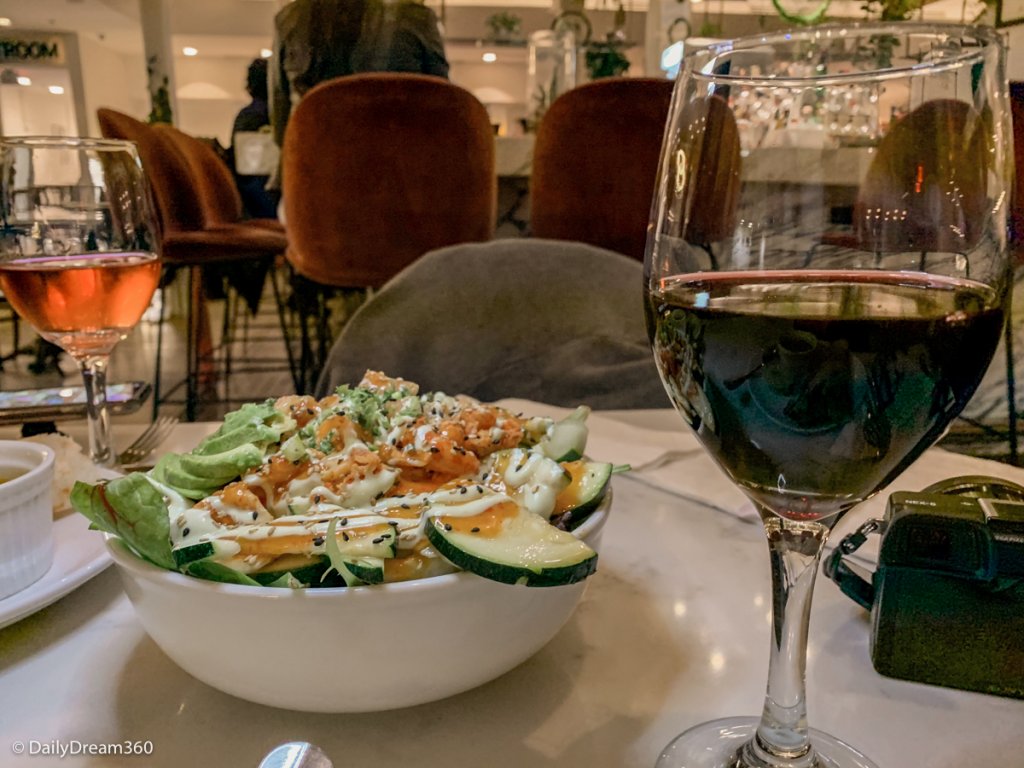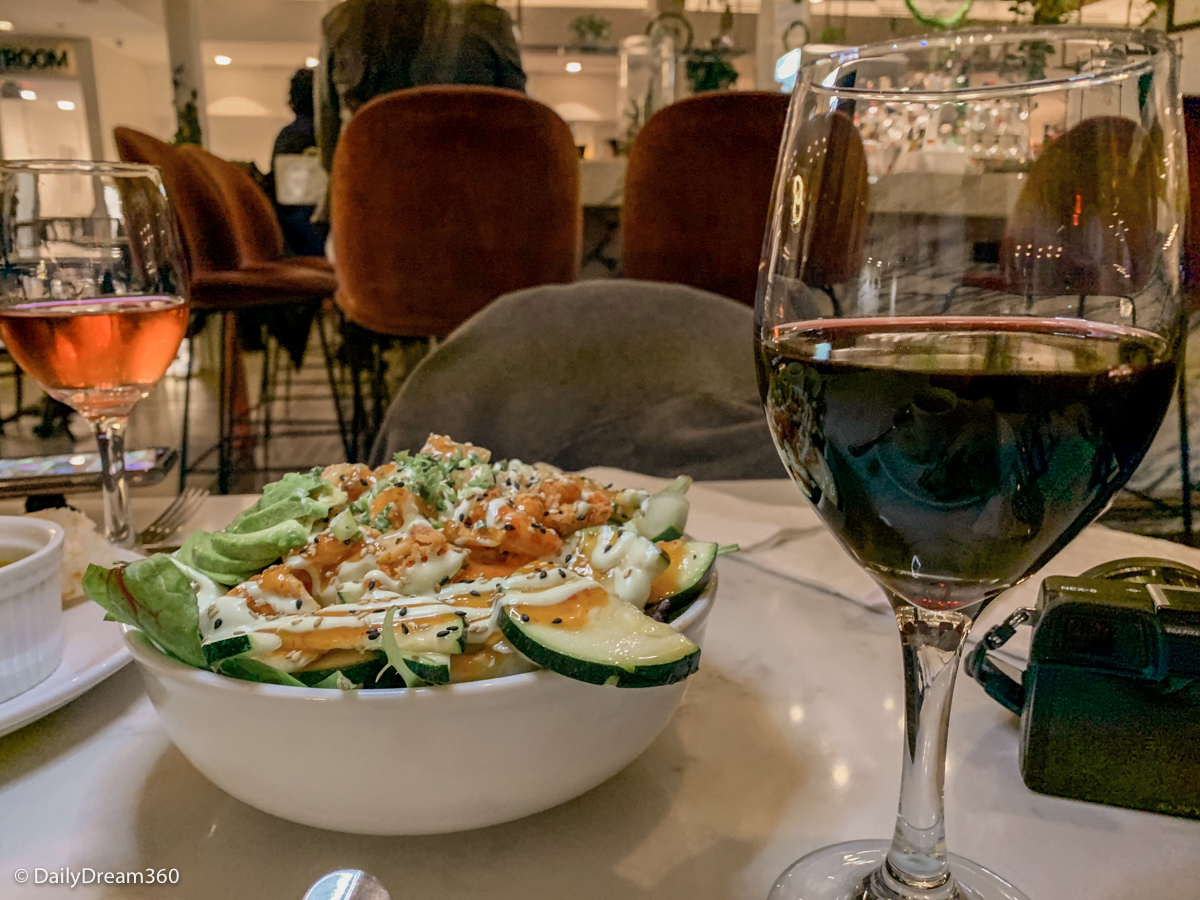 There you can indulge in sushi & poke, seafood, empanadas, Indian street food, deli sandwiches and more. If you visit with multiple people, the portions were large enough for sharing.
More information and Reviews: Website | Reviews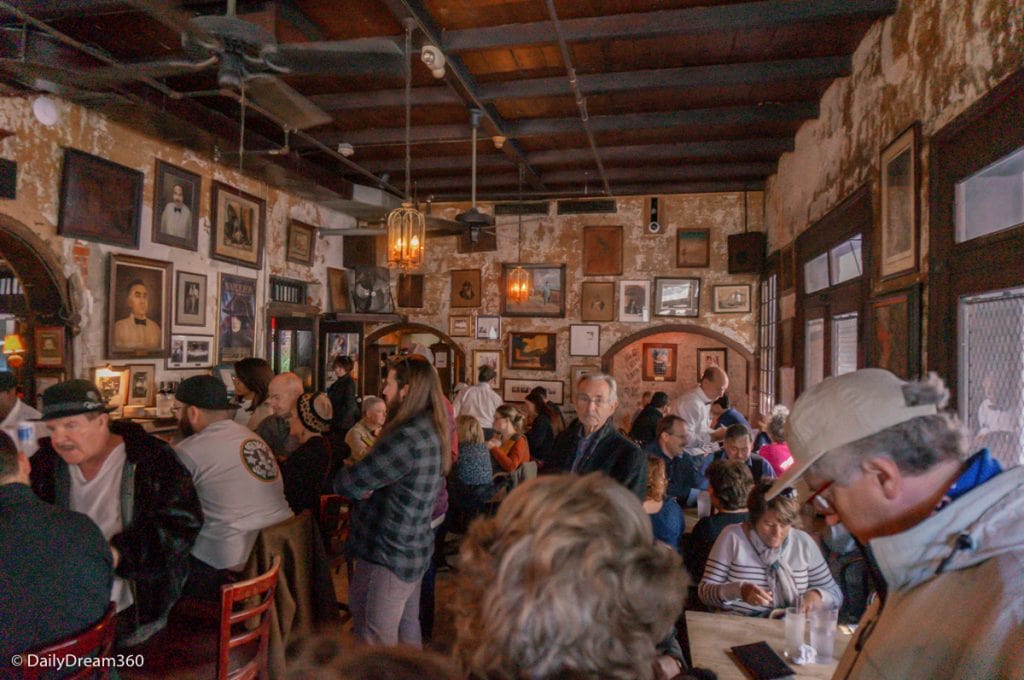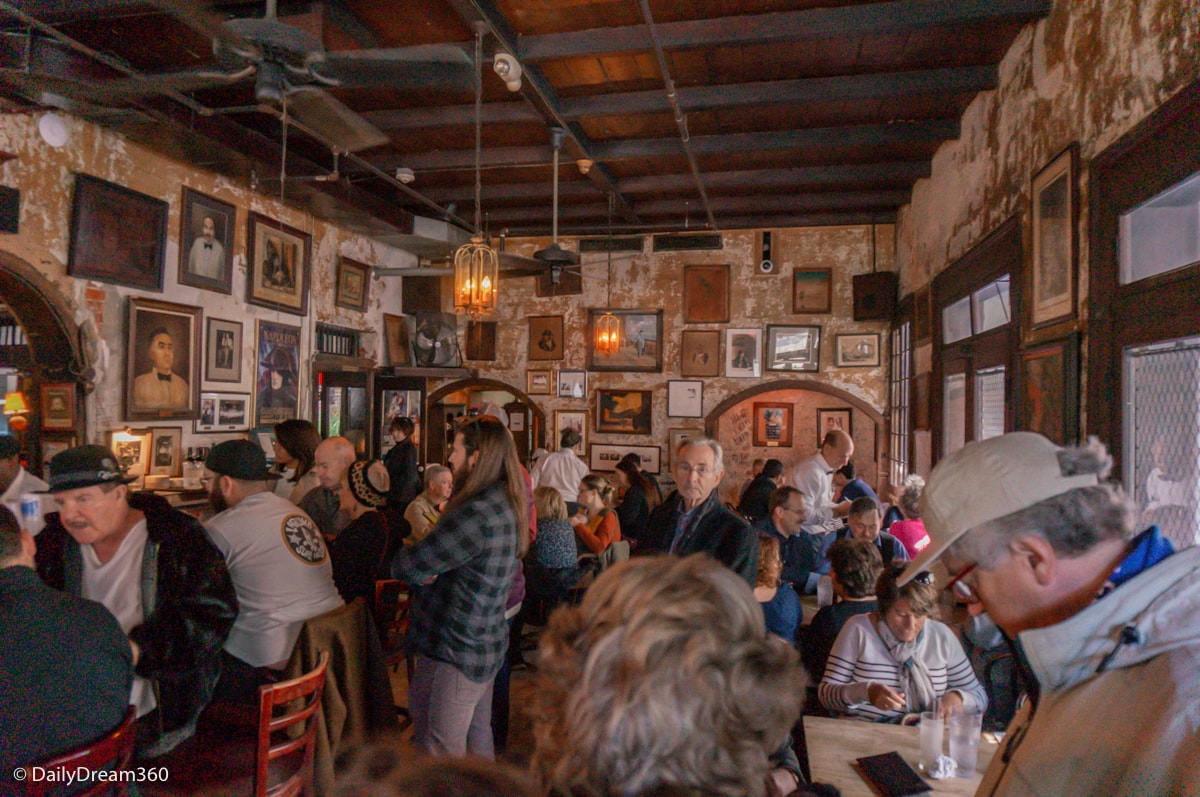 Napoleon House
When a restaurant has a line out the door all day long, you take notice. When you Google Napoleon House, you will start to understand why it is so popular. Located in a 200-year-old building the restaurant's history traces back to 1914 when the Impastato family started serving its Italian inspired menu.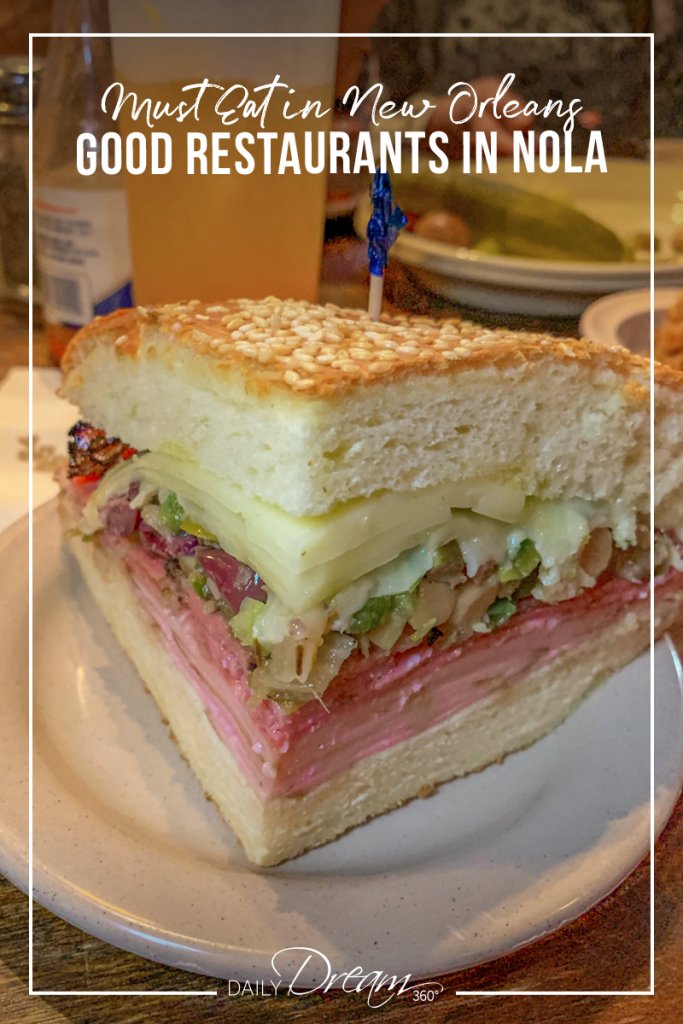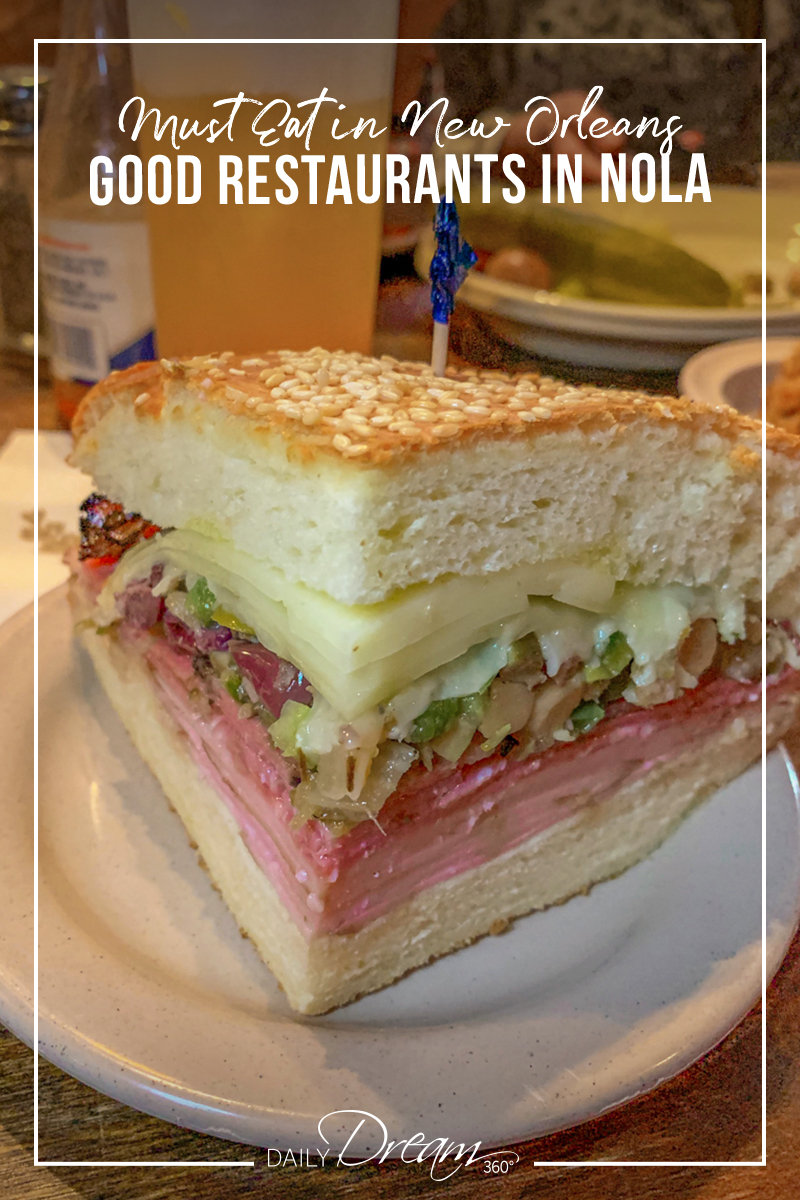 I could probably write a book about the history of Napoleon's house in New Orleans, but this post is about the food. One can not visit this restaurant and miss its famous Muffuletta sandwich, so that was what we did. I'm not one for big meaty sandwiches, but this converted me.
Other great eats we tried during our late lunch include Shrimp Remoulade Stuffed Avocado, Jambalaya and Red Beans & Rice. Save room for dessert and some Classic Bread Pudding.
More Information and Reviews: Napoleon House | Reviews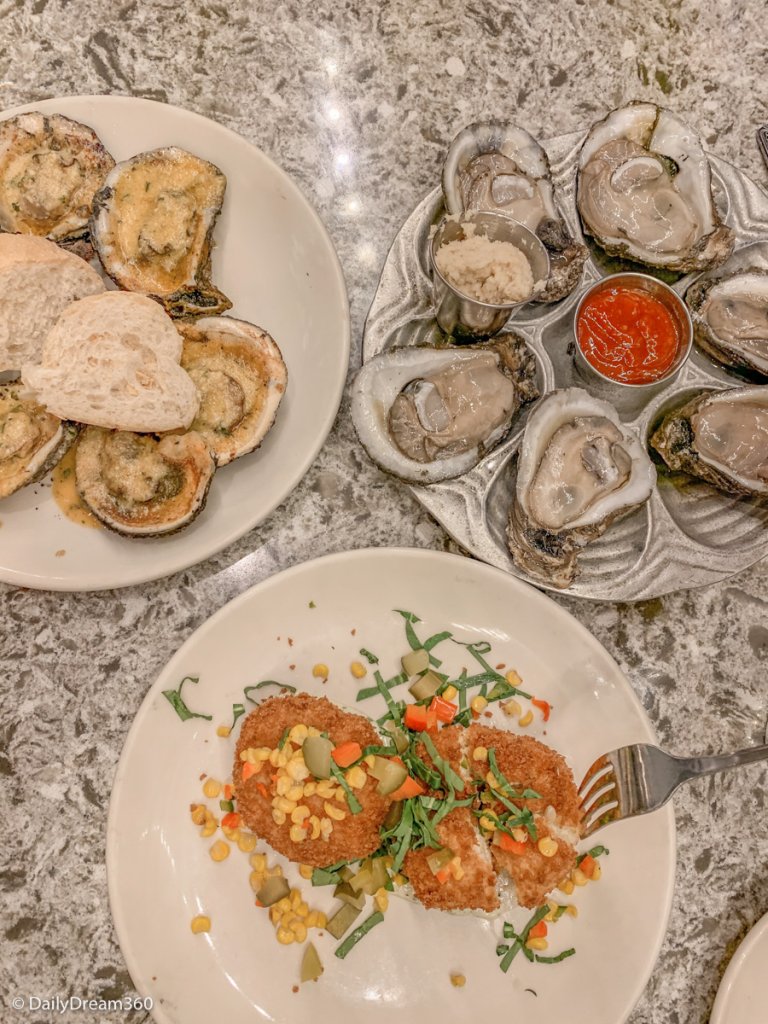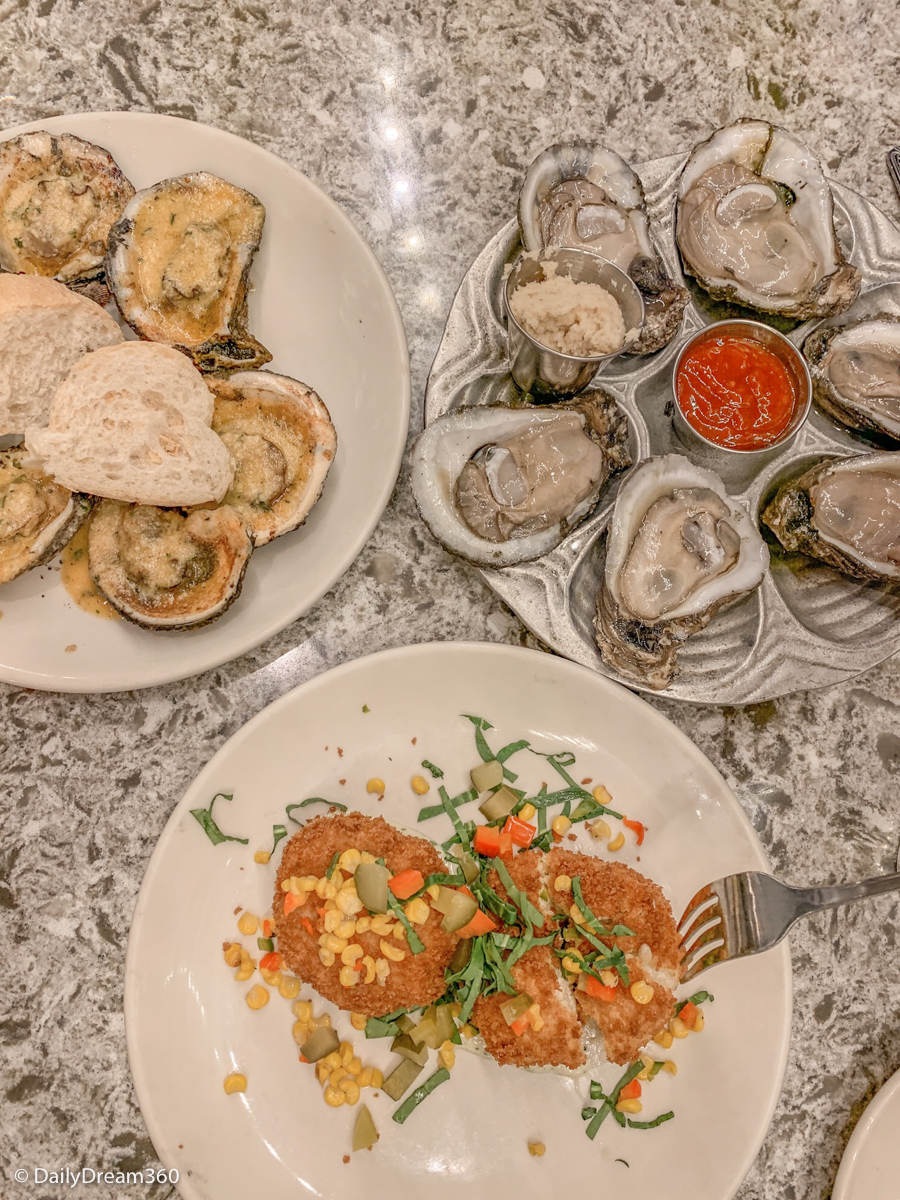 Desire Oyster Bar
Located in the Royal Sonesta Hotel on Bourbon Street, Pull up a chair at the Oyster Bar and enjoy what they are best known for – Oysters. They have a menu filled with options from raw, grilled and fried oysters. On the list, you'll find more than just Oysters; there are several seafood dishes and Cajun-Creole inspired dishes. 
More information and Reviews: Website | Reviews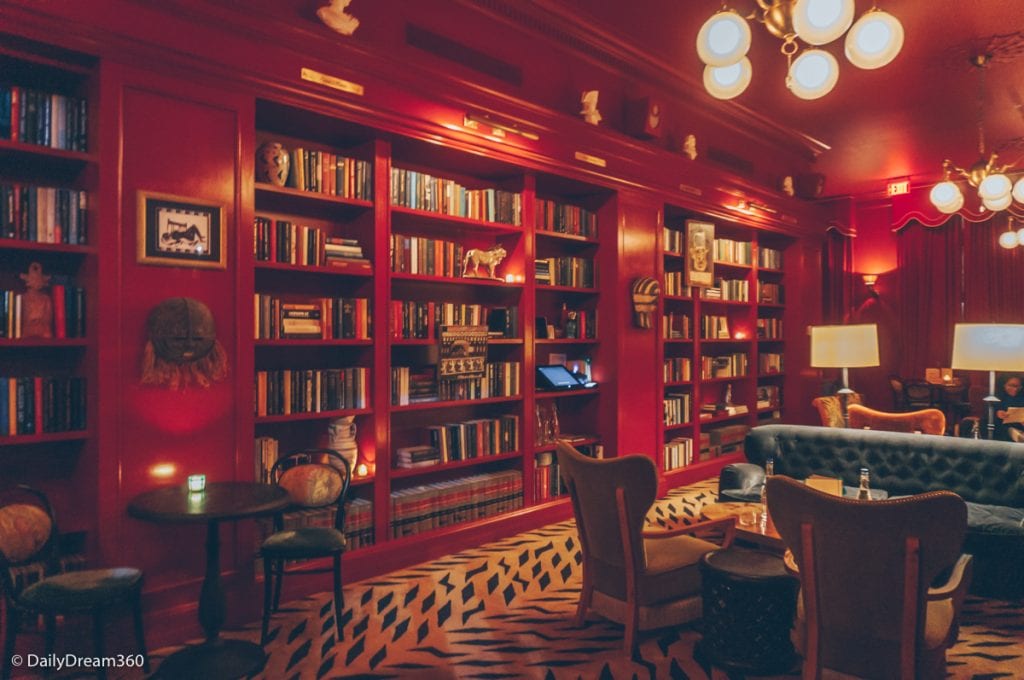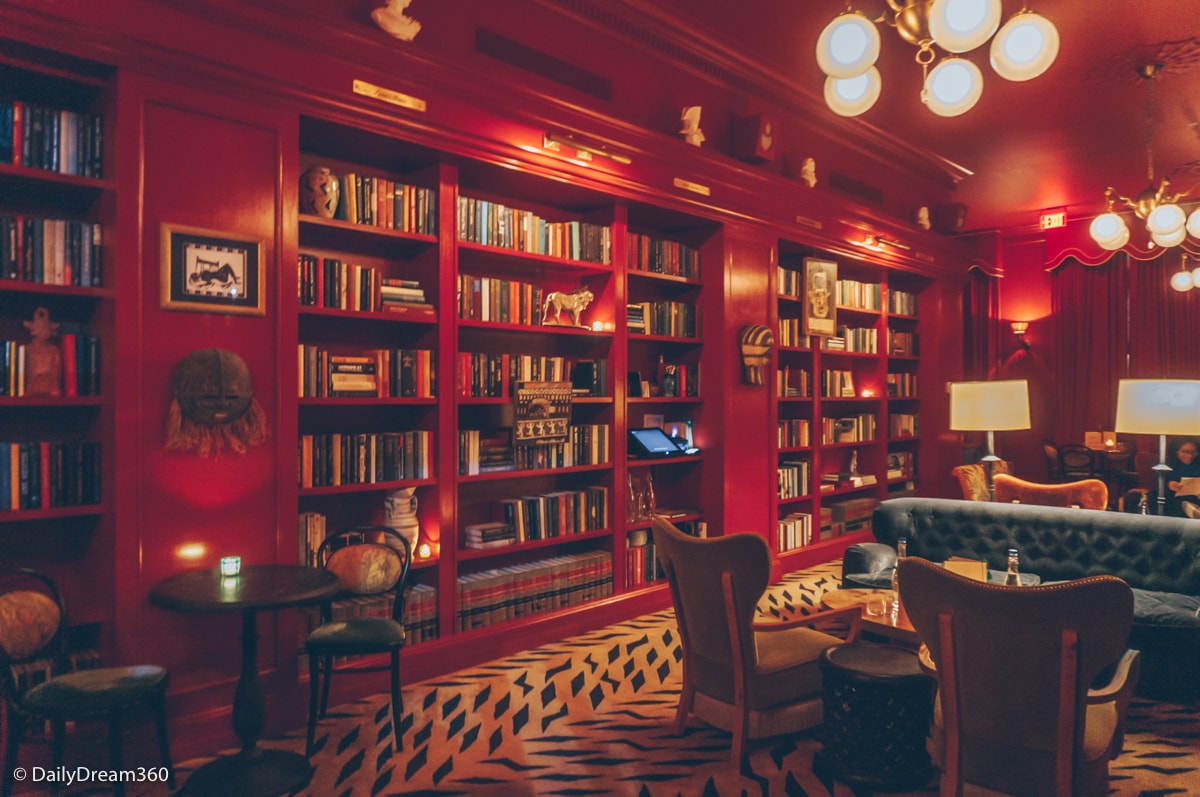 Great Places for Drinks and Entertainment in NOLA
Bar Marilou
Located in the Maison de la Luz boutique hotel, Bar Marilou's location is hidden away at the side of the Hotel Property down a long lit alleyway. Historically the Library within the New Orleans City Hall Annex, the décor, takes the building's history as a library and speakeasy very seriously.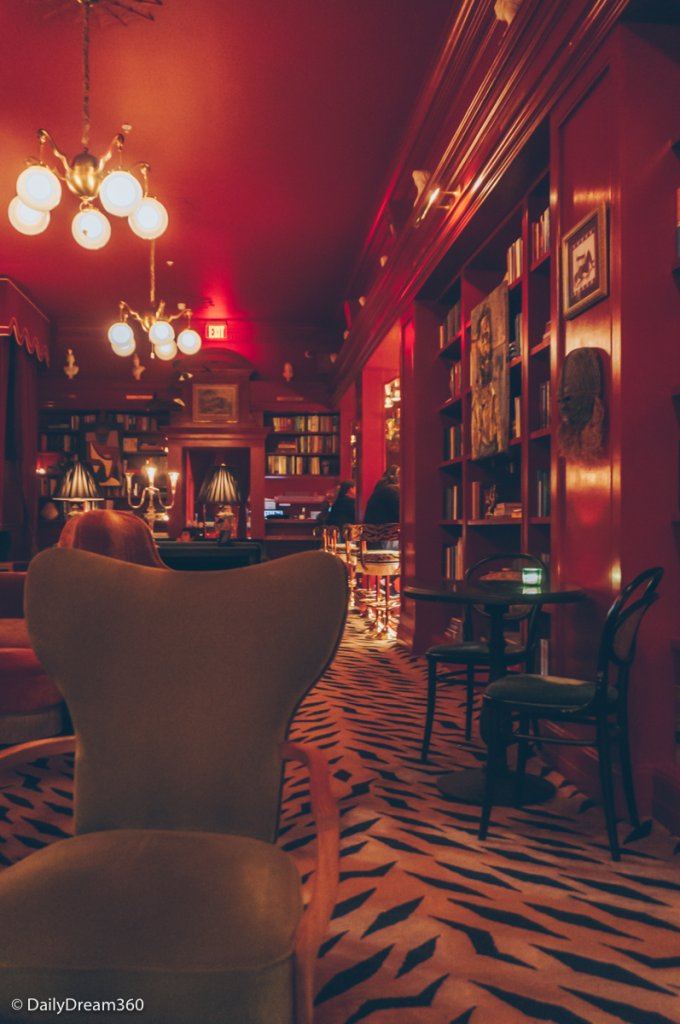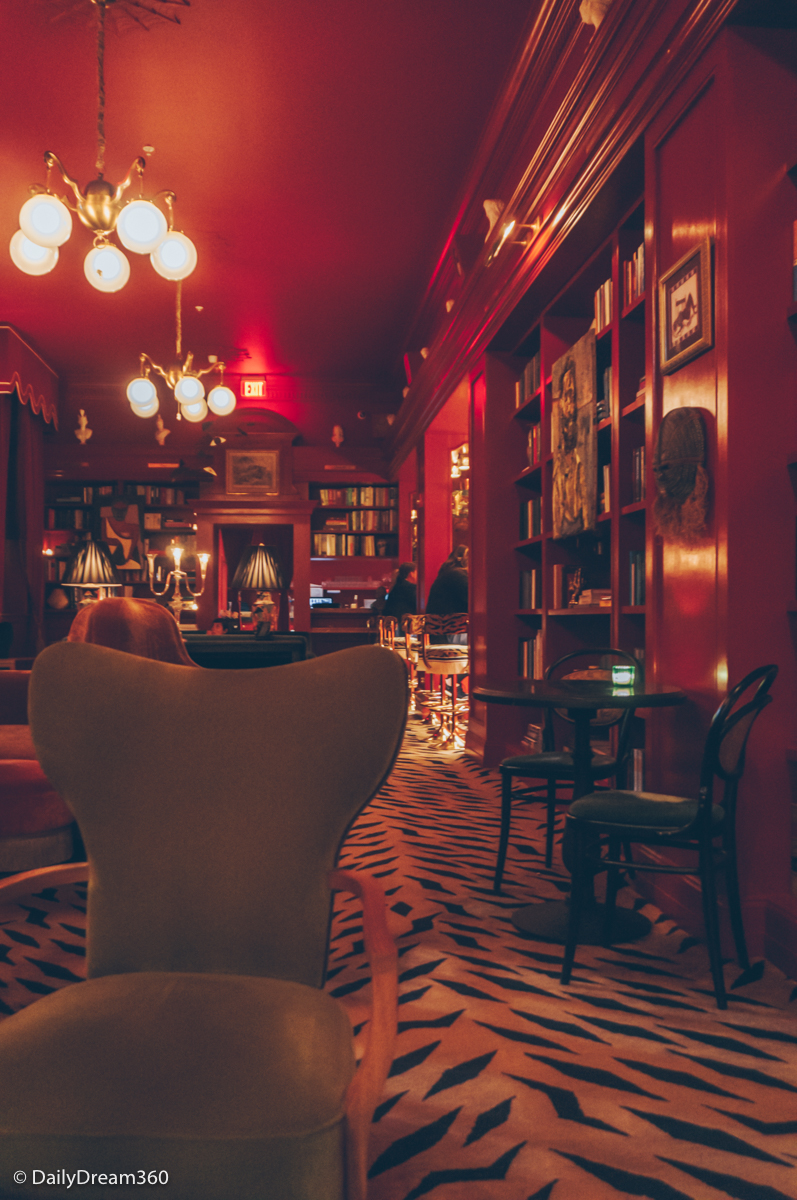 The lavish interior is red, lined with bookshelves with cozy armchairs and sofas. Once we sat down to the French-inspired menu of cocktails, wines and small bites, I watched as a group of giddy girls admired the books on the bookshelves. Then I watched as they pulled the wall away, opening a door into a speakeasy for the hotel's guests.
More information and Reviews: Website | Reviews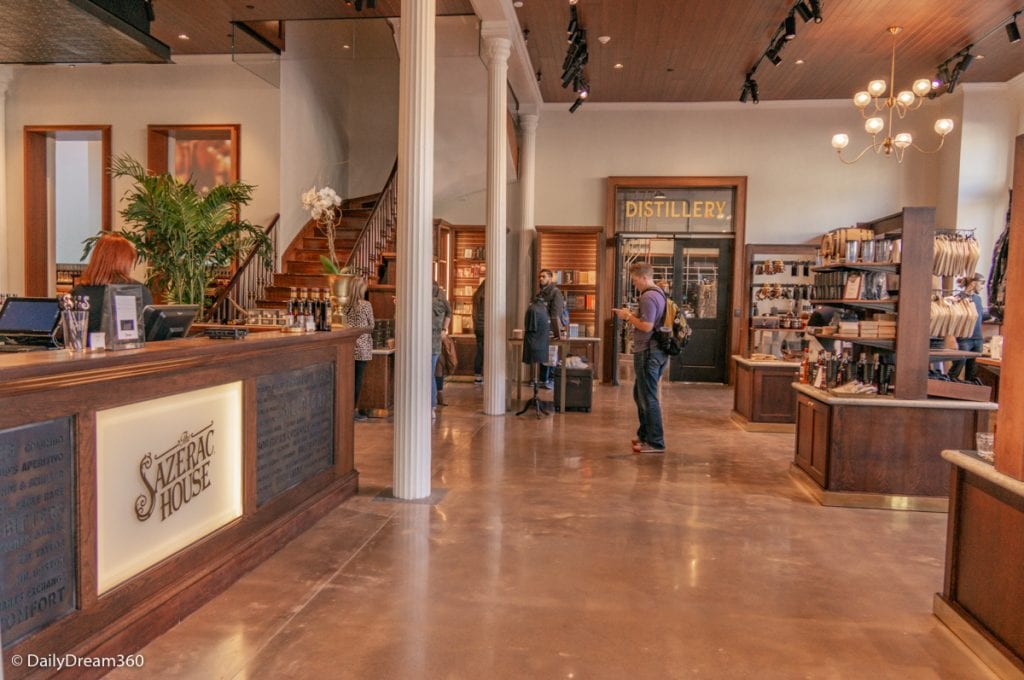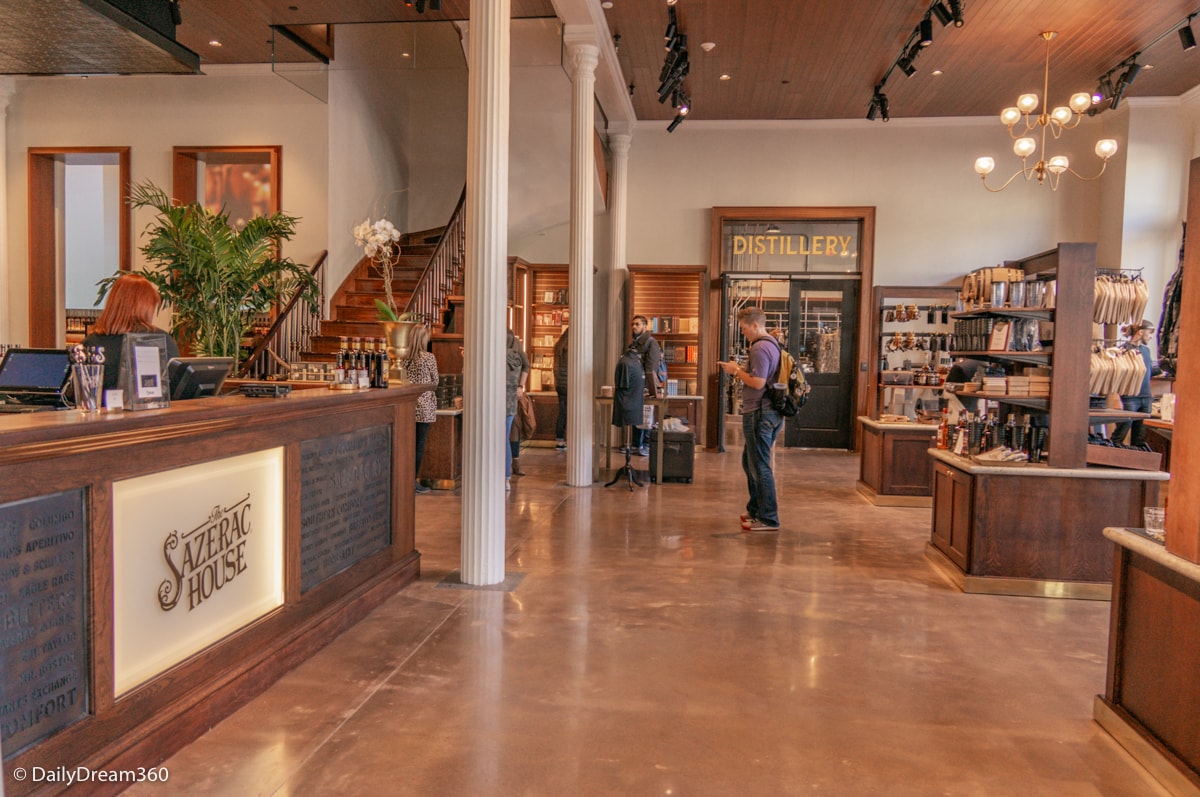 Sazerac House Distillery Tour
Located on Canal Street in the city's Central District, the Sazerac Distillery tour has several interactive displays and cocktail sampling. The tour traces the history of the Sazerac House from its pharmaceutical beginnings as a producer of bitters to the distillery it is now.
Check Reviews: The Sazerac House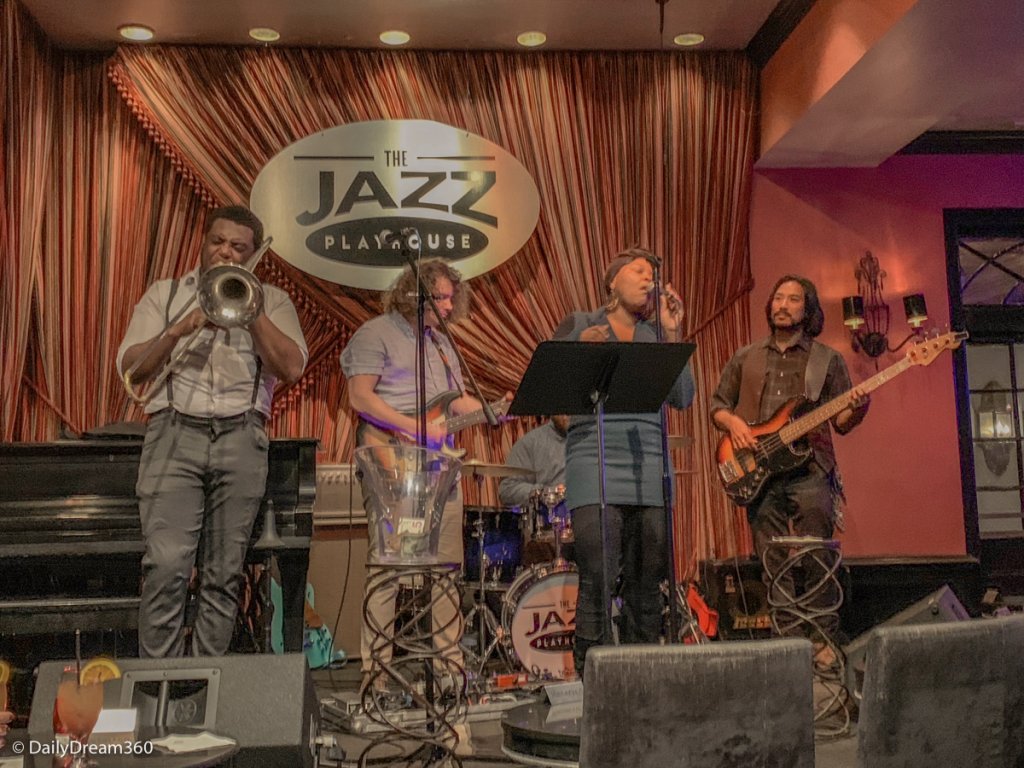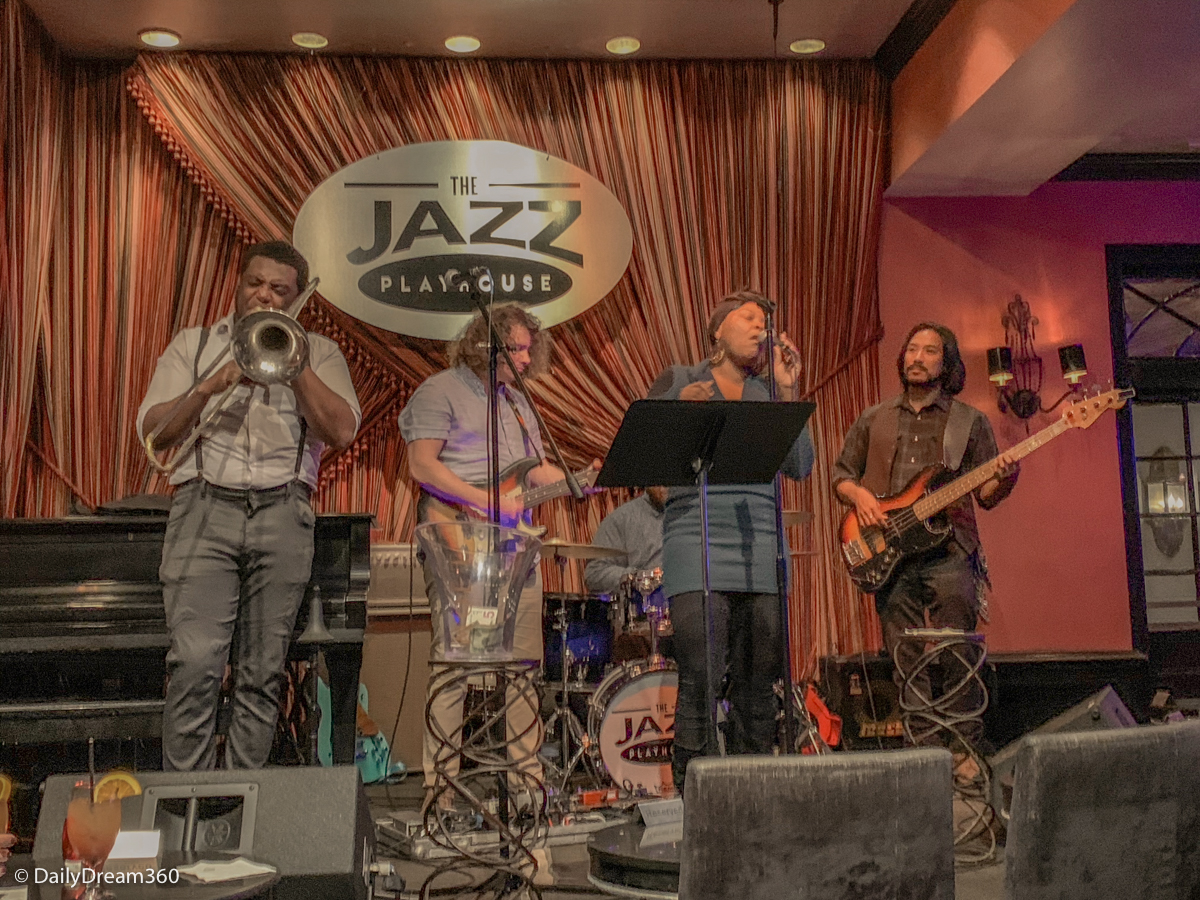 The Jazz Playhouse
Located next to the Desire Oyster House in the Royal Sonesta Hotel, the Jazz Playhouse is the spot to be on Bourbon Street if you are in the mood for some great live Jazz music. You are encouraged to make VIP seating reservations; however, when available, you can walk in and enjoy the show for no charge. Be sure to enjoy a cocktail, glass of wine and some small bites from their menu.
Travel assistance provided by New Orleans & Company on a Gulf Shores media press trip.