This article may contain affiliate links. Clicking on or purchasing products we recommend through a link may earn a small commission. Read our disclosure and privacy policy page for details. *COVID-19 TRAVEL ALERT – Travel recommendations offered on this site are not to encourage you to travel against travel advisories.
During self-isolation and quarantine, you may be looking for ways to entertain yourself at home. Have you thought of making it a spa day? We have some tips on how to pamper yourself with an at-home spa day.
Dream it.
If you're planning a trip that involves a pool, lake, or beach of any kind and you don't want to buy a special waterproof camera or action camera, then a waterproof pouch for your phone could just be the solution you are looking for. Most of us have replaced our cameras and choose to travel with our phones and while there are some water-resistant models out there, protecting your phone with a waterproof pouch could save you a costly repair or replacement.
A beautiful five-star spa, with steam rooms, whirlpools and exotic treatments, is a great way to relax and take a break. However, there are times when your budget or your schedule won't allow you to splurge on a spa day.
Imagine a relaxing spa day at home, complete with multiple treatments, all with the intent of helping you relax, unwind and treat your dry, ageing skin.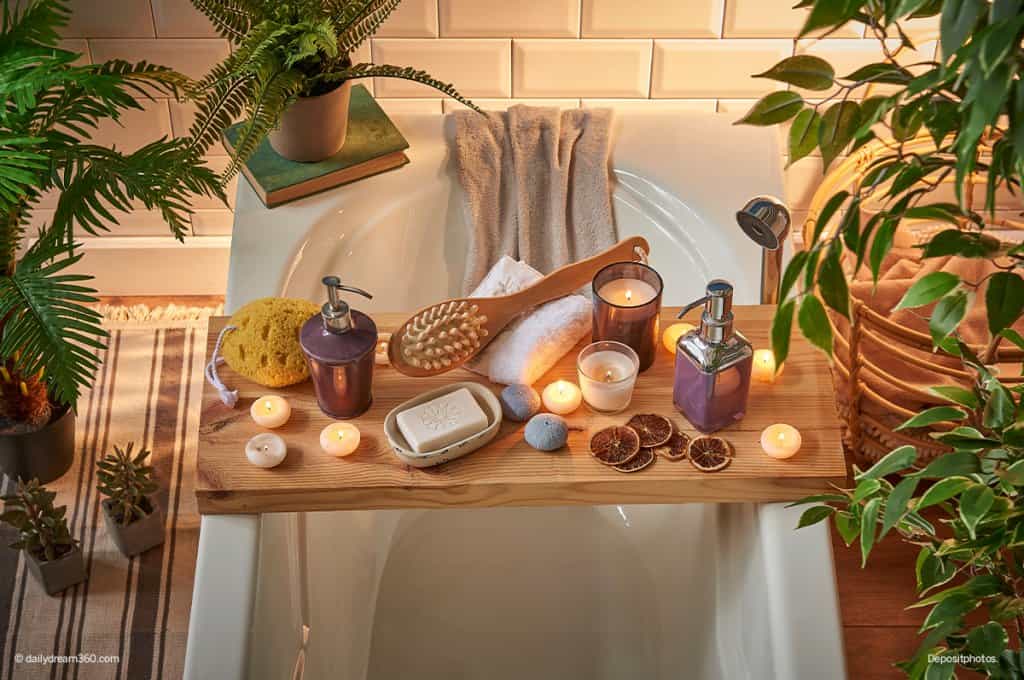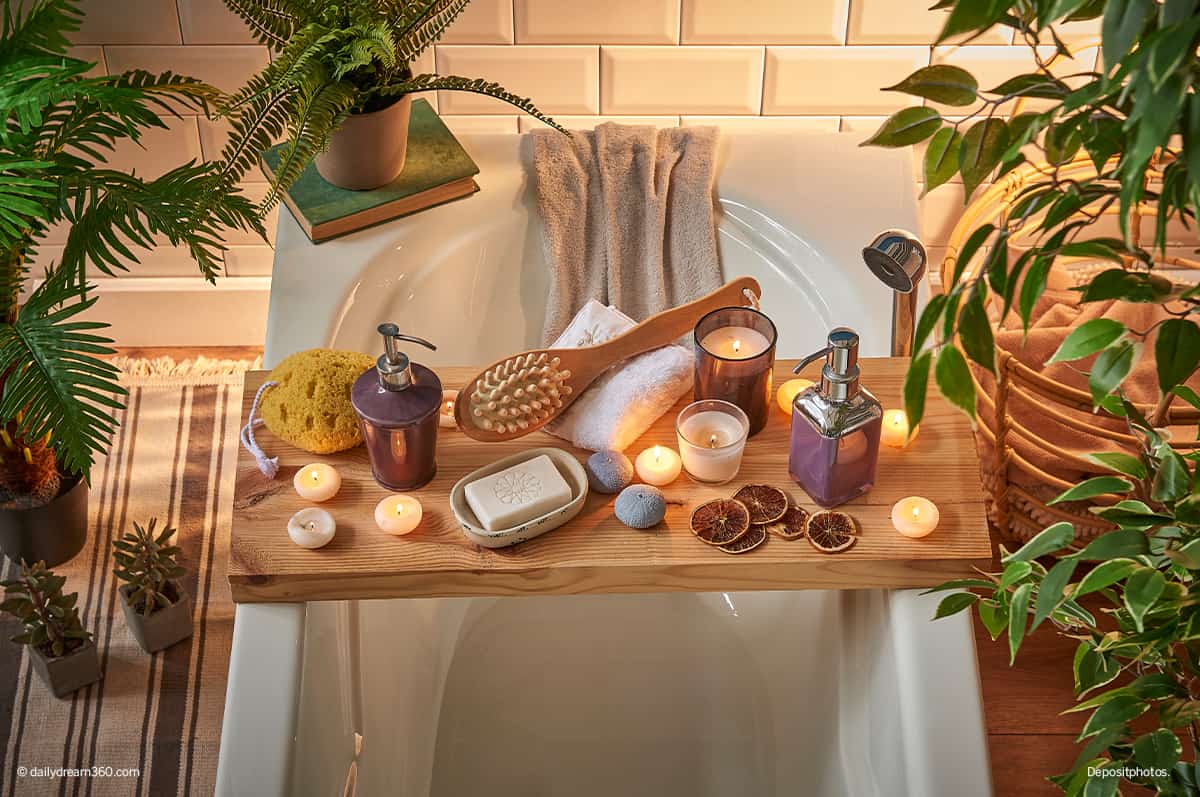 Plan it.
Setting Up Your DIY Home Spa Day
Before creating your at-home spa spaces, it is essential that you clean and declutter your home. Especially your bathroom and space you plan to use as a relaxation area.
Read more: 7-Day Declutter Challenge: Day 4 Bathrooms.
Bathroom in DIY Home Spa Set-Up
The bathroom is the perfect spot for your wet treatments. The place to soak in the tub or turn your shower into a steam room. Set the mood with candles on the sink or floor and use a bathtub caddy to organize your scrubs, oils, a book and perhaps a glass of wine.
Bedroom or Living Room Spa Set-Up
You will need a space to relax like a lazy-boy chair or your bed. This area is an excellent place for facial treatments like a face mask or relaxation meditations after your bath treatments.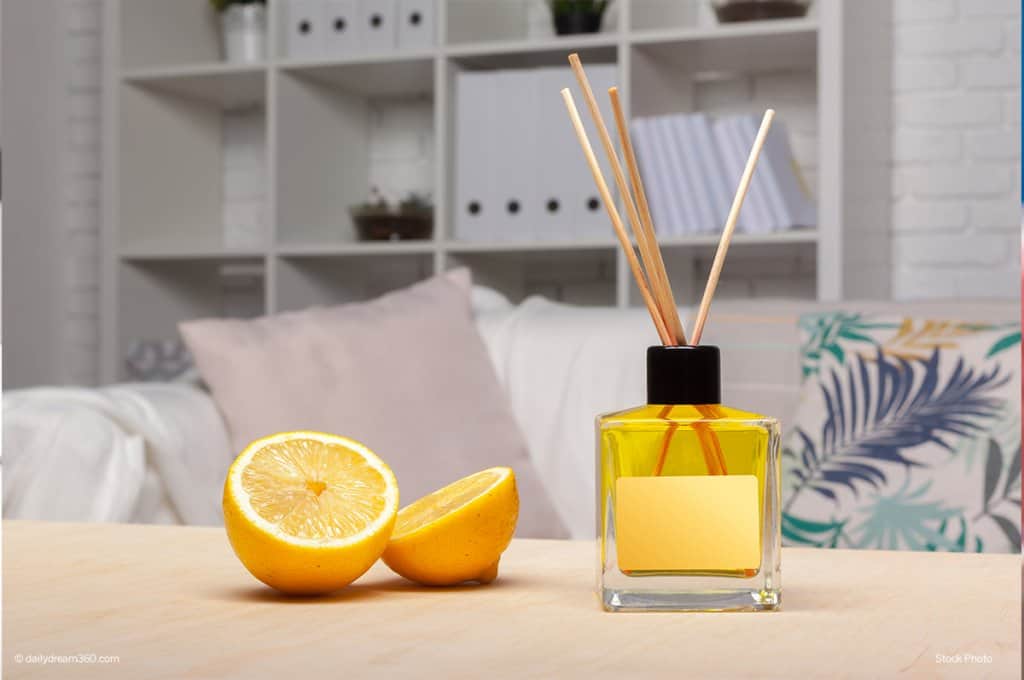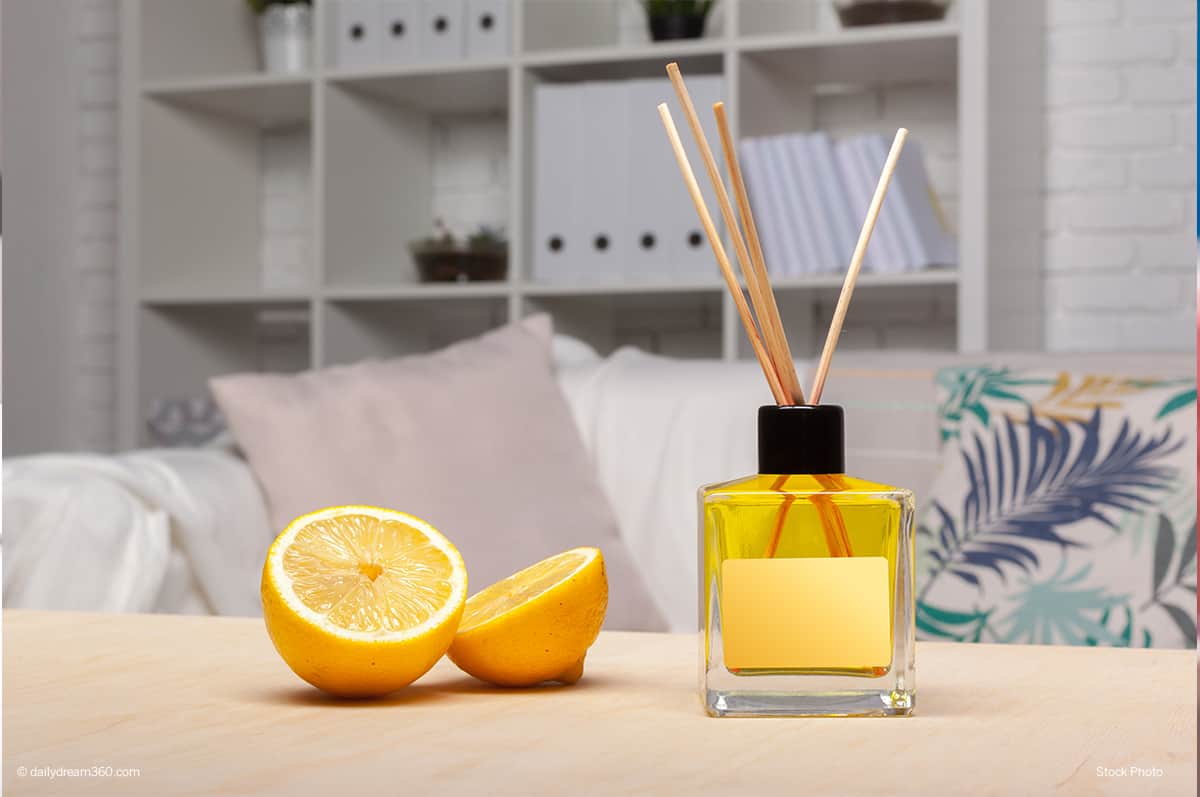 Set the Ambiance for Your At-Home Spa
Start with a playlist of spa classics that you can find on Amazon Music, Spotify or Apple Music. Choose from nature sounds, or glass singing bowls or a Spa mix.
Use scented candles to create a softly lit space and add some aromatherapy to the air. Place them in the bathroom where you will be doing your wet treatments and in the relaxation space.
Get What You Need for DIY Spa DayTreatments
There are many items that you will need for your treatments; these include:
Sugar Scrubs
Paper Face Masks
Gold Eye Gel Masks
Scented oils
Soaps
Moisturizing Cream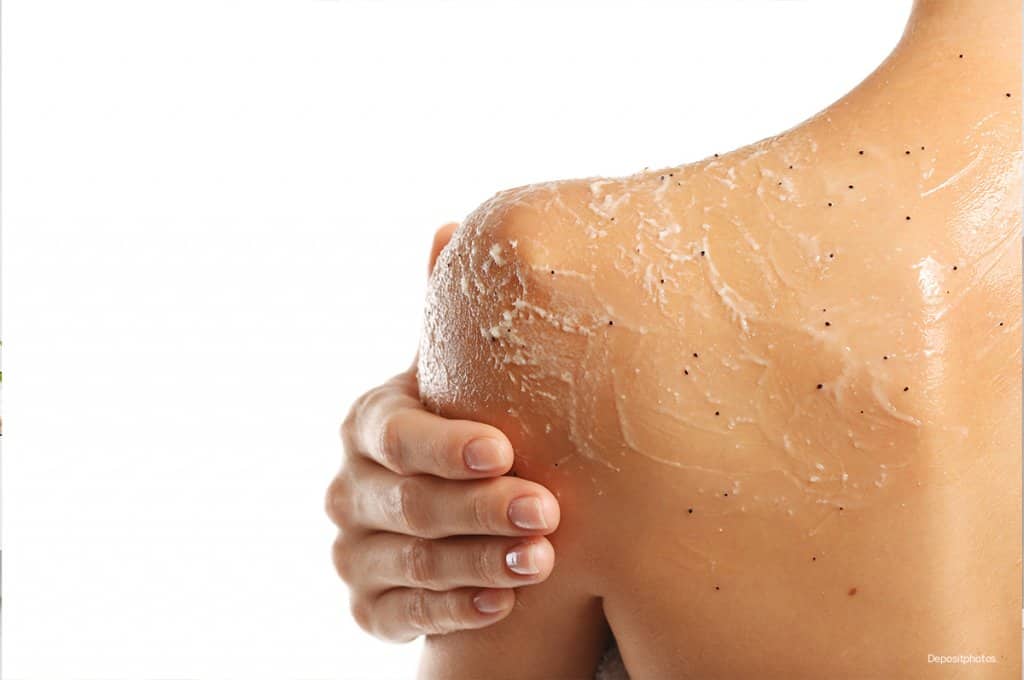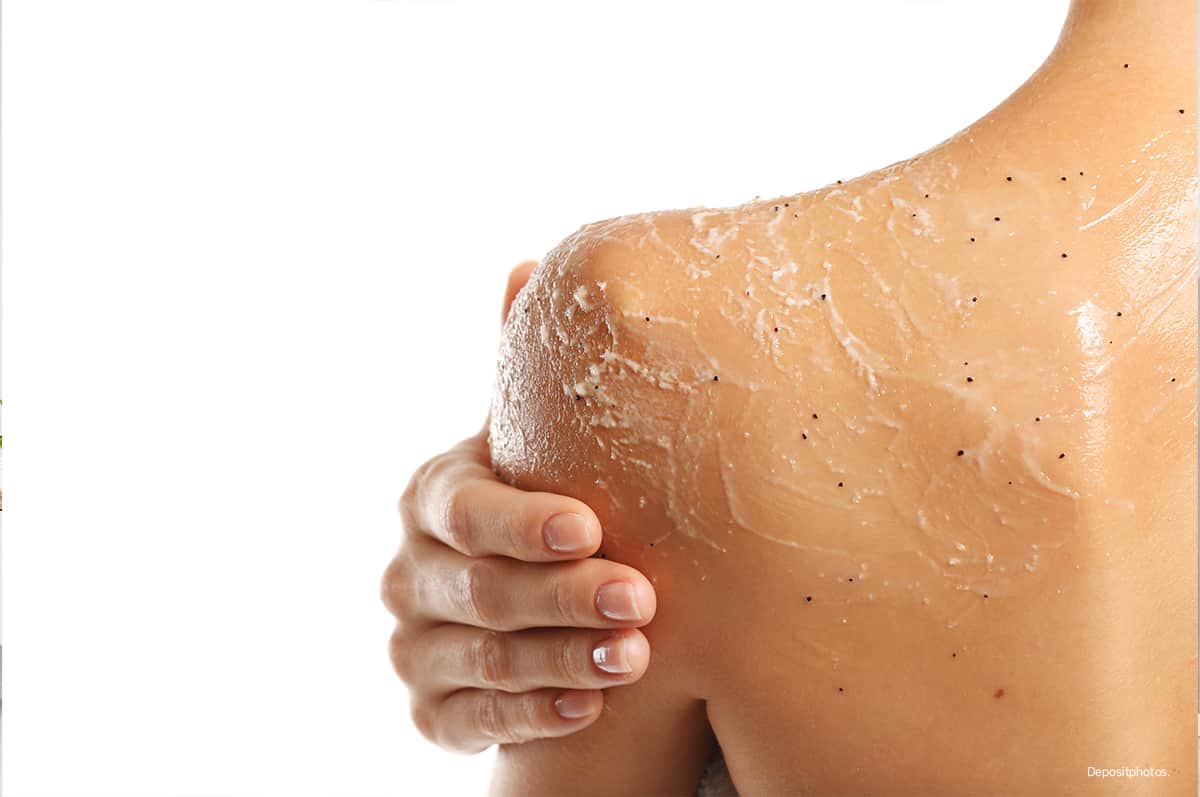 Live it.
Wet DIY Spa Treatments at Home
Body Scrubs
There are several great scrubs to use on your body, including Frank Body Original Coffee Scrub, Tree Hut Sugar Scrubs and St. Ives Apricot scrub.
Bath Bomb and Soak
Throw in an aeromantic bath bomb or use your favourite bath wash for a nice long soak in a hot tub.
Steam Treatment
Don't have a tub? You can turn your shower into a steam room. Run hot water in the shower for a few minutes until it steams up the stall. Turn off the water and then sit in the steamed shower stall until it cools off.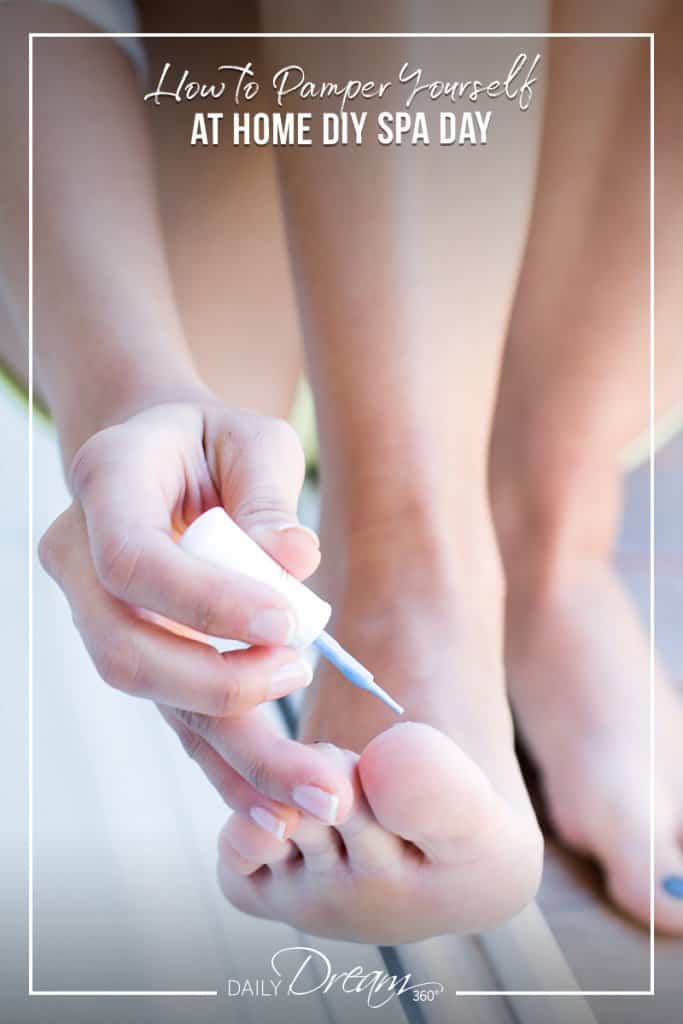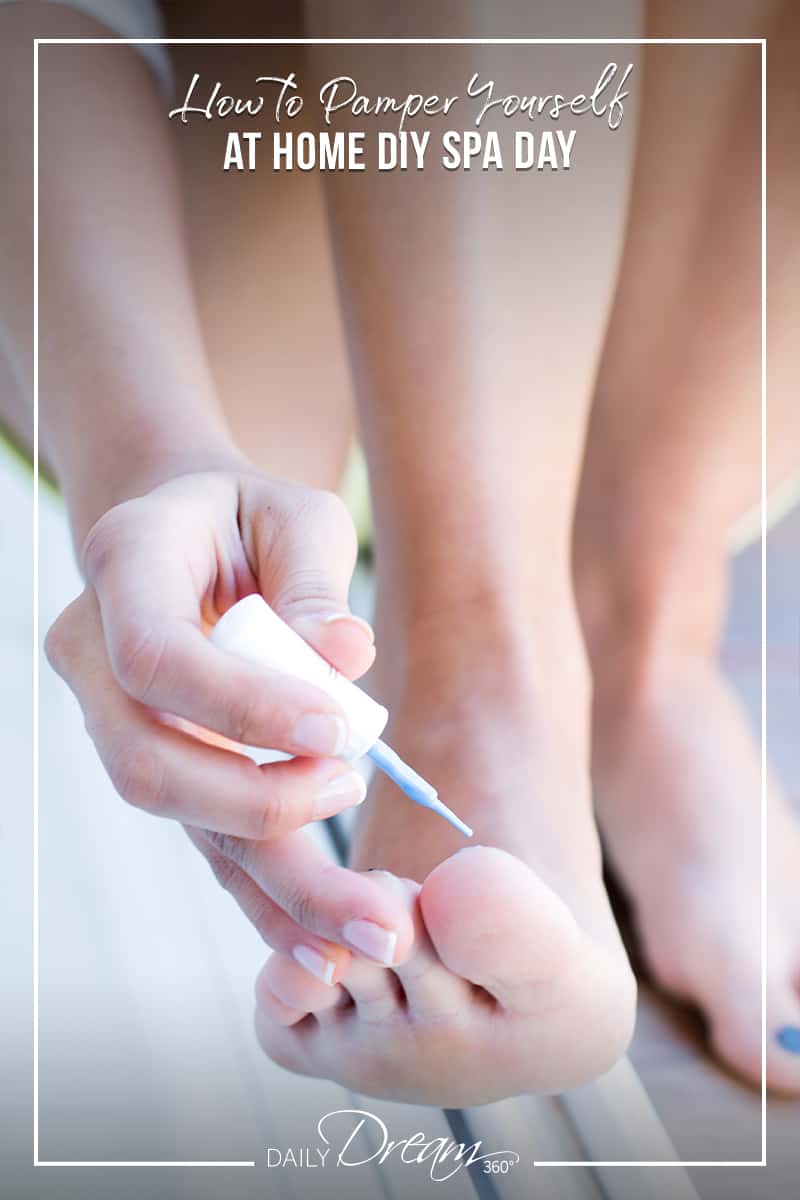 How to Pamper Yourself with Other At-Home Relaxation Treatments
Have a shiatsu massager, use it to give yourself a gentle massage while resting in a comfy chair. Be sure to massage the bottom of your feet too.
Home Facial Treatments
Use a clay mask like Loreal Pure-Clay Mask to exfoliate your face, for blackheads use Biore pore strips or charcoal strips.
A paper moisturizing face mask is an easy way to give yourself a moisturizing facial at home. Splurge on some gold eye gel patches and give your eyes a boost too.
At Home Manicures and Pedicures
Don't forget to treat yourself to an at home manicure and pedicure. Use a large bowl filled with bath salts to soak your hands and feet and apply a fresh coat of nail polish.
Meditation and Relaxation
The most important part of your spa experience will be taking some time in a quiet space where you can meditate or relax and listen to spa music. We rarely consider this time for ourselves, and it is the perfect way to end your at-home spa day.