This article may contain affiliate links. Clicking on or purchasing products we recommend through a link may earn a small commission. Read our disclosure and privacy policy page for details. *COVID-19 TRAVEL ALERT – Travel recommendations offered on this site are not to encourage you to travel against travel advisories.
Ground turkey and grated zucchini mixed with your favourite seasoning are all you need to make these delicious and moist Ground Turkey and Zucchini Burgers. They are easy to make and work both as burgers and meatballs which you can grill, fry or bake.
Dream it.
If you're planning a trip that involves a pool, lake, or beach of any kind and you don't want to buy a special waterproof camera or action camera, then a waterproof pouch for your phone could just be the solution you are looking for. Most of us have replaced our cameras and choose to travel with our phones and while there are some water-resistant models out there, protecting your phone with a waterproof pouch could save you a costly repair or replacement.
The healthy dream burger is moist turkey with the bonus of being loaded with vegetables. It is what I love about this ground turkey and zucchini burger recipe. When I am in the mood for meatballs to throw onto some low carb pasta, I create the little balls instead of a pattie. This recipe is super easy to create with little effort, and they turn out perfectly every time.
Plan it.
Ground Turkey and Zucchini Recipe
Both ground chicken and ground turkey can be used in this recipe and are equally healthy. You can season these burgers any way you like with seasoned salt or your favourite spice blends.
For the photos in this recipe, I created a spicier Moroccan spiced burger with President's Choice Harissa spice blend.
Tools You Can Use to Make These Healthy Turkey Burgers
For burgers, consider a burger press to stamp out perfectly sized patties. You can also shape the patties in the palm of your hand. You can bake these burgers on a baking sheet or use an indoor smokeless grill to grill them indoors. Of course, the bbq is also an excellent option for grilling.
Both the meatballs and turkey zucchini burgers can be prepared on the grill, baked in the oven or pan-fried.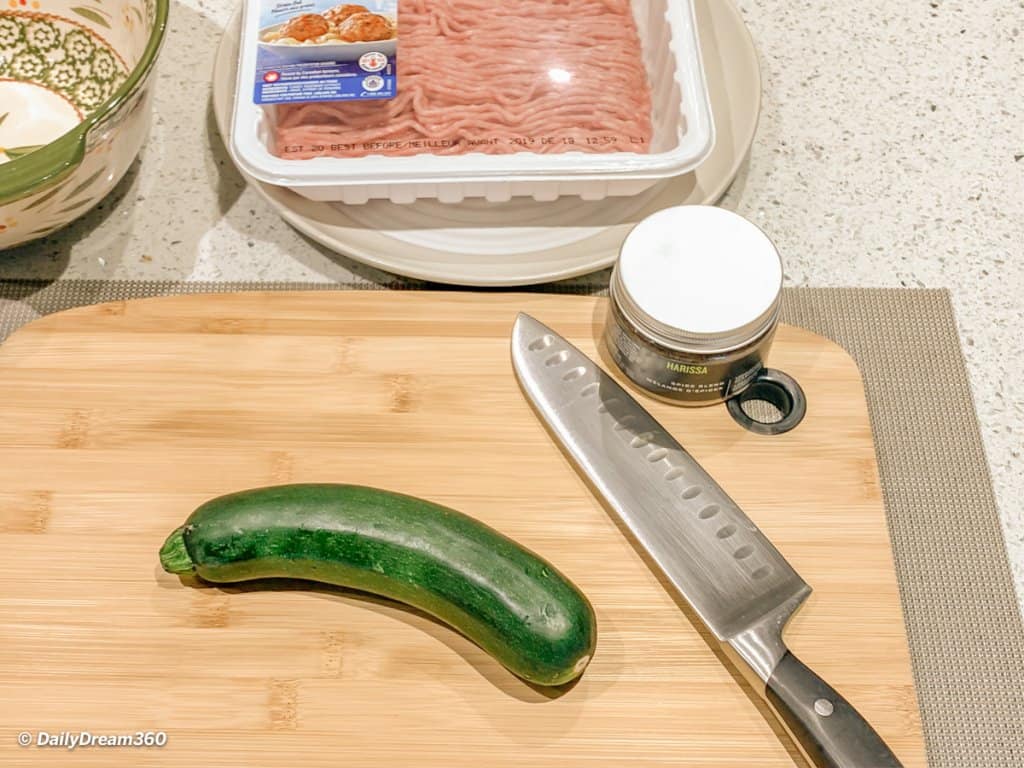 Live it.
Zucchini Meatballs Recipe or Turkey Zucchini Burger Recipe take your pick!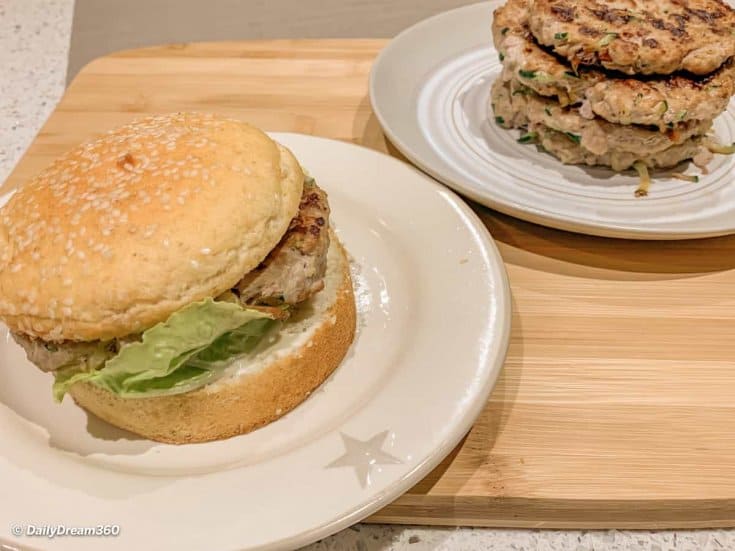 Yield:

4-5 Burgers
Ground Turkey and Zucchini Burgers or Meatballs
Ground turkey and grated zucchini mixed with your favourite seasoning are all you need to make these delicious and moist Ground Turkey and Zucchini Burgers recipe.
Ingredients
1 Pkg Ground Turkey
1 Zucchini Grated
Seasoning
Instructions
Grate Zucchini in a food processor or with a grater. Some people prefer to drain and squish the water out of the zucchini but I prefer to just add to the ground turkey as is.
Put grated zucchini and ground turkey in a large mixing bowl.
Add your preferred seasoning and mix the zucchini and turkey together with your hands.
Use a burger press or form the patties with your hands. You can also shape the ground turkey mixture into meatballs.
Grill the burgers on a BBQ or George Foreman type grill.
To bake: preheat over to 375° and bake for 15-20 minutes or until they reach an internal temperature of 165°.
Notes
Use a low carb bun like Smart Buns to keep this low carb.
Nutrition Information:
Yield:
5
Serving Size:
1
Amount Per Serving:
Calories:

50
Total Fat:

3g
Saturated Fat:

1g
Trans Fat:

0g
Unsaturated Fat:

2g
Cholesterol:

18mg
Sodium:

92mg
Carbohydrates:

1g
Fiber:

0g
Sugar:

1g
Protein:

5g
The information contained in this website is for general information purposes only and is not meant to substitute professional dietary advice or treatment. Please see our Nutrition Disclaimer for details.