This article may contain affiliate links. Clicking on or purchasing products we recommend through a link may earn a small commission. Read our disclosure and privacy policy page for details. *COVID-19 TRAVEL ALERT – Travel recommendations offered on this site are not to encourage you to travel against travel advisories.
It started raining again to make the situation even worse. It was dark, and we just drove through a series of torrential downpours from Toronto to Peterborough and according to Google Maps it was just a half hour from Peterborough to the resort. I was hoping we would find it before dark and worried since it has been over 45 minutes since we left Peterborough that I wasn't lost. The slow traffic however and a much-needed stop in Peterborough to grab dinner meant the sun has set, and we were driving up the two lane highway with caution. The cars behind me were frustrated and started to pass on solid yellow lines to get by me. I was going the speed limit, but apparently, this was not fast enough. After what felt like an eternity we finally saw a sign for the resort and cheered with relief and delight!
See our follow-up reviews at Viamede Resort:
Viamede Resort Gets Better with Age
Viamede Resort Winter Escape
Viamede Resort's Inn at Mount Julian offers Epic Tasting Menu
Review: Viamede Resort Ontario

We were looking for Mt Julian Viamede Rd and when we finally saw the sign we laughed with excitement but then I realised I just passed a small opening on the side of the road and missed the right turn completely. Crap. Now we had to proceed up the winding road looking for a road to turn into so I could turn back. With frustrated drivers behind me, this proved tricky. Finally, I just slowed down (city slicker driving country road – Sorry) and let everyone pass me. I did a U-turn and headed back. This time I didn't care who was following me. I slowed down and made a left turn onto the gravel country road.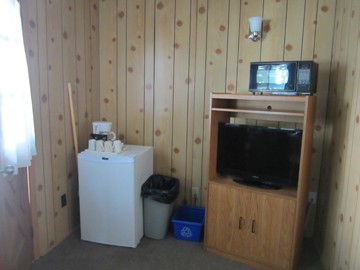 It was pitch black but we drove slowly down the road and at the end we arrived at Viamede Resort. At reception a number of people were sitting in the lobby playing with their iPads and iPhones. The receptionist informed us that the power was out, the main building was running on generator power and they were not sure when it would be back up and running. Now as a travel writer I've seen many hotels and resorts deal with unexpected situations and in my opinion how they deal with these issues is what makes or breaks them. There is no point to start freaking out when something goes wrong, usually I just go with it and see what happens. She offered us four candles and a box of matches, showed us where our cottage was on the map and we made our way slowly through the dark resort to it.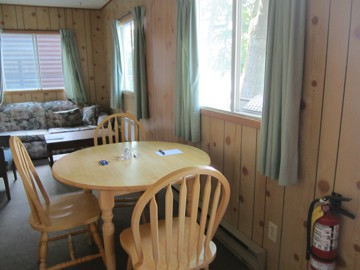 We had a lovely two room cottage that sleeps 6 – 8 (if you count the pullout couch as a bed). I would recommend no more than four adults . Personally, it could get crowded. Each room had a double bed and a twin bed, a bathroom, a closet and a wardrobe. Fluffy comforters, pillows and towels, which if you read my blog you know is a must for me! There is an air-conditioning unit in the cottage, a small bar fridge, a flat-screen TV and a microwave. Of course with no power that meant no air conditioning, but we opened all the windows, and luckily the humidity broke after the storms, and we had a nice cool breeze. We also had a couch, lounge chair and table with three chairs. It was small and intimate, decorated with usual country/cottage pictures and furnishings.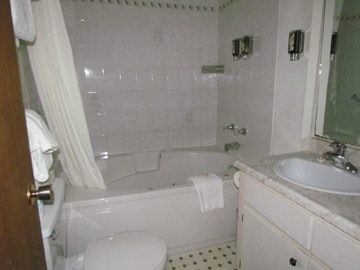 The cottage patio called our names, and we sat in Muskoka chairs and watched the lightning far away and the reflection of the moon on Stoney Lake. Neither of us seemed to mind that the power was out! Luckily I had an emergency flashlight in the trunk of my car that pulled open into a lantern. So we managed to get settled and enjoy a peaceful night with cool breezes and the sound of another thunderstorm in the middle of the night. I don't know why by being in a cosy cottage with rain falling on the lake and a little thunder gives me a warm fuzzy feeling. With the weather forecast for the rest of the weekend being pretty positive I was happy for a cool night!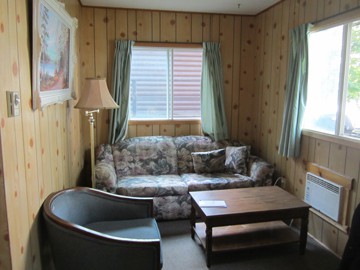 Viamede Resort has just been included as one of Ontario's Finest Inns an organisation that only chooses resorts that meet their exceptional standards. While we did not get to do everything the resort had to offer due to the power outage, I wanted to mention these restaurants which I will have to experience the next time I visit the resort.
Inn at Mount Julian – This historic Inn opened in 1874 and feature a fine dining seasonal menu by Reservation Only.
1885 – This is Viamede's main dining hall which features breakfast daily and with reservations another fine dining option.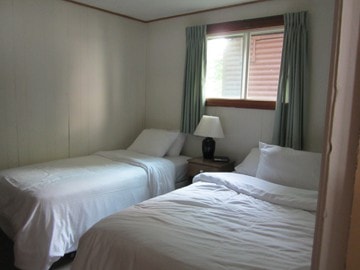 Breakfast is Included with Every Room
I saw someone with a coffee cup walking out of the main building on Saturday morning and I just about started doing the dance of joy! Despite the fact that they were running on generators Viamede didn't skip a beat. The culinary team ensured their breakfast buffet was up and running for all the guests. We sat in a beautiful atrium with windows open next to a spectacular view of the lake. A buffet with eggs, bacon, sausages, pancakes, fresh croissants and toast was served both mornings. I can't imagine how much manual work went into this behind the scenes to make it all come together. Everything was fresh and delicious! This is a great perk for guests to have a great breakfast each morning!
Despite the power being out, the resort continued, business as best as usual. The team at the Boathouse Restaurant and Pub hooked up generators and prepared a BBQ so they can serve the guests and marina visitors lunch. The chefs were outside grilling, and a table with salads and condiments was set up so we could have a great lunch on the patio. They even managed to get a fridge hooked up to the generator so that they could serve some cold drinks!
Water Sports and Activities
The marina at the resort offers its guests lots to do, from canoe rentals, hydro bikes, paddle boards, kayaks and even a boat tour of Stoney Lake. Dangerous Drew was our fantastic tour guide, taking us around the lake and filling us with details about the resort and the lake. We drove by the famous Glass Boathouse cottage which has been featured in movies and is available for rental should you have a small fortune to spend on it. The boat tour leaves at Noon every day from the marina.
Viamede Resort Ontario Farm Tour
Another daily feature of the resort is the 3:00 Farm Tour. Deanna took us on the short walk to the farm which opened in 2011. The farm features ducks, chickens, quail, Turkeys and Pigs. The resort also grows fresh herbs and root vegetables. The farm helps provide fresh food served in the restaurants and continues to grow each year.
BBQ Basket
We were standing in front of the grocery store on our way up to Viamede and debated picking up some things for the cottage. It was laziness in part that made us just say we'll just eat at the resort, since breakfast was included and we planned to try the BBQ Basket for dinner on Saturday night there were was only lunch to consider on Saturday. As it turned out this was a fortunate decision, as all the groceries we would have bought with us would have gone bad with no power!
Viamede Resort has a great and affordable option to order a BBQ Basket where they do all the groceries and prepare all the fixings for a great BBQ that you get to cook at your cottage or at the BBQ available outside the Main building. We chose our salads, meats, some corn on the cob and even got a S'mores kit for dessert. The basket had everything we needed to cook up our own BBQ – in perfect portions I might add! Marinated chicken breast Kebabs, salad leaves, dressing and foil wrapped corn. All we had to do was whip everything up cook the meat on the BBQ and enjoy a great supper on the patio of our own cottage on the lake! What an awesome end to a perfect day!
Awesome Staff
I have to mention the amazing staff at the resort, I mean with all the cranky people upset about there being no power at the resort, we never once saw a cranky staff member. From housekeeping, reception personnel, Marina activities, all the wait staff and chefs everyone was smiling and happy to help us out, and answer our questions with great enthusiasm. As I said, you can tell a good resort by how they handle the hard situations. Amazing!
Dream Travel Approved!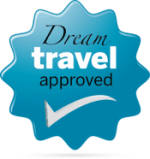 The Viamede Resort impressed me even running on generator power. This is a an amazing resort with 100 years of history behind it. Exceptional quality, clean, many options from hotel rooms at the main house to small cottage rentals, there is a lot to do and see throughout your stay. The staff is charming, friendly and helpful and prepared to go out of their ways to make sure you are enjoying your stay. The resort is a gorgeous property great for special occasions, equipped with a chapel and a beautiful garden for weddings. We had the most relaxing and enjoyable stay in our lakeside cottage and can't wait to go back and see it running at full capacity!
Our stay was sponsored by Viamede Resort but as always the opinions in this review are our own.