This article may contain affiliate links. Clicking on or purchasing products we recommend through a link may earn a small commission. Read our disclosure and privacy policy page for details. *COVID-19 TRAVEL ALERT – Travel recommendations offered on this site are not to encourage you to travel against travel advisories.
One of the biggest challenges to changing my diet and embracing clean eating was figuring out what to eat. I used to be a convenience eater, preparing dishes from frozen food boxes or bags. What I learned – preparation is everything. I thought I'd share some tips for easy low carb meal planning for beginners.
Dream it.
This post is sponsored by Hello Fresh. I'm excited to share their extensive recipe database with you and how I use it to learn new cooking techniques and add variety to my weekly meal planning.
Before we talk about recipes and cooking, however, there are several things to consider in a low carb meal plan for beginners.
Read more: How to Start a Healthy Lifestyle and Stick to It.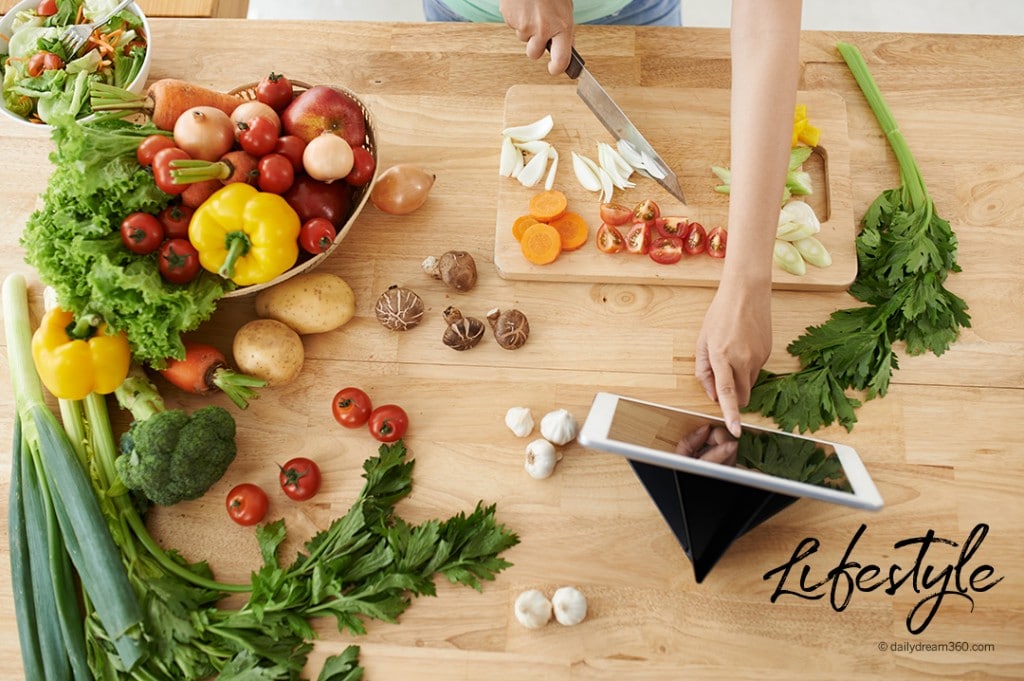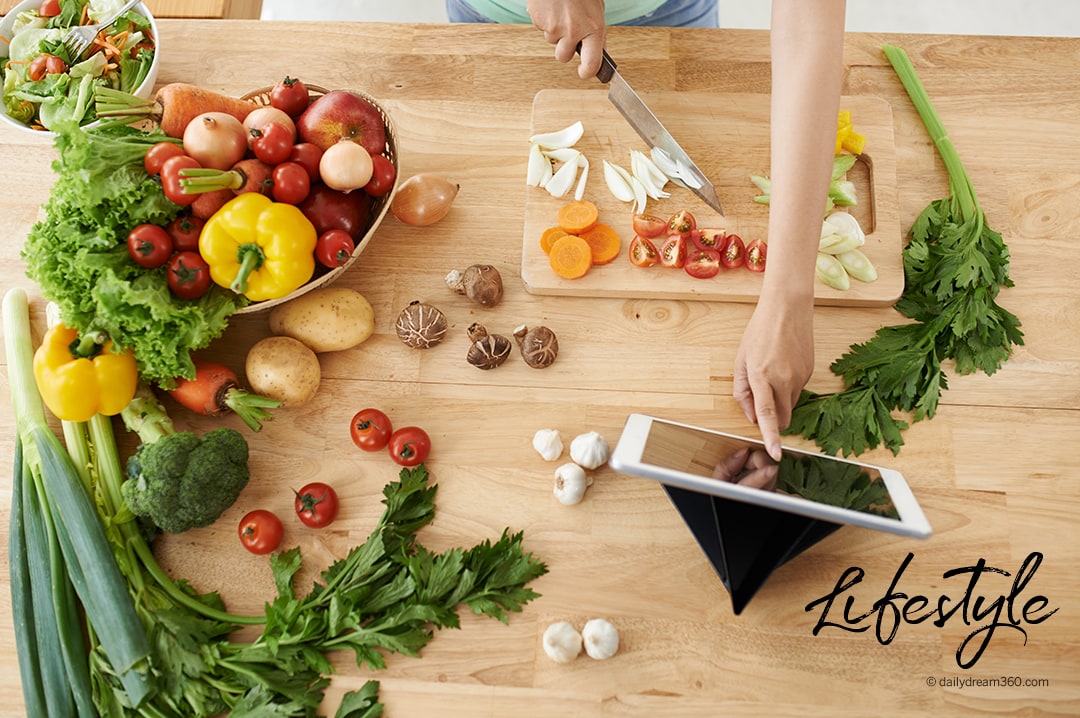 Plan it.
Tips to Make Meal Planning Easier
Before you jump into picking recipes to cook for the week, there are several things to consider when coming up with your low carb meal plan.
What's the Best Meal Type For Your Meal Planning
Deciding what type of meals you will be preparing will be your first decision. The kind of meal you select will depend on your schedule during the week and the variety of meals you prefer.
Meals You Will Freeze: I have never been a fan of freezing my premade meals, but for those with severe time management constraints batch cooking your recipes and freezing them for consumption may be a great option. 
Meals You will Make Ahead and Reheat: If you prefer eating freshly made meals, then planning your meals for the week and preparing enough servings to spread out during the week may be an option.
Ready to Cook Meals: You may have time to heat up and make your meals the same day you will eat them. In this case, preparing all the ingredients ahead of time and whipping up your creation might be an option.
How To Start Low Carb Meal Planning
Meal planning has challenges; however, if you are looking for low carb meal planning ideas, you need to think about the ingredients you are using. I don't know about you, but learning to cook and use new ingredients when switching to a low carb lifestyle was a challenge.
Read more: How to Detox Sugar with the Best Books on Quitting Sugar.
Use a Meal Planning Template
Creating a plan for your week will ensure that you have the right ingredients, the right amount of meals, snacks and some peace of mind. Use a blank sheet of paper or a meal planning worksheet and figure out which meals you will need each weekday.
Ensure you have enough servings for each meal and consider the number of servings you can use for a second meal. Sort the side dishes and snacks as well. The best meal planning schedules will allow you to mix and match your mains, sides and snacks to ensure a variety throughout the week.
Download a Meal Planning Worksheet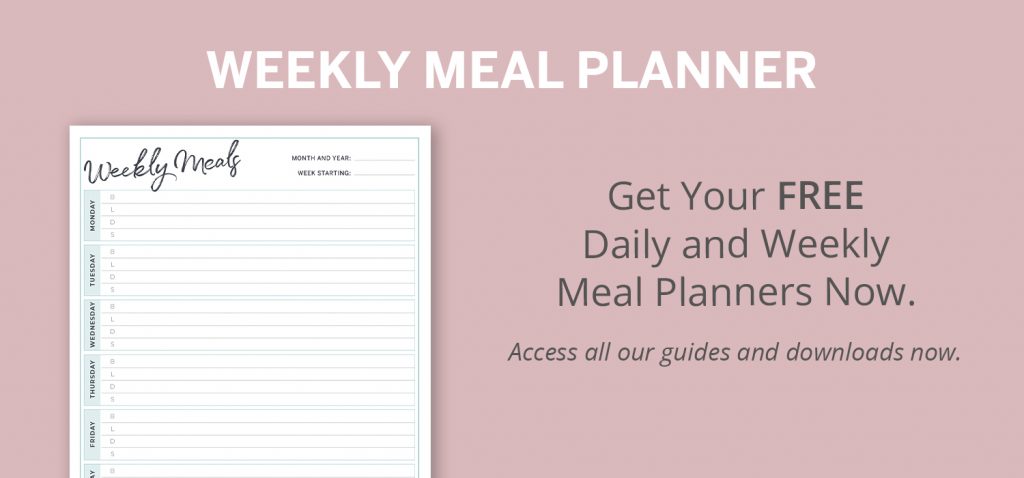 Create a Grocery List and Get Shopping
Once you have decided which meals you will be preparing, you will have to take stock of what you will need. Create a grocery list from the recipe ingredients' lists.
Read more: Finding the Right Weight Loss Program for You.
Live it.
Easy Low Carb Meal Planning Ideas for Beginners
Items You'll Need to Store Your Meals. There are many different types of meal planning containers to consider for your meal prep.
Beginner at Cooking? Get Recipe Ideas from Hello Fresh
I love the idea of a meal planning kit filled with everything I need to make my healthy meals. However, many don't have low carb options, or they are not clear how much sugar is in each meal.
In 2020 I decided I wanted to avoid eating bland and boring meals every week. I challenged myself by trying new recipes and cooking techniques. I like Hello Fresh because they have a recipe database filled with hundreds of recipes that are great for lunches and dinners.
Search Hello Fresh Recipes by Cuisine or Ingredient
The recipes in the Hello Fresh database are sorted by cuisine, allow me to indulge any cravings. So if I'm feeling like something Middle Eastern, I can search those I can also search by protein to see all the variations of dishes with Salmon, for example.
To make these recipes low carb, I swap out the high carb ingredients with low carb no sugar added options. I'm not going to lie I also swap out things I don't like with proteins and vegetables I love. Of course, I might grab a side dish from one recipe and a protein from another and mix things up that way too. There is so much variety in their recipe database.
Cook Recipes in 2 or 4 Servings
Since I'm not a master in the kitchen and I am only cooking for one person, I love that Hello Fresh recipes are two servings. Each recipe I whip up is good for two meals during the week. If I pick three methods, I have six meals to mix and match throughout the week.
Each recipe has an easy to read ingredient list which I can review quickly and add ingredients to my shopping list. I've also found myself searching recipes for things I have lying around the house for a last-minute dinner fix.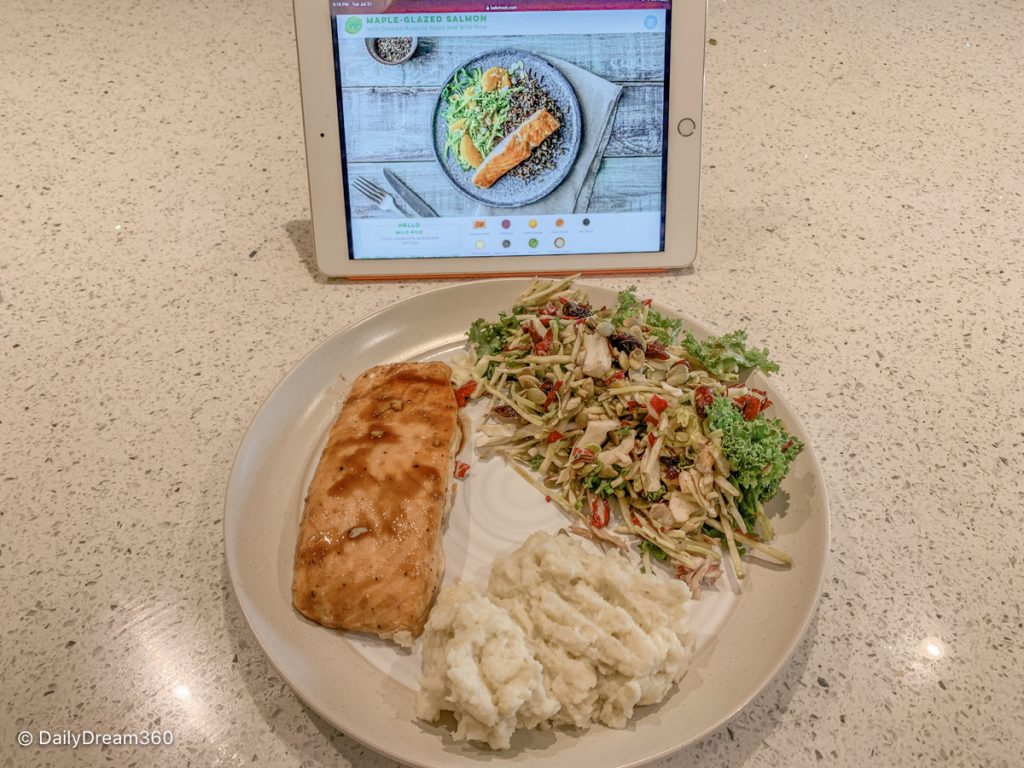 Step-By-Step Cooking Instructions
The recipes come with step by step instructions and visual images to help you get through each step. I just set up my iPad on the kitchen counter and whipping up delicious meals for some less than 30 minutes.
Each week I usually choose one fish and one meat dish to cook up and make sure they have complimenting flavours. This way, I can mix and match the sides I make with each meal as well.
There are Plenty of Recipes Available Online
I know there are many recipe sites online, but I have learned that not all of these are created equal. On Hello Fresh, I know the recipes come from their boxes and are tested to work.
I don't get any recipe failures when I use their database, and I challenge myself to try new ingredients and cooking techniques. Using this site I feel more confident following those step by step images.
Don't forget to subscribe to our Free Resource Library and download your Weekly Meal Planning Template today!