This article may contain affiliate links. Clicking on or purchasing products we recommend through a link may earn a small commission. Read our disclosure and privacy policy page for details. *COVID-19 TRAVEL ALERT – Travel recommendations offered on this site are not to encourage you to travel against travel advisories.
Peace, balance and tranquillity mixed with European décor and surrounded by vines and olive trees. This scene may seem like it is from a European getaway in Italy, but it is the setting of the Allegretto Resort and Vineyard located in Paso Robles, California.
Dream it.
What You Need to Know About Paso Robles
What inspired me about California's Central Coast is the diversity of its offerings. One minute you are dipping your toes in the Pacific Ocean, then find yourself driving through mountain ranges covered in vines and eventually, you'll find yourself in one of California's lesser-known wine regions Paso Robles.
With over 250 wineries to choose from, a quaint little downtown filled with boutique shops and a lovely park, Paso Robles is the perfect escape for those looking for a balanced vacation of wine tasting and relaxation. The Allegretto Resort and Vineyard provides a tranquil European getaway in the heart of Paso Robles.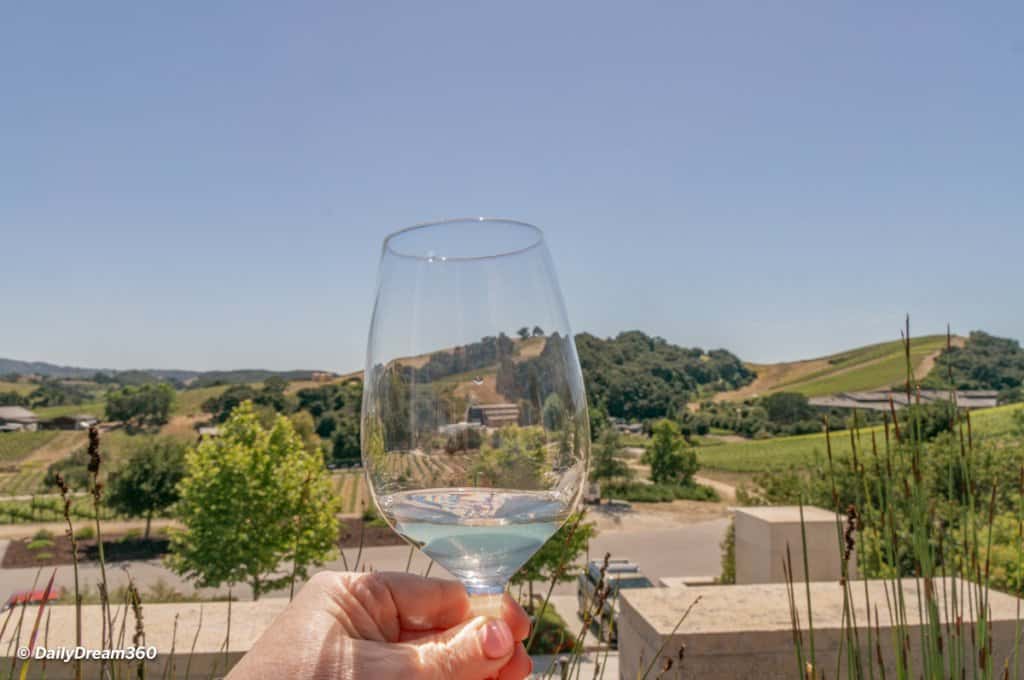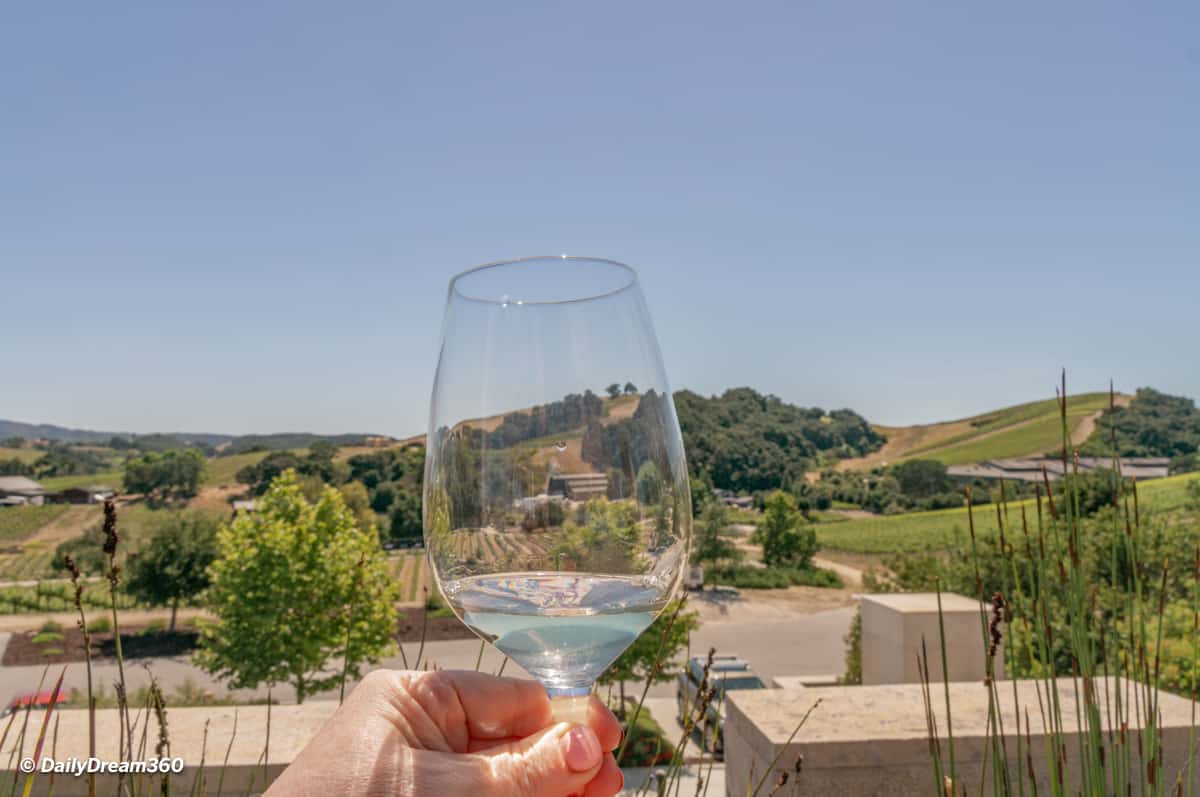 Plan it.
Getting to Paso Robles, California
Located halfway between Los Angeles and San Fransico you'll find Paso Robles is easy to get to by air, train or car.
Regional Flight into San Luis Obispo County Airport (SBP)
You can fly into the area like Keanu Reeves and Wynona Ryder in the hit Paso Robles movie Destination Wedding. From their rent, a car or get a ride into the downtown center.
California Road Trip Through Paso Robles
Paso Robles From Northern California
You'll drive south on US 101. Downtown Paso Robles is off the 17th Street exit, where you will turn left on Riverside, right on 13th Street, land eft on Park Street into City Park, located at 12th and Park.
Paso Robles From Southern California
You'll drive north on US 101 to the Spring Street exit. Follow Spring Street north right into the center of downtown at City Park.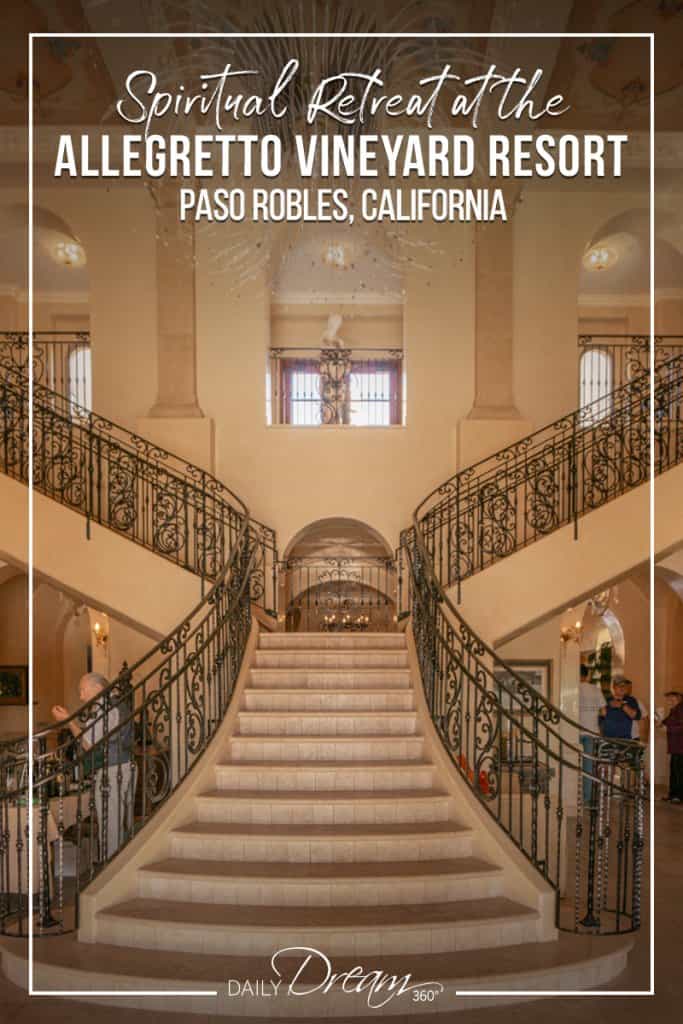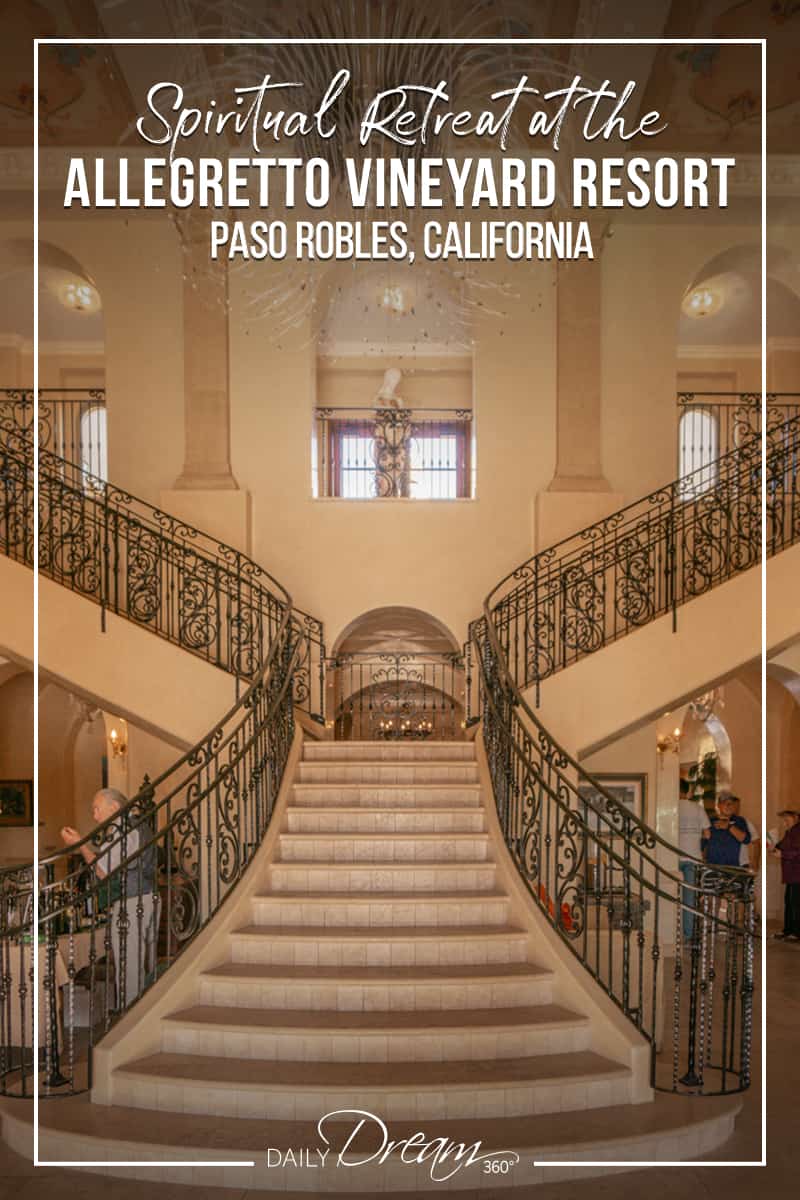 Live it.
About the Allegretto Vineyard Resort Paso Robles
In my room, I watch videos of Allegretto's owner Douglas Ayres talk about his inspiration in creating every room and outdoor space. He's a fourth-generation hotelier, and he spent 13 exploring the vineyards of Paso Robles before finding the 20 acres where the resort sits now.
Check Reviews and Rates: TripAdvisor | Expedia | Hotels.com
His many trips to Europe, South America and Asia inspired much of the resorts layout, décor and the many pieces of art discovered on the property. There are so many tranquil and relaxing spaces where you can enjoy a glass of wine, or meditate and enjoy the surroundings.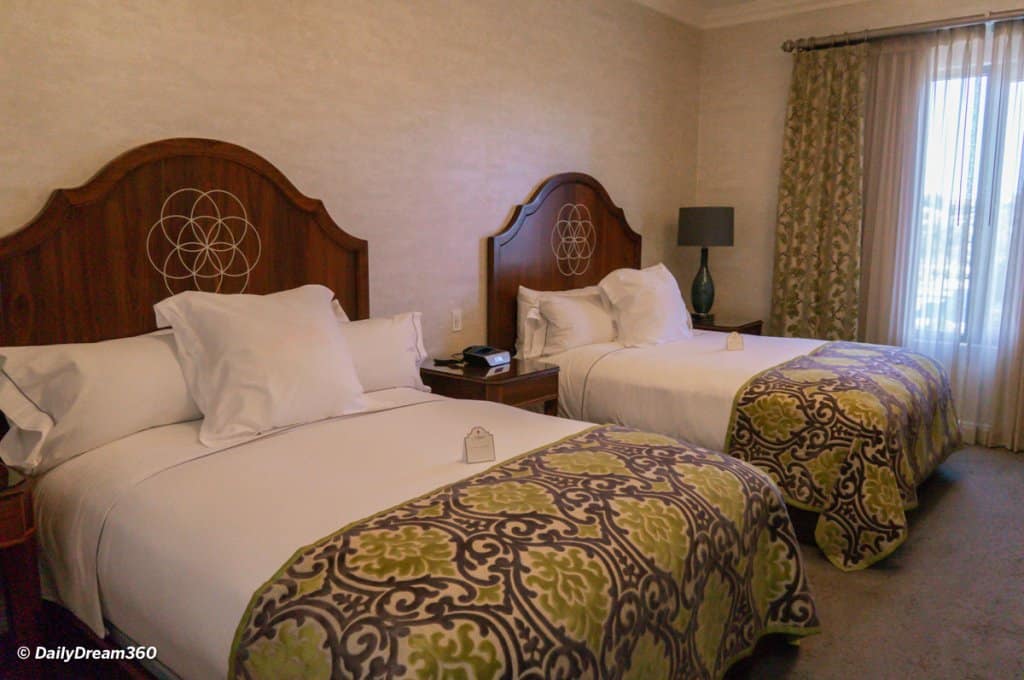 Standard Double Room at Allegretto Vineyard Resort
My room had two queen-sized beds with heavy wood frames and thick mattresses: super comfy beds and fluffy pillows to match.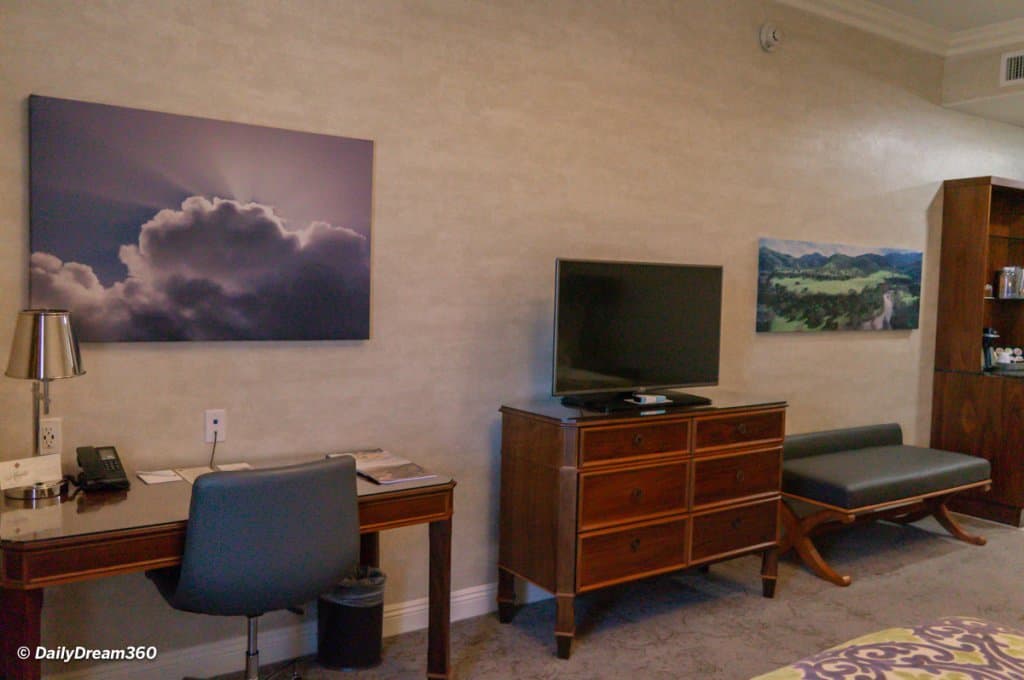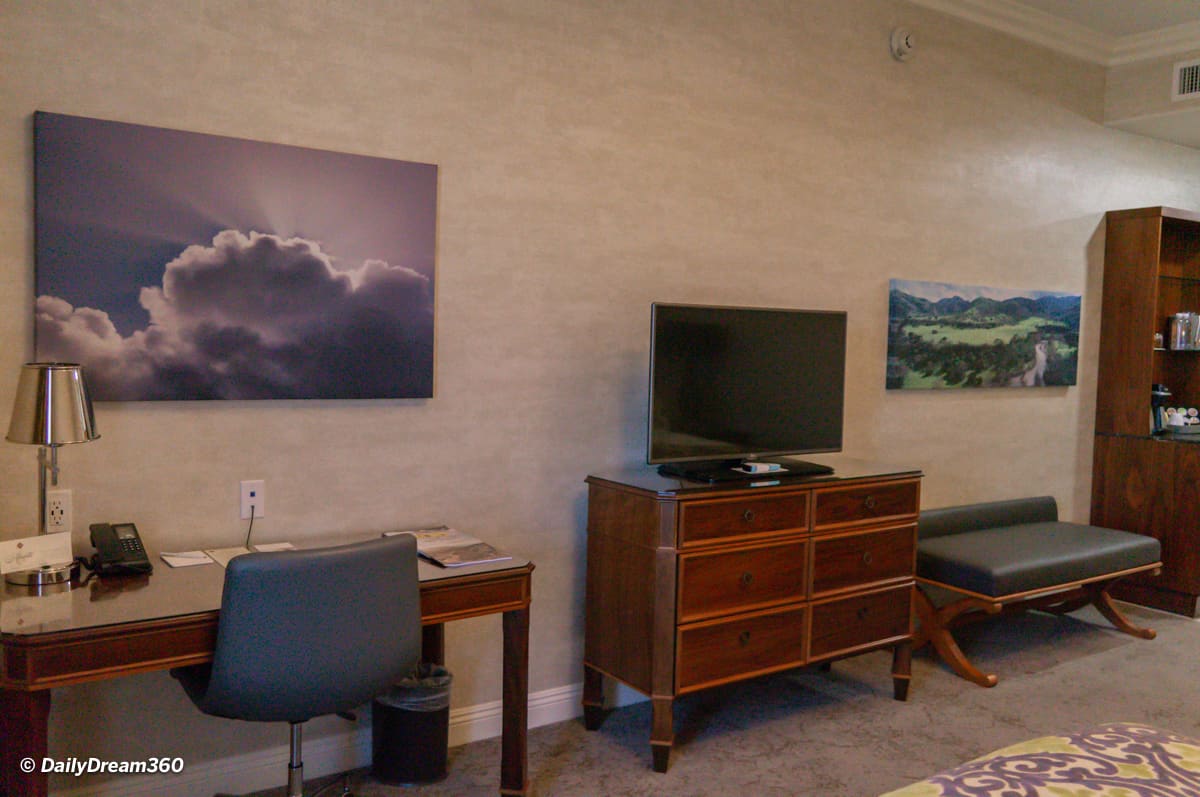 The room had a desk, wardrobe and a hanging closet. There was a little bar next to the cabinet with a Keurig coffeemaker, water and, of course, some wine glasses.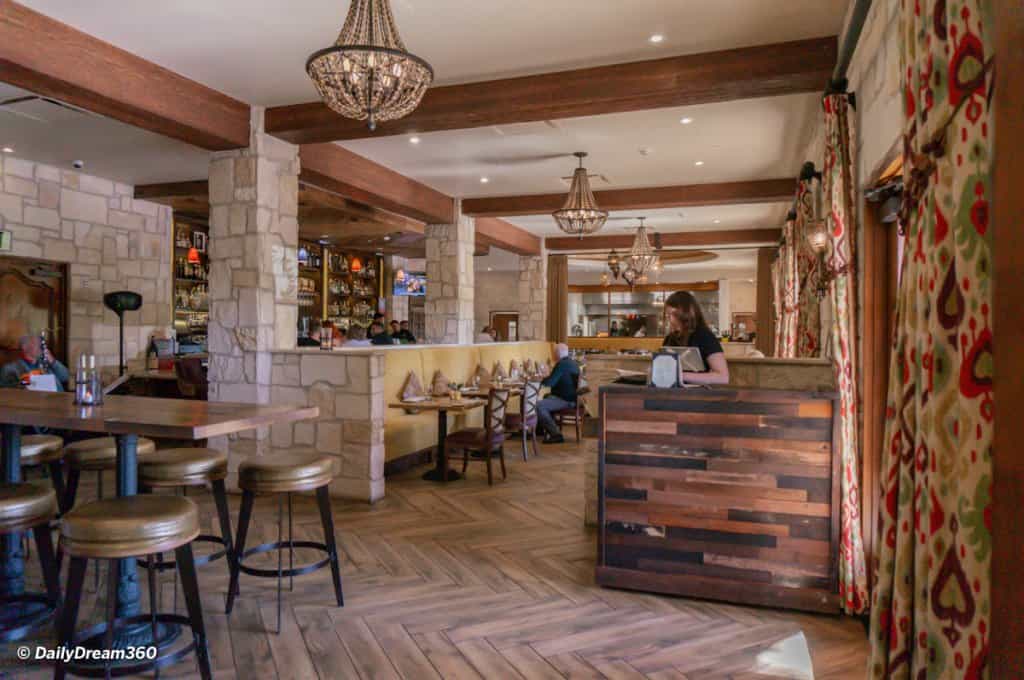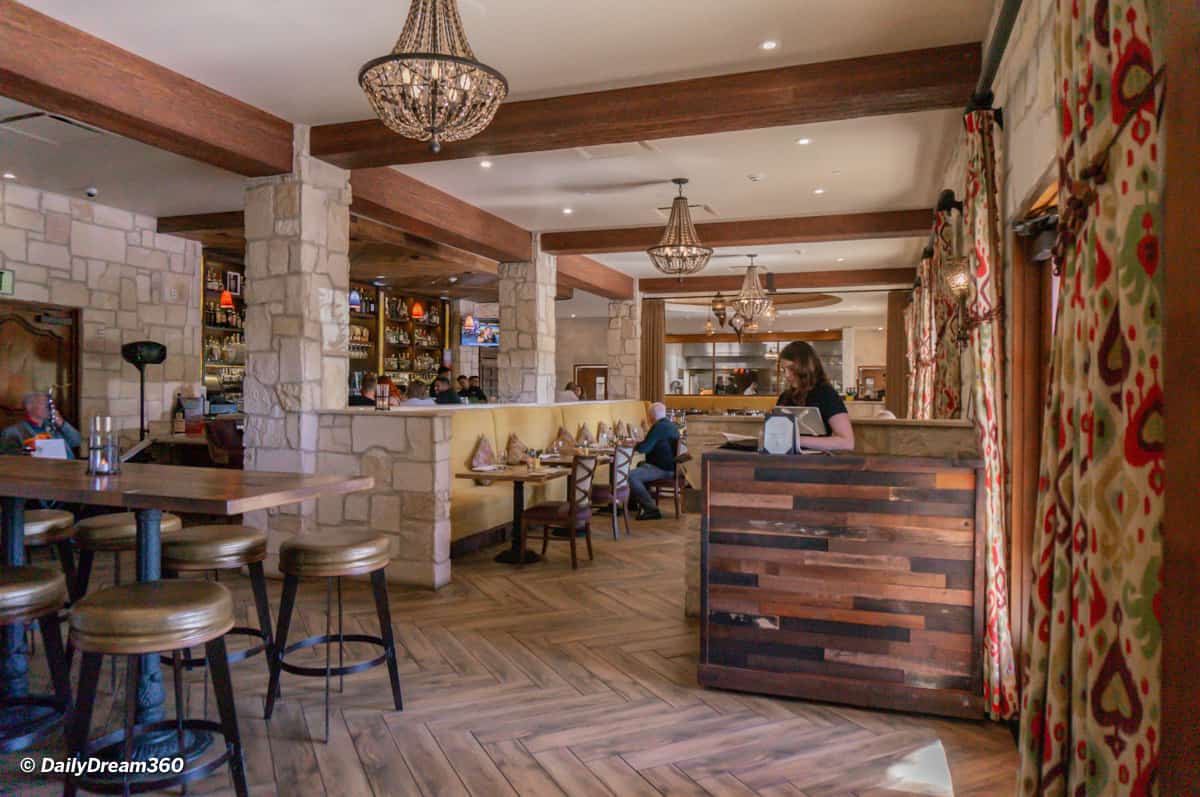 Cello Restaurant and Bar
The resort had a lovely restaurant and bar area. We enjoyed breakfast at the restaurant located off the lobby. There you can order either the breakfast buffet or individual items off the a la carte menu.
We found the temperatures were perfect for an outdoor breakfast on the patio. The staff was super attentive, and my coffee cup was never empty. It is a beautiful covered patio to sit and enjoy your morning meal.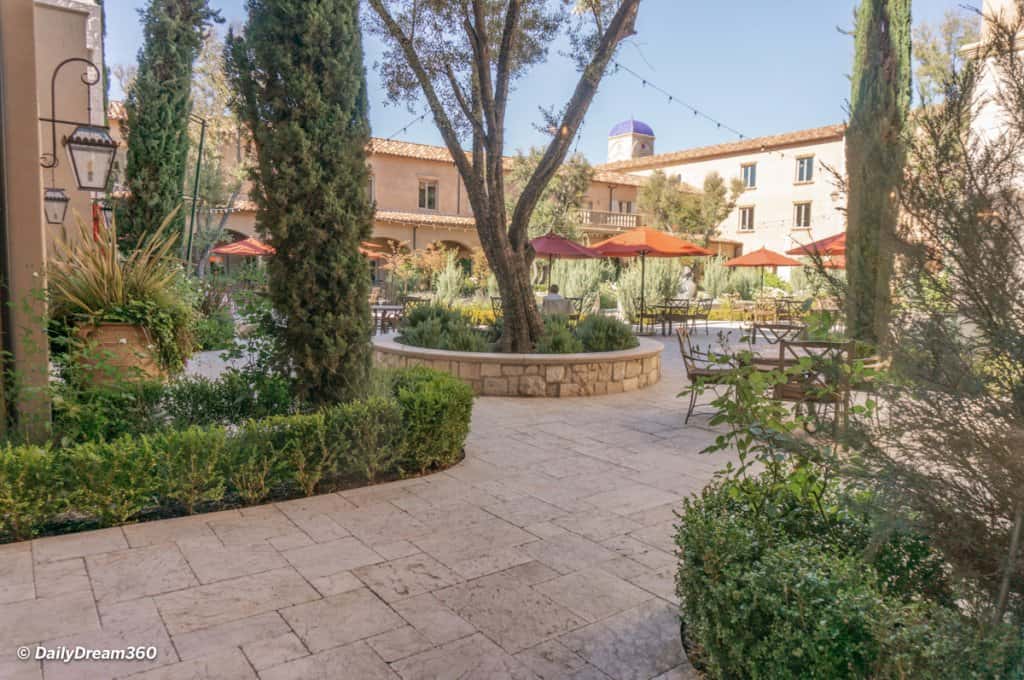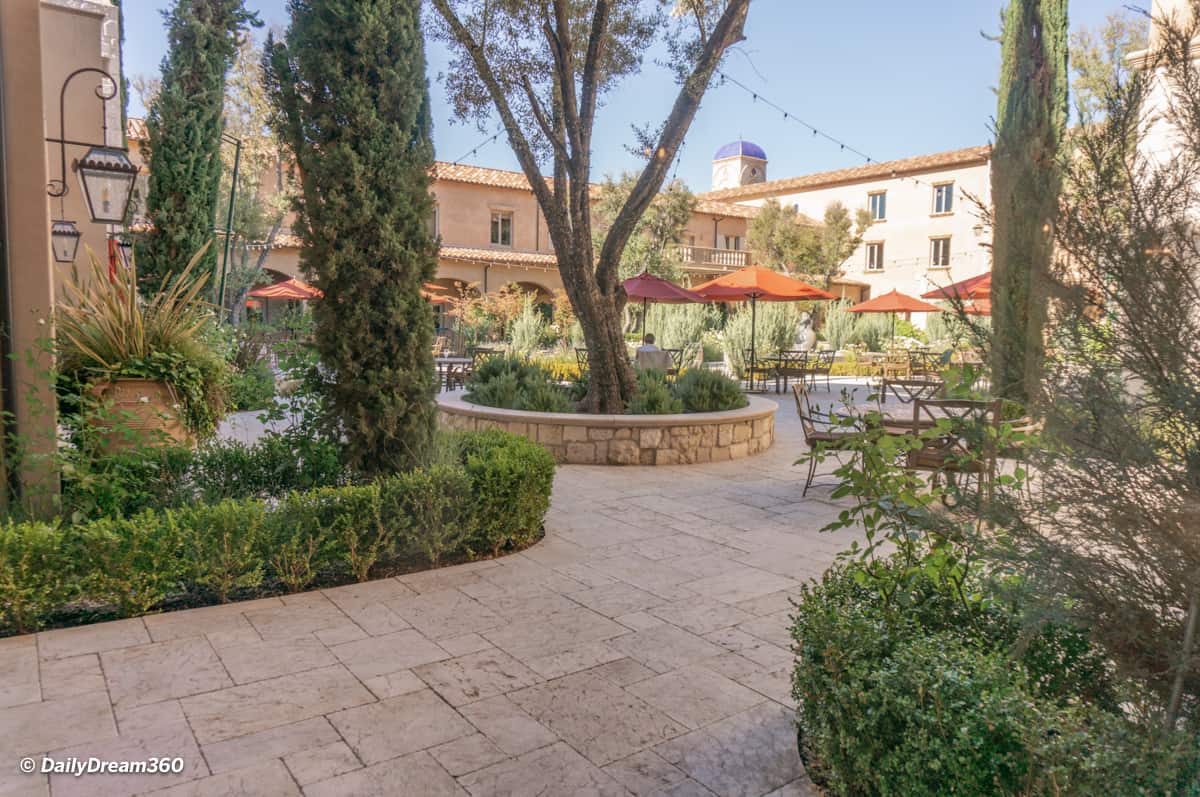 Exploring the Allegretto Vineyard Resort
I wish I had left more time to explore and relax at the resort. There were so many interesting spots to discover. Here are a few of my favourites.
Allegretto Wines Tasting Room
When staying at a vineyard, one must taste the wine. You'll find a selection of white and red wines to choose from, including a Malbec and Cabernet Sauvignon.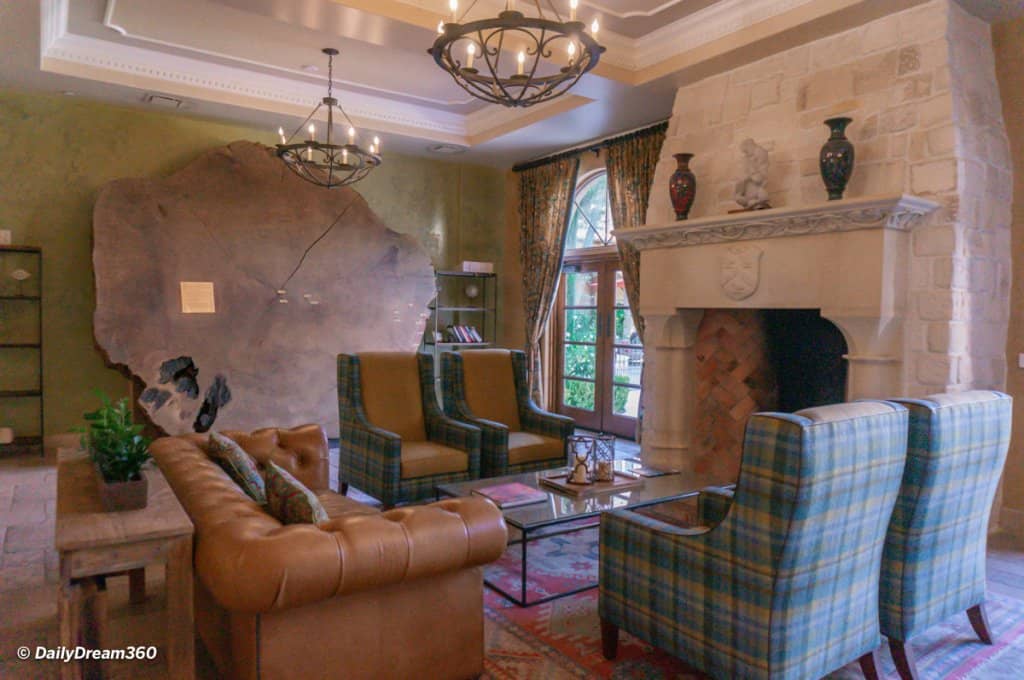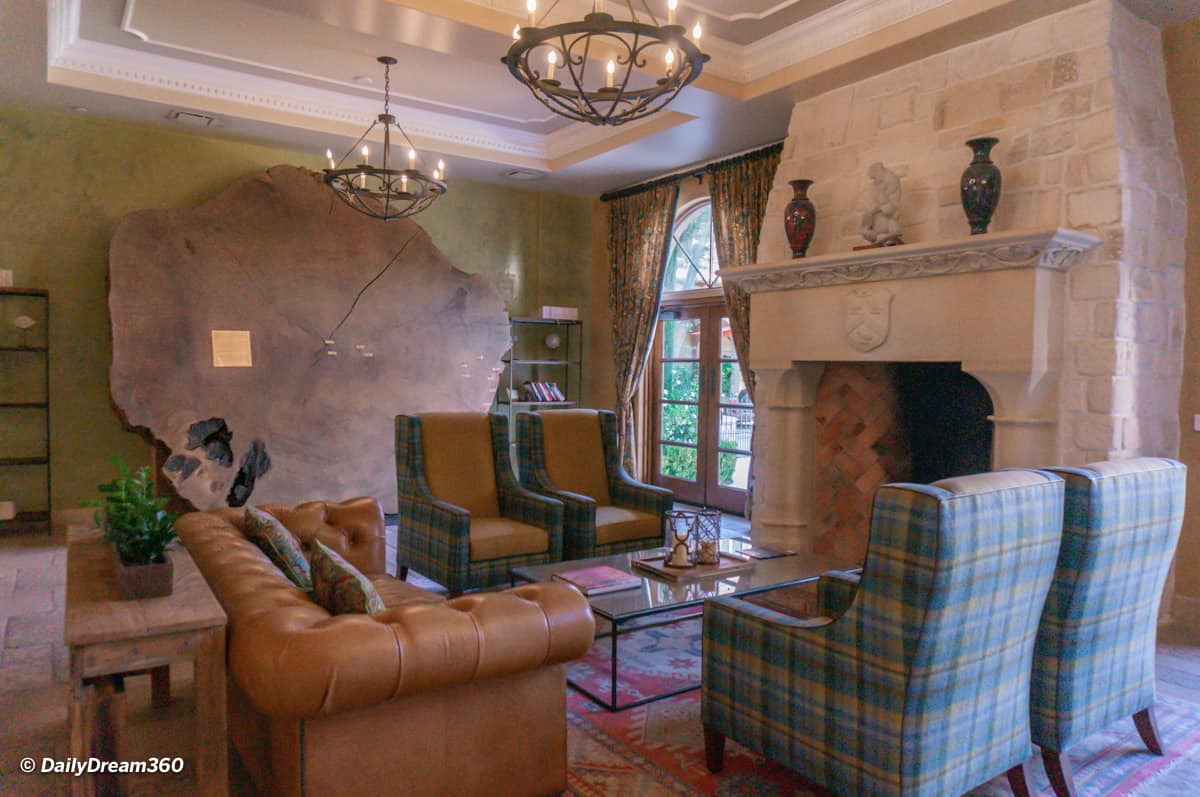 Sequoia Room
One of my favourite rooms to sit in was the Sequoia Room. There you'll marvel at the large slice of Sequoia tree and all its rings showing a timeline of history as early as the building of the Great Wall of China to the birth of Christ and the First and Second World Wars.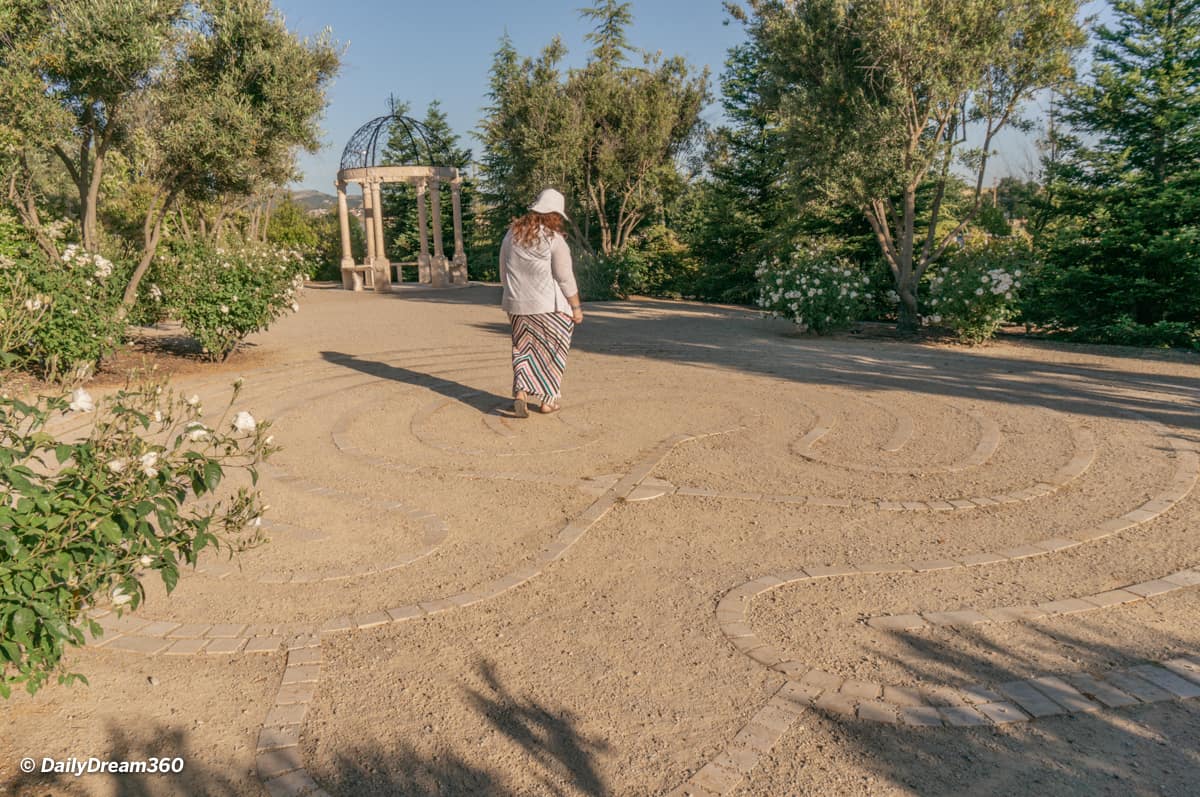 Peace, Balance and Tranquility at Allegretto Vineyard Resort
One of the things I love about the resort was the sounds of birds chirping away as I enjoyed the many outdoor spaces.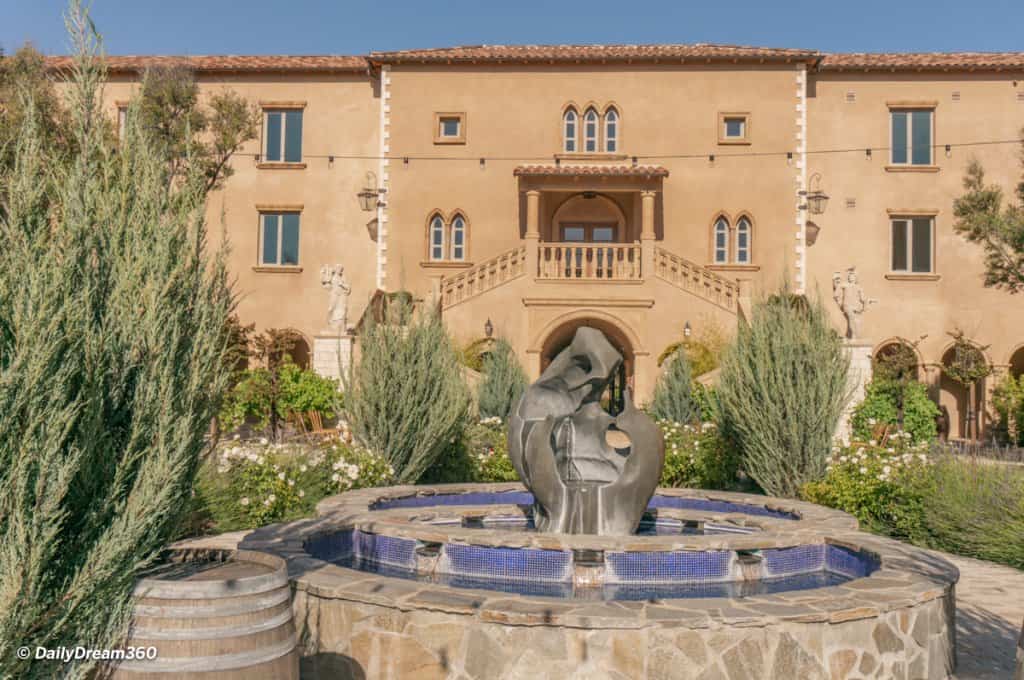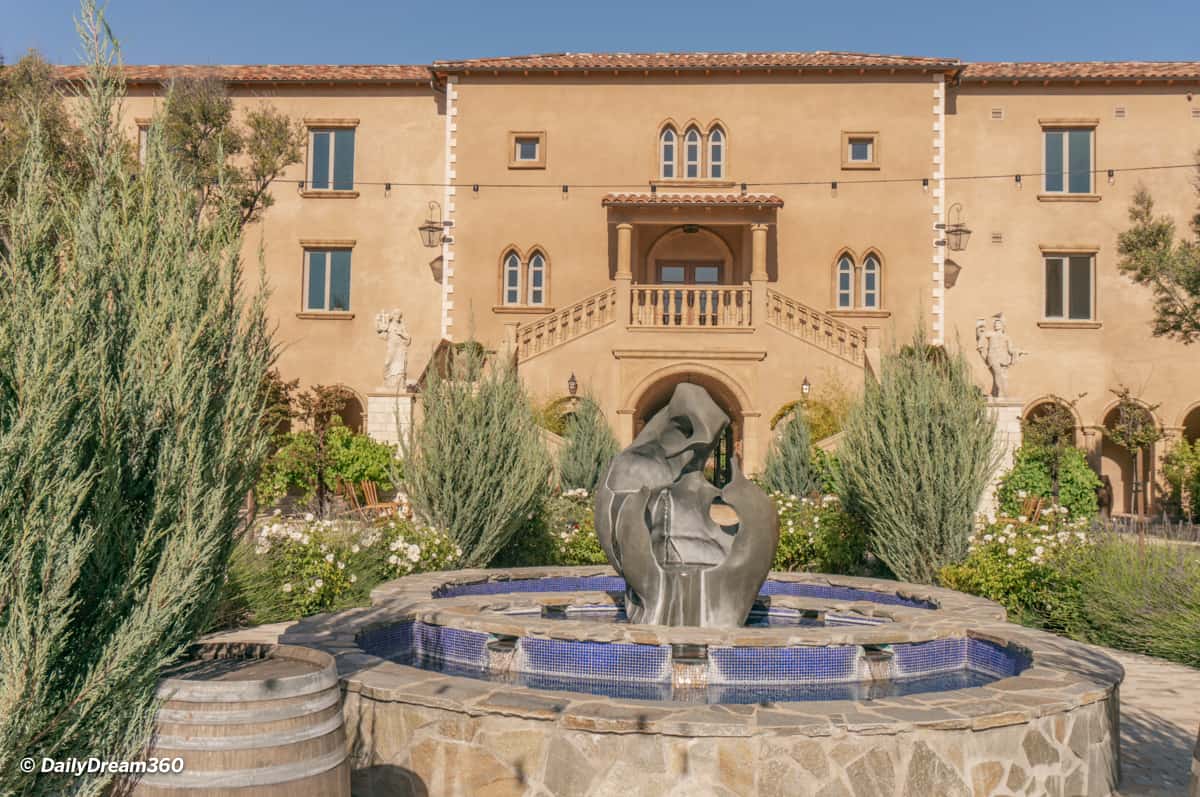 European Square in the Centre of the Resort
The gentle sounds of water flowing in the water fountain, which sits in the middle of the square, set the tone for this open space. There are a variety of tables and chairs in both the sun or the shade of the square. Many of the guests would gather for a tranquil moment in this garden area.
It truly felt like a European resort, with vines growing up the stone walls, beautiful archways, a fountain in the centre and sculptures creating more focal points in the square.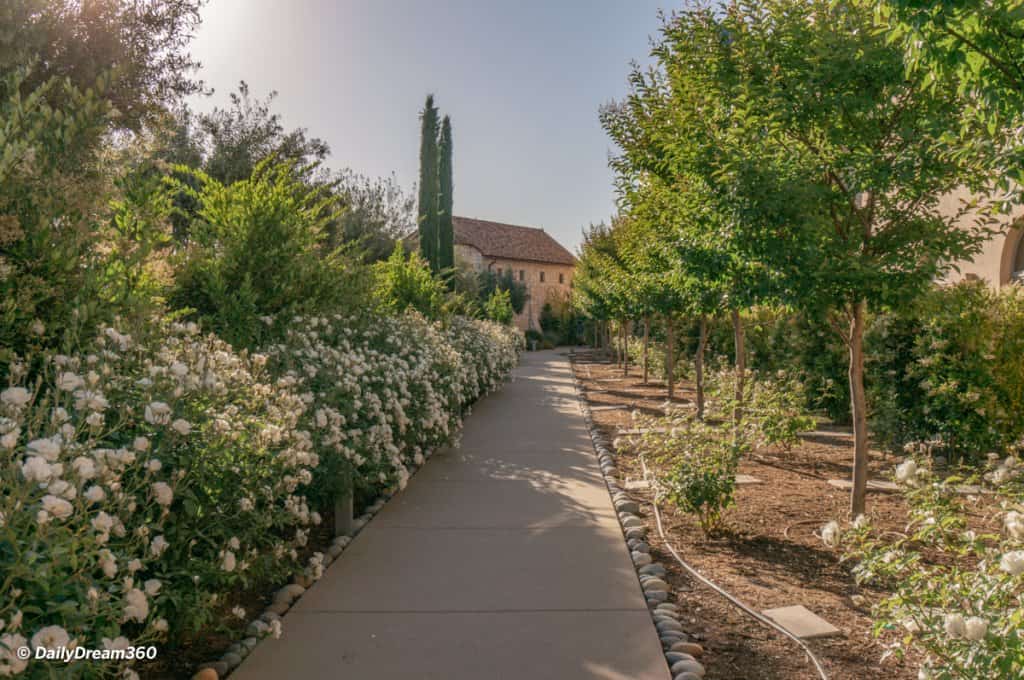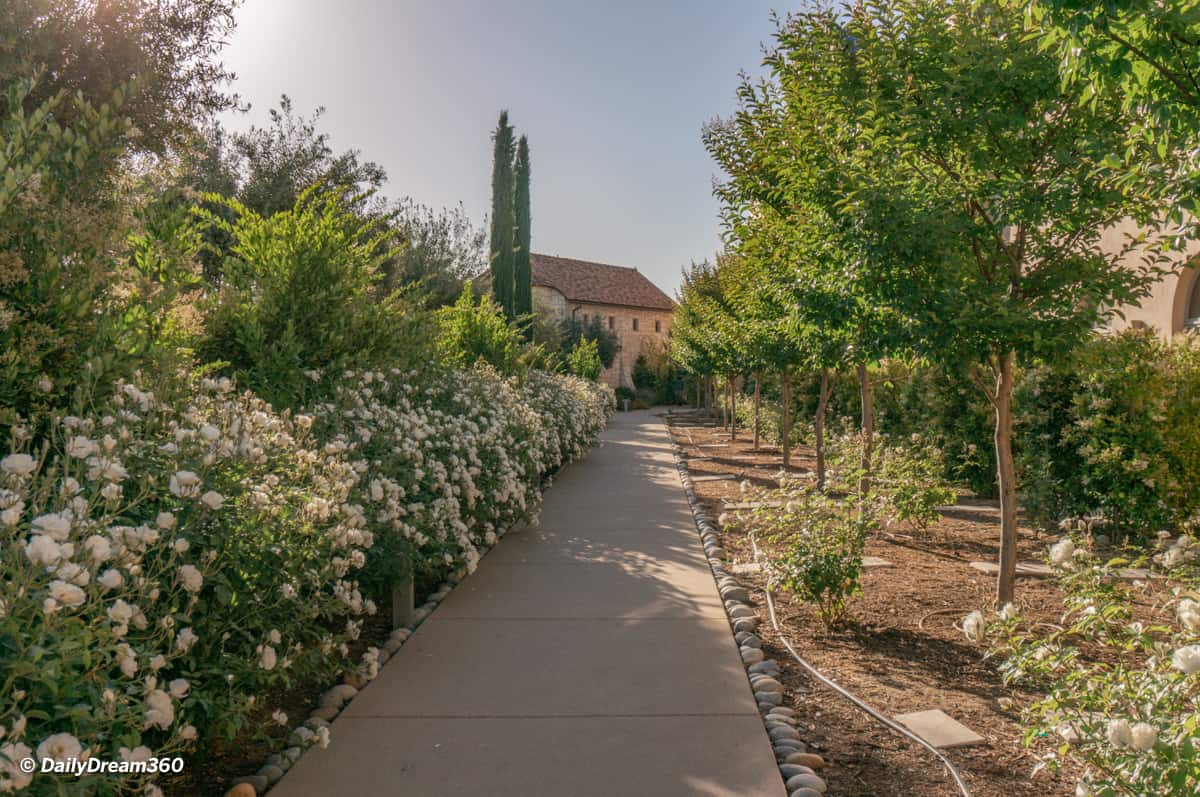 The Backyard Gardens of the Allegretto Vineyard Resort Paso Robles
There are several open spaces at the resort where you can find a shady spot, swinging chair or path to walk through all surrounded by beautiful flowers and shrubs.
Allegretto Labyrinth Paths
There are two labyrinth paths in the back gardens of the Allegretto. One is a quiet space where you can walk the maze in silence. The second pathway has sensors, which, when you begin walking the gravel path, signal different sound tones. Depending on the type of meditation you are looking for, there is something for you.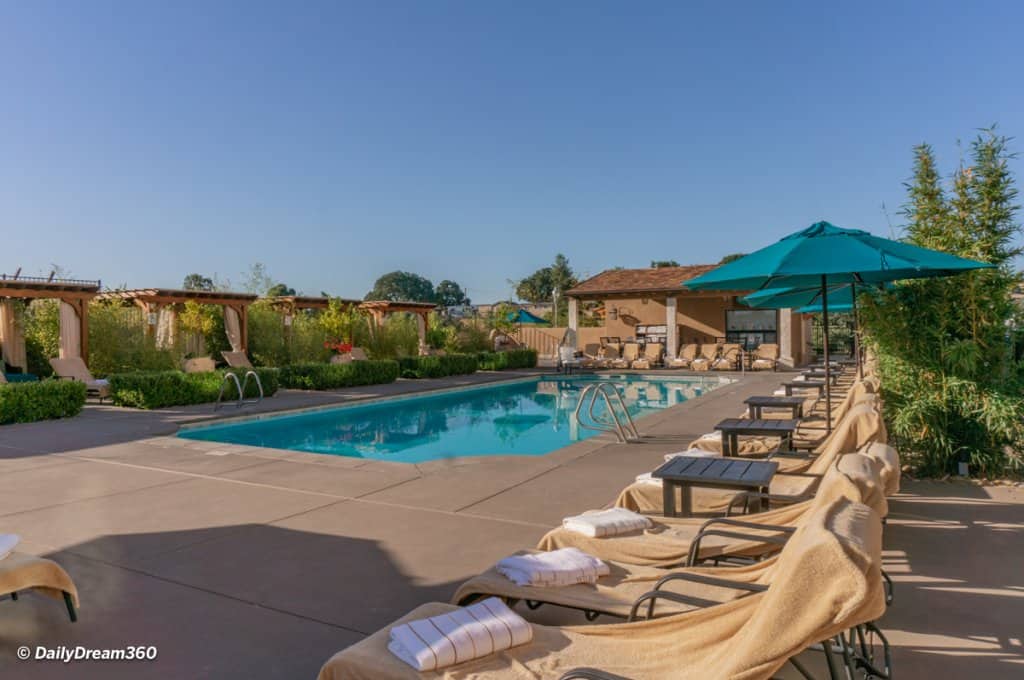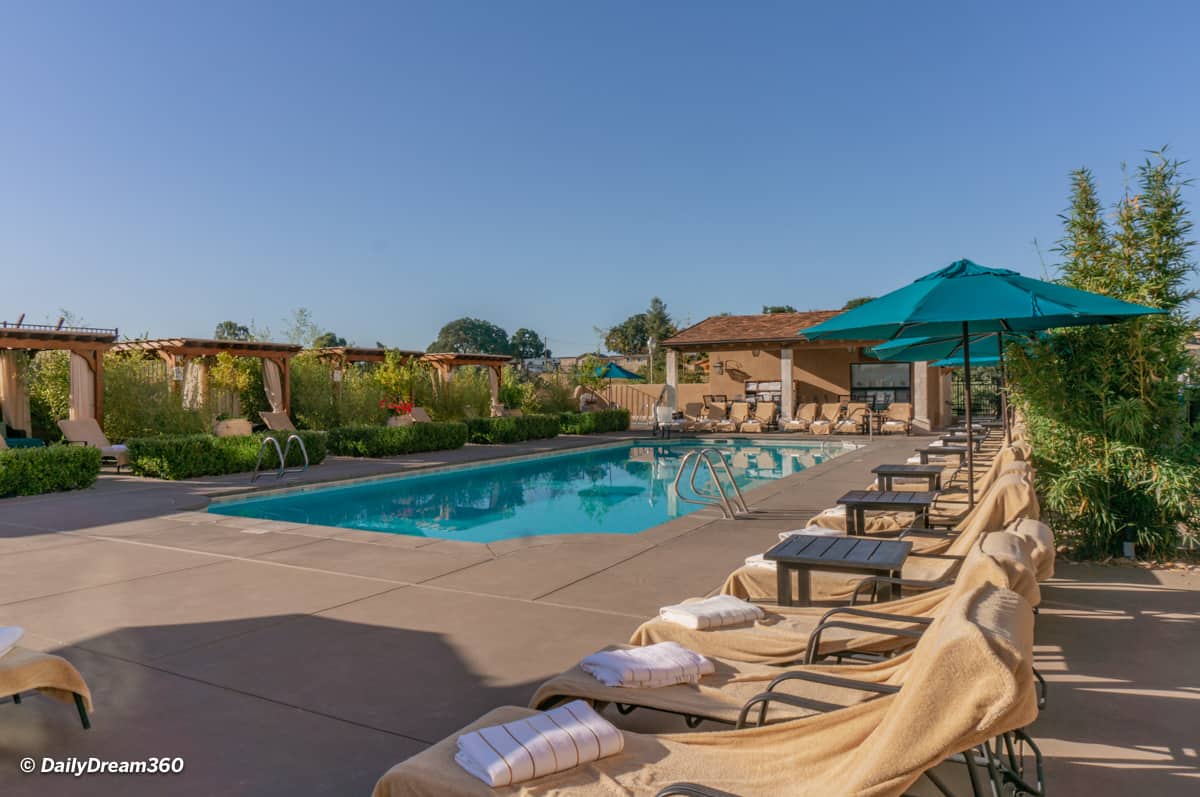 The Pool and Café at Allegretto Vineyard Resort Paso Robles
When you come out to the pool, you'll notice it is all set up with chair covers, towels as it would be in a European resort. In the background, as you lounge on one of the pool chairs, you'll view the vineyard. The hill covered with vines must be explored. At the very top, you'll find a variety of Olive trees.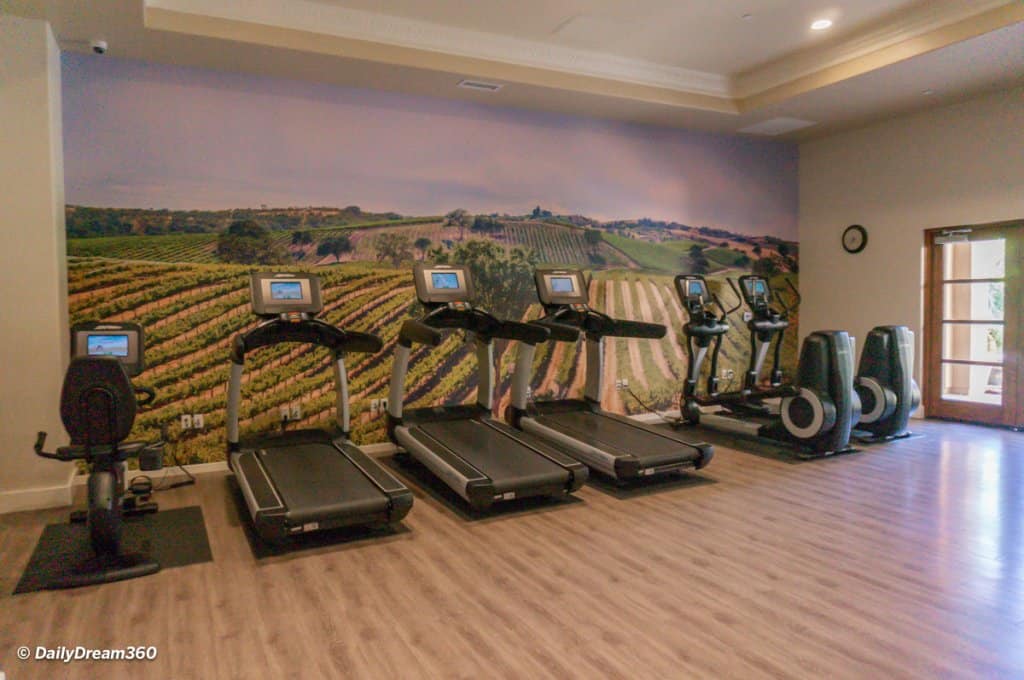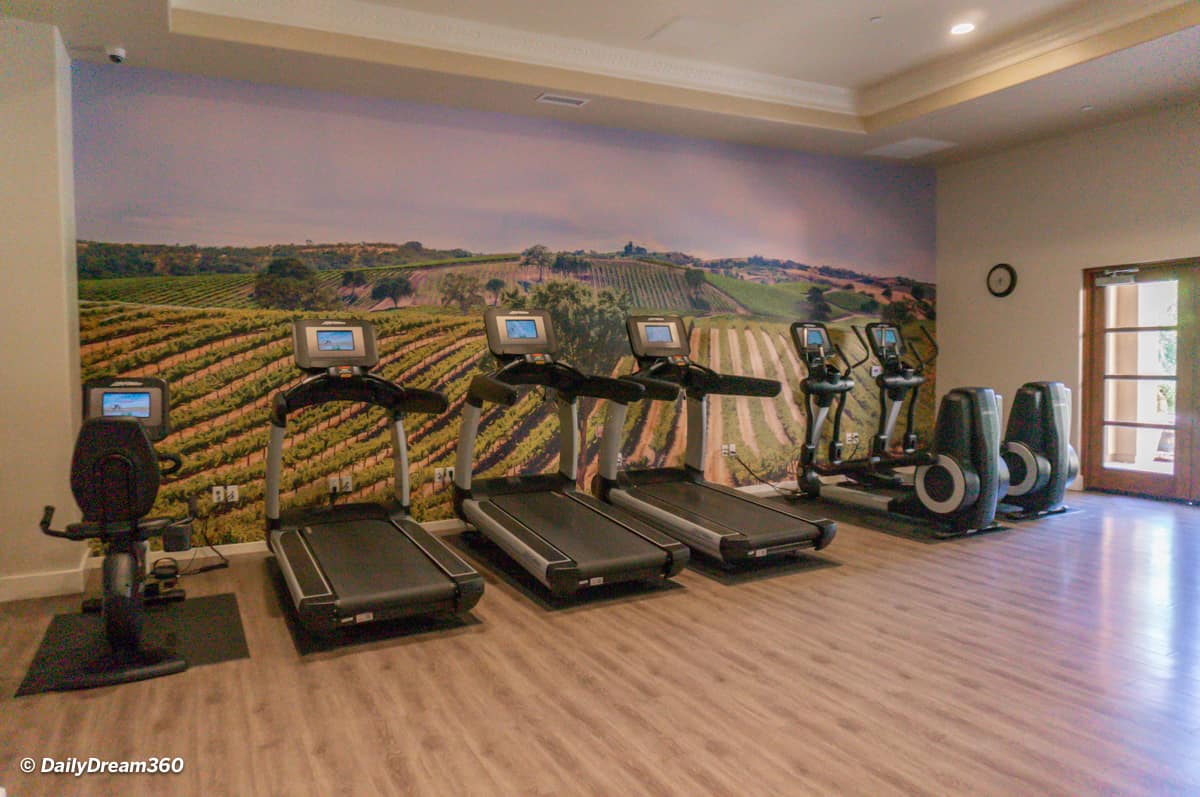 Allegretto Fitness Room
Even the fitness room evoked calm with a painted wall featuring Paso Robles's famous views of hilltops covered in vines will be sure to inspire your workout. Standing on a treadmill facing a mural of hills and vineyards is the way to exercise. The fitness room also has plenty of cardio machines and handheld weights.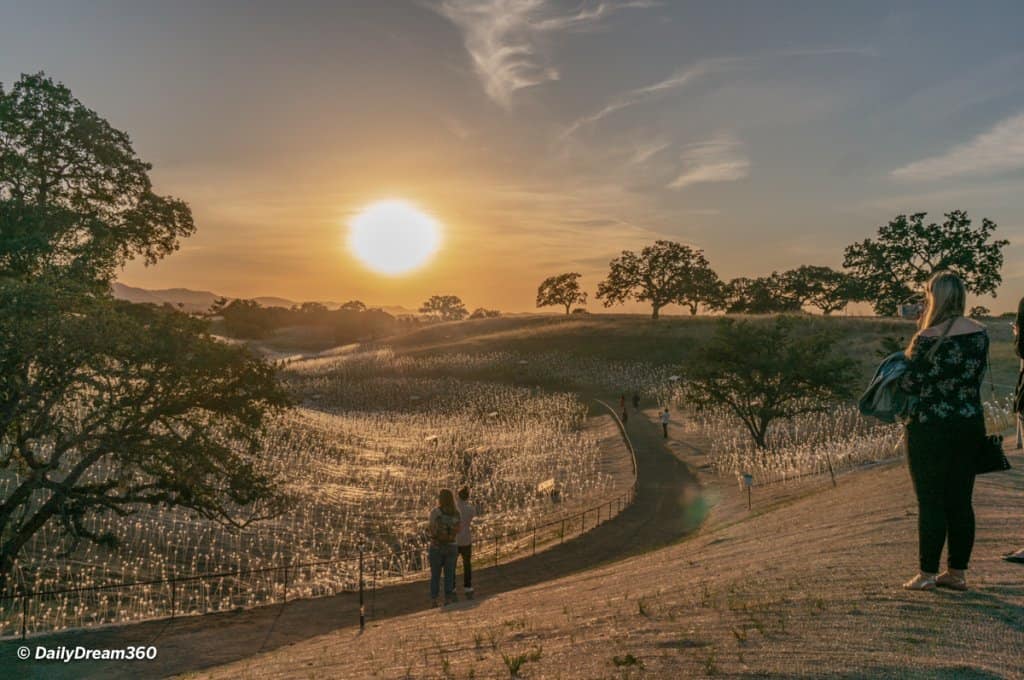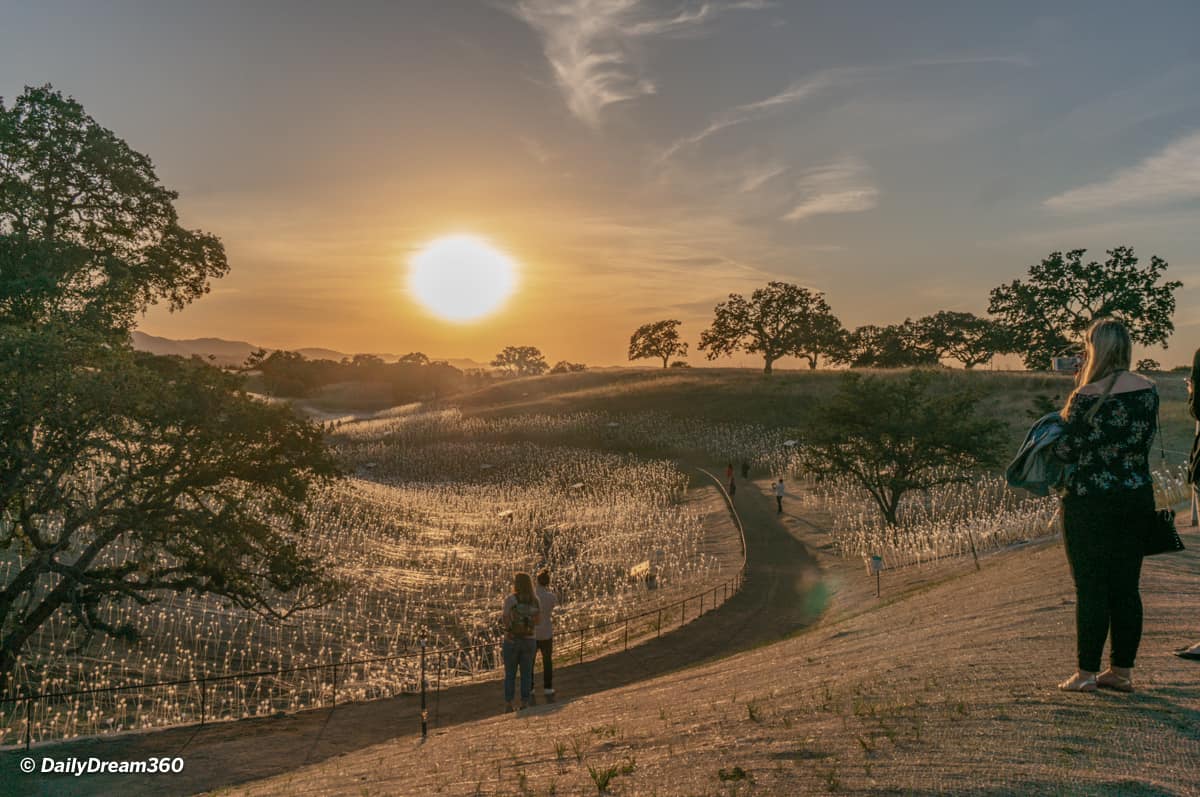 Some Things to do in Paso Robles California
Of course, a visit to Paso Robles California would not be complete without exploring the area. I have several suggestions for things to do when in Paso Robles.
Sensorio Field of Lights Paso Robles (extended to June 30, 2020)
Number one on my list of things to do is the magical Senserio Field of Lights. This unique installation has over 58,800 stemmed spheres lit by fibre-optics. We had an exclusive VIP package with dinner and wine in a specialized area situated in front of the installation.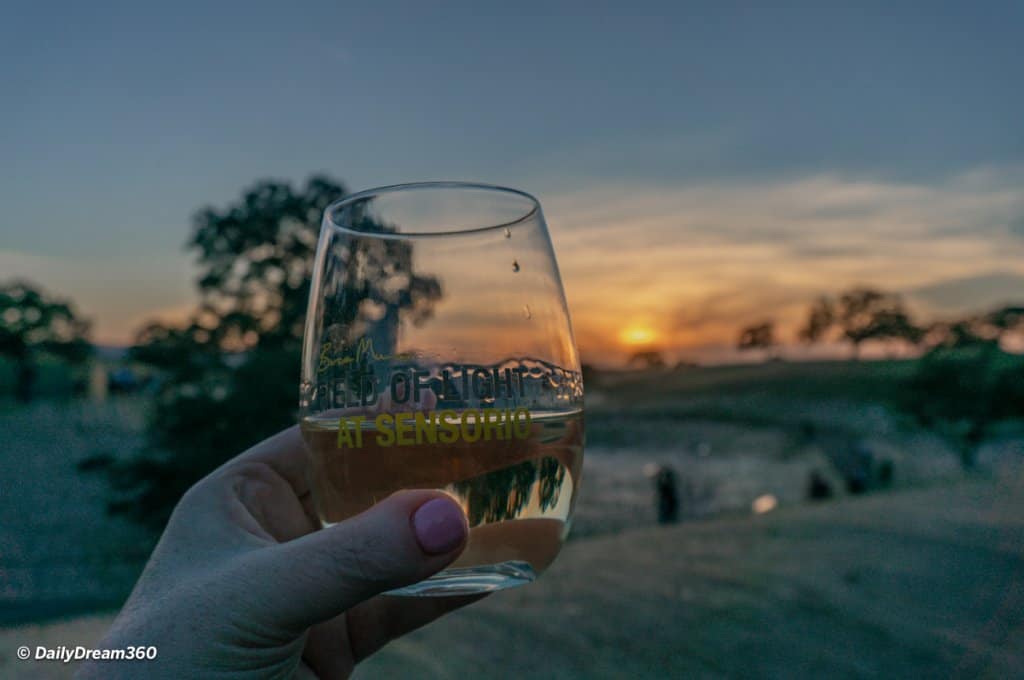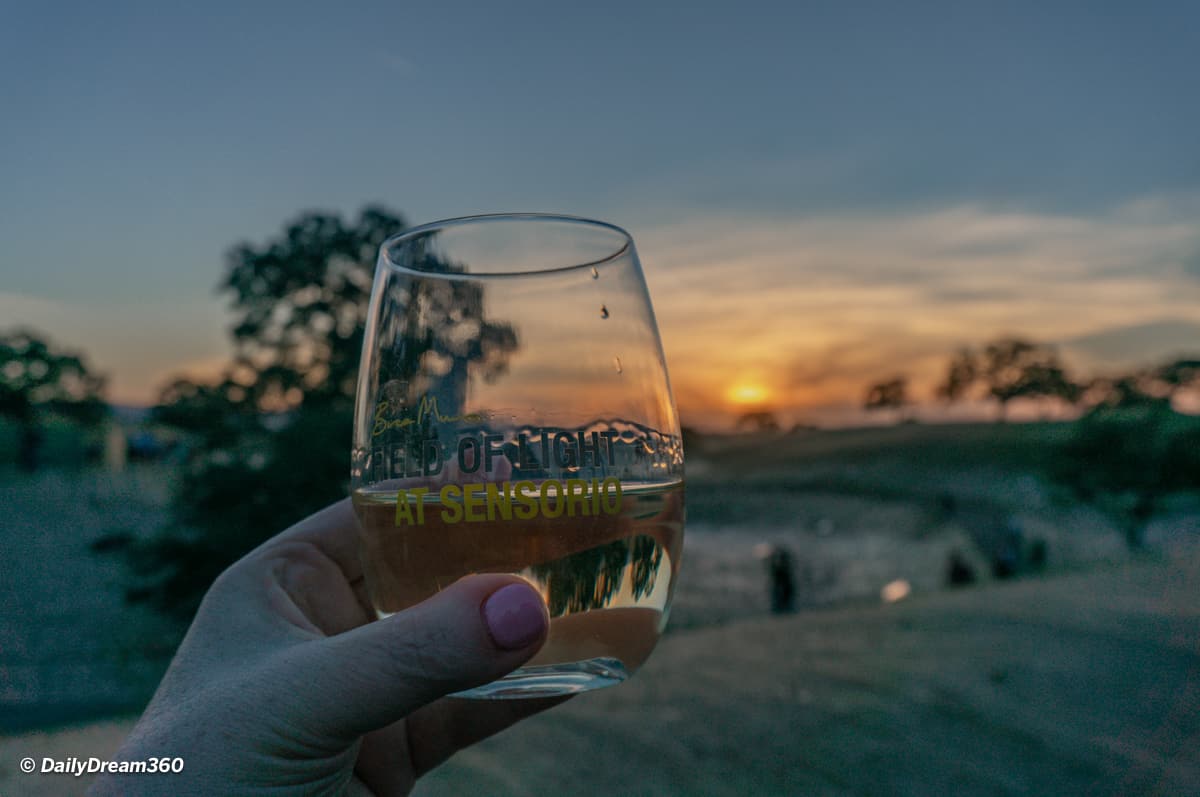 We watched as the sunset over the many white spheres and then as the sun slipped behind the hills, they began to illuminate.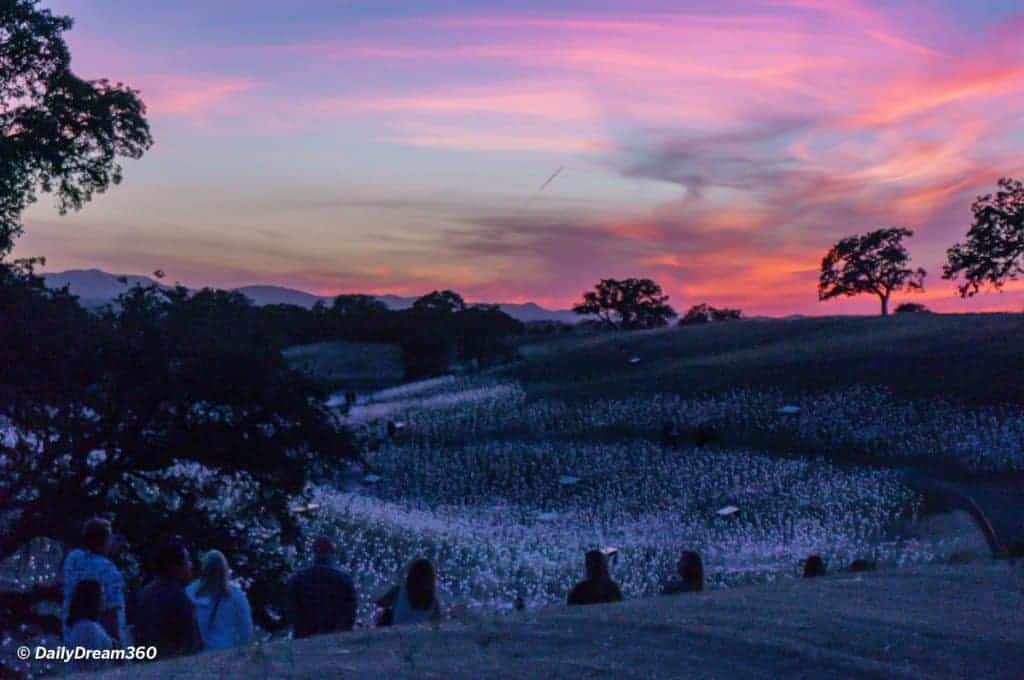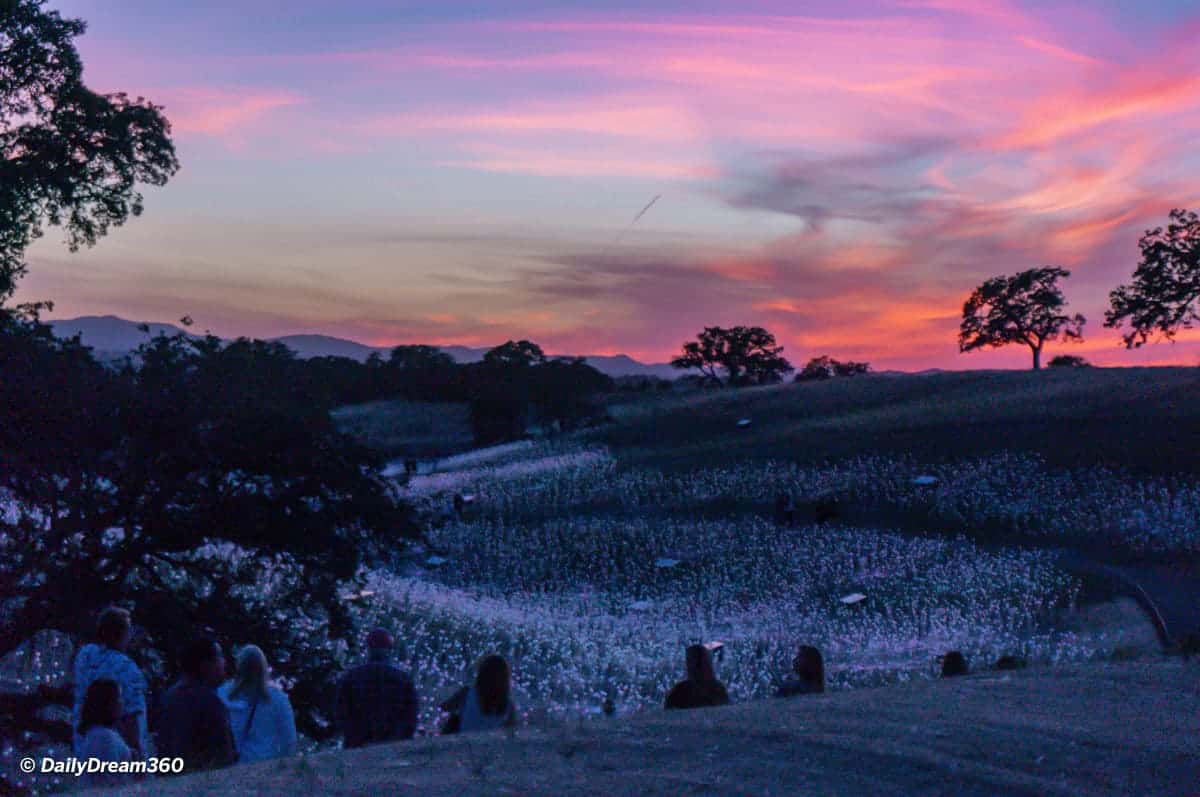 It was a pretty spectacular experience. You'll walk through the pathways between the light installations, which loop through the entire display. There is also an entertainment tent where you can sit and enjoy some live music.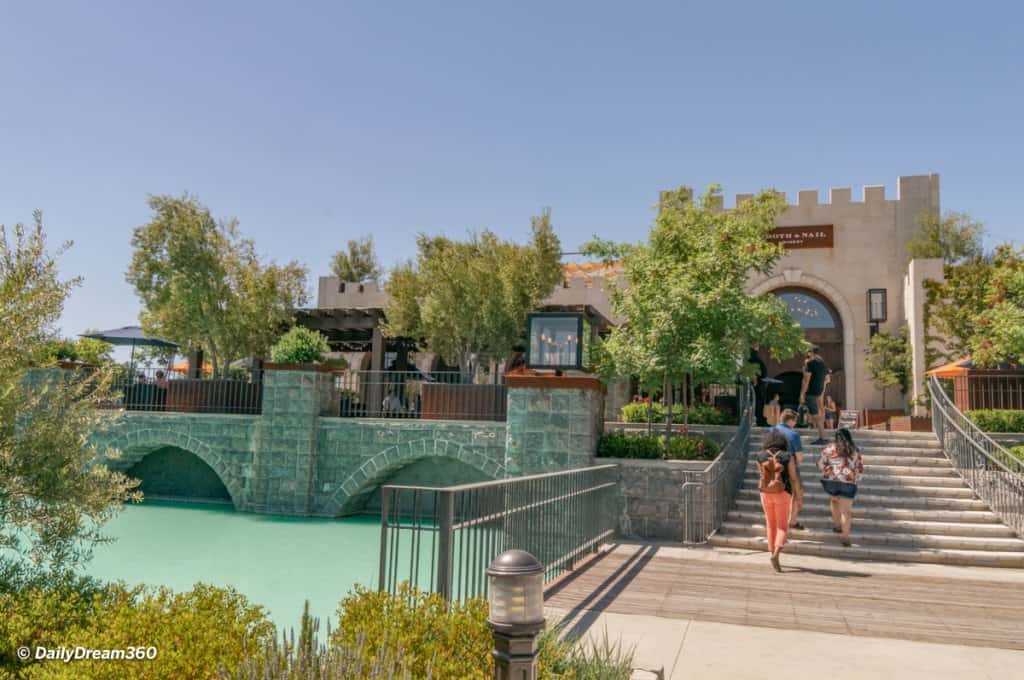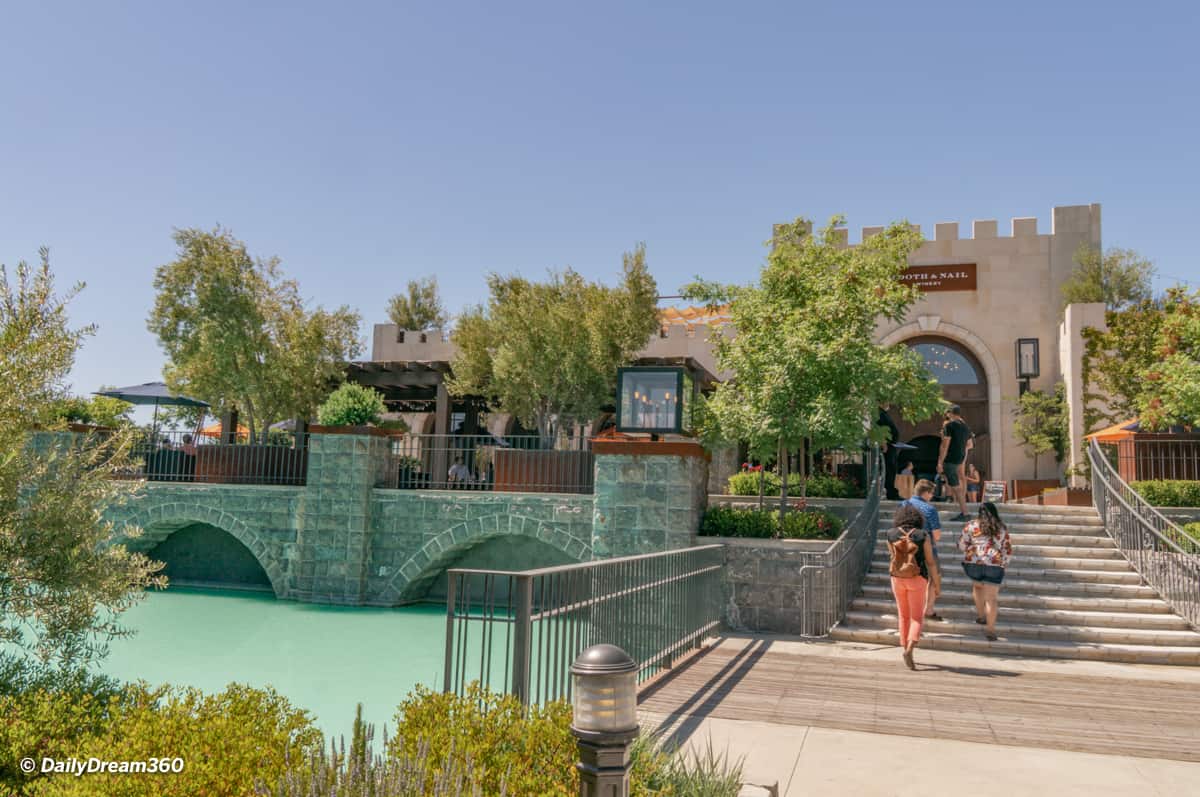 Tooth and Nail Winery, Paso Robles, CA
Cross the fluorescent aqua moat into the Castle at Tooth and Nail Winery. There enjoy a wine tasting of their beautiful blends. The hard part will be choosing from their extensive selection, which includes: Chardonnay, Pinot Gris, Viognier, Albarino, Sauvignon Blanc, Cabernet Sauvignon, Grenache, Malbec, Merlot, Petite Sirah, Pinot Noir, Red Blend, Syrah, Tempranillo, Zinfandel, and Bordeaux-style Blends.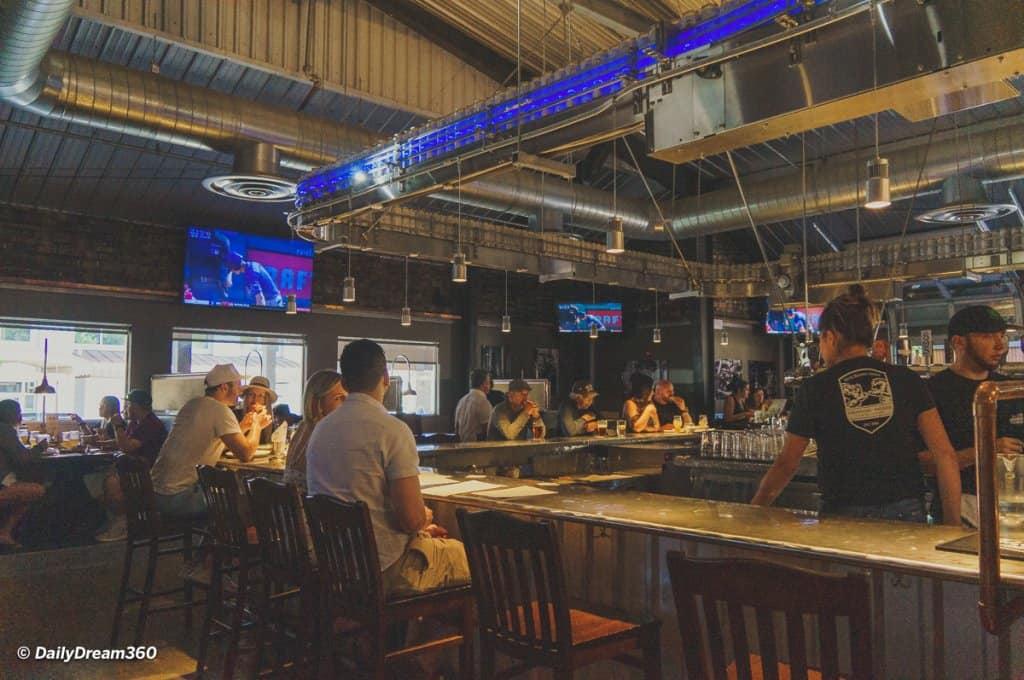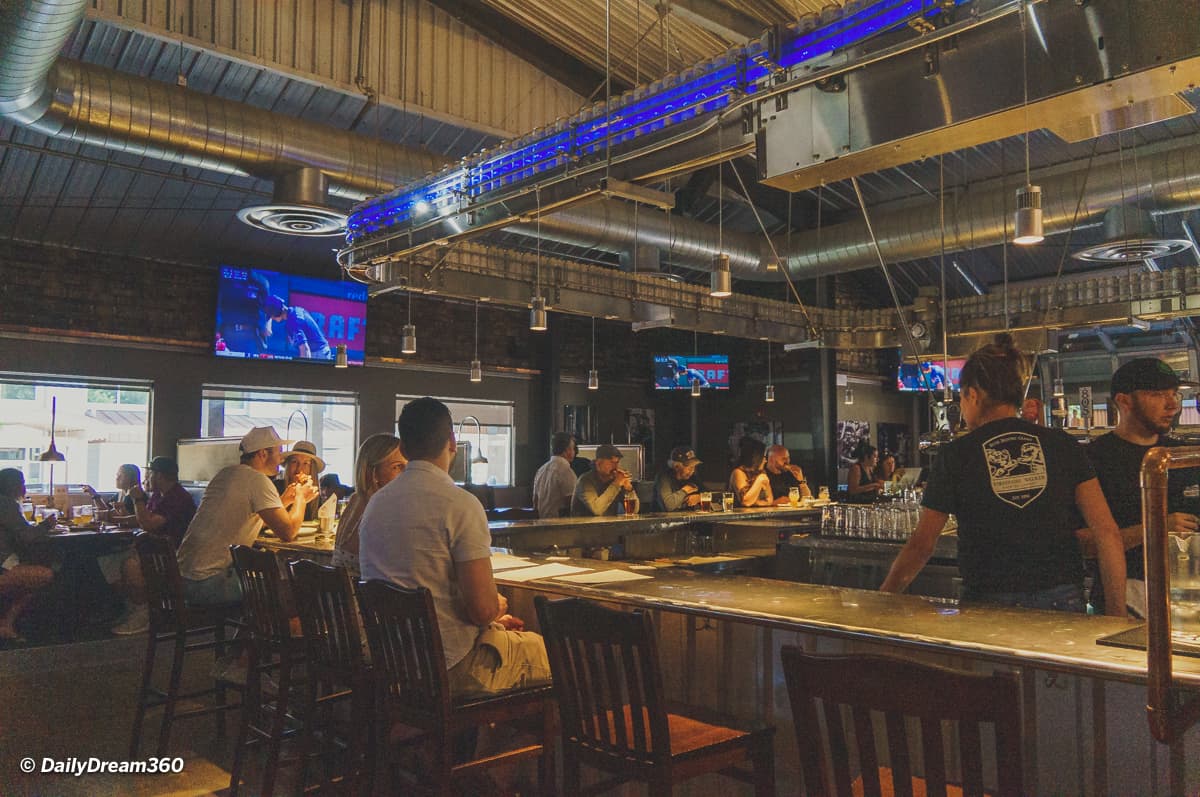 Firestone Walker Brewery Company, Paso Robles, CA
If brews are more your thing, then head out to Firestone Walker Brewery, where you can take a tour of their massive facility, have a tasting in their tasting room or sit down and enjoy a meal in their restaurant while tasting their brews.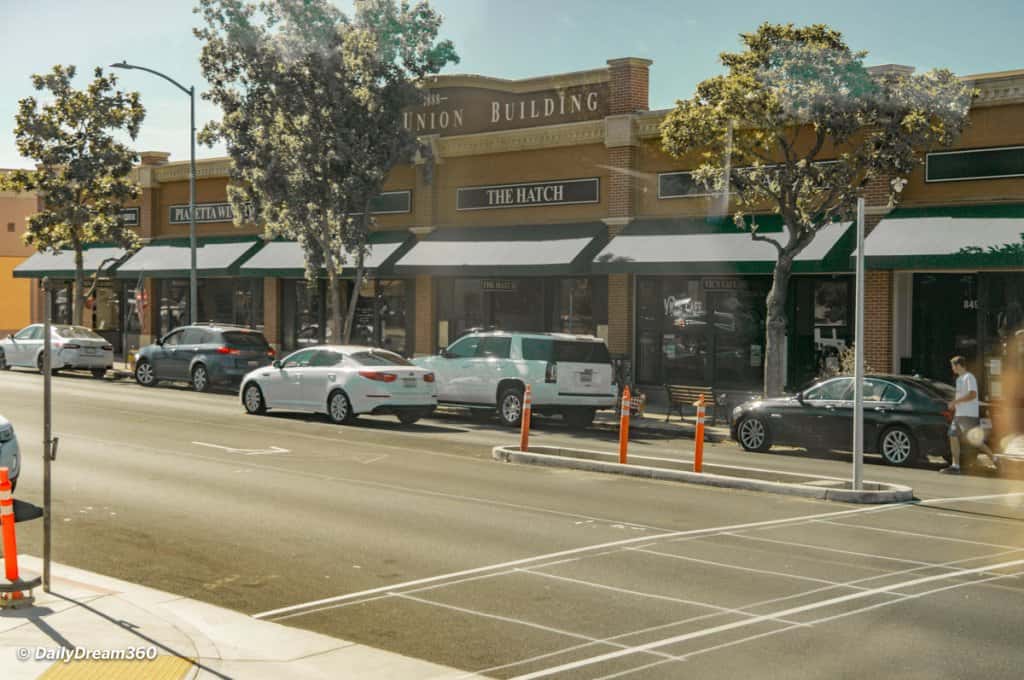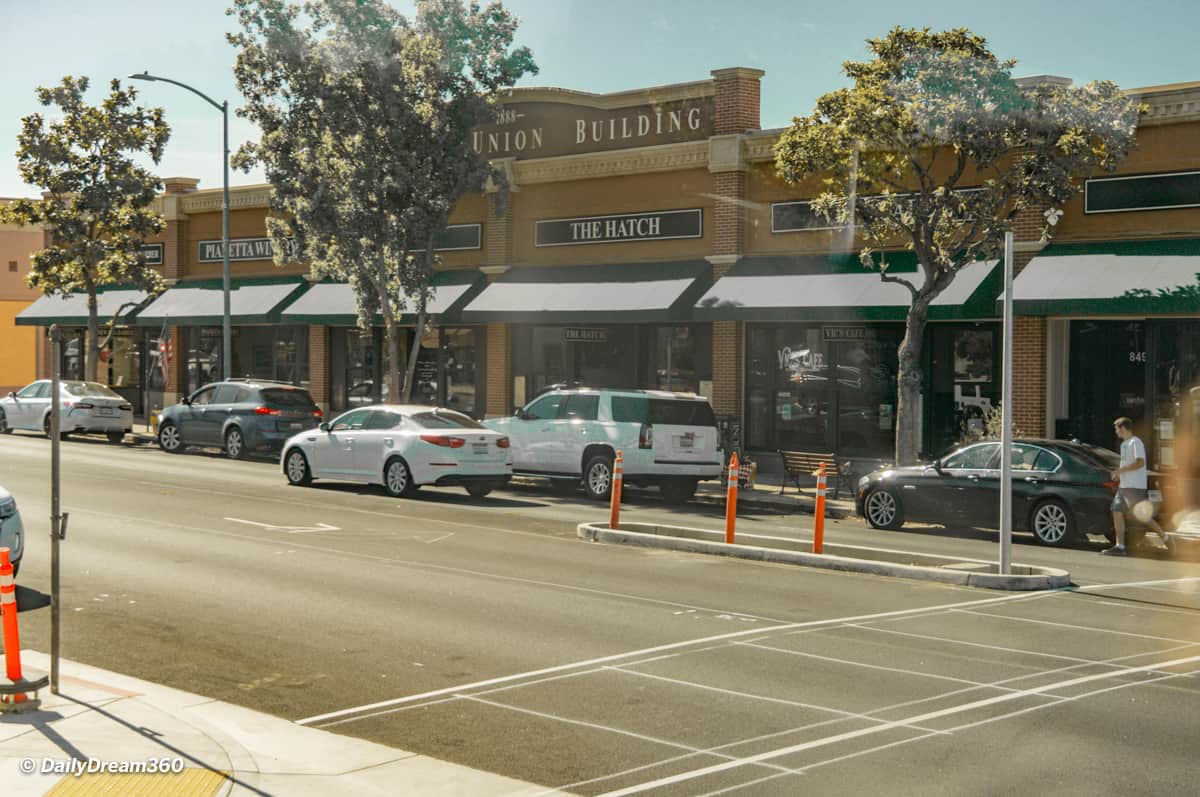 Explore Downtown Paso Robles California
Downtown Paso Robles has plenty to do and see from shops, restaurants, tasting rooms and historical buildings. They all surround the city park, which is the heart of the city, which was founded in approximately 1890.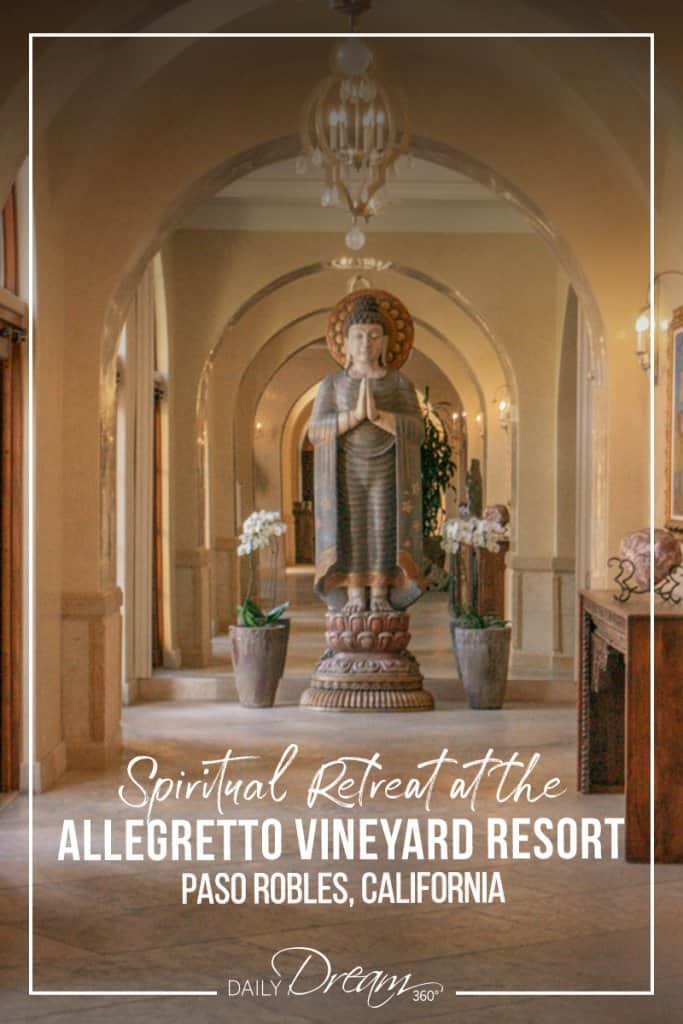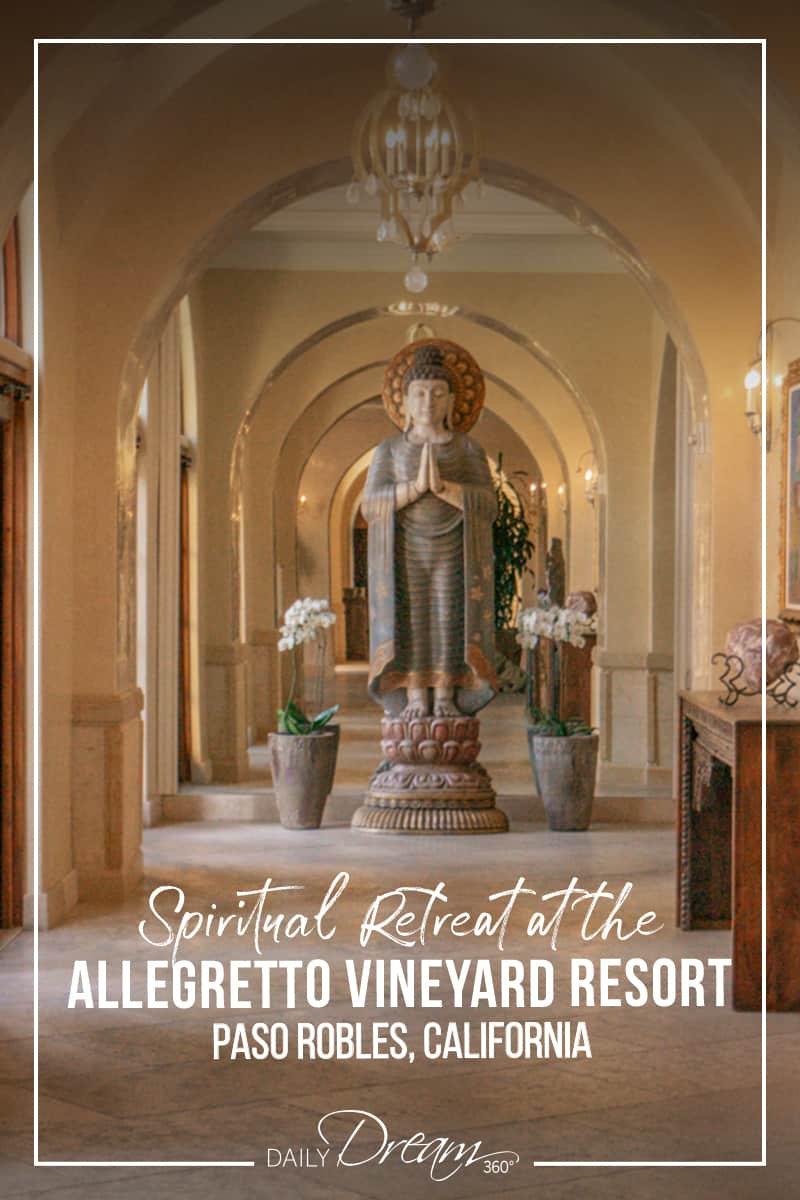 Travel assistance provided by Visit SLOCAL and Visit California on a media press trip, held during the IPW conference, however, as always the opinions in this post are my own.