This article may contain affiliate links. Clicking on or purchasing products we recommend through a link may earn a small commission. Read our disclosure and privacy policy page for details. *COVID-19 TRAVEL ALERT – Travel recommendations offered on this site are not to encourage you to travel against travel advisories.
I am always questioning the choices I have made in my life. From my business, my health, and downsizing my home, it is all overwhelming at times. As a result, now more than ever, I find myself searching for more spiritual travel opportunities, including a fantastic short trip to Durham Ontario and a spiritual retreat at the Hive Centre.
Dream it.
The Search for Spirituality
I know there are a lot of women out there that have had those Eat Pray Love moments on the bathroom floor where you were crying out for a sign. We all related to this so much we made both the book and movie smash hits.
I have been having a lot of these moments this year. It has been a challenging year for blogging. I had some pretty significant technical glitches with the website, there have been several huge Google Algorithm updates, and now a health pandemic has everyone thinking about anything but travel.
For a website built to inspire travel and living your best life, it has been a trying start to the year. All of these challenges have me questioning everything about my business. Am I doing the right things? Are these signs I should stop? How many more downturns before I reassess my business plan?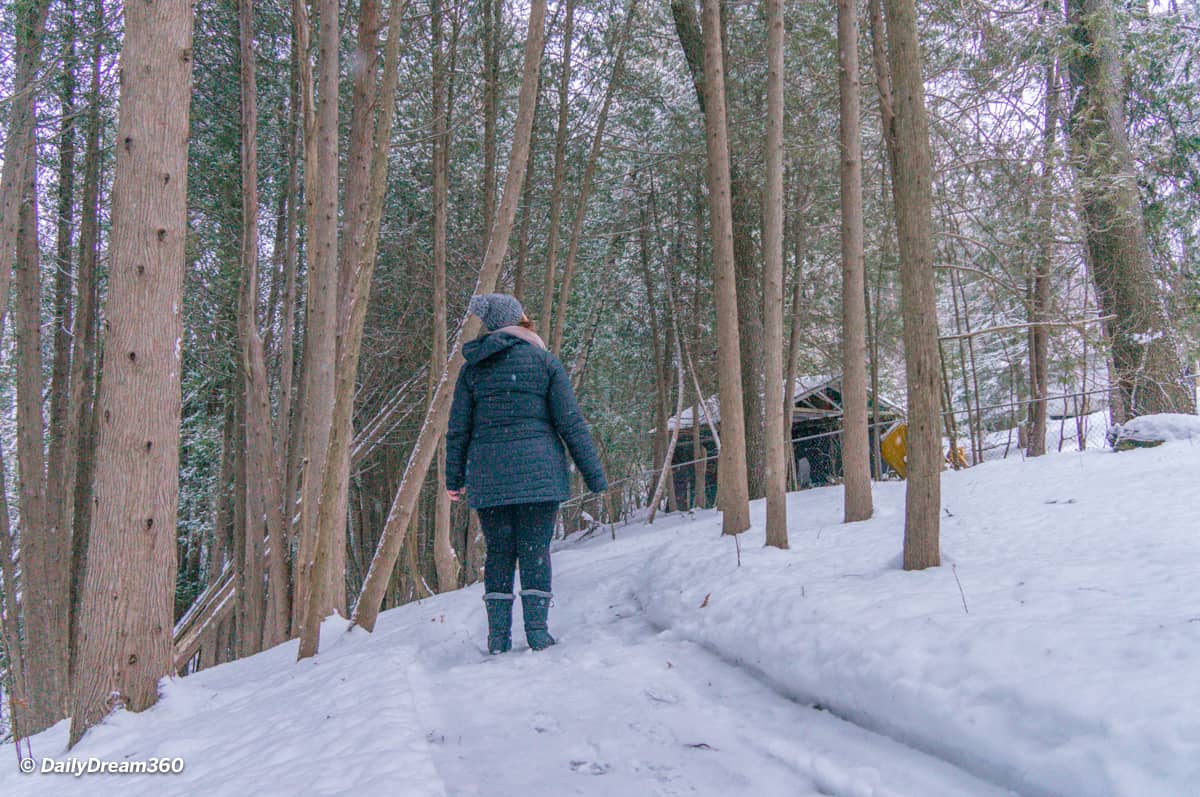 Searching for Signs and Answers
I've also lost that travel high I used to get from getting out and exploring. I'd go on trips and feel like I was going through the motions instead of feeling that buzz that life-enriching buzz that makes you so happy you can cry.
In changing my life from corporate girl to self-employed graphic designer and writer, I have been focussing on my spirituality, meditation and mindfulness. Just to try and make sense of all the noise in my head.
I had no idea that during this visit to the Hive Centre and by participating in a few spiritual ceremonies, crafts and nature walks, I'd receive so much enlightenment.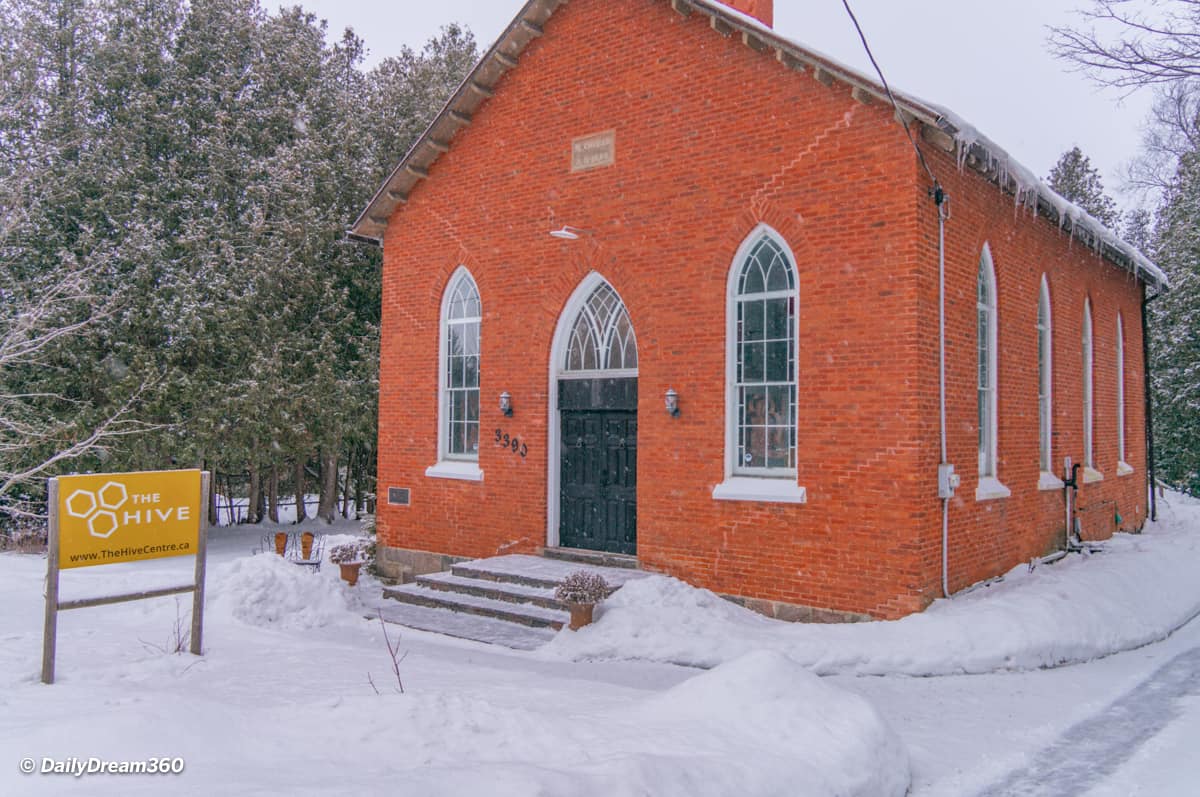 Plan it.
About the Hive Centre and Bed and Breakfast
There are two buildings at the Hive Centre, an old church and a beautiful home. The ancient Church is used for group events, workshops and retreats, but you can also book it for accommodations. The large home is a bed and breakfast and can house up to 18 people as a group or in individual rooms.
It is the perfect spot for group retreats, corporate buildings or a relaxing escape.
Getting to Durham and The Hive Centre
The centre is located just over an hour's drive from downtown Toronto. You can access it via the 401 or 407 ETR Toll highway. On the 401 head East until you reach the ON-35/ON-115 toward Lindsay/Peterborough exit. Continue on 115 to Concession Road 8. 
If taking the 407 ETR (Note this route has tolls), follow eastbound on the 407 from Highway 404 to Concession Rd 7 in Clarington. Continue on Concession Rd 7 and turn left onto Leskard, then a right on Concession Rd 8.
The Hive Centre and Bee and Bee
(The Hive Bed and Breakfast)
3392 Concession Rd 8
Orno, ON L0B 1M0
CANADA
More information, reviews and rates: Hive Website | TripAdvisor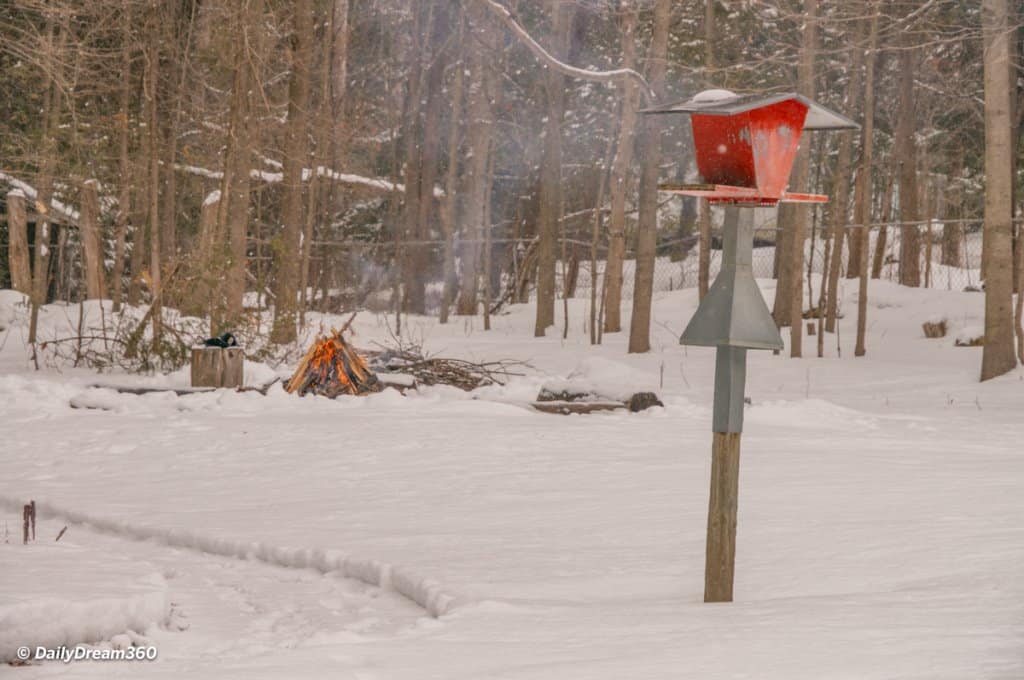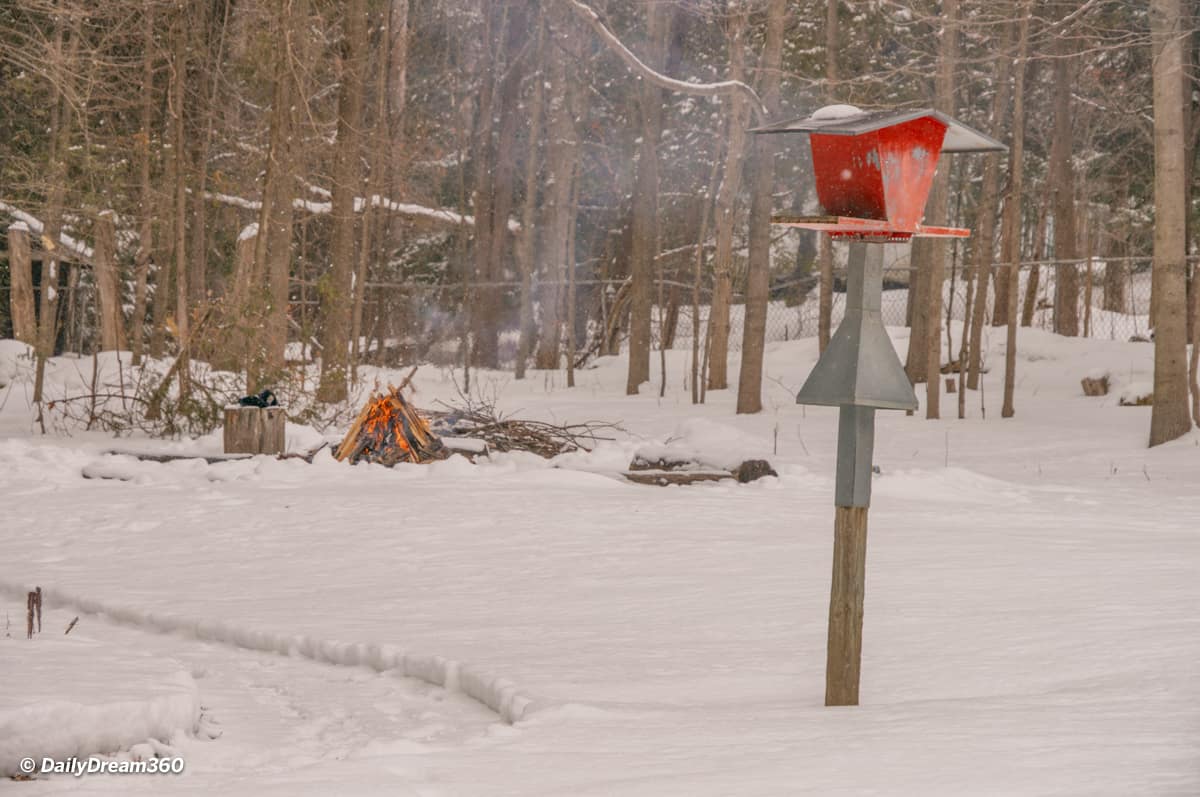 Packing for a Trip to the Hive Centre and B&B
You'll want to pack for the outdoors, especially if you are participating in a spiritual retreat or other centre activities. There is a large bonfire lit up at night where you may want to stand around, and in doing so, you may find your clothes will smell like smoke from the fire.
I recommend casual, comfortable attire for walking through the forest or sitting in a spiritual retreat. Hiking shoes or good shoes for trekking within the trees in the forest are a must for the forest walk activities. Generally, there is a relaxed, carefree spirit to all activities.
Live it.
I'll start with our stay at the Hive Bed and Breakfast and then go into some of the spiritual activities we participated in during our group retreat.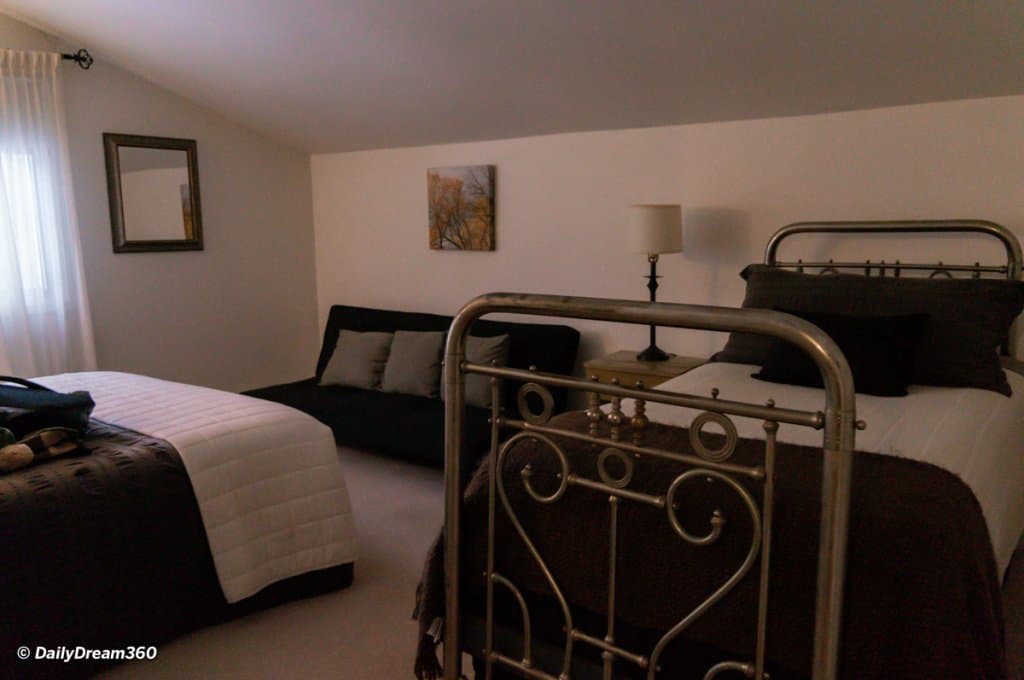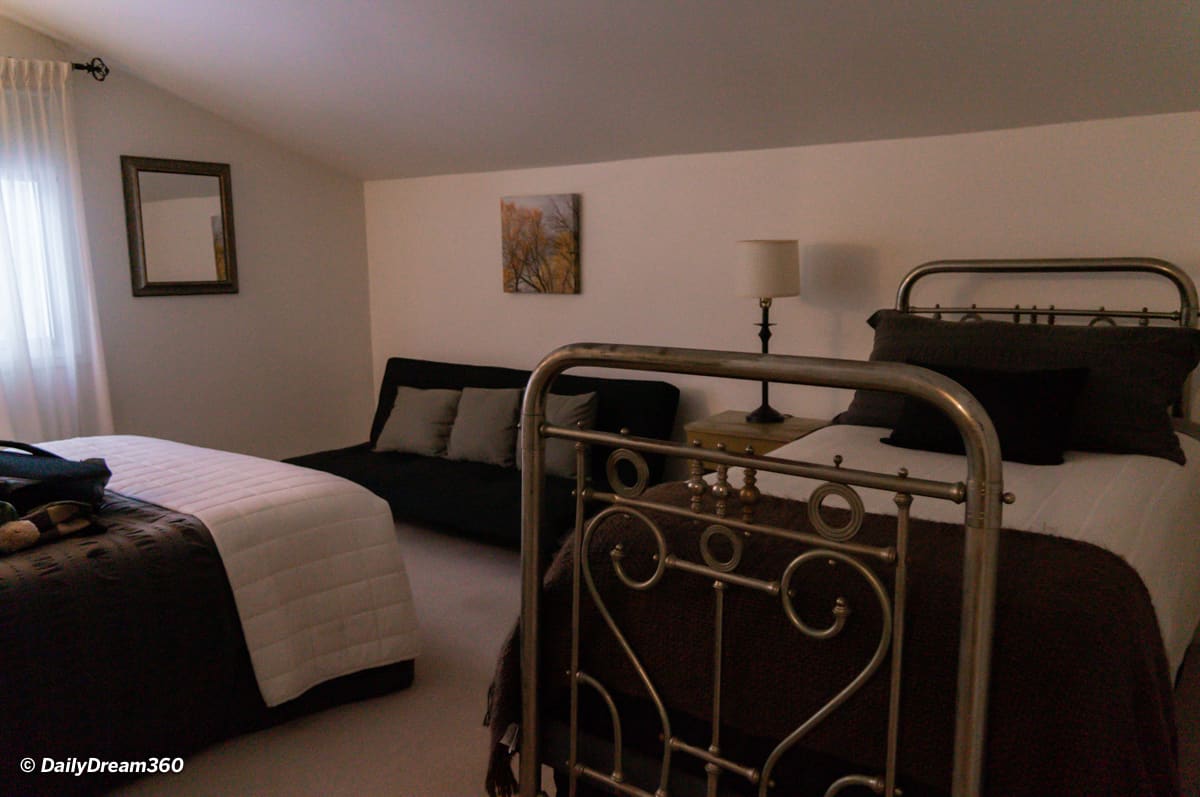 Staying in the Hive Bee & Bee
You can rent the entire house or a room. There are 14 beds throughout the home, which can accommodate 18 people.  
I stayed in the Queen Bedroom #2, located on the second floor of the house. In the room, I had the bed, a large wardrobe, chair and towels. The bathroom was just outside in the hallway.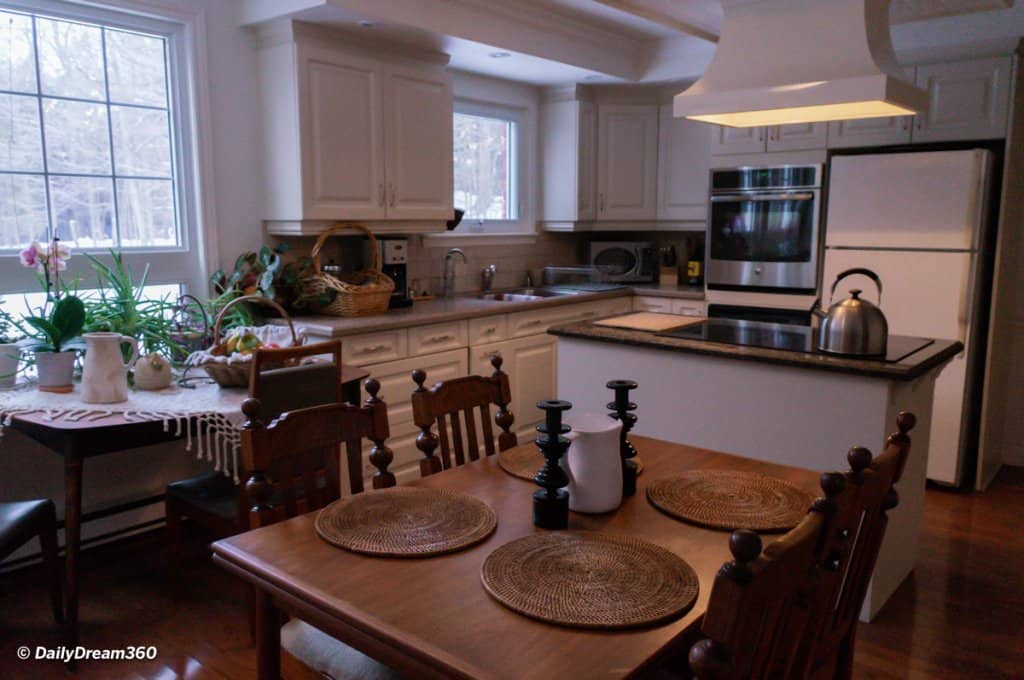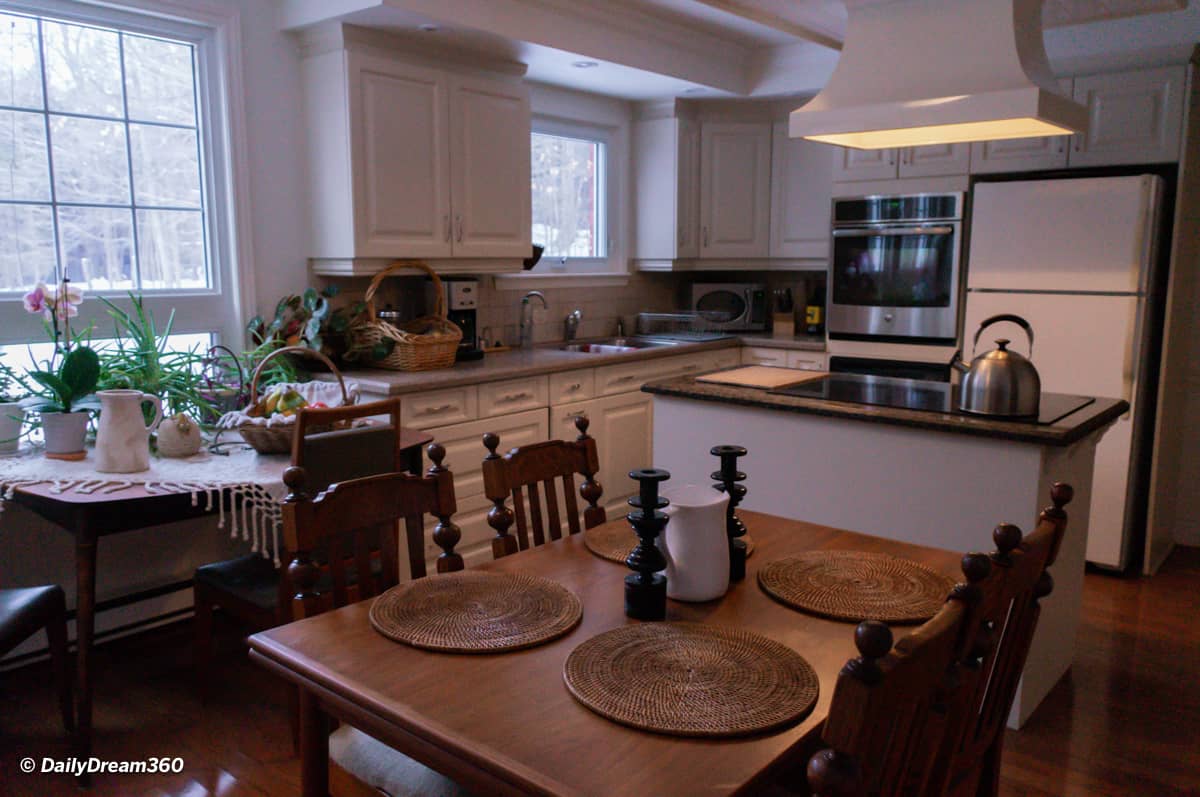 Common Areas in the Hive House
Kitchen and Breakfast Area
Make your nutritious breakfast with provided local, free-range eggs, fruit, nutritious cereal or grain, warm beverages and juice. You can sit down and enjoy this breakfast at the kitchen table.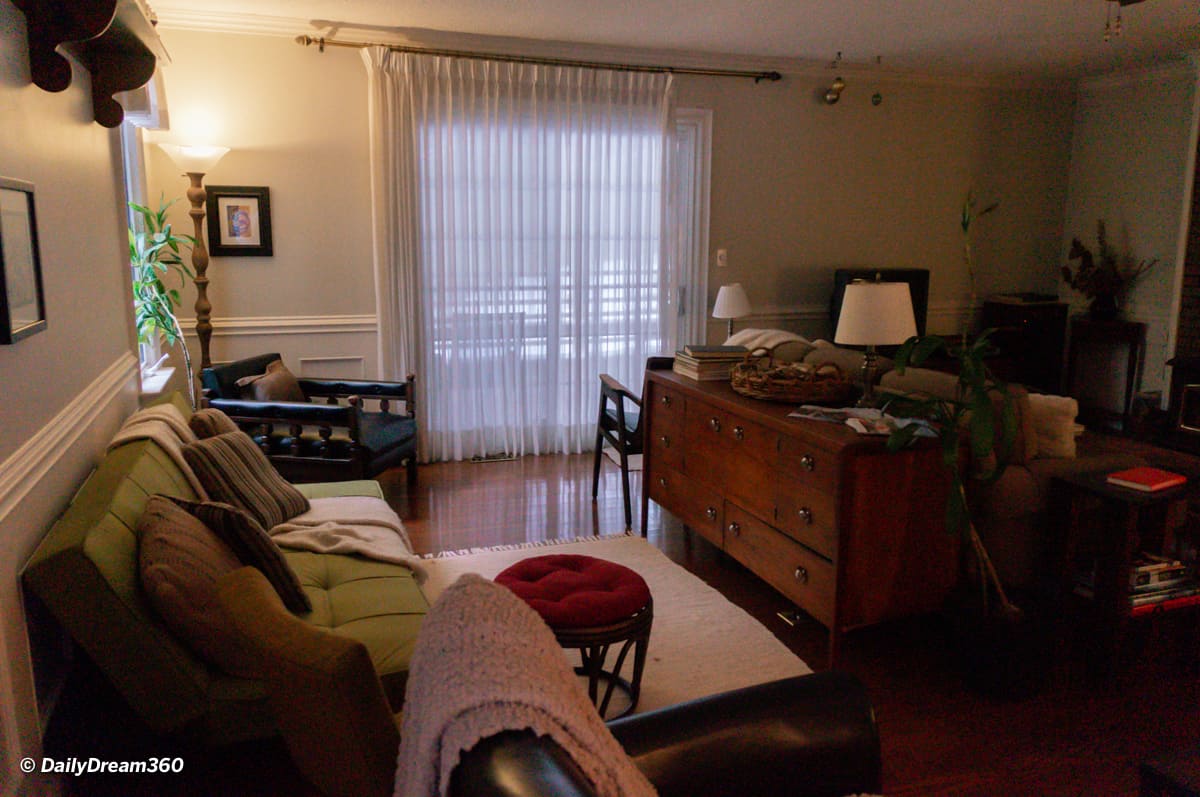 Living Room Area
Relax and meet other guests or people in your corporate group in the large living room. There are plenty of spaces to sit down and read, relax or work on your computer if you need to.
Outdoor Deck and Campfire
We visited during the winter, so I did not get a chance to appreciate the outdoor deck, but for summer stays, you have a beautiful patio where you can sit and relax.
There were plenty of opportunities to warm up by the campfire during our stay. At night we gathered around and shared stories and a few beers. During the day, we gathered around as we prepared to participate in a forest walk.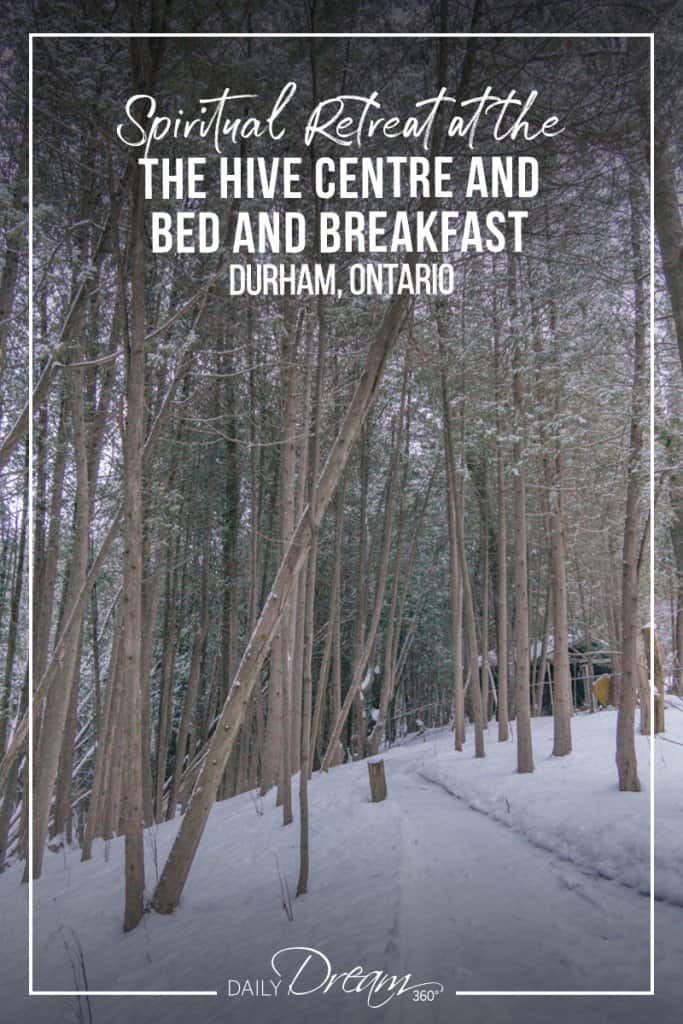 The Forest at the Hive Centre
The Hive B&B is located on the Wilmot Creek Commemorative Forest. This protected piece of land has a lovely winding stream and beautiful trees which provide the perfect backdrop for a spiritual walk or meditation.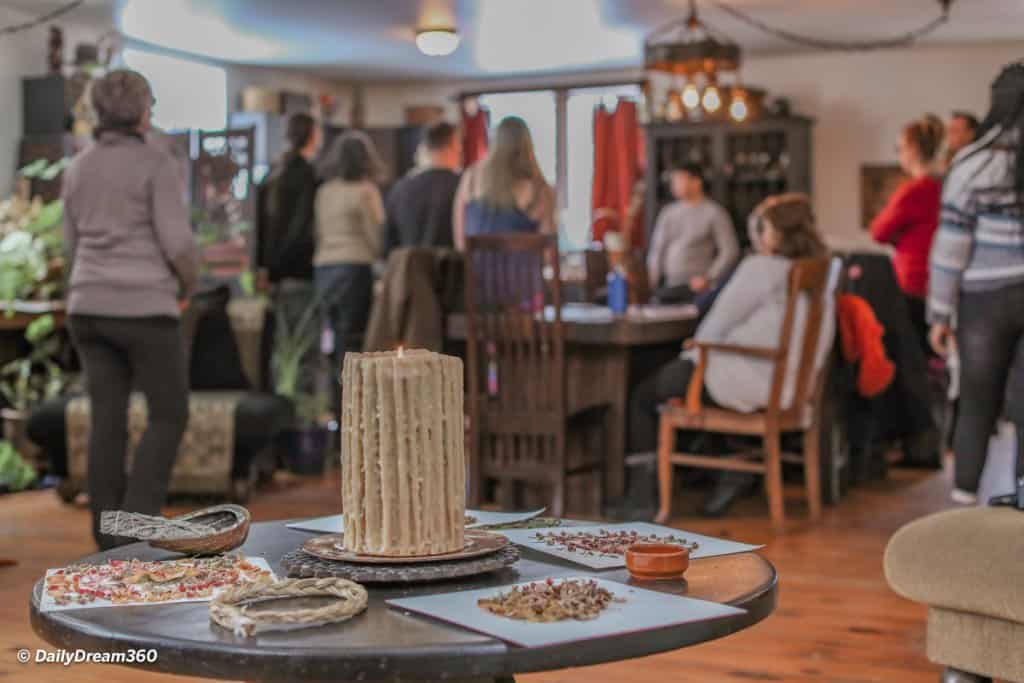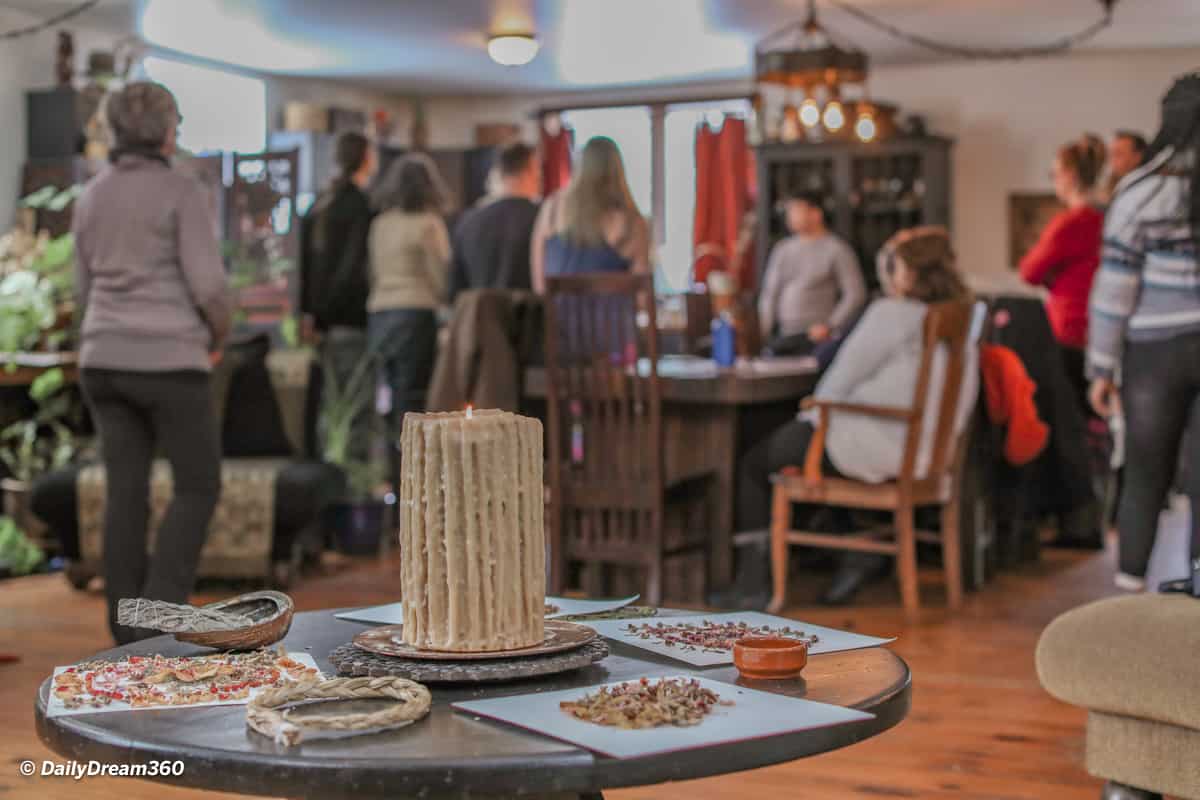 Spiritual Retreat Activities at the Hive Centre
The Hive Centre hosts several great spiritual workshops. They prepare activities for corporate groups, and you can check the Hive Centre website for more events held throughout the year.
Workshops at the centre include:
Soundscape meditations
Creative nature workshops
Forest bathing – Shinrin Yoku
Edible wild food walks and interactive cooking demos
Indigenous education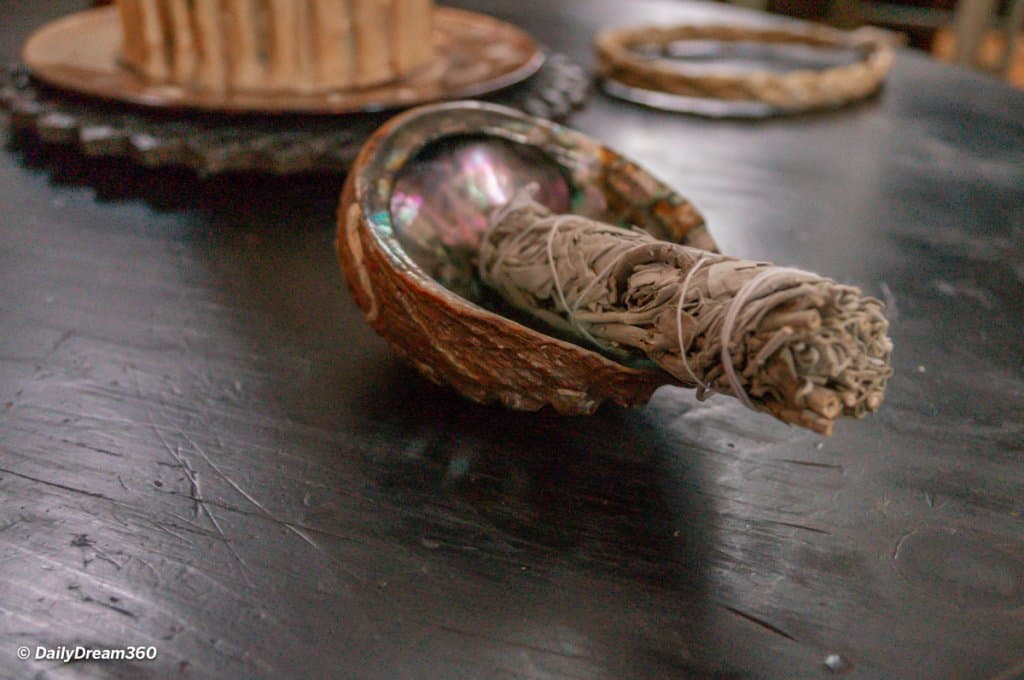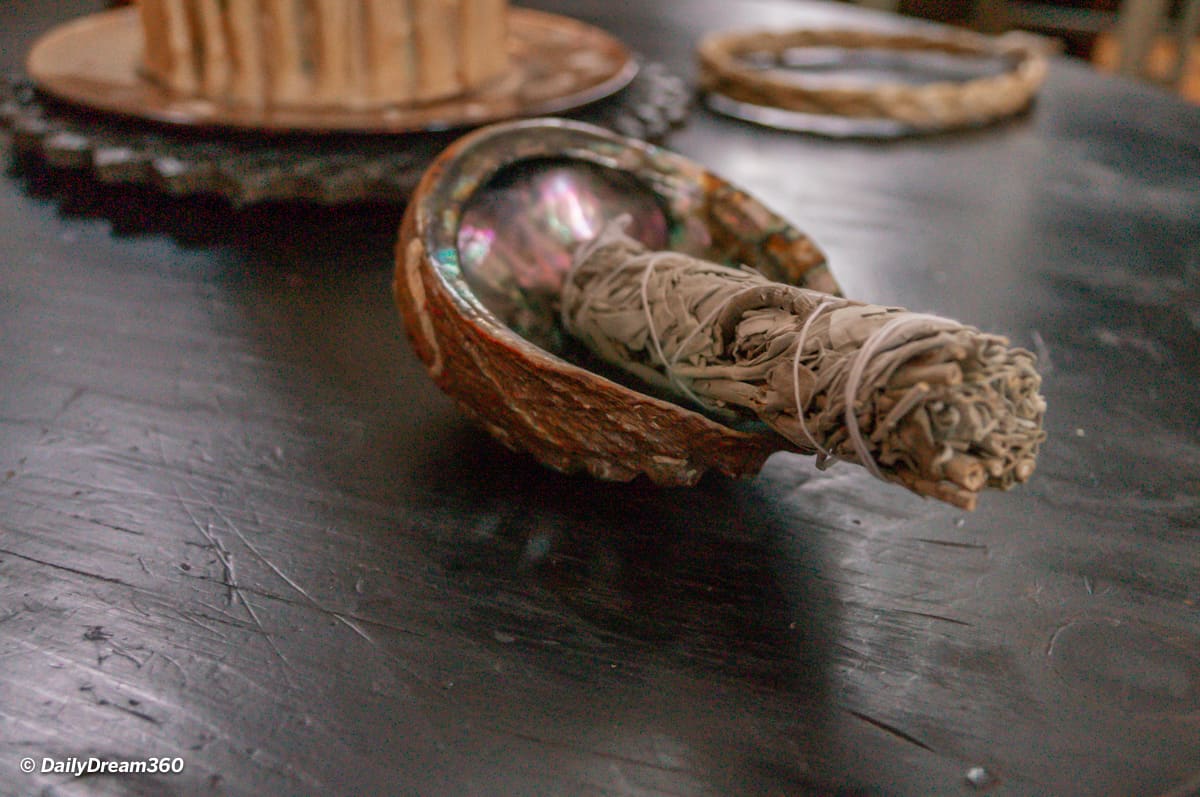 Sage Smudging – Setting Intentions
We started our retreat by sitting in a circle while a burning sage bundle was passed around. We each did a sage smudge with the smoke and then one by one, we set our intentions for the day.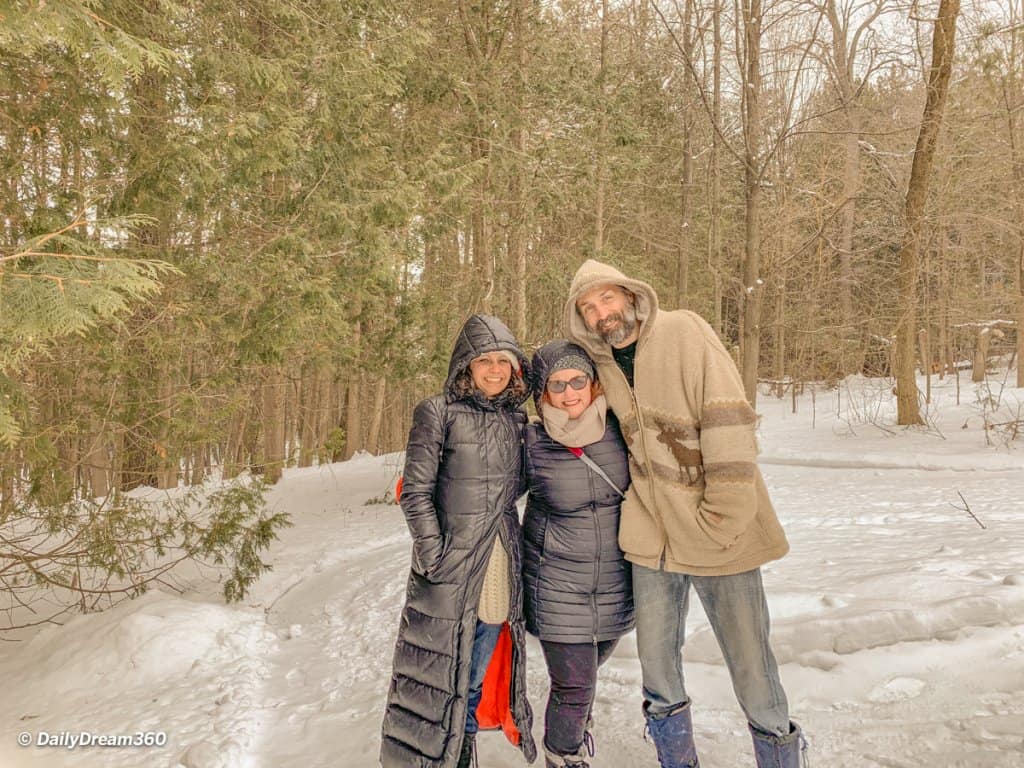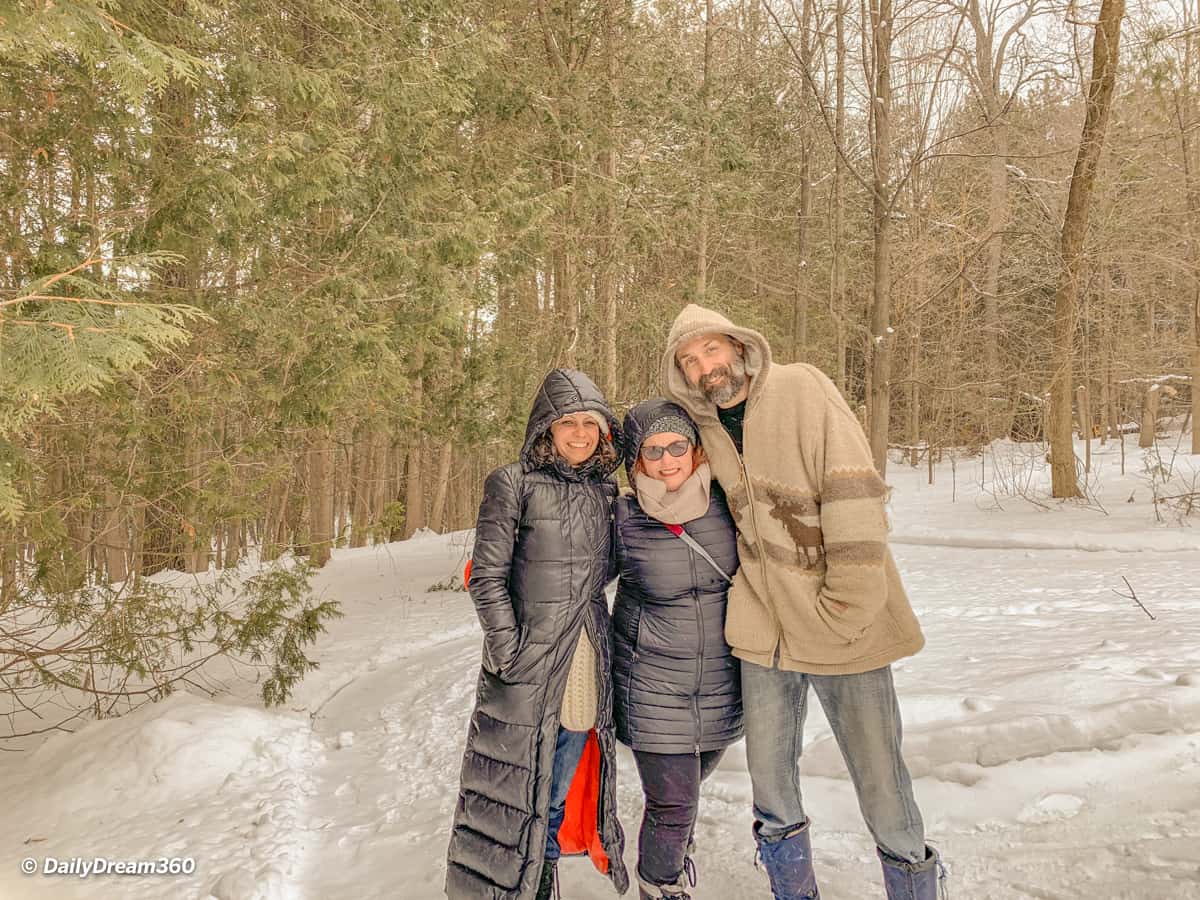 Elsii and Kevin, the Hive owners, then shared the many types of spiritual workshops they have held at the Centre. From sacred indigenous ceremonies to foraging for food in the forest, I sat and took it all in as my current life's worries flashed before my eyes.
"Everything we need is within 1 KM from us."
Then Elsii started talking about things we do that we do not realize until later have significant meaning. As the day unfolded, I began to see my past five years: being downsized, the decisions I made with my business – their real meaning flooding through my brain as I tried to push away the thoughts and be present in this workshop.
We talked about the importance of the circle, a shape that has so much meaning, which I never understood. For me, the notion of 360 on my website's name was about balance and exploring around the world. It was also what I thought was the only available name left for a site and all social media channels.
But a circle represents totality, wholeness and the self. It is infinite, eternal and timeless. It symbolizes movement, the planets circling the sun, for example.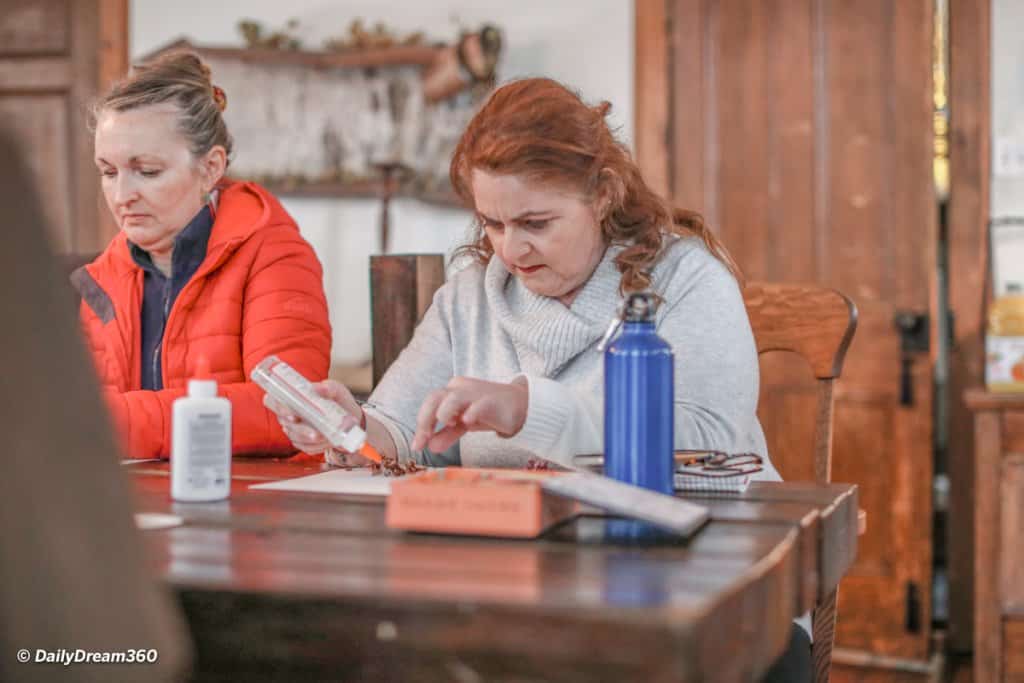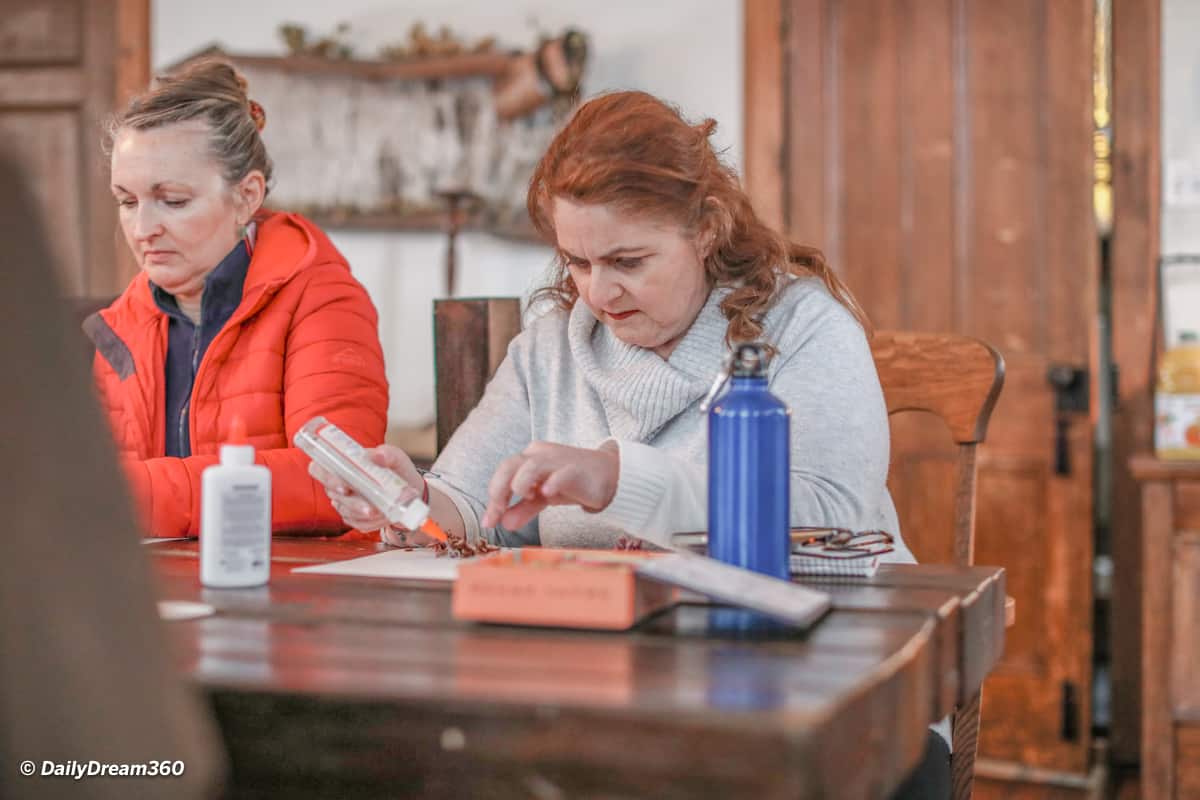 Mandala Art Nature Craft Workshop
After our spiritual education, we gathered around a big wood table to create Mandala art. At the centre of a Mandala is a circle, and the creation of Mandala art is believed to ground you. In Asian cultures, this art is used as a form of meditation and believed to represent aspects of the universe.
We sat at this table and quietly picked dried flowers to create our own Mandala Art. The entire time I was deep in thought, holding back tears. I remembered that day I was trying to come up with a name for this rebranded site. It was a painful exercise finding a name that represented me and what I wanted this site to be and seeing if it was available as a social handle and web domain.
It all hit me like a hammer. 360 is the circle, and all my pursuit of finding balance in my own life and sharing it with the world made complete sense.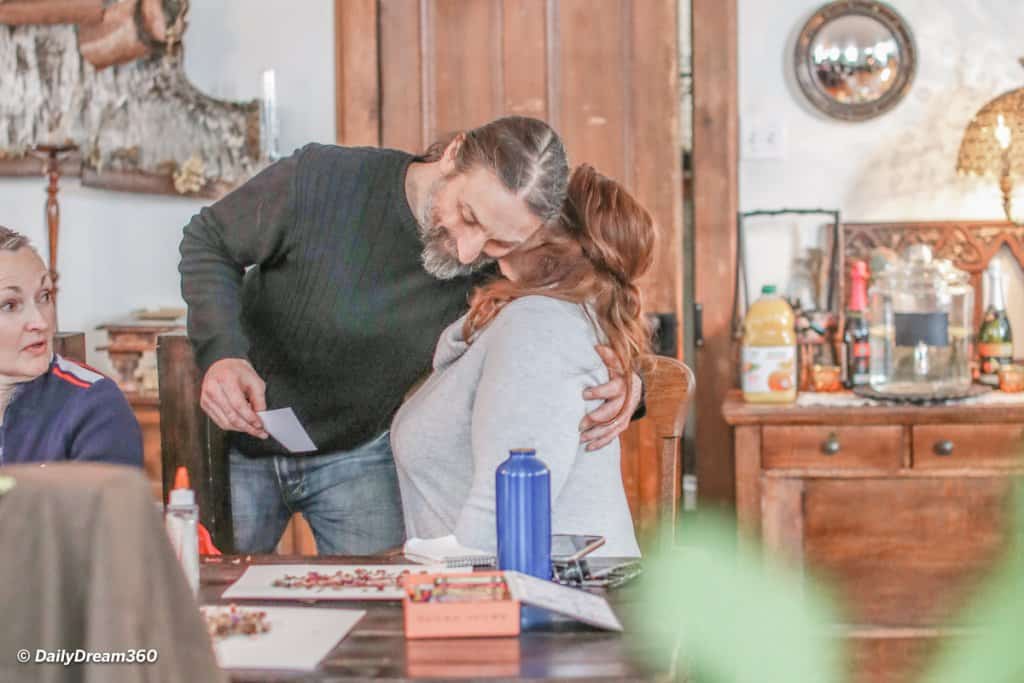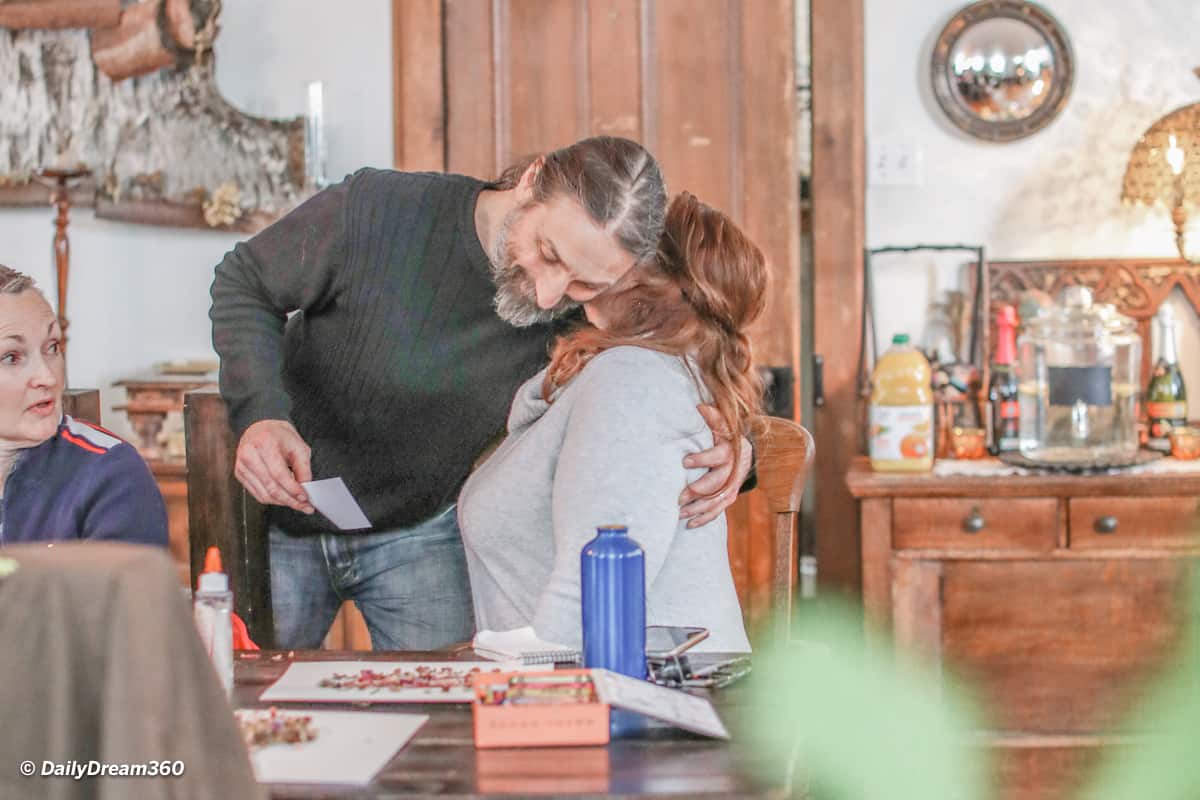 What's Your Mayan Astrological Sign
After our art was completed, we sat and waited to hear what our Mayan Astrological Sign was. When we arrived the night before, Elsii took down our birthdates, and we were finally going to find out why.
She went around the table telling people their sign and what it meant. I'm still hanging on to the circle and the relevance of it in my life when she tells me my Mayan sign.
Flint: Polarity. Duality. Choices. Understanding. Balance.
I'm holding back tears again. The word balance hanging over me and the day 360 came to my head. The 360 balance I said. 360 around the world. 360 come back to places you started. Never a beginning or an end, never an up or a down – it's a circle that goes on.
Flint: Also known as obsidian, knife, spark; This sign represents the sharp blade of the obsidian knife or the carved flintstone. Both are used like a surgeon's tool, cutting out physical disease and psychic negativity. The energy sparks intelligence as if struck like a flintstone. Flint energy is focused on perceiving and eliminating negativity.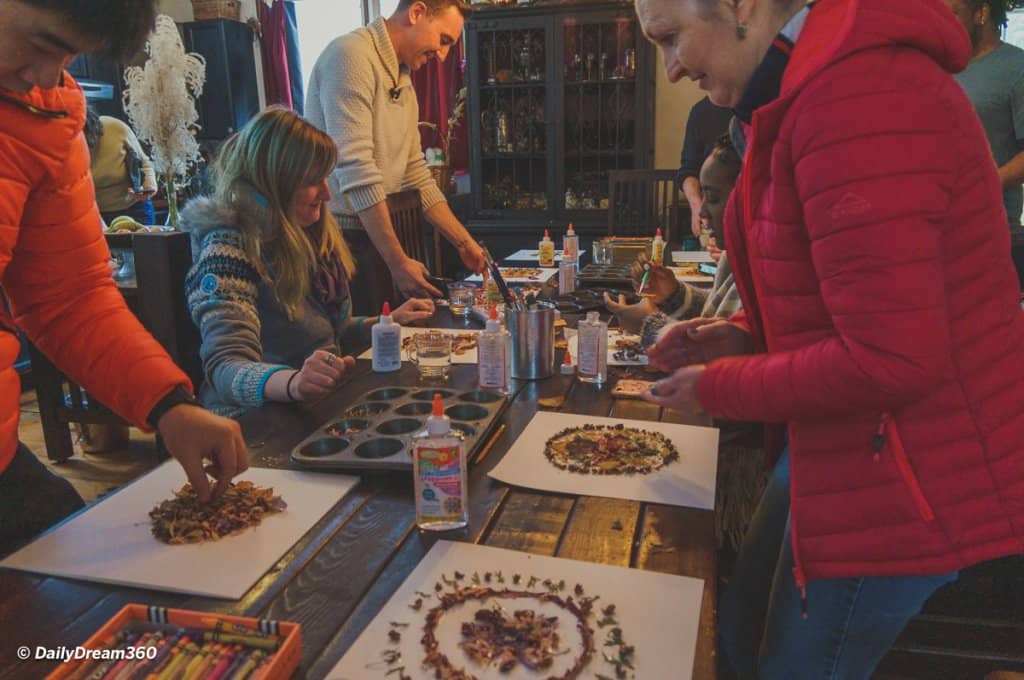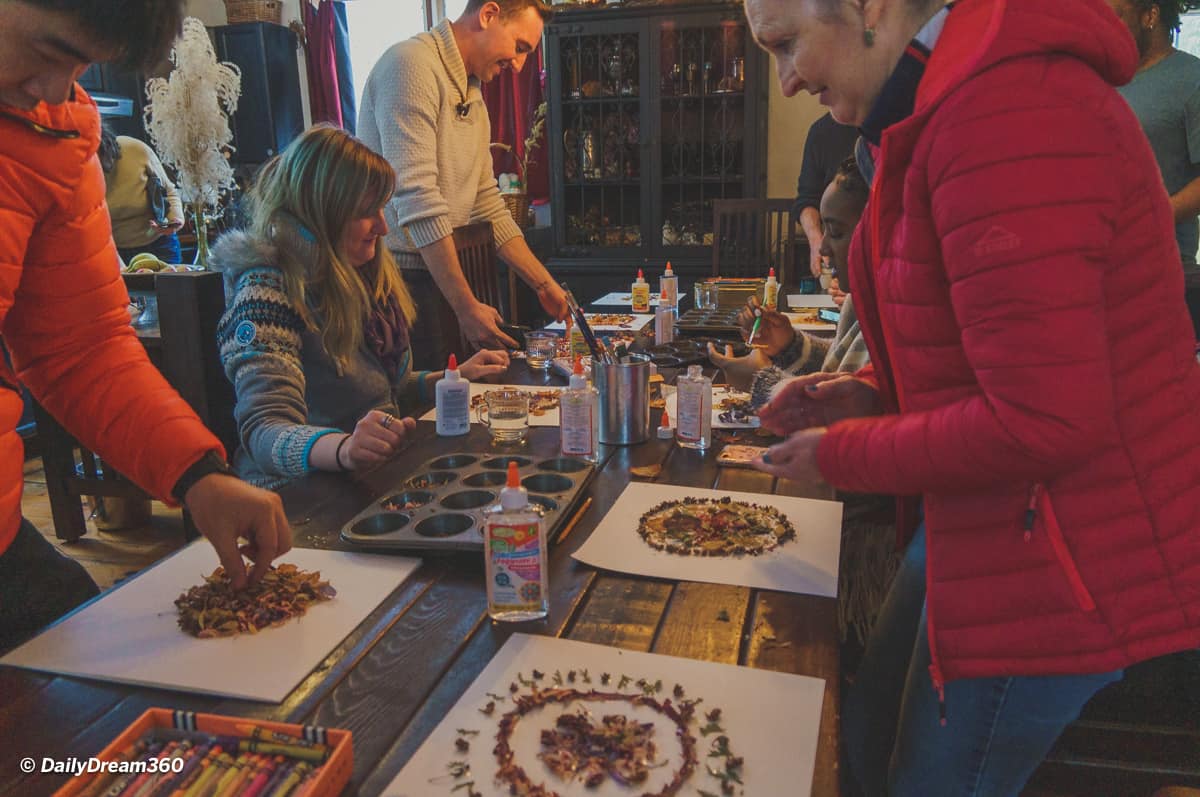 So all my positivity and want to do good and help people find balance. The name 360 the signs of the circle – it's all not coincidence. It is all meant to be—the rebrand, the ups the downs, me staring at the sky begging for a sign.
The sign is the circle. The spark. The knife. These thoughts take me down a rabbit hole. A personal story about my Middle Eastern Roots and the story of the family sword: members of my family believe that there was this sword that protected us from evil doing. People believed that if you messed with my family members who were carriers of this sword that bad things would happen to them. We laugh at family dinners about where the sword is and what happened to it. But today the sword was a sign or a message that not only am I protected by the sword but I'm wielding it to do great things.
While I love the people I'm sitting in this room with, this is not the place to cry. I held the tears in ready to stay happy and prepared to work as I'm on this press trip with people I'm glad to call friends but still not close enough that I want to have an ugly cry of relief and happiness as I get my sign. I'm supposed to be doing this.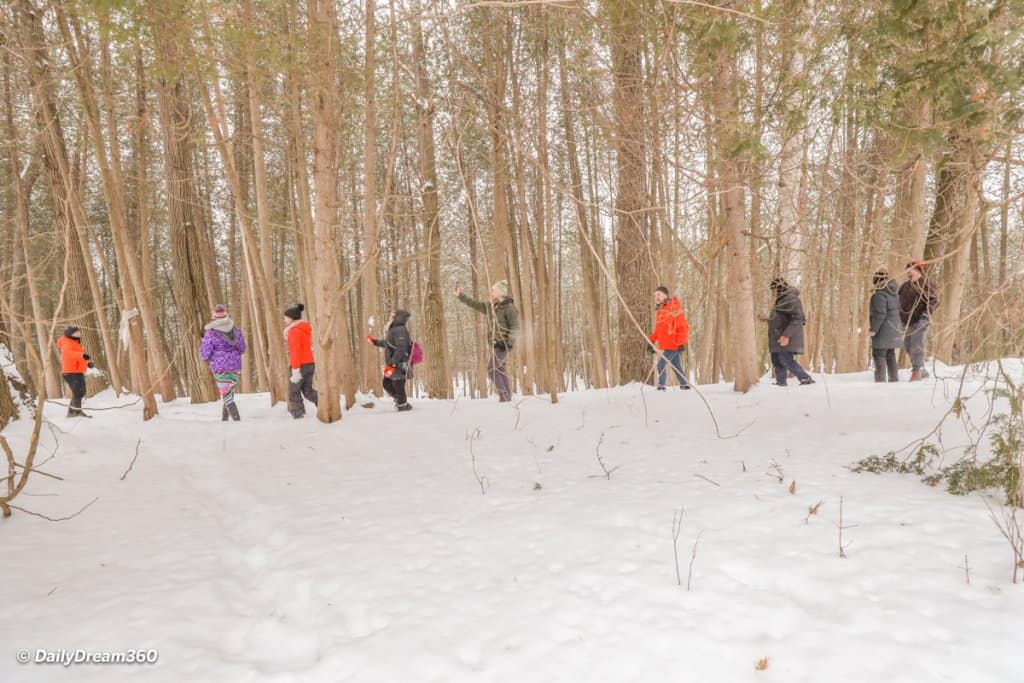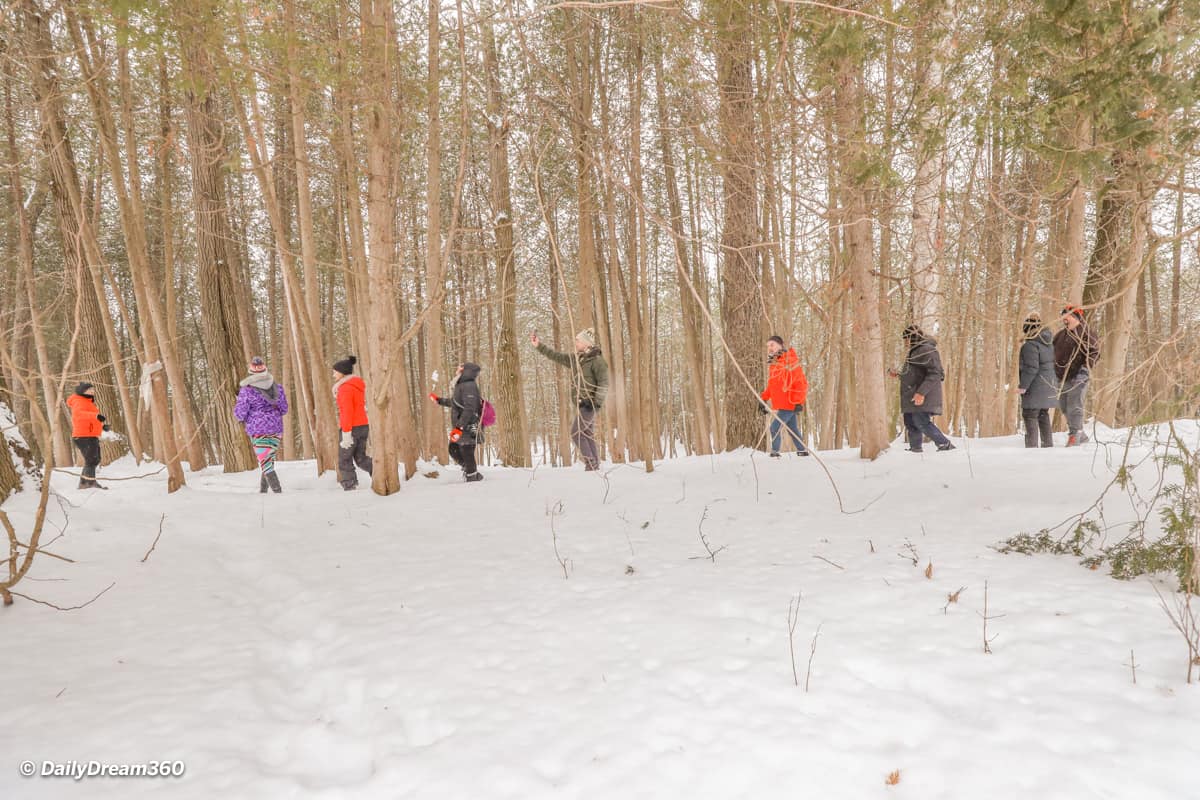 Shinrin Yoku a Forest Bathing Walk
Before I could let all the thoughts and emotions of the day get the better of me, we made our way outside. We stood around the campfire, quieting our minds again as we prepared to participate in a Shinrin Yoku, which means bathing in the forest atmosphere. Merely a walk through the forest where you explore it with your senses.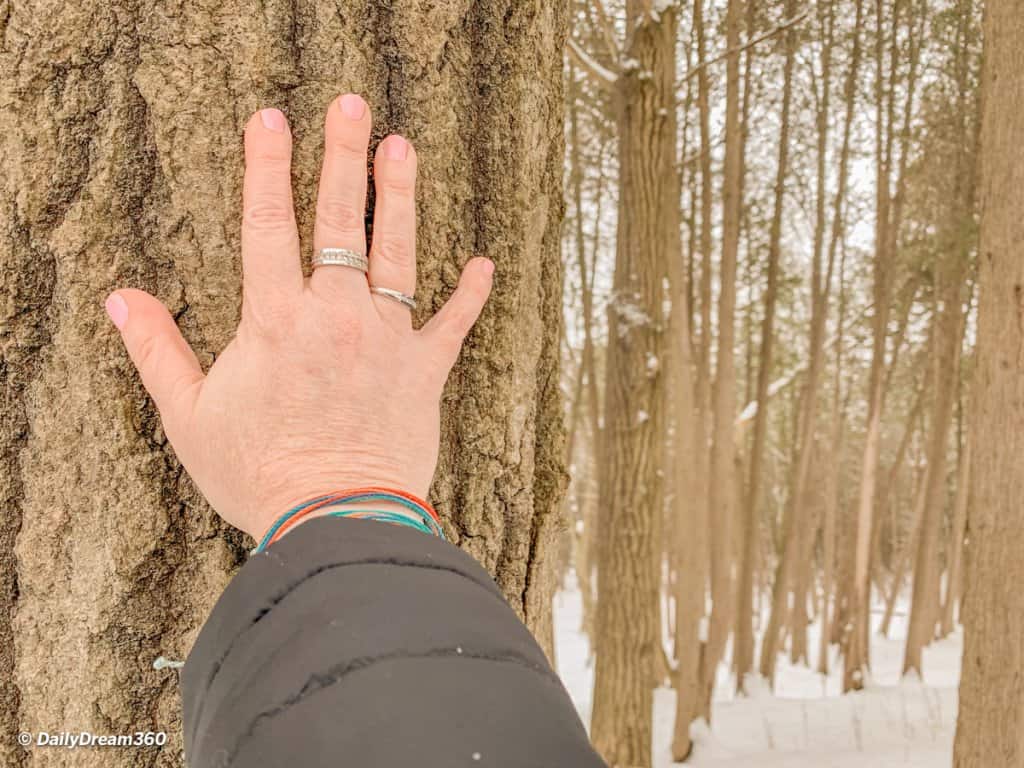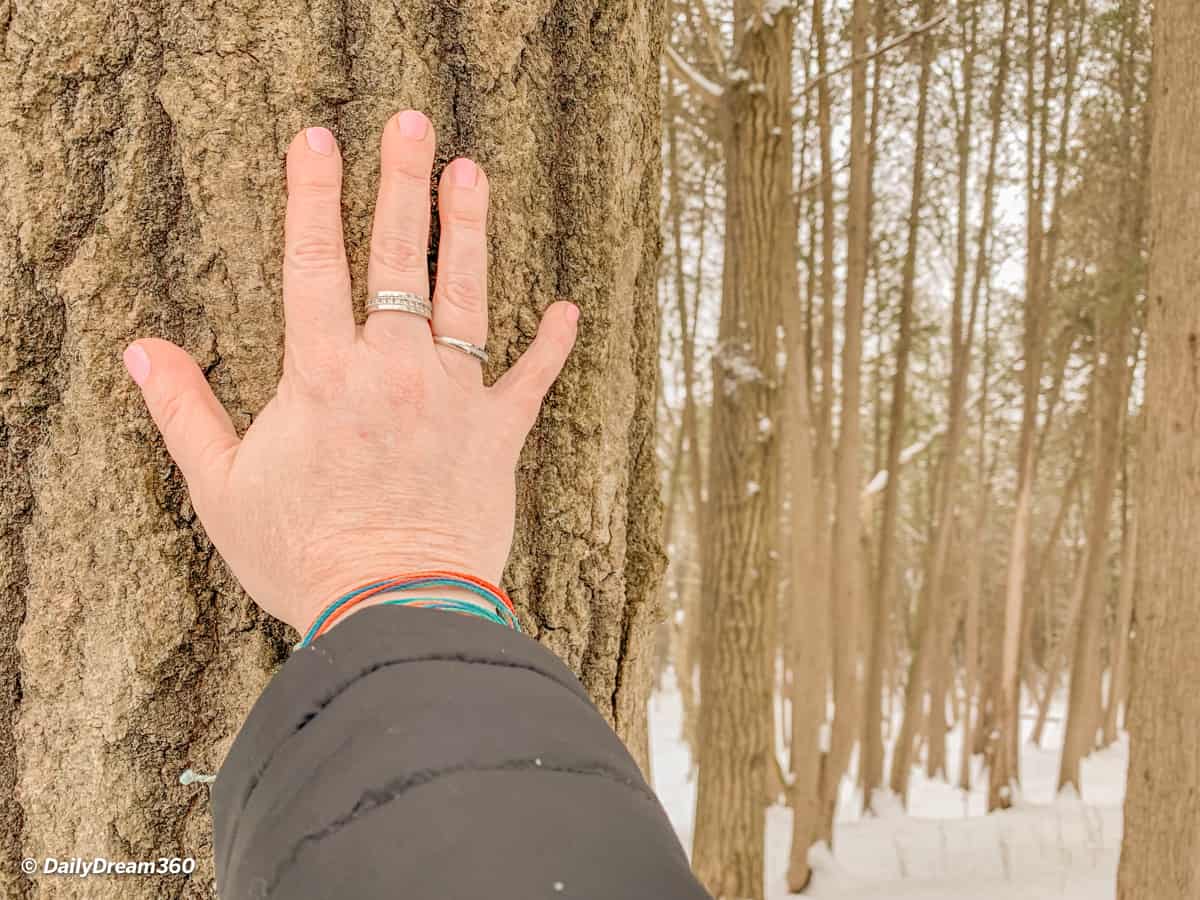 We were told no pictures, no phones or Instagram stories. It was our time to be silent as we walked in a line through the trees following Kevin. As we walked, we touched the trunks with our hands, smelled leaves, drank from the water flowing in the creek, and we listened as snow fell silently and trees rustling in the wind.
My mind was clear. The emotions from the circle discovery were gone, and I was walking through the forest and experiencing that traveller's high again. Something I thought I lost in the business of blogging – it was back.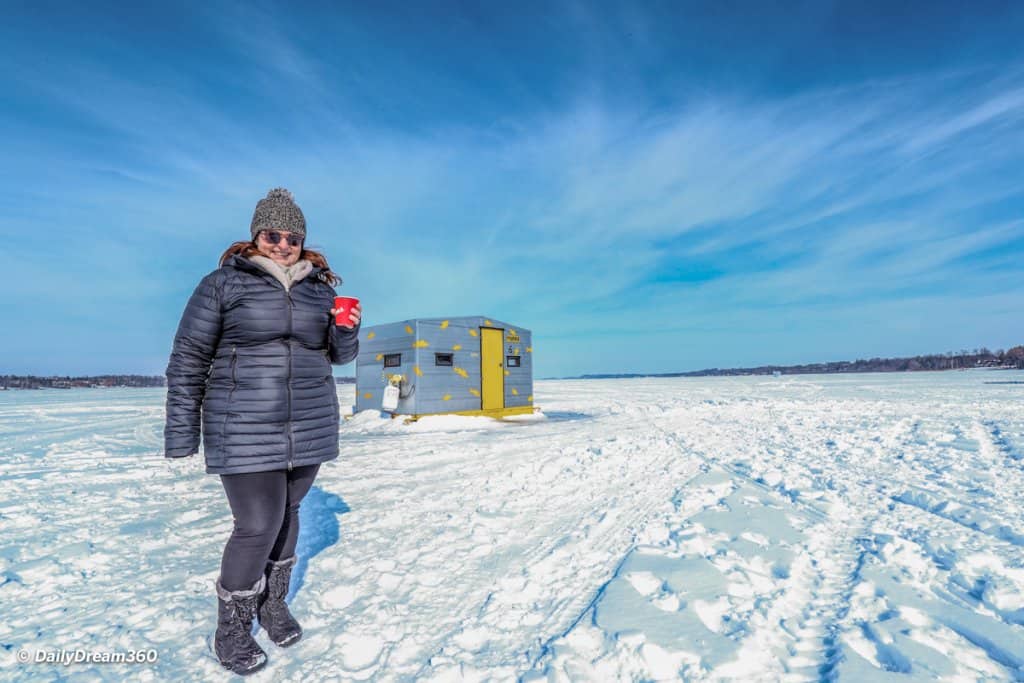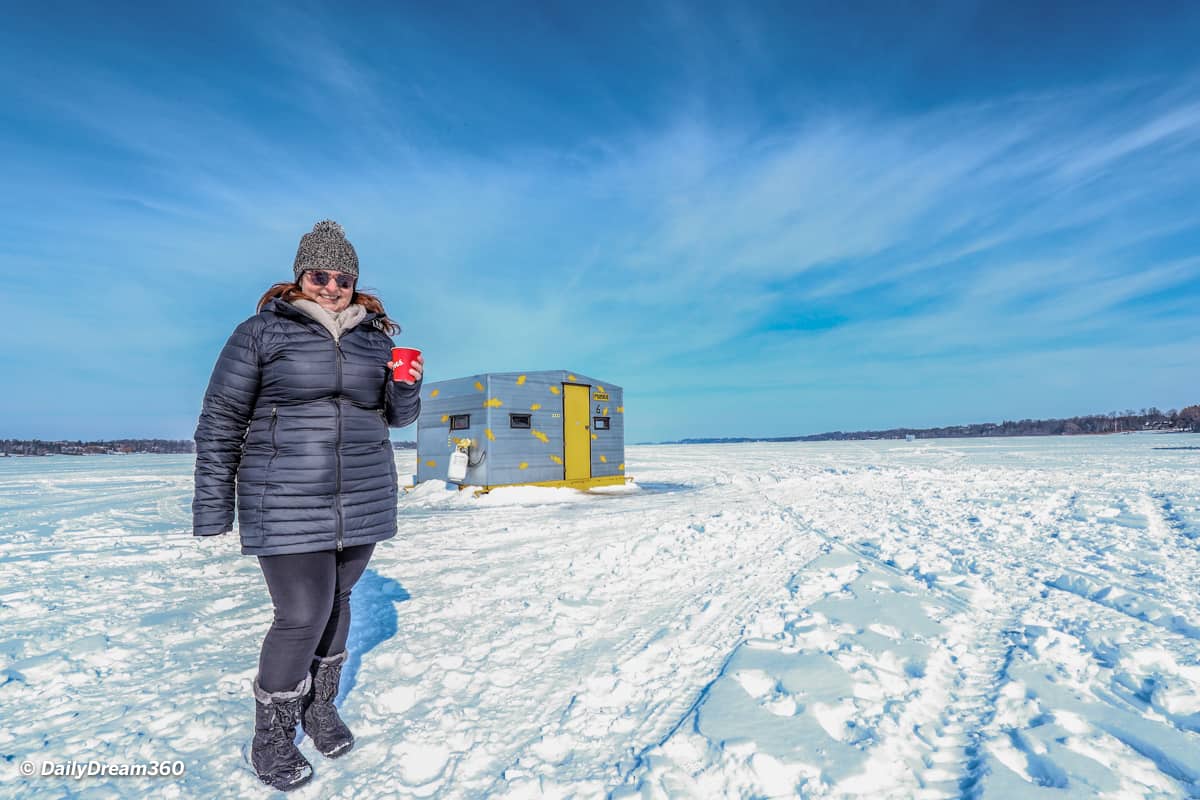 Other Things to do in Durham Ontario
During our two-day blogger getaway, we participated in several winter-themed activities in the region. These included a visit to Port Perry Ontario and a fantastic brewery tour.
Ice Fishing Port Perry Ontario
With the help of the team at Scugog Ice Adventures, we made our way from the Port Perry Marina out onto icy Lake Scugog. We were transported across the ice in a little hut wagon.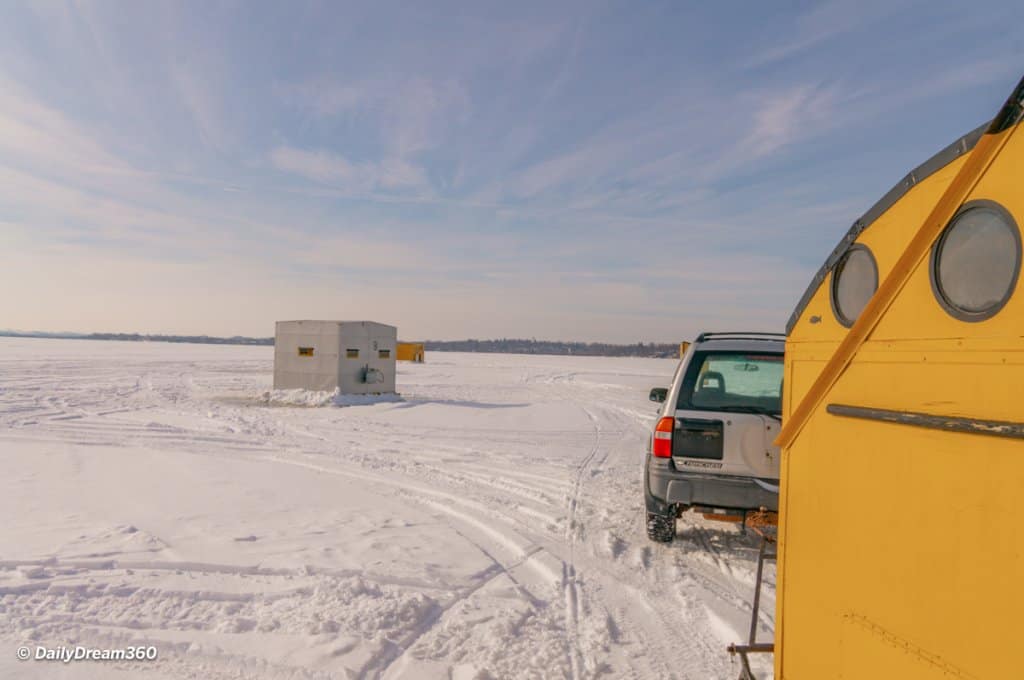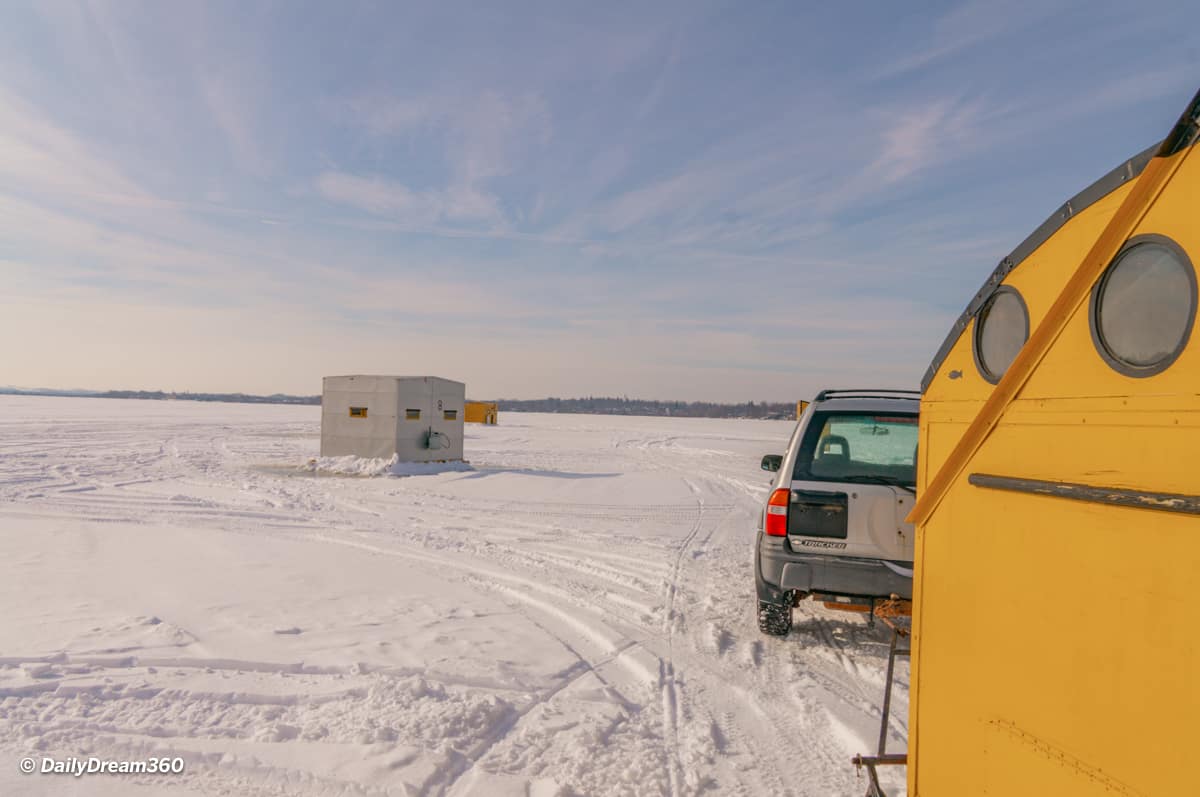 Then we filled our fishing huts, baited our lines and sat and waited. There were lots of laughs as we watched the ice fishing rods wriggle in their stands. We pulled on the front only to find there was nothing left on the hook.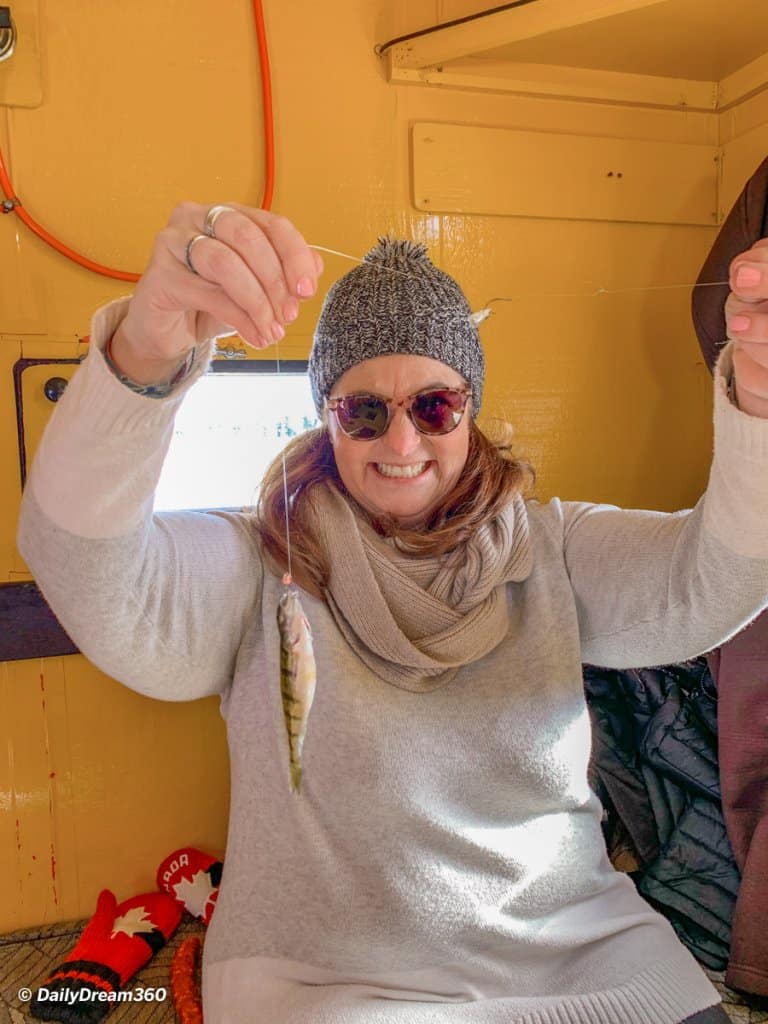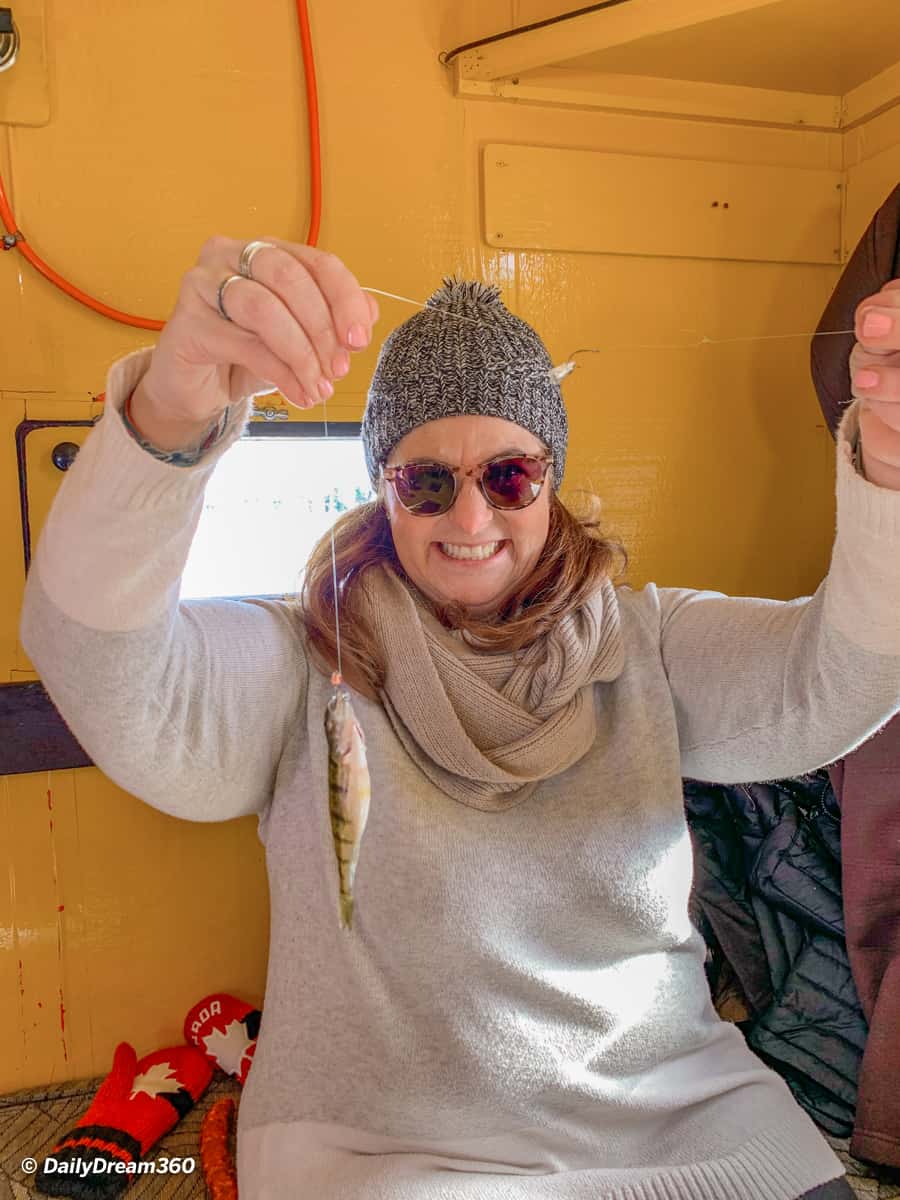 Eventually, we did catch a few fish. We were so proud and happy with even the littlest catch, but alas, these fish were sent back to swim and grow for another fishing day.
More information: Scugog Ice Adventures | Reviews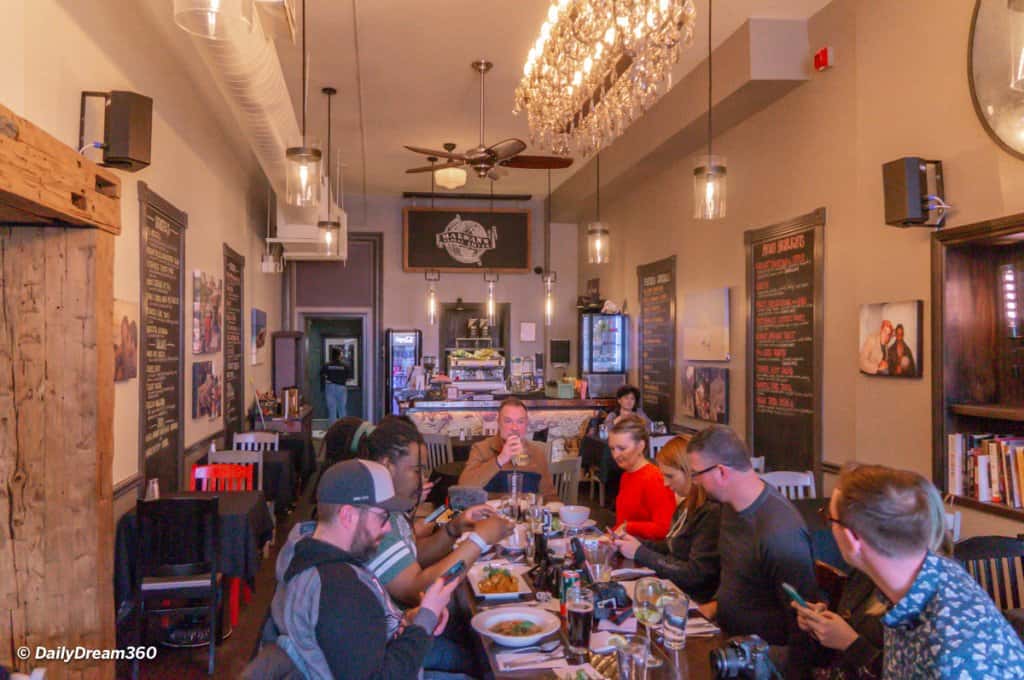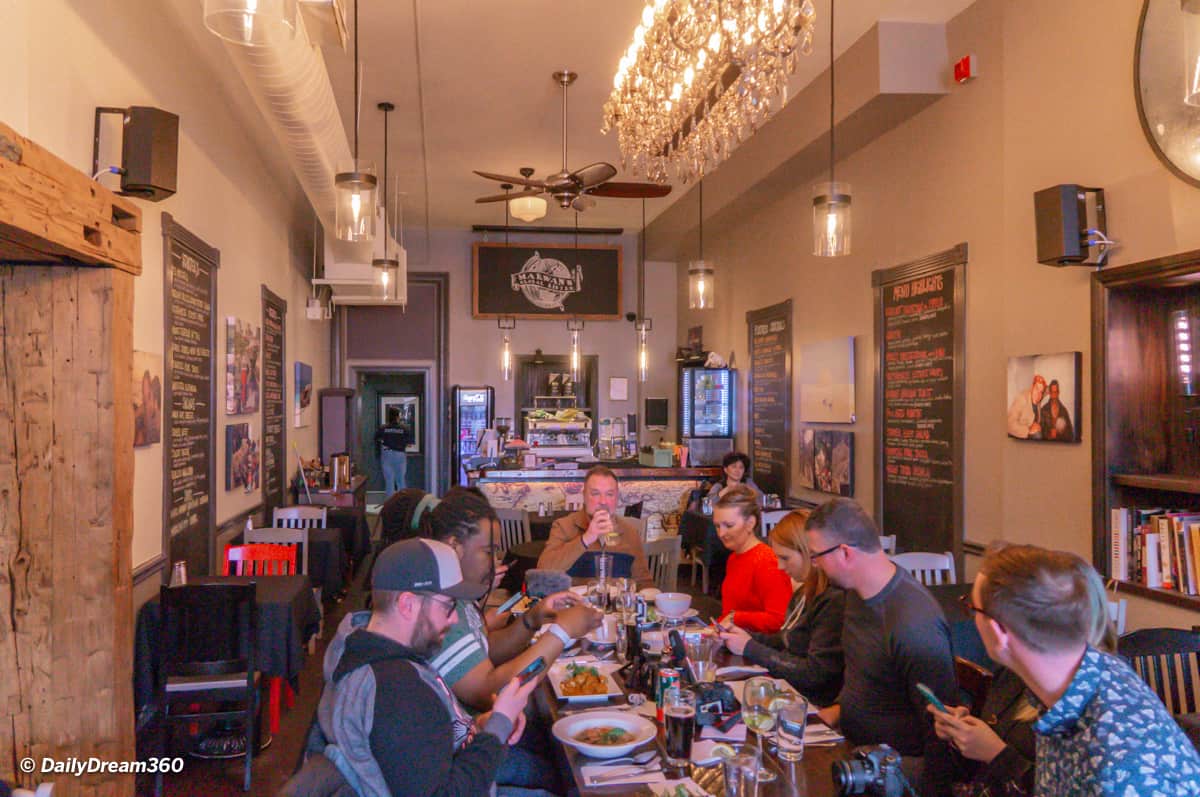 Marwan's Global Bistro Port Perry Ontario
After our morning on the lake, we made our way into town for lunch at Marwan's Global Bistro. The menu was inspired by flavours and cuisines from all over the world. From Canadian inspired favourites to Middle Eastern dishes spiced with Zaatar, there is something at Marwan's for everyone.
When a restaurant goes above and beyond to change their dishes more healthily, it encourages me to not only celebrate it but share it with all of you. I had a Lamb Kafta Kebab, which was transformed from a Wrap into a delicious salad and topped with Halloumi cheese.
More information: Marwan's Website | Reviews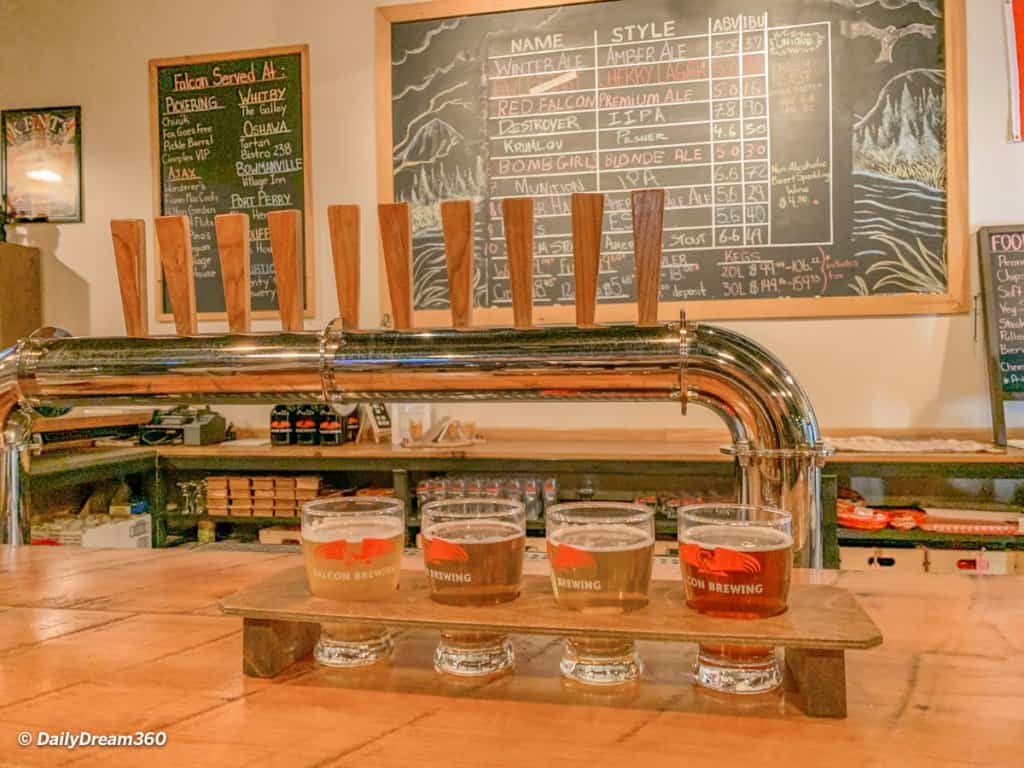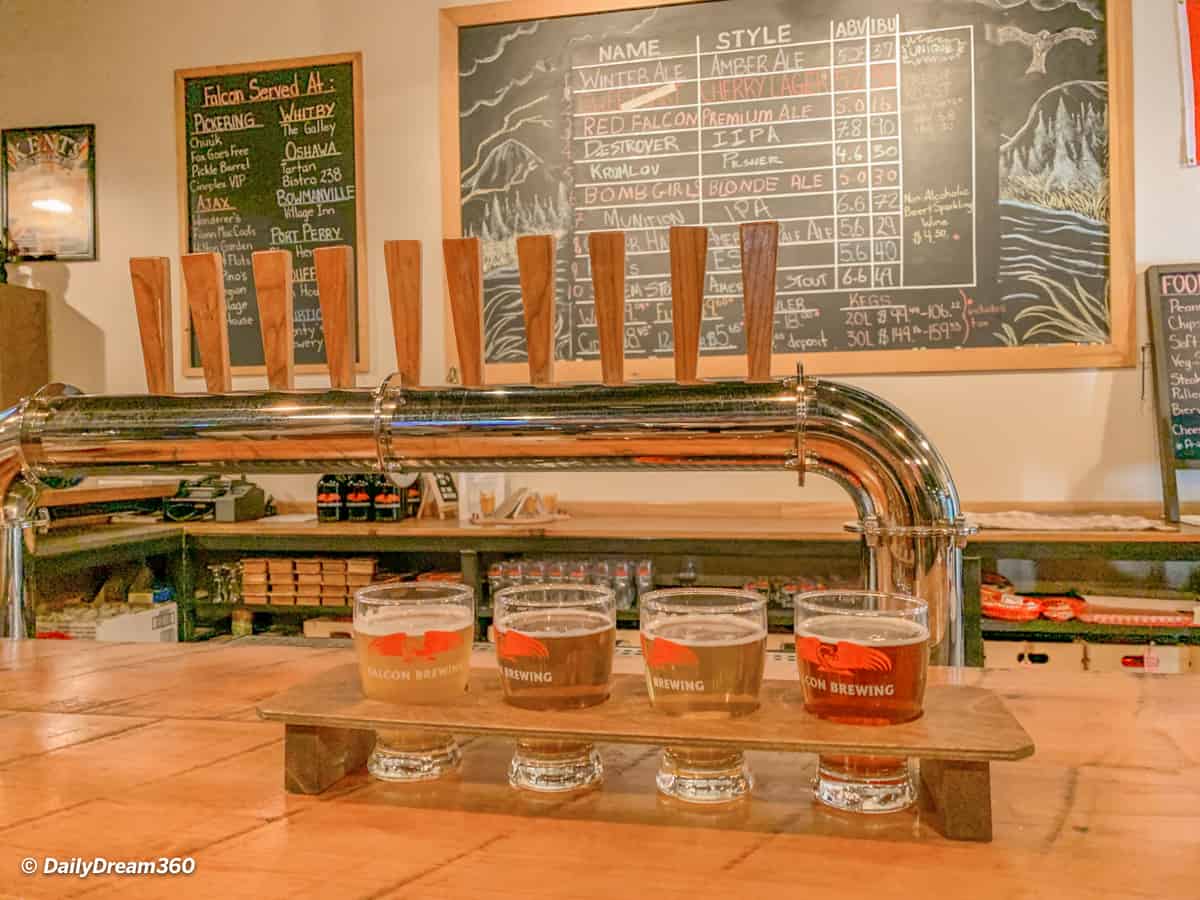 Lux Limo Brew Cruise
Our first evening at the Hive, we went on a Durham Region brewery tour with Lux Limo service. They picked us up at the Hive B&B and took us out to three breweries in the Durham Region.
All or Northing
Falcon Brewing
Brock Street
More information: Lux Limo Website
Travel assistance provided by York Durham Headwaters Tourism and Durham Region on a media hosted Toronto Bloggers press trip. Special thanks to Barry from Barry Best Photography who took photos of us throughout the day.