This article may contain affiliate links. Clicking on or purchasing products we recommend through a link may earn a small commission. Read our disclosure and privacy policy page for details. *COVID-19 TRAVEL ALERT – Travel recommendations offered on this site are not to encourage you to travel against travel advisories.
I have to admit everything I have learned about chasing my dream life I learned from Google and reading books. My Goodreads account filled with books on spirituality, the law of attraction, goal and habit setting and anything that would help me to break out of a rut and move towards my dreams. Here is a list of books to inspire you to live your dream life.
Dream it.
You may be wondering how do I live the life of my dreams? You might even be looking into a life coach to help you figure things out. Then they tell you the price tag, and you feel hopeless again. I've been there and can tell you that the power to fulfill your dreams is within you. The tools you need available for free at your local library, or if you don't want to wait, you can purchase a copy and work at your own pace.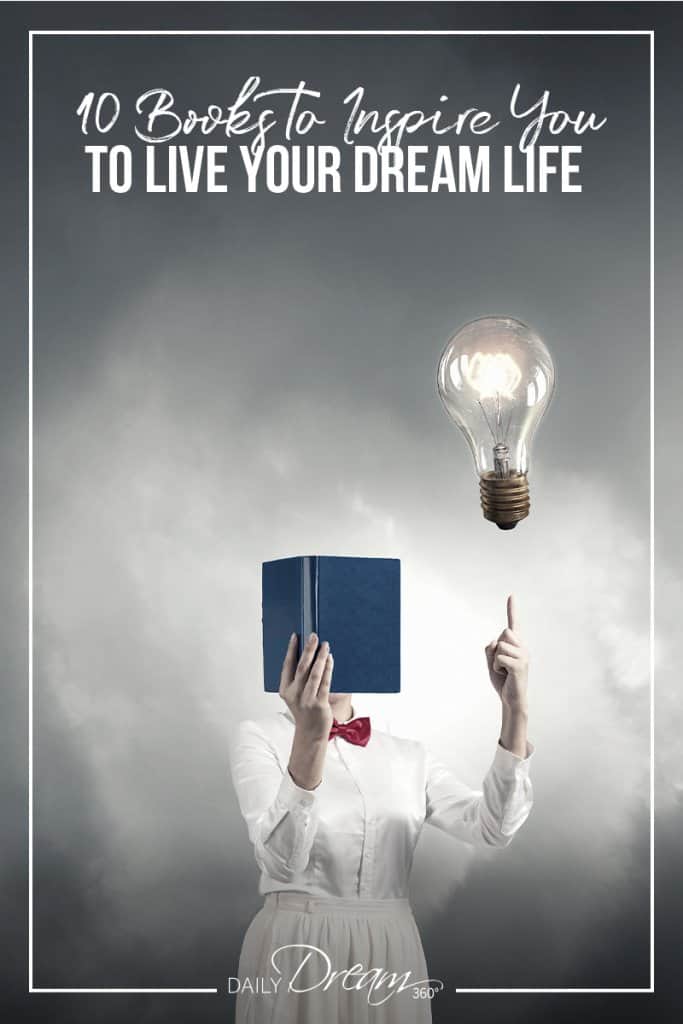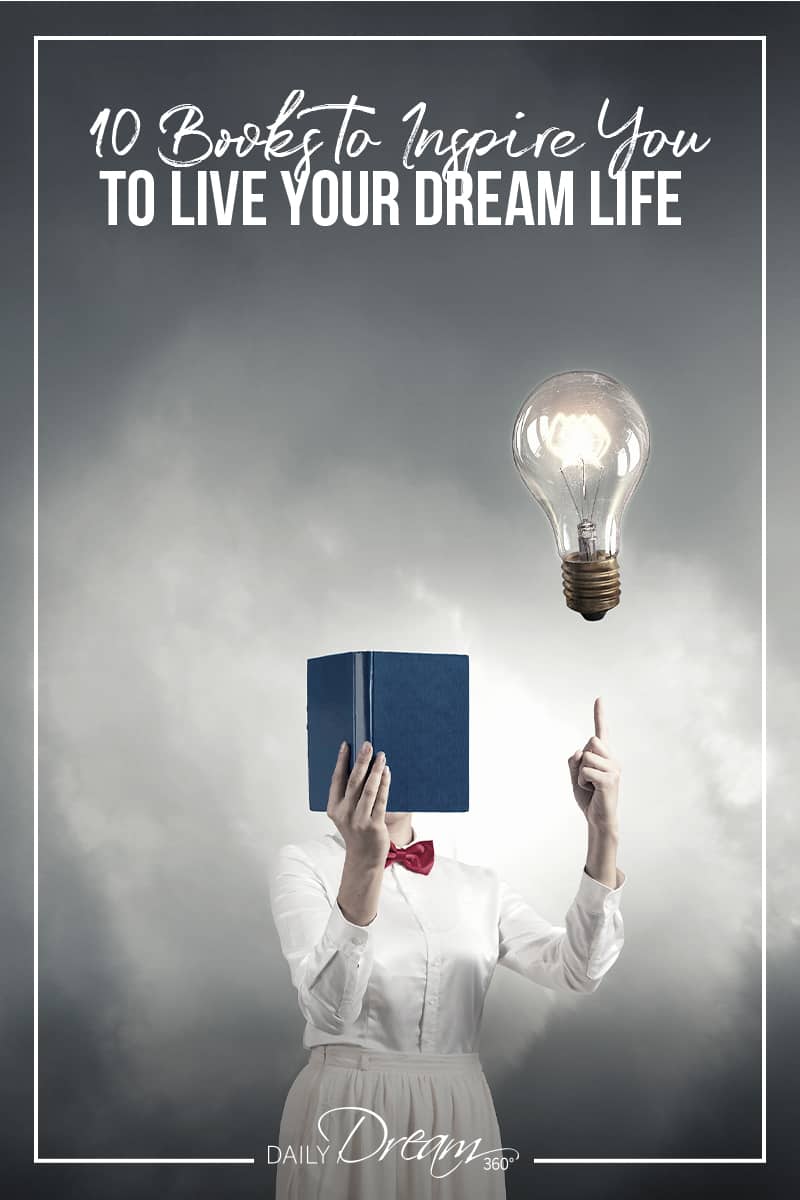 Plan it.
The great books that inspire you to live your dreams all deal with essential barriers to dream living:
Fear
Goals
Actions
Good habits 
Mindfulness
Self Love
These books have all inspired me at some point or another to move towards my biggest dreams. When I get stuck or frustrated, I start reading about facing fears, building good habits and understanding what works for other successful people. I've followed spiritual teachings, trustworthy business practices and learned to face my fears, create a plan of action and use goal-setting to move me towards my dream life. I hope you will find books to inspire you to live YOUR dream life.
Read more: Best E-Readers for the Beach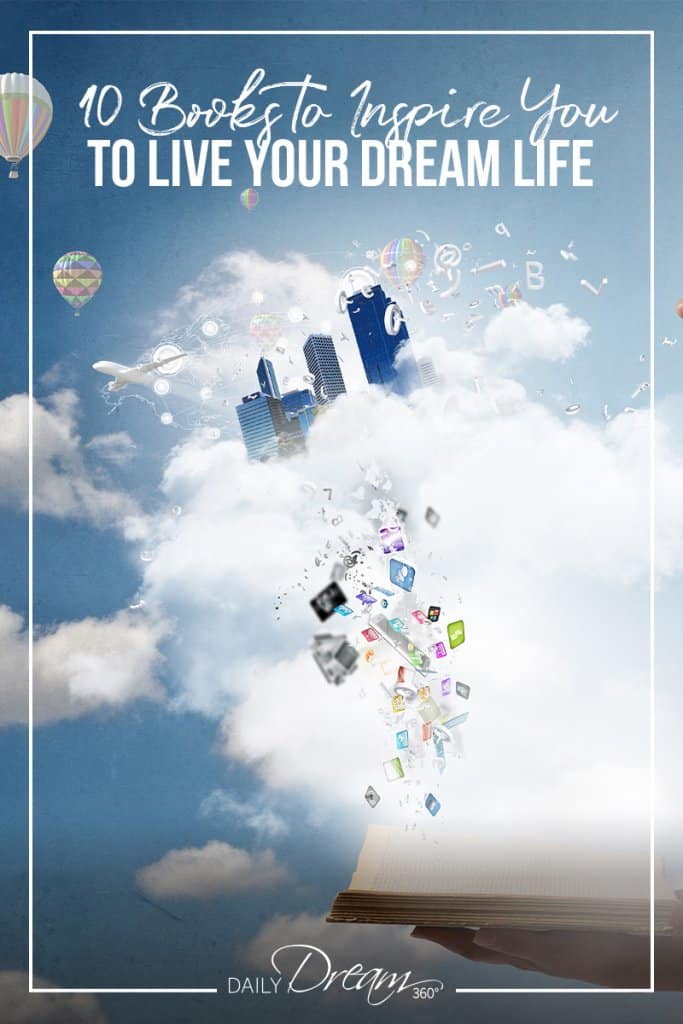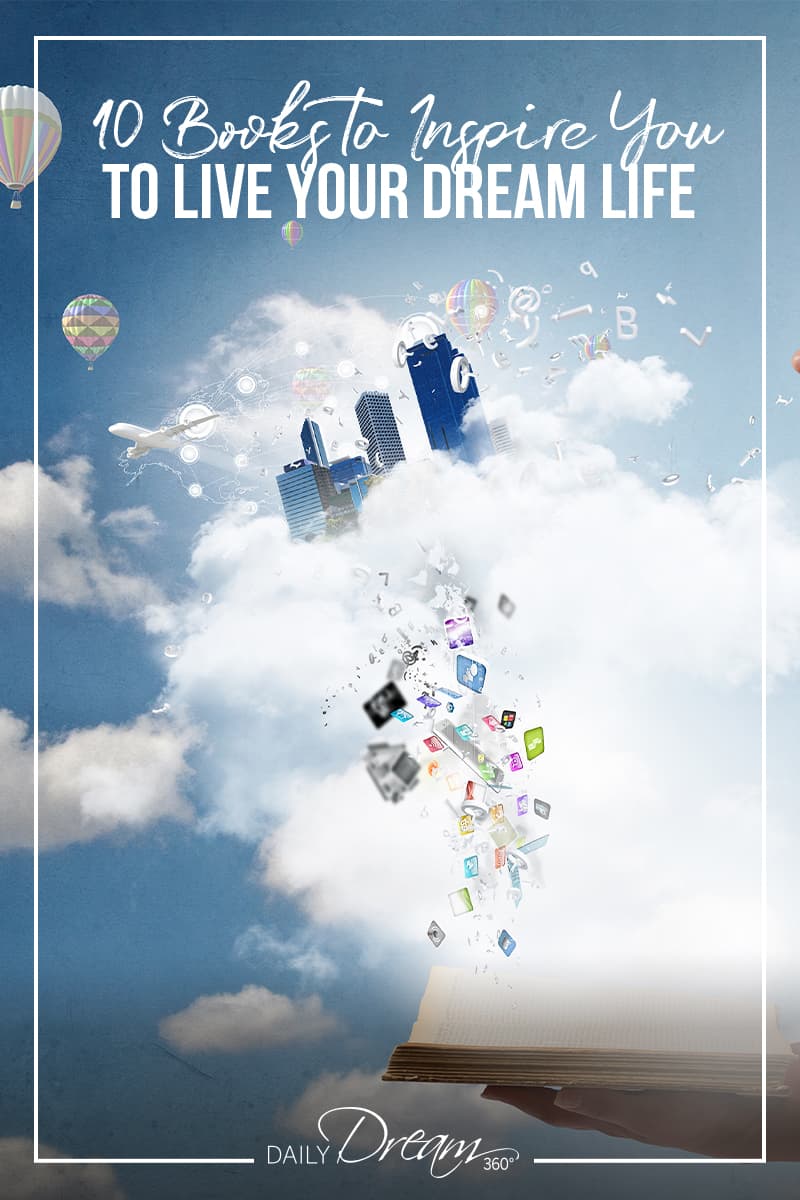 Learn from the Masters
Have you ever wondered what makes rich people successful? How do they achieve things in their lives? One thing I've learned is to listen to them talk in interviews to try and understand what it is they do to move towards their dreams. These books are great at sharing their stories and experiences, and some of their approaches may inspire you to chase your dream.
Break Through Fear
One of the most significant barriers people have to pursue their dreams is being afraid to even go after them. Fear holds people in jobs they hate because they don't want to be without a paycheque. Often life coaches will ask if there was no barrier at all to what you want to be doing now what would that be? Once you realize breaking through these fears and taking some leaps of faith are part of the process, you will learn to cope.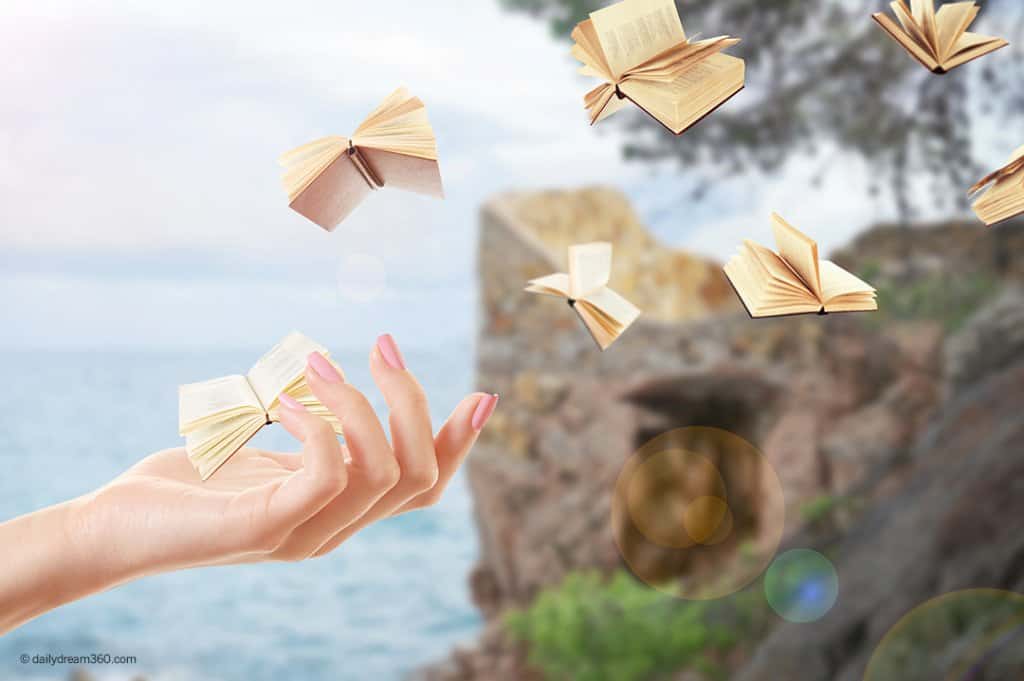 Live it.
10 Books to Inspire You to Live Your Dream Life
Here is a list of 10 Books I recommend to help inspire you to take steps towards your own dream life.
1. The Path Made Clear, by Oprah Winfrey
Since Oprah is the one that helped me start my journey to finding my life's purpose and living my dream life, I see it only fitting that I share her latest book on this list. If you are a big follower of Oprah and her podcasts, Super Soul Sunday episodes and even her original show, you'll find that you've heard many of the stories she lays out in this book.
Oprah has said, "Your real job in life is to figure out as soon as possible what that is, who you are meant to be, and begin to honour your calling in the best way possible." In The Path Made Clear Oprah categorizes ten chapters into important milestones needed to achieve your dreams. She shares her lessons and wisdom on the topic and then shares stories from the many guests she has interviewed, including actors, authors and spiritual teachers.
This book is available as a FREE audiobook with an Audible 30-day trial. 
2. Infinite Possibilities: The Art of Living Your Dreams, by Mike Dooley
Author and teacher Mike Dooley believes that we create our reality, fate and make our luck. In Infinite Possibilities: The Art of Living Your Dreams, he reminds us that fulfilling our dreams is not just about hard work but about finding and expecting to achieve it.
If you need a little push about actually believing in your dream, Dooley offers a little spiritual guidance about the law of attraction and how you created your current life, so there is no reason why you can't change what you don't like.
3. The 7 Habits Of Highly Effective People, by Stephen R. Covey
Originally written back in 1989, The 7 Habits of Highly Effective People was an instant success and continues to be a bit of a manual about how to achieve success in your own life. If you are looking for specific habits, goals or a roadmap as to what you need to be doing to make your dreams, this book should be on your reading list.
His model is broken down into three themes.
Independence
Interdependence
Continual Improvement
Your first challenge will be to understand the seven habits within each of these themes. Once you understand the habit-model, how will you implement them into your life?
This book is available in Amazon Kindle's unlimited membership plan.
4. The Power of Habit: Why We Do What We Do In Life and Business, by Charles Duhigg
The core message in The Power of Habit is that if you understand how habits work and are formed, you can create the habits you need to change your life. Why is it so easy for some people to change a habit and change their lives quickly? Others struggle to make changes despite trying to do so over and over? If you are struggling with making habits and sticking to them, you may want to understand why?
5. Your Dream Life Starts Here: Essential And Simple Steps To Creating The Life Of Your Dreams, by Kristina Karlsson
A dream without an action plan is just a wish. Your Dream Life Starts Here is a book with some inspiring tips and tools to help you turn desires into dreams. It will also help you create your one-page roadmap to your dream life. There are several inspirational stories and simple techniques to follow, which will help you make significant changes in your life with small, simple steps.
6. Big Magic: Creative Living Beyond Fear, by Elizabeth Gilbert
Elizabeth Gilbert has had a whirlwind life, and she shares it openly in her writing. From her epic adventure in Eat Pray Love, where she travelled the world to find herself and love Gilbert, she switches gears to dive into the topic of creativity. In Big Magic she shares examples from her spiritual pursuits, she encourages us to go for the things we love most and face down the things we most fear. Whatever dream you are pursuing, be it writing a book, changing careers or chase a goal, you'll find creative inspiration to conquer your fears and search your soul for the inspiration you need to achieve them.
This book is available as a FREE audiobook with an Audible 30-day trial. 
7. Feel the Fear and Do it Anyway, by Susan Jeffers
If you have a dream and haven't dared to pursue it, Susan Jeffers has some tips and insights into taking indecision, fear and anger into action, power and love. If you are the type of person that needs clear direction, then her 10-step positive thinking process and daily challenges will help you feel the fear and do it anyway.
Load a Kindle E-reader with inspiration today!
8. Design Your Dream Life: An Inspired Action Plan for Getting Unstuck and Becoming Your Best Self, by Denise Walsh
Author Denise Walsh offers another practical step by step guide to help you develop a plan to help you fulfill your dream goals. Her strategy focuses on helping you only take actions that move you to your new reality. Design Your Dream Life is another excellent read for those looking for actionable items they can change in their current lives to push themselves toward happiness and fulfillment.
9. You Are A Badass: How To Stop Doubting Your Greatness And Start Living An Awesome Life, by Jen Sincero
Sometimes we sabotage our thoughts and beliefs and kill our dreams before we start. In You Are a Badass, you'll find inspirational stories and exercises to help you work through your fears, take some risks, define goals and reach them. This book is another excellent read for those looking for actionable steps to follow to chase their dream life.
This book is available as a FREE audiobook with an Audible 30-day trial. 
10. The School of Greatness, by Lewis Howes
I first discovered Lewis Howes through a podcast. He was a guest and talking about his own experience after an injury that ended his professional football career. Then I started listening to his podcast and finally had to read his book.
In the School of Greatness, Lewis shares his research from interviews with other successful greats, which helped him move from depressed failed athlete to the success he is now. There are many tips and tools to help you inspire your vision, create your hustle and use dedication, mindfulness, joy and love to reach your goals.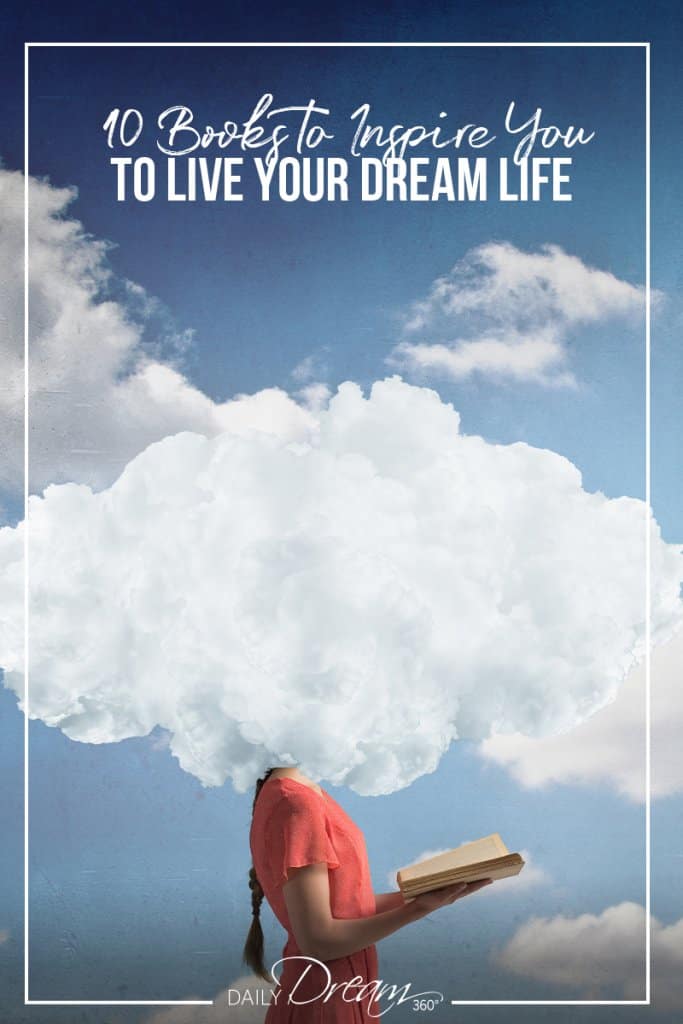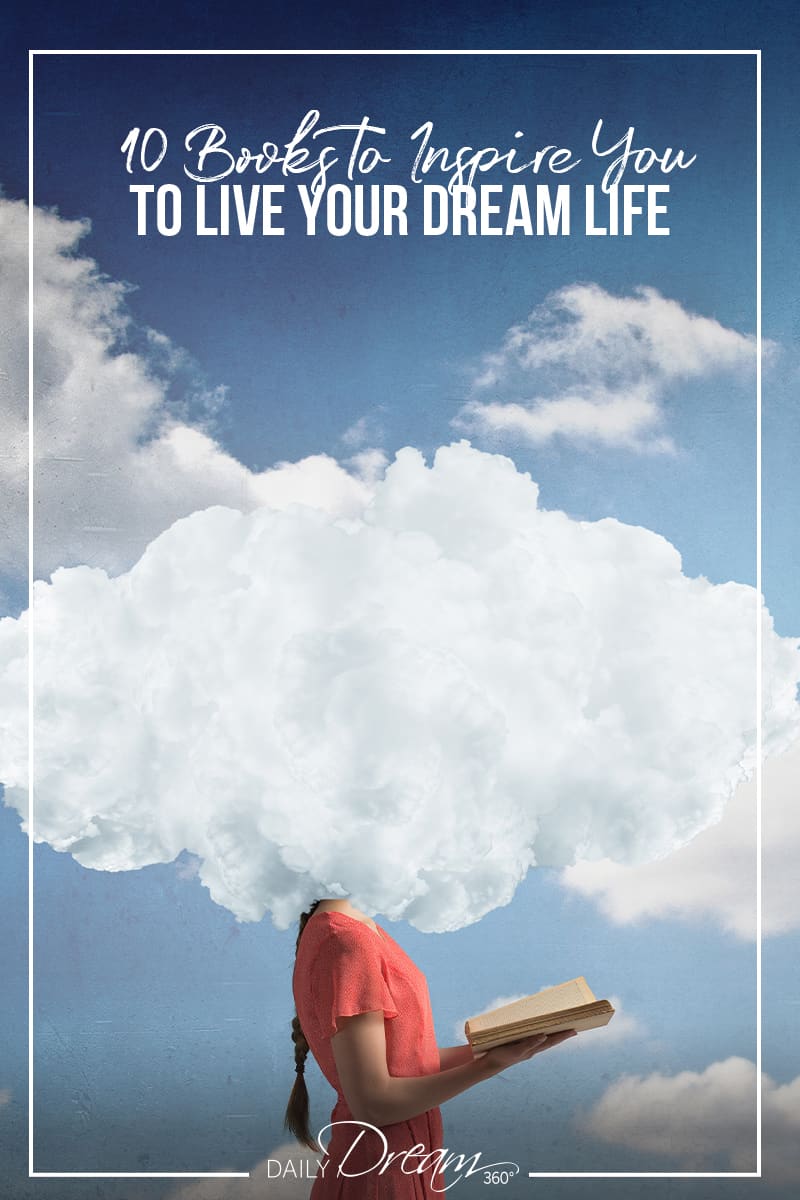 Have favourite books to inspire you to live your dream life? Please share them in the comments below.