This article may contain affiliate links. Clicking on or purchasing products we recommend through a link may earn a small commission. Read our disclosure and privacy policy page for details. *COVID-19 TRAVEL ALERT – Travel recommendations offered on this site are not to encourage you to travel against travel advisories.
When I was on Weight Watchers, I attended meetings regularly. It is the one thing I miss about the program having a group of people to sit with for 30 minutes, share challenges and, of course, recipes. This Weight Watchers 2-Ingredient Dough for Bagels came up often in our meetings. You may have heard of the famous Greek yogurt and self-rising flour bagels, here's your chance to try it.
Dream it.
If you're planning a trip that involves a pool, lake, or beach of any kind and you don't want to buy a special waterproof camera or action camera, then a waterproof pouch for your phone could just be the solution you are looking for. Most of us have replaced our cameras and choose to travel with our phones and while there are some water-resistant models out there, protecting your phone with a waterproof pouch could save you a costly repair or replacement.
How Weight Watcher 2-Ingredient Dough Came About
 For those following the WW program, you have a specific number of points to work with each day and some weekly points to play with each week. It is a mission for those on the program to use up as few points as possible.
With Greek yogurt appearing on the zero point list, this dough recipe made its way back to mainstream recipe sites. That said, this is not a low carb recipe. The result is a dough, and what makes it so great is a 1-2 point bagel made with little effort.
Plan it.
Easy to Make Weight Watchers 2 Ingredient Dough Bagels
You will need two things to make the dough for these bagels, and then when baking, you'll add seasoning and an egg wash.
2 Cups Self Rising Flour
2 Cups Zero Fat Greek Yogurt
1 Egg (to wash over bagels before baking) (optional)
Seasonings like sesame seeds or everything but the bagel seasoning (optional)
How to Make Self Rising Flour
If you don't have any self-rising flour on hand, you can easily create your own. Just mix the following well in a canister or large bowl.
1 cup all-purpose flour
½ teaspoon salt
1 ½ teaspoons baking powder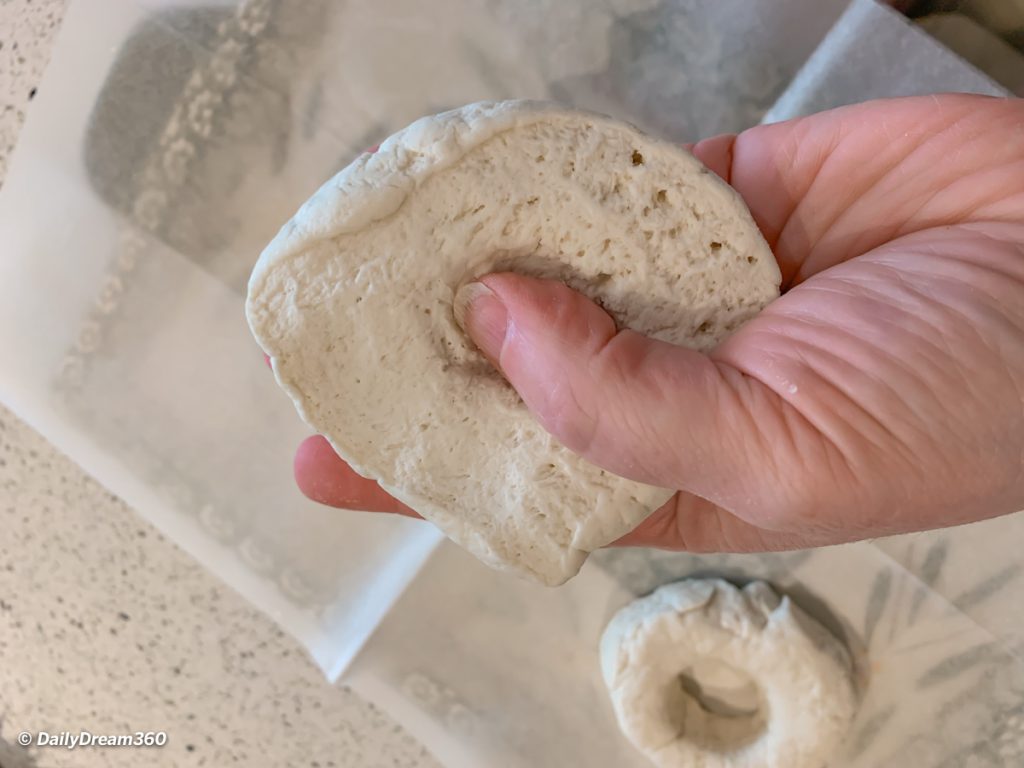 Some Tips for Making 2-Ingredient Bagels
When I started making these bagels, the instruction was to create long rolls of dough and form a circle by squishing the two ends. I found that sometimes the bagel came apart during baking.
I recommend rolling the dough and cutting it into biscuit size pucks. You can then create the hole with your thumb or finger to shape the bagel.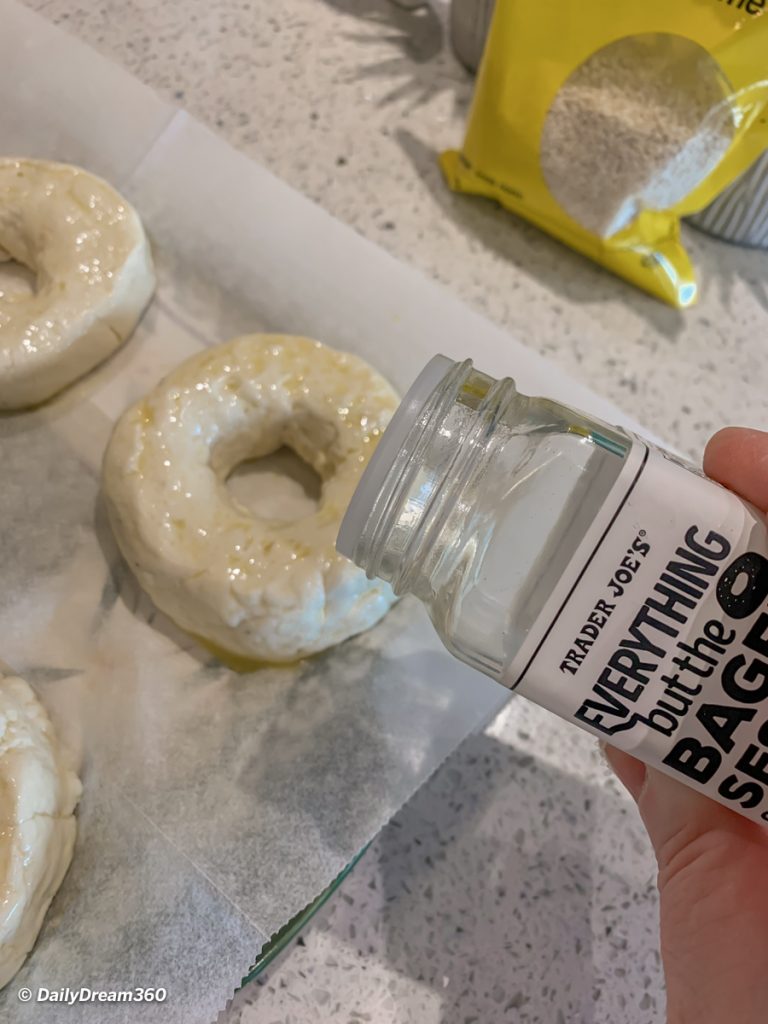 Season the 2-Ingredient Bagels Your Way
You can make plain bagels by just adding an egg wash on top before baking or sprinkle your favourite toppings. I like sesame seeds or Trader Joe's Everything but the Bagel Seasoning.
Use your imagination with these bagels. You can skip the egg wash and add cinnamon and sugar substitute to the dough or tops of the bagel.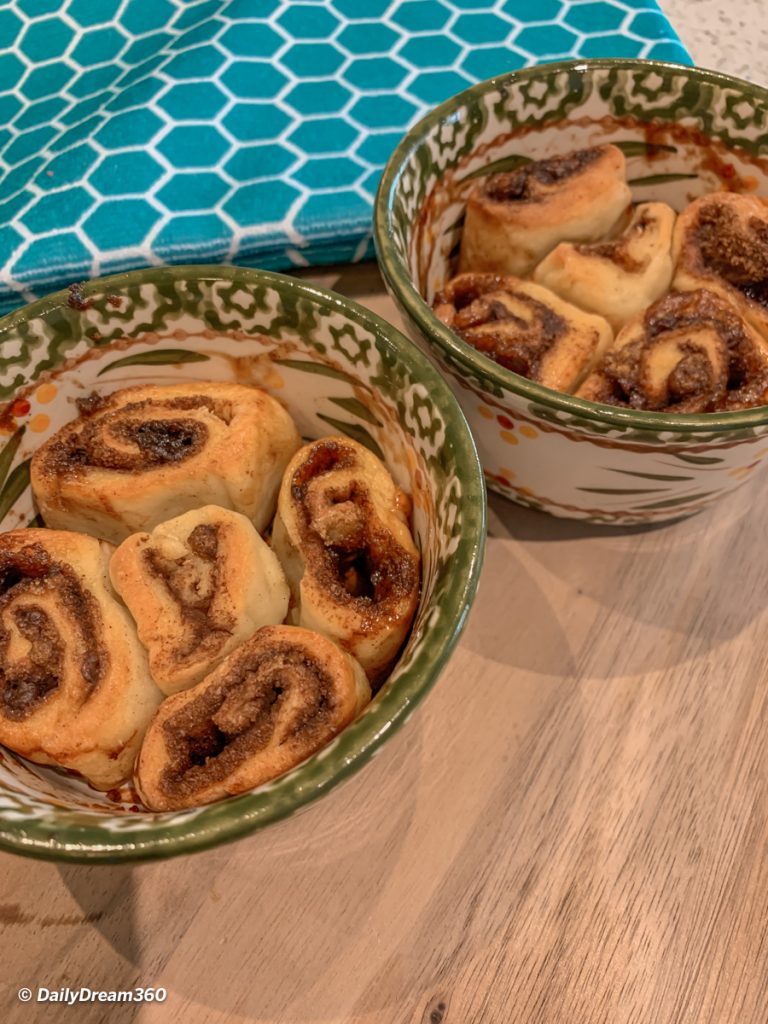 Other things you can make with Weight Watchers 2 ingredient dough
Weight Watchers 2-ingredient Dough Cinnamon Rolls
I have also made Cinnamon Rolls with the 2-ingredient dough. Just roll out the dough into long strips. Sprinkle with Brown Sugar or Brown Sugar substitute, cinnamon and cocoa powder. Roll it up into a log and cut the rolls.
I like to make these rolls very small and then place the mini rolls into a ramekin for baking. When making cinnamon rolls, it is essential to keep the rolls together, so they don't separate when baking.
Live it.
You may have heard of the famous Greek yogurt and self rising flour bagels well here's your chance to try Weight Watchers 2-Ingredient dough.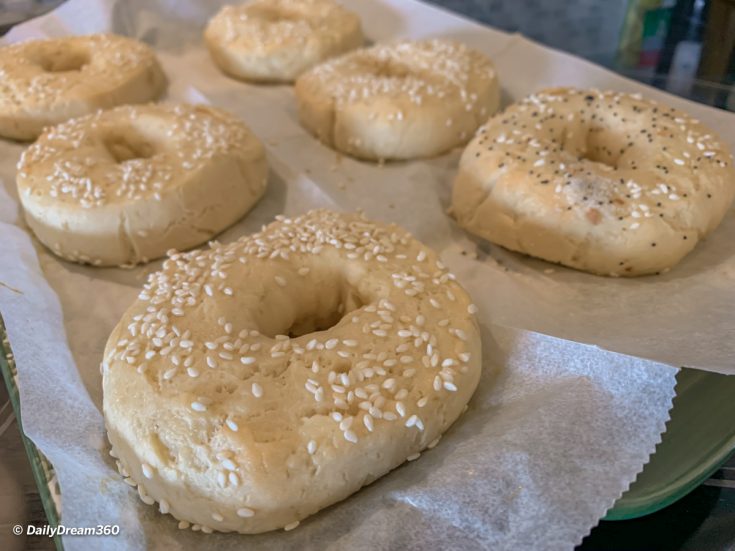 Yield:

6-8
Weight Watchers 2-Ingredient Dough for Bagels
You may have heard of the famous Greek yogurt and self-rising flour bagels well here's your chance to try Weight Watchers 2-Ingredient dough.
Ingredients
2 Cups Non-Fat Greek Yogurt
2 Cups Self Rising Flour
1 Egg (optional)
Seasoning (optional)
Instructions
In a mixer, combine the yogurt and self-rising flour.
Mix on low until the ingredients form a sticky dough.
Knead the dough on a counter sprinkled with self-rising flour. Roll it into a long thick log.
Cut the dough into biscuit sized pucks.
With your thumb, make a hole in the centre of the dough puck. Note you can also roll these and form rings, but I find that sometimes they detach in baking.
Wash the tops of bagels with egg and sprinkle the desired seasoning.
Bake at 375F for 20 minutes.
Nutrition Information:
Yield:
8
Serving Size:
1
Amount Per Serving:
Calories:

153
Total Fat:

1g
Saturated Fat:

0g
Trans Fat:

0g
Unsaturated Fat:

1g
Cholesterol:

26mg
Sodium:

450mg
Carbohydrates:

25g
Fiber:

1g
Sugar:

2g
Protein:

10g
The information contained in this website is for general information purposes only and is not meant to substitute professional dietary advice or treatment. Please see our Nutrition Disclaimer for details.