This article may contain affiliate links. Clicking on or purchasing products we recommend through a link may earn a small commission. Read our disclosure and privacy policy page for details. *COVID-19 TRAVEL ALERT – Travel recommendations offered on this site are not to encourage you to travel against travel advisories.
Buying the right sunglasses isn't just about style. There are several factors to consider when choosing your shade: the shape of your face, frame and lens materials and what activities you will be doing while wearing them. I've put a detailed guide filled with tips for choosing your sunglasses, including an overview of the ten best classic sunglasses styles.
Dream it.
If you're planning a trip that involves a pool, lake, or beach of any kind and you don't want to buy a special waterproof camera or action camera, then a waterproof pouch for your phone could just be the solution you are looking for. Most of us have replaced our cameras and choose to travel with our phones and while there are some water-resistant models out there, protecting your phone with a waterproof pouch could save you a costly repair or replacement.
 There is a lot more to buying the right sunglasses than do I like the colour of the frame and lenses. It's not always easy to find that perfect pair of sunglasses and to find one model that fits both a fashion function and is ideal for sports is like finding a unicorn.
I used to worry about how do these sunglasses fit on my face? Do I like how they look? I needed a lighter lens for driving in cloudy weather and a darker lens for super sunny days. Since I started this website, I've learned a few things about sunglasses.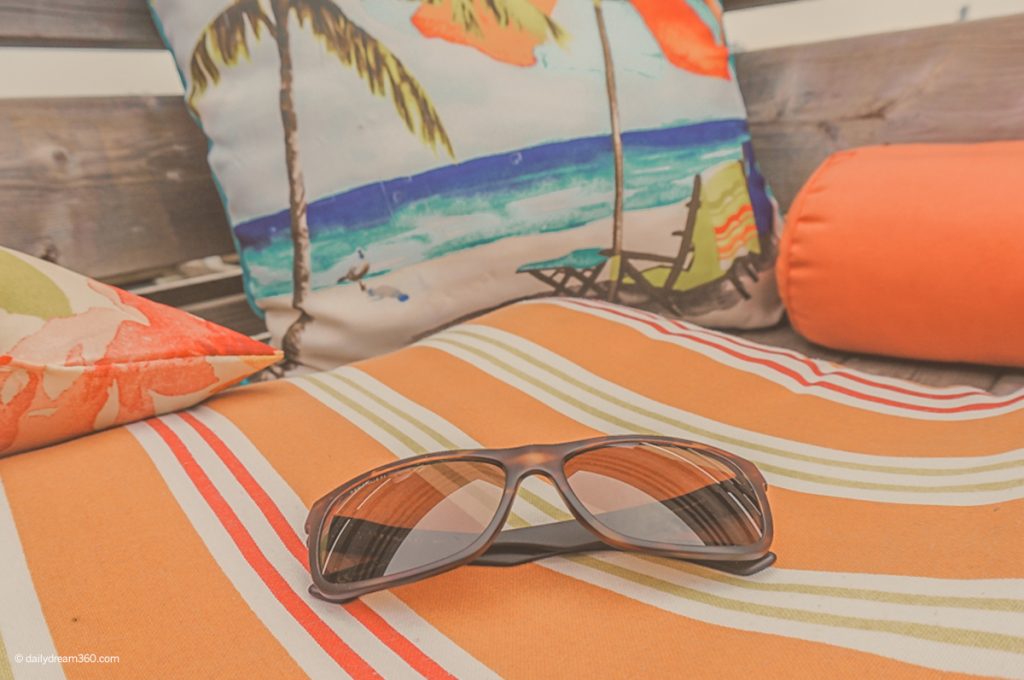 Plan it.
How to Pick Your Classic Sunglasses Style
When choosing sunglasses, there are many things to consider. It is not just about a fashion statement and which sunglasses suit my face but also the right sunglasses for a specific activity.
When buying sunglasses consider the following first before choosing the classic sunglasses shape:
Sunglasses frame material
The Sunglasses lens material
Sunglasses lens colour
Pick Your Sunglass Frame Material
The most common sunglass frames are made with metal or nylon, but different frames best used for various summer activities. Here is a list of sunglass frame material options.
Why Pick Acetate Frame Sunglasses: Acetate is a plastic material that has everything you want in a sunglass frame. Often sunglasses made with Acetate are flexible, lightweight and can be infused with colours vs being painted. Many fashion brands rely on Acetate for their frames.
Why Pick Nylon Frame Sunglasses: For fun in the sun and the many sporting activities, you may partake in you'll find that Nylon frames are a great choice. You can find less expensive sunglasses that are lightweight, flexible and durable with nylon frames.
Why Pick Polycarbonate Frame Sunglasses: Another lightweight and durable plastic frame to consider is polycarbonate. However, these frames come with a drawback, and they are often not as flexible. Polycarbonate material is commonly used in safety glasses and kids' frames, which can take a beating.
Metal Frame Sunglasses: For those sleek sunglass styles, you may like to look at metal. These sunglasses can be heavier, less durable and not ideal for sporting activities. However, the frames are often adjustable, work for many different face types and are corrosion resistant.
Why Pick Titanium Frame Sunglasses: If you are a fan of high-end designer frames and don't mind their price point, you'll find that many of their metal models are made with Titanium.
Pick Your Sunglass Lens Material
Like with frames, the type of material in your lens can affect how comfortable your sunglasses are. Your lens type is essential, depending on your activity or how durable a lens you need. For high impact sports, you will not want a glass lens, for example.
Optical Glass Sunglasses Lenses: durable and scratch-resistant however, they can crack on impact.
Polycarbonate Sunglasses Lenses: light and scratch-resistant, great for high impact activities.
Polyurethane Sunglasses Lenses: Expensive but are very resistant to impact, very lightweight and provide excellent optical clarity.
Acrylic Sunglasses Lenses: Inexpensive and best choice for day-to-day or fashion sunglasses. 
How to Pick the Lens Shade of Your Sunglasses
Another factor to consider when buying the right sunglasses is what colour lens shade you should pick. The lens shade is not about fashion and matching outfits. Different lens colour options offer distinct optical clarity in bright situations or when boating or doing water sports.
Gray or Black Polarized: These lenses keep colours neutral while providing clear views.
Brown, Yellow, Ambers and Roses: Provide more depth perception and are better in mid to low light conditions.
Blues and Purples: More of a fashion statement, they don't provide much value optically.
Metallic Blues and Gold: Better for water activities as they reduce glare and are excellent in very bright sunlight.
 Read More:  The Best Polarized Sunglasses For Driving
Live it.
How to Pick the Right Sunglasses for Your Face
Which Sunglasses Suit My Face? Have you ever walked into a sunglass store and asked that question? I think picking the right pair of sunglasses is about what makes you feel best, but many opticians offer a general guide on which shapes will be better suited for your face type.
Round Face: Wayfarers, Aviators, Cat Eye, Rectangular and Square
Oval Face: Aviators, Butterfly, Rectangular with rounded corners, ovals and round.
Triangular Face: Aviators, Cat Eye, Round, Oval and Rimless.
Square Face: Oversize and large glasses in Aviator, Cat Eye Oval and Round styles. 
Rectangular Face: Oversize and large lenses in Aviator or Round glasses.
Heart-shaped Face: Wayfarers, Aviators, Oval, Round and Rimless.
The 10 Best Classic Sunglasses Styles
Here is a list of the best classic sunglasses styles available on the market today. Some styles are more of a fashion statement, while others are better functionally for driving or sports activities.
Wayfarer
When I think of Wayfarer sunglasses, I think of many classic Hollywood movies, and those "Risky Business" shaped Raybans. These sunglasses are top on my list because they have been around since the 1950s, and this sunglasses style never seems to go out of fashion.
Aviator
Who doesn't love a classic Tom Cruise Top Gun aviator shade? Aviator sunglasses are minimalist and often made with a metal frame.
Cat Eye or Butterfly
These insect-like oversized sunglasses are a fashion statement. When you just want to hide your eyes or face from the world, these cat-eye glasses have excellent coverage of both the eyes and face.
Round or Oval
Another classic shape that dates back to the 1940s are round sunglasses. Thing colourful round glasses the Beatles used to wear. Most round glasses are very slim and simple in design.
Square or Rectangular
The Wayfarer frame can also fit into the square or rectangular category. Some are more angular than others, but overall their lenses are horizontally more full.
Oversize Sunglasses
You can find oversized sunglasses in just about any shape. Some more costume-like with big stars to some very high-end fashion pieces with rectangular or round frames.
Slim Sunglasses
I have seen slim sunglasses in both oval and square shapes. These glasses are narrow and barely cover the eyes, making them more of a fashion statement than a functional piece of eyewear.
Semi-Rimless Sunglasses
Some prefer the bottom of their lenses hangs without a frame. These half framed sunglasses are known as semi-rimless, and they come in many slim styles. Semi-rimless glasses are also fashionable in sports sunglasses worn by skiers and cyclists.
Sports Shield Sunglasses
They look like safety goggles or Ski visors, but these oversized lenses can come in many styles. The frame built around one single large lens creates the look of a shield vs covering two lenses.
Sport Wrap Sunglasses
You will find athletes wear many of the wrap sunglasses. This sunglasses style refers to the frame vs the lenses as it wraps around the back of the head. The wrap frames come in many shapes and available in 2 lens or shield lens models.