This article may contain affiliate links. Clicking on or purchasing products we recommend through a link may earn a small commission. Read our disclosure and privacy policy page for details. *COVID-19 TRAVEL ALERT – Travel recommendations offered on this site are not to encourage you to travel against travel advisories.
My first trip to Aruba was one I will never forget. The motto in Aruba is "One Happy Island", and this is a motto that the people who live there truly embrace and embody. But more on Aruba and what you can do there in another post! This is a review of our hotel the Renaissance Aruba Resort & Casino.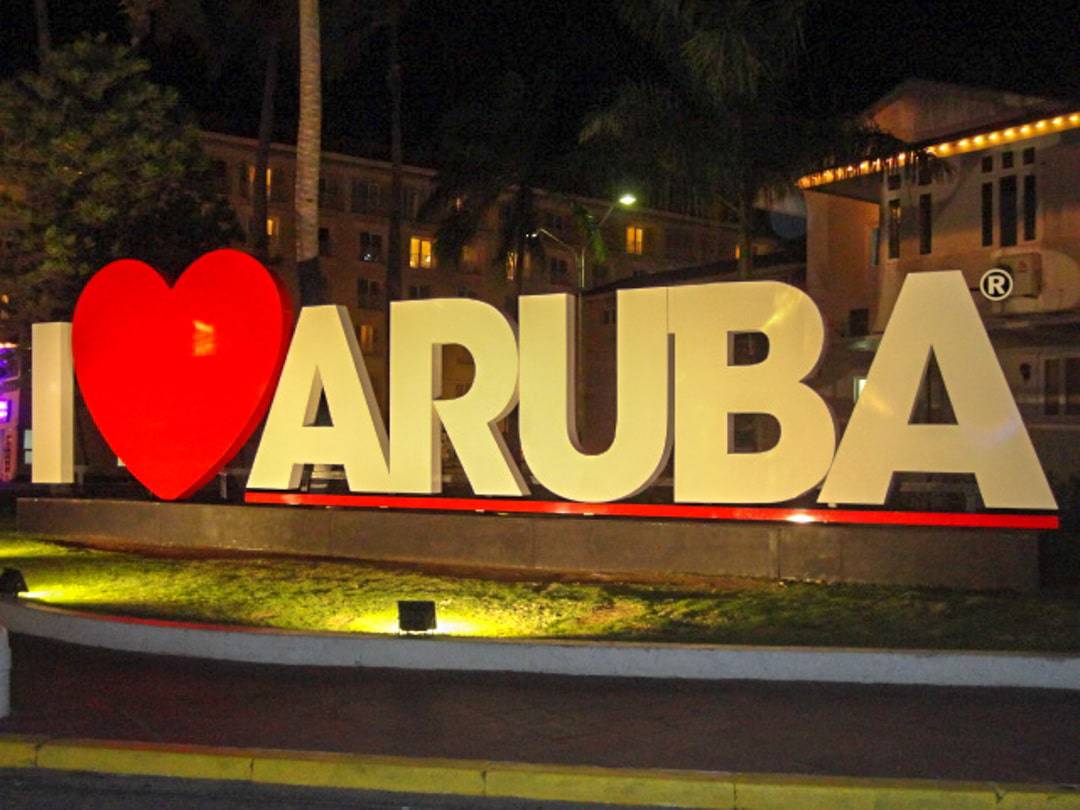 The Renaissance Aruba Resort & Casino consists of two hotels the Marina and the Ocean Suites. Both resorts offer an all-inclusive package or just a nightly rate. The resort is located in downtown Oranjestad so for us it was a quick 10-minute transfer from t10-minutes. At the hotel, we had an uncomfortable moment of dragging our luggage up an escalator (the elevator I discovered halfway through our trip) as there was no bellman waiting to guide us up to the lobby. The bar staff was quick to serve us some bottled water when we were waiting to check-in, and this was much appreciated as I was already feeling the heat! Aruba is HOOOOOT. We arrived shortly after 3 and our rooms were not ready yet, but we were told that they would be ready in less than half an hour. We were given cards and a voucher to use until the room was ready.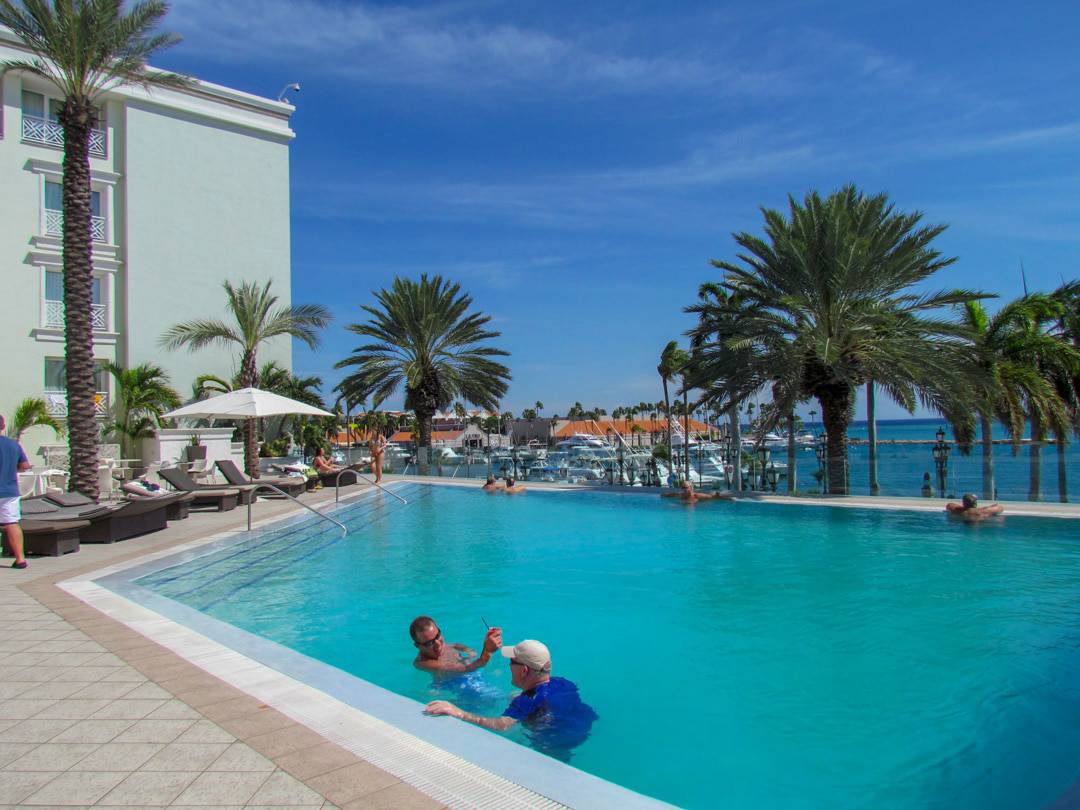 Review of the All-Inclusive Package at Renaissance Marina Aruba Resort
This was an interesting thing at the resort. I've stayed in a lot of Caribbean all-inclusive and always received a wristband, but at the Renaissance Resort, there are no wristbands. You charge everything to the room and sign for everything, and the charges are waived at checkout. I didn't like it from the get-go, and after a week of it, I can honestly say this was a disappointing feature of the all-inclusive package. Every time you order a drink, a bottle of water, go to eat you have to wait for the waitress or bartender to swipe your card and then bring you a bill to sign. I had so many receipts at the end of the trip I felt like I killed several trees. Sometimes you just want to grab something and run, and here this was not possible. Every time, swipe and sign. Very annoying. Apparently, there is also the fear that you are charging something to your room that is not included in your package. The restaurants had menus that were not part of the package, there were certain drinks that were not included in the package, and it was never clear to me what was included and what wasn't. The staff didn't seem to know for sure either for example in the Steakhouse they had a Prix fix menu and an a la carte menu. Not sure if we could order from the a la carte, so we stuck with the Prix fix all week. I think it would be much easier for the resort to educate their staff and have us wear wristbands and save the trees!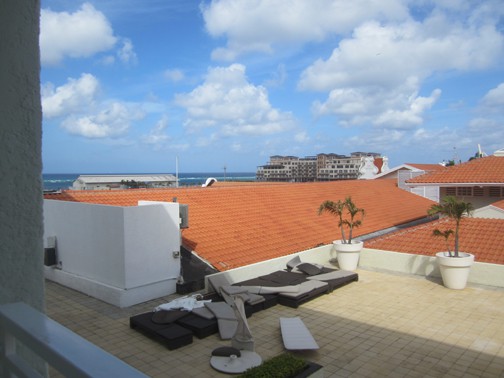 With a half hour to kill we decided to grab a bite to eat. There were two options the Blue Bar located in the lobby and just off the lobby the Aquarius. Aquarius is Marina's buffet restaurant, and since it was the end of the lunch rush, we had slim pickings. But I did enjoy some Sushi, fresh fruit and salads.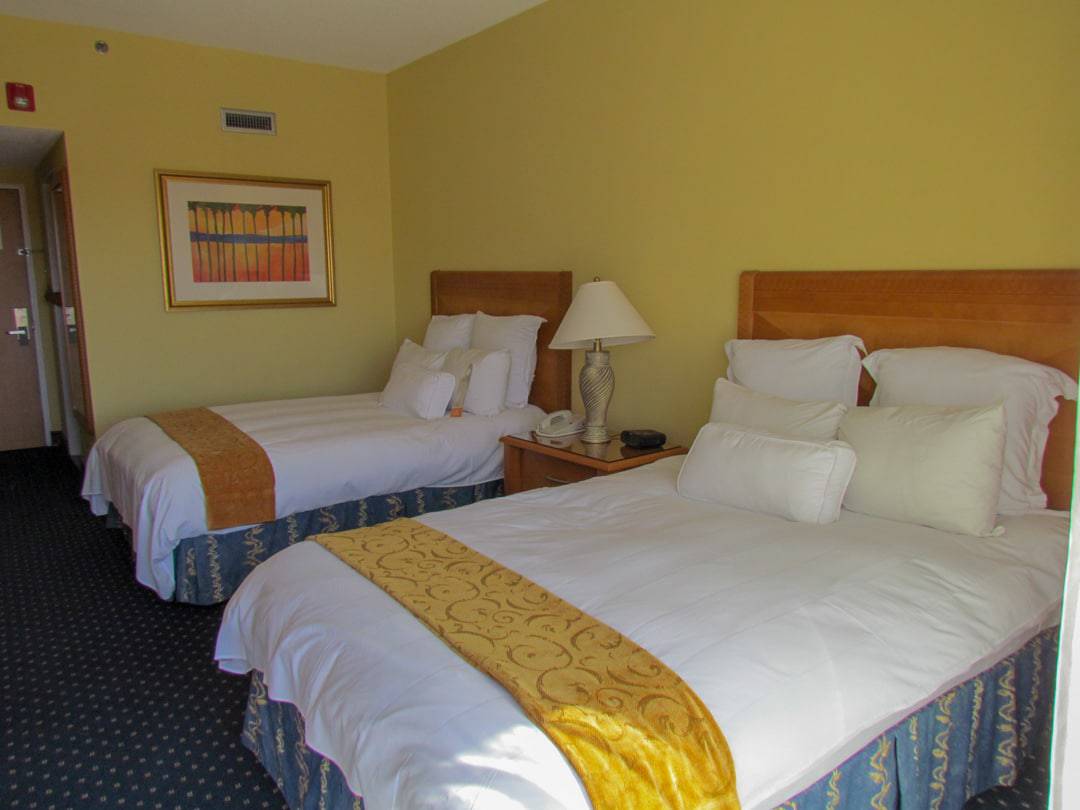 Marina View Room, Renaissance Aruba Resort and Casino
We purchased a Marina View room which was a decent size room with two double beds. We did not have a balcony which is a bit of disappointment but, you can open the doors to a French Window Balcony, or a window with a bar rail located just outside of it. We did get a spot of Ocean to gaze at, but let's face it our room was at the side of the hotel and facing over an open courtyard at the resort. Could have been a street view or back of the resort view, so I'm not complaining! The room was very clean, nice fluffy duvet covers, pillows on the bed, a drawer with lots of deep cupboards and a closet with lots of hangers, a full-size ironing board and iron. On the top shelf of the closet was a large deep safe and as a short person, this was an annoying location for the safe. We both could not reach it and had to drag the chair over to the closet to see where our stuff was in the safe! Seriously they could have built a shelf in the middle that would have been far more convenient for guests than sticking it above your head where you can't see anything.
The condition of the bathroom, however, was not as great. Definitely in need of refurbishing. The bath tiles were stained, and there was very little water pressure in the shower. Two girls with thick hair it was not pretty. I did read some reviews that there was no hot or cold water for some guest we didn't find this just the drippy water pressure issue for us. The bathroom is also stocked with Aveeno products which include lotion, shampoo, conditioner and body cleanser.
The Renaissance resort overall is small even when you take into consideration there are two areas the Marina and the Ocean Suites. Since we travelled on the off season (last week of August), we didn't have to worry about making reservations for restaurants or waiting in line for things. Towels were always available, and we didn't have to reserve seats for the sun. However, if you are travelling during the high season (December-April), then you will be fighting for space in the restaurants as locals also eat at the resort restaurants. Priority is given to the Resort guests but both restaurants are rather small, and I can see them filling up fast.
Review of the Marina Renaissance Resort – Amenities
Blue Bar – Serves Lunch and Dinner serving fast food in Bento boxes.
Aquarius – Serves Breakfast, Lunch and Dinner. Features seafood, sushi, meats, salads and desserts. There is a buffet option, or a la carte menu (which I believe is not included in the all-inclusive package).
L.G. Smith Steak & Chop House – Serves Dinner only Prix fix menu consisting of an appetizer, main with two sides and dessert or an a la carte menu (which is not included in the all-inclusive package). This was my favourite restaurant, an elegant dining experience with some wonderful options for dinner. We ended up eating here four times that week. We were lucky however that we were there during the off-season (last week of August) so we never had to worry about a reservation.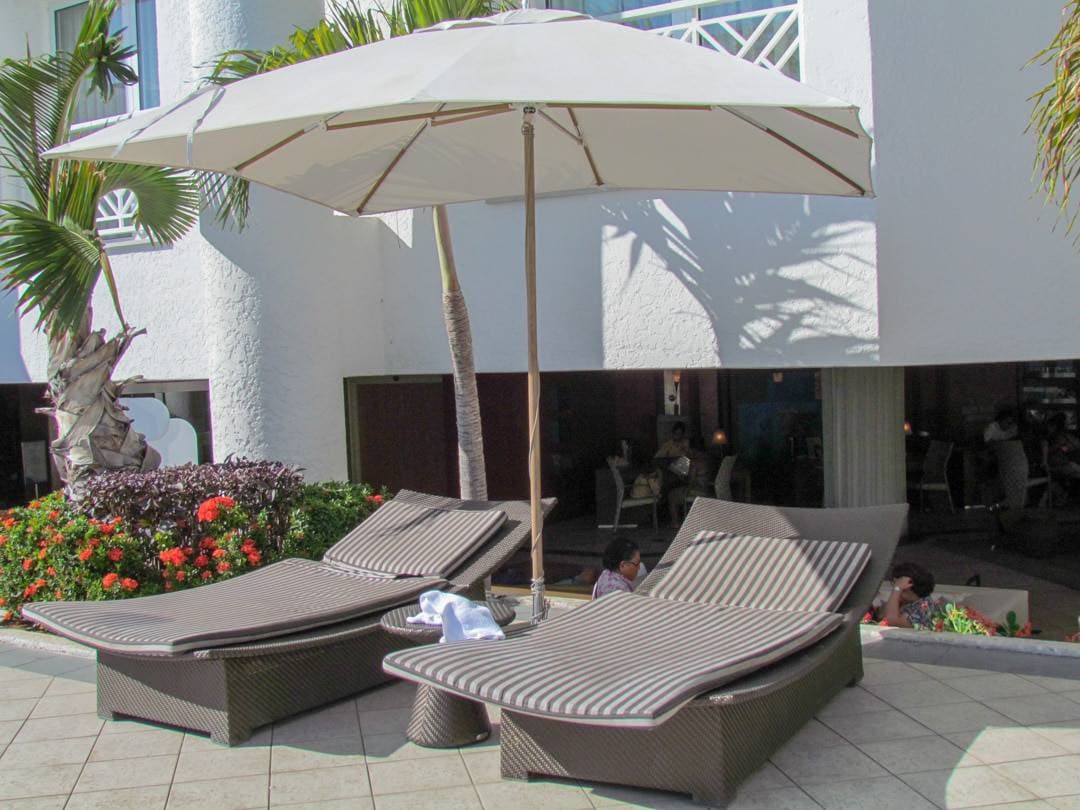 The Pool – The pool at the Marina resort is an infinity pool with a lovely view of the marina and Ocean. However, it is tiny. There are less than 25 loungers in the pool area, and they fill up fast. Towels are located in little round cubby holes in the wall just as you walk up the stairs to the pool. There are no towel cards so you can pick as many towels as you like and just discard them in the bins and refresh them as you want. This is an excellent feature.
Fitness Center – I have to admit I did not enter it. But there is a fitness centre with cardio machines and free weights.
No Waterfront/Oceanfront – Another disappointment here there is no beach at the Marina hotel, no direct access to water of any kind (except for the tiny pool) so if you are looking for a resort with nice waves hitting your feet this is not it. The resort does feature a private island, and I will discuss it further below.
Shopping – Rennaisance mall – see shopping description below.
Crystal Theatre – There is a movie theatre on site, not sure what the schedule was, or what was playing, I only noticed it was open on one night during our stay.
Crystal Casino (24 Hours)
Adults only?
Something to note. The Marina hotel at the Renaissance Aruba Resort & Casino is sold as an adult-only resort. I'm not sure why the folks at the Marriott sell it as such. There were children allowed to run wild through the hotel lobby which houses the lobby bar and pool; they were allowed to eat in the restaurants so how this is marketed as an "Adult Exclusive Resort" is beyond me. No staff or anyone seemed to enforce this. Adults only mean just that and if you have children running around the resort's main areas and screaming in their restaurants then it is not Adult's only! Just saying!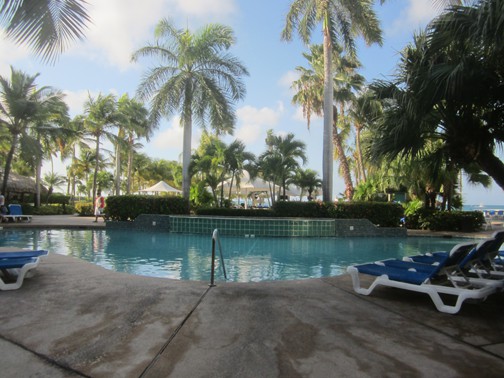 Ocean Suites Resort – Amenities
The Ocean Suites section of the resort is located a short walk across the street and past the Renaissance outdoor mall. It is not right across the street. You have to spend five minutes to get there. Apparently, there is a shuttle service, but we did not see this or were not told about this, and I didn't mind the walk. The Ocean suites are the Family Friendly resort, and most of its room face the ocean.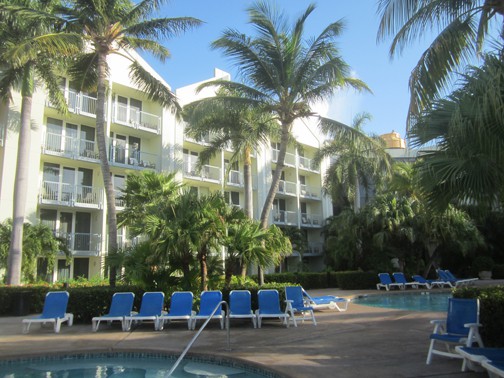 Captain's Corner – Serves Breakfast and Dinner, this is a casual restaurant, located outside beside the pool. It features a buffet breakfast and themed dinners.
Solé – Serves Lunch and Dinner at the bar area at the Ocean Suite's Pool, they also have a swim-up pool bar, live music some evenings and a happy hour for non-all-inclusive guests.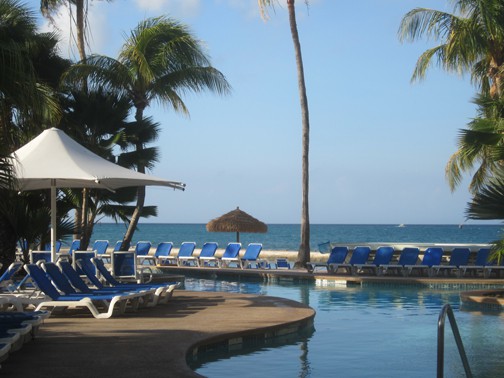 Lagoon/Waterfront – Since the Ocean Suites are located on choppy deep waters, a waterfront option is probably dangerous as most of its guests would get sucked into the ocean. The Ocean Suites does feature a beach with a man-made lagoon located just below the big pool area, so if you don't want to hit the island, you can enjoy some sand here. But again no waves are lapping in from the Ocean so if you are looking for this then better to choose one of the high rise hotels on Palm Beach.
Pool – The Ocean Suites does feature a large pool area with a swim up bar, there are many loungers but little shade (something I notice a lot of in Aruba).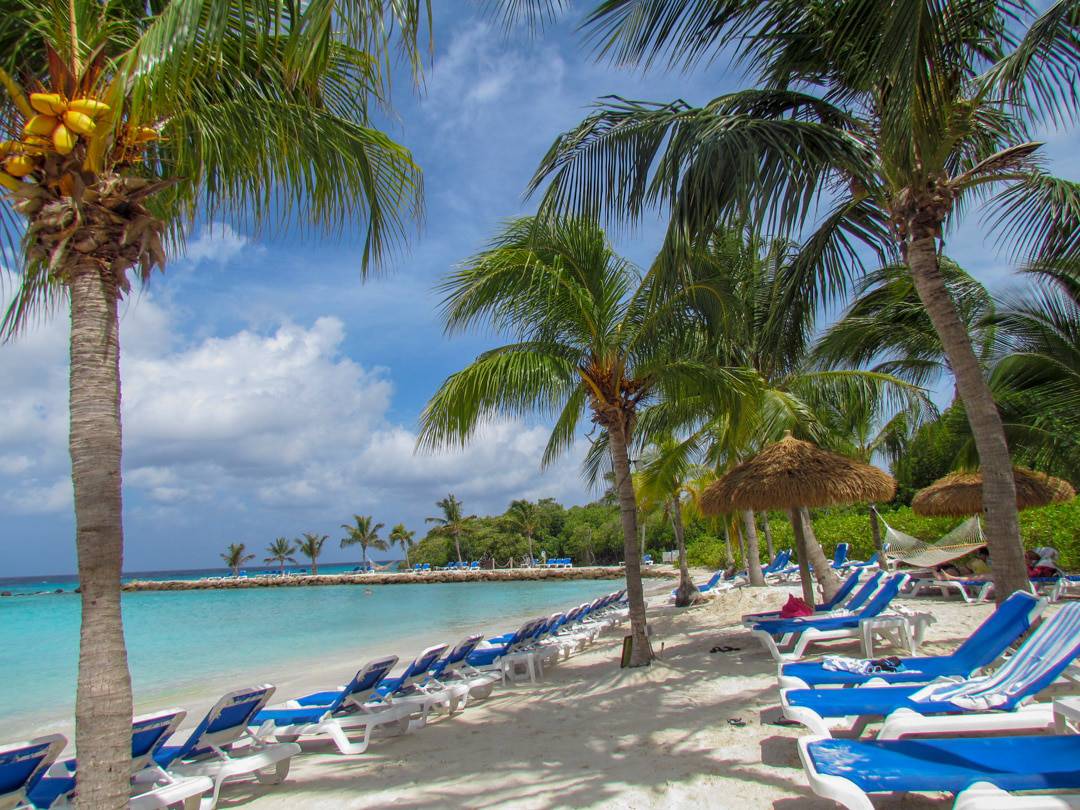 Review of Renaissance Island – Private Island for the Renaissance Aruba Resort and Casino
All beaches in Aruba are public beaches so having a resort with a private island is an extraordinary thing. There is a boat launch located right in the lobby of the Marina hotel just at the bottom of the escalator next to the Starbucks. You can grab a coffee on your way to the beach! Each guest has to swipe their hotel room card before boarding the boat, so have it ready. Apparently, you can also purchase a day on the Island for $70 from the hotel lobby if you are not a guest.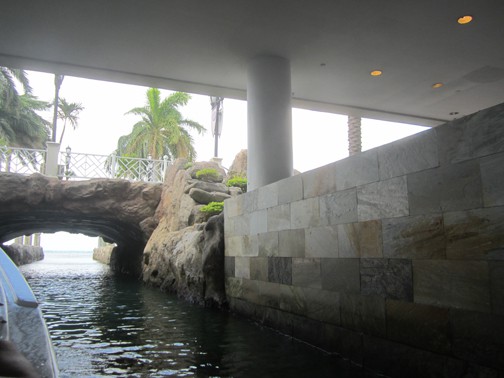 The boats arrive every 10-15 minutes and make a stop at the Ocean Suite's boat launch before jetting to renaissance island. The entire trip is probably 1o minutes or so.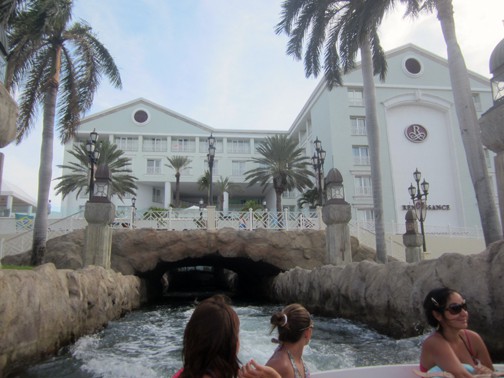 My favourite captain had to be George who was always smiling, singing or happy to see you. On your first trip to the island George stopped the boat in the middle of the Ocean and said "uh oh outta gas!" laughing to himself giddily, but he was just stopping in the line of a plane coming in for a landing at the airport. This is something George loves to do, we were lucky it was a small private plane, but I'm sure it would be pretty cool with a big jet coming in!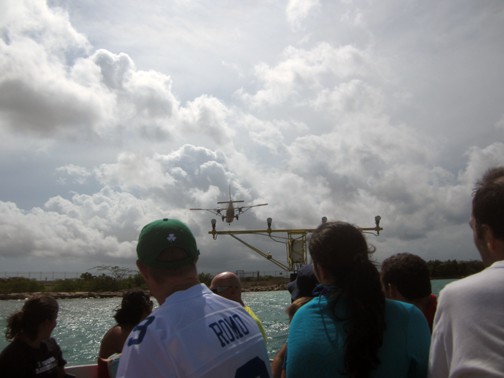 Which brings me to the downside of Renaissance Island, it is located directly in front of the Aruba airport. Certain days it was louder than other, yes its true this is not an international airport, and like many it didn't bother me as the pros of the island far outweighed this con, but to be an honest travel writer and to write the most honest review of the Renaissance Aruba Resort and Casino I have to share the truth. Planes are landing and taking off throughout the day, and it is loud when thy do, you will hear the planes it just depends on the person how much it will bug you!
Renaissance Island features two central lagoons. Again this is not an island with direct access to the Ocean, like the Ocean Suites lagoon it is an area blocked off by a rock wall to keep you from being pulled into the very deep ocean water by the strong currents.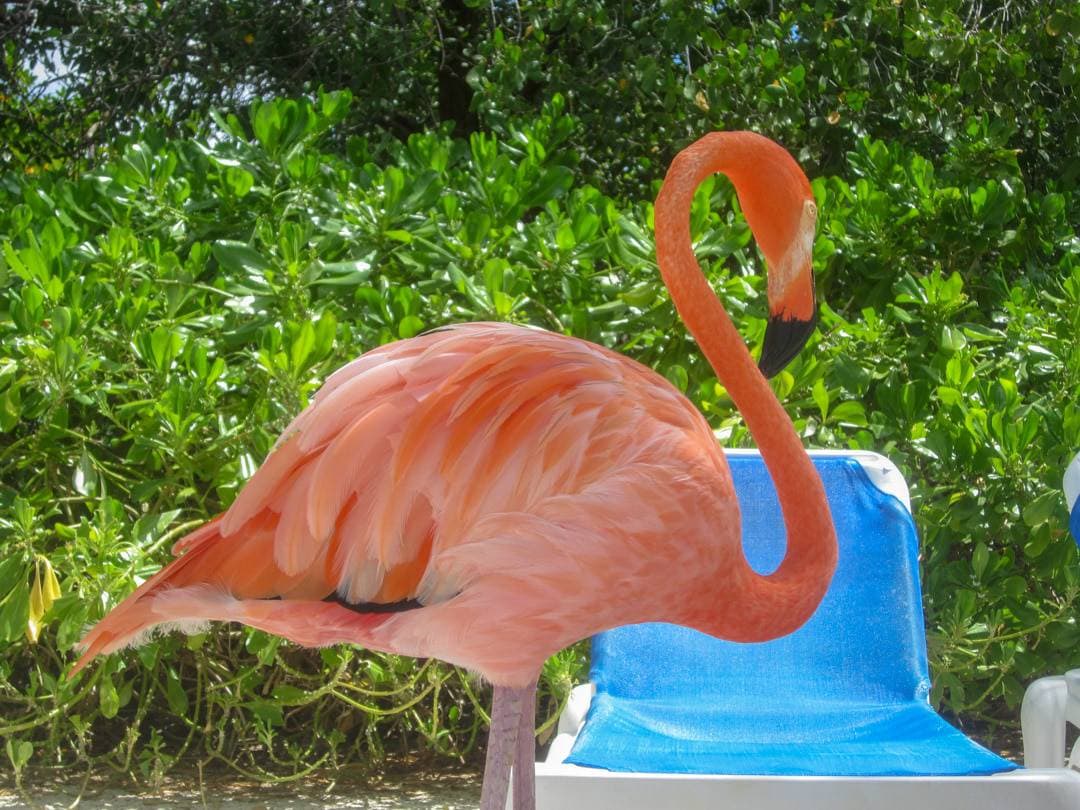 When you get off the boat Flamingo Beach (adults only) is located to the right and on the left you will pass a small gift shop, the water sports centre (towels are available here) and the Iguana  Beach which is a family friendly area and is much larger than the Flamingo beach. There is a small stairway with regular Iguanas sitting and waiting to be fed which you can look at on the way to the family side of the Island, but on Flamingo beach be prepared with close encounters with the flamingos, iguanas and crabs roaming the beach.  This is a nice feature of the island, as the animals are very people friendly and will come right up to you as you sit an enjoy the sun. I was very disappointed in the families that brought their kids to this side of the resort again Marriott if you are going to market a resort as Exclusive Adults-only then you should enforce it. Of course, the kids chased the poor flamingos, tried to touch them and made a lot of noise, there were also stupid adults who chased around the area bothering those of us lounging trying to get a shot. Here is a tip, the flamingos are very friendly you don't have to chase them. You can get pretty close get your photos (I have hundreds of pictures of flamingos), and you don't have to touch them or disturb them. You don't have to chase them either, wait until they settle on an area (usually in the water towards the left of the lagoon) and just gently approach them and you will get some fabulous shots.
The Island has a restaurant/grill Papagayo Bar & Grill –  Serves Lunch This is a fast food grill mainly serving, burgers and sandwiches. For those of you on the Flamingo beach, there are waitresses that will take your drink and food order and walk across the island to the bar and bring anything you want back. They will bring buckets of ice for your beer and water bottles which is great. A word of warning, I was enjoying a wrap at my sun chair and had an unexpected visit from an iguana that quickly became three iguanas and small gecko type lizards, and I was horrified when one of the larger iguanas practically jumped on my chair. I never jumped out of my sun chair so fast, and my screams of horror seemed to entertain the beach goers! The waitress came by and shooed them away, but people feed these animals, and they are very used to it and now expect to hang out and enjoy the food with you, so if you have food, keep an eye around you! There are also a lot of little birds that are quite frisky. They dive bomb down and try and get the cherries out of your drink so keep and eye!
There is some snorkelling along the rock wall if you don't bring your equipment you can rent some at the water sports centre. Unfortunately, the water sports centre is not included in the all-inclusive package which is a bit disappointing. You can rent some foam floating beds to enjoy in the lagoon as well or enjoy the floating docks located in the centre of the lagoon. It is very hot in Aruba even with the breeze and something I found everywhere in Aruba they don't have enough shade! More hut umbrellas are needed on Renaissance island the shaded chairs are the first to go!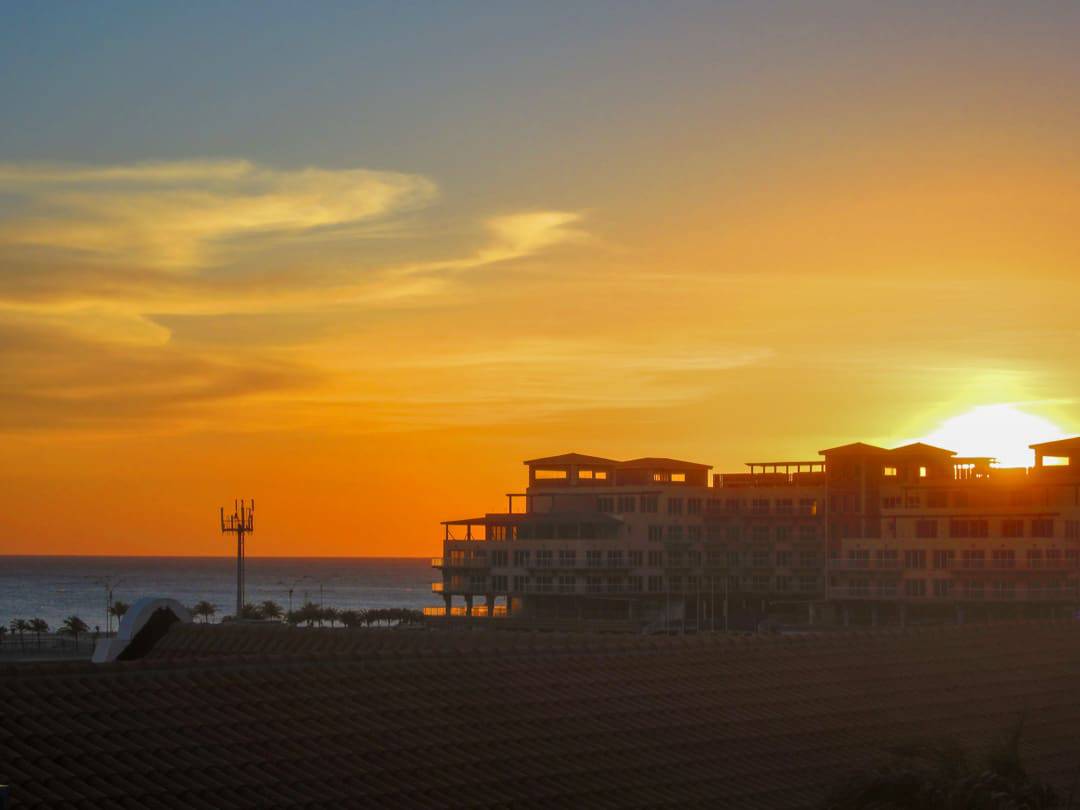 Renaissance Aruba Resort and Casino – Location
Shopping
The resort is located in downtown Oranjestad Aruba near the Cruise Ship docks. If you like shopping you will love this location if you like walking up and down the beach, then you will hate it. This resort is an urban location, lots of traffic, the renaissance mall is located in the basement of the Marina resort and has some of the international luxury retailers like Louis Vuitton, Coach, Carolina Herrera, Gucci and Cartier. You can visit the mall's website for more details. Just outside the resort, across the street is the Renaissance Marketplace which is next to Seaport Casino. If you are not part of an all-inclusive package then you will find a lot of restaurants and entertainment here, including a Starbucks, there are also some small souvenir shops that you can browse through. For a full directory, you can visit the mall's website for more details. There is also some local shops and small flea market type shots located in the area.
Location In Comparison to the High Rise Hotels
Again this is a preference. The location is downtown there is a lot of traffic, and you are away from the fun and entertainment of the high rise hotel area which tailors to the tourists. If you are looking for a good time and want to enjoy night time entertainment then a high rise hotel would be a better choice, if you want a more laid-back atmosphere and want to be close to the airport, this is a better location for you. A word about Aruba, the shops are open primarily from 9-6:30 or 9-8 pm Monday – Saturday only, which made Downtown Aruba very quiet on Sunday and in the evenings. The area near the high rise hotels caters more to tourists and have better hours of operation.