This article may contain affiliate links. Clicking on or purchasing products we recommend through a link may earn a small commission. Read our disclosure and privacy policy page for details. *COVID-19 TRAVEL ALERT – Travel recommendations offered on this site are not to encourage you to travel against travel advisories.
Have you pulled out your slow cooker recently? I have a few go-to recipes when I'm in the mood for something different, and this slow cooker Moroccan chicken tagine recipe is one of them.
Dream it.
If you're planning a trip that involves a pool, lake, or beach of any kind and you don't want to buy a special waterproof camera or action camera, then a waterproof pouch for your phone could just be the solution you are looking for. Most of us have replaced our cameras and choose to travel with our phones and while there are some water-resistant models out there, protecting your phone with a waterproof pouch could save you a costly repair or replacement.
As a single girl, I like easy to make recipes that are healthy and provide me with a little variety. I tend to get boring with preparing my meals when I'm super focused on my health and losing weight. So this chicken thigh recipe is something I pull out when I want a set it and forget it dinner.
Moroccan chicken tagine usually served over couscous, can be modified for a low carb diet by swapping with seasoned cauliflower rice.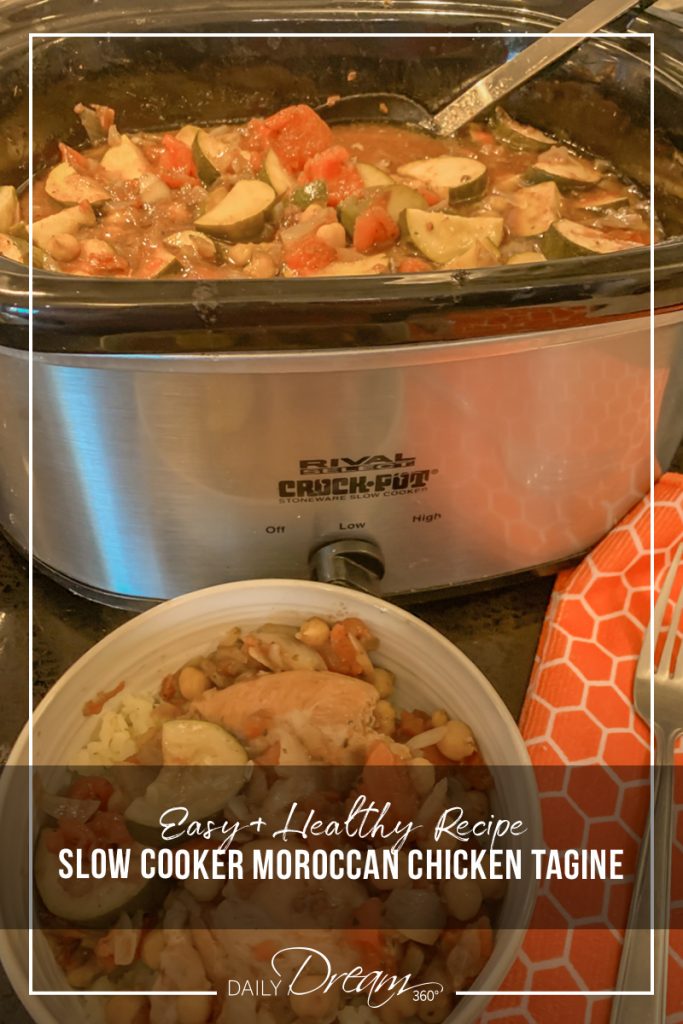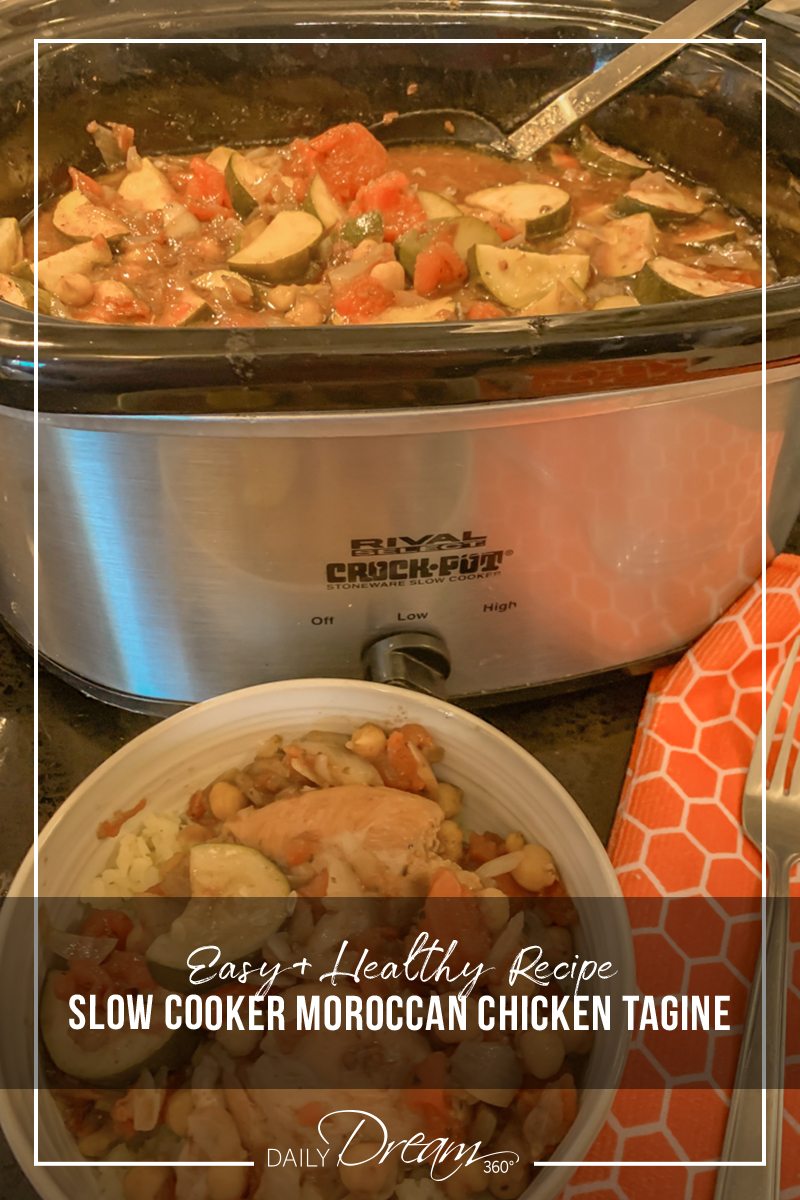 Plan it.
The Benefits of Cooking with a Slow Cooker
There are several great benefits of cooking with a slow cooker. The most significant advantage is time. You dump all the ingredients into one slow cooker pot and leave it, which frees up your kitchen stove for other things.
Great for severe cuts of meat which are tenderized during a long cooking process.
Bring out more flavour in foods during the cooking process.
Can make a wide variety of dishes from soups, casseroles, stews and chilis.
Smooth of preparation, place all ingredients in the slow cooker pot, cuts down on the number of dishes and cooking tools that need cleaning.
Slow Cooker Buying Guide
When purchasing your slow cooker, there are many things to consider.
Size and Shape: The first is the size of the pot and how much storage and counter space it will take. Some slow cookers are more massive and oval, others more compact and round.
Material Construction and Heating Method: Avoid crocks that sit on an element vs those that fit inside a base. Those with a ceramic or porcelain insert into a metal cooking unit will cook more evenly and don't require stirring the food to prevent scorching.
Live it.
Easy to Make Slow Cooker Moroccan Chicken Tagine
I usually use chicken thighs for this slow cooker Moroccan spiced chicken thighs recipe. They need a quick simmer in a pan, and then the slow cooker handles the rest. 
I like to pan-fry the diced tomatoes, chickpeas and onions together with the spices for a few minutes before pouring them over top of the chicken thighs in the slow cooker.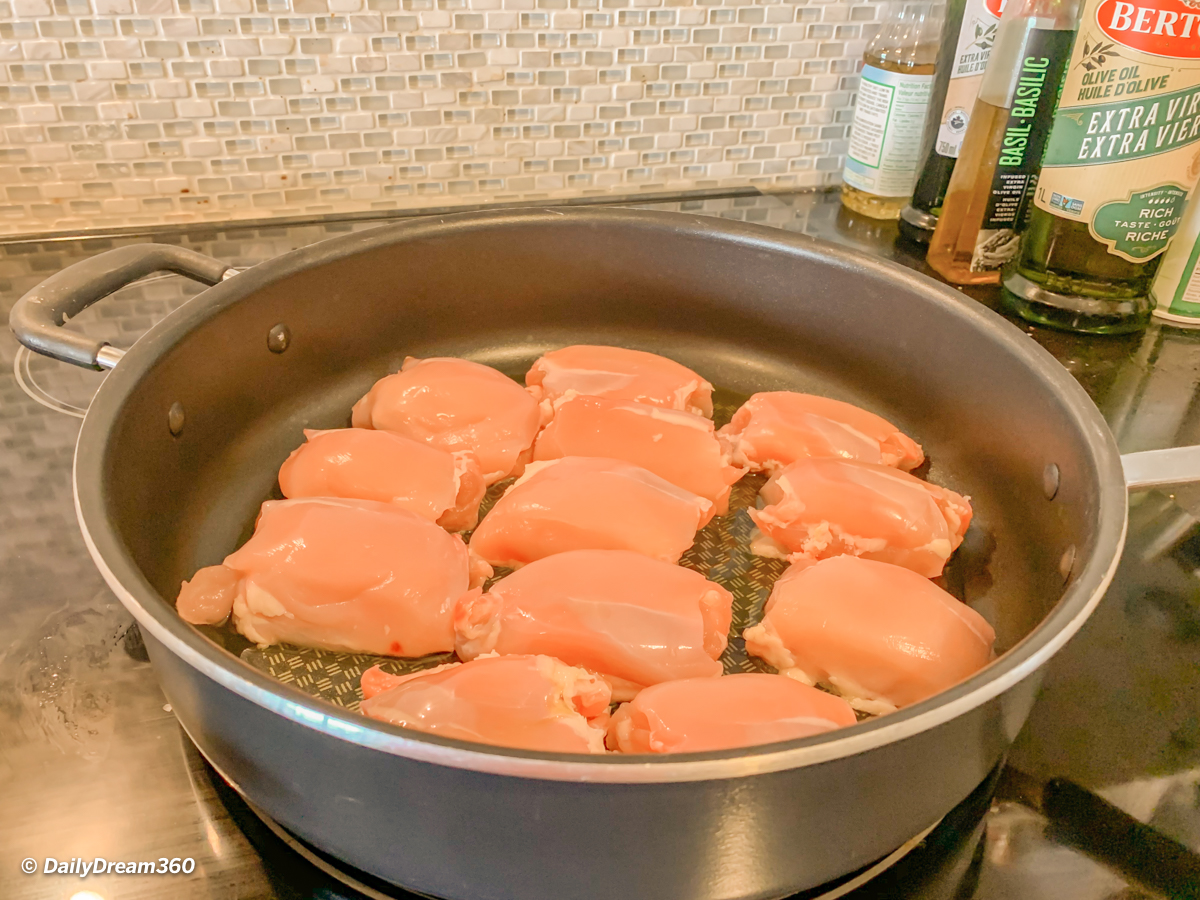 Moroccan spiced chicken thighs Deep Frying Pan Method
If you don't have a slow cooker, cook the chicken thighs in the vegetable mixture in a deep frying pan with a lid. Cook until the thighs are cooked through approximately 25 – 30 minutes.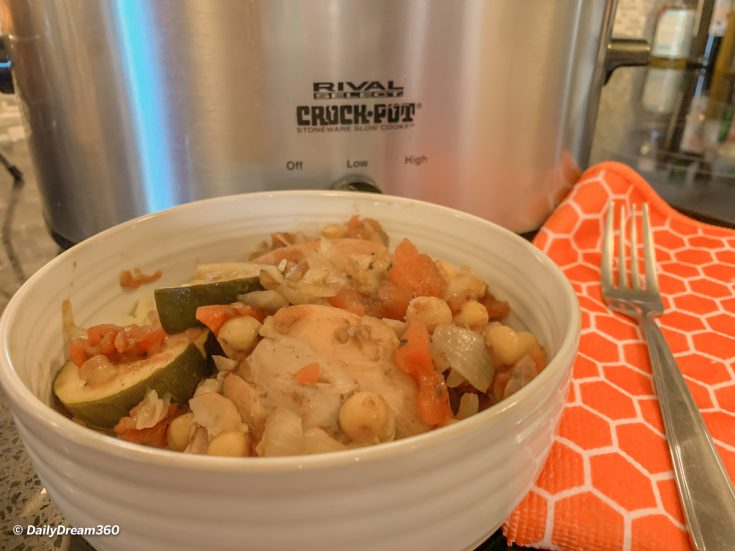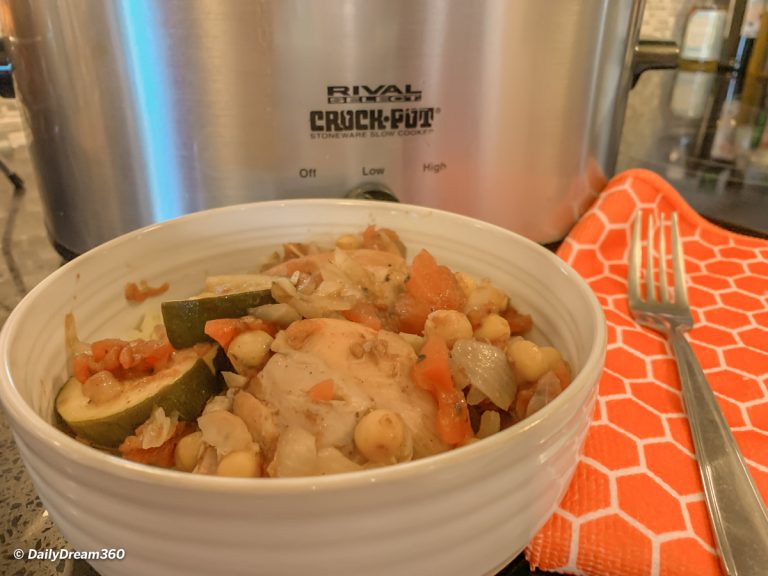 Slow Cooker Moroccan Chicken Tagine Recipe
Total Time:
4 hours
15 minutes
Enjoy the exotic flavours of cinnamon and cumin in this slow cooker Moroccan chicken tagine recipe.
Ingredients
1 Package Chicken Thighs
1 Onion Chopped
1 TBSP Oil
Ginger Root
3/4 tsp Cumin
1 tsp Cinnamon
3 TBSP Fig Balsamic Vinegar or Salad Dressing
Large Can Diced Tomato
1 Can Chickpeas (rinsed)
1-2 Zucchini
Instructions
Simmer chicken thighs in oil (5 min)
Add diced onions to chicken
Add Cumin, cinnamon ginger root and balsamic vinegar.
Remove thighs and arrange them in the slow cooker.
Use the same pan and add Tomatoes, chickpeas, zucchini and mix together.
For the slow cooker method, pour veggies over top of chicken in the slow cooker.
For pan method cover and cook for 25-30 minutes until chicken is fully cooked through.
Serve over couscous or cauliflower rice.
Nutrition Information:
Yield:
6
Serving Size:
1
Amount Per Serving:
Calories:

180
Total Fat:

9g
Saturated Fat:

2g
Trans Fat:

0g
Unsaturated Fat:

7g
Cholesterol:

29mg
Sodium:

192mg
Carbohydrates:

17g
Fiber:

4g
Sugar:

6g
Protein:

10g
The information contained in this website is for general information purposes only and is not meant to substitute professional dietary advice or treatment. Please see our Nutrition Disclaimer for details.