It was a very cold day and the entire region was under a severe cold temperature watch, but it didn't stop me from putting on my thermal underwear, an extra pair of socks and all my winter gear to go exploring. It was a Saturday afternoon and many of the shops have already closed up for the day, but despite its sleepy and relaxed vibe it was business as usual in Port Stanley, Ontario.
Winter in Port Stanley Ontario
Killer Desserts, Port Stanley Ontario
I have a weakness for small homemade goodness restaurants in small towns across Ontario. So on a cold winter's day, I had to visit Killer Desserts Cafe for a bite to eat. I had the Grilled Cheese with Tomato Soup and it was the perfect instant winter warm up. It's no wonder that grilled cheese sandwiches are a favourite on their menu, it was absolutely delicious.
Killer Desserts is famous for it's cheesecakes and specialty desserts but it is their butter tarts that caught my attention. These butter tarts are guaranteed to be 1/4 lb or bigger and you can see the difference between their special tarts and ordinary ones!
A Winter Walk in Port Stanley Ontario
Located on Lake Erie in Southwestern Ontario this little harbour beach town is a very popular summer destination. Thousands of tourists come to enjoy the blue water, sandy beaches and it's amazing local food scene. On this cold but very sunny winter day, it was quiet but beautiful. Fishing boats stood still in the frozen lake and like us are waiting for the spring thaw.
I made my way down to the waterfront along Lake Erie despite the frigid wind chill. As the wind blew around me I snapped a couple of shots of the frozen waterfront which showed signs of a great summer getaway.
When I snapped this picture of the Lifeboat Crew mural near Jackson's Fish Market I had no idea about the story behind it. Apparently Port Stanley is a bit of a "Bermuda Triangle" of the great lakes and many ships have shipwrecked in this part of the lake. This mural depicts the history of the region. I had no idea that there are a number of shipwrecks still in the waters of Lake Erie from Port Dover to Port Stanley – hmmmm diving trip anyone?
Summer Train Rides – Elgin County Sneak Peak
This relaxing winter escape has me dreaming about summer in Port Stanley. I bet it is packed with people! Fishing boats in the water, beach lovers on the beach, people walking through the various shops and restaurants and then I saw these parked trains – and I had to know – where do they go?
Beginning in March the Port Stanley Train Terminal has a number of scenic tour trains through 11KM of rail lines from Port Stanley through the Kettle Creek region. This historic rail line is now a featured attraction in the Port Stanley area with old locomotives and a visit to a restored original station "Union Station" along the route.
Dinner at the Windjammer Inn Restaurant
For foodies who love local cuisine I can't write this post without mentioning the extraordinary dinner I had at the Windjammer Inn. In fact, I know I have to go back and stay at this Inn, meet Kim Saunders, the owner, and operator of the Inn who is also the same woman who created this masterpiece menu.
Appetizer
Originally this appetizer was supposed to include a beet salad of some sort. I'm not a fan of the beets so I asked for it without beets. Instead of just removing the beets and serving the appetizer to me, Kim actually created a special winter salad to replace them.
Main Course
My main dish was this melt in your mouth Black Cod that sat over a delicious Quinoa cake and market fresh vegetables, all with this amazing lemon dilll sauce.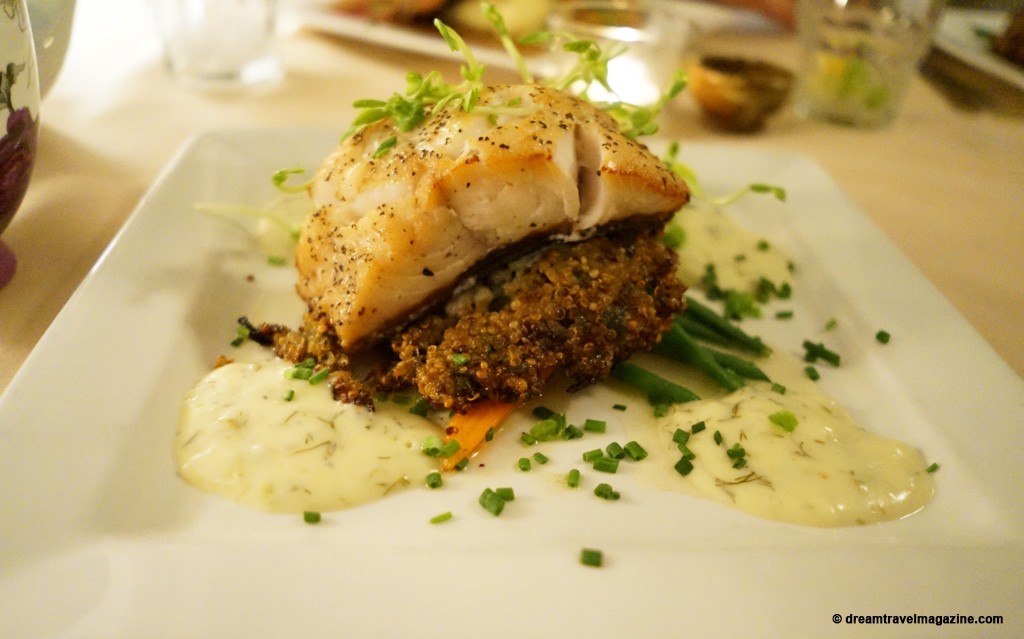 Dessert
The most amazing thing about dinner at the Windjammer Inn, was that despite the food being so rich and tasty, invoking the ooh and ahh reaction that you have when you are eating something that is literally a taste explosion in your mouth – I wasn't full! The food is light and filling but not – I'm stuffed and couldn't possibly have dessert feeling.
It was a very short trip in Port Stanley, less than 24 hours, but the sleepy slow paced community really rubbed off on me! Leaving the city for a short winter escape for the weekend was super relaxing and opened my eyes to this region of Ontario. There is so much to do right next to Port Stanley and along Lake Erie and I can't wait to go back this summer and explore the region during it's peak!

Travel Assistance Provided by Ontario's Southwest Tourism.