The 2018 National Home Show and Canada Blooms have joined forces again to feature the best inside your home and out. Running from March 9 – 18, 2018 at the Enercare Centre in Toronto the show has more than enough to inspire your home and backyard projects. We put together a list of must seen exhibits at the National Home Show and Canada Blooms.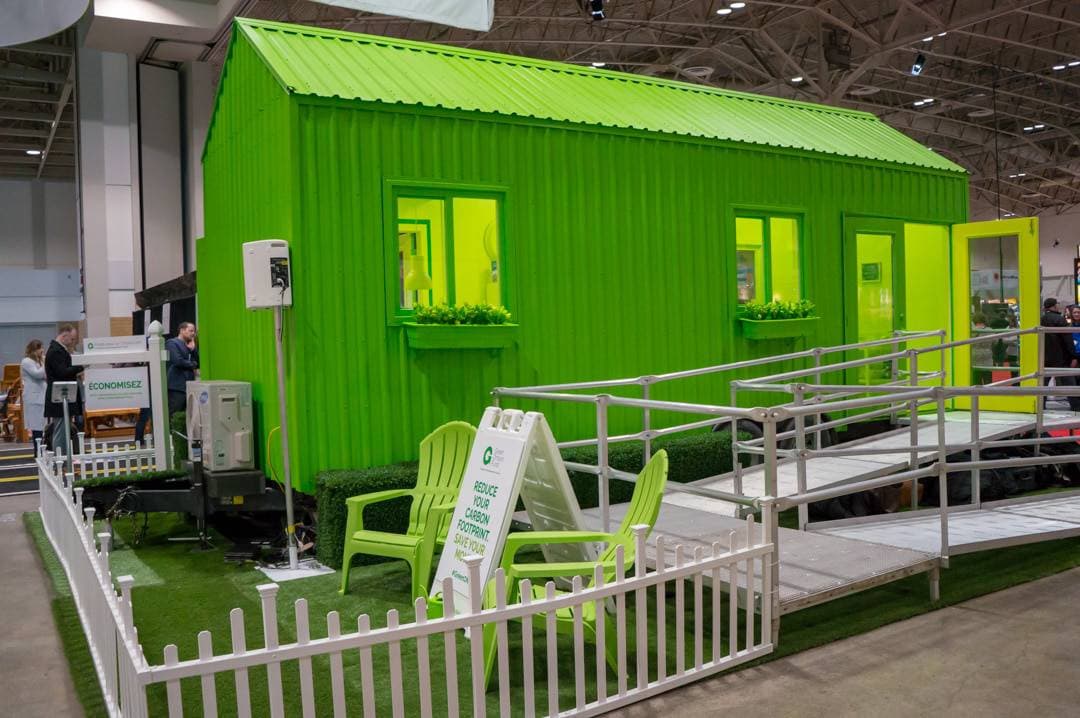 Top Exhibits at 2018 The National Home Show
This year's theme at the National Home Show is Everything Connected to your Home providing exhibits featuring designers, renovators, decorators and suppliers all with advice on how you can transform your home into the new age.
Green On House
The Green Ontario Fund was easy to spot with a green home filled with energy saving tips and programs for your home. Be sure to stop by and ask about the many new rebates available to you to help reduce energy costs and fight climate change.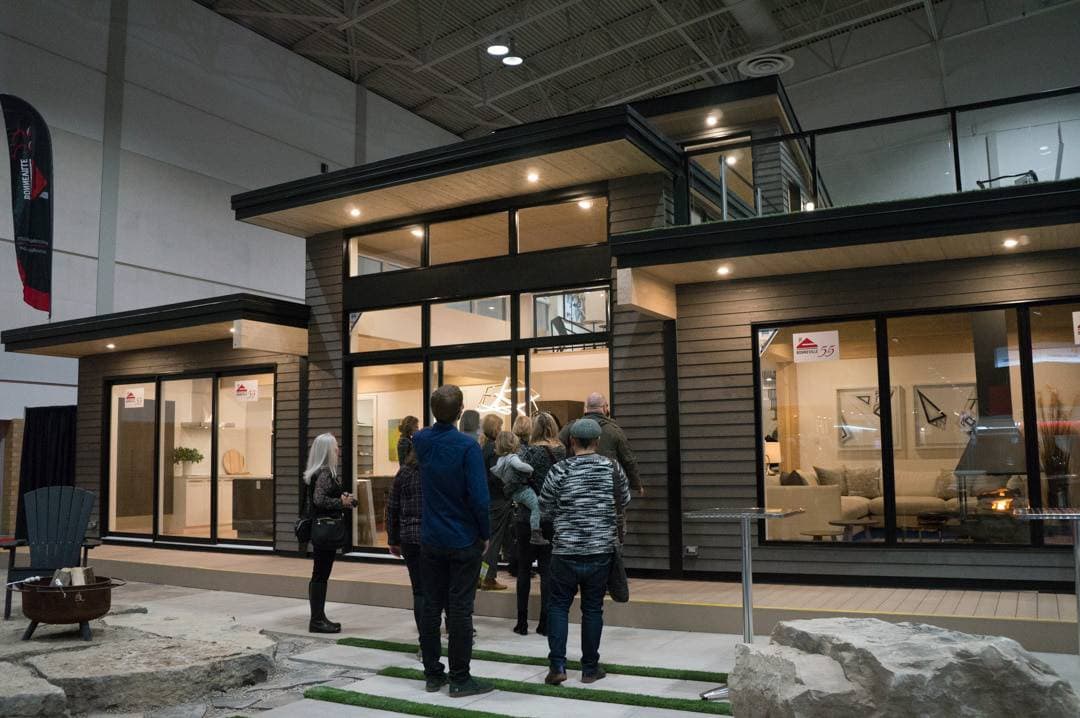 Angéline – 2018 Dream Home
This year's dream home built by Bonneville homes is inspired by our Canadian identity. One thing you may miss as you walk into the house is that it is a modular unit, put together like Lego blocks from 3 pieces.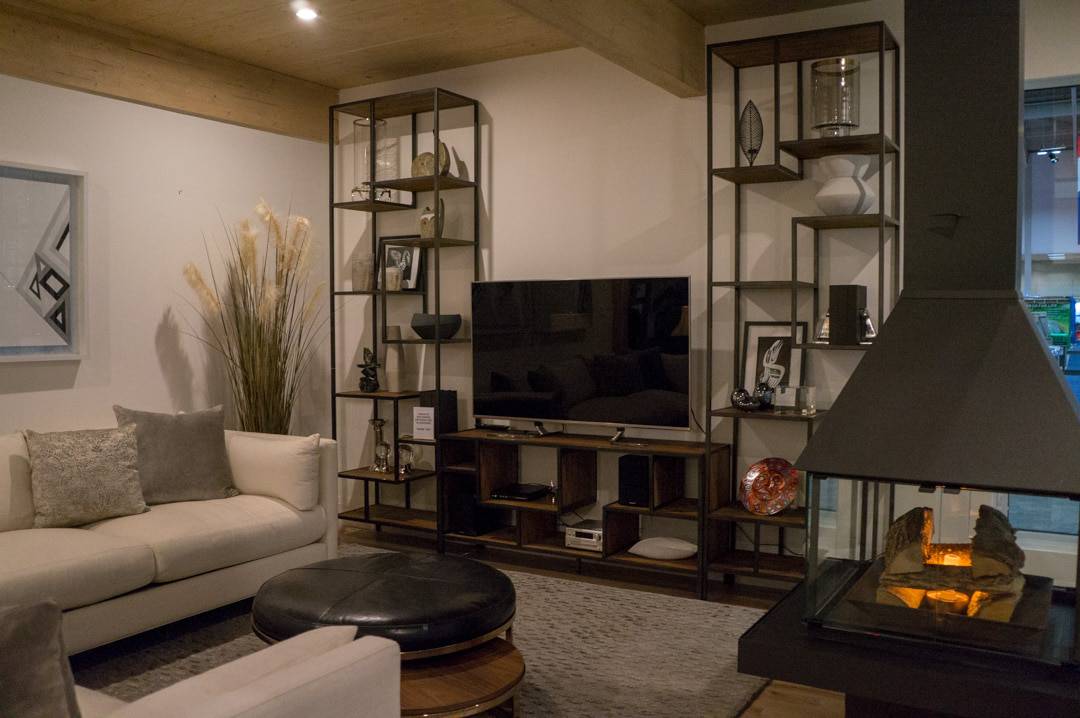 The ceilings are over 13 feet high, and it has an open concept with distinct, living, kitchen, and bedroom spaces. The windows are strategically placed throughout the house to inspire natural light. Be sure to make your way to the second floor which hosts an impressive rooftop patio.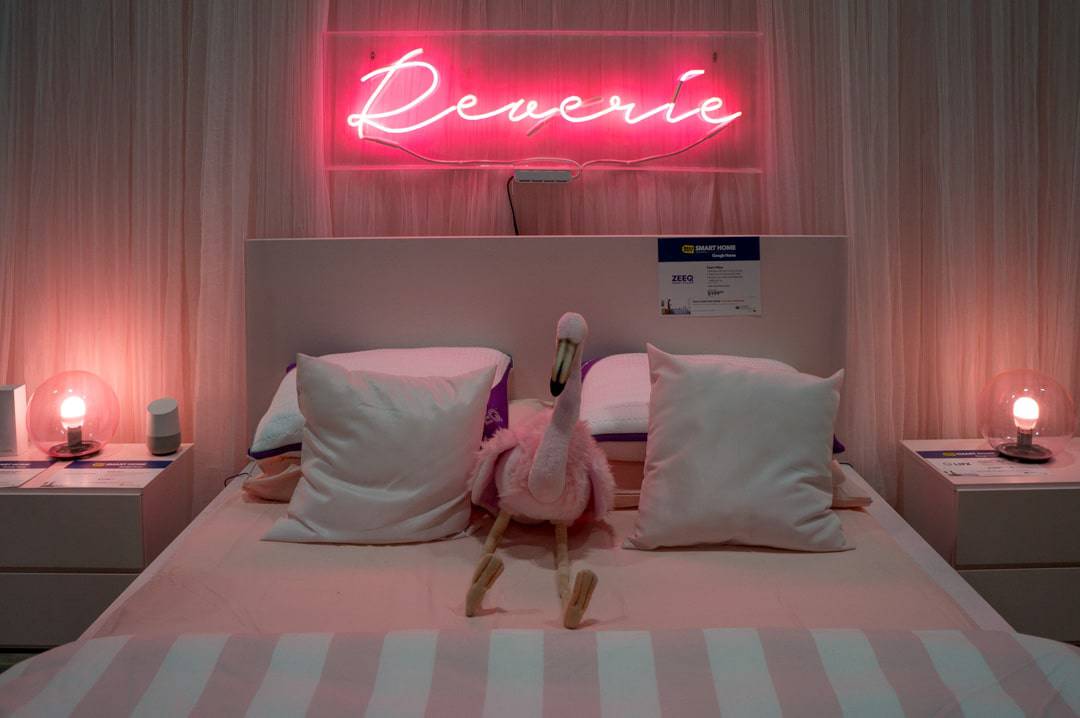 Best Buy Smart Home
Best Buy and Google have teamed up to present a series of bedrooms in your home which can all be connected to your smartphones and powered by your voice. See the programmable plugs, touch screen art frames and learn how you can integrate all the devices easily with advice from Best Buy's Geek Squad who is on site and able to answer all your questions.
Home Hardware DIY Centre
I loved the DIY centre. The experts from Home Hardware are on hand to let you get your hands dirty. Through these hands-on displys, you can learn skills needed to complete your small home renovation projects. From insulating a basement, hanging kitchen cabinets the team of experts on site will be happy to show you how to use the tools you need.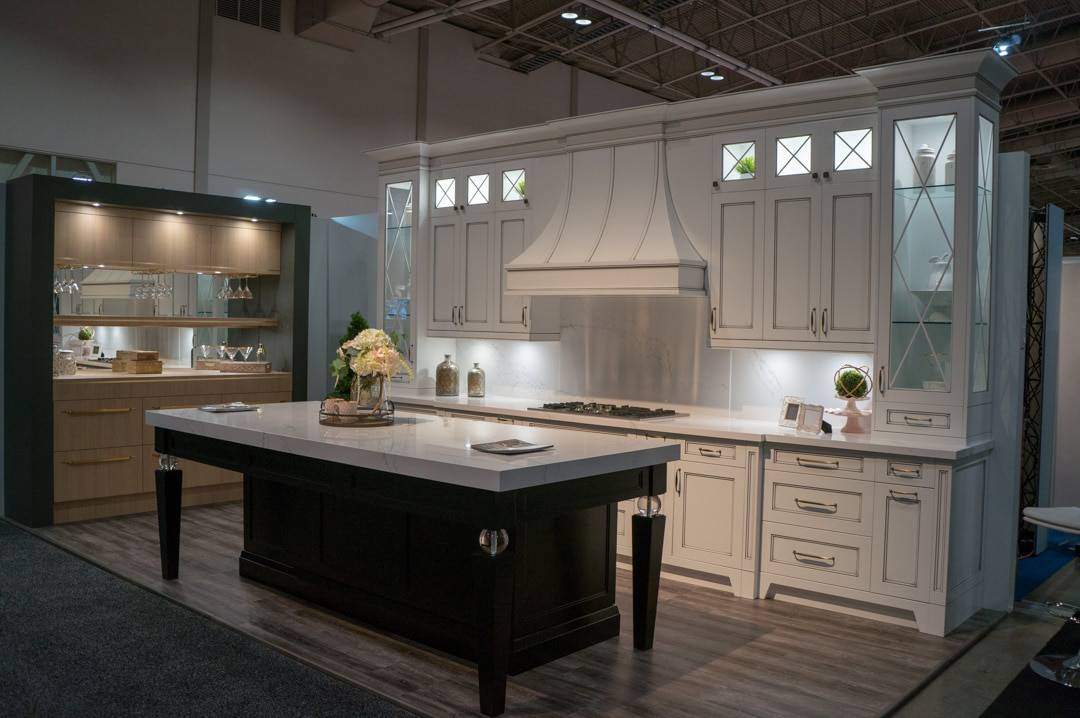 Home Décor and Renovation Exhibits
The 2018 National Home Show features decorators and vendors with ideas for home renovation projects. I was a bit sad that condo/small spaces markets were not represented well at the show and most of the vendors appeared to have ideas for big backyards, kitchens and homes. That said, Canada Blooms, however, did have some small space options. (See below.)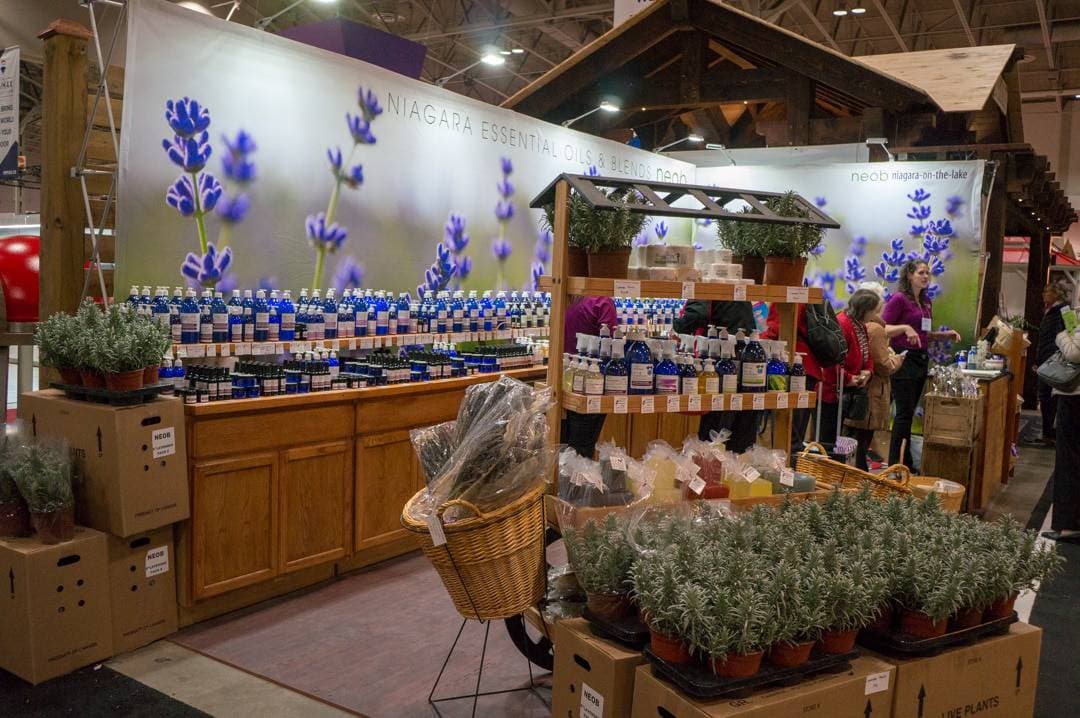 Visit the Vendors in the Shopping Pavillion
There are plenty of vendors in the shopping pavilion with home gadgets, decor items, seeds and more. Be sure to leave yourself some time to browse through the many shops.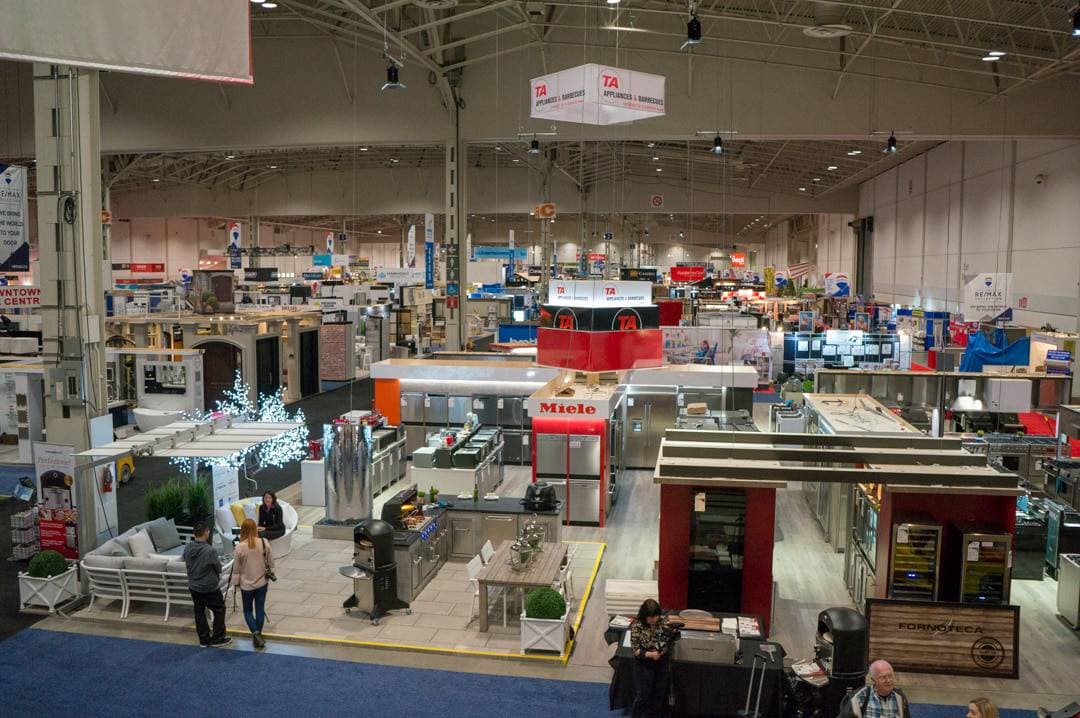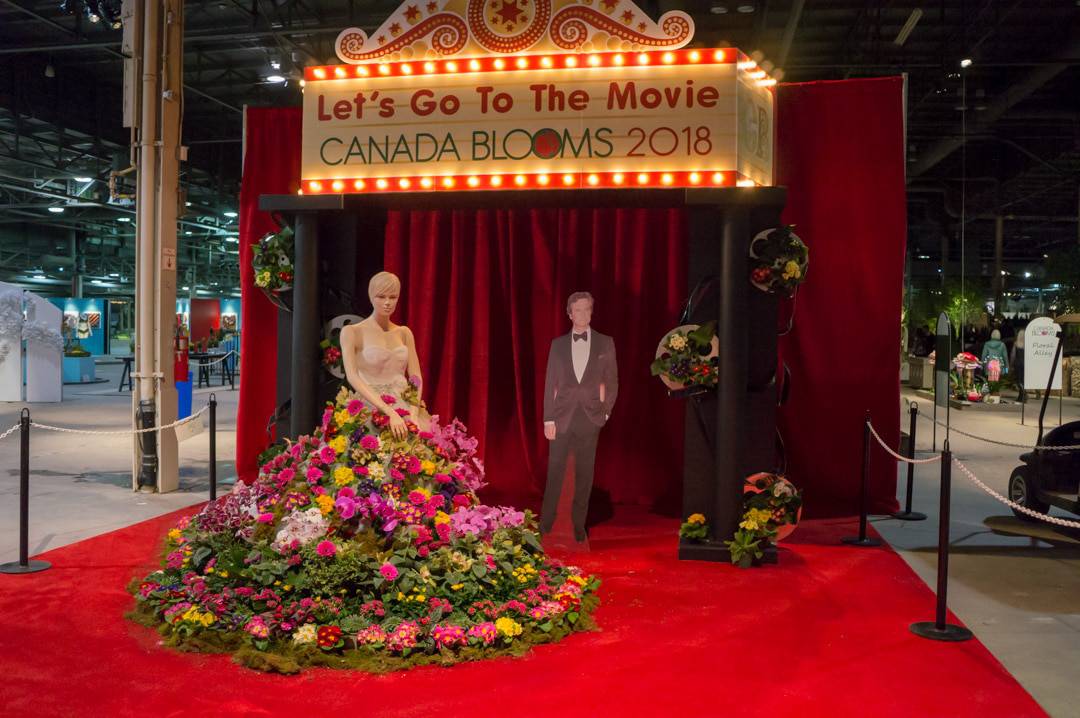 Top Exhibits at 2018 Canada Blooms
This year Canada Blooms' theme is Let's Go to the Movies. Look for the red carpet floral display. 2018 Canada Blooms have many garden exhibits to walk through including some of these highlights below.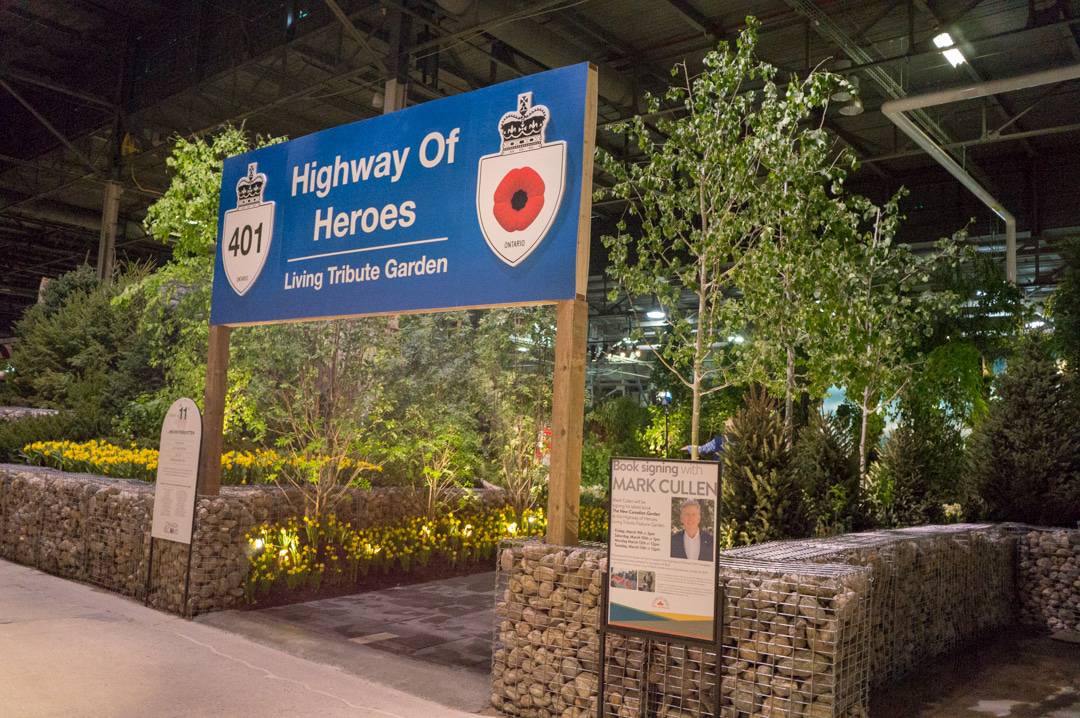 Living Tribute to Highway of Heroes
One of the more inspiring exhibits at Canada Blooms this year is the Living Tribute Garden to the Highway of Heroes. Be sure to stop inside and pay tribute to some of our fallen heroes and learn about the inspiring project set to begin planting along the highway of heroes.
Never Forgotten is a featured garden within the exhibit designed by Genoscape for the Highway of Heroes, this is a living tribute to Canada's fallen soldiers.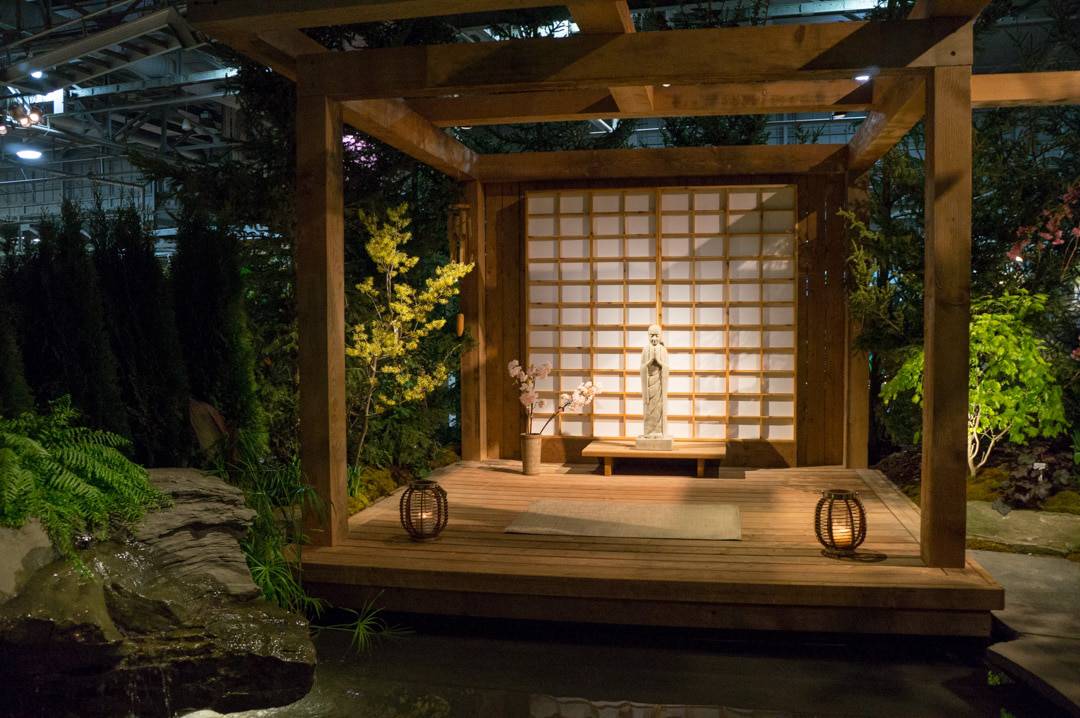 Landscape Exhibits
Each year the feature gardens attract visitors looking for inspiration from the beautifully designed and landscaped concepts which showcase unique elements that you can incorporate into your backyard. This year's garden features drew inspiration from the Let's Go to the Movies theme, to design spaces with water, plants and flowers.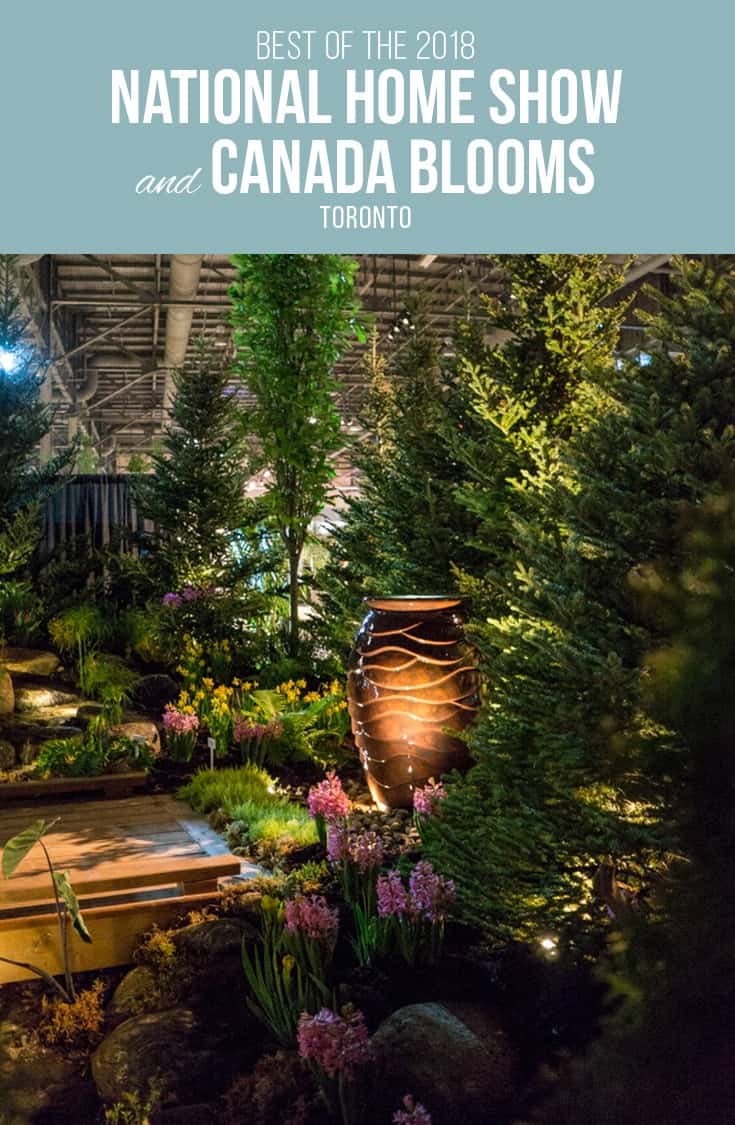 Some of my favourite feature gardens from this year's Canada Blooms show include:
Jungle Book — Inspired by the classic Disney adaptation of the Rudyard Kiplin tale with a Canadian twist. Stroll through this garden designed and built by Landscape by Evergreen & Elite Environments.
Star Trek Garden — Boldly go where no plant has gone before. This small-space garden by Melanie Rekola Landscape Design pushes the final frontier.
Movies by the Pool — A partnership of Aquaspa Pools Landscape & Design and Royal Stone Landscaping & Design has pulled together a magnificent backyard movie theatre with a nod to the Hollywood Walk of Fame.
This is Our Movie — the Jackson Pond garden is a space where friends and family can watch the production of Mother Nature.
An Inconvenient Garden — Al Gore's documentary drew our attention to the harm we are causing our plant. This Mountain Hill Landscape garden pays homage to the strain we are placing on the Earth's resources.
Oscars After Party — Always swanky affairs. The Bancheri Bros. garden speaks to the class and elegance of the Oscars, the stars who grace the red carpet and the parties to which they retreat after the formalities are complete.
Feature Garden: Midnight in Paris
This garden inspired by the Oscar-winning film evokes a life of romantic imagination with an appreciation of landscape artistry. It is designed and built by Julie Moore Modern Landscape Designers, and TriMatrix Construction and I was told that it is set to be rebuilt in the Bobcaygeon region in Ontario this summer. It is a beautiful garden that evokes a romantic and dream scene that you will want to recreate in your backyard or patio.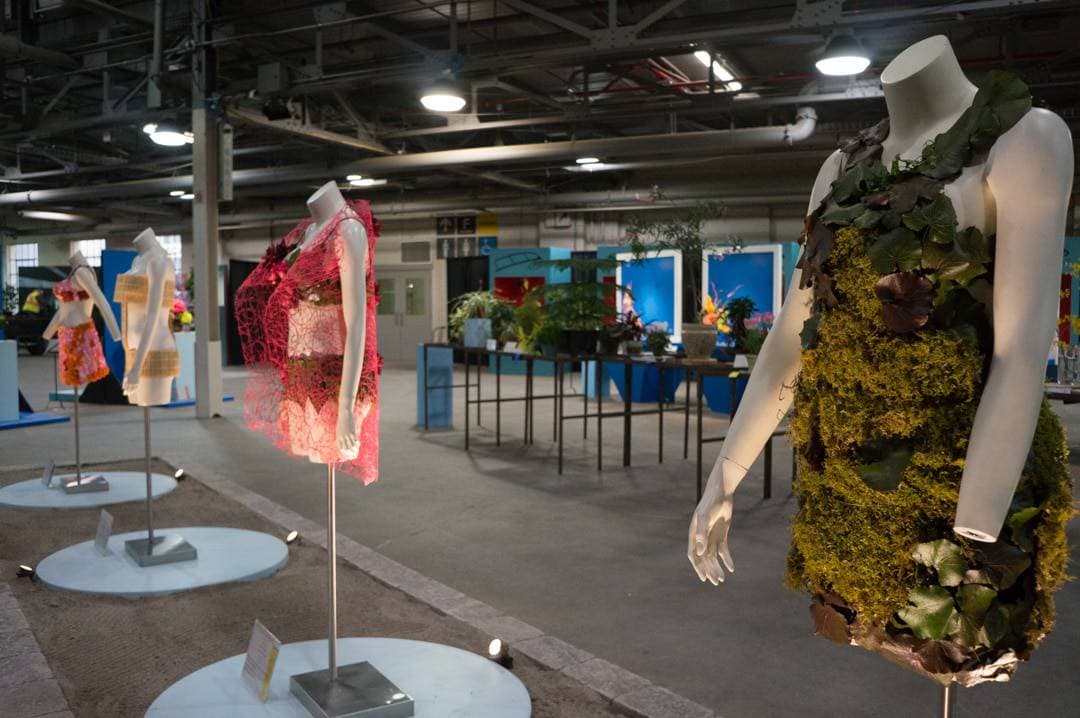 Floral Alley and the Toronto Flower Show
Floral alley features floral creations inspired by the silver screen. This year's creations in Floral Alley include:
'The Cage' by eco|stems and arranged by Joseph Delarge.
Breakfast at Tiffany's by floral artist Jennifer Harvey.
Hollywood Red Carpet Movie Night designed by Lena's Floral Designs.
Opening Night Flowers arranged by Nicholas Smith.
Posies Flower Studio, with arrangement by Araz Adam.
Let's Grow to the Movies, a design by Pure Event Design and arranged by Julie Drago.

Balcony Gardens
Finally, the world of small spaces is featured at the show. A series of 6 Balcony themed gardens are showcased showing you how you can green even a small 6 x 10 balcony. The trick to balcony gardening is build up the walls. These displays have some pretty cool features to help you do just that.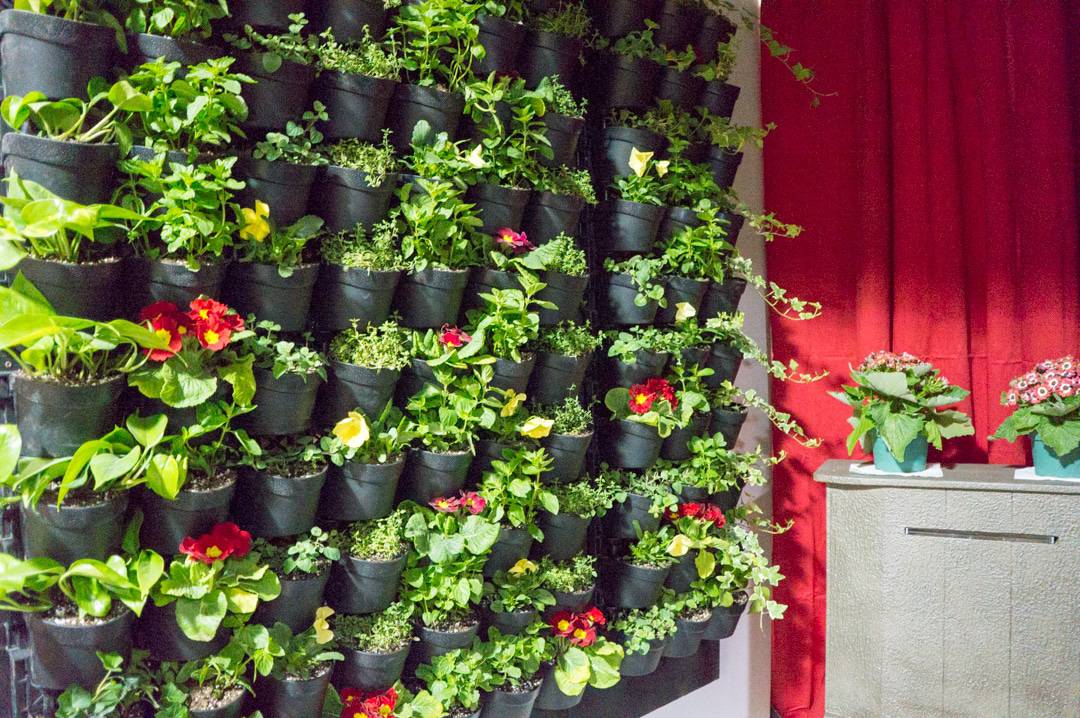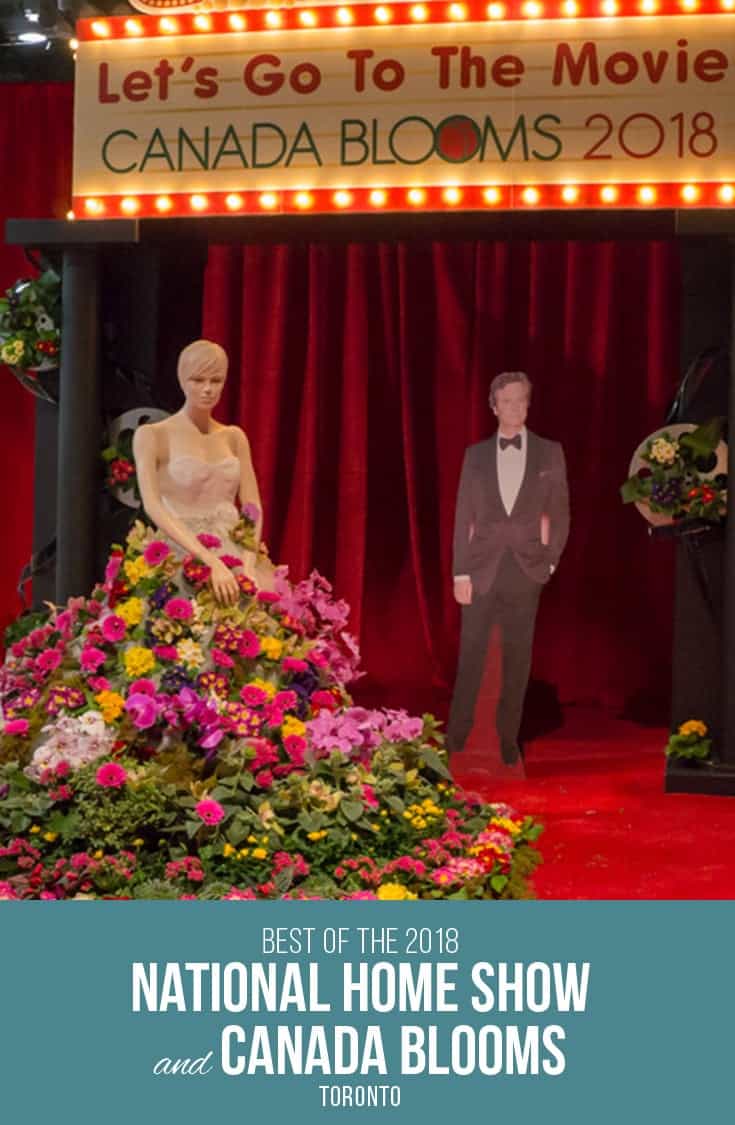 The 2018 National Home Show is co-located with Canada Blooms. The show runs March 9 – 18, 2018, at the Enercare Centre at Exhibition Place in Toronto. For more information or for tickets, please visit canadablooms.com.
Looking for more to see and do in Toronto? Check out these posts:

Disclosure: I attended a media preview of the National Home Show and Canada Blooms. As always the opinions in the post are my own.