This article may contain affiliate links. Clicking on or purchasing products we recommend through a link may earn a small commission. Read our disclosure and privacy policy page for details. *COVID-19 TRAVEL ALERT – Travel recommendations offered on this site are not to encourage you to travel against travel advisories.
Outside the window, in front of me, I hear the fresh wind as the leaves are falling gently from the trees to the ground. Inside the small wooden shack, I'm trying not to let the beautiful outdoor view distract me from my job. The liquid in front of me sits in a metal bowl on the burner, and my job is to keep an eye on it as any minute it could boil over and create a big mess. I watch the thermometer and I'm thinking this experience is more than a night in a local Ontario Bed and Breakfast. This experience is a Canadian dream that only happens in the spring, but somehow miraculously is going on in the last week of October.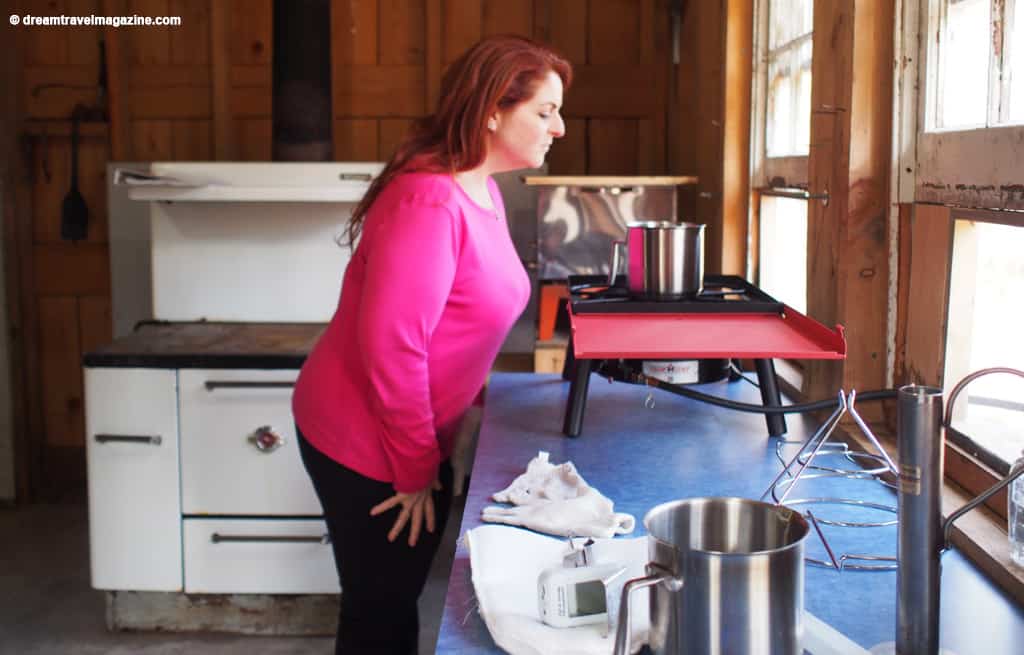 Waiting for Sap to Boil
I don't know what I was expecting when I heard about the Deakins on Mountainview Bed and Breakfast and their unique tour offering called Making Maple Syrup – A Forest's Story. It was October and fall was quickly ending so how could we possibly have a maple syrup experience in the fall when every Canadian knows Maple Syrup season is very short and normally in late winter early spring?
Deakins on Mountainview Bed and Breakfast, Killaloe, Ontario
The Deakins Bed and Breakfast is a cute yellow house perched on the hillside next to, a beautifully manicured garden and with a magnificent forest as its backdrop. We scheduled an early afternoon arrival and were greeted by Trixie and her wagging tail, who was very excited to meet us. We meet Don, who helped us with our luggage and made us feel right at home with a tour of our accommodations.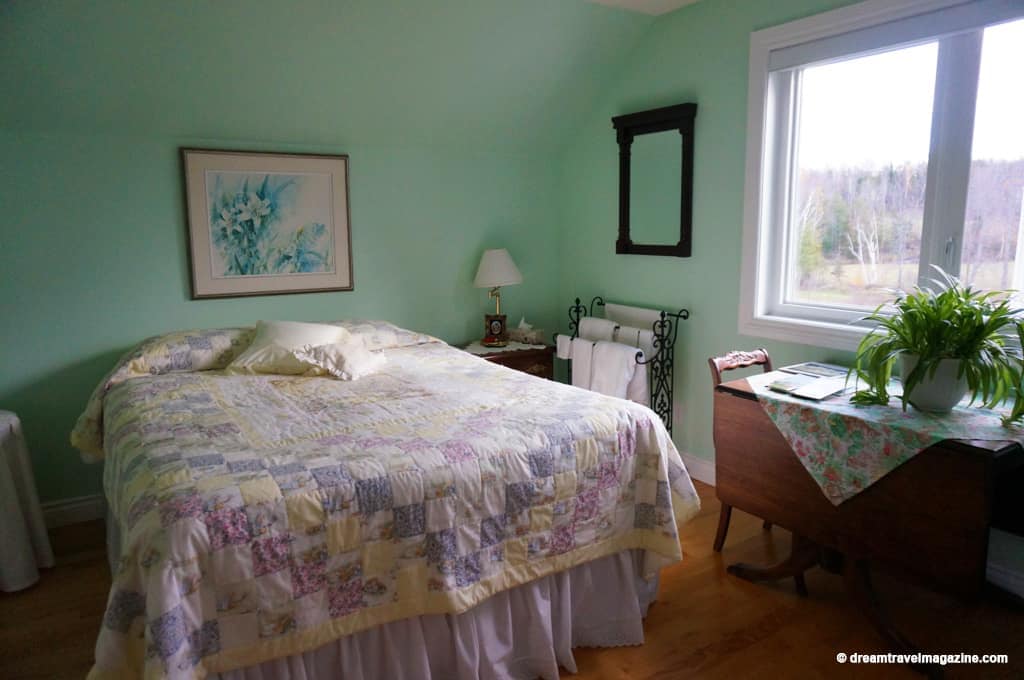 We had the top floor all to ourselves with two cozy bedrooms with similar decor. Light green walls and beautiful photography hung on the wall of every room in the house.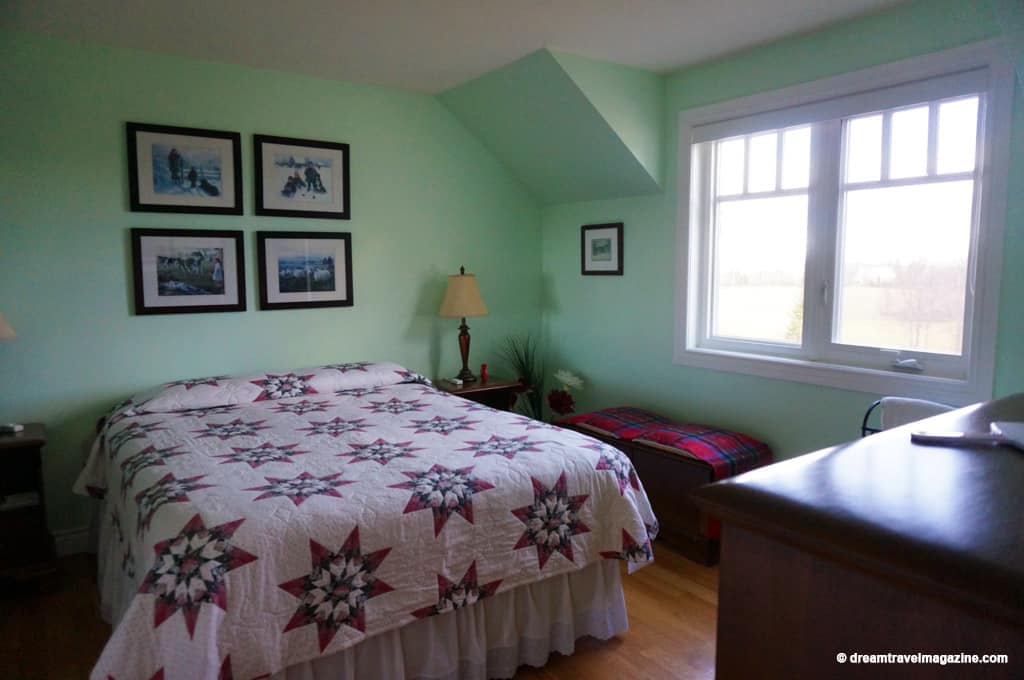 The only difference between the two rooms, one had an ensuite bathroom and the second had access to the bathroom in the main hall.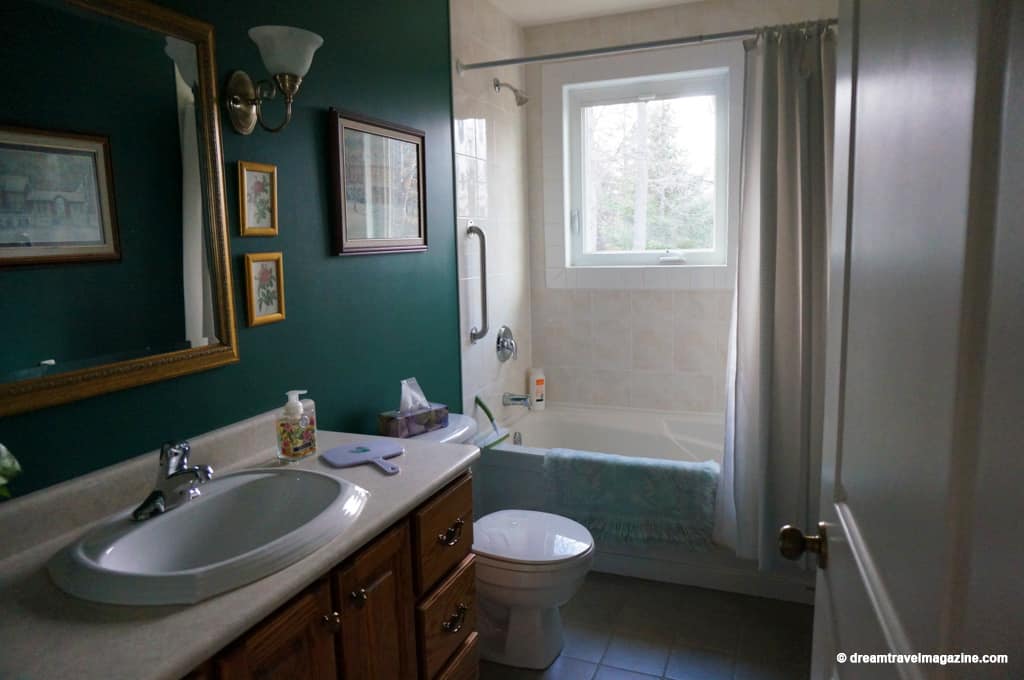 Between the two rooms was a sitting room, with a desk, several chairs and a couch to relax in. The B&B featured wi-fi, and there was a television in the sitting area as well.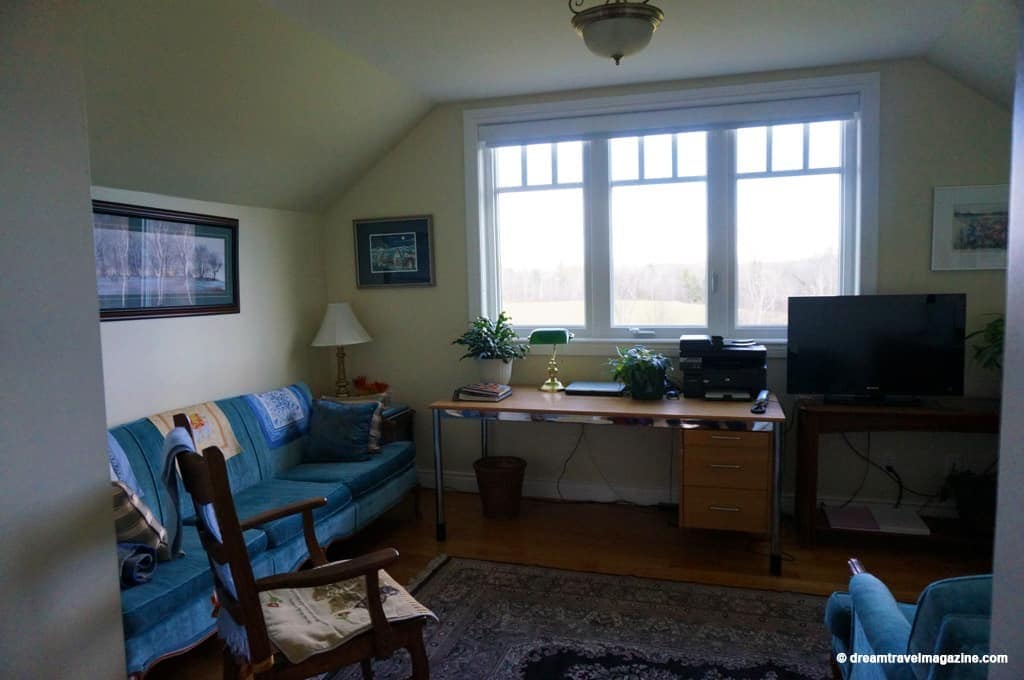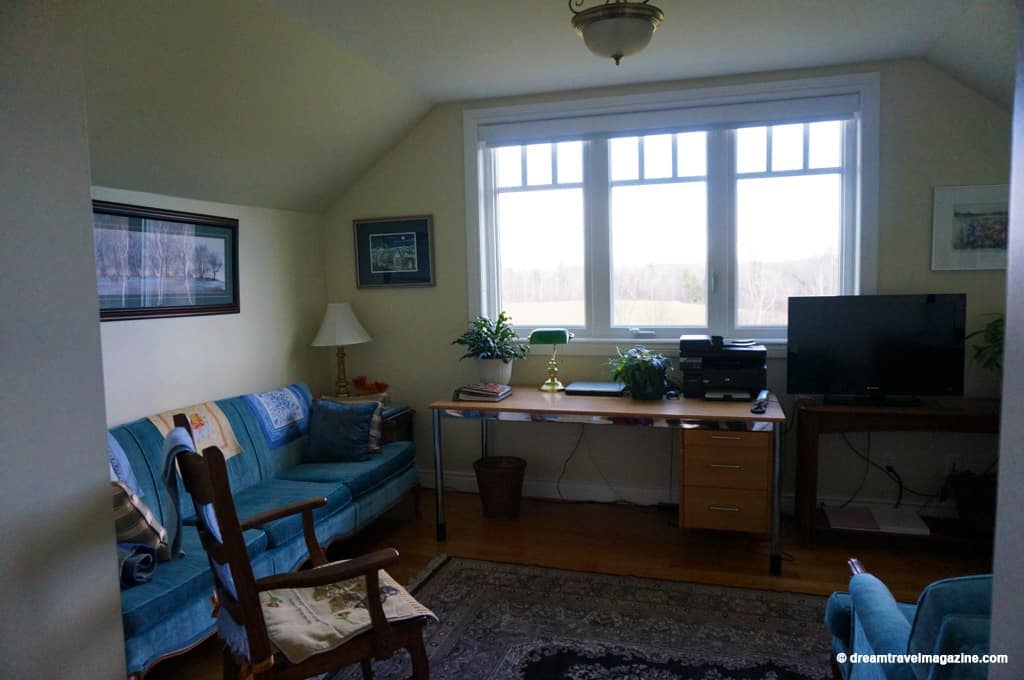 The Maple Syrup Making Experience
After settling in quickly, we made our way out to the forest with Don for our Maple Syrup Making Experience. With my camera in hand, I had a hard time concentrating between Don's fascinating knowledge of Maple Trees and the beautiful fall colours all around me.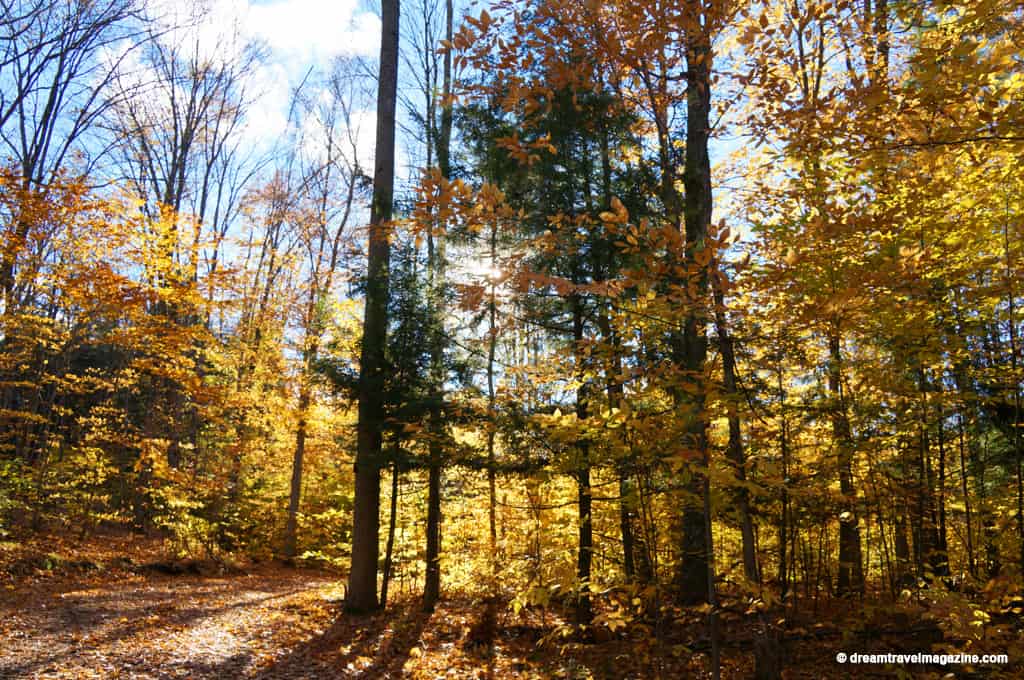 Don not phased by our interest in taking photos, just let us do our thing as he began sharing the story of this forest. The Deakins Bed and Breakfast have mandated to replenish the maple forest after a historical disaster involving an over-eager logger in the region.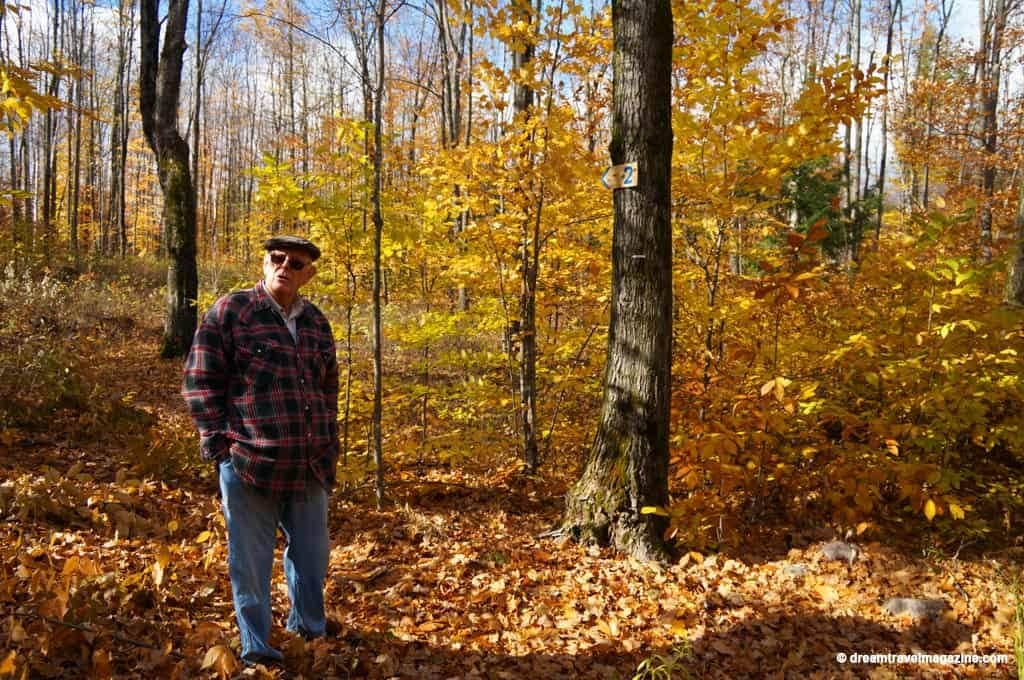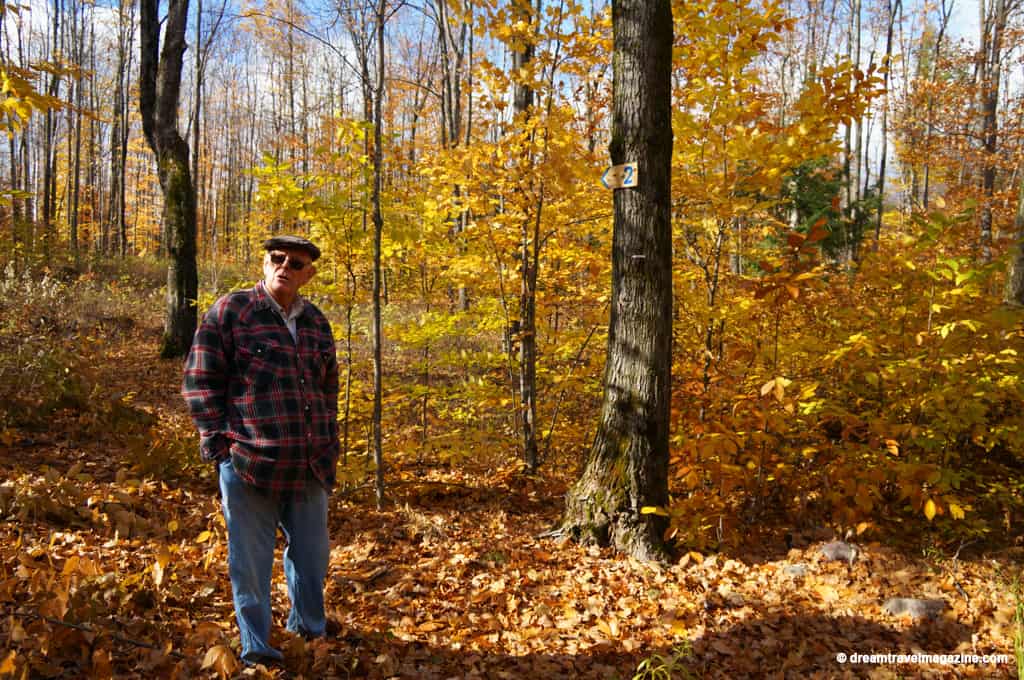 Lessons from the forest.
But humans are not the only issue for these maple trees. Animals like deer and beavers, tree disease, insects and weather all play their part in minimizing a maple trees chance at a long life. The trees themselves require space to spread at the top as the trees with large heads and lots of leaves are better for producing sap. So baby trees underneath this shade can also struggle to survive.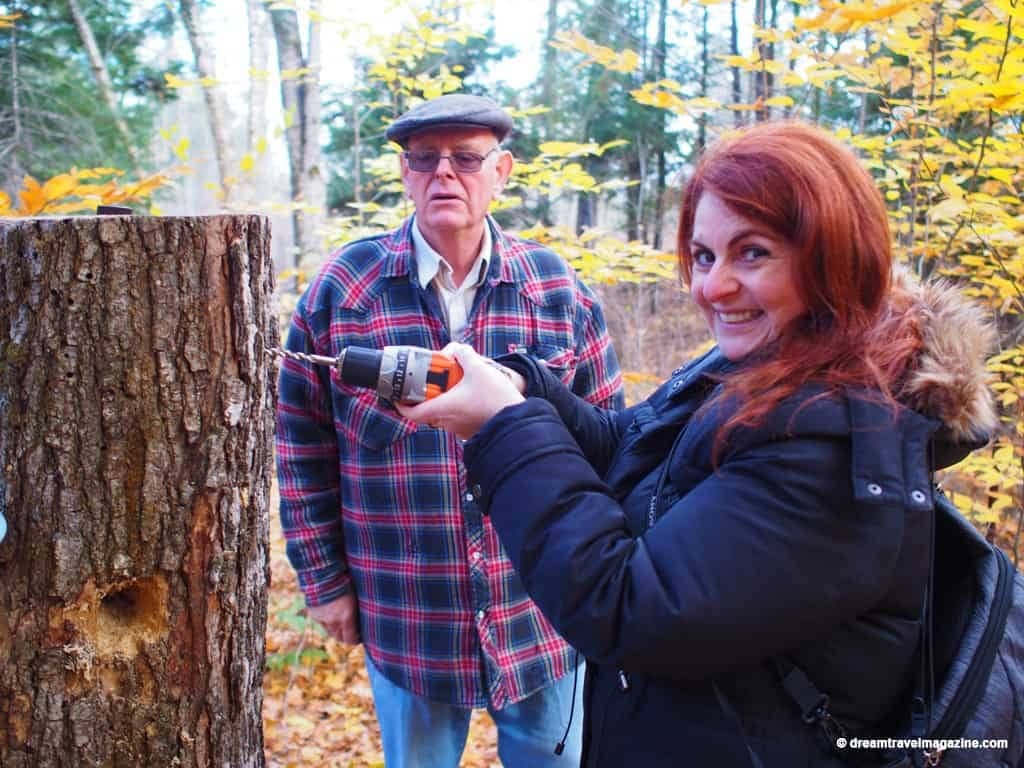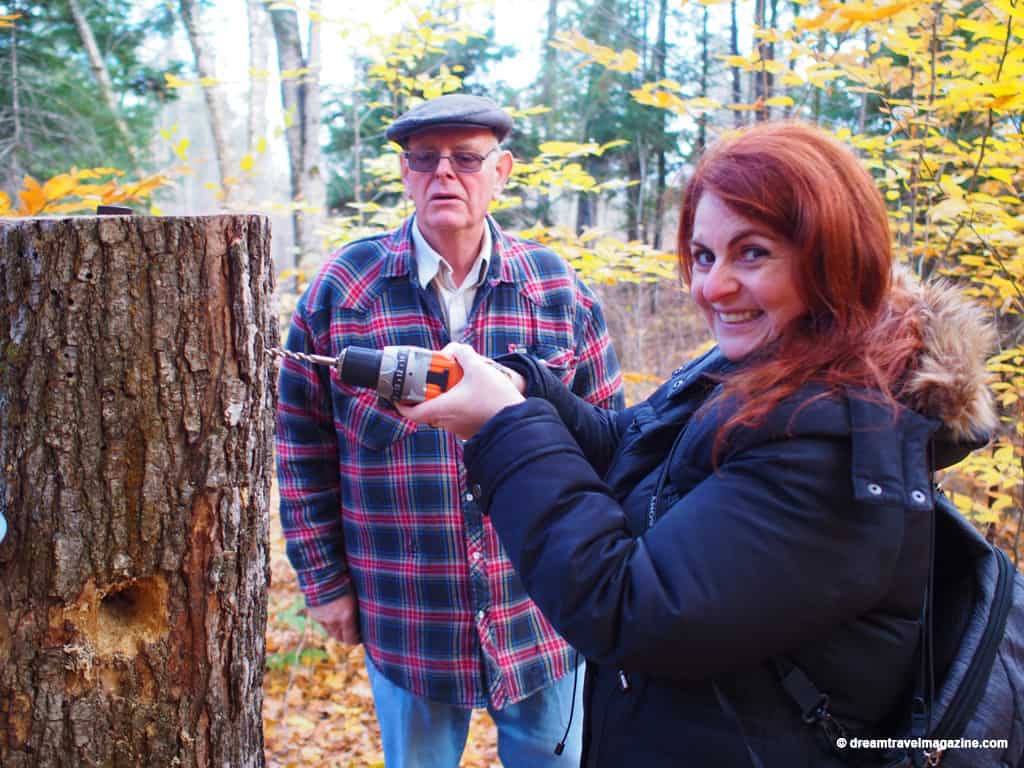 We move from station to station as Don shared the old-fashioned Maple Syrup making process with us. Don even had us drill a hole for practice on an old dead stump.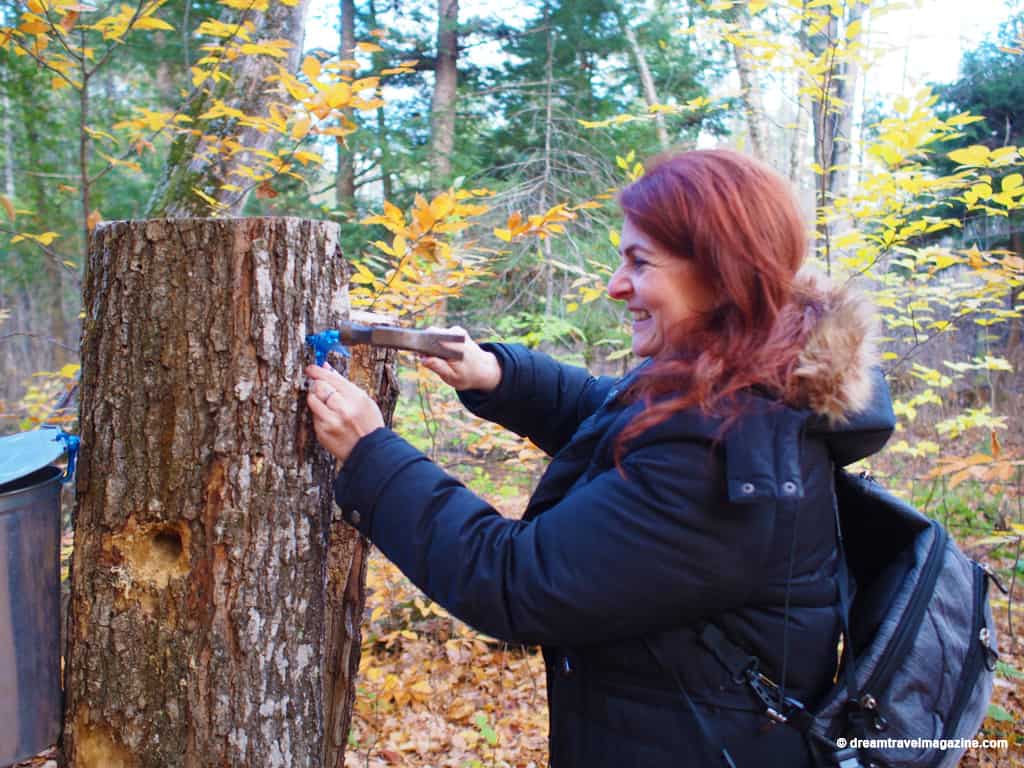 I had to hammer in the spout and hang my maple syrup basket on the stump, which was interesting as I didn't realize how critical it is not to drill too far into the tree (well not for this stump but the real trees) to avoid causing irreversible damage. In fact, I also didn't know that these tree holes actual heal over time.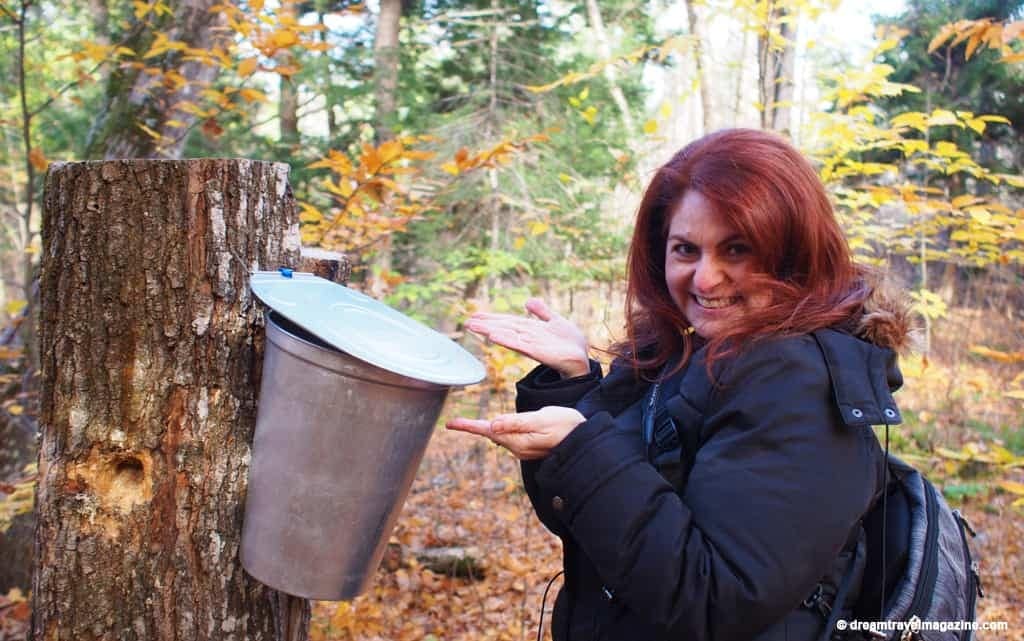 After our baskets hung on the tree stump, Don opened them up and by some secret Deakins way pulled out some maple sap for us to try. The liquid was not sweet at all and tasted like a cold, crisp, refreshing shot of water.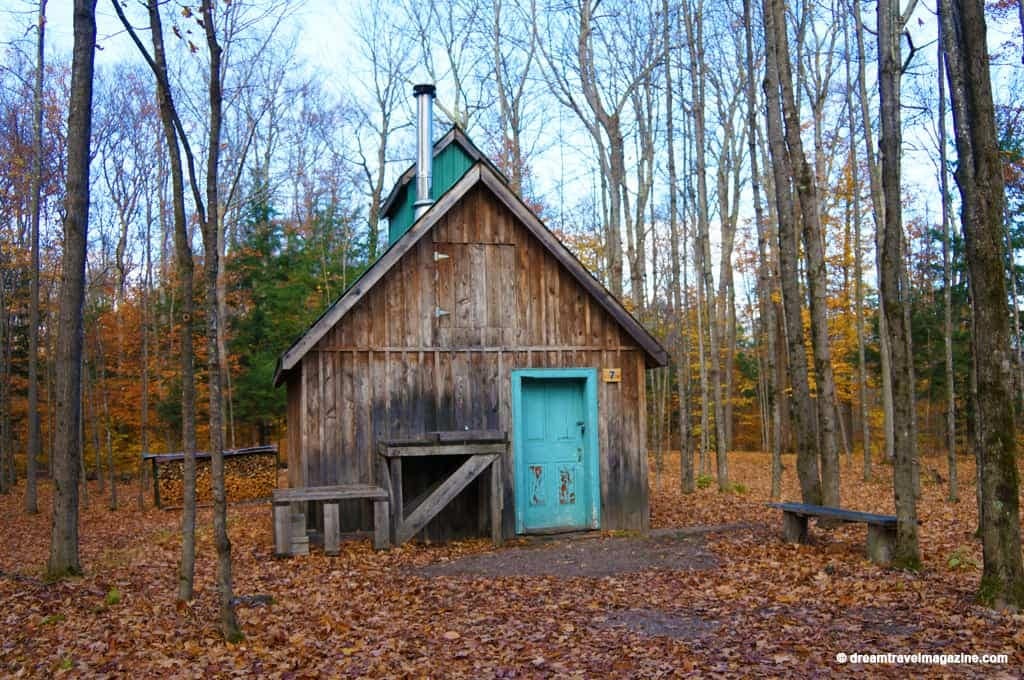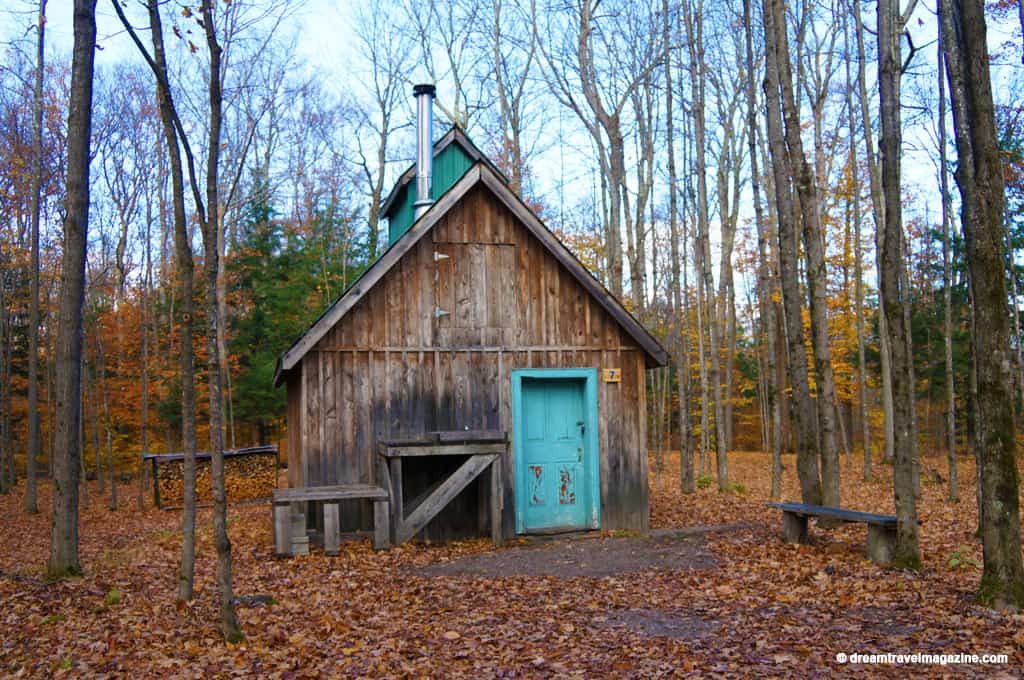 Our next stop was this cute little Sugar Shack where the maple syrup process began and again by Don's magic; we started making our very own batch of Maple Syrup. The waiting for the pot of liquid to boil begun!
Making maple syrup in fall?
To make the sap into syrup it has to boil to remove the water but, there is a catch, you can't expose the fluid to extremely high temperatures it must be carefully brought up to 210 degrees or so. That is not all! We also had to test the boiled sap to make sure it had a sugar density of at least 66% using a special tube called a hydrometer.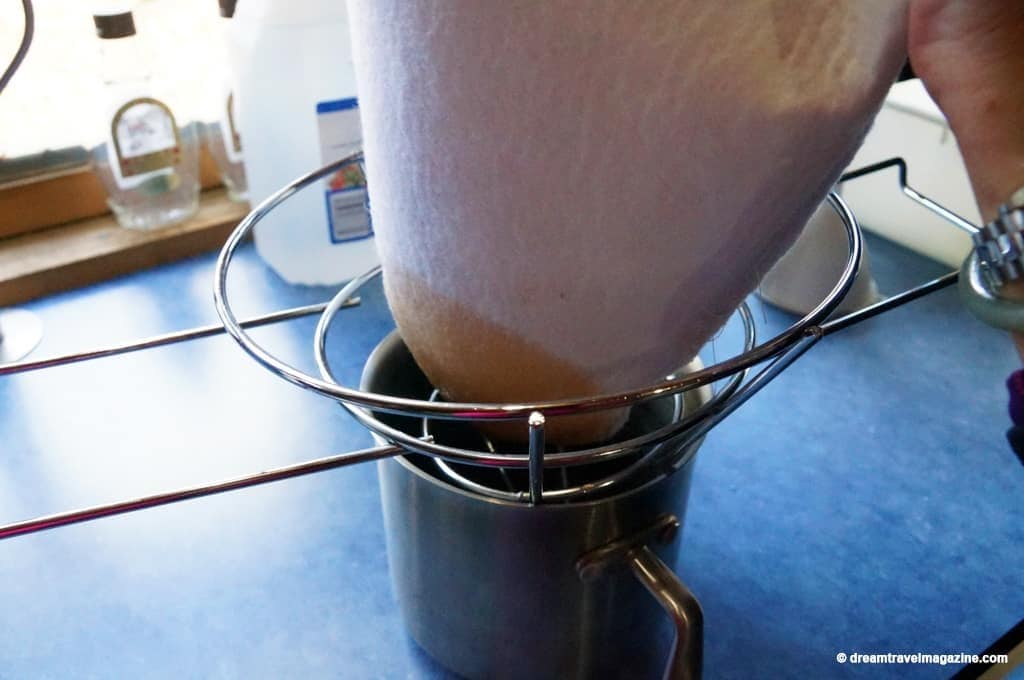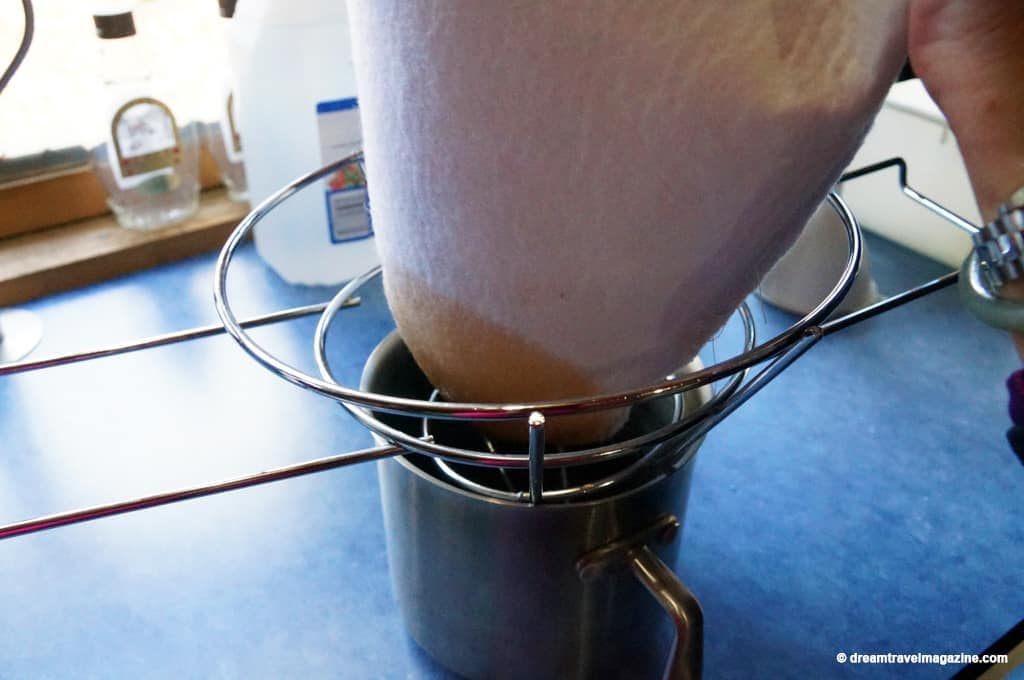 Finally, the boiled syrup was filtered to remove any gritty bits and pieces.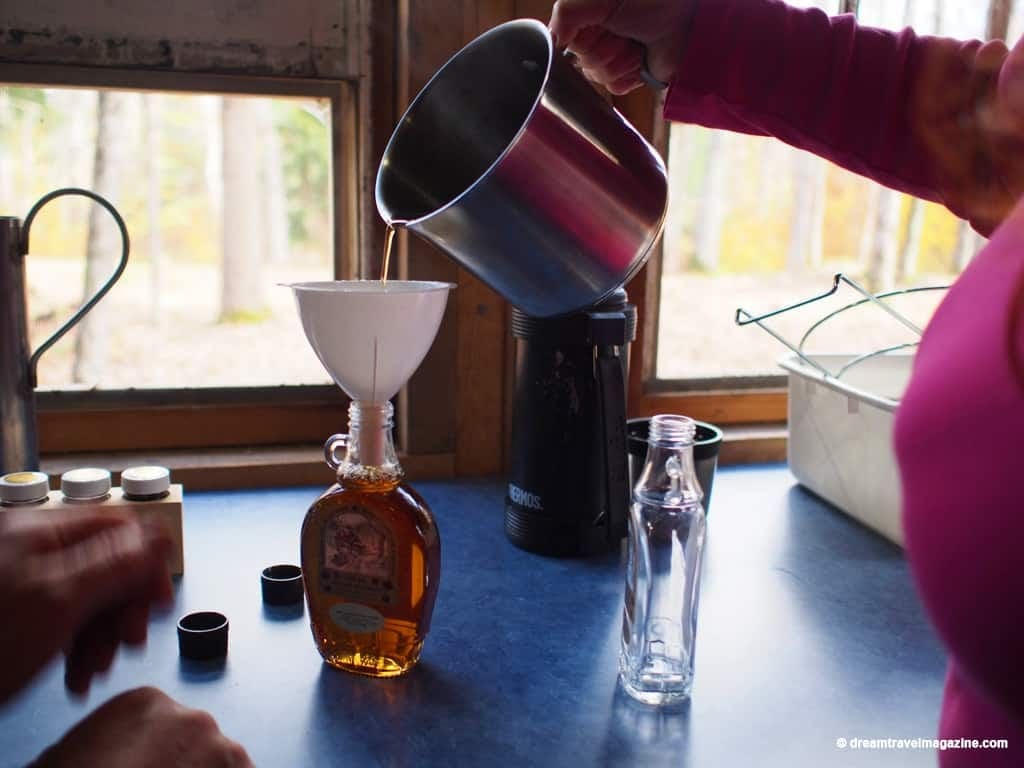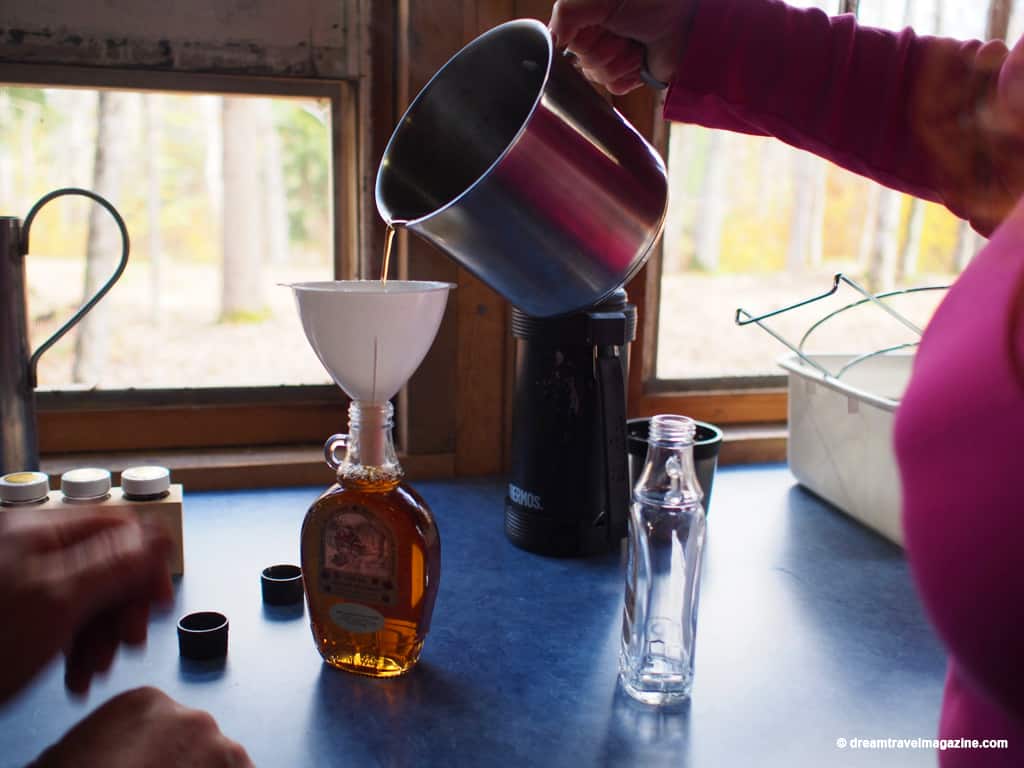 Before I knew it, I was pouring my very own bottle of Maple Syrup! Can't blame it on the sugar because I had not tasted any syrup yet, but I was so filled with pure joy and happiness at that moment. It is these joyous moments that made me devote myself to this website. This day at Deakins B and B was a pure awesome and rewarding experience at the same time.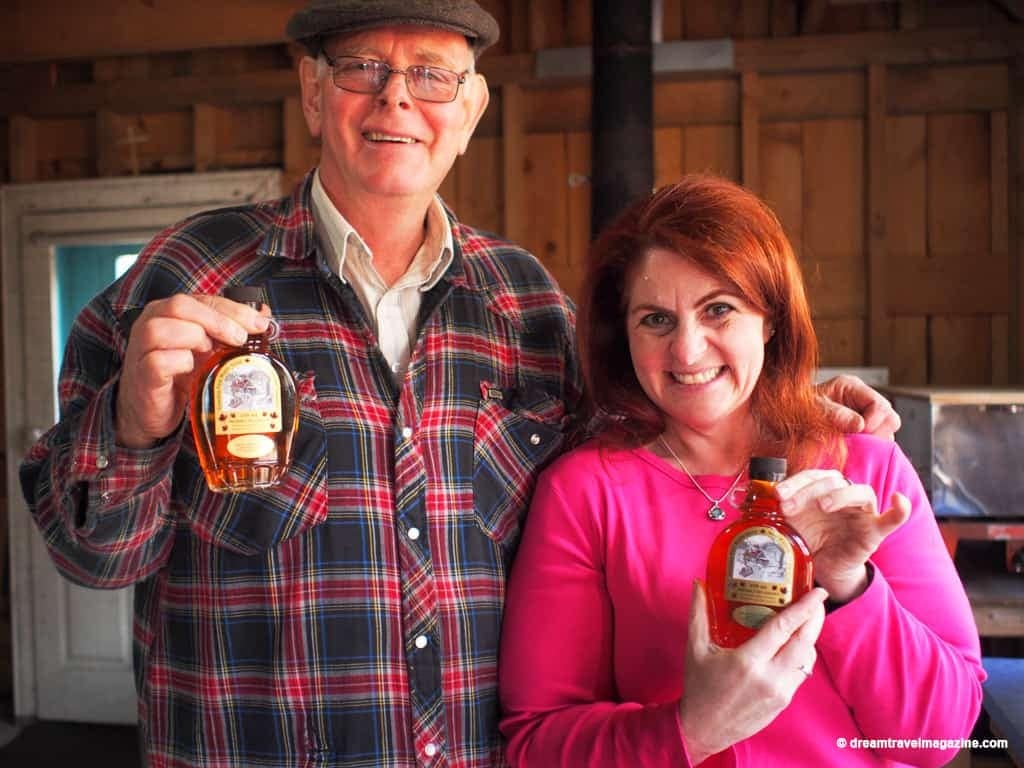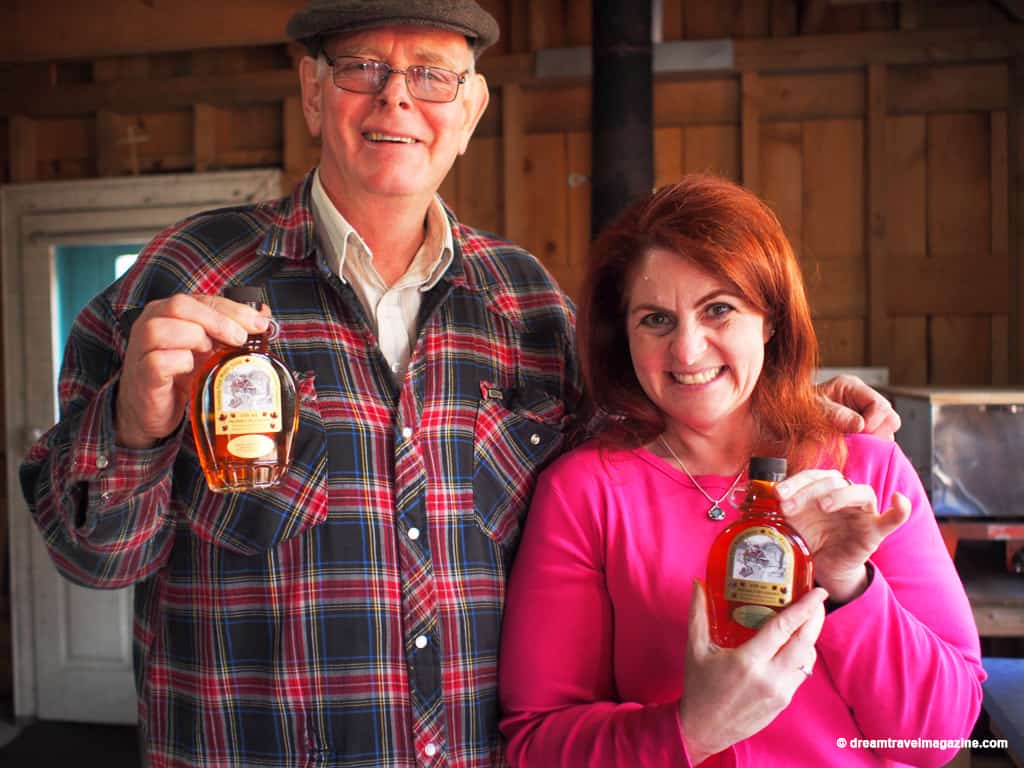 It tastes good too!
With our Maple Syrup, all bottled we made our way back through the forest and back to the bed and breakfast to warm up.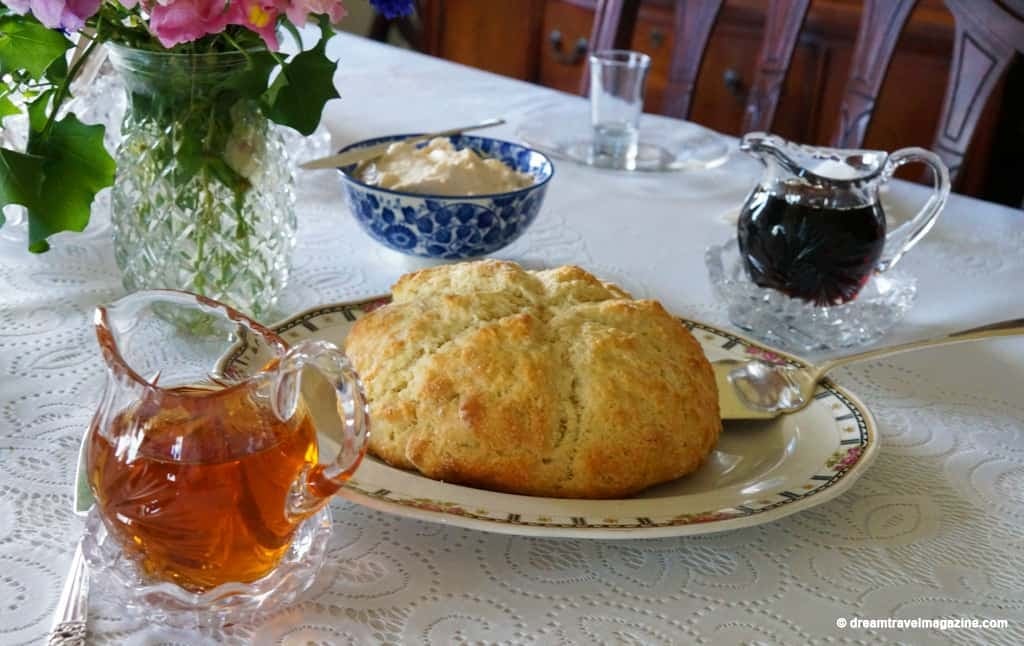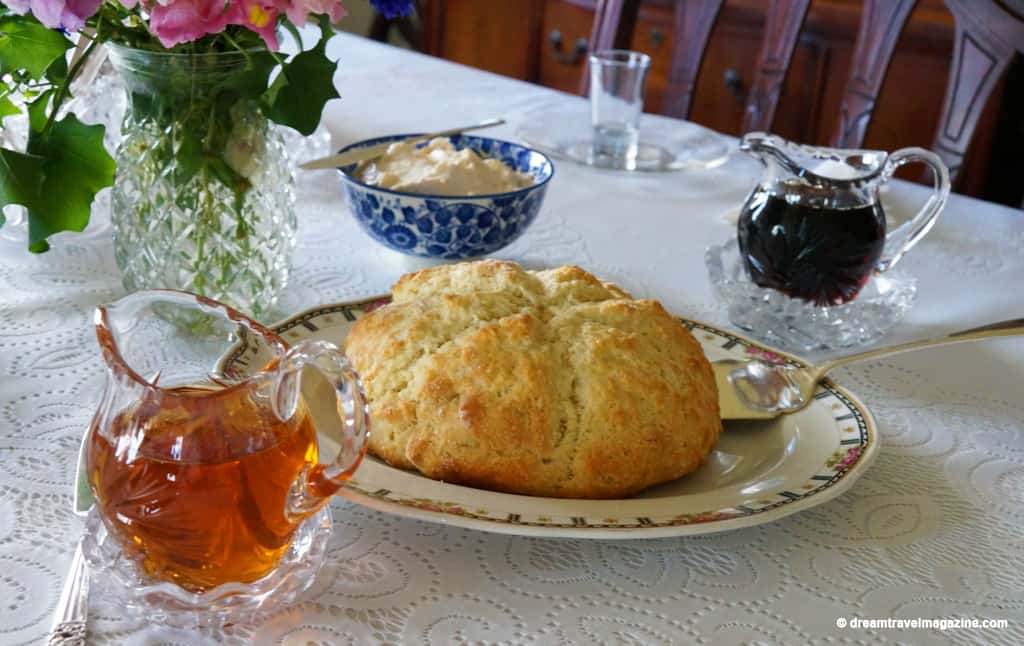 Afternoon Tea with the Deakins
We came back to the house, and the smell of fresh-baked scones was in the air. We met our second host Mary Helen, who was setting up the perfect English Afternoon Tea table you can imagine. Our Maple Syrup even made an appearance on the table, and we got actually to taste it for the first time! Even are mugs were chosen just for us. "The cup with the roses for you, because you are wearing a rose-coloured shirt."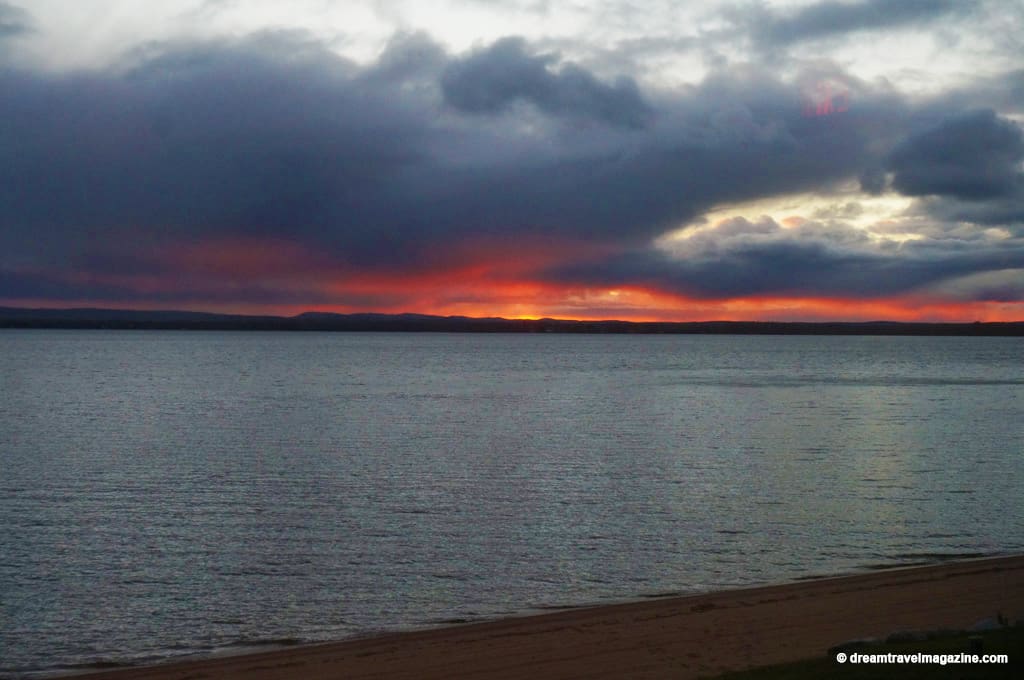 Dinner at the Sands
A short drive from the bed and breakfast was the beautiful Sands resort. We got a 10% off coupon to dine there from Mary Helen who also called ahead to make sure we got a table with a view. The sun was setting on Golden Lake, and it was the perfect end to our exciting day.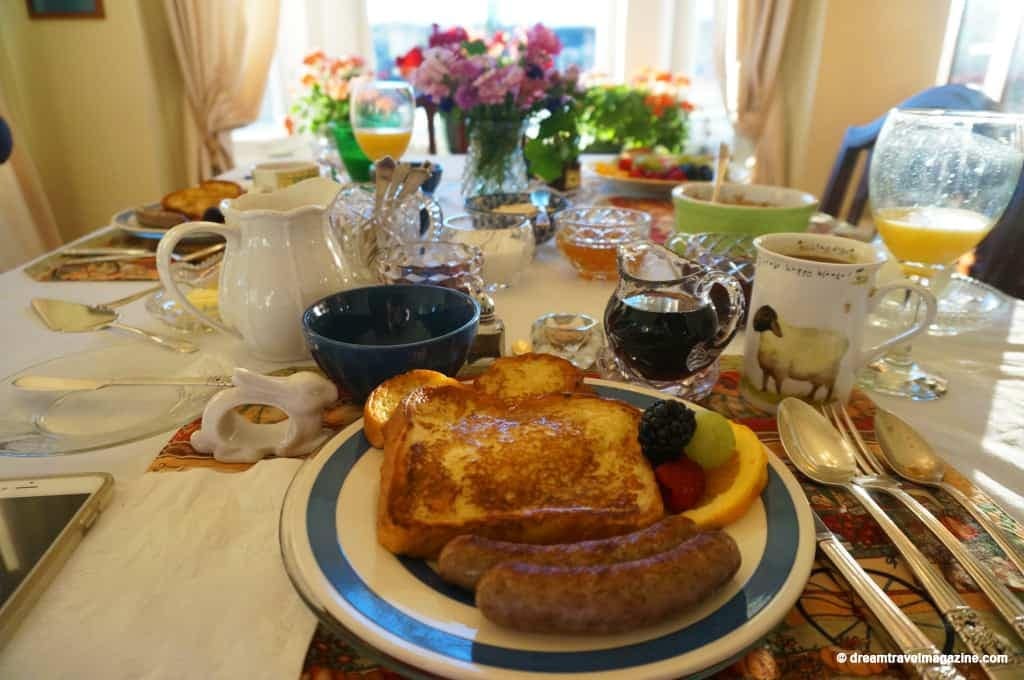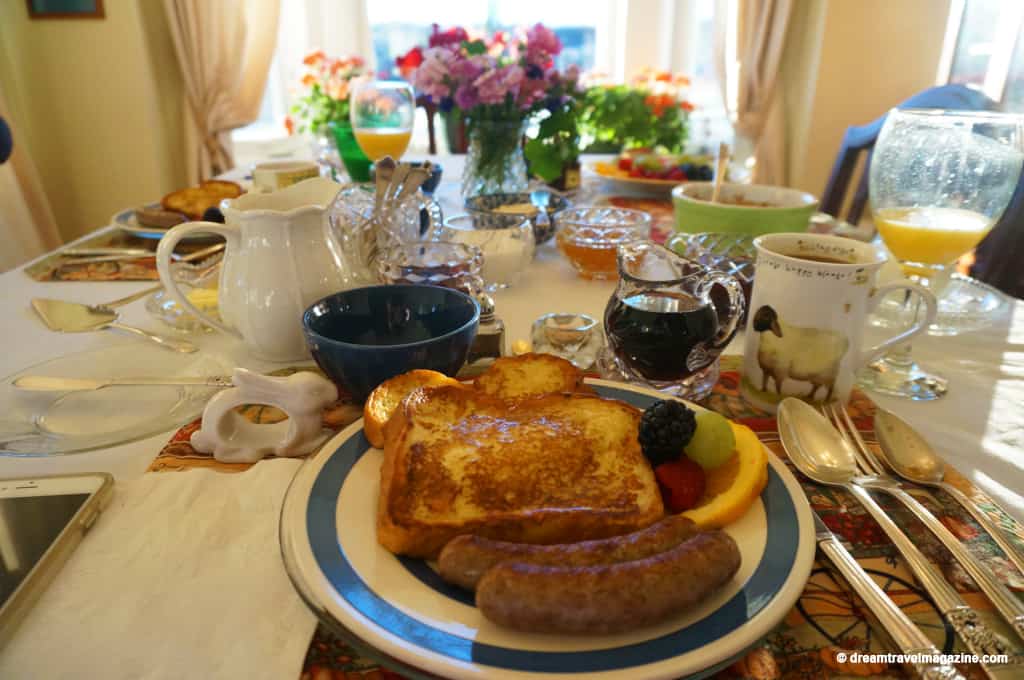 Breakfast at the Deakins Bed and Breakfast
After a cozy night's sleep, we woke up to the smell of breakfast cooking. Outside the ground was frosted over with the first frost of the season and inside was this delicious hot breakfast.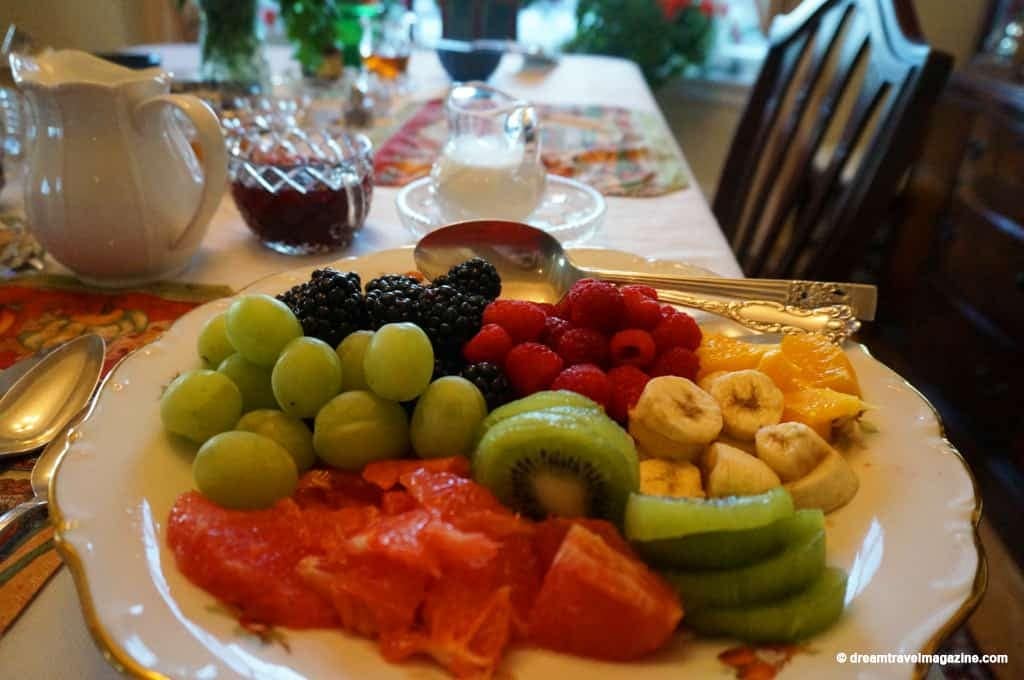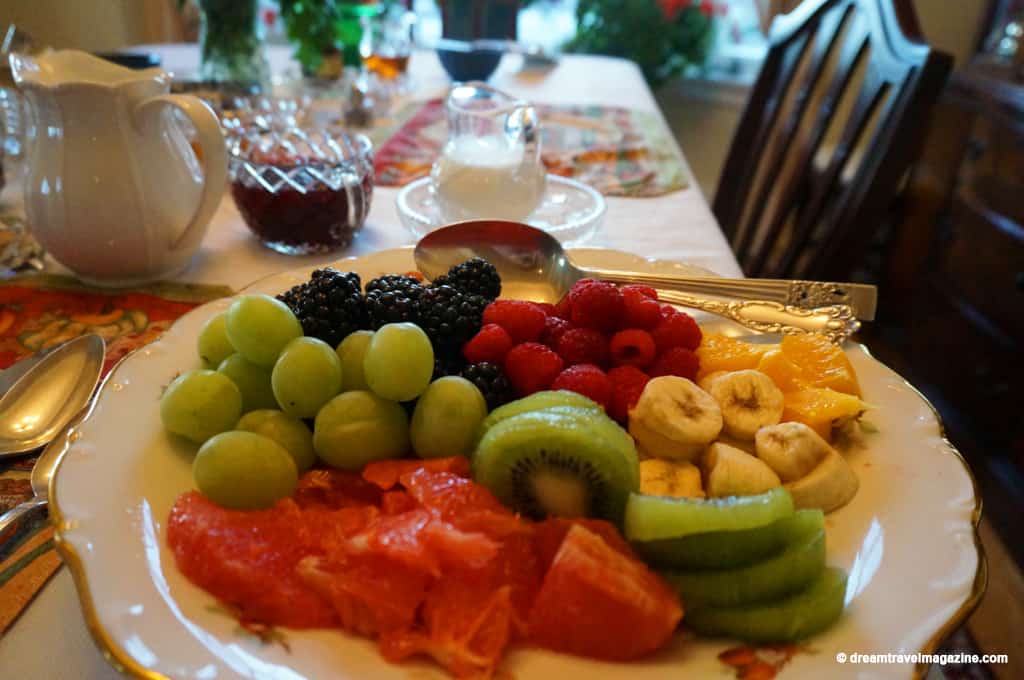 Fresh fruit, French toast, and delicious sausages featured on this beautiful table complete with our maple syrup, fresh flowers, and cute English dinnerware. We could have spent all morning talking to Don and Mary Helen, who had some amazing travel stories to share.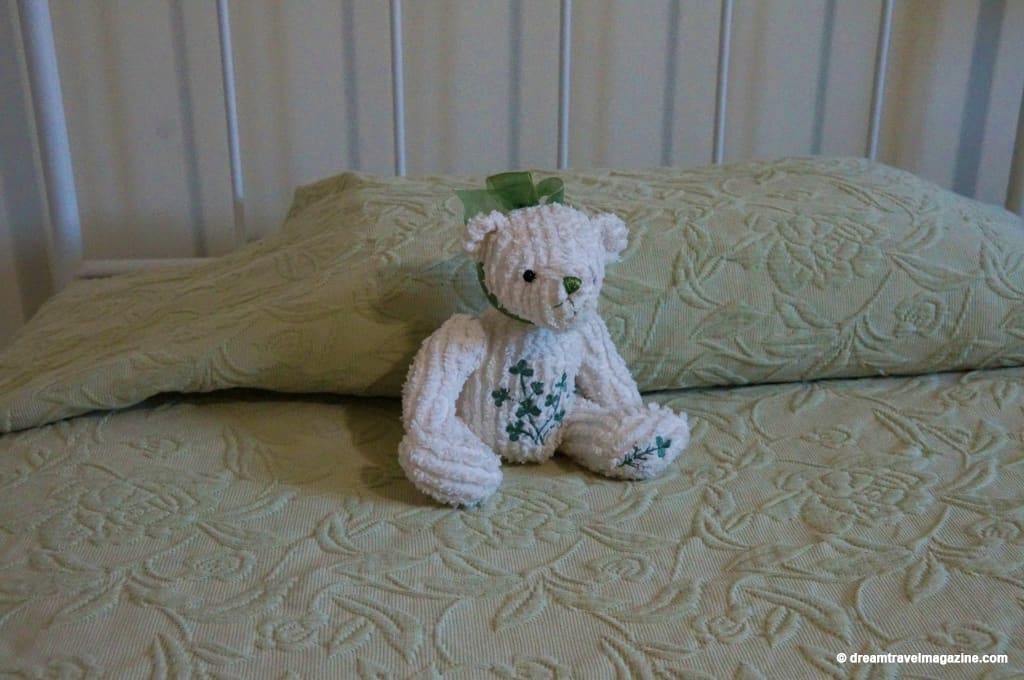 I honestly didn't want to leave! The Deakins on Mountainview Bed and Breakfast is a perfect place to stay if you are visiting Algonquin Park, which is just minutes away. Located near the town of Wilno, Ontario Don and Mary Helen will make sure you have a pleasant stay! Remember that through Deakins magic – you can make maple syrup too – all year round!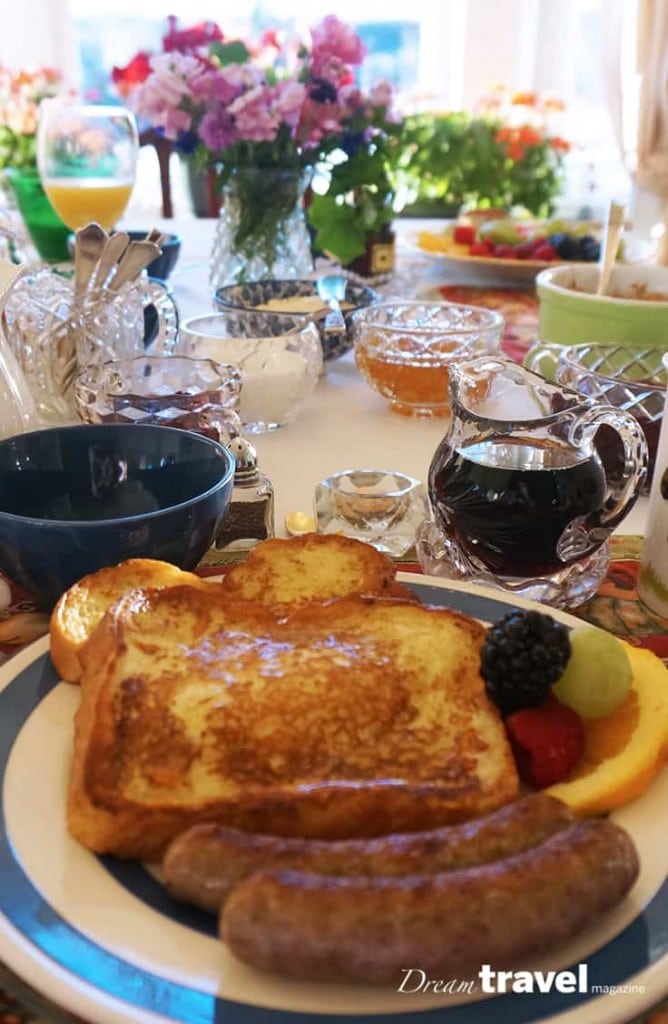 Travel assistance provided by Ontario's Ontario's Highlands Tourism Organization and The Deakins on Mountainview Bed and Breakfast, however, as always the opinions expressed in this post are my own.