This article may contain affiliate links. Clicking on or purchasing products we recommend through a link may earn a small commission. Read our disclosure and privacy policy page for details. *COVID-19 TRAVEL ALERT – Travel recommendations offered on this site are not to encourage you to travel against travel advisories.
When I travel, I love going to restaurants that go the extra mile to source their ingredients from local farmers. During my to Dallas Texas, we stopped at The Rustic restaurant and backyard Bar.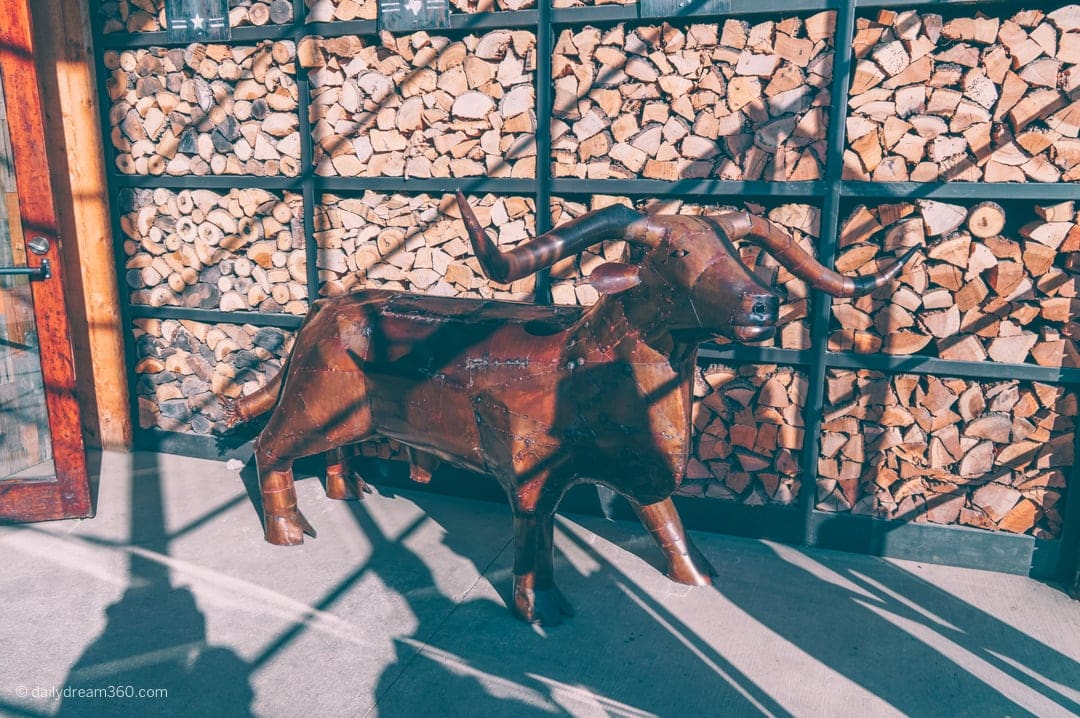 The Rustic Kitchen Backyard Bar Dallas Texas
The moment you walk into the front entrance, your senses begin to tingle. This solarium has the most intoxicating smell of smoked firewood.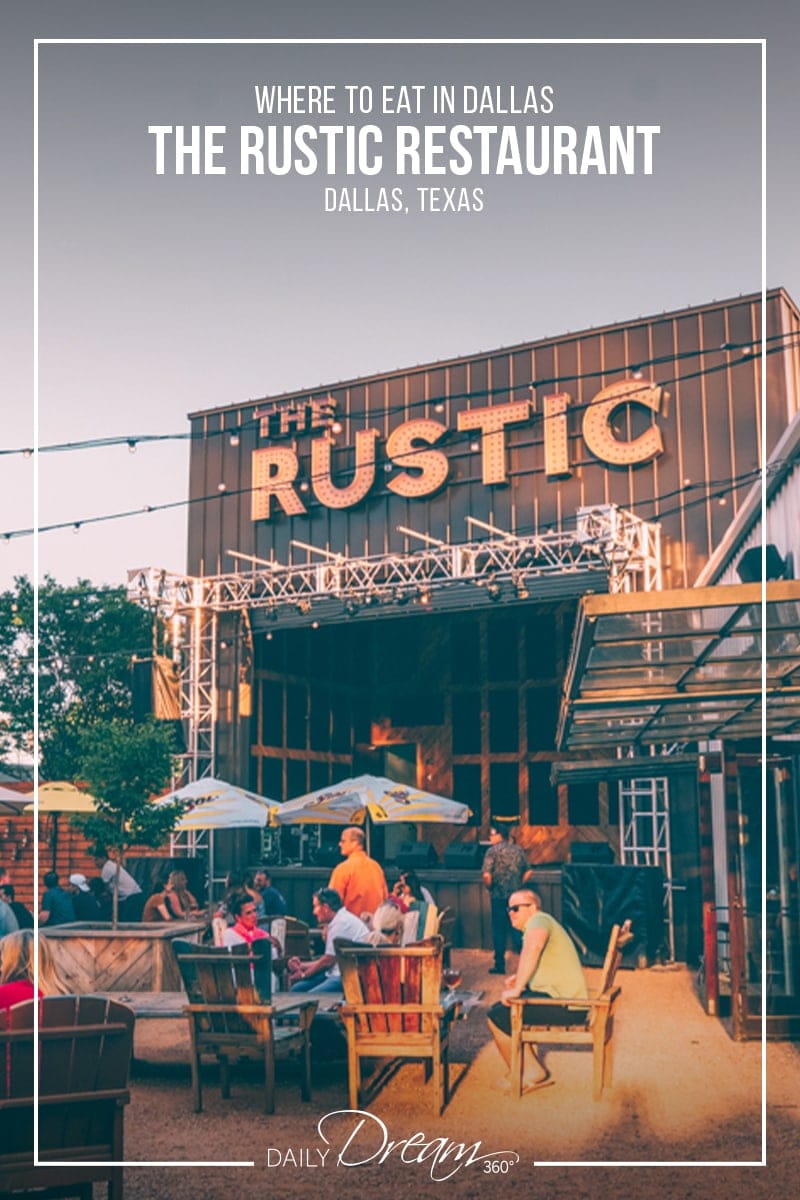 We chose to sit inside the restaurant because there was a bit of a wait for the backyard patio! The place is packed with people enjoying their meals under cover of an umbrella and sitting at many different types of patio furniture from small wooden coffee tables to standard-sized patio sets.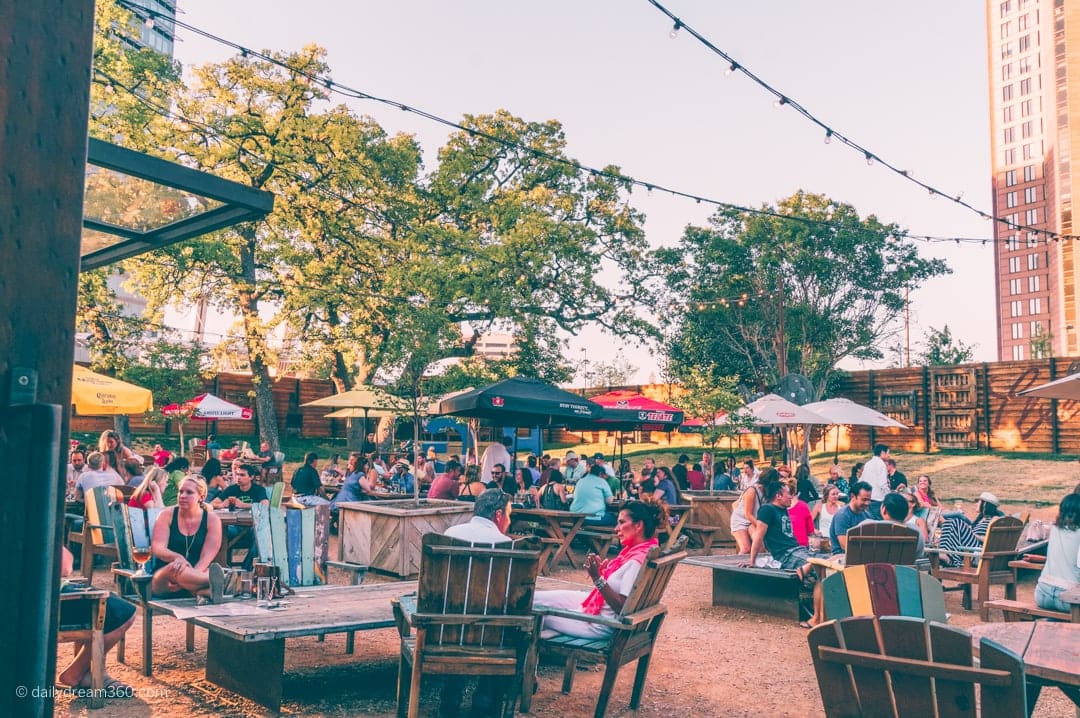 Lessons Learned: Know what you are ordering!
The Rustic sources their seafood from the Gulf and their beef and dairy ingredients from local ranchers and farmers and then presents them in a delicious menu. Even their beer menu features a full list of local craft beer favourites.
Be warned the plates here are big, and not everything is what it seems. Here is a lesson about ordering from a Texas menu!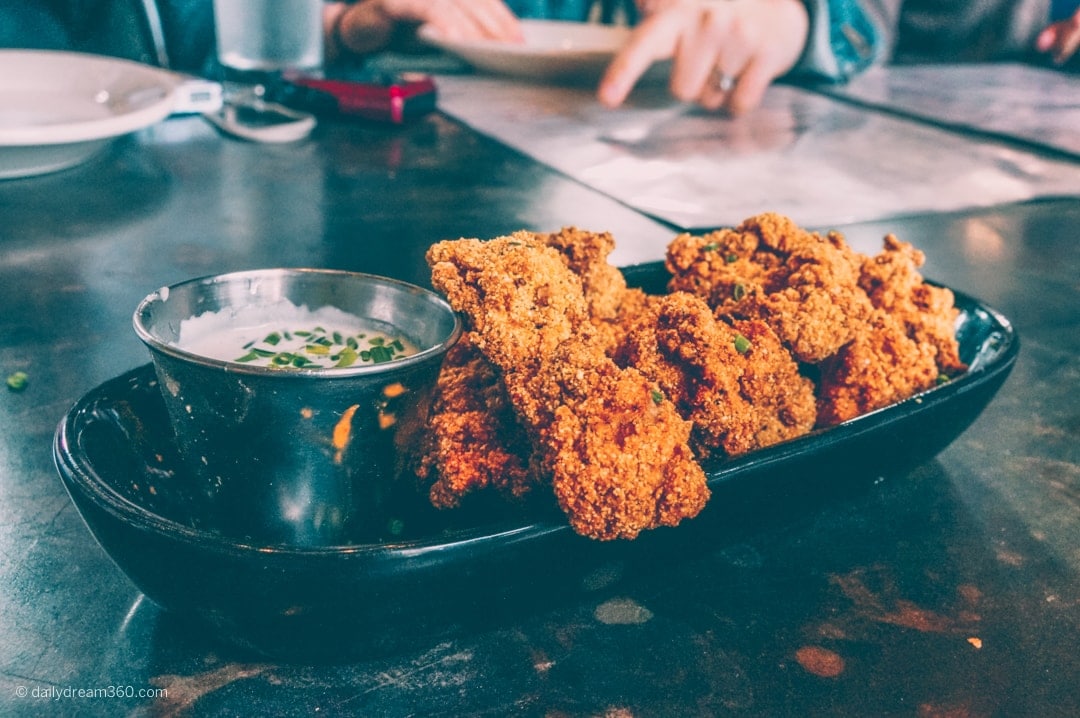 Always ask. If you are too shy to ask: Google it!
The description on the menu was simple "Calf Fries with Buttermilk Dip. Do ask your server what are calf fries or do you just order it because you are in Texas and someone in Fort Worth told you "while you're visiting the state you have to try Calf Fries! (pictured above)
What is Calf Fries?
I'm glad you asked. I leave you with the Wikipedia description – however, I preface this by saying THESE ARE DELICIOUS! You should try them, and like most weird travel foods – it tastes like chicken!
OK so, Calf Fries are known as Rocky Mountain oysters and are made of bull testicles. The organs are often deep-fried after being peeled, coated in flour, pepper and salt, and pounded flat. (Wikipedia)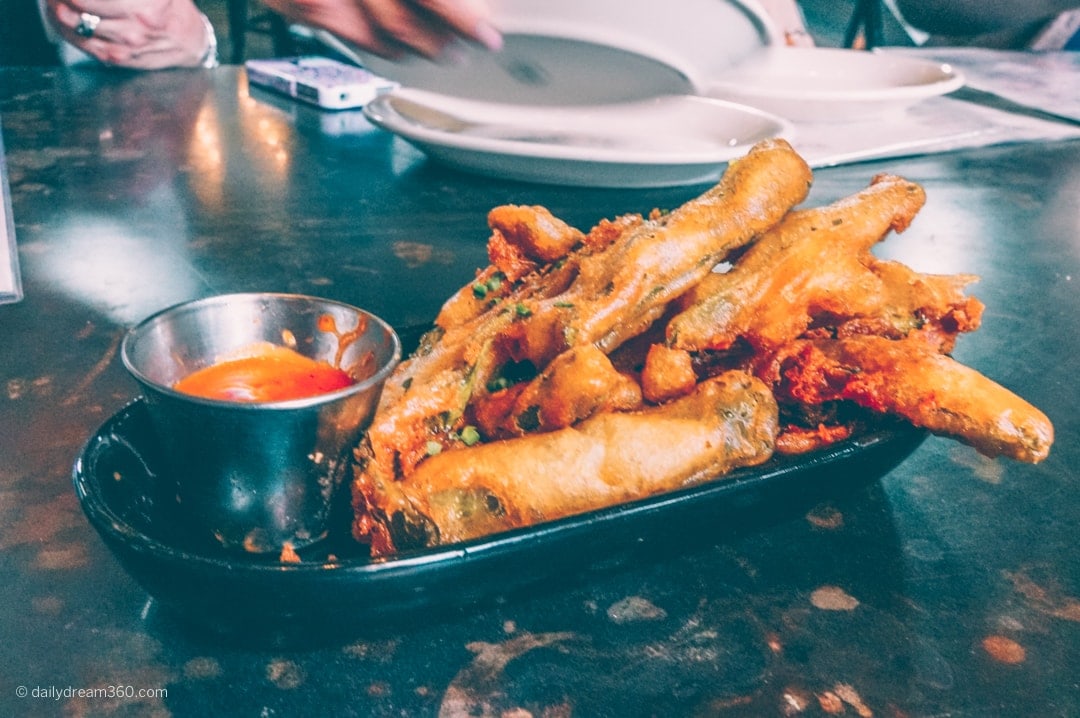 Also ordered at our table was the Cactus Fritters appetizer (pictured above). This beer battered cactus was a different taste – deep-fried greens is how I would describe them.
Read more: A Dream Luxury Resort the Four Seasons Las Colinas Dallas
Remember Everything is Bigger in Texas
My second lesson about ordering food in Texas is don't assume because you've been in the State for a few days that you know what you are going to get. When I ordered a side dish with my meal called: 4 Napkin Onion-y Rings, I assumed four Texas-sized onion rings as a side dish, but this is what I ended up getting.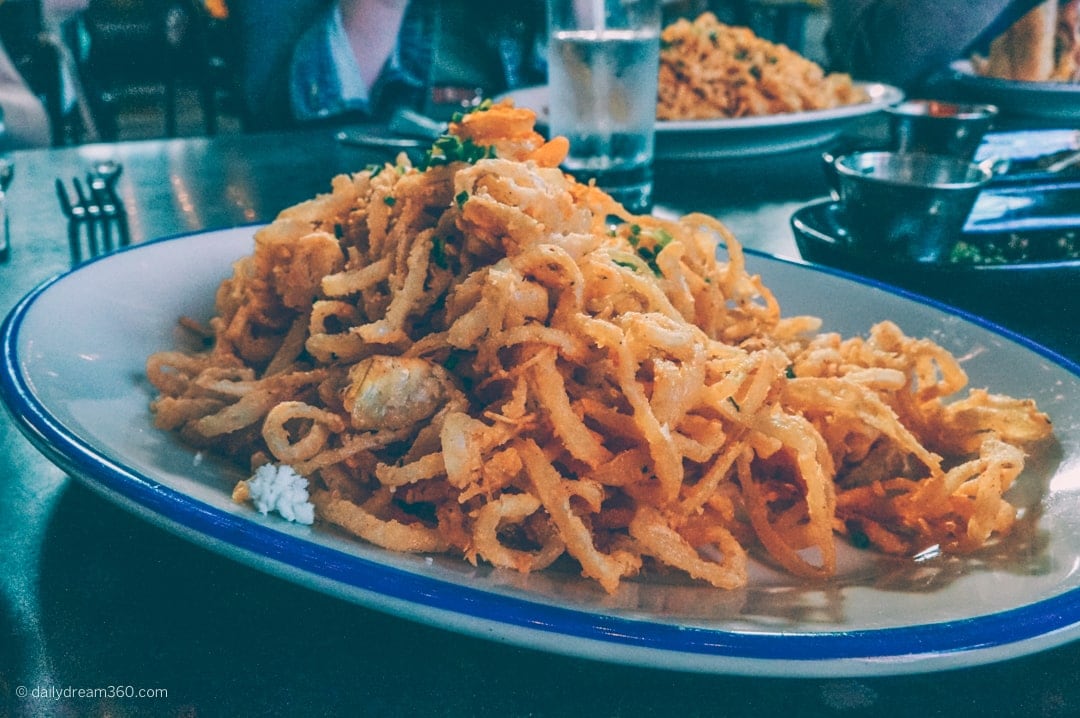 If you haven't done the math yet, this dish consists of four onions, deep-fried over a lovely dipping sauce.
Read more: One Day in Grapevine Texas! A #TexastoDo list!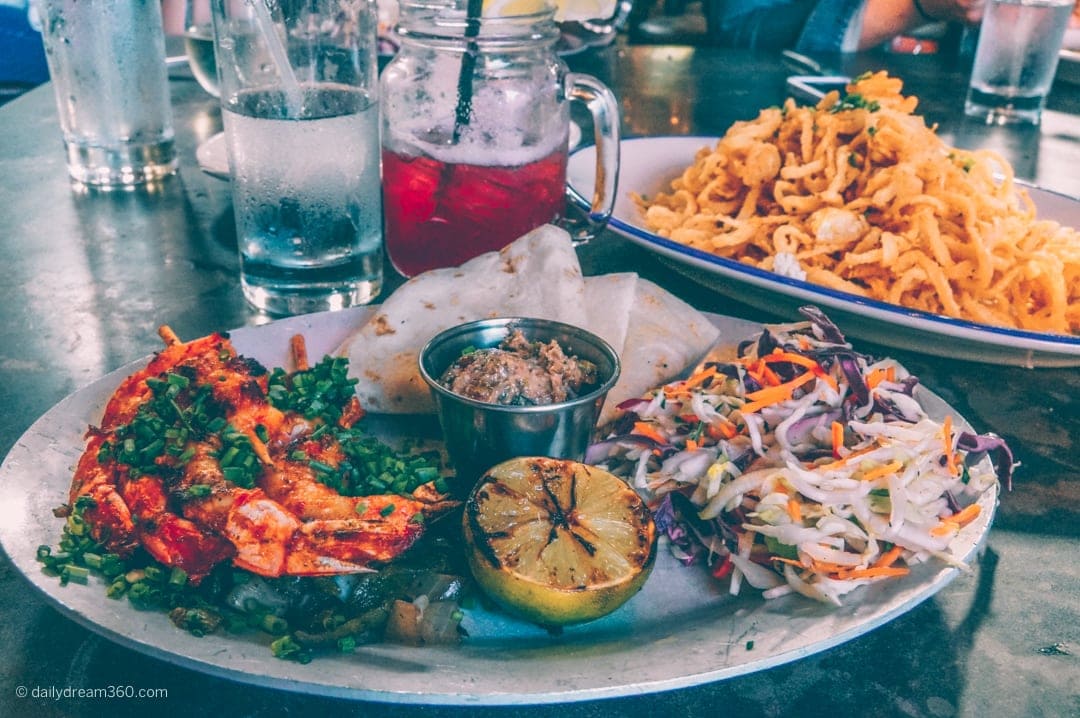 Delicious Seafood and More
For my main, I chose the Gulf Shrimp dinner. This dish included six wood-grilled shrimp served with a lovely chipotle pecan sauce, some tortilla shells and coleslaw.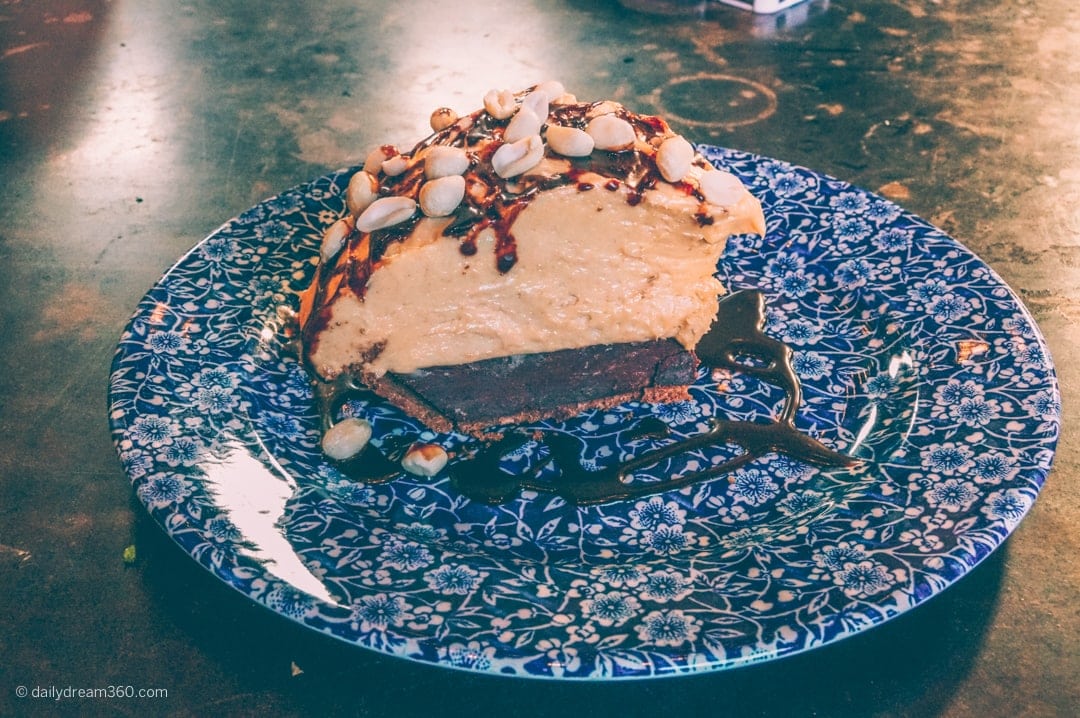 The Peanut Butter dessert was a peanut butter cream pie with a crumb crust; a fudge chocolate layer all drizzled with peanuts and a warm bittersweet chocolate sauce.
We did not catch a musical act during our dinner but be sure to visit their website and check the calendar for the musical acts performing on one of the stages at the Restaurant if you are heading to Dallas. They have some pretty big acts performing there!
Read more: Texas Surprises with an Urban Vibe mixed with Country Chic
Save on popular Dallas attractions including the Perot Museum of Nature and Science, the Reunion Town and more with a Dallas CityPASS.
Planning a Texas getaway? Check out our Texas Travel Guide here.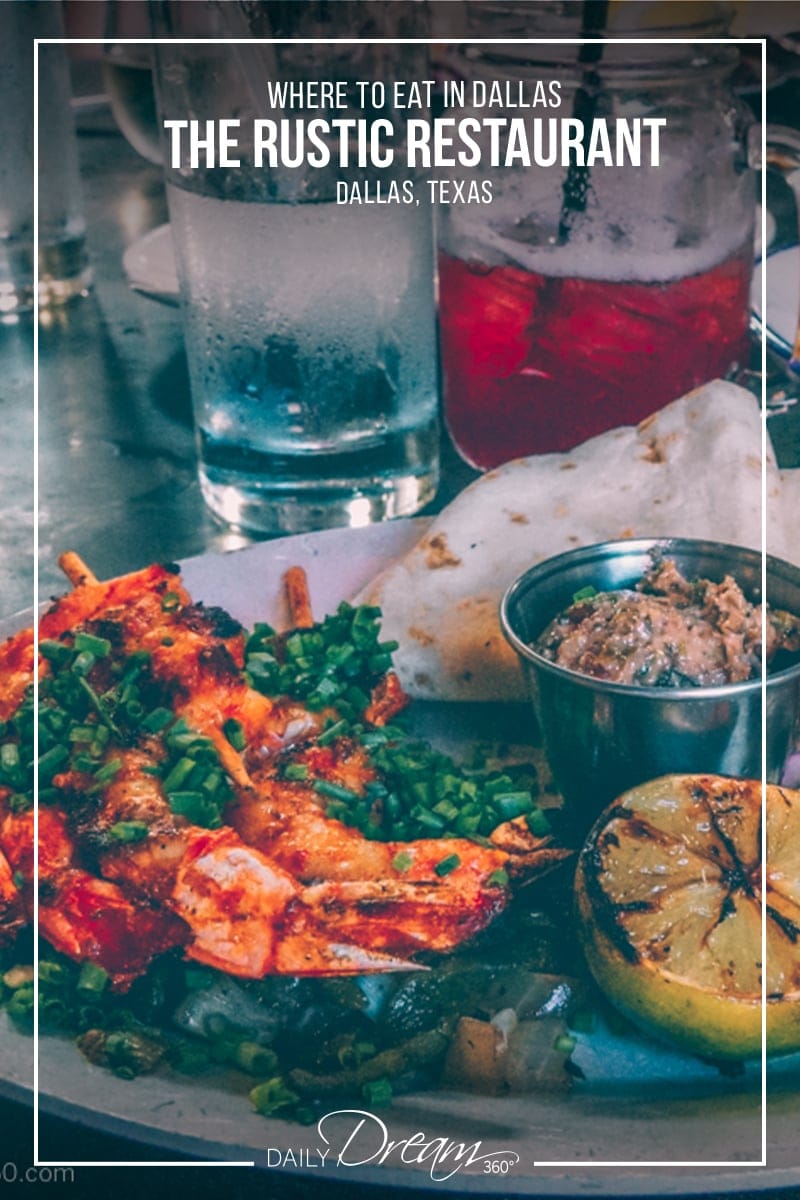 I highly recommend a visit to The Rustic Kitchen Backyard Bar if you happen to be visiting the Dallas area. It serves up a big Texas menu, filled with lots of delicious local dishes and beers. I can see myself coming back again during my next visit!
Travel assistance provided by Texas Tourism and the Dallas Convention & Visitors Bureau on a media FAM trip. The opinions expressed in this post are my own.