This article may contain affiliate links. Clicking on or purchasing products we recommend through a link may earn a small commission. Read our disclosure and privacy policy page for details. *COVID-19 TRAVEL ALERT – Travel recommendations offered on this site are not to encourage you to travel against travel advisories.
I feel like I'm in a swanky Miami hotel. Modern furnishings and a ten story building facing the beach all painted in multiple colours. This is the first impression of the Iberostar Selection Bella Vista Varadero.
Dream it.
With over 20 km of white sand beaches on the Atlantic Ocean Varadero is one of the most popular resort areas in Cuba. This long peninsula is filled with all-inclusive resort properties for every type of traveller and in every budget.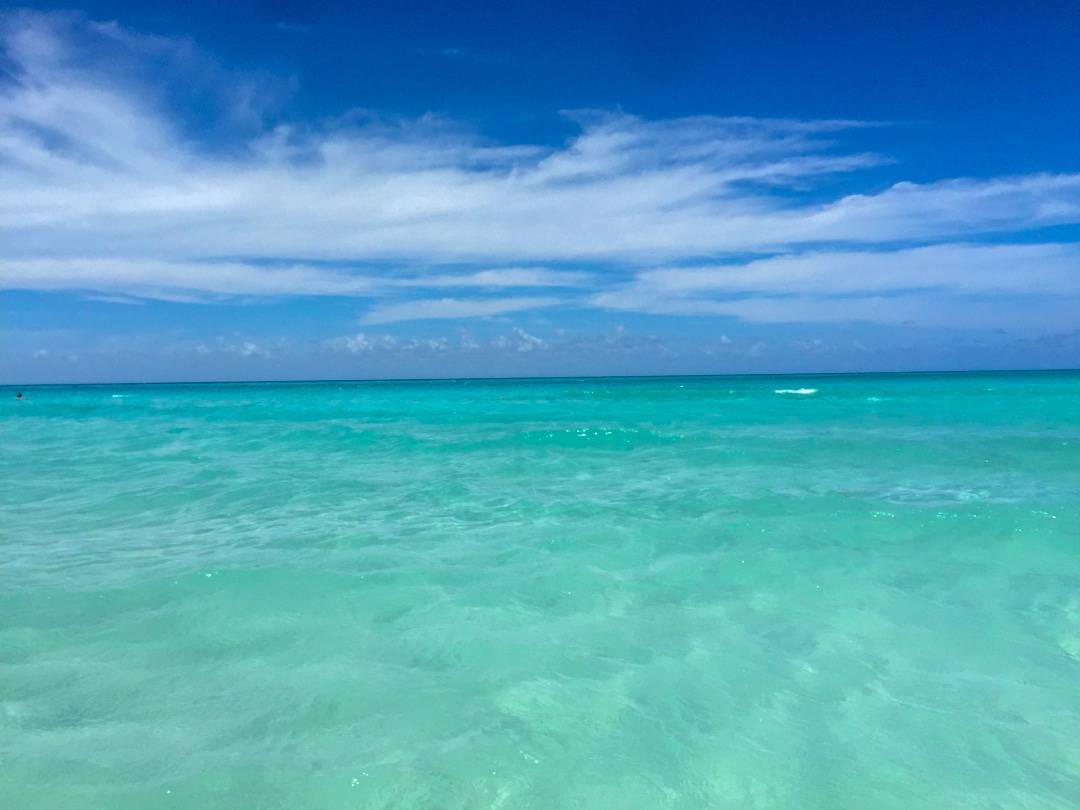 Plan it.
Getting to Varadero Cuba
Most visitors to the region fly into the Juan Gualberto Gómez Airport (formerly known as the Varadero airport). Most hotels are a short 30 – 40 minutes from the airport. Others can fly into Havana and take a bus or tour into Varadero.
Canadians mostly book 7-day all-inclusive packages to Varadero by choosing their hotel and vacation provider. The airport transfers and extras are included in these arrangements.
Live it.
Iberostar Selection Bella Vista Varadero Cuba
One of Iberostar's newest properties, the Iberostar Bella Vista is a high rise hotel vs the traditional bungalow style resort. You'll find that they offer a variety of packages from standard all-inclusive to premium add-ons.
The hotel is located at the top of the Varadero strip closer to town and access to the many markets in the city.
Iberostar Bella Vista Premium Suite Room
What I love about the newer Iberostar properties is the apparent show of modern and luxury amenities. For a long time, Cuba was missing this luxury side of a hotel resort.
The suite had a separate living space and bedroom all with access to balconies and overlooking the ocean. This suite is an adult-only room. There are also a selection of adult-only suites with in-room jacuzzi's and swim out terraces.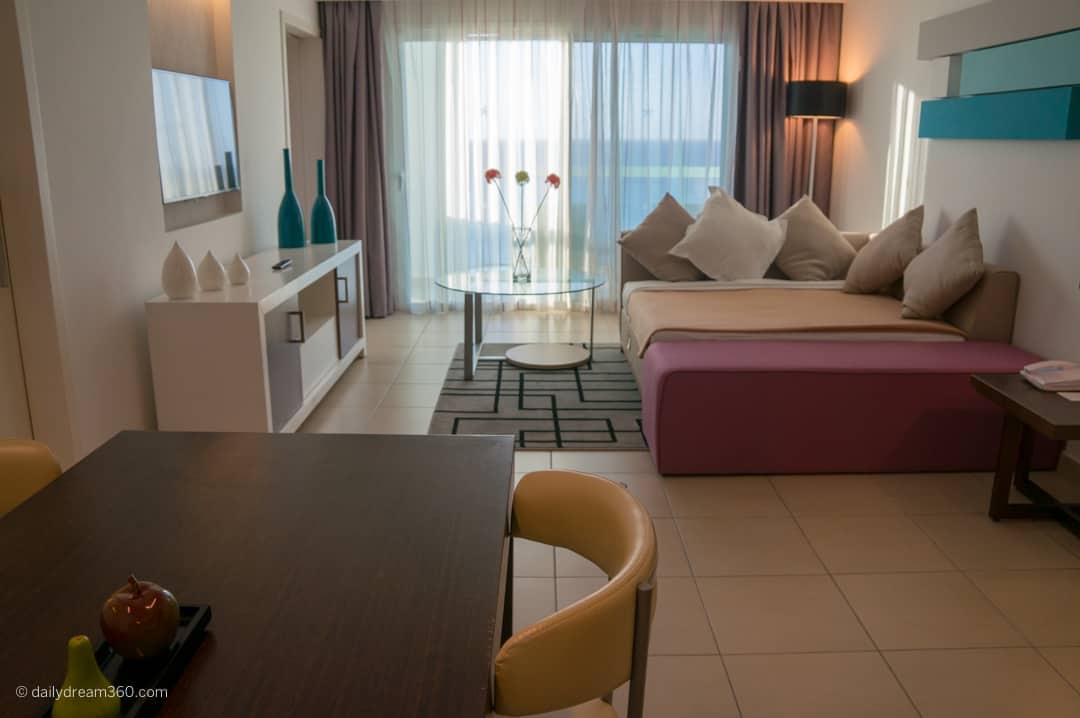 The bathroom was similar to other Iberostar properties I have visited.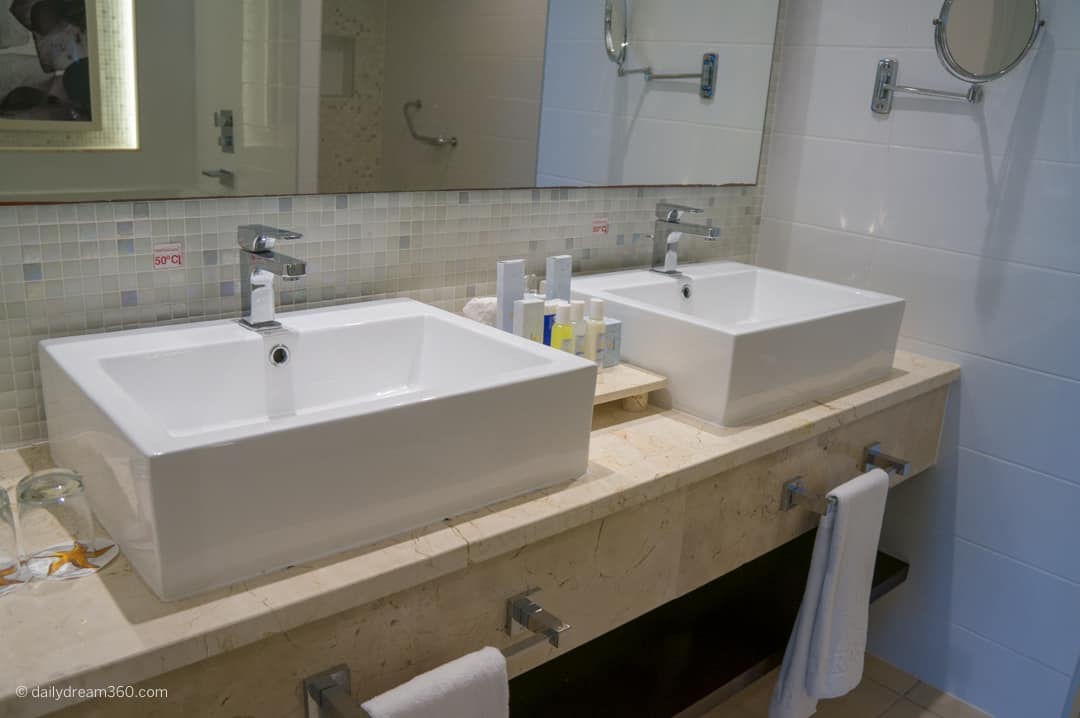 The confusing part of this hotel is its effort to be everything to everyone. Some areas are adult-only, then others are family friendly.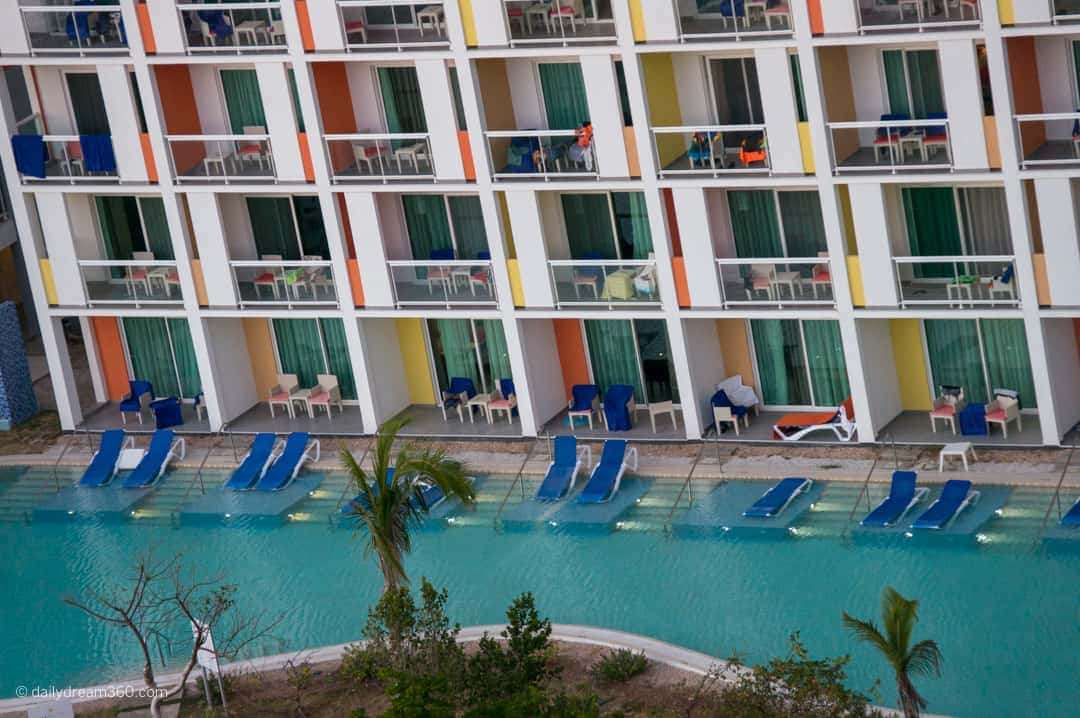 The superior or suite rooms are part of a premium package and include extras, like an exclusive rooftop bar and restaurant. However, those in the standard package can purchase upgrades to these areas. Confused yet?
Dining Options at the Iberostar Bella Vista
Despite the high-rise building style of the Iberostar Selection Bella Vista, vs a sprawling resort with multiple buildings, it does have an impressive list of dining options.
Main Restaurant (buffet)
Gourmet Adults Only restaurant (a la carte)
Japanese Restaurant (a la carte)
Italian restaurant (a la carte)
Cubano Restaurant (a la carte)
5 bars (Lobby Bar, Star Café, Aqua Bar, Beach Bar, Panoramic Bar)
Poolside snack bar
Rooftop Patio, Bar and Restaurant
I have to admit evenings and sunsets at the rooftop bar were spectacular. This area is open to everyone, but to be served at the bar or to visit the restaurant, you had to pay extra or be part of the premium all-inclusive package.
This violinist made me cry. Her modern classical style and the emotion behind her playing were mesmerizing. As the sun set behind us and she serenaded us with her magical playing, I was taken to another place. A truly, spectacular place to sit and have a cocktail before dinner.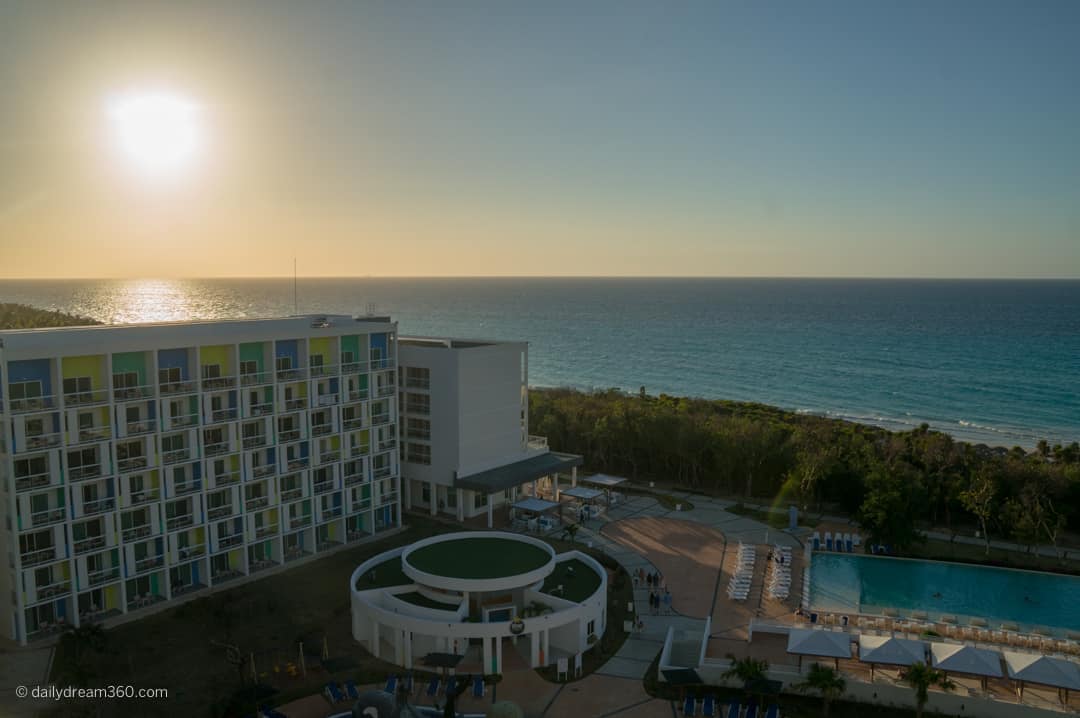 The view from the rooftop patio was also beautiful and it was a very romantic spot to have a drink and catch the sunset.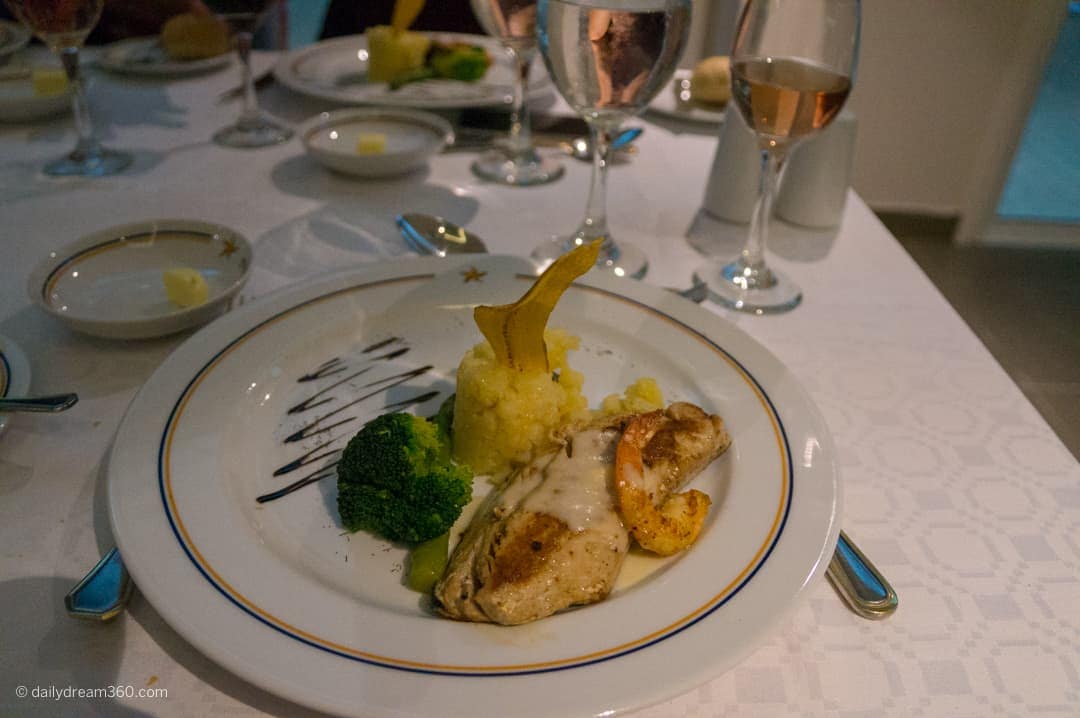 I would have been disappointed had I paid extra for this a la carte meal. It is beautiful to sit on the rooftop overlooking the ocean, but as far as the food was concerned, it is what you would expect from a Cuban a-la-carte restaurant.
Iberostar Bella Vista Beach
A short walk through the trees is all you'll need to access the beach. There are a few access points along the front area of the main pool. The beach is a bit narrow compared to other properties in Varadero.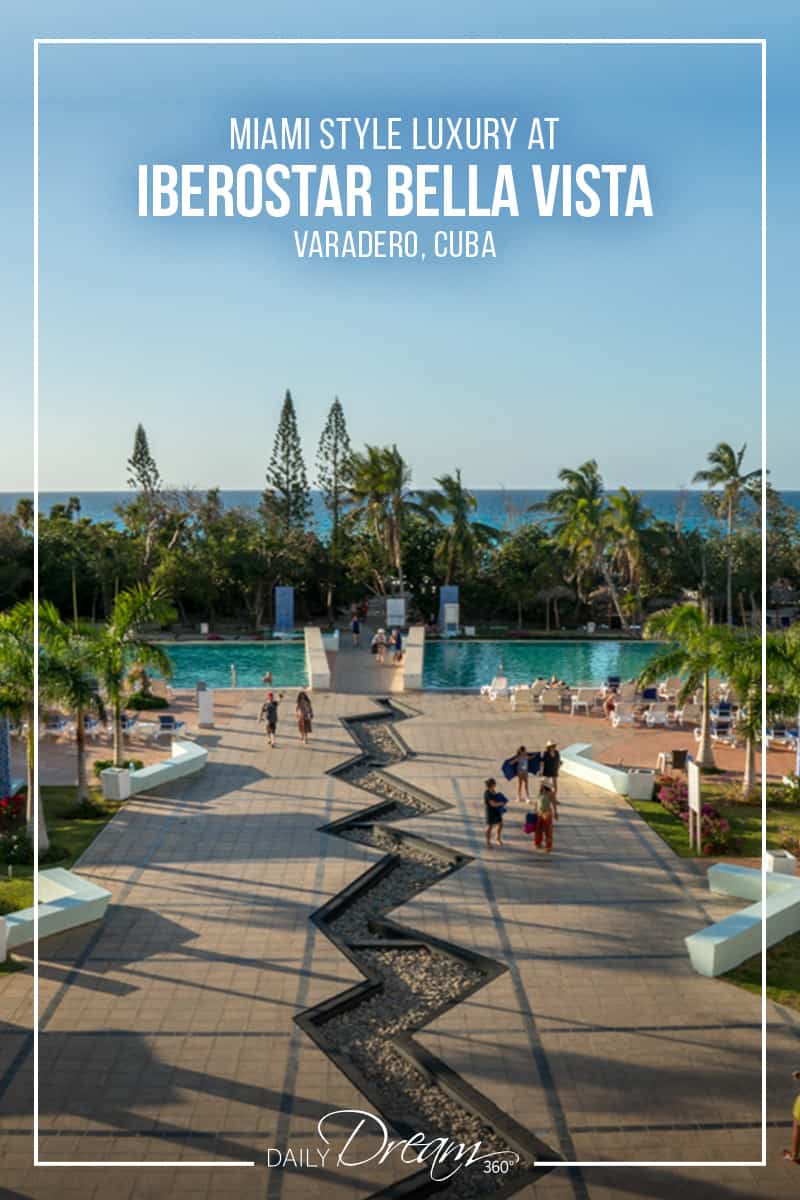 Iberostar Bella Vista Varadero Pools
The main pool is located near the beach area and is split in two by a pathway. This hotel doesn't have the fancy sprawling pools that other resort in Cuba showcase. The main pool is simply two square-shaped modern pools.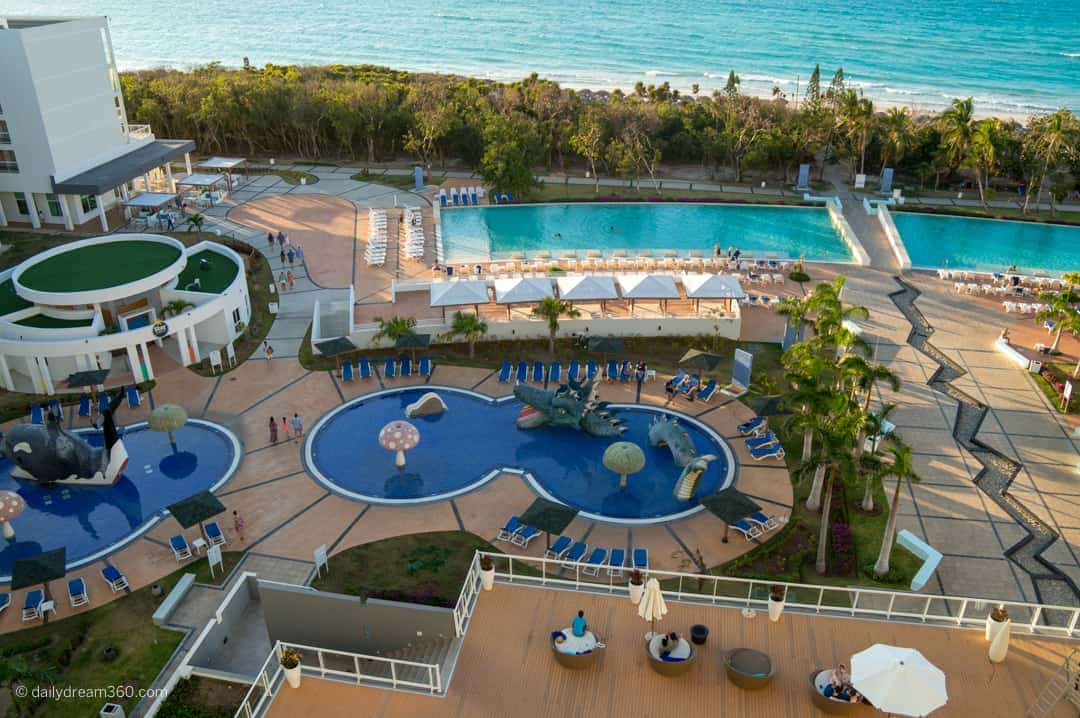 There is a children's club at the Iberostar Bella Vista which includes a kids pool and small waterpark.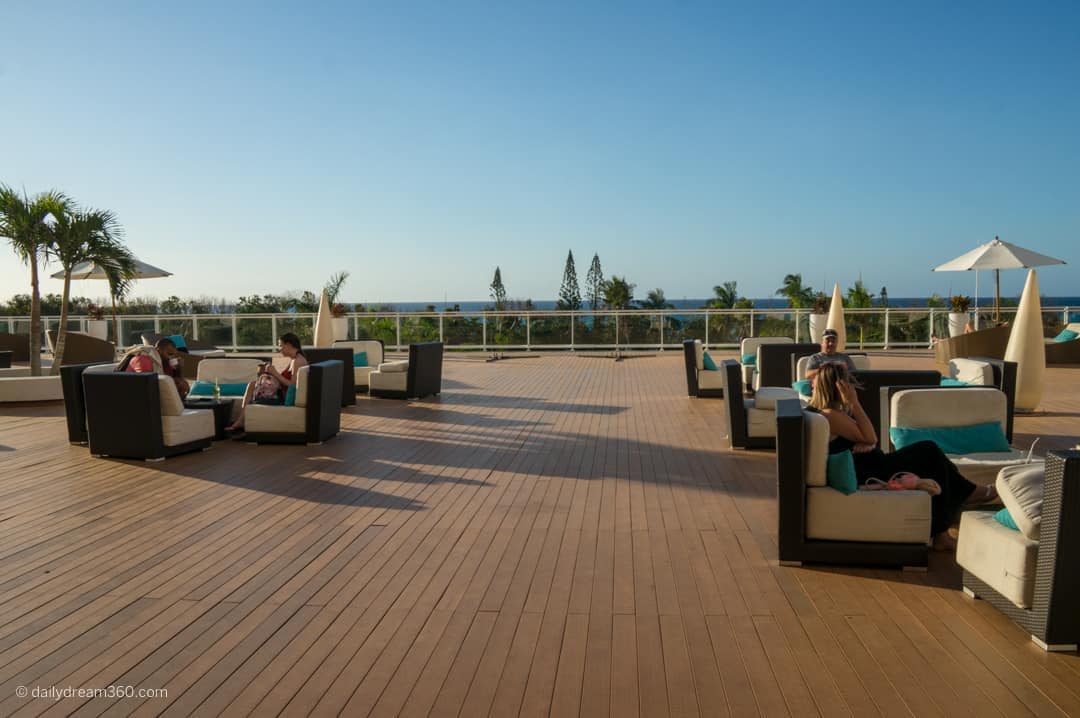 Other Amenities at Iberostar Bella Vista
Fitness centre
Area for tennis, paddle tennis, football, basketball, beach volleyball, aerobics classes, beach football
Water sports: Catamaran trips, windsurfing classes, kayaking, scuba diving, water basketball, waterpolo
Spa with massages
Live music & shows
Internet (fee)
Room service
Dance lessons
Beauty salon, hairdresser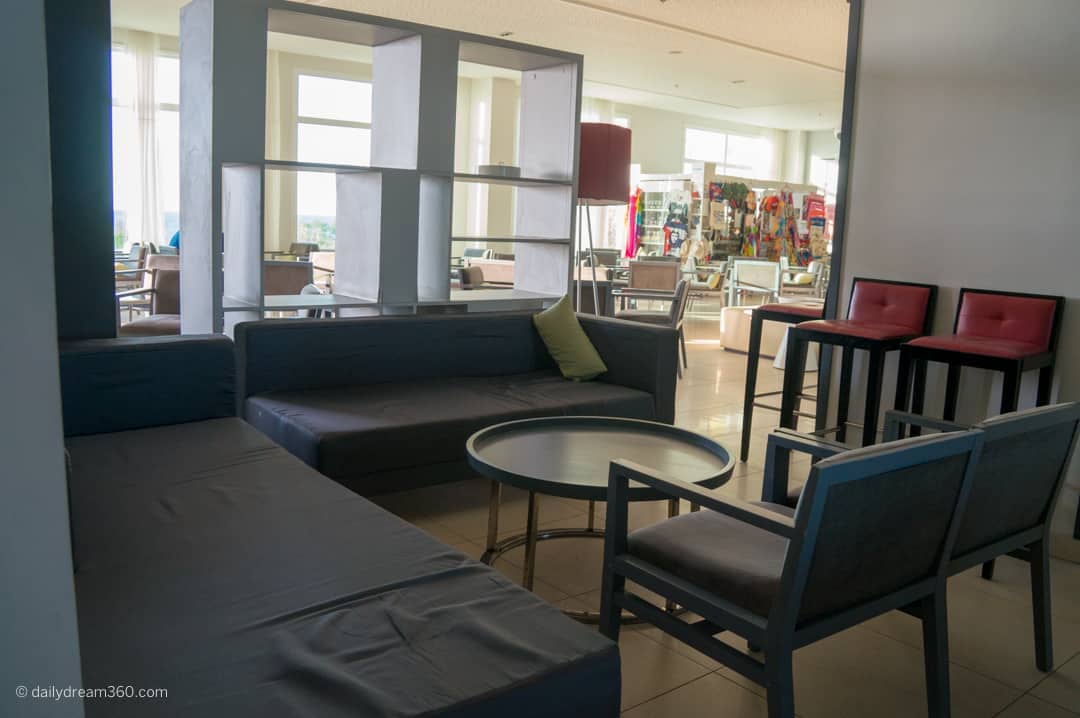 Modern Lobby Space
This resort is very compact. The main building houses the main lobby bar where many people gathered. I felt this resort was more of an adult property. While they have many activities for the kids, it was more modern and adult in decor.
Most Cuban resorts have traditional lobby areas. So seeing the high top tables and bar stools with drop lighting made us all very excited. The lobby bar was always busy and filled with people.
Read More Iberostar Hotel Reviews in Varadero
I visited the Iberostar Varadero on a media trip provided by Iberostar Resorts.