L'Oréal has released a new skincare lineup if products as part of their Revitalift lineup. The Revitalift Bright Reveal Skincare collection includes four products to fill up your daily skincare routine. I've used L'Oréal Revitalift moisturizers in the past and liked them immensely, so I was curious what this Bright Reveal lineup could do for me.
L'Oréal Revitalift Bright Reveal Skincare Promise
The claim on this lineup is that after one week of use your skin tone will appear brighter and smoother. The main ingredients in this collection are Glycolic, VitaminCg and Retinol. With four products L'Oréal is promoting a 4-step skin care regiment using the line up for best results.
My Revitalift Bright Reveal Testing Results
As a ginger with fair skin and freckles, I have, to be honest, I've always found it difficult to determine if my skin is "brighter" or has a more "even skin tone." Maybe a dermatologist can assess this, but I can't see a difference here. So the jury is still out on this claim.
With skin care products what I look for is hydrated skin and if the possible reduced appearance of wrinkles. I don't expect miracles, just want my skin to feel good.
I have mixed reviews on this product line overall as a collection. I think the best way I can explain it is to go through each of the Revitalift Bright Reveal products and explain what I liked and didn't like.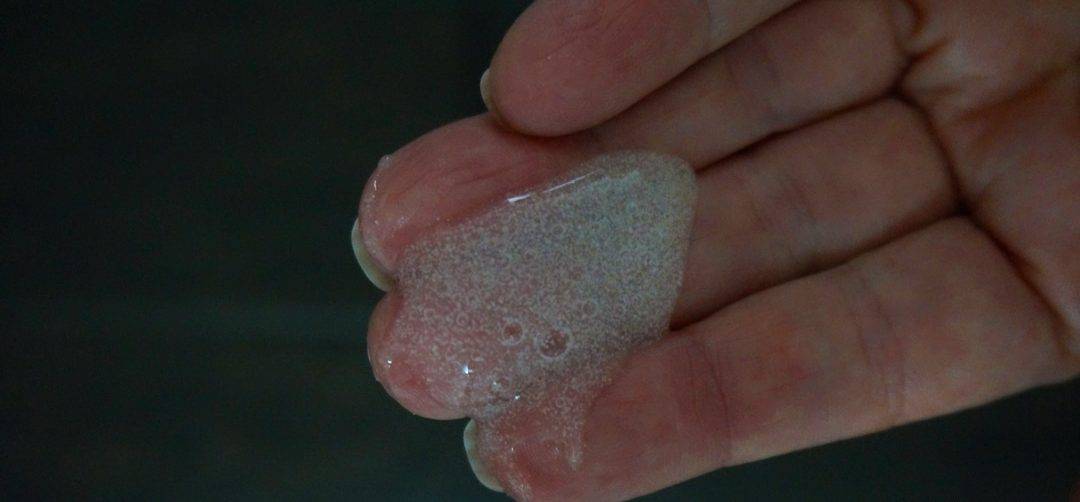 L'Oréal Revitalift Bright Reveal Brightening Scrub Cleanser
I don't know how I feel about using this every single day. I think it would be too abrasive for my skin. I was not a big cleanser user, to begin with; usually, I use face wipes to cleanse my face daily with exfoliation once a week.
I did like this cleanser, which is a gel-like serum with a lovely citrus smell. On days when I wear a lot of makeup, I find this gets my skin clean and fresh feeling, and I noticed less residue on my cotton swabs when I followed up with a toner.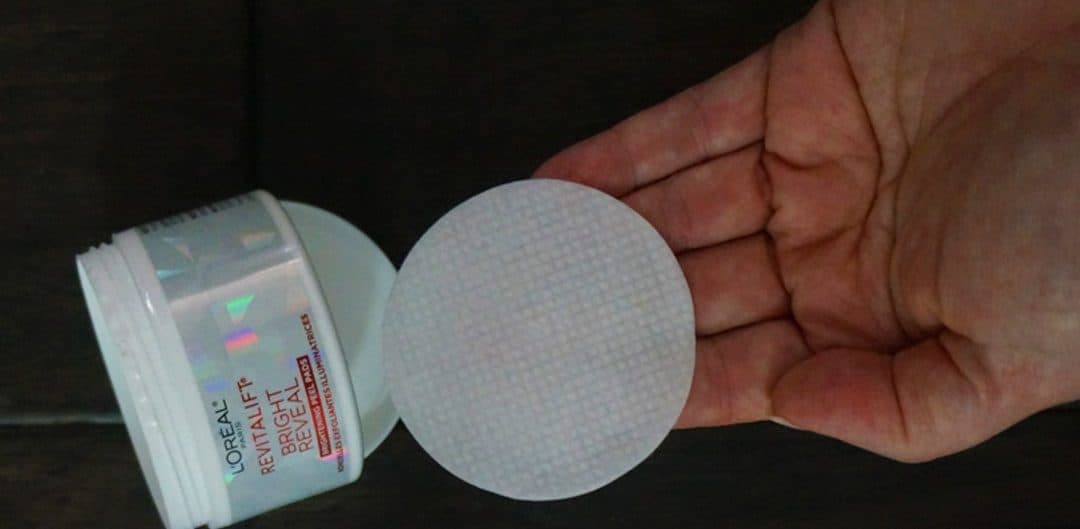 L'Oréal Revitalift Bright Reveal Brightening Peel Pads
There are only 30 pads in one container of Bright Reveal Peel Pads. It is a big bulky package for such a simple product. That said, I did not mind the wipes I just don't really see the point of them. The claim on the box is that they resurface uneven skin, immediately brighten and reduce wrinkles.
First off, I have no idea what "resurface uneven skin means." Second, there is not difference in my skin after use. At least when using a toner I can see that it lifted dirt residue from my skin, this pad althought pleasant smelling and refresshing on the skin, did nothing that I could tell.

L'Oréal Revitalift Bright Reveal Brightening Dual Overnight Moisturizer
I like the Bright Reveal night moisturizer which came out of the bottle as a combination serum and cream. Very lightweight, nice fragrance and felt nice on my skin. The issue with this product is in its packaging.
When I tried to pump the serum and cream combo into my hands, most of it ended up sticking to the side of the bottle. It didn't flow into my hands. It's big, and bulky package makes it awkward to use, and I can't travel with this product. So love the moisturizer hate the packaging.

L'Oréal Revitalift Bright Reveal Brightening Daily Lotion SPF30
Is it a moisturizer or a sunscreen? That was my first impression of the Bright Reveal day moisturizer. A thick and sticky cream that felt thick on my face. A sticky face masks like feeling. Mostly it felt like I was applying sunscreen on my face as it had a white residue, was sticky and when I did something active it burned on my face (and ran into my eyes) like a sunscreen does.
In the past, I have talked about my constant battle with finding the perfect sunscreen, and I'm always looking for light day-to-day sunscreens. See my post: Vichy's Ideal Soleil SPF 50 Review for my favourite so far. This product seems like the kind of product I'd take away with me on a beach vacation. Super small, lightweight and travel-friendly packaging. I would use it as a sunscreen for my face. As far as a moisturizer – it just feels sticky and uncomfortable, and I can't see myself wearing it every day.
Read more: IT Cosmetics Miracle Water
The Bright Reveal Verdict
I don't think I will be switching my current favourite skincare products for this line. The night moisturizer is nice, but the bottle makes me crazy. The peel pads were also enjoyable to use; I'm just unsure if I need to add this to my current regiment as I think my toner covers the same job. Like most L'Oréal products, this lineup is good, it just doesn't appeal to me.
Read more: Best Body Oils for Dry Skin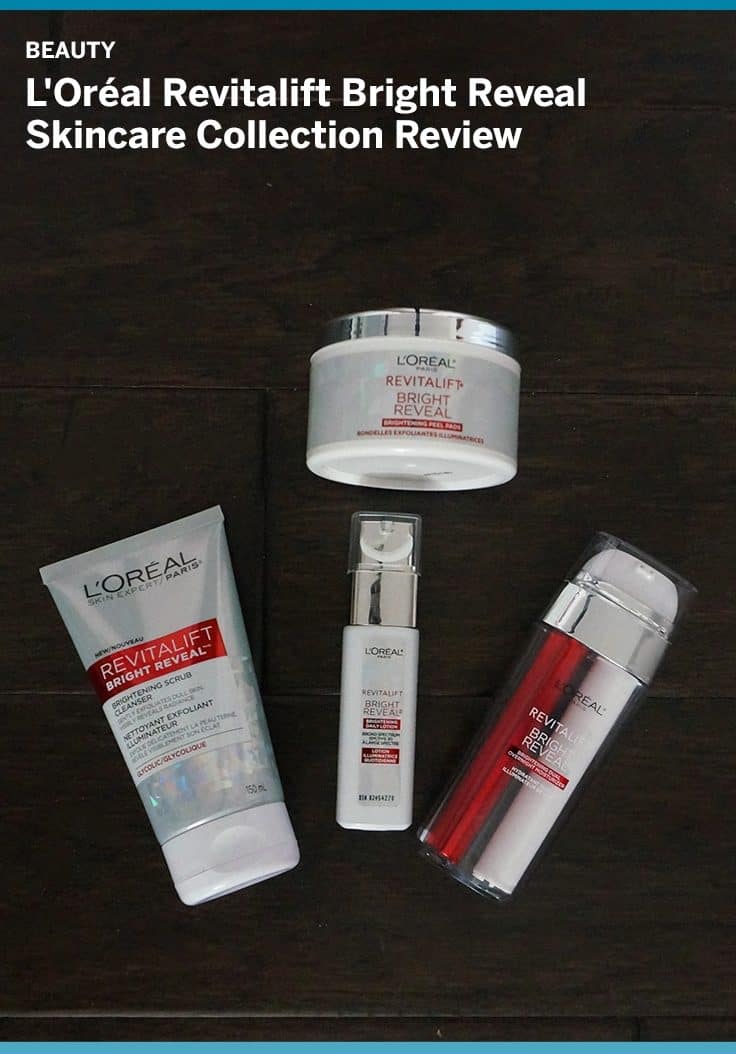 I received the Bright Reveal Skincare Collection from Influenster and L'Oréal for review purposes only. As always the opinions expressed in this review are my own.