This article may contain affiliate links. Clicking on or purchasing products we recommend through a link may earn a small commission. Read our disclosure and privacy policy page for details. *COVID-19 TRAVEL ALERT – Travel recommendations offered on this site are not to encourage you to travel against travel advisories.
When travelling, one of my biggest challenges is eating healthy while at the airport. Airport food has come a long way, but it can still be difficult to find healthy meals and snacks. Sometimes there are unexpected delays where I find myself walking in circles looking for something to eat. In this post, I thought I'd share some of my tips on how to eat healthy at the airport as well as my favourite healthy airport foods and snacks.
Dream it.
Challenges of eating at the airport
Temptation is everywhere at the airport; fast-food restaurants with heavy, greasy meals, bar food at pubs and lounges, vending machines with chips and chocolate bars, and convenience stores with even more sweets and treats.
Often we're caught rushing between flights, so grabbing something quick and on the go is the best we can do. On the flip side, we can spend hours waiting during a layover or a delayed flight. With so much time on our hands, it's tempting to eat from sheer boredom or anxiety.  
And beware, not all airports are created equal. So while your local airport may offer some great healthy options, the airport at your destination may not, or vice versa.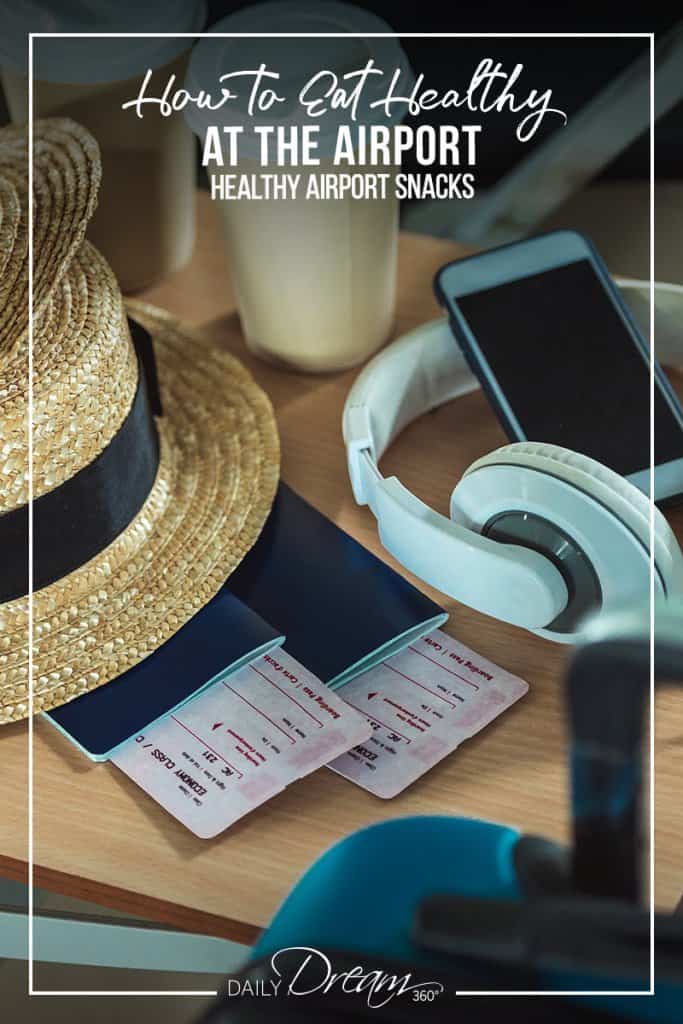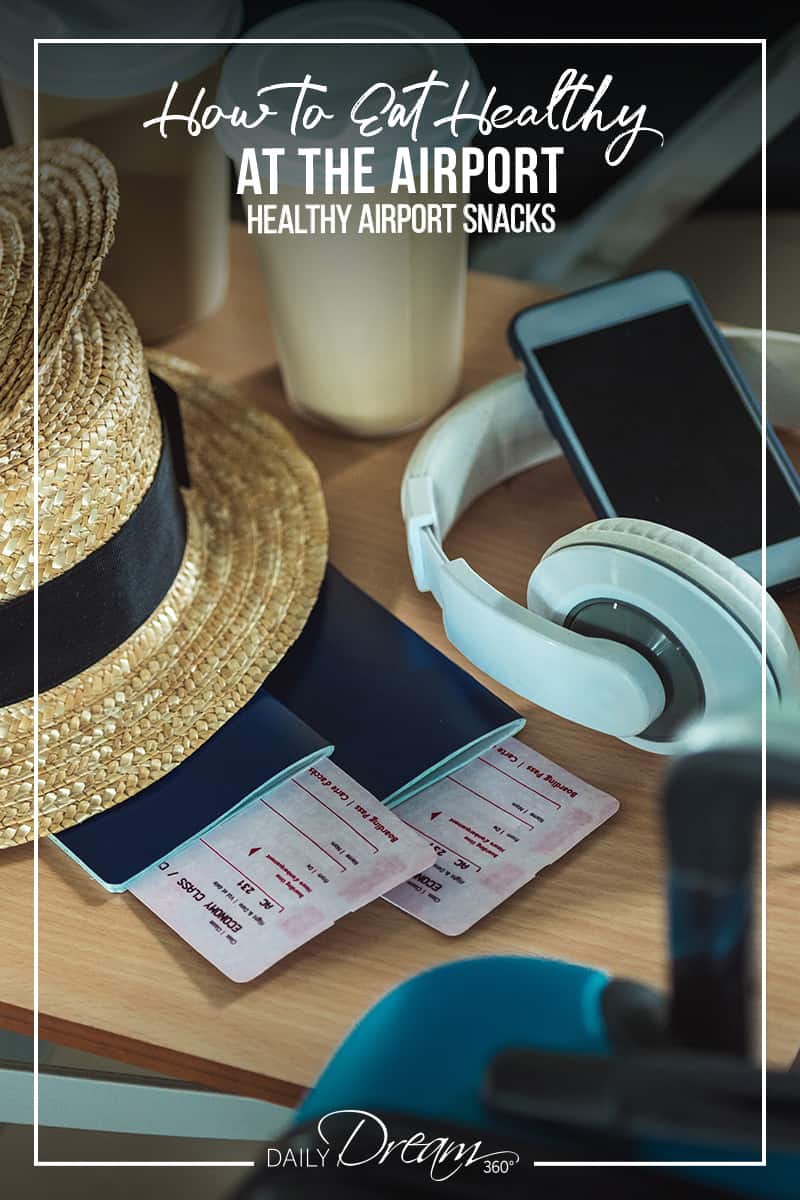 Where there's a will, there's a way
While it's true, it's not always easy to navigate the challenges above; it is still possible. Healthy airport food is not a myth, but it does require some planning.
Of course, nothing beats a home-cooked meal, but there are workable options that can satisfy you without weighing you down or compromising your commitment to a healthy lifestyle or diet.
Plan it.
Consider what types of healthy snacks you can bring to the airport. Plan and pack accordingly.
As a general rule, pre-packaged snacks such as nuts, seeds, protein and granola bars are often allowed through customs and security.
And restaurants within the airport are starting to offer healthier menu options like salads, soups, and lighter meals.
Things to Consider to Eat Healthy at the Airport
Begin planning your trip by first doing some quick research on your local customs website to see what types of snacks/foods are allowed through security. Depending on the country, there may be a wide variety of options available to you.
If you're travelling internationally, pack just enough snacks for your flight, as you may need to throw away what's leftover when you reach your destination.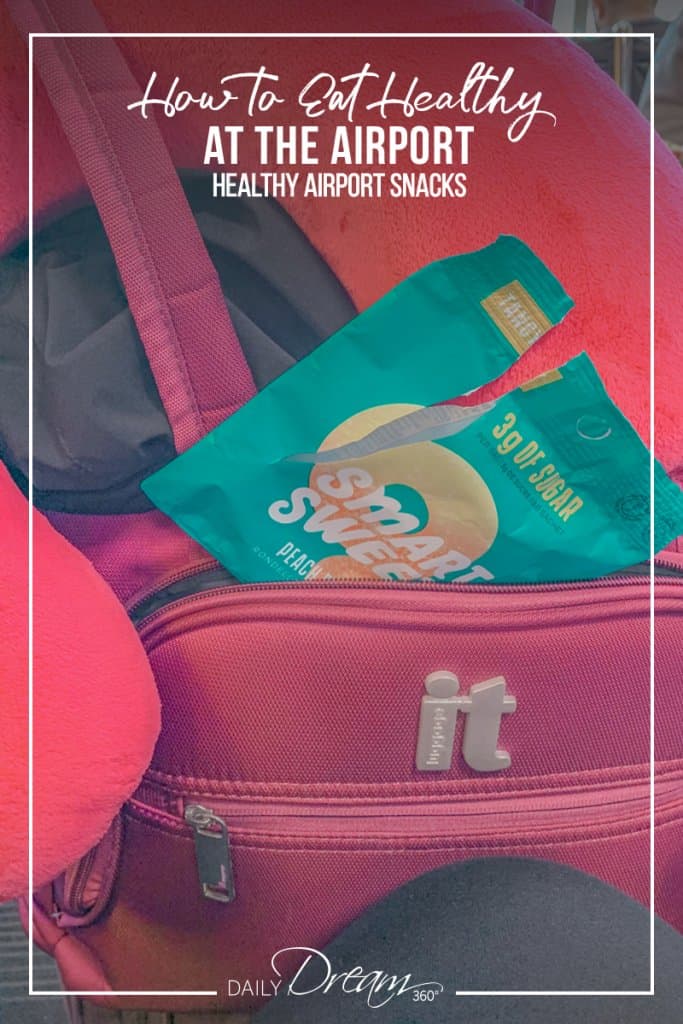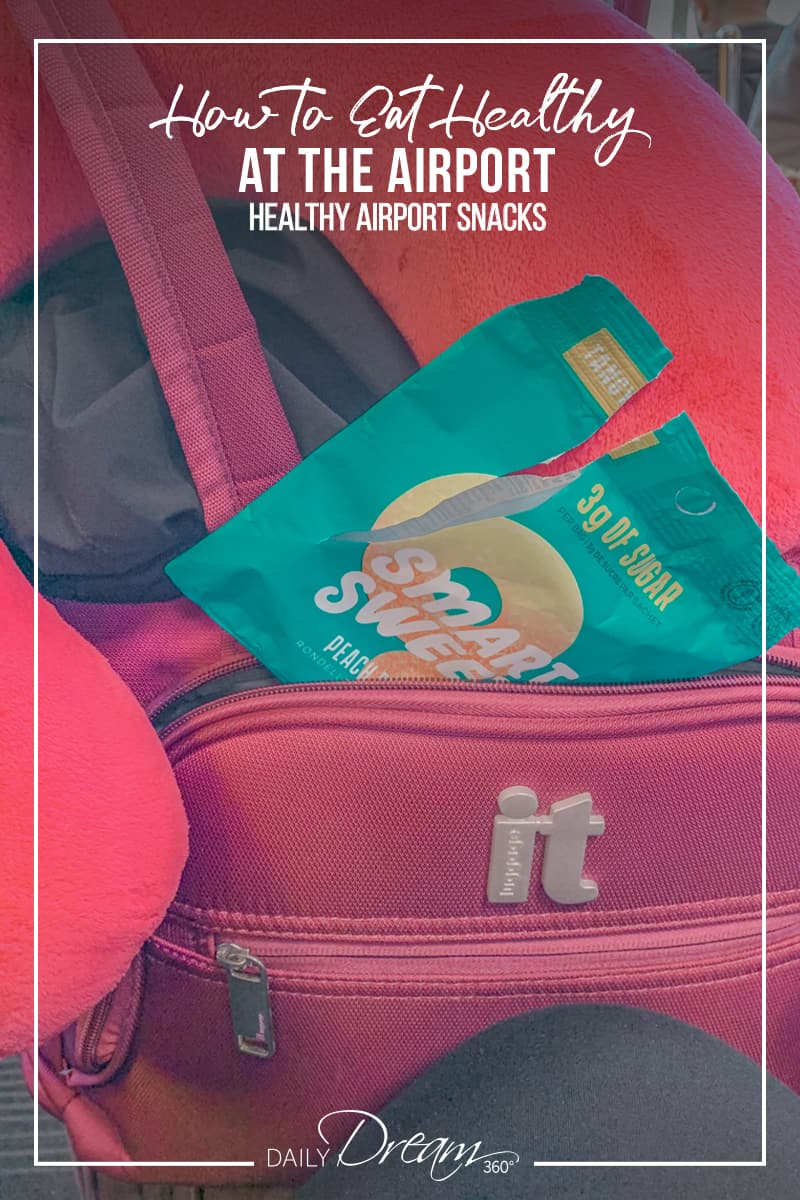 Healthy Snacks to Bring to the Airport
My Favourites Low-carb airport snacks include:
Visit our Amazon Store for more airport snack ideas: US Store | Canada Store.
The best healthy airplane snacks are ones made from home. Here are a few great options that help you stay on track. 
Fruits and vegetables. Pack them in a plastic baggie or reusable container for easy storing. Or if you don't have the time, fruit basics like bananas, oranges, and apples can be readily found in the airport.
Sandwiches. Choose lean proteins like chicken, hummus, egg, or turkey. Add some lettuce, and whole-grain or gluten-free bread and you're good to go. If you purchase them at the airport, avoid sandwiches doused in mayonnaise and heavy dressings.
Nuts and seeds. Chock full of protein, healthy fats, and fibre, nuts are another great option that will satisfy you without weighing you down. Create your own mixes or find pre-packaged nuts at the airport. 
Crackers. Choose crackers low in sugar and sodium and high in fibre and protein. 
Protein or snack bars. Be picky when searching for snack bars. Look for ones that are high in protein and low in sugar. One of my favourites is PhD Smart Bar – it has 20 grams of protein and under 2 grams of sugar. A perfect energy booster. You can also try Quest Protein Cookies.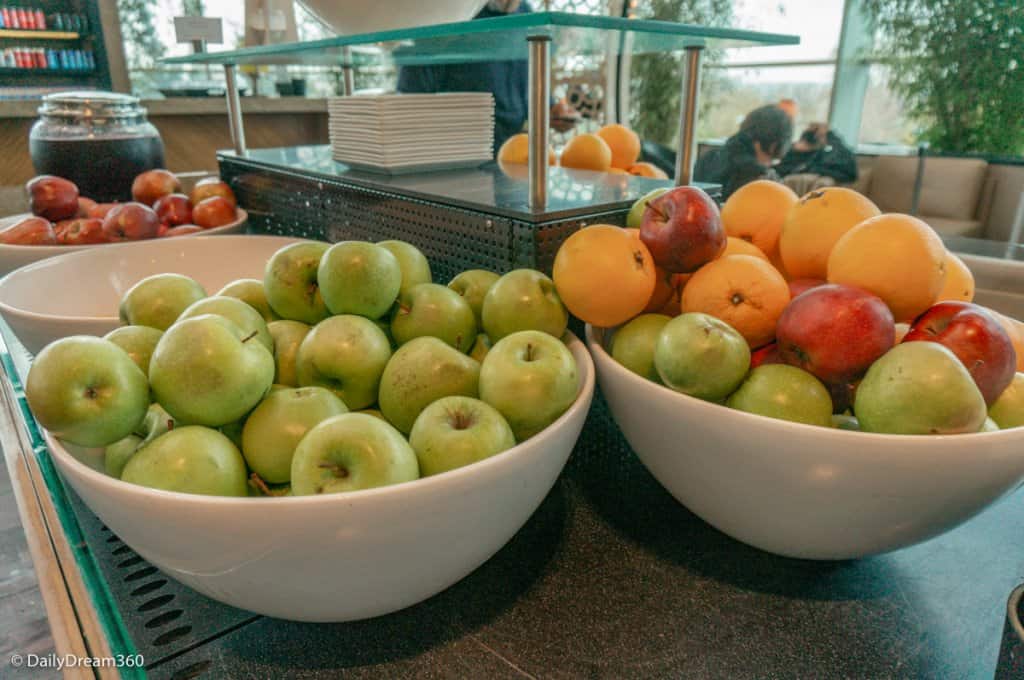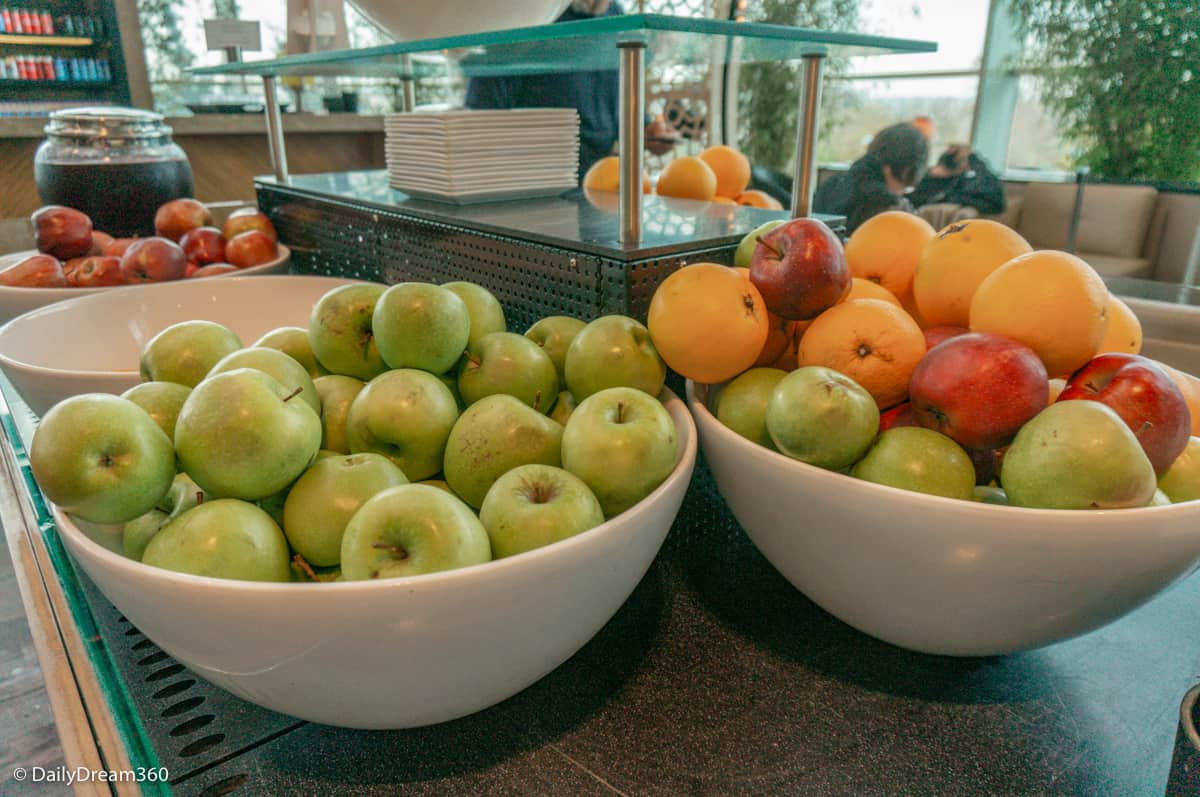 Tips for Healthy Airport Eating
Read more: Healthy Travel Tips
To help you make good choices, here are my top tips on how to eat healthy at the airport.
Eat foods high in protein or fibre. These ingredients will keep you fuller for longer.
Bring an empty water bottle and fill it once you pass through security. Water will help keep you hydrated, moderate your blood sugar, and stop you from overeating. Try flavoured water crystals for added taste.
Avoid foods high in sugar. When you come down from the sugar rush, you will feel sluggish and still hungry. But if you do have to indulge, my personal favourite is Smart Sweets. These sugar-free candies typically have less than 5 grams of sugar in a 50-gram bag — great news for everyone with a sweet tooth.
Avoid salty snacks. Make sure any nuts, seeds, and crackers you eat are unsalted.
Avoid foods high in carbohydrates. Without protein or fibre, carbs are just empty calories. 
When purchasing at the airport, check expiry dates on foods like yogurt, hummus, pre-packaged salads, protein boxes, and sandwiches.
Opt for foods that are easy to digest but leave you satiated.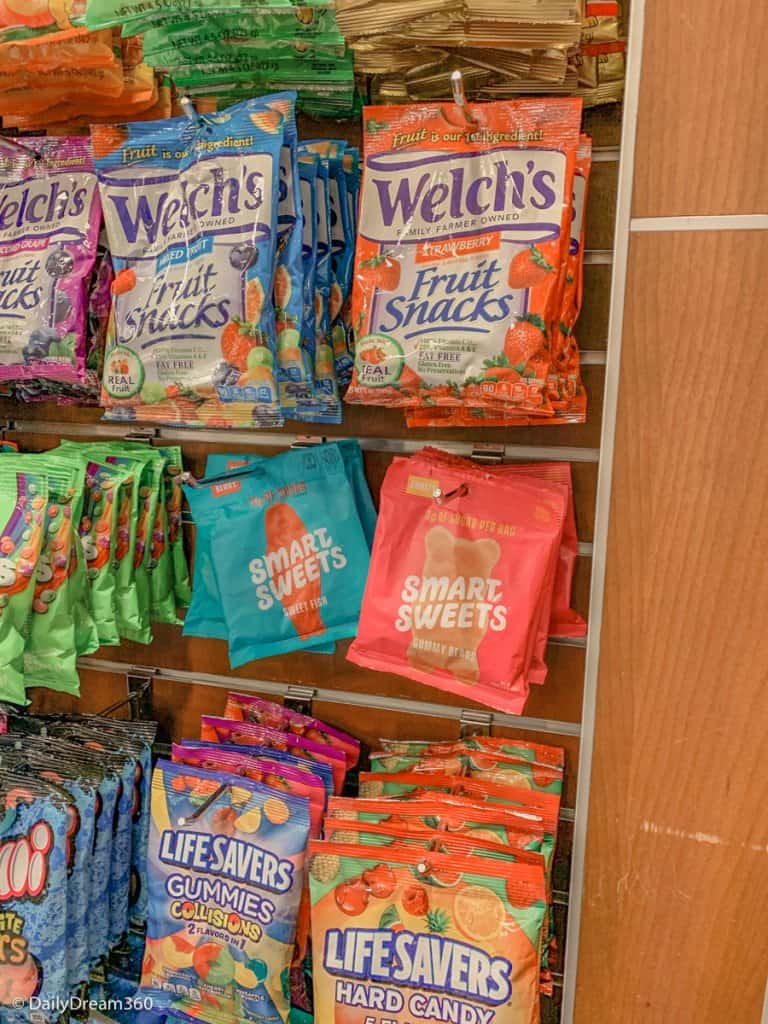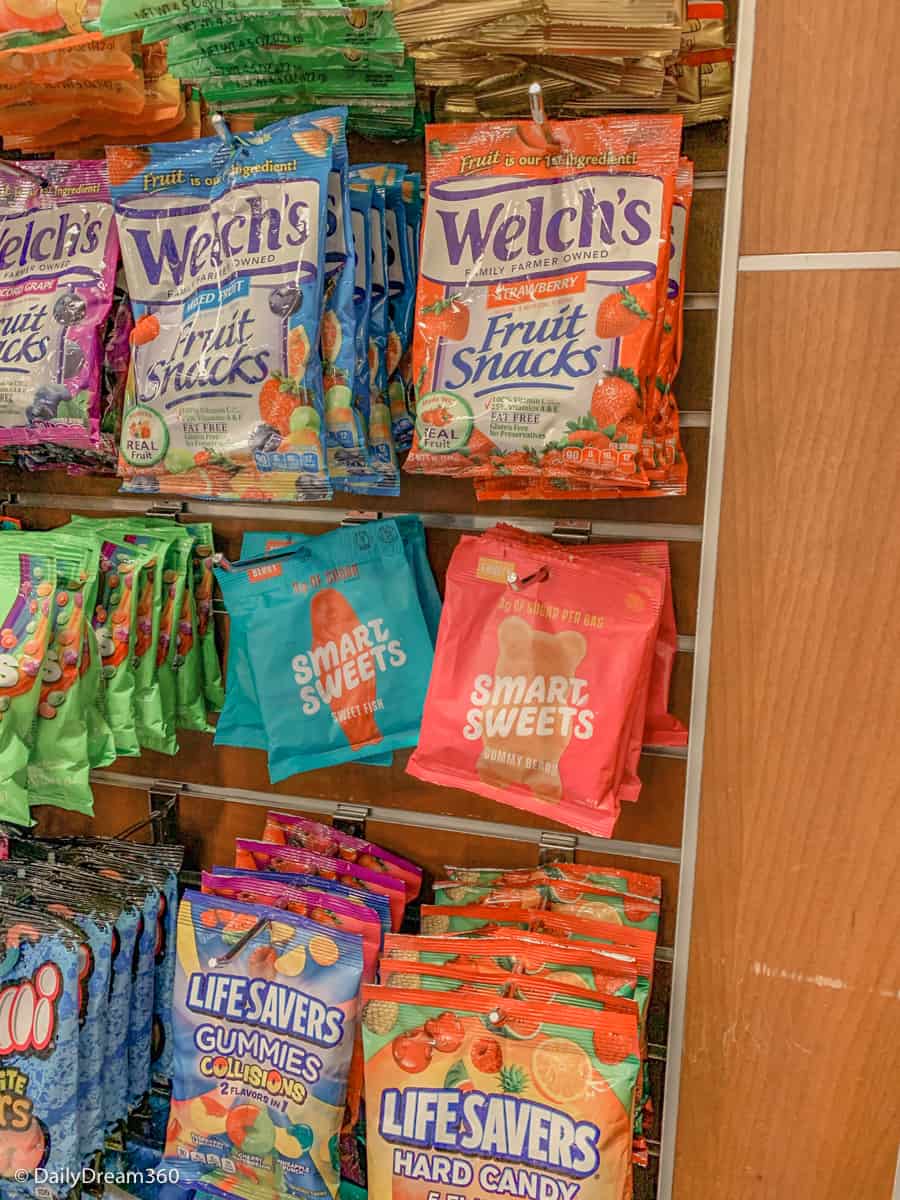 Live it.
Healthy Airport Food
Grab and Go at the Airport
Sometimes I don't have the time to pack ahead. In those cases, I look for healthy airplane snacks to grab and take to the gate or on the plane. Check out the farmer's market-style stands, convenience stores, and some eateries in airport terminals for quick on the go snacks.
Here are a few of my suggestions:
Smoothies. Juice bars and convenience stores in airports have a variety of options and they can include anything from Kale to whey protein. 
Cooler snacks and protein boxes. You can often find hummus, fruit bowls, and other healthy options like protein boxes in the cooler section of the airport stop and go stations. 
Oatmeal. Easily found at airport coffee shops. Oatmeal is high in fibre and will keep you feeling full. 
Yogurt. Full of probiotics, healthy fats, and other nutritional ingredients, yogurt is an ideal snack. Look for plain greek yogurt and add nuts, seeds, or granola.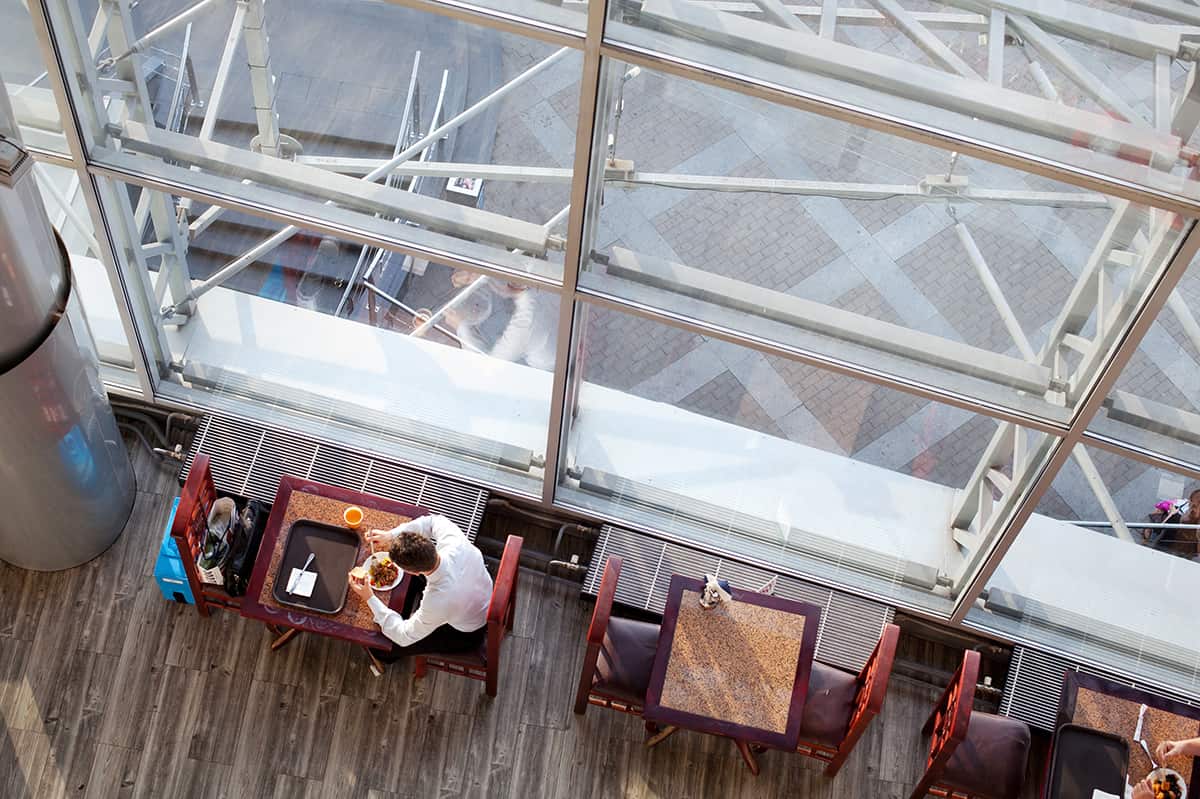 Airport Restaurants and Eateries
Flight delays or layovers are an unwelcome but regular part of travel. When you're stuck at the airport and in need of a solid meal, restaurants and eateries can provide some healthy options such as:
Hearty soups made with vegetables. 
Wraps made with lean meats and veggies. Ask for the dressing on the side. 
Salad bars.  
Fresh and simply cooked entrees. 
Healthier sides. Look for baked potatoes, brown rice, whole grains, or salads. 
Protein bowls that include veggies, chicken, salmon, or beans.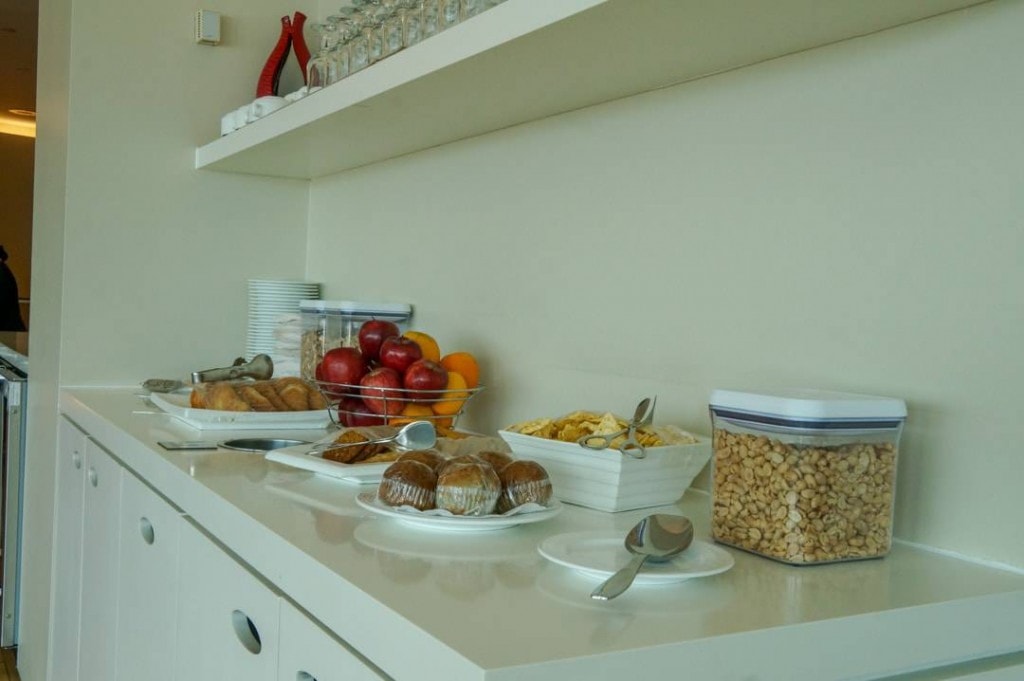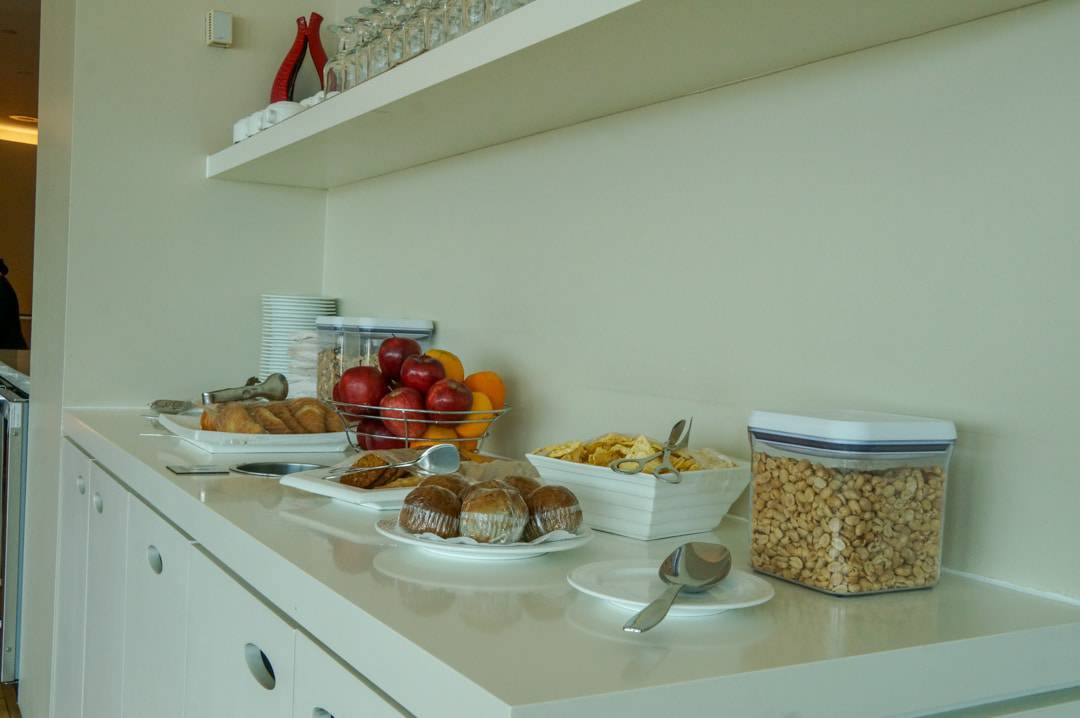 Airport Lounges
Airport lounges can be tricky. Foods here often include high-calorie snacks and sugary alcoholic drinks. Do your best here to avoid foods that can sabotage your healthy intentions. Stick to fresh fruit and vegetables at these locations, grilled meat, and complex carbohydrates.  
Read more: Plaza Premium Lounges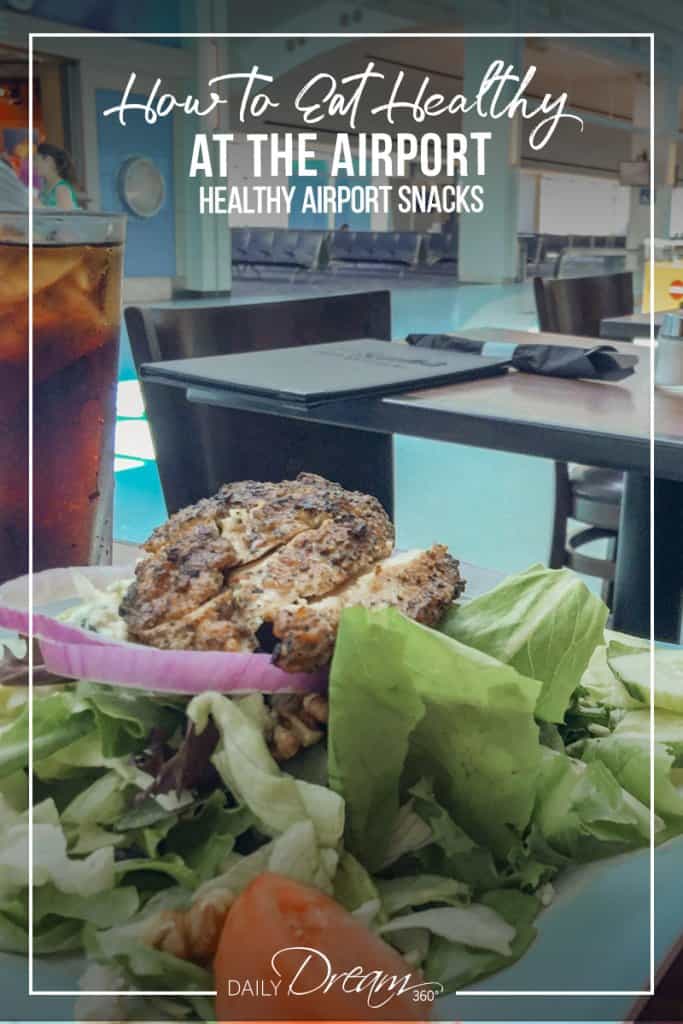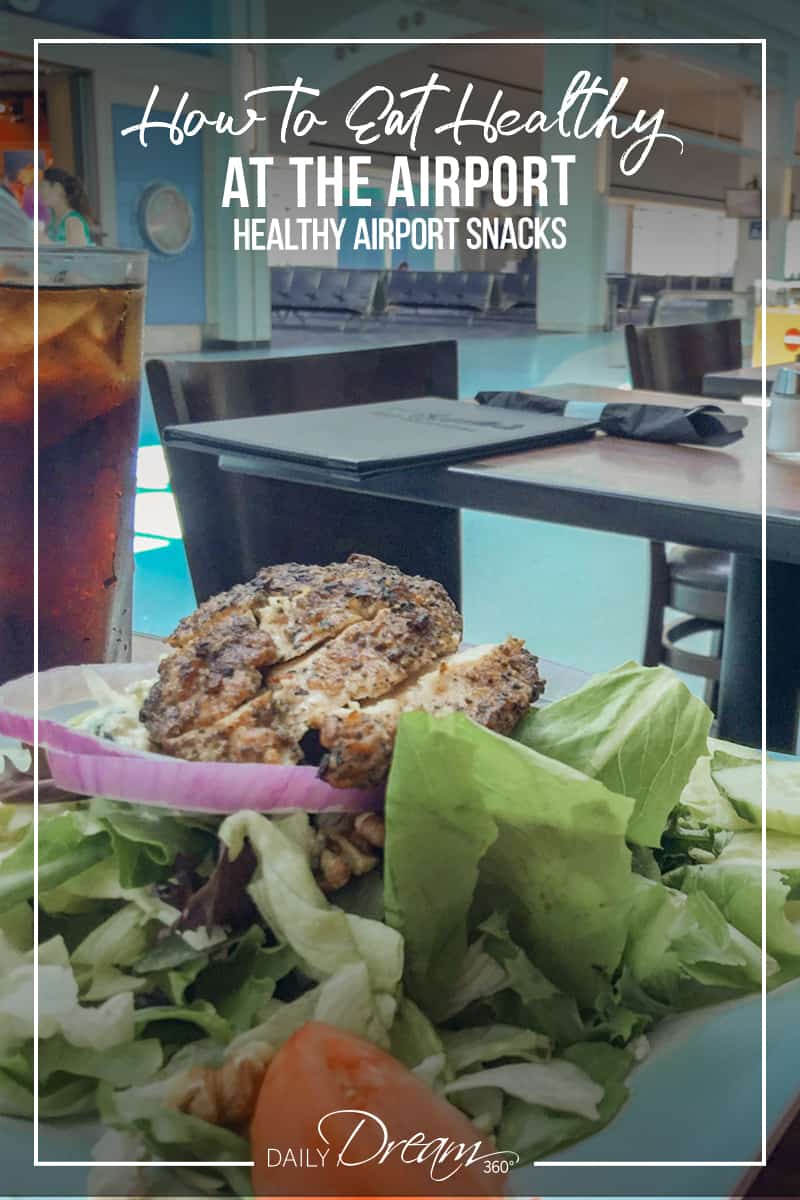 While eating at the airport is not ideal, it also can't be avoided if your travelling. But a stop at the airport, long or short, doesn't mean you have to forgo your healthy lifestyle. If you plan, choose wisely, and keep your goals in focus, you can stay on track and arrive at your destination full of energy, and ready for whatever comes next.