This article may contain affiliate links. Clicking on or purchasing products we recommend through a link may earn a small commission. Read our disclosure and privacy policy page for details. *COVID-19 TRAVEL ALERT – Travel recommendations offered on this site are not to encourage you to travel against travel advisories.
Each year around mid-September to mid-November Epcot Center's World Showcase turns into an adult foodie playground. The event is known as the Epcot International Food and Wine Festival, and it is a celebration of food, music and drink from around the world.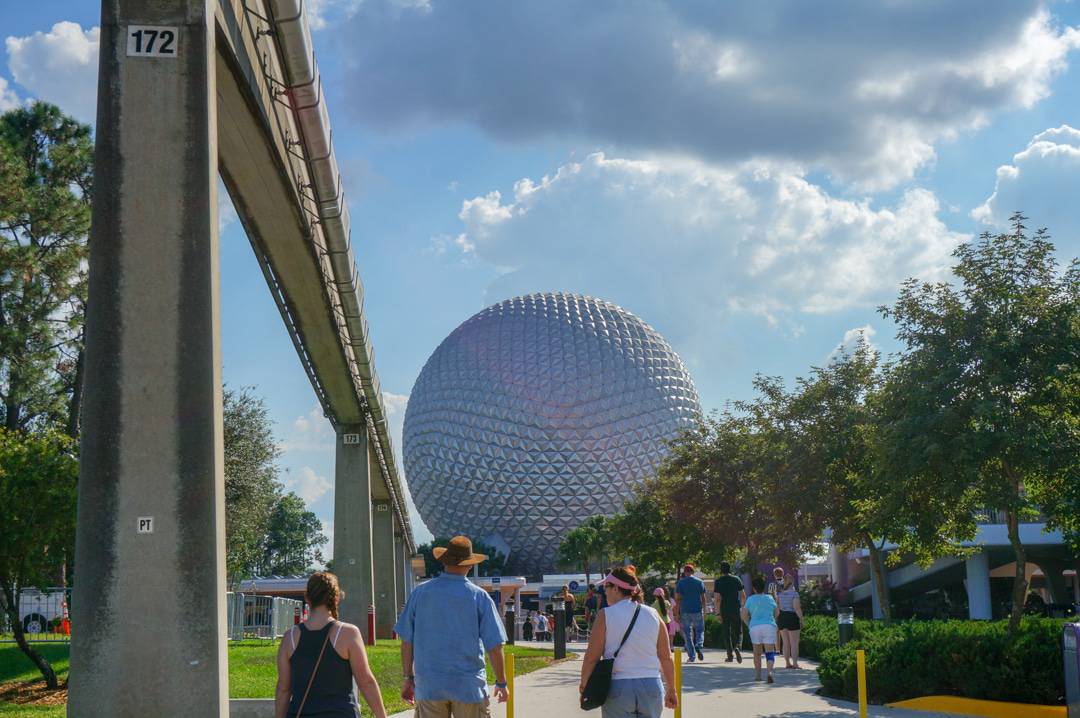 Disney World Activities for Adults
The Epcot food and wine festival is the perfect time for adults to enjoy the park. Disney has often had a focus of family activities leaving those of us without kids or spouses to miss out on all the fun. I remember walking towards the large dome at Epcot Center with giddiness and this time was no different. Except that I wasn't anticipating the rides and Disney character visits, but the food and drink tasting I was about to take part in.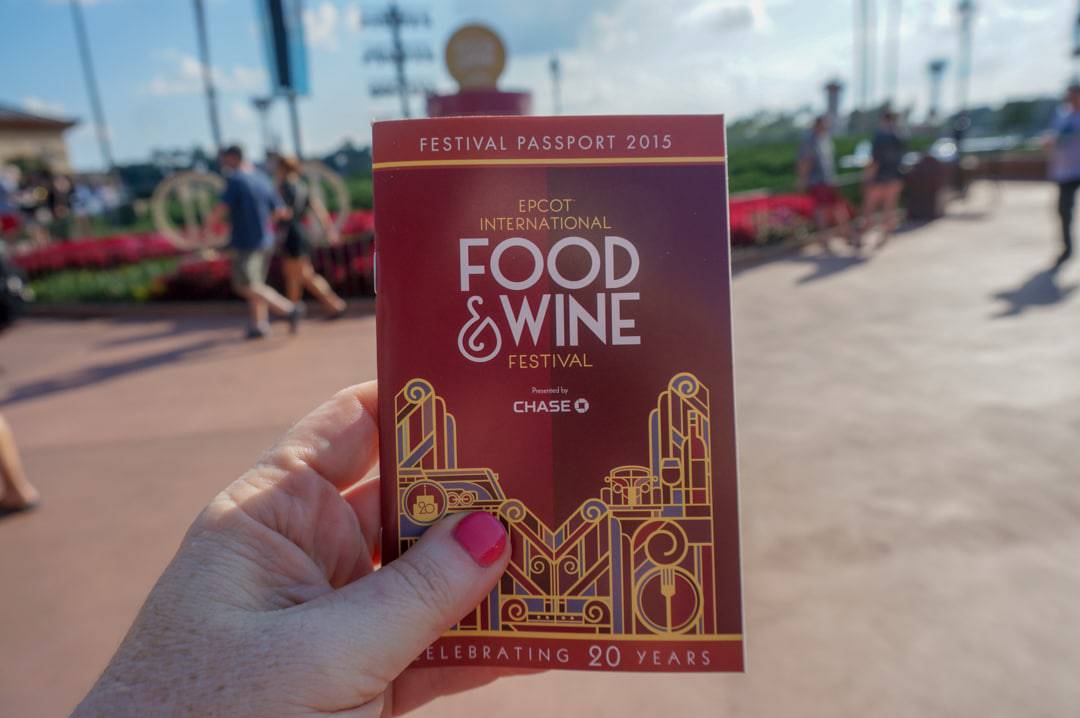 Epcot Food and Wine Festival
The international two-month festival has been running for over 20 years. Park admission is required and a one day pass starts around $97US. Also, you might want to load a Magic Pass or Disney Pre-Paid card with money so you can purchase food and drinks at the various booths set up around the World Showcase area of the park.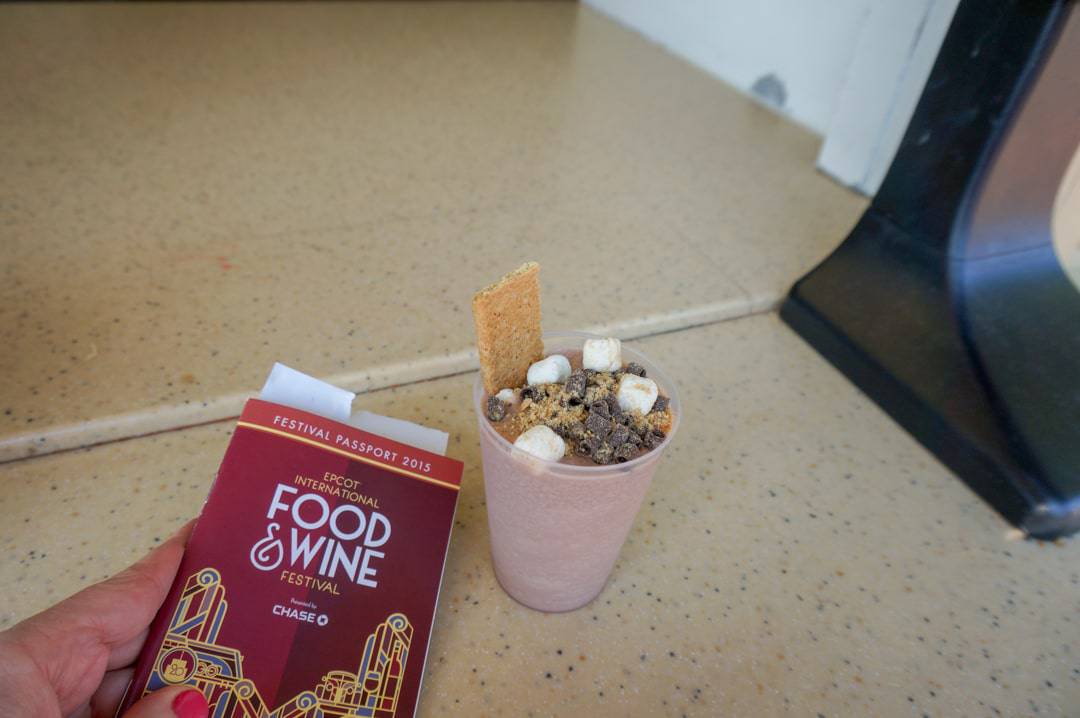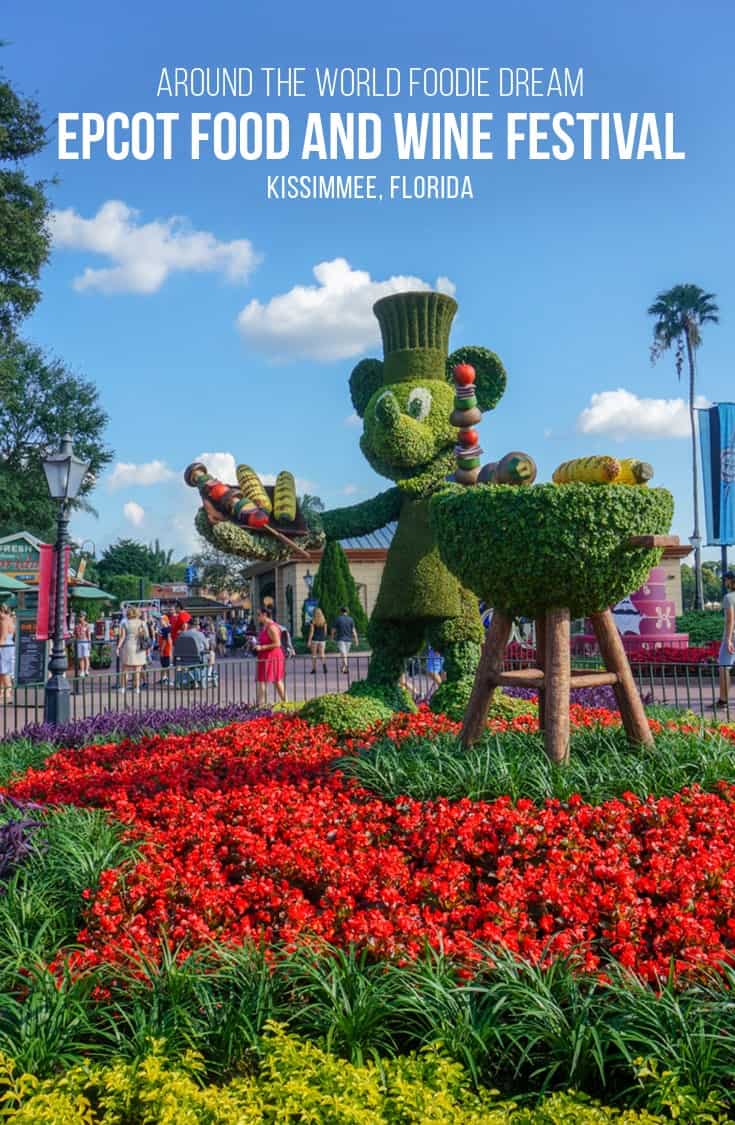 Over 30 Food and Drink Kiosks
There are over 30 food and drink kiosks located as part of the existing countries in the World Showcase and a few additional booths set up especially for the event.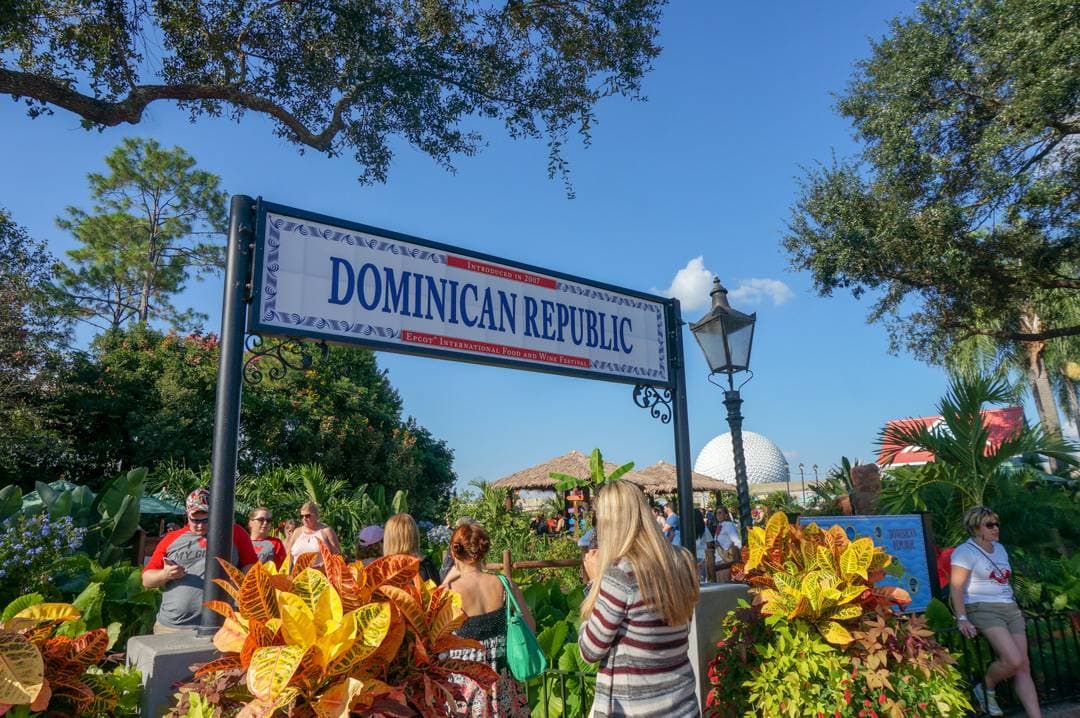 At every booth, a special dish or drink (and sometimes both) are featured and as you purchase a plate your Epcot Food and Wine Festival passport is stamped.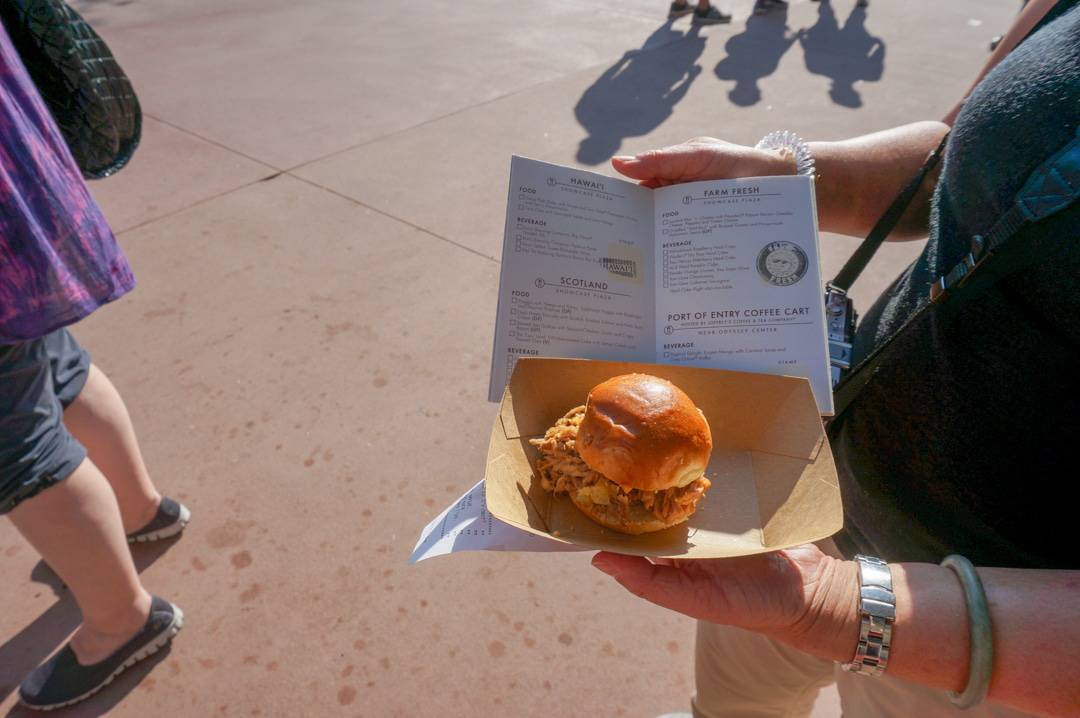 There are big burgers and sandwiches, little nibbles, desserts, coffee, wine, beer and much more.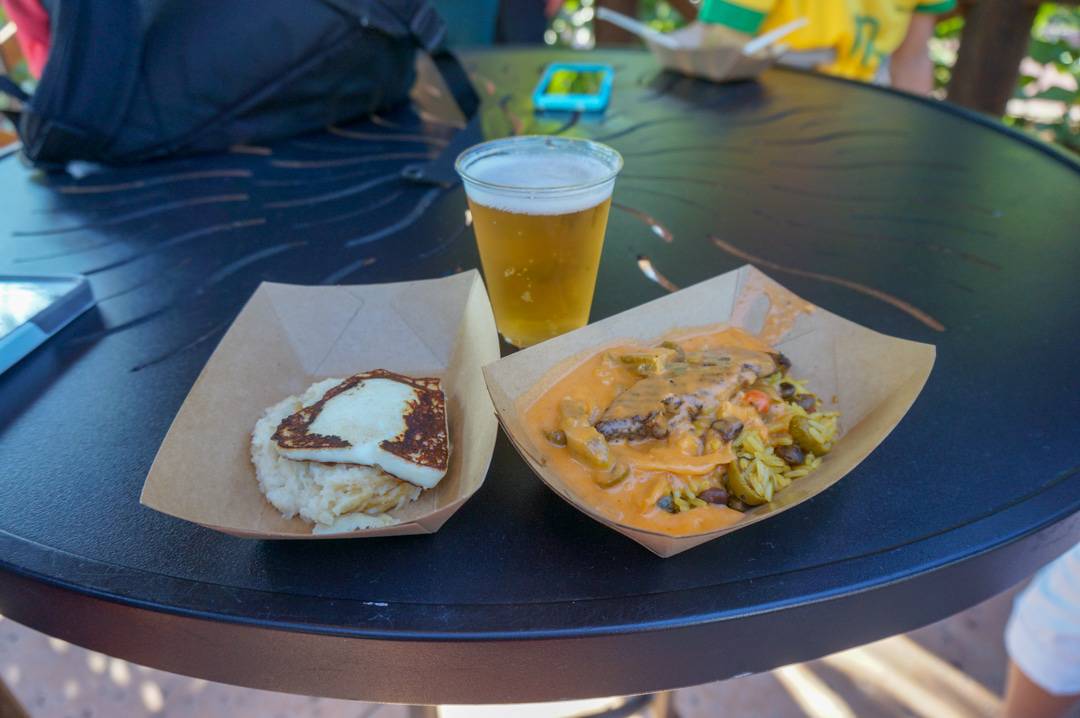 Bring your appetite with you to the park as you will be sampling food from around the world all day long and well into the evening.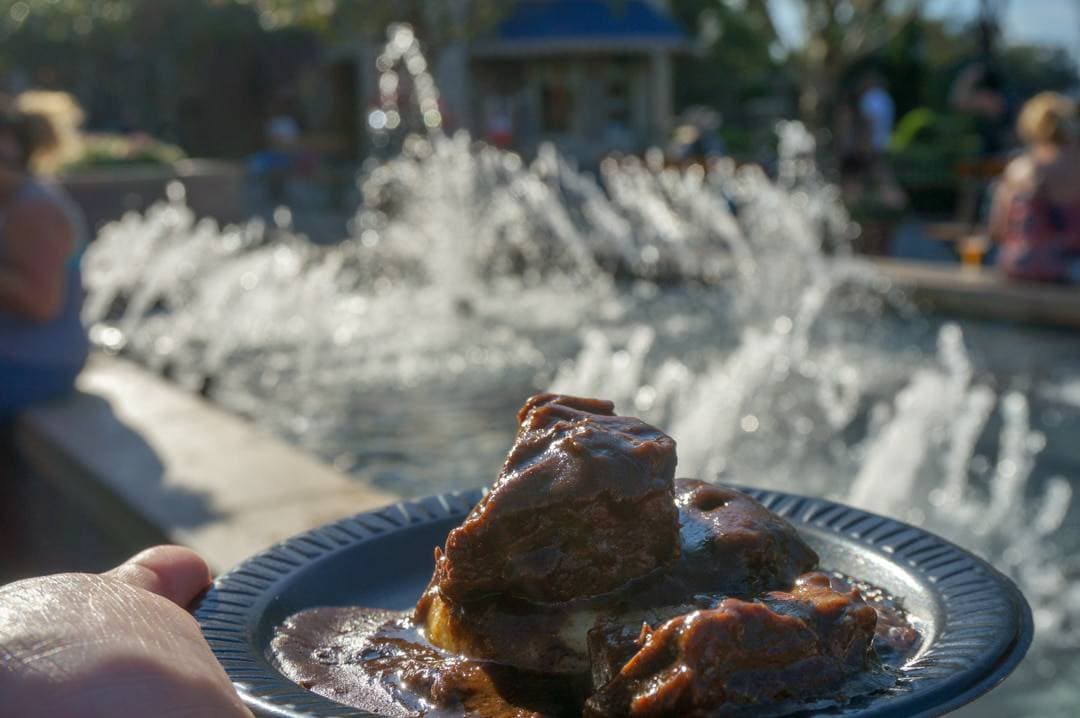 Be sure to watch the schedule for musical shows and other cultural attractions. These are an excellent way to take a break from eating and walking.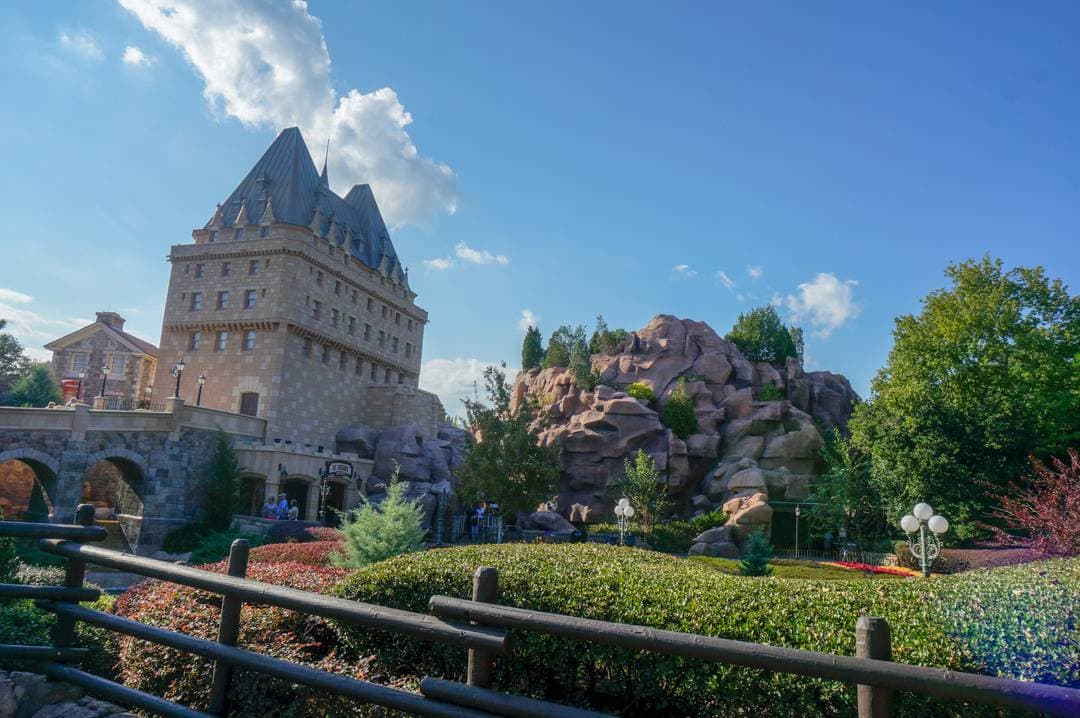 Epcot Food & Wine Festival Tips
Hydrate: Bring a bottle of water with you to the park to refill as go. Temperatures in Florida at this time of year are still hot, and with all the walking you will be doing you will need to hydrate throughout the day.
Wear Comfortable Shoes: You will be walking around the world in one day. Be prepared for a lot of walking as you need to get through the park and into the World Showcase area and then make your way around it.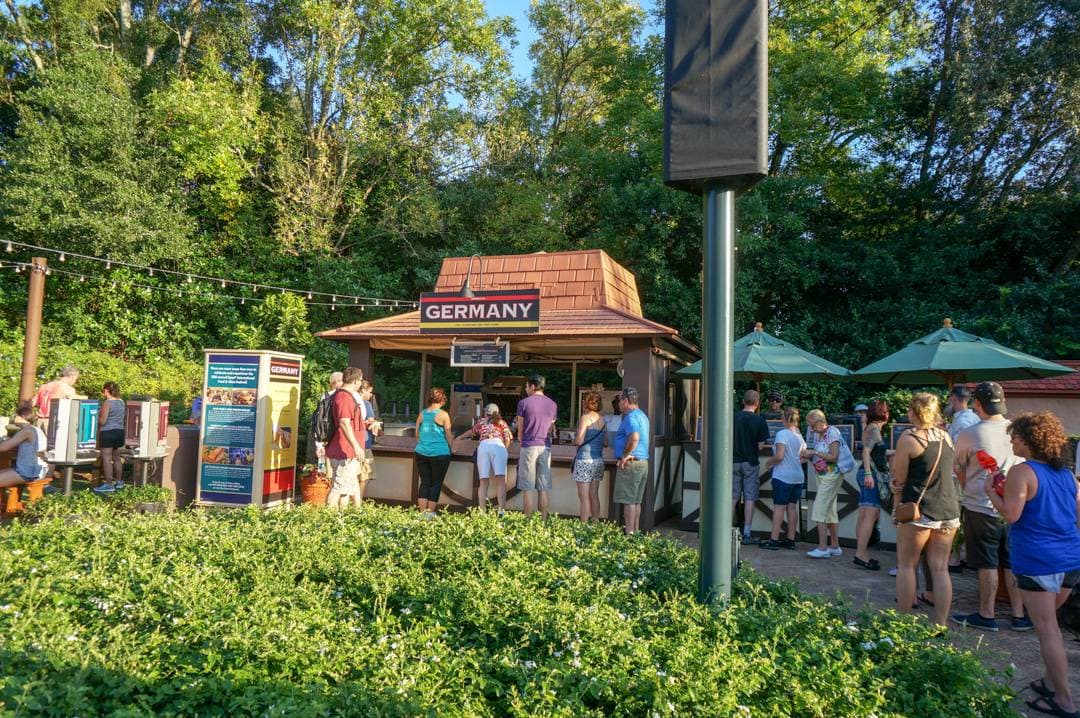 Don't let the crowds get to you: lineups at the food pavilions were not that bad and moved through quickly. Since we were swiping our gift cards vs. paying cash, it moved even more rapidly. Take your time and enjoy your surroundings and use the lineups as a break from eating and drinking.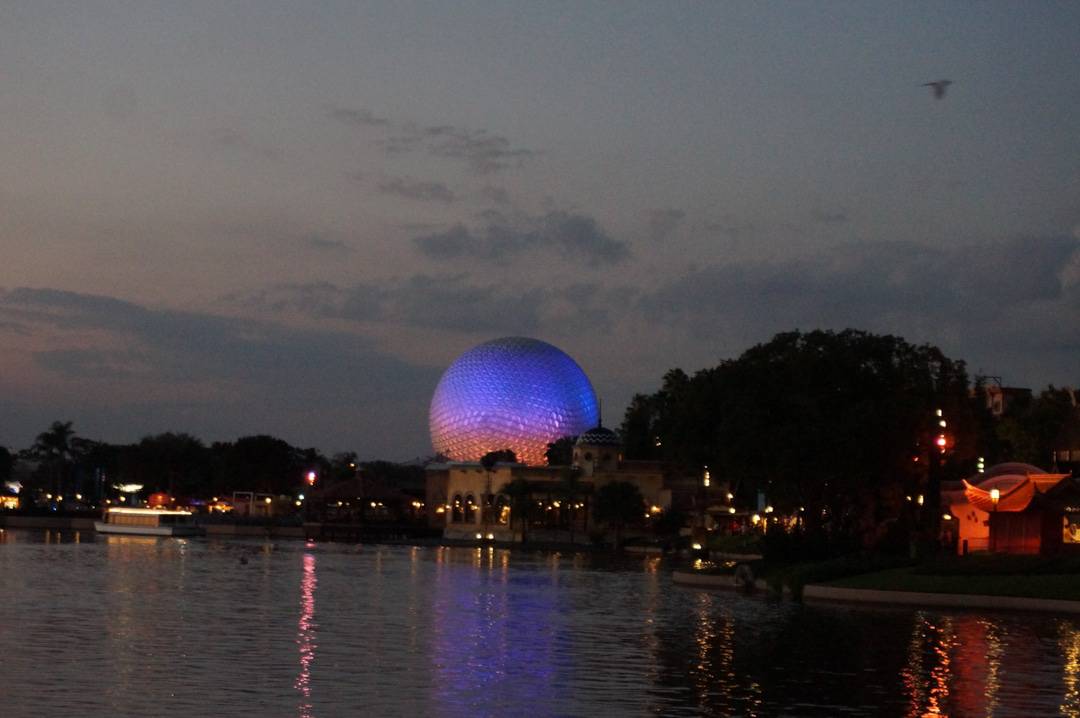 Day and night activities: Don't miss out on the evening fun at Epcot. The park is beautiful as it lights up for evening celebrations and activities. There are many wine seminars, music concerts and more happening right up until the park closes.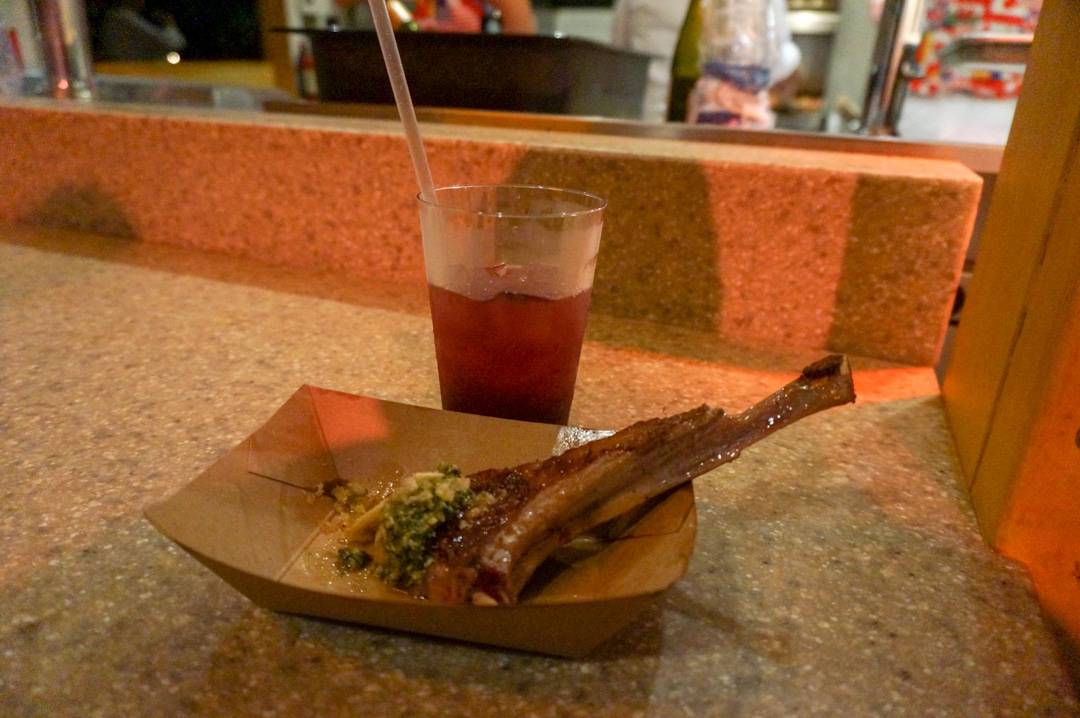 We planned on visiting certain booths in the evening like New Zealand so we could enjoy the lamb dish as part of our dinner. You may end up making a few laps around the world showcase during the festival, but it is worth it.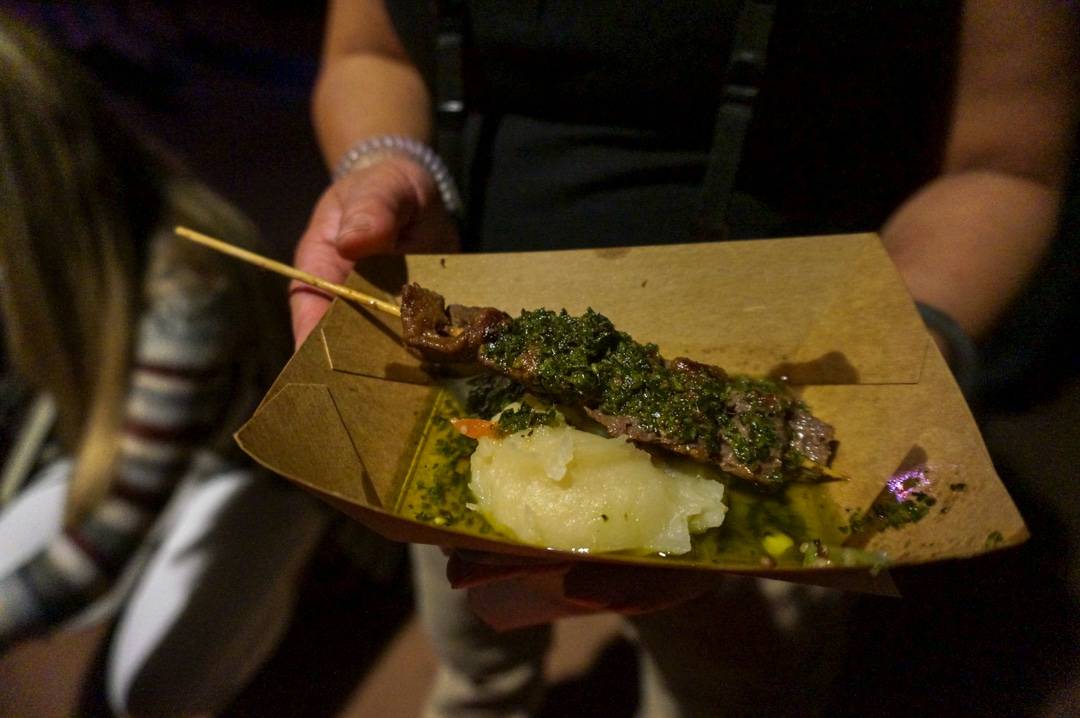 It was so great to run around Disney World as an adult. We visited our favourite Epcot rides, discovered what's new at the park and enjoyed food and cocktails as we walked around the park.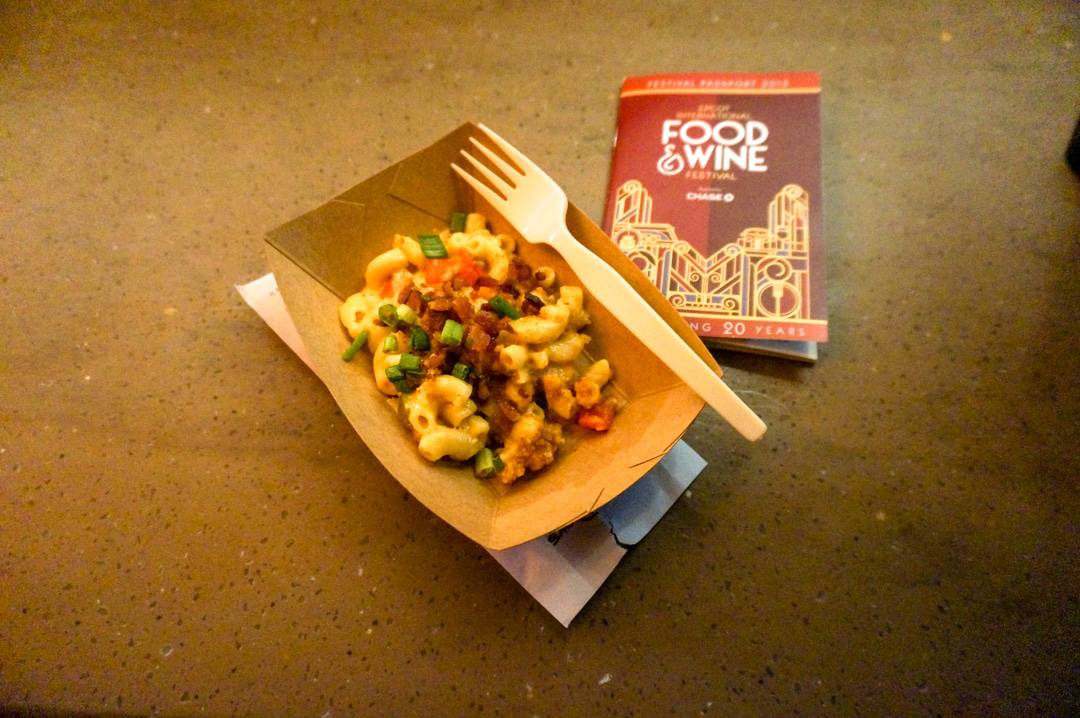 Epcot's Illuminations Fireworks Show
I was surprised that the Illuminations fireworks show was still on at Epcot Centre after all these years. It was still just as magical.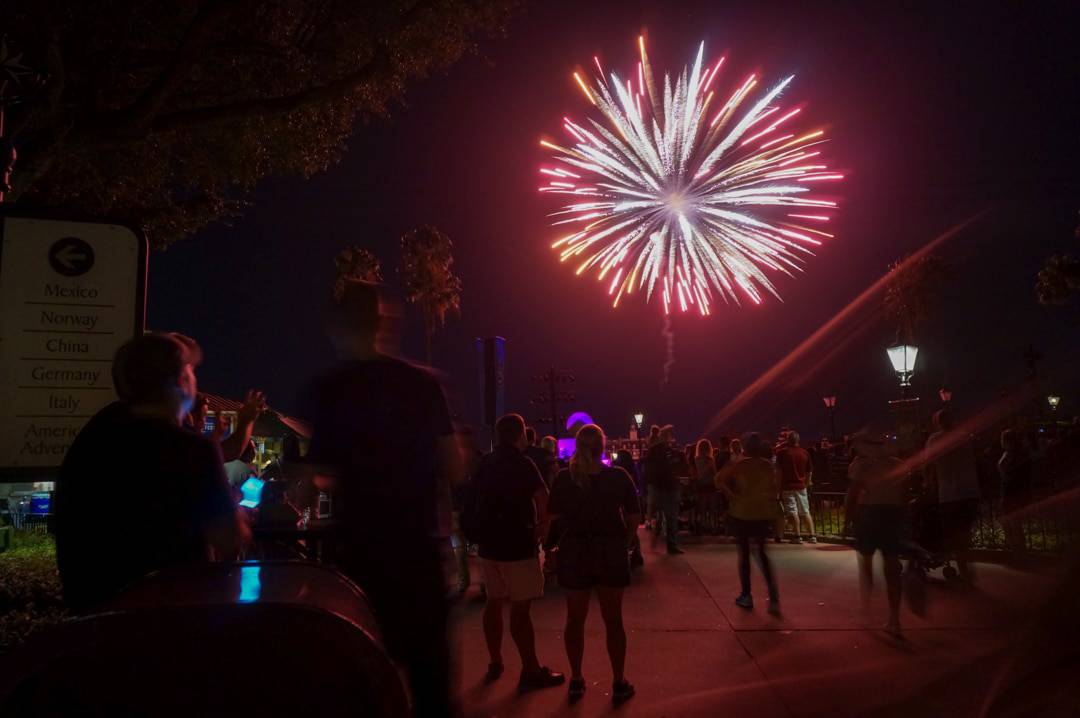 If you haven't been to Disney World since you were a kid, and like me you are an adult with no children, then Epcot's Food and Wine Festival is a great way for you to discover it all over again!
Planning a trip to the Kissimmee area? Check out these posts: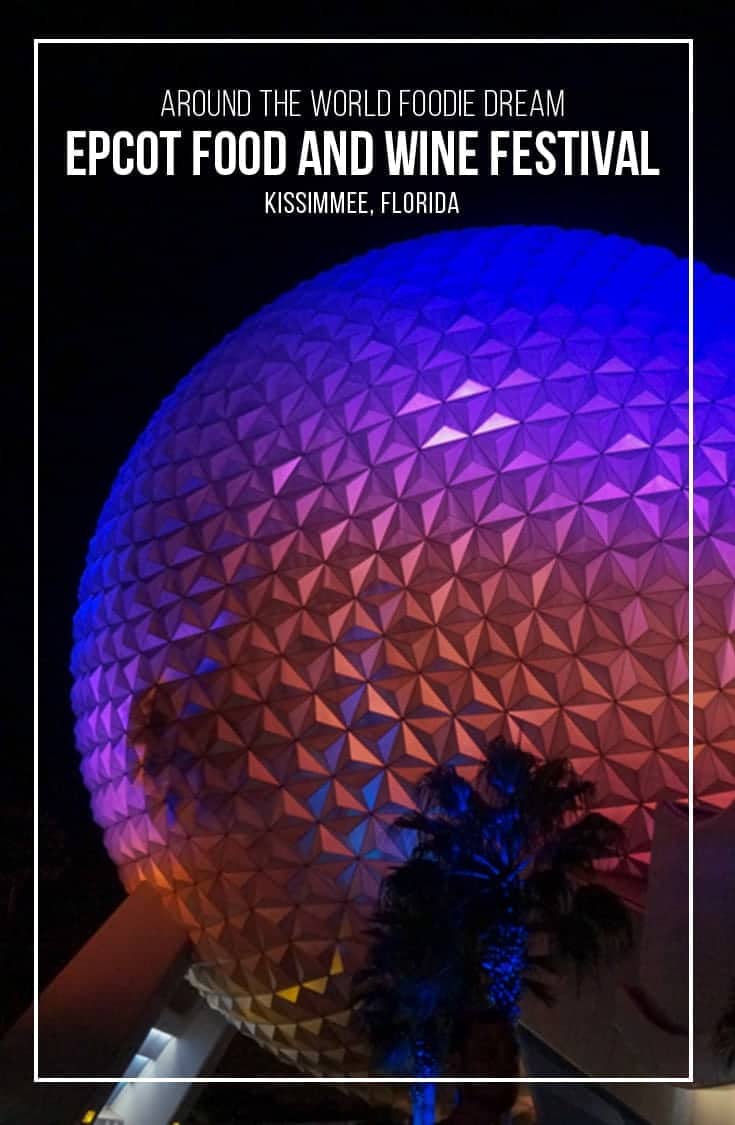 Travel assistance provided by Experience Kissimmee and Walt Disney World's Epcot Centre, however, the opinions expressed in this post are my own.