This article may contain affiliate links. Clicking on or purchasing products we recommend through a link may earn a small commission. Read our disclosure and privacy policy page for details. *COVID-19 TRAVEL ALERT – Travel recommendations offered on this site are not to encourage you to travel against travel advisories.
It always takes my breathe away for a second when I walk into the amazing tea room at The Windsor Arms Hotel in Toronto. The first room is decorated in white with a hat rack in the corner and all the tables are covered in white linen and ready for tea service. The ornate cups and saucers are strategically placed on each table adding to the room's elegance and charm. We are escorted to the purple room which like its neighbour is opulently decorated with a huge chandelier hanging in the centre of the room and all the tables set and waiting for the service to begin. This is High Tea at The Windsor Arms Hotel.
High Tea at the Windsor Arms Hotel
Windsor Arms Hotel – Afternoon Tea Ambiance

High tea at the Windsor Arms is tradition and not part of the current "fad like" need to do it by all the other hotels in the city. For the Windsor Arms hotel, it has been staple since the hotel opened back in 1927 and in 87 years they have never once stopped featuring it. There are two tea services an afternoon tea and a twilight tea. Both feature similar offerings of scones, sandwiches and petit fours but during twilight tea you are served a large quiche. There are 31 varieties of loose leaf tea on the tea menu with various offerings for any tea lover's pallet.
Our waiter Nakul (with 15 years of tea service at the Windsor Arms) helps us determine which teas we would like best, explaining easily the different blends, the most popular blends and through a series of questions about our own likes makes recommendations which he thinks we would enjoy the most. I chose a Rooibos and Black tea blend called Tibetan Tiger which has chocolate bits and vanilla to compliment my sweet tooth! The tea arrives to the table in ornate tea pots and we admired their beauty as we waited for the tea to steep.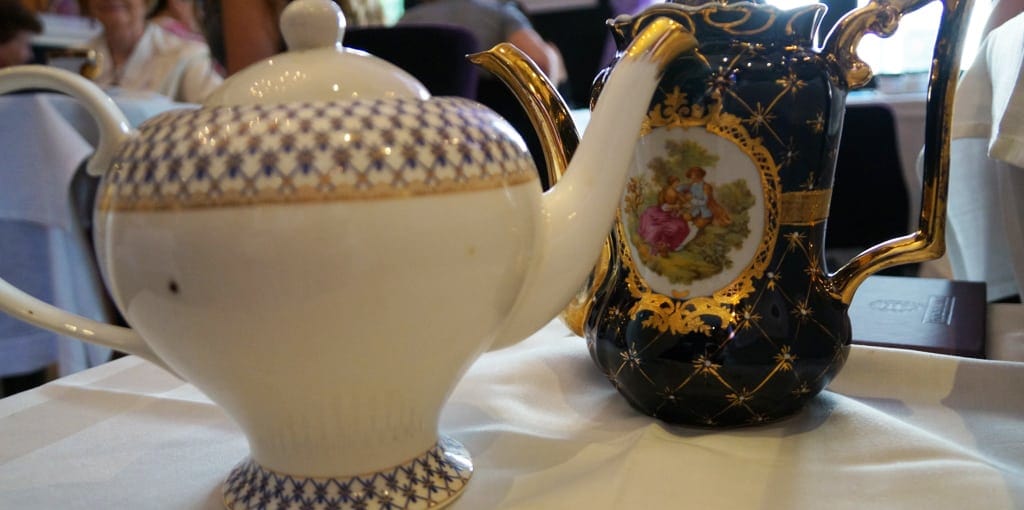 High Tea at the Windsor Arms Hotel Afternoon and Twilight Tea Food
Then the food arrives on a tiered cake stand, with delicious looking petit fours on top, little delicate sandwiches in the middle and fresh scones on the bottom. We are also given fresh Devon cream and preserves (a berry blend and a scrumptious strawberry preserve) to indulge in. A small quiche tart is served first with afternoon tea and the larger quiche is served with twilight tea. The lemon scones are my absolute favourite! The light citrus taste of this fresh and soft scone melts in your mouth as you eat it. By the time we got to the petit fours on the top tier we were so full we could barely eat another bite.

Fancy Hats for a Cause
The hotel does everything to encourage you to enjoy your "fancy" high tea experience including an assortment of fancy hats you can wear in exchange for a $5 donation with all proceeds benefiting the Look Good Feel Better program; a charity that offers a free hands-on cosmetic and hair alternatives workshop for women with cancer in a caring and supportive environment.
So if you are looking to join in on the "high tea craze" in Toronto these days I recommend you experience afternoon tea at the Windsor Arms Hotel – with 87 years of traditional high tea service in one of their luxurious tea rooms you can't go wrong.
I was invited by The Windsor Arms Hotel for afternoon tea, however the opinions expressed in this post are my own.