This article may contain affiliate links. Clicking on or purchasing products we recommend through a link may earn a small commission. Read our disclosure and privacy policy page for details. *COVID-19 TRAVEL ALERT – Travel recommendations offered on this site are not to encourage you to travel against travel advisories.
I can't believe I have not realized the dreaminess of Vera Bradley before. Here is a company that is devoted to stylish luggage for women well known for their handbags, luggage and many travel items, and I'm only now discovering them. In my defence, there are no Vera Bradley stores in Canada, but how did I miss them during my cross-border shopping trips to Buffalo?
Vera Bradley Travel Gear
I guess I'm getting old, or I'm travelling so much that the weight of my purses and travel gear is starting to be a problem. My stylish bags are heavy and beginning to play a number on my shoulder and back. Add in all my camera gear, batteries and charging cables mixed with a long day of sightseeing on a press trip and me and my back are done.
I walked into my very first Vera Bradley store on a recent visit to Houston while researching the Galleria mall. I had heard of the brand before, and I was carrying the most uncomfortable sling bag with me. The two saleswomen in the store were excellent and pointed me to the clearance section of the store. With an extra 30% off storewide, this meant the clearance items were like 60% off!!!
I know right. The best part, however, is when I told the ladies the kind of bag I was looking for they showed me four or five options that would fit what I needed and after careful consideration (with no pressure from either of the ladies) I ended up buying two bags and a little travel wallet.
Canadians will be happy to know that not only do they ship to Canada but when browsing their website the prices of the bags appear in Canadian dollars (if your cookies are enabled). Now if we can just get them to open a store in Canada wouldn't that be awesome!
Vera Bradley Lightweight Handbags
If quilted cotton in a variety of patterns and colours is not your thing, Vera Bradley also has a collection of leather handbags to choose from. What I fell in love with the minute I held one of the quilted bags in my hand was how lightweight they were. I can stash them in my carry-on and not worry about taking up weight. I can also stuff them full of camera gear and not worry about how heavy they get as the day wears on.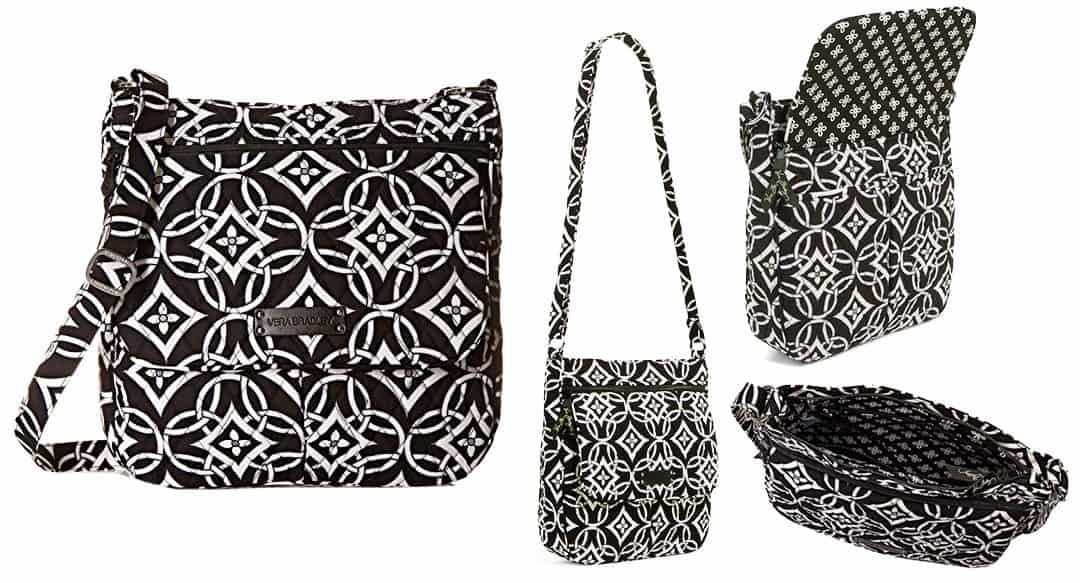 Vera Bradley Double Zip Mailbag
The search for the perfect crossbody bag is over. I have fallen in love with my Double Zip Mailbag so much it has become my day-to-day bag now. It has a long 56″ adjustable strap which means that even over my bulky winter coat I can wear this as a crossbody bag. The pattern name is Concerto and is currently in the sale section on the Vera Bradley website.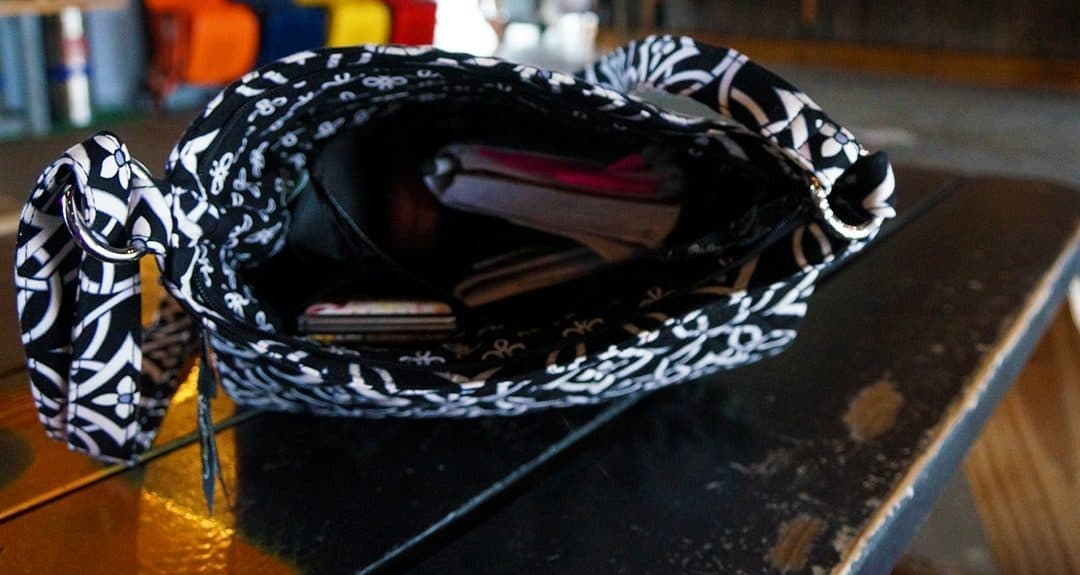 It has so many compartments and pockets, making it so organized and convenient.
Two front pockets are hidden under a flap with a magnetic closure
Zippered large pocket above the flap on the front of the bag
Inside main bag area, small zippered pocket, two side pockets (this central portion also has a zipper)
on the back of the bag is another hidden small pocket (great for my iPhone 6+ which fits inside perfectly)

Vera Bradley Mandy Shoulder Bag
The second bag I bought was this Mandy Shoulder Bag. The reason I bought it is because it is a mid-size tote and inside the main compartment is lined with three slip pockets per side. There is also a hidden slip pocket on the front of the bag. The inside of the bag has a removable bottom which allows you to machine wash the bag as well.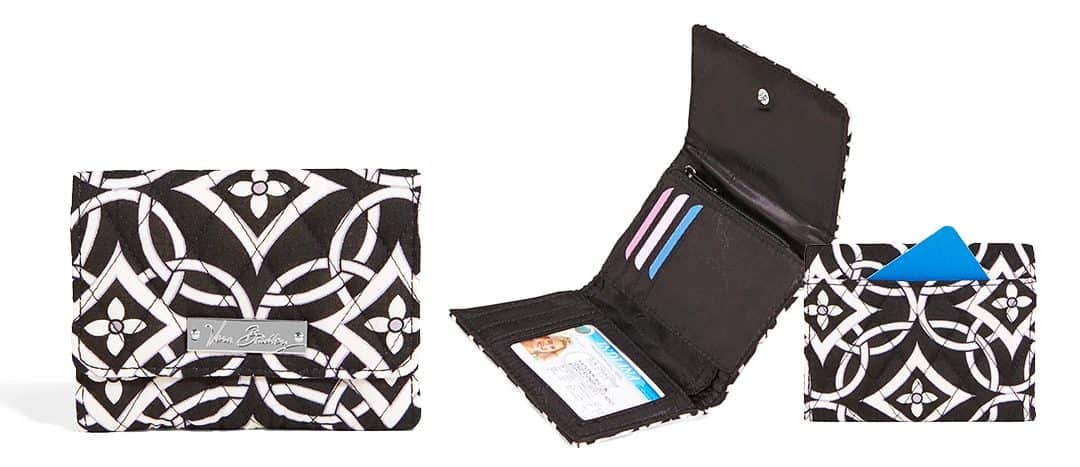 Vera Bradley Petit Trifold Wallet
My day-to-day wallet is so big that I think it is adding like 5lbs to my regular bag. When I travel, I don't need all the cards and stuff in my usual wallet, so I have been in need of something small and lightweight for the few items I carry during my journies. Since the Petit Trifold Wallet was also sitting in the sales bin, I thought why not?
One large bill pocket
Four credit card slots
an inside zippered coin pocket
ID window slot
outside card slot
As you can see, I got all three bags in the same concerto pattern. I'm matchy-matchy like that. Since coming home, I have now browsed the Vera Bradley website, and I think I have a new bag addiction!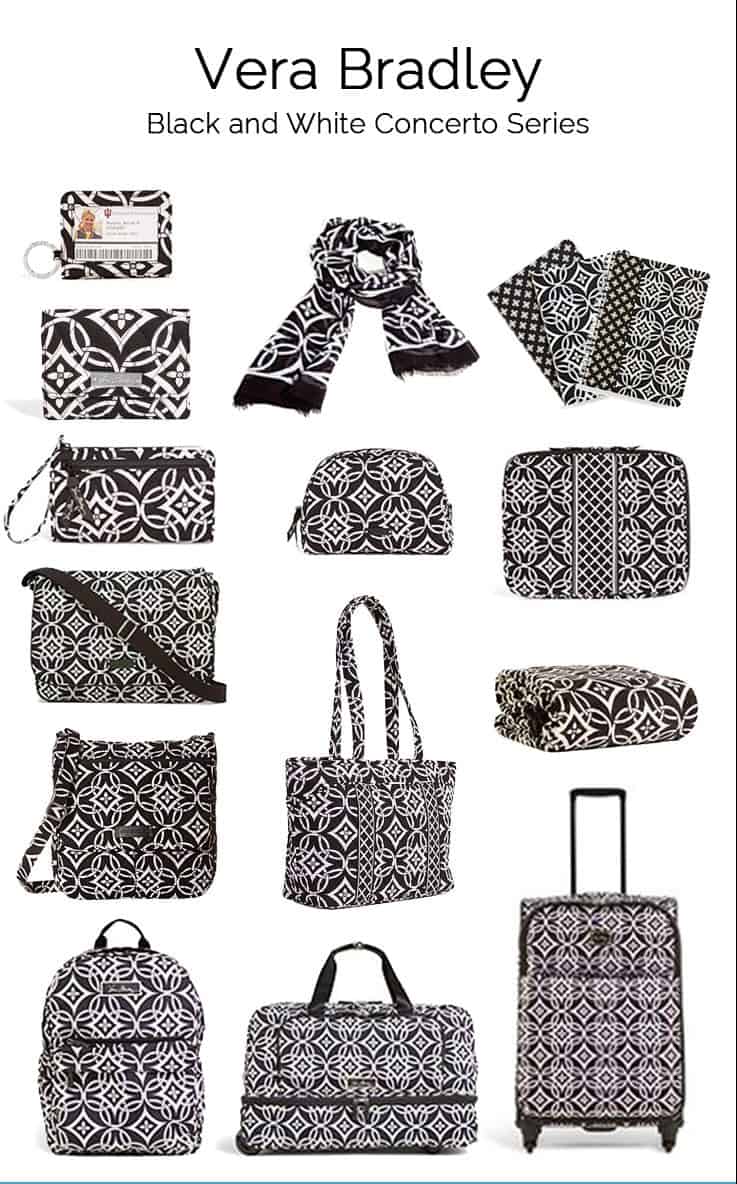 Other bags you may like:
I did not receive compensation for this post. I purchased all items mentioned in this post, and I only recommend things I use.