This article may contain affiliate links. Clicking on or purchasing products we recommend through a link may earn a small commission. Read our disclosure and privacy policy page for details. *COVID-19 TRAVEL ALERT – Travel recommendations offered on this site are not to encourage you to travel against travel advisories.
I've discovered something from all my road trips through Ontario's small towns. Hidden in rural communities known for their farmland, their quiet main streets or their small town storefronts are some of the best dining experiences you can possibly dream up. The town of Dunnville Ontario located in Haldimand County is hiding one of these restaurant treasures: Debbs Cuisine on Queen.
Debbs Cuisine on Queen, Dunnville
Located on Dunnville's Queen Street, which is the towns' main business district or downtown, Debbs Cuisine on Queen may not look very dramatic from the outside, but inside they are cooking up some amazing things.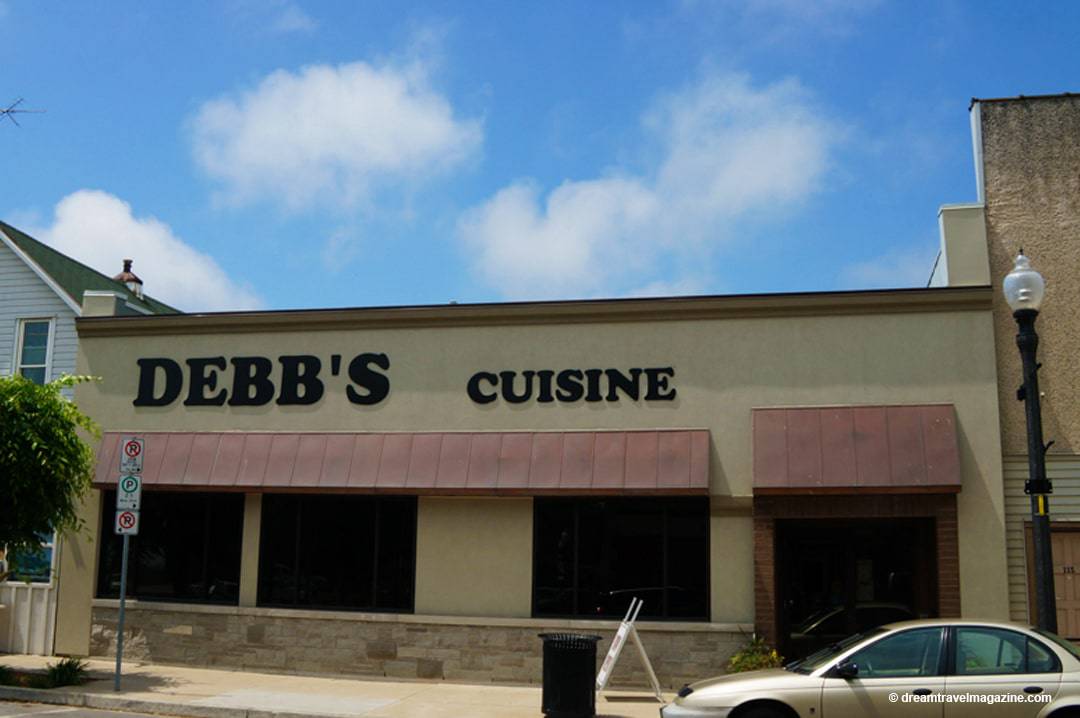 The story behind this extraordinary restaurant is great too. Chef Debb in transition after 25 years of cooking and catering was brought to this historic building which, had burnt down. She was convinced by the town this would be a great spot for her new restaurant.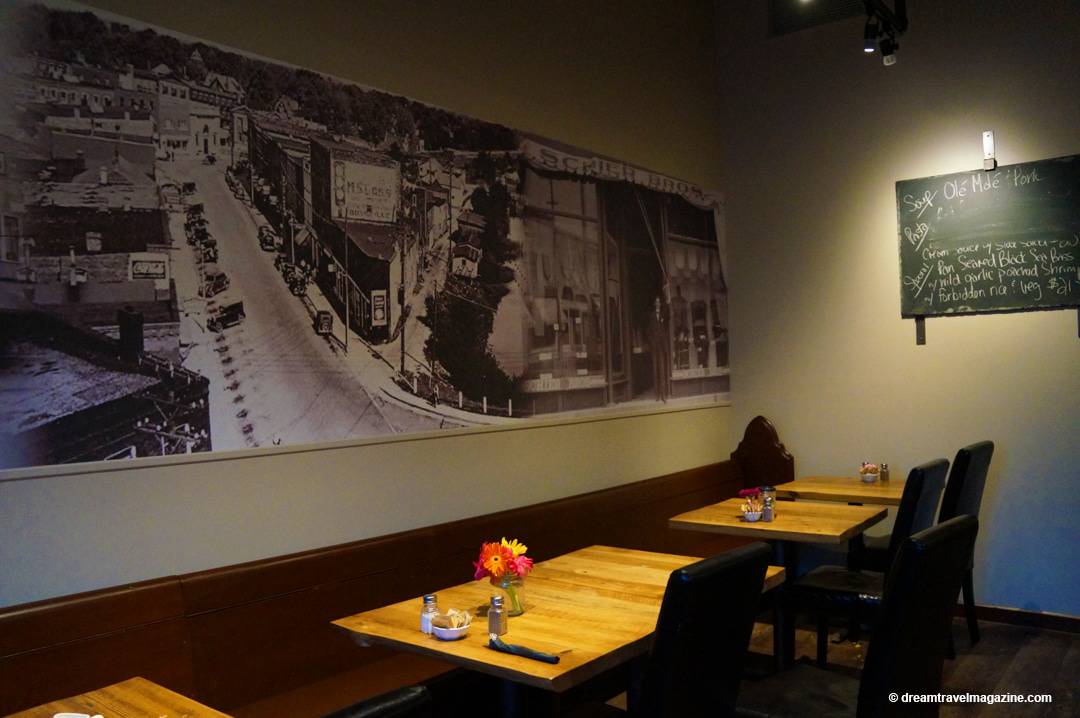 She embraced the history of the community, repurposed what she could and revamped the interior of the restaurant into this magnificent fine dining space. Exposed brick walls, hardwood floors, and rustic charm are the backdrops to her amazing passion. Warning food shots ahead!
Chefs Tasting Dinner – The Best of Debbs
Sometimes being a travel writer has its perks, my first visit to Debbs Cuisine on Queen was one of those times. We were treated to a special Chef tasting of some of Debb's dinner menu items. We started with a little beverage.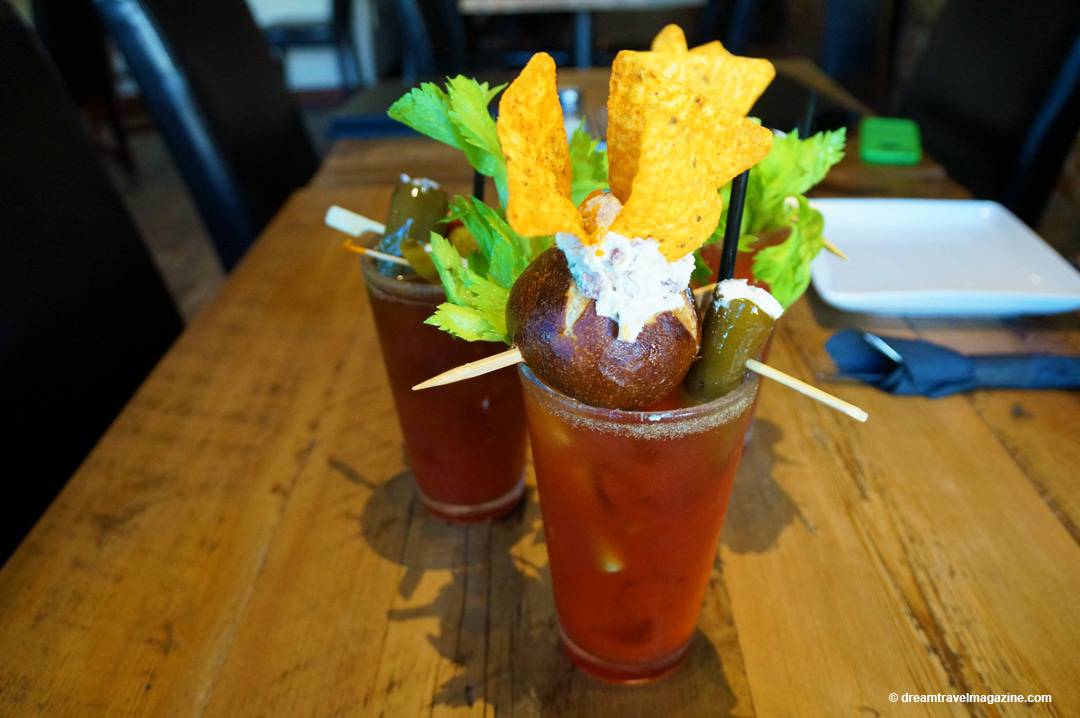 Debbs Cuisine – Must Have Caesars
The one in the front is the Ballpark Caesar and it was the most incredible Caesar I have ever drunk. I'm serious, it had a pretzel bun filled with crab dip and nacho chips, and a sausage was in there somewhere too. OMG, it is like a drink and appetizer in one!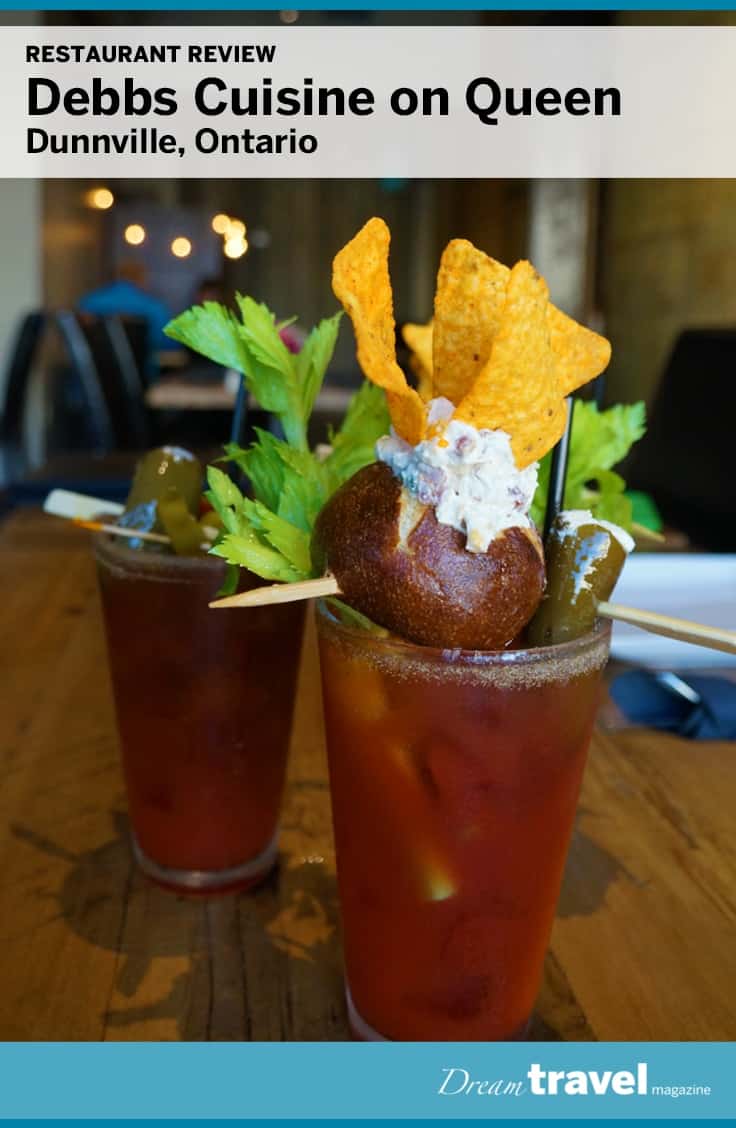 Amazing Sliders
If you are looking for sliders on the menu you won't find them. These minis were prepared for us so we could sample some of her amazing Burgers. The first was a special combination she came up with as a feature.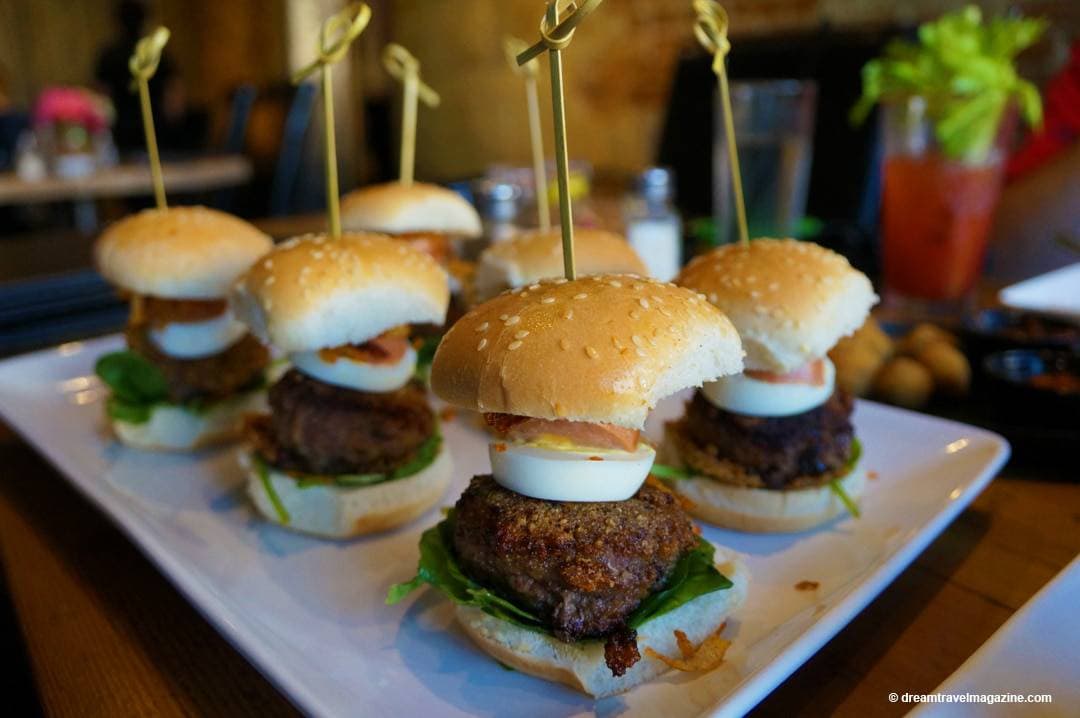 The second burger we tasted was her Blues Burger. It was topped with blue cheese, bacon onion marmalade and garnished with fresh baby spinach and tomato.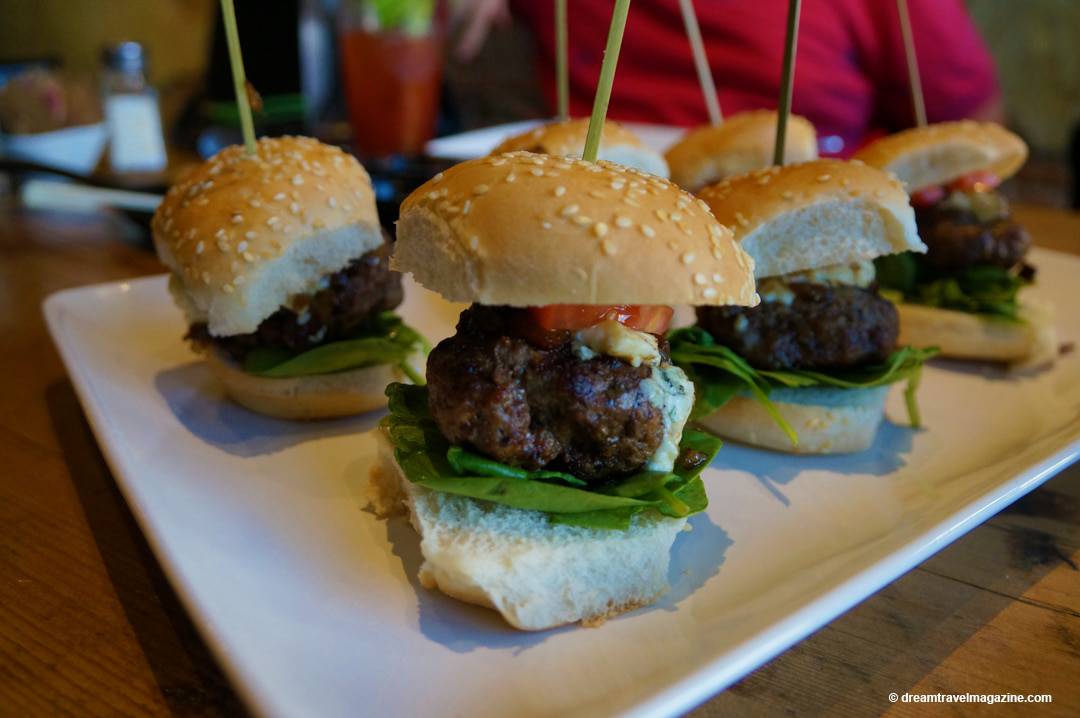 We also sampled some Italian Stuffed Olives. These poppers were breaded olives stuffed with a parmesan and ricotta cheese.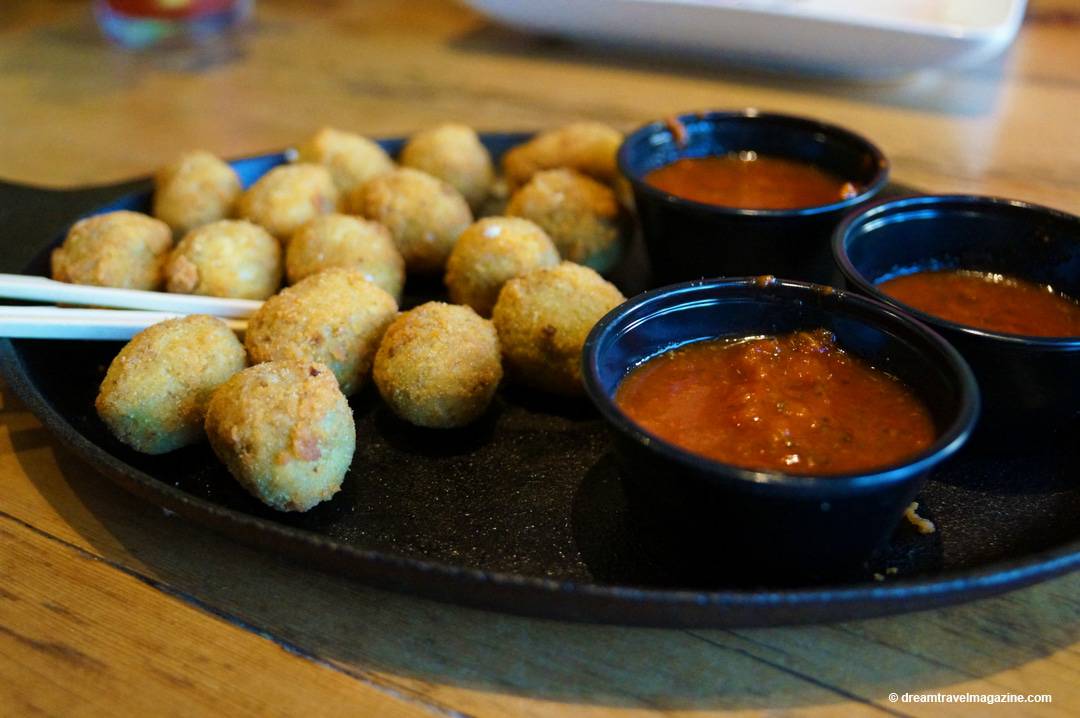 We moved into main dishes next although we were all starting to get pretty full! The first main that came out was a lightly breaded and fried Lake Erie Perch. I am turning into a Perch fish fan! If I see it on the menu here in Ontario I will almost always order it.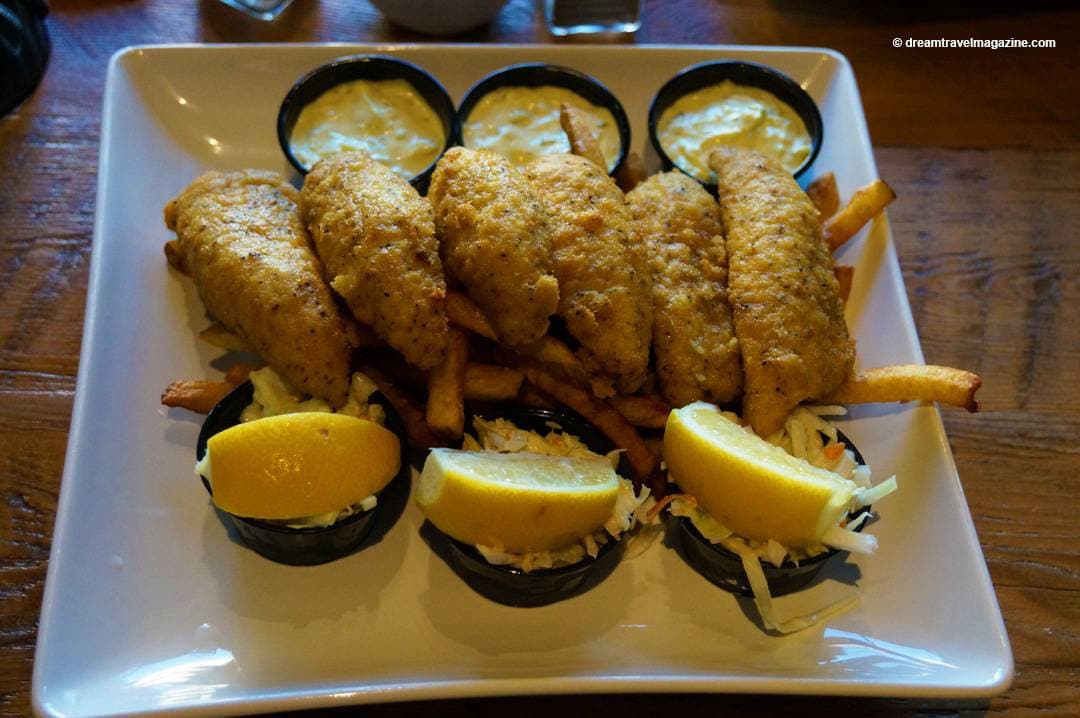 We also shared the Chicken with Fried Goat Cheese. This was my favourite! Juicy roasted chicken on a rice pilaf, there were fried carrot strips on top and fried goat cheese medallion. The whole thing was sitting in a delicious roasted red pepper cream sauce. An explosion of flavours!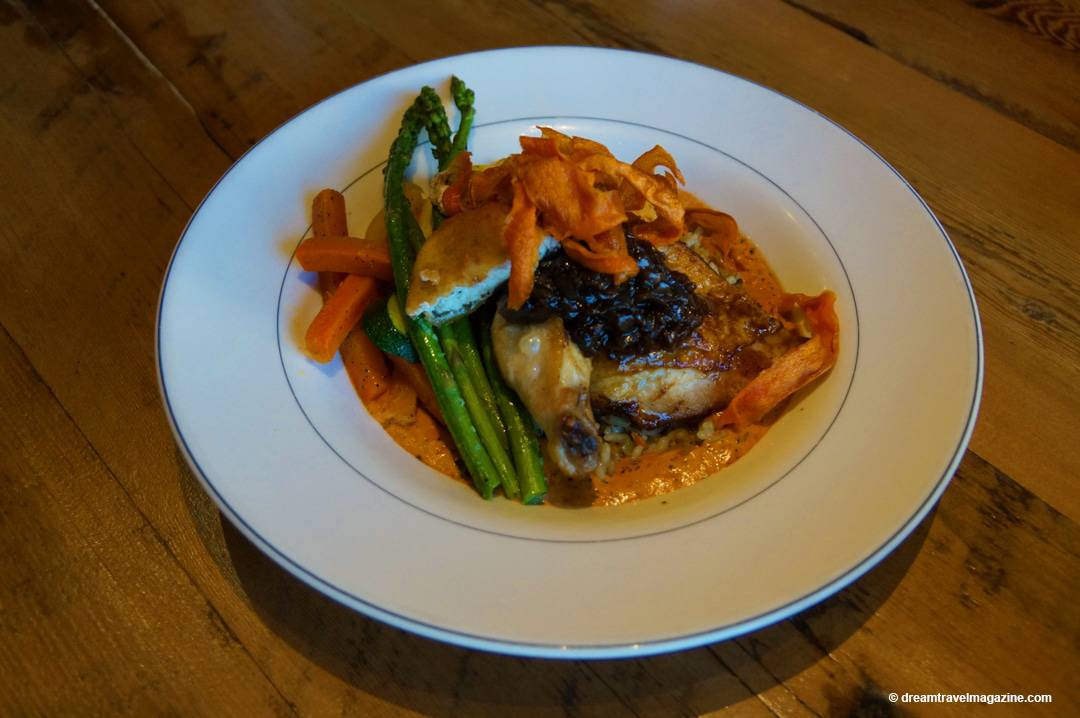 Our last dinner main was a Grilled Pork Chop. It was stuffed with hazelnuts and dried cranberries and came with roasted mini potatoes, vegetables and was drizzled with apple butter sauce. I don't think I need to say anything else. The picture is worth a thousand OMGs.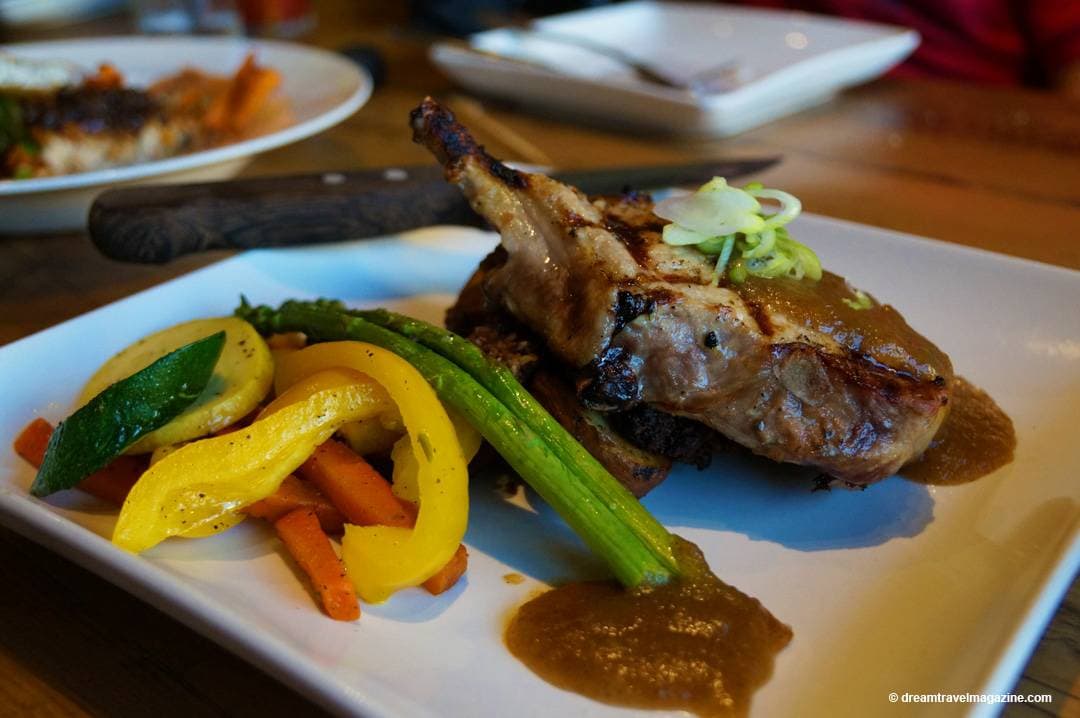 When someone tells me they are bringing out a dessert that is Grandma's secret recipe how can I say no right? This Carrot Cake was a delicious secret family recipe with a fluffy cream cheese and mascarpone frosting. So yummy!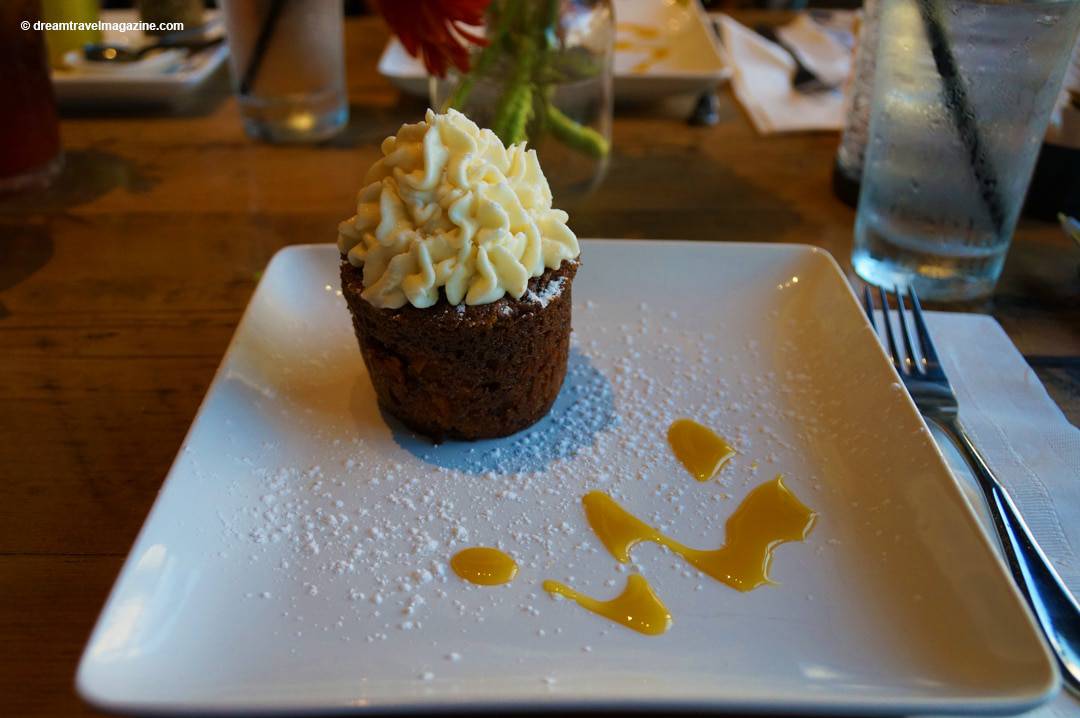 You will not leave Debbs Cuisine feeling hungry! This much I can guarantee. If you are looking for an adventure check out the Haldimand County region (if you need some inspiration check out my Haldimand County road trip post on the region here) and be sure to make a stop at Debbs Cuisine in Dunnville Ontario.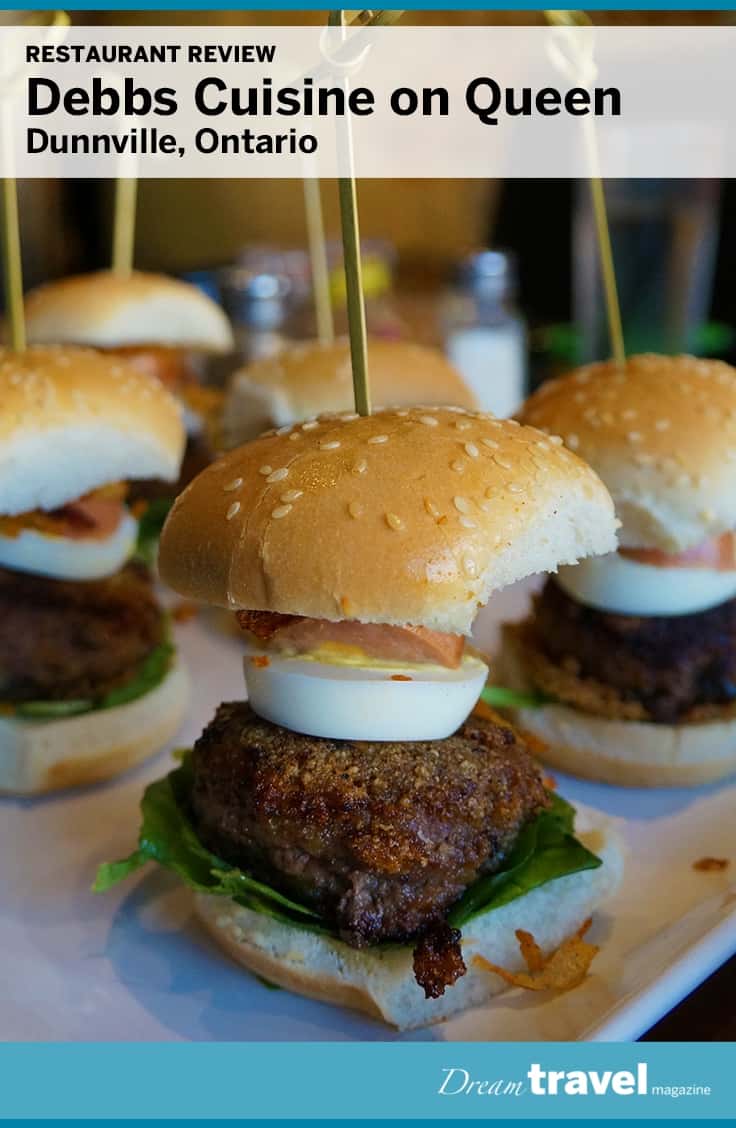 Travel assistance was provided by Haldimand County Tourism and Ontario's Southwest.