This article may contain affiliate links. Clicking on or purchasing products we recommend through a link may earn a small commission. Read our disclosure and privacy policy page for details. *COVID-19 TRAVEL ALERT – Travel recommendations offered on this site are not to encourage you to travel against travel advisories.
I heard the buzzing close to my ear and I swat blindly in the air around my head. I had the covers pulled up passed my neck and I waited silently in the night and I heard it again. Bzzzzzz. There's a flying bug in my tent. I think to myself, but I don't want to get out of the warm bed. Yes, I did say tent and a warm bed. This was all part of my girl's glamping getaway at Oakwood Escape in Dunnville Ontario.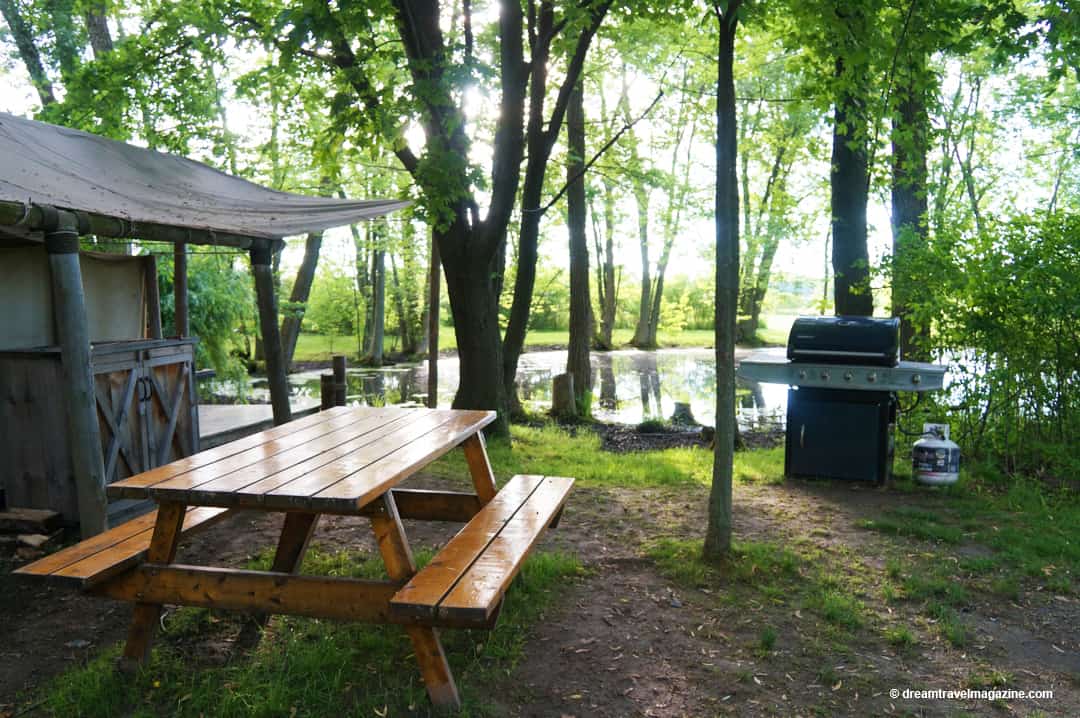 Oakwood Escape Glamping in Dunnville Ontario
Oakwood Escape is about an hour and thirty minutes drive from Toronto, located in Haldimand County in Ontario's Southwest region. This is a small family run business with five prospector tents which are built on top of a raised wood deck. An additional secure tarp is placed above the tent for added protection from the elements.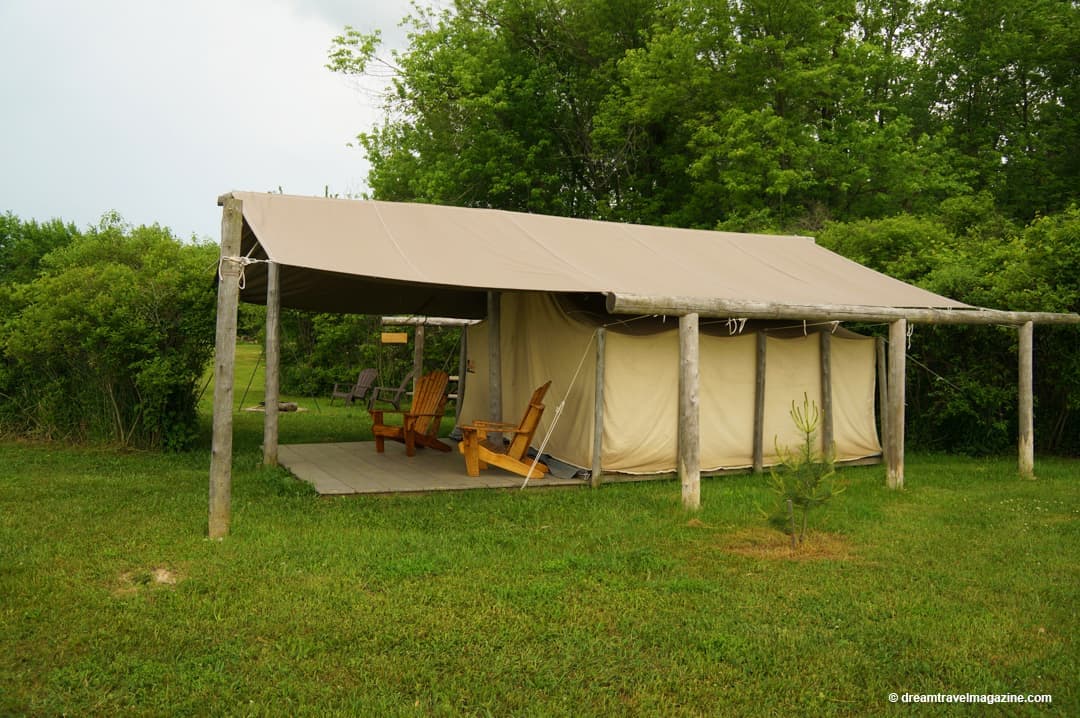 The tents here are located a distance apart from one another, so you have lots of privacy. There is one bathroom/shower station which is located in its own wooden structure which was steps from my tent. There are two flushable toilets, an outdoor shower stall, and a kitchen sink with a mirror.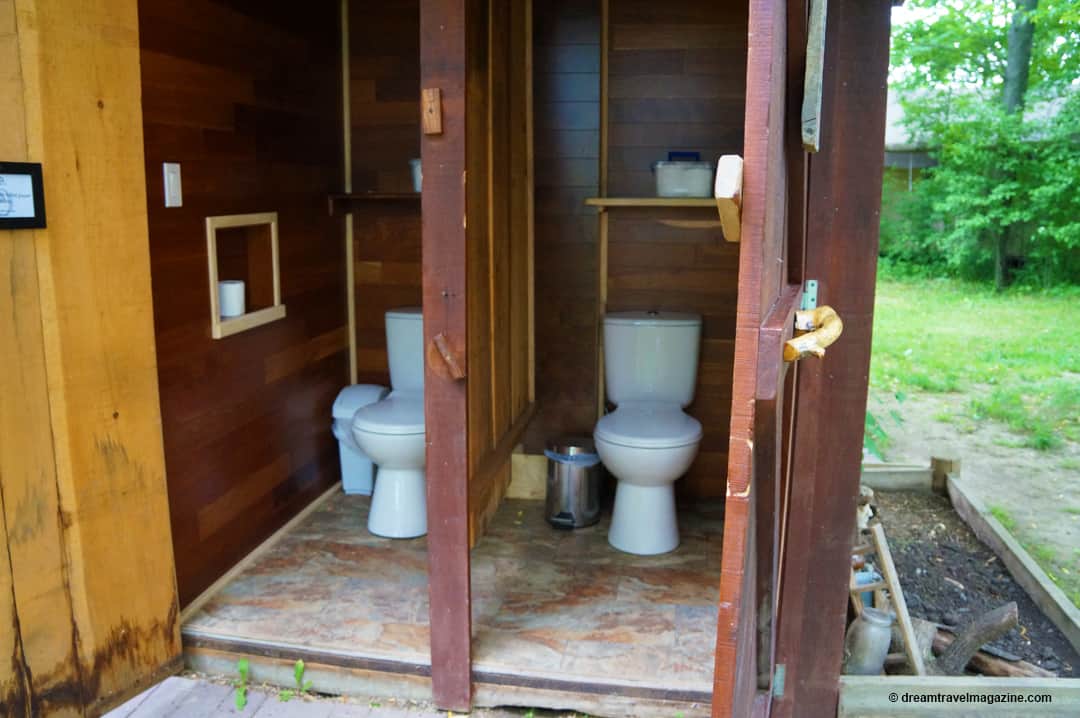 At the sink side of the washroom, structure was one power outlet (with two outlets) for charging electronics. This is the only charging station for the entire campground. If remaining plugged during your visit is important to you, I suggest you bring an extension cord. My battery charger for my camera did not fit in the sockets.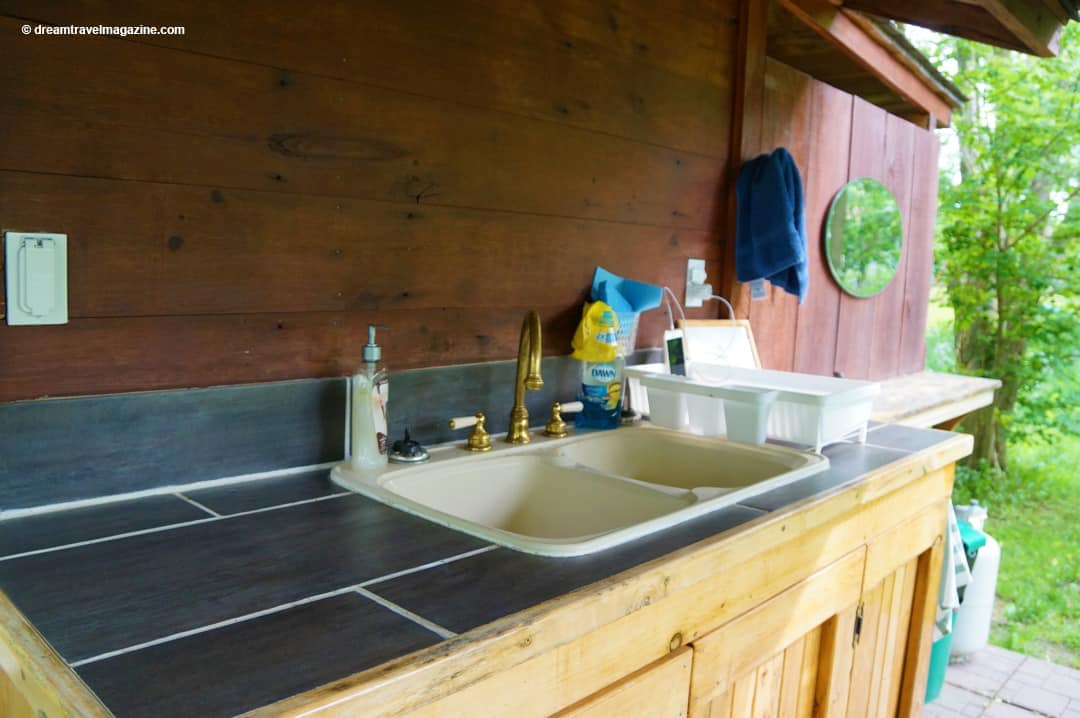 Oakwood Escape Glamping Tent
I stayed in tent 1 which was called Brian's Cove. It was situated on a small pond on the property which was a lovely view both from the bed inside and on the chairs on the porch in front.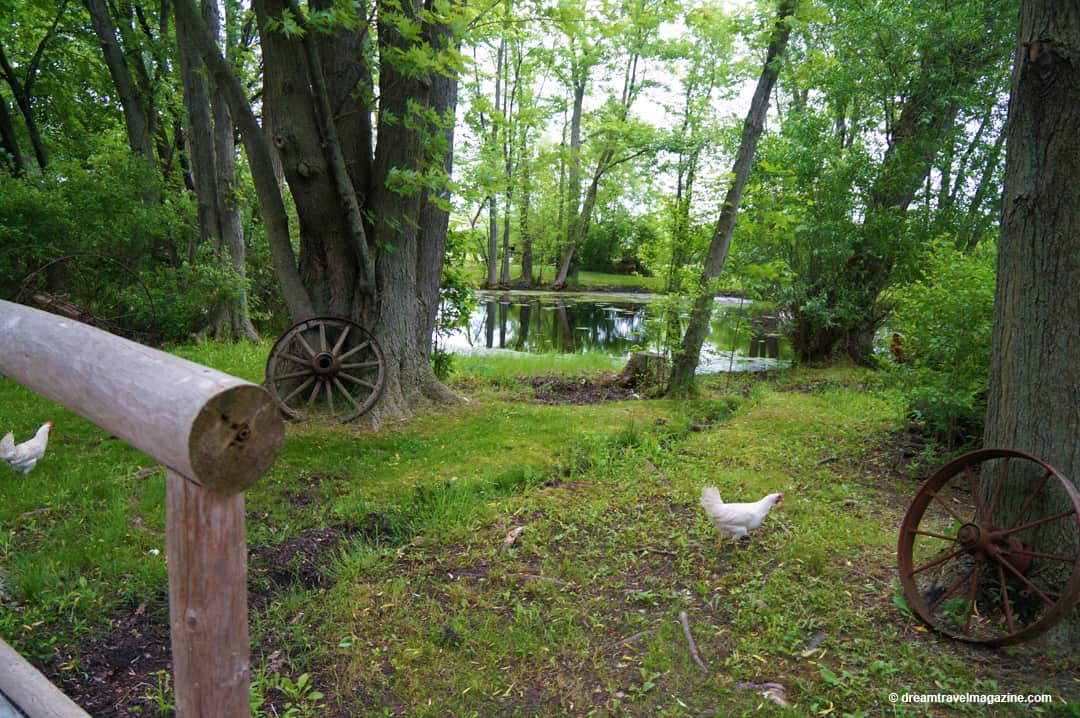 Inside the tent was furnished with a queen-size bed which was decked out with a warm comforter, hotels like linens and pillows.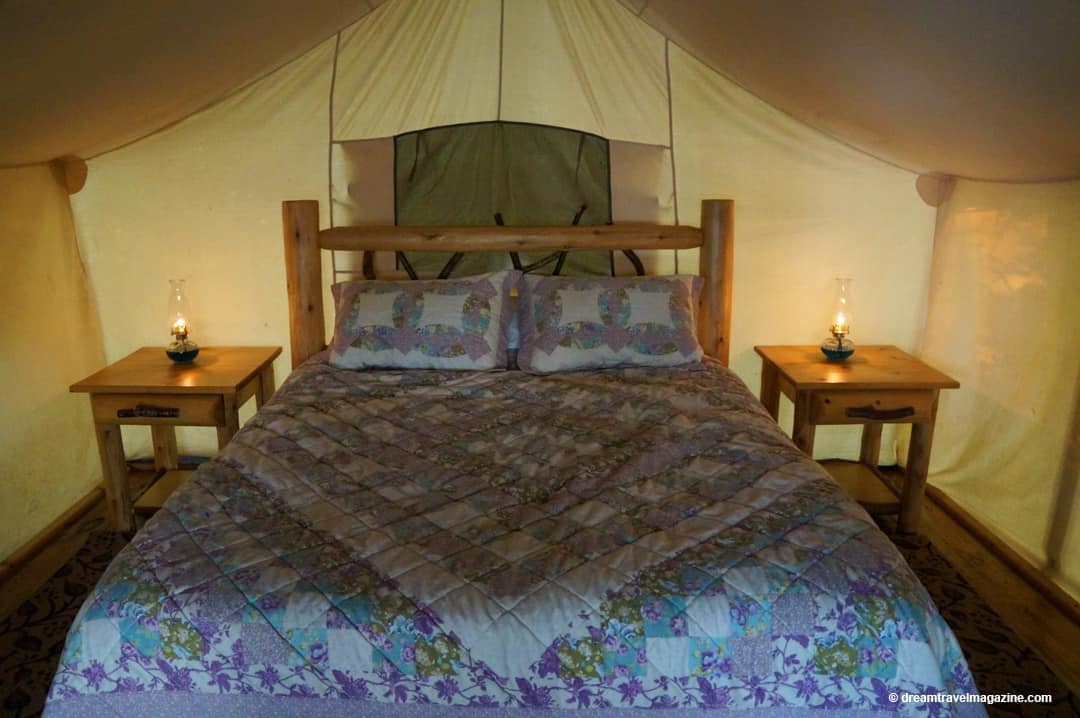 There was a large rug on the floor, side tables, a wooden hutch for clothes with hangers and shelves, and another hutch with a makeup mirror and all the kitchen equipment I would ever need.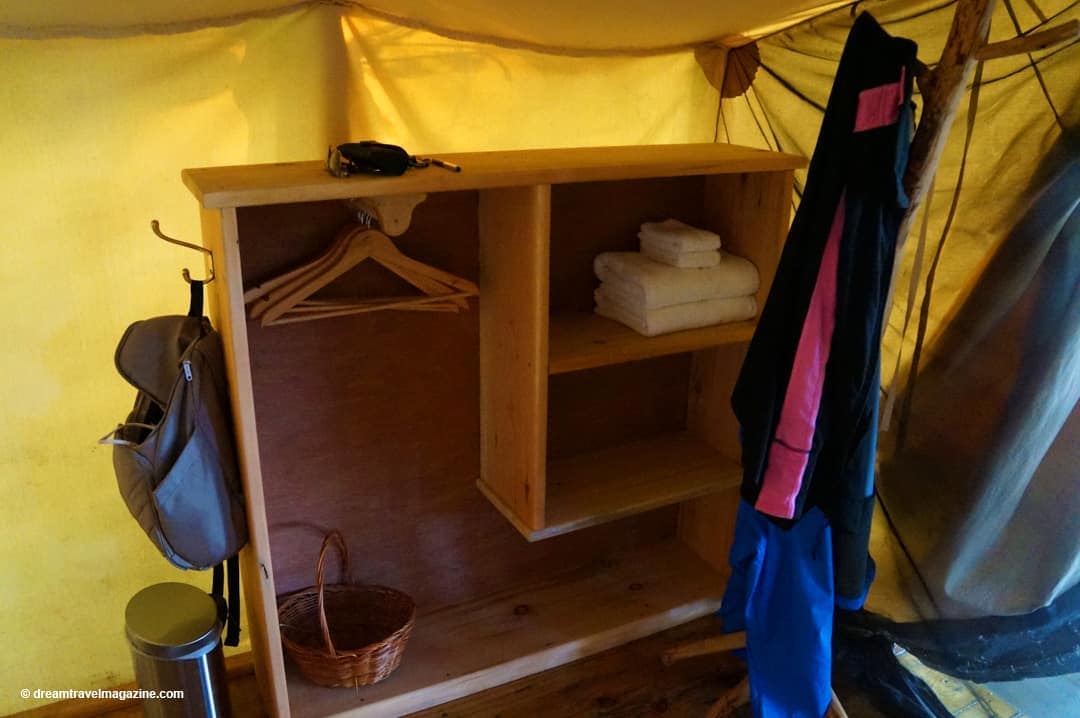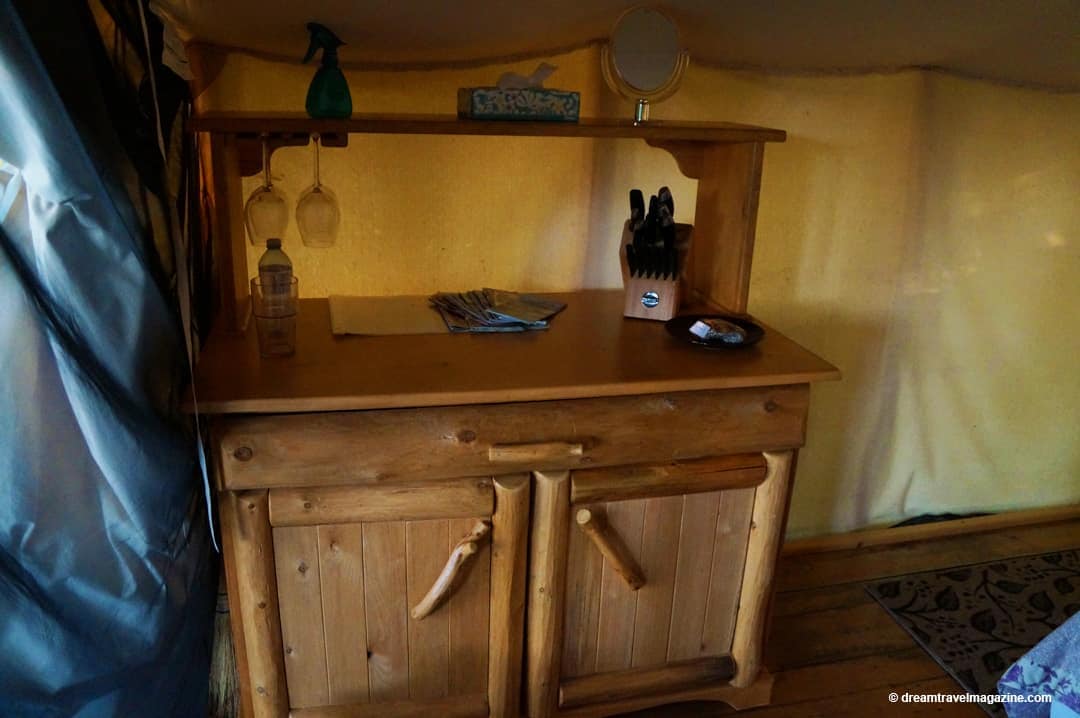 There was no hydro or wi-fi inside the tent. This is a camping experience but you are pampered with running water, flushable toilets, and a huge bed. The tent included a mosquito net flap and solid flaps as well for privacy and protection from the elements. There were two kerosene lamps on each of the side tables for light.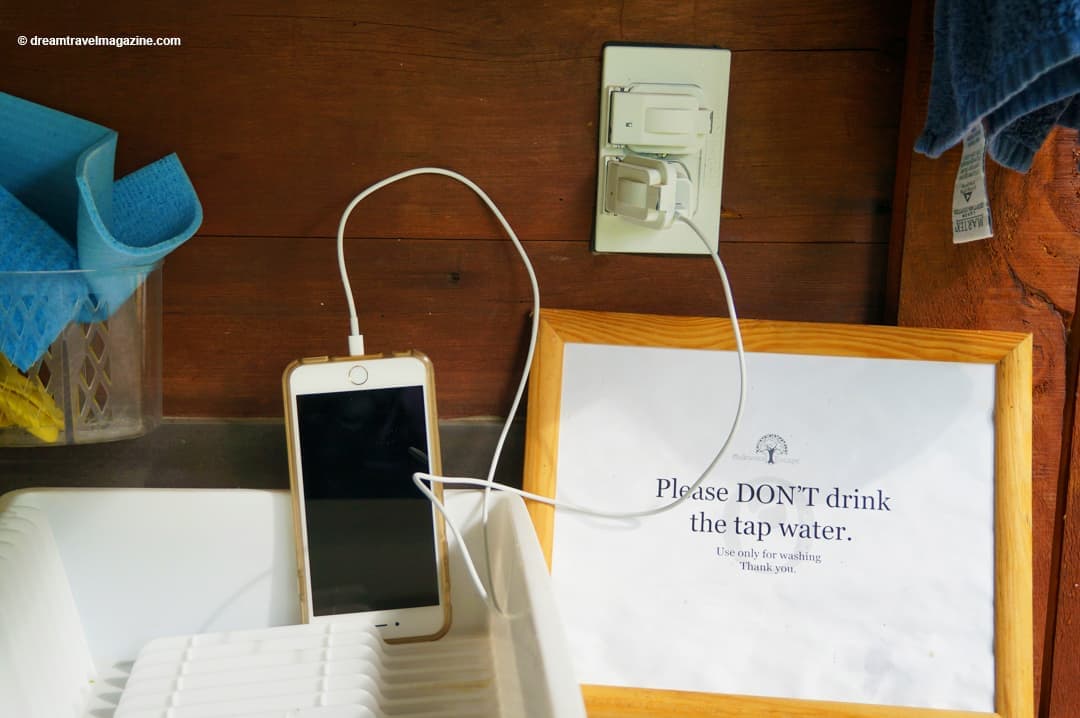 Outside the tent had its own deck with two Adirondack chairs facing the pond. We had a BBQ with a gas burner, a fire pit, fire starting kit, stack of wood, two more Adirondack chairs and a picnic table on our site.
Oakwood Escape Girls Glamping Night
What I loved most about Oakwood Escape was meeting the family of owners and how non-judgemental they were about two city girls rolling up to their campground. The entire family was happy to help make sure the experience was wonderful from beginning to end.
We went offsite to Debb's Cuisine on Queen for dinner, but when we returned Brian was there to walk us around the property for a great view of the sunset. We heard some thunder and went back to our tent where we witness a downpour of rain. It was pretty cool being in the tent during a thunderstorm, we were totally dry and safe from the wind and rain.
It was a very quick thunder shower and then Brian was outside our tent again, determined that we would have a night by the fire and a true camping experience. He took our fire starter kit and set up a roaring campfire in a matter of minutes.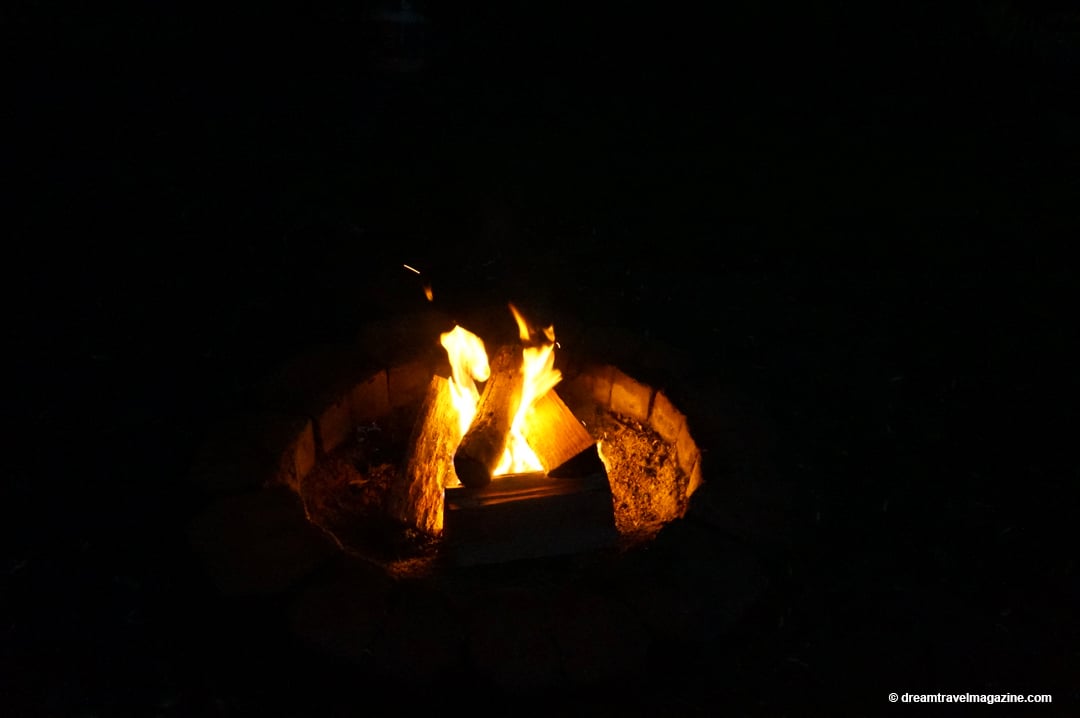 We sat outside for hours chatting, roasting some marshmallows and were nice and warm by the fire as the temperature dipped around us.
After the fire died out we went back to our tents, I closed the solid flap doors to keep it as warm as possible. I spent about ten minutes with a flashlight going around the tent inspecting it for bugs that may have gotten inside. Once I was satisfied I blew out the lamps and dived into the comfy bed.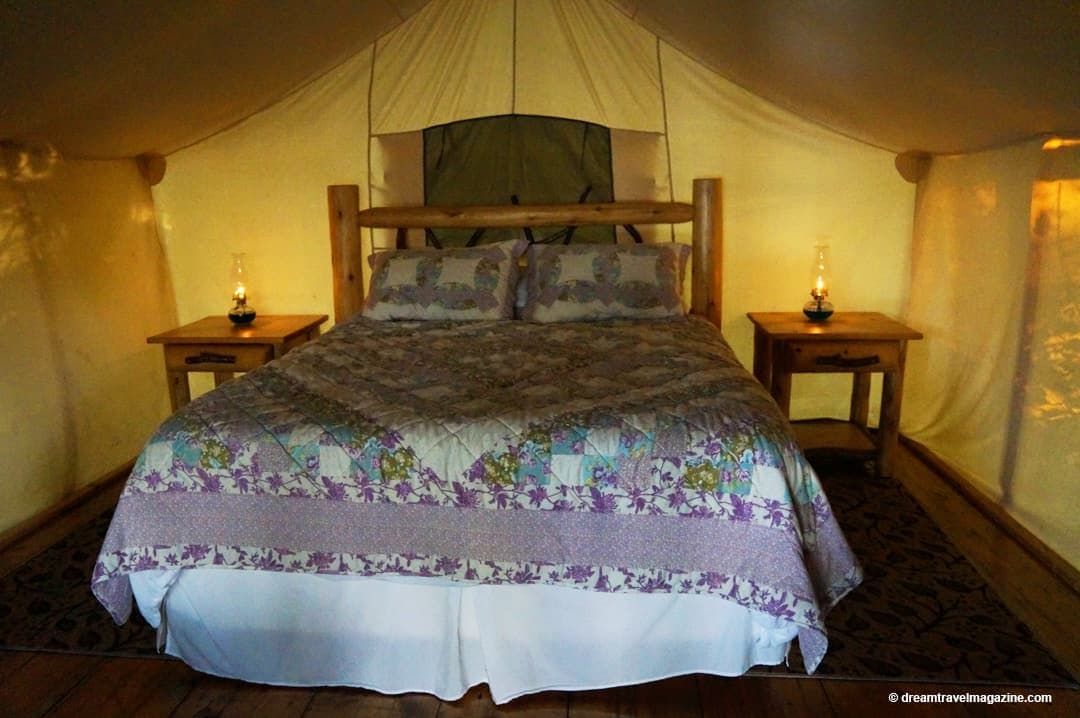 Even after I spent ten minutes scoping out my tent with a flashlight for bugs and mosquitos it appeared something escaped my view. Eventually despite the cold and the buzzing, I did drift off into a great sleep. I awoke as the sun was rising and started to feel warm inside the tent so I opened the flaps again to let in the cool morning breeze.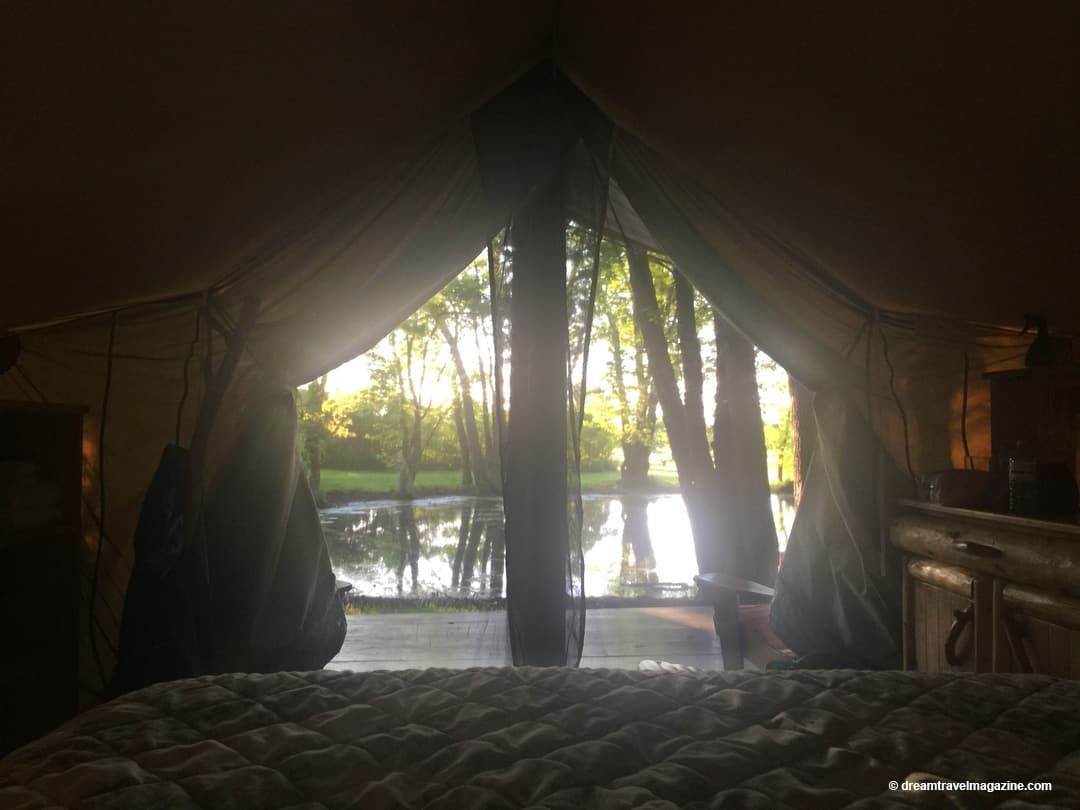 It was a magnificent view to wake up to and with the sounds of the birds chirping in the trees around me it just completed the dream setting. I have to say this is not a bad way to wake up in the morning.
I never did figure out what that buzzing bug was, but I do know that I probably swatted it dead in my sleep. I know this because I had a perfect line of mosquito bites on my forehead, the only exposed skin I failed to hide under the blanket. At some point the buzzing stopped — RIP little mosquito. I know you were not going to stop me from having a great night at Oakwood Escape in Dunnville.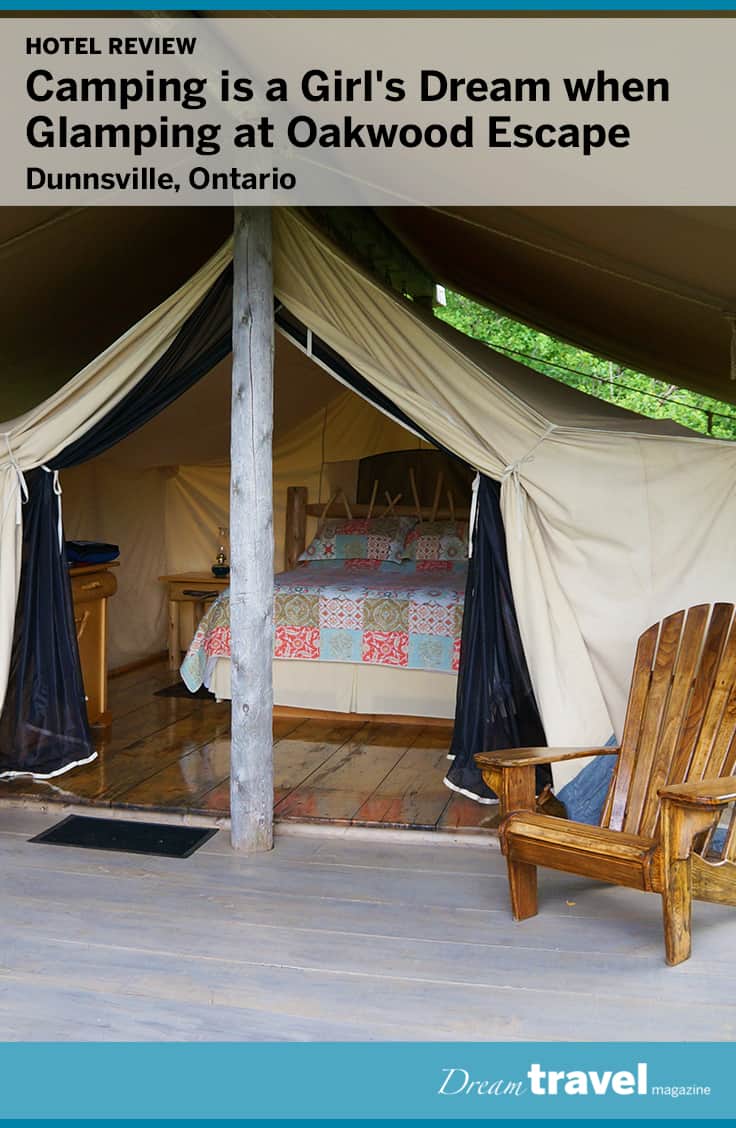 Tips for your Girl's Getaway Glamping Trip
Bring a flashlight you may need it for the walk between tents or to the washroom facility
Pack your food and drink, there is a small refrigerator at the Kitchen Sink, a cupboard outside your tent for other food storage. There are some free range chickens wandering the property and you are welcome to scavenge for eggs in the morning, they even provide you a basket in your room.
Dress for the weather and for camping
Bring bug spray, although a bottle of spray was also provided in my tent
Durable shoes – note this is a campground and after the rain, the mix of soil and grass was damp and wet
Travel assistance was provided by Haldimand County Tourism and Ontario's Southwest. Thank you to the team at Oakwood Escape for making my very first glamping experience so enjoyable.