It is that time of year again, and with Holiday Shopping in full force, I have put together a list of the best holiday gift ideas for travel lovers. This is list has many different types of gifts at various price points and includes stocking stuffers and larger gift ideas. If you can't send your favourite travel lover on a trip, then why not give them one of these more coveted travel gift items.
Best Holiday Gift Ideas for Travel Lovers

Popular Travel Accessories
From travel-friendly containers, travel pillows and blankets to TSA approved locks there is no shortage of stocking stuff travel accessory gifts available. Favorite items today include GoToob refillable silicone containers and collapsible bowls, UGG travel blankets, microfiber travel pillows and locks with metal cables.

Travel Technology Favourites
These items are for more significant and pricier gift givers. Apple iWatch continues to be a big favourite for travel lovers especially with the addition of GPS features. Also popular are health and fitness bands like FitBi. Other popular travel technology items are Morpheus travel chargers, Beats noise cancelling headphones and the Acer Switch. The Acer Switch comes in fashionable colours and is a 2-in-1 Windows computer and tablet perfect for watching videos on the plane, reading magazines on the removable tablet screen or playing games.

Favourite Camera Gear for Travellers
What travel lover doesn't like to document their favourite vacation moments. No travel dream is complete without the right camera to capture the moment. From action cams to smartphones we have a list of camera gear to suit your budget and travel lover's wishes. GoPro cameras are great for action fans looking to add video captures and still shots while keeping their hands free. While they come at a higher price point, don't forget to check out the many GoPro accessories you can buy for those who already own cameras.
For more ambitious photographers consider a mirrorless camera like the Sony Alpha a6000 or Olympus OM D E. Both cameras function like heavier DSLR cameras and have some lenses that can be purchased separately and they are much easier to pack in carry-on luggage even with the extra lenses and gear.
Waterproof and shockproof cameras are also trendy and more budget friendly. See our post The Best Underwater Waterproof Digital Cameras for the Beach for a list of great options. Two great brands on our list include the Olympus Tough and Lumix Waterproof camera models.
Finally, for smartphone only travellers there are some lenses you can buy which snap on the phone and give added features like wide or fisheye shots.

Popular RFID Wallets and Passport Protectors
Give the gift of security this season. With tap technology comes a new type of identity theft and what better way to secure your travel cards and passport than with RFID accessories.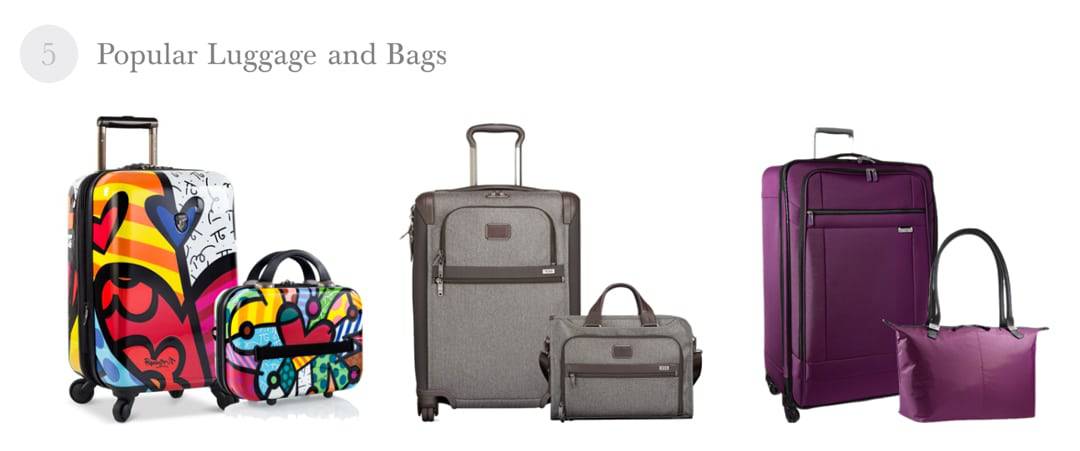 Popular Luggage and Bags
Of course with the changing rules about luggage size and weight why not upgrade your travel fan's travel bags. From popular models like Heys Britto inspired patterns to Tumi and Samsonite's hybrid bags there is something out there for everyone. Business backpacks, laptop bags and carry-on friendly shoulder bags are all popular choices for holiday travel gifts.
Looking for more travel gift ideas, check out our Holiday Gift Guide for Beauty Lovers post.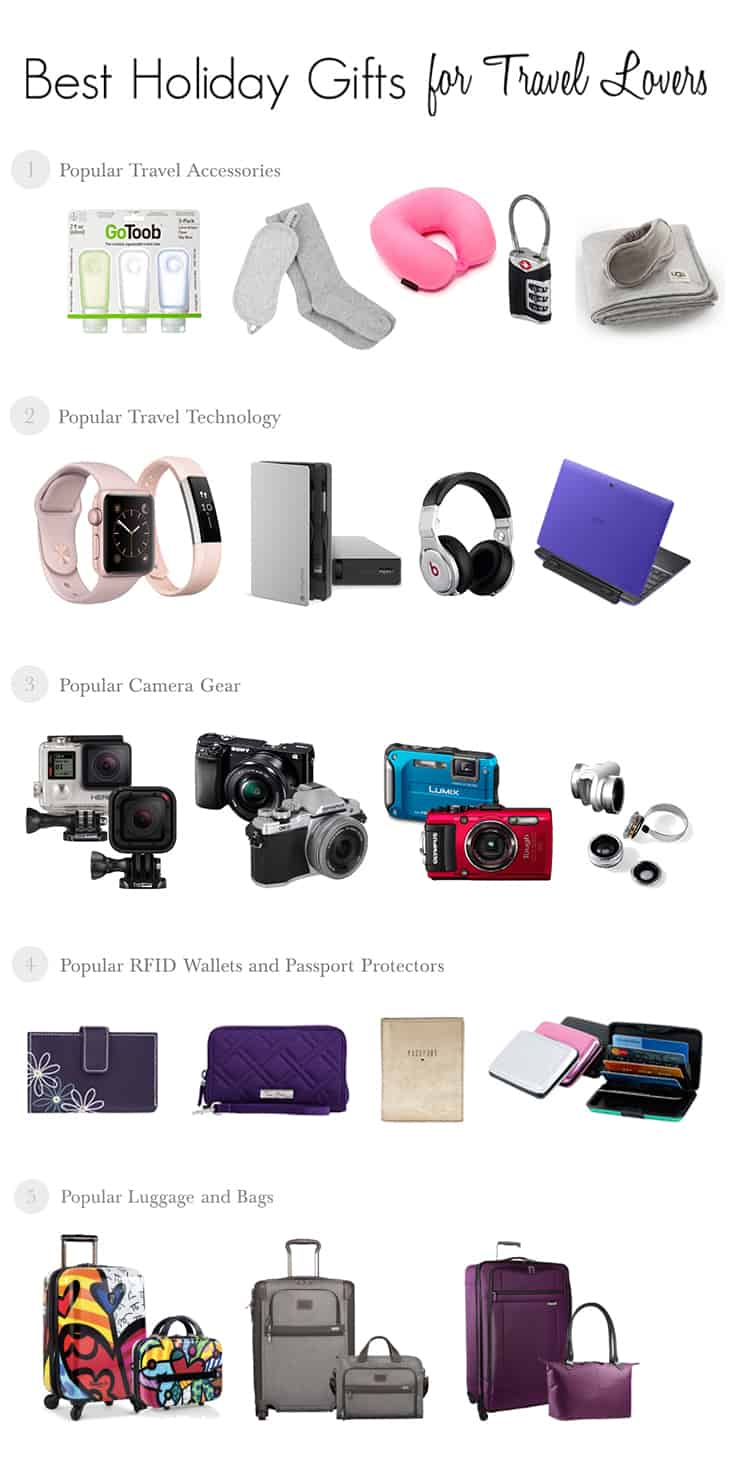 See more gift ideas in these posts: