This article may contain affiliate links. Clicking on or purchasing products we recommend through a link may earn a small commission. Read our disclosure and privacy policy page for details. *COVID-19 TRAVEL ALERT – Travel recommendations offered on this site are not to encourage you to travel against travel advisories.
On a trip to California, I was introduced to a woman who shared her passion for crystals' healing power. This conversation led to a guide on using protection crystals for the home, which I thought I'd share with all of you.
I have to admit I have never considered this mystic world of crystals and their healing energy. During the conversation, I realized I had been drawn to specific stones more than others, and there was a reason behind this.
She asked me to pick a stone, and I reached for a pink one. Then asked me if I owned any crystals, and I told her a story about a necklace I bought on a trip to Copenhagen, a green stone, another green stone necklace I don't remember where I purchased, but it too was these green stones.
Read more: Benefits of Light Therapy and the 5 Best Light Therapy Lamps
She explained that pink stones correspond to the heart chakra, love and affection, and green rocks represent renewal, harmony, and balance. I seek out two things generally in my life, and my consistent stone selection proved this. Now I was intrigued enough to explore this further.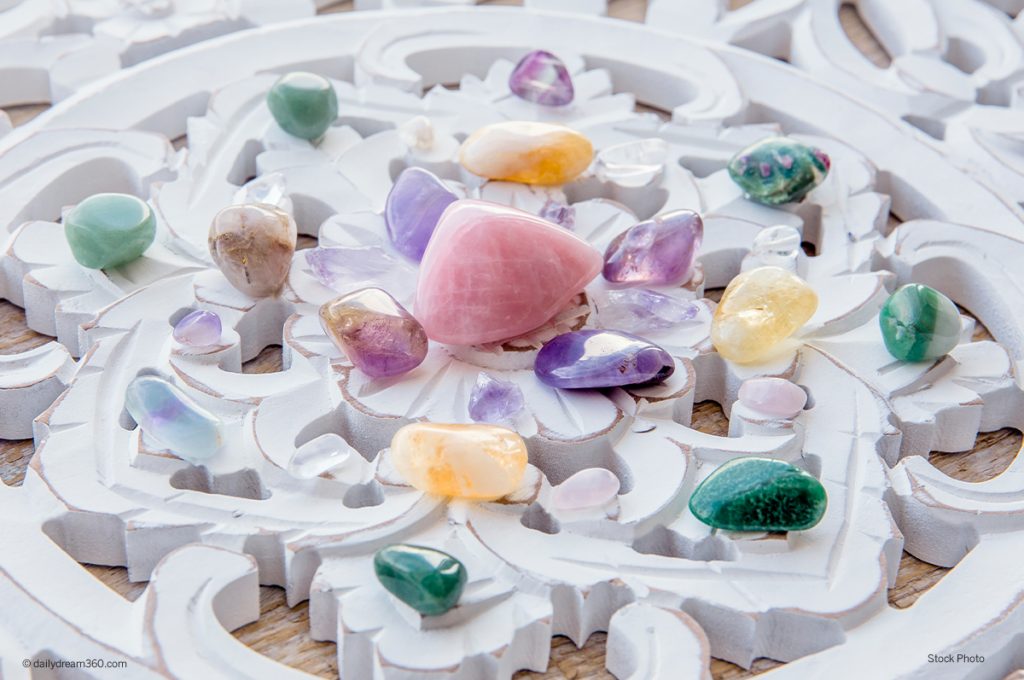 Dream it.
If you're planning a trip that involves a pool, lake, or beach of any kind and you don't want to buy a special waterproof camera or action camera, then a waterproof pouch for your phone could just be the solution you are looking for. Most of us have replaced our cameras and choose to travel with our phones and while there are some water-resistant models out there, protecting your phone with a waterproof pouch could save you a costly repair or replacement.
I told her I had a few stones scattered around my house and that I'm still looking for love and growth. She told me that two things could be blocking the healing energy, one that I needed to touch and reactivate the crystals once in a while and two, they may not sit within the house in an ideal pattern or place.
Read more: Fabulous Indoor Garden Ideas For Small Spaces
Feng Shui for crystals in the home is a thing. Now I needed to know it all. What crystals should I have in my house, where should they be and what energy they offer?
Plan it.
A List of Crystals and their Power to Protect Your Home
There are so many interpretations of crystals' healing power; however, when it comes to the home, I found the following crystals.
Black Tourmaline: Protection block negative energy.
Smoky Quartz: Blocks negative energy and protection.
Amethyst: Protection from bad energy.
Obsidian: Empowers strength, clarity and compassion.
Selenite: Infuse positive energy.
Amethyst: Promote peace and relaxation.
Clear Quartz: Balance, healing and stimulate the immune system.
Rose Quartz: Love and harmony.
Pyrite: Strength and Abundance.
Citrine: Attract wealth & prosperity.
Brown Calcite: Attract positivity and empowering energy.
Aquamarine: Youthfulness and fountain of youth.
Best Crystal Size Inside Your Home
There are a variety of ways you can display crystals in your home. Find large stones in museum gift shops or home décor stores. Display these large stones like a decorative paperweight on bookshelves or sideboards.
Read more: Benefits of a Face Roller and Which Crystal Roller Should You Choose?
Gather smaller stones in a decorative bowl and place them in various locations inside the home. You can arrange crystals in patterns on trays or side tables.
Live it.
How to Arrange Protection Crystals in Your Home
There are differing opinions on where to place different crystals in your home. Some say to take the crystal's healing properties and match it by room.
Read More: How to Pamper Yourself at Home DIY Spa Day
Room by Room Protection Crystal Guide
Front Entrance
Black Tourmaline
Smoky Quartz
Crystals for the Bedroom: Relaxation and Balance
Selenite
Amethyst
Rose Quartz
Office Crystals: Abundance, Prosperity and Clear thinking
Living Room and Kitchen: Calming Energy, Harmony and Love
Bathroom
Feng Shui Tips for Crystals in Your Home
Other healing experts recommend using crystals in your home with more of a Feng Shui approach. Numerous Feng Shui crystal maps like the below can best help you locate your crystals throughout your home. These maps are also known as Bagua maps.
Read More: Yoga Essentials Best Yoga Equipment for Practicing Yoga at Home
Many Bagua maps follow colours when mapping out how to place crystals in the home. At the front entrance of your home, you will begin with the Life Journey section and protection stones, often black.
Use the map to place the crystals by colour in various sections of your home following the grid.