This article may contain affiliate links. Clicking on or purchasing products we recommend through a link may earn a small commission. Read our disclosure and privacy policy page for details. *COVID-19 TRAVEL ALERT – Travel recommendations offered on this site are not to encourage you to travel against travel advisories.
It appears that mix-and-match cosmetics is the latest beauty trend. Using multiple products to suit your personal beauty needs is appearing in many fashion magazines and some cosmetic companies are even creating mix-and-match kits. This past month I have been personally applying face masks from the Vichy Mineral Mask Collection and here is what I discovered.
Face Masks are all the Rage
It seems everyone is talking about face masks these days. I was challenged to wear a hydrating mask on an airplane which I thought was ridiculous. A paper cut out mummy looking mask with moisturizer on it that you wear during your flight. Clearly, since I haven't posted any photos like this, I have not participated in that crazy. For me, face masks are a private, single-girl behavior thing that I do at home, alone in front of the TV at night.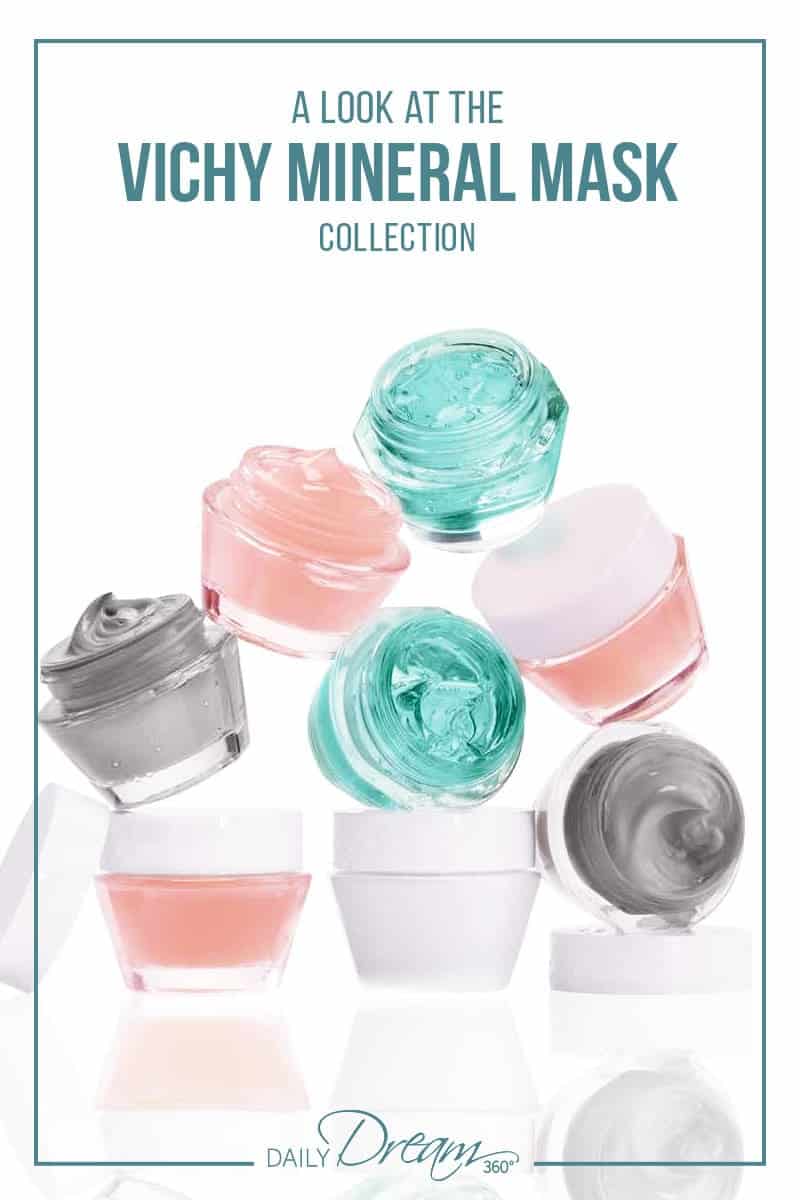 Vichy Mineral Mask Collection
The collection of masks includes three Vichy mineral masks. Each mask has its purpose to either hydrate, purify or brighten your skin. However, when used in combination these masks are multi-taskers providing multiple results in a customized skin treatment.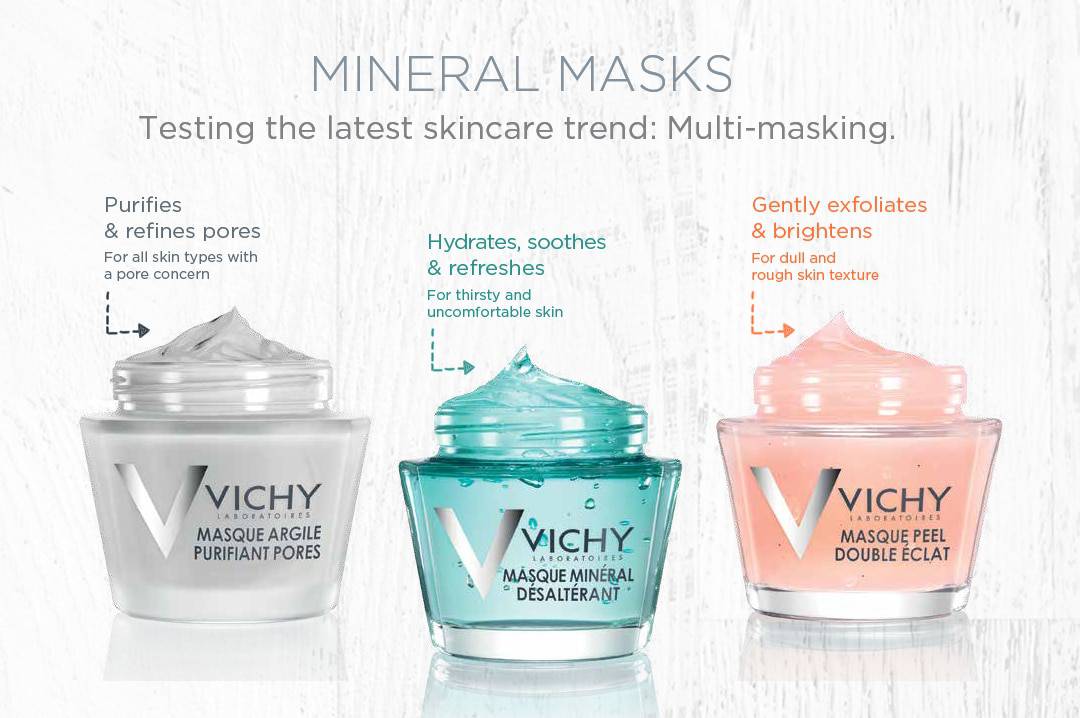 Vichy Pore Purifying Clay Mask
I have not used a clay mask in a long time. The main reason, I have sensitive skin and clay masks burn and irritate my face. I have to admit I would not put this mask entirely over my face but loved the idea of applying it to problem areas where my pores needed a bit of deeper cleanse. In my case, this meant using the mask on my nose area primarily. The mask did have a tingling sensation, but no redness or irritation.


Vichy Quenching Mineral Mask
I wish this mask came in a travel size, and I can see myself finding a travel size pot that I can put it in to take on trips. I loved this mask the most. It left my face feeling all hydrated. Even some flaking dry skin I had on my cheeks went away after just one application. This mask is going to be a big thing for me this winter I can promise you.
Vichy Double-Peeling Mask
The promise of this mask is to gently exfoliate dead cells and leave your skin brighter and more radiant. I'm not one of those people that look in the mirror after using a product and saying "Wow my skin looks more radiant and brighter today!" Who does this? But I did use the mask both in combination and on its own, and I did like how my skin felt afterward.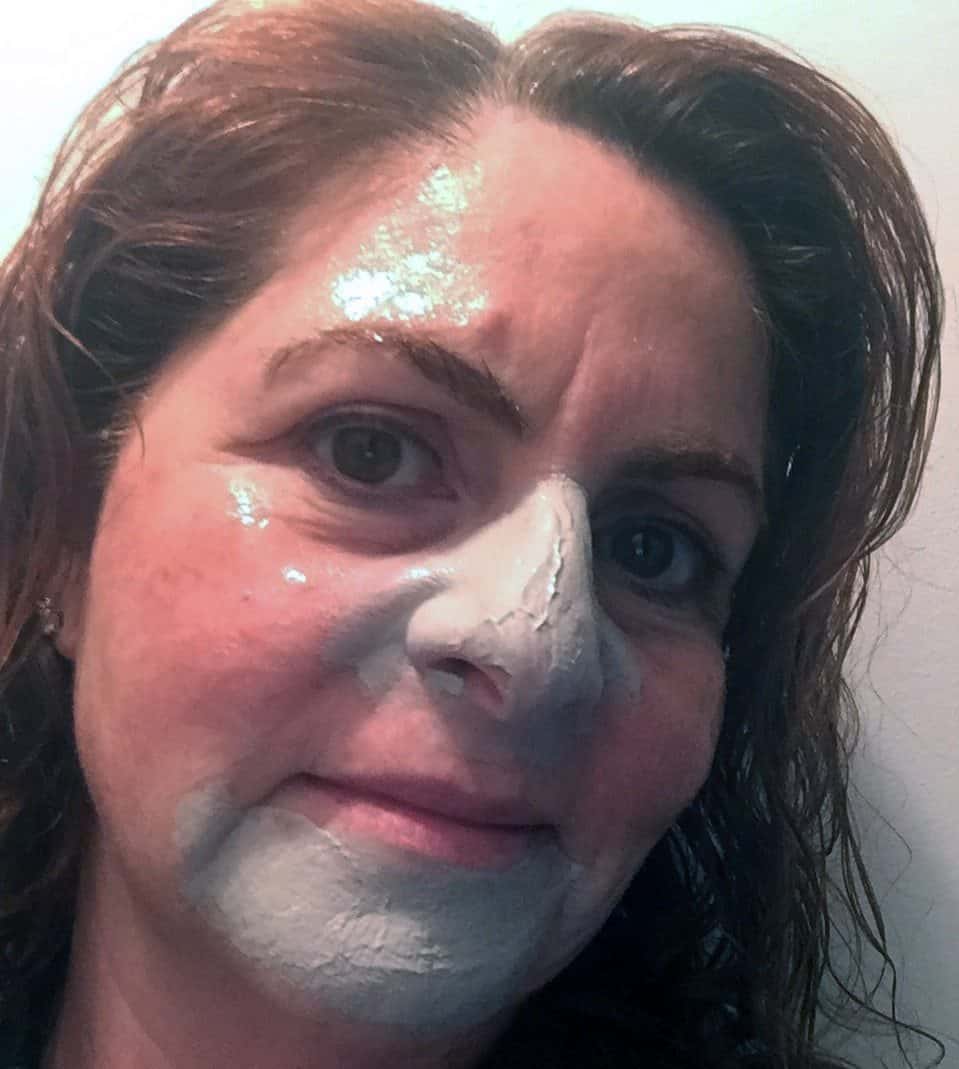 Multi-Masking For Different Skin Concerns
I can't believe I'm sharing a photo of myself with my skin masks on, but here it is. I tried each of the following combinations and personally, this is my favourite. The all-in-one skin refresher. I don't have a lot of time to sit around and apply masks on my face so use three at once and getting the results I need in one session is a dream beauty secret. I wish this mix-and-match beauty trend started a long time ago.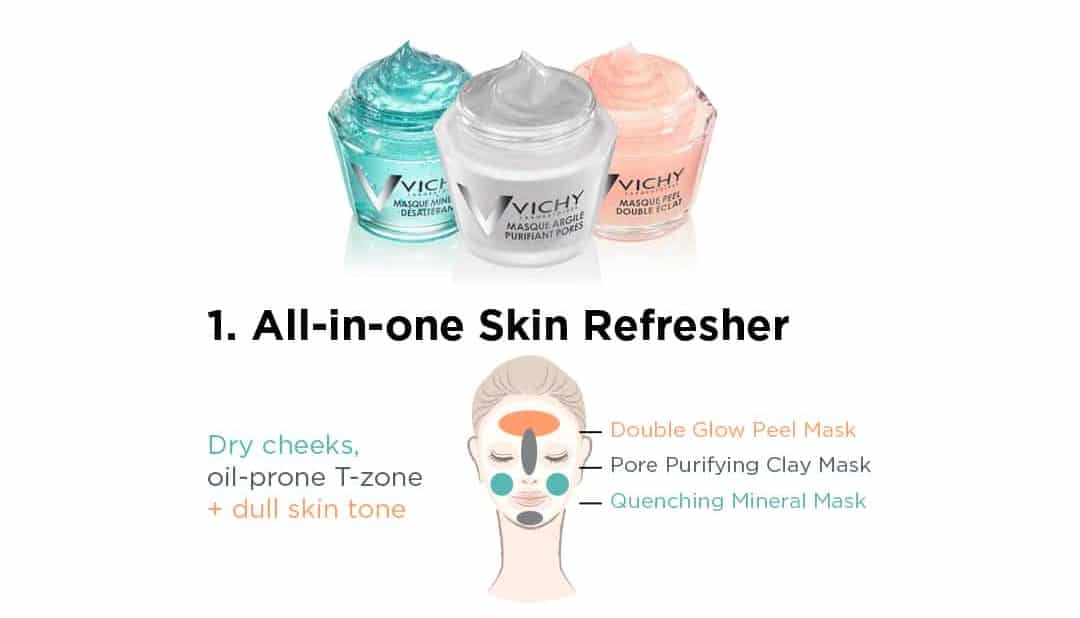 Vichy All-in-one Skin Refresher
Like I said above, this is my favourite. It gets everything done all at once and after the first application, I noticed a difference on my skins. The pores on my nose were reduced, and I had fewer blackheads. I also noticed my skin was more hydrated, and dry flaky patches disappeared.
Vichy Tired Skin Pick-me-up
I've done this mask both with the clay mask and without it. The result is a fresh face and more hydrated skin. The jury is still out on the brightness and glow effect.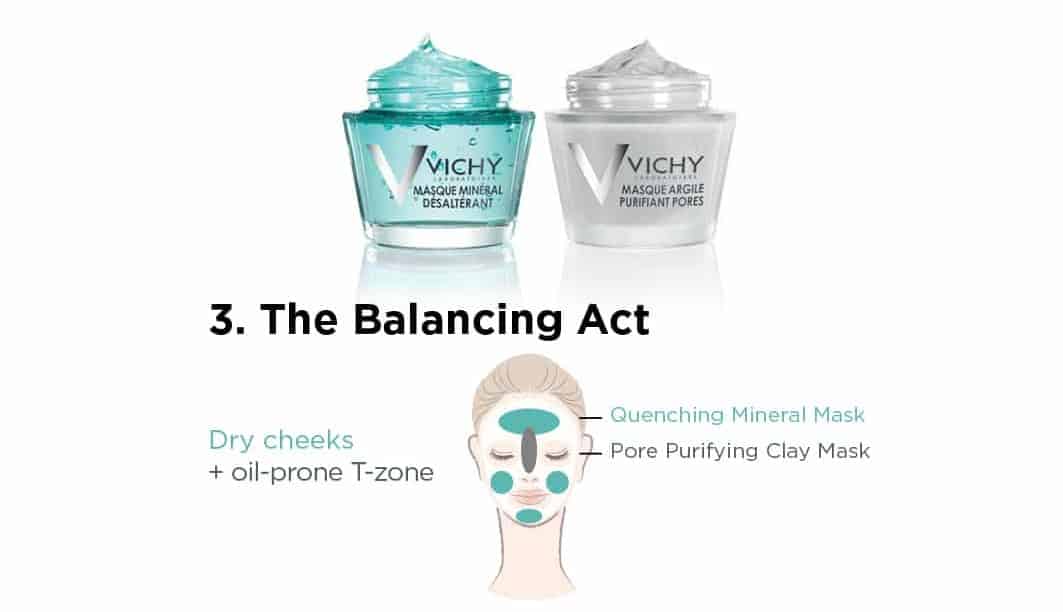 Vichy Balancing Act
For dry skin, this is an unbeatable combination. I love the blue quenching Vichy mineral mask and how it immediately hydrates my skin. On weeks when I notice the pores on my nose can use some cleansing I add the clay mask.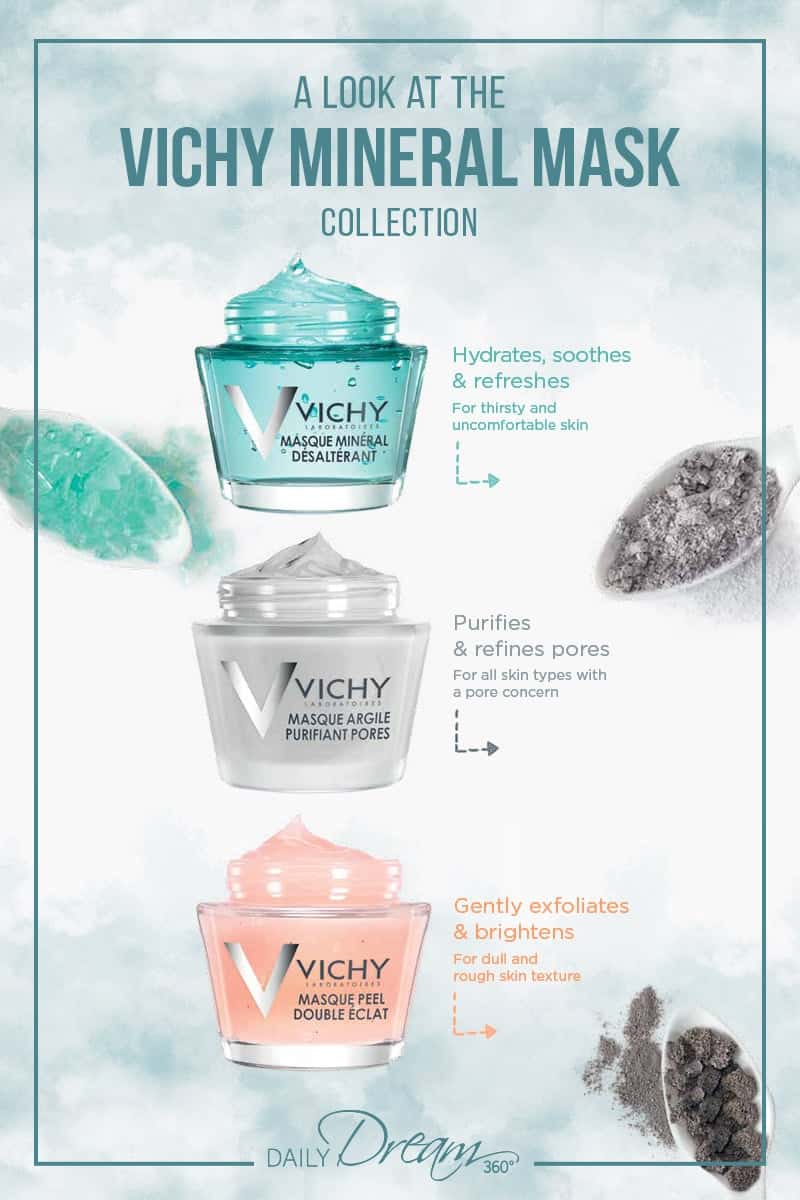 Check out more great Vichy product reviews on our site:
Disclosure: I did not receive compensation for this post. I received a selection of Vichy products for review purposes only.