I was introduced to Province Apothecary products during a fashion and beauty showcase and instantly fell in love. There is something about little glass bottles filled with serums made from natural ingredients that just makes me happy.
Province Apothecary Organic Beauty Products
As someone with sensitive skin, I have learned to appreciate how harsh chemicals and the wrong beauty products can harm my skin. The 1-month body breakout from using Strivectin products landed me at the doctor's office several times and left me with dry, red, itchy skin for over a month.
So I was naturally drawn to Julie Clark and her story. After struggling with allergies and eczema, she decided to make her own natural, organic beauty products out of her kitchen. It was the start of a passion that led her to pursue aromatherapy and holistic health education. The result is a beauty brand committed to holistic beauty, that uses quality, natural ingredients. The products are also made in Canada! Yeah!
Clean Organic Beauty Products with Ingredients You Know
I love looking at the labels of my Province Apothecary products and knowing every ingredient in them but inevitably you have to ask yourself do these products actually work?
Three Province Apothecary Products to Start
I received three products to test out and review, the Boreal Forest Soap, Rejuvenating and Hydrating Face Serum and Radiant Body Oil. Here is my experience with all three.
Province Apothecary Boreal Forest Soap
It smells like I'm walking through a forest. I kid you not. The best part: the ingredients are: Olive Oil, Water, Cedarwood Oil, Black Spruce, Pine, and Balsam Oil.
Province Apothecary Rejuvenating and Hydrating Face Serum
The face serum is good for all skin types and free from chemicals. Here are a few notes from my trial:
Serum is like an oil and goes onto the skin like an oil
Absorbs quickly
Lovely fragrance
I tried the Rejuvenating and Hydrating Face Serum during winter when my skin was very dry. It is a funny, I thought at first uh oh there is an oily residue on my skin, but when I went to wipe my face with a kleenex nothing transferred, the serum was absorbed completely on my face. The moist feeling remained after application and it is nice to go through harsh winter days without feeling like your face is going to crack. I also noticed the fragrance which I can only describe as clean, soap, fresh stayed with me for a while too. So for those with scent intolerances, it may be too strong.
Province Apothecary Radiant Body Oil
Like the face serum above this is my new favourite winter beauty product. Dry skin is no match. The moment I put this product on my arm it absorbed quickly and again like the face serum it felt like there was a residue of oil – but there wasn't. The dry crackled skin disappeared and my skin was soft and moist after the first application.
Very oily and runny
One pump covered my entire arm
Absorbs quickly
Lovely fragrance
I use this now after my shower to moisturize my skin. It did wonders on my calfs and arms which were so dry my skin was cracking and flaking. Be careful with the pump as this oil is runny and one pump was really all I needed to cover my entire arm. So you don't need a lot of this product to get results.
Province Apothecary Toronto Skincare Centre
Now that I've experienced a few of these products and noticed such drastic results I've put a visit to their Skincare Centre on my list of todos. They feature a number of treatments from organic facials, skincare consultations, brow and lash treatments to naturopathic consultations.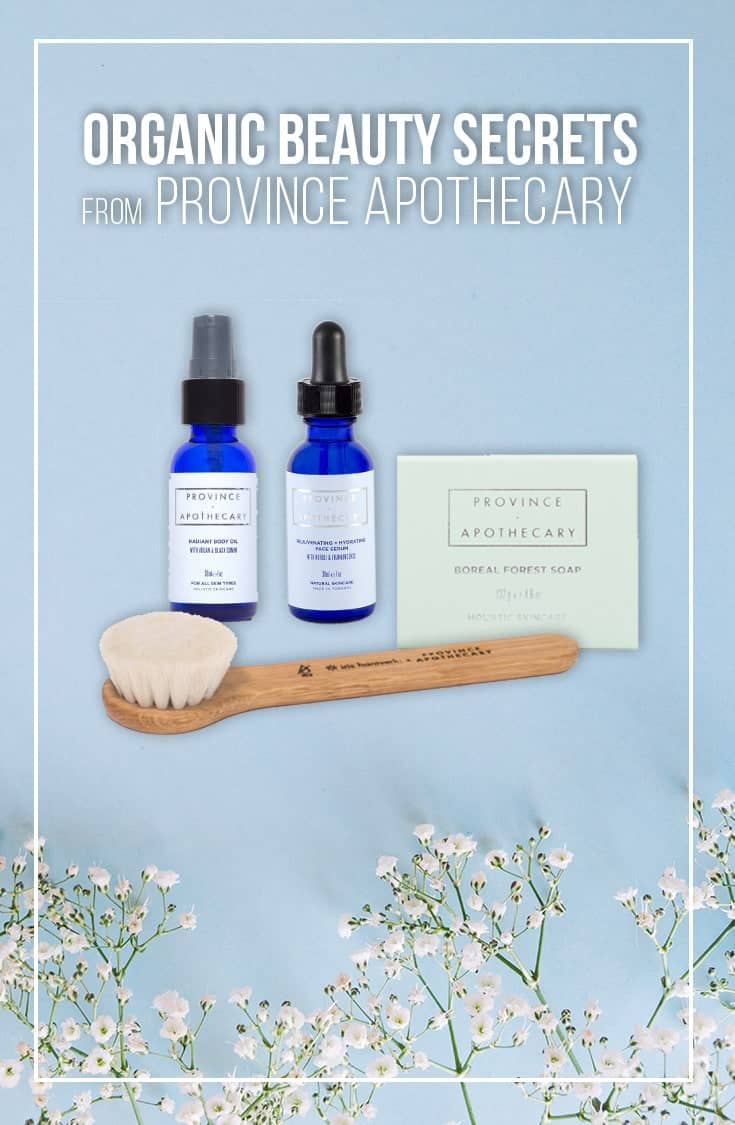 Looking for more skincare products made for sensitive skin? Check out these posts.
Disclosure: I did not receive compensation for this post. I received three samples for review purposes only.