This article may contain affiliate links. Clicking on or purchasing products we recommend through a link may earn a small commission. Read our disclosure and privacy policy page for details. *COVID-19 TRAVEL ALERT – Travel recommendations offered on this site are not to encourage you to travel against travel advisories.
We gently float with our kayaks into a canal surrounded by long green grass coming out of the water. In the distance, I see a boat, and I know that the moment he passes the "no wake" boundary he's going to accelerate to top speeds. The channel is narrow, and there is no escape. The front of the boat begins to rise like a wall of water builds below it and props it up. The flat water in the channel starts to ripple as the boat continues to go faster. The channel is narrow, and there is no escape. I'm sitting in this little paddle boat kayak, and the waters are about to get rough! I'm clutching my expensive camera, and the fears are rising inside. There is no time to put it in the dry bag and stow it away in the Kayak secret compartment. How did I get into this predicament?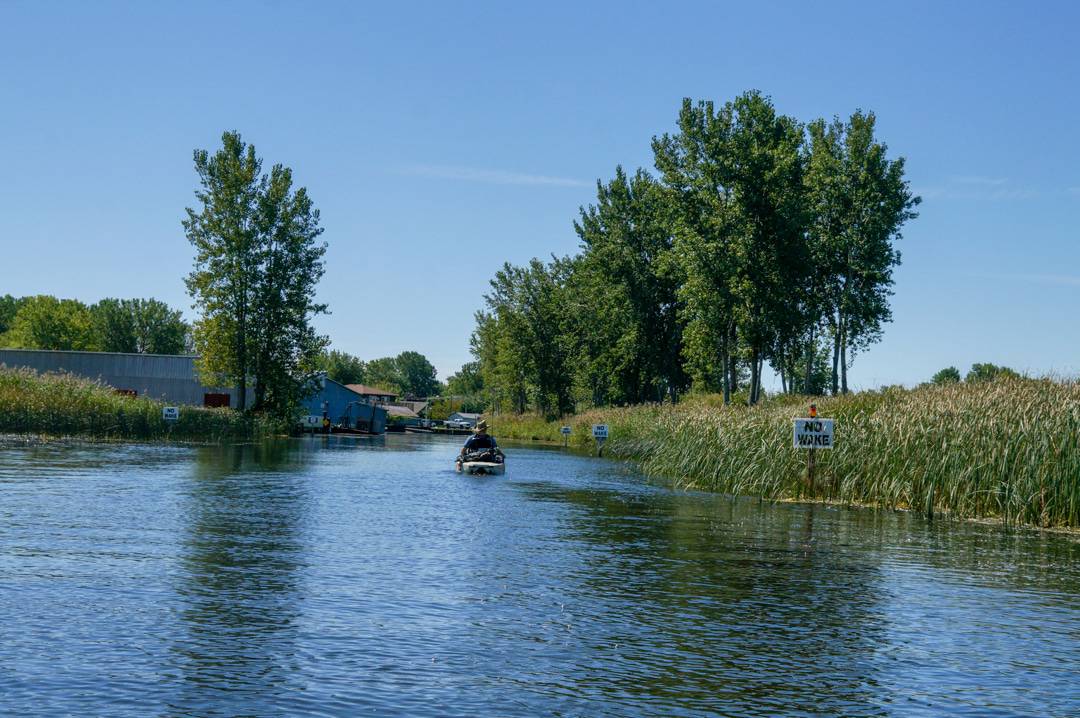 I never really saw myself as an adventure traveller looking for physical activities to do on vacations or weekends. Sure I'd sign up for a snorkel adventure or a gentle walking tour, but the thought of a Kayak tour on one of our great lakes was the furthest thing from my mind. When I learned that I would be kayaking during my tour of Norfolk County in Ontario the idea was immediately met with fear. I call it my "fat fear" the silly fear of a girl who used to be held back because of her weight. Will I be able to do this? What if I get too tired and can't finish the tour? Isn't Kayaking hard and dangerous? I know deep down inside I shouldn't feel this fear anymore, that I've shed 75 pounds and spent hours at the gym proving myself stronger with each visit. I know I can rise to my trainer's challenges each time I see her, yet here I am facing my "fat fear" again.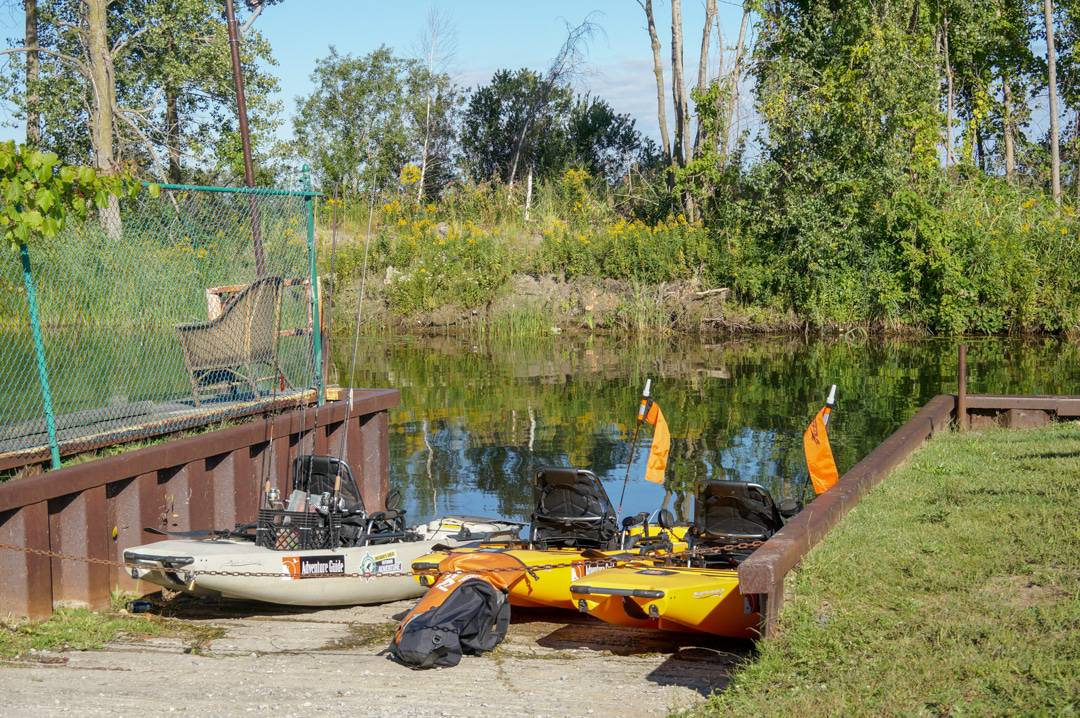 As soon as we get to our destination, the fears diminish quickly. We meet our kayak guide Barna from Baer Kayak Fishing, and he's calm, and this immediately makes me calmer. Plus the "Kayak" isn't a traditional kayak it is like a "paddle boat" but in the shape of a kayak. A Hobbie Pro Angler used for fishing and in our case for a relaxing kayak ride on Lake Erie. We sign our waivers and get an introduction to our paddle kayak. It all looks so simple I'm embarrassed I had any fears at all. The life vest is snapped on and before I know it I'm sitting in a comfy chair aboard my Kayak paddling effortlessly as I float along the canal.
My cellphone is stuffed in the convenient pocket of my life vest, and my expensive camera is stored in a "dry bag" in the secret compartment of the front of the Kayak. I'm starting to get that familiar travel photographer itch as I see the amazing clouds and blue sky reflecting in the glass waters of this canal. The "fat fear" is gone and soon I'm jumping out of my seat in the kayak and digging into the compartment to retrieve my camera. There is no fear of tipping, no fear of over exertion. I'm calm and at peace with my camera strap around my neck paddling effortlessly to the open waters of Lake Erie.
It's breathtaking! The sky is reflecting on the water, and I'm in the most peaceful quiet place. My kayak is floating effortlessly through the calm water, and I feel like I'm flying in the clouds. I paddle my legs back and forth, make small adjustments of the rudder control and all around is this picturesque sky where water and sky converge into this blue heaven.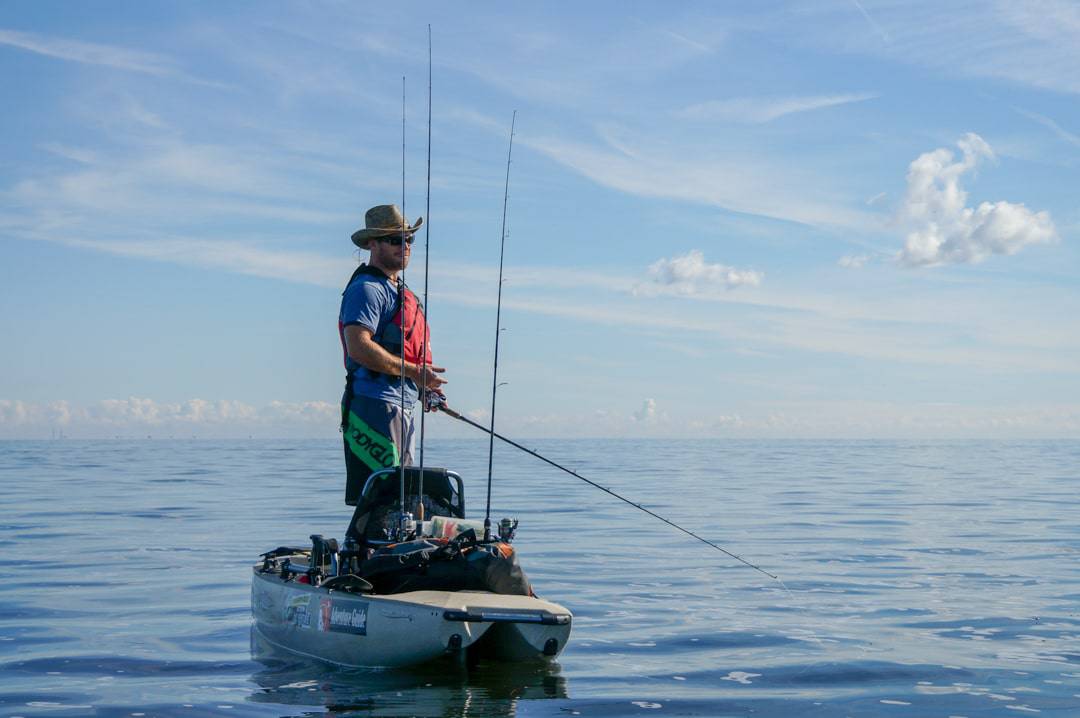 Barna is standing on his kayak taking this moment to do a bit of fishing, and I'm watching my camera battery drain as I can't stop taking pictures. I'm even starting to think that 2 hours is not enough for this tour … but my spare battery is back at Long Point with my car. I could paddle and float like this all day if there is such a tour! Oh, and there is! Baer Kayak Fishing is not just about the fishing! Sure you can enjoy a great Kayak fishing expedition, or you can enjoy a day like this floating away in peaceful bliss, with a stop for lunch of course.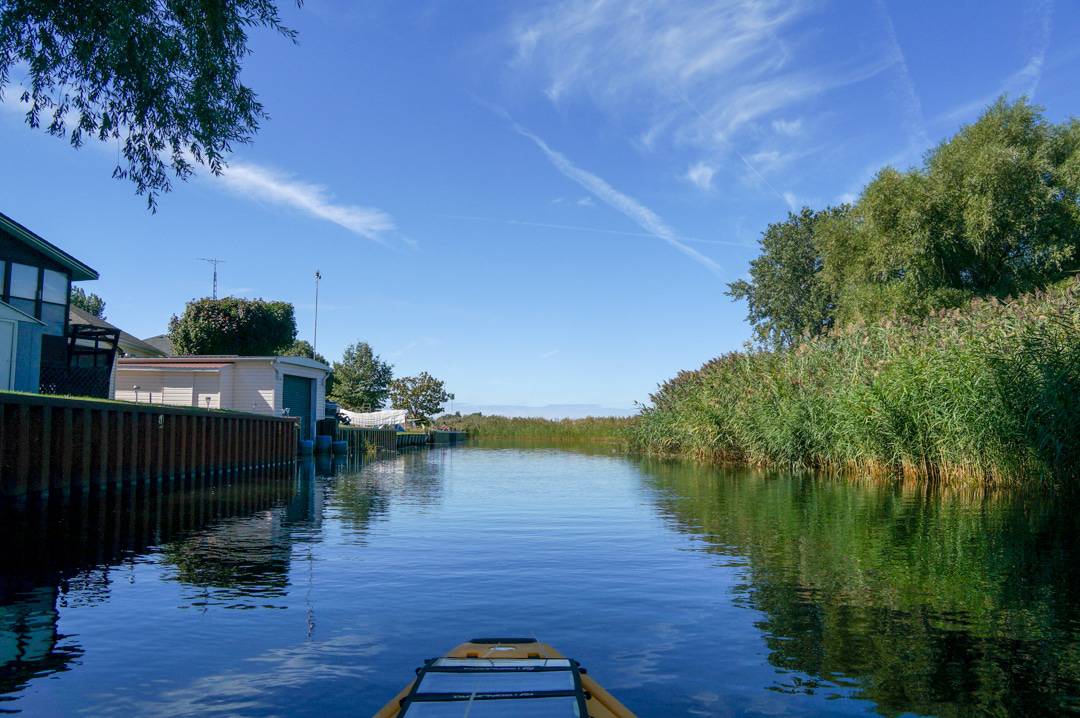 But what about our friend the speeding boat you ask? Barna quickly lines us up to one side of the canal and as the speeding boat nears he tells us to turn into the wake of our kayak. A few little bumps and I'm back in smooth waters again. Beautiful homes along the canal tease me as I imagine a life where I can jump in my kayak and enjoy a quiet morning on the canal. Dreaming always dreaming!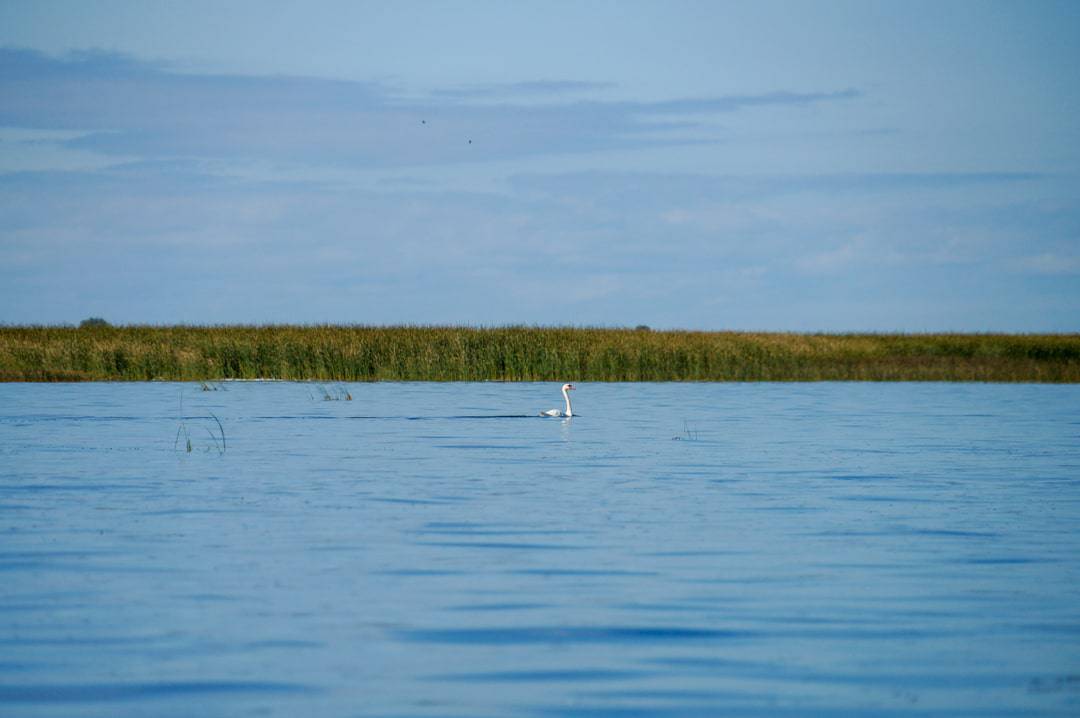 Unfortunately, the tour comes to an end, and I know that I have to do this again! I know I have to return to Norfolk County and experience some more adventures! Kayaking with Baer Kayak Fishing is going to be on the top of my list of things to do next summer!
Do you have a favourite spot in Norfolk County, Ontario? Here are a few more of our favourites:
Travel support provided by the team at Norfolk County Tourism. For more information visit Baer Kayak Fishing, Norfolk County Tourism and Ontario's Southwest Tourism.